Chadar trek Review - Dr Srinivasan
Share this story
(Chadar trek- 4th Feb'2013 Batch)
A Dream come True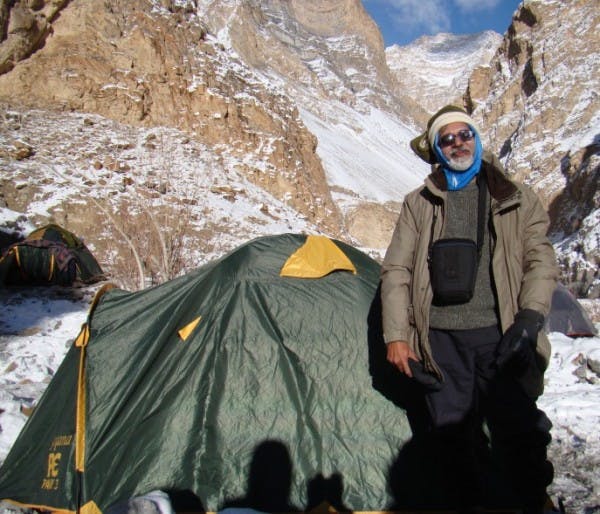 On the 5th Arjun and Sandhya accompanied us on the bus ride to Base Camp at Tilat Sumdo, enjoying enroute a game of Ice Hockey, the Indus River, its confluence with the Zanskar at Nimmu, the Magnetic Hill, Gurudwara Pather Sahib and the awesome sights of snowbound Ladakh. Snow all around us prompted Arpita to comment, "Oh, so much Vanilla Ice Cream" It snowed right through Day 1 and we were getting used to the routine of camp-life.
Dave with his thermometer was our weather-man. Stanley built us snowman and tried his crampons on the Chadar. Sreehari, Prameya and Supriyo took their job of arranging their respective tents very seriously. Anirudh, Ashish, Vignesh and other shutterbugs kept clicking away. Chatter from the tents enlivened the hitherto silent environs till late into the night. Dawn brought its own share of novelties; the struggle to lace one's shoes, carrying on into the snow for ablutions and downing the tasty breakfast before limbering up for the day's trek.
Day after day took us closer to Neyrak, the ambient temperature falling down to minus 19 deg Celsius, snowfall giving way to clear blue sky and the mid-day Sun straining to break through the crags and crevices of the canyon like wind-swept mountains. Waterfalls seldom flowed, the frigid cold turning them all into cascades of ice. The Ibex and its brood watching over the emerald blue waters of the Zanskar turn ino turquoise and sometimes sea-green, transform from a placid murmur less glide to a tumultuous frothing tumble, finally to freeze into a sheet of ice; squishing soft snow under the gumbooted feet to hardened sheet ice worth skating on, there were several intervening stages, like thin veneer housing air/ water bubbles in its bosom, ready to give way at the slightest extra pressure, splintering 'mad angles' ready to be crushed under feet, perhaps like 'crushed ice in cold coffee'.
Aerial pursuits of the Himalayan Falcon, the Crow and the Citrine cisticola added to the entertainment provided by the ungainly Himalayan Grouse. Pasang pointed out the pugmarks of a fully grown snow leopard and its cub, first on gray river sand and later on snow. We saw spoor and an Ibex hindleg, obviously killed by the snow leopard. By the second night the sky cleared and the zillion stars put up a celestial show every night, until the last night by the bank of the river when Anirudh could get a composite night shot of the sky resplendent with Milky Way and the constellations reflected in the water!
It was a gargantuan effort for me and I daresay, but for the love and help of the entire team I could not have realized this dream!
LEAVE A REPLY
Your email address will not be published. Required fields are marked
Sign up for our much loved Weekly Mailer
We have terrific trekking tips, trek updates and trek talks to look forward to