Can You Help Us With Photographs Of This Trek?
We are looking to enrich this documentation with more photos. Pictures go a long way in explaining the trail, more than words ever can. If you have done this trek, can you share your photos with us? We will include them on this page, with due credit to you. Click here to contribute.
The Complete Guide to Minchikall Betta Trek
Minchikall betta is a massive hill, located around 85 km from Bangalore. Not so popular among trekkers, this was once a three-stage fortified hill. The ruins of the fort wall and temple are some wonders to think about when you are trekking here.
The trek starts from Masanipalya village, 18 km away from Tumkur. You can also approach the hilllock from Hoskote of Tumkur region. The hill looks like a perfectly carved hemisphere from Hoskote. From Masanipalya village, the stepped multilayered hillock is a great sight for the start of your adventure.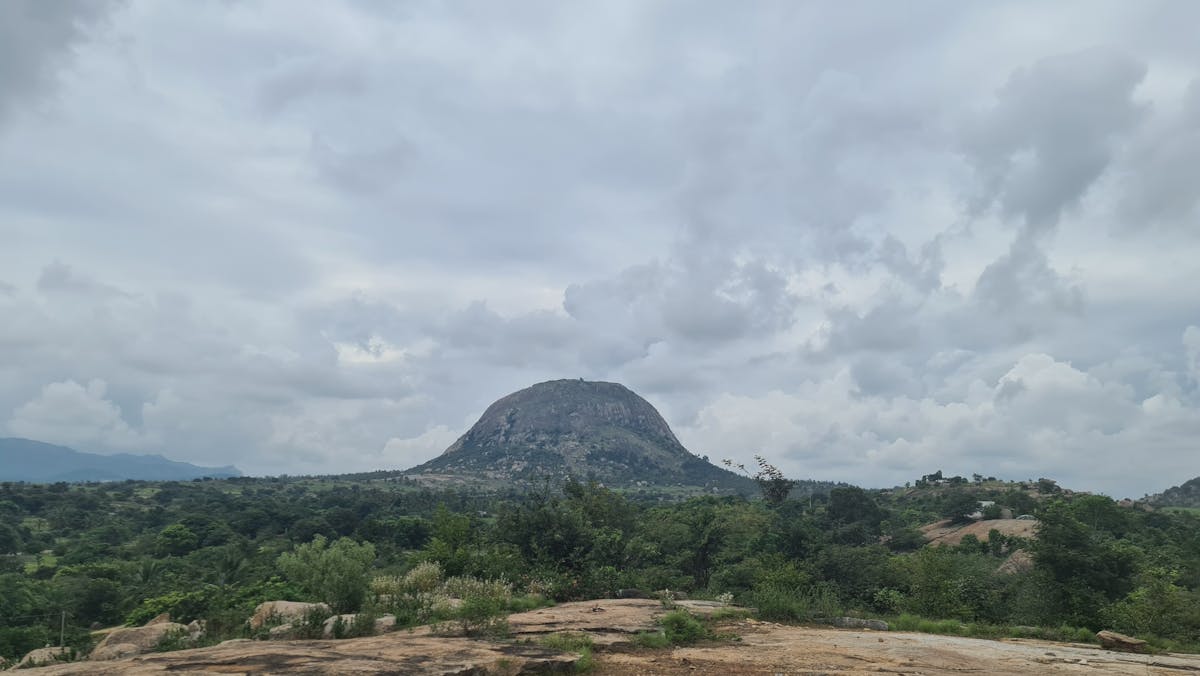 Minchikall betta looks like a hemispherical monolith from Hoskote village. Picture by Manjunath Krishnamurthy
Minchikall trek, also called Minchukallu by locals, takes you through many different trails. For a short trek, the surprises that it takes you through in the first 1 km is unpredictable. During monsoon, you'll get to see many pretty streams along the way. You'll even have to walk in the water canal to reach the base!
Once on top, it opens to the magnificent views of all the hills around. You get to see Jenukallu gudda, Hoskote Timappa betta, Devarayana Durga hills and even an aerial view of Hoskote lake and its surroundings. There is a Hanuman Temple on the top and villagers trek there on occasions to worship. During other times, mostly the hill is deserted.
The total trek distance is 4 km and is perfect for beginners. That said, it offers a beautiful experience for any trekker who would like to explore and get away from the noise of our daily lives as well.
Table of Contents
Just like you, we love trekking! And this is a trek we've documented in great detail to help you do it on your own. Drop in comments at the end of the page if you need any help! You will get all the information required to do Minchikall Betta Trek on your own.
To navigate through the documentation easily, use this section of Table of Contents.
Highlights
Trail Information
Best Season to do the Minchikall Betta Trek
Difficult Sections on the Minchikall Betta Trek
How to Reach the Minchikall Betta Trek
Frequently Asked Questions
Emergency Contacts on the Minchikall Betta Trek
ATMs and Networks on the trek
Places to visit after the Minchikall Betta Trek
Highlights
1. Stunning views from the peak
The view from the peak of Minchikall betta is spectacular, to say the least. You'll get a bird's eye view of Masanipalya village from here.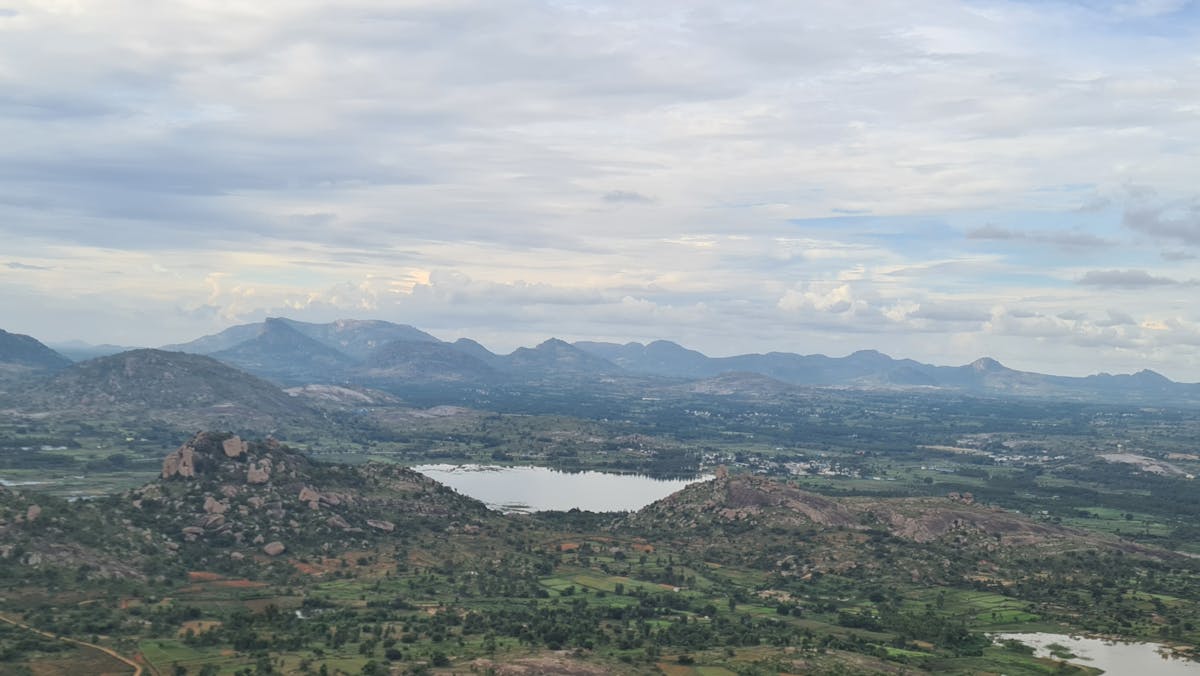 View of the Devarayanadurga forest range from Minchikall Peak. Picture by Manjunath Krishnamurthy
For a short 2 km hike, the pretty views you get from the hilltop are quite rewarding. You get the panoramic views of surrounding hills such as Masanipalya hill, Hoskote Thimappa betta, biodiversity hotspot Devarayanadurga and the neighbouring Jenukallu Gudda. You also get an aerial view of the Hoskote lake surrounded by foothills of massive rocky hills.
2. Walk from Masanipalya to Minchikall Base
The walk from Masanipalya village to Minchikall base is a pleasant one. Along the way, you get views of the massive hills on both sides. During monsoon, this trail will be in full bloom and you'll get to witness a riot of colours.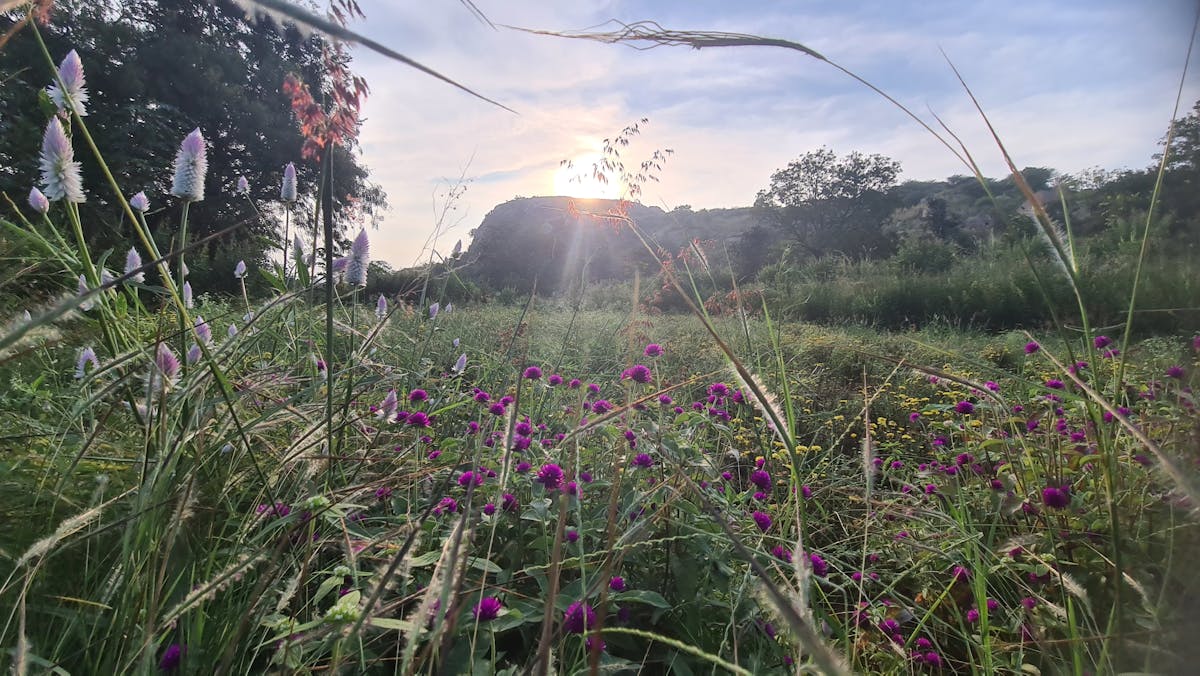 Beautiful flowers that you can encounter during monsoon and post monsoon. Picture by Manjunath Krishnamurthy
The Surprises on this 1.2 km short trek in terms of change of scenery are something you rarely get to witness in other short treks. It takes you through a mud road initially, then the valley, then through a water canal and at last, an areca nut farm to reach the base. 
Trail information
Route Map
Route Map of Minchikall Betta Trek. Screenshot on Google Earth Pro
The Minchikall betta trek can be divided into two sections.
Masanipalya to Minchikall Base
Minchikall Base to Minchikall Top
Section I : Masanipalya to Minchikall Base
Trek Distance: 1.2 km
Trek Duration: Half an hour
Minchikall Betta Trek starts from Masanipalya village. Masanipalya is a small village in Tumkur located around 7 km from Hoskote. The trek starts from Kindergarten School in Masanipalya.
If you're travelling on your own, it's better to park your vehicle here and walk from this point. The road condition from here to the base is very poor. Though the trail is well laid, it is narrow and will be filled with slush during monsoon.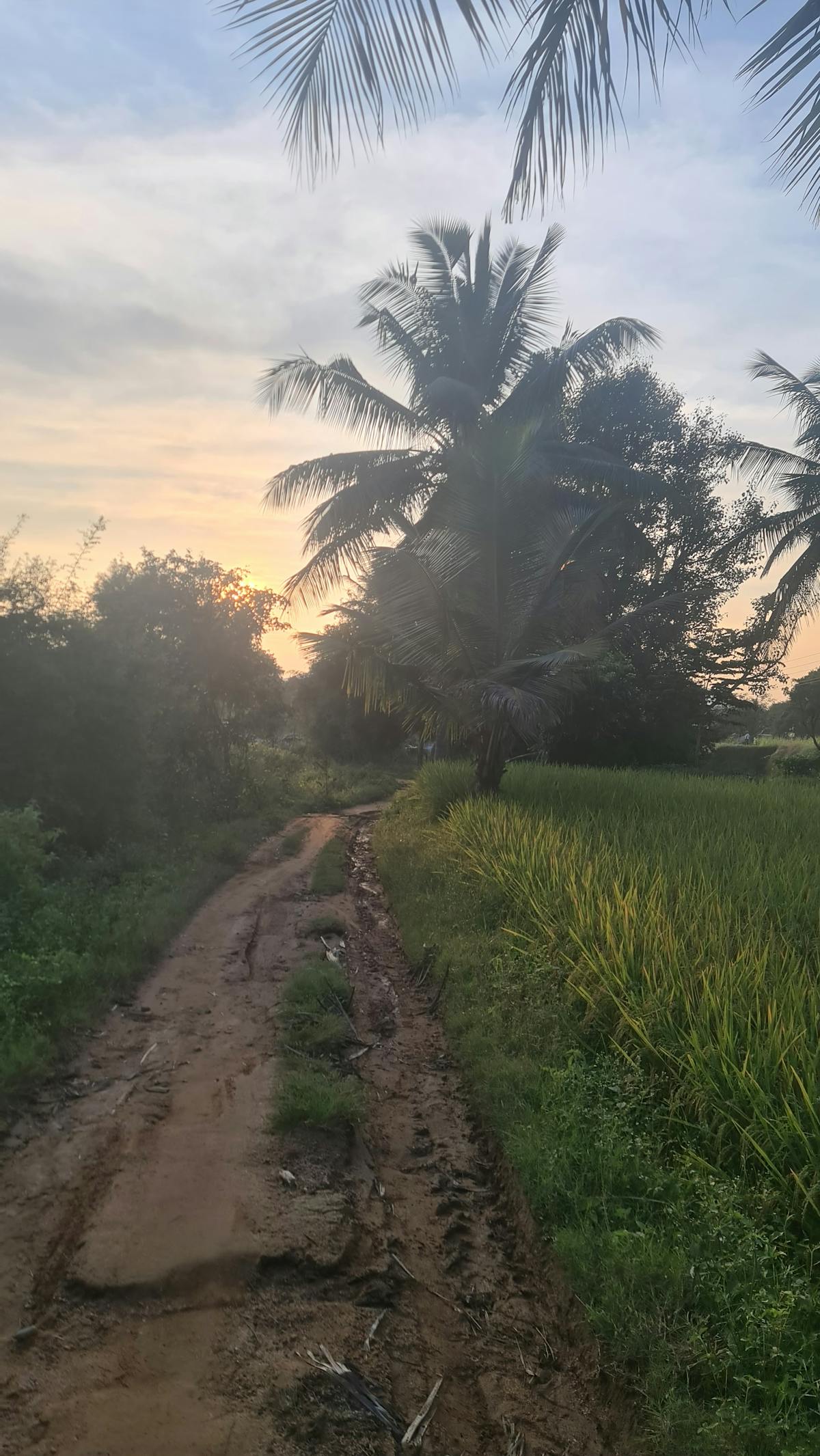 Initial trail takes you through a well laid mud road. Picture by Manjunath Krishnamurthy
As you start from Masanipalya, you encounter one or two houses at first and the trail becomes deserted as you continue walking towards the base. The morning colors on this trail are beautiful. The orange sky, lush green vegetation on both sides of the road and morning sun rays falling on the grass is a beautiful sight to behold. 
About 400 metres in this trail, you'll see a giant hill standing tall on your left. This is Masanipalya hill. One can go on a trek to this hilltop as well.
Masanipalya hill as seen on the way to Michikall base. Picture by Manjunath Krishnamurthy
Continue walking on the same trail for another 100 metres and you enter into a valley-like setting. On your left, Masanipalya hill stands in close proximity. On your right, lies another rocky hill. A walk on this trail is a beautiful experience.
Just when you think that this doesn't get any better, you see a water canal that you've to pass through. The water flows here only during monsoon. So it's an added adventure this trek offers during monsoon. 
Walking on this trail gives you a unique experience. It's sandy and feels like you're on a beach. But then trees and bushes on either side of the trail remind you of a dense forest of Western Ghats.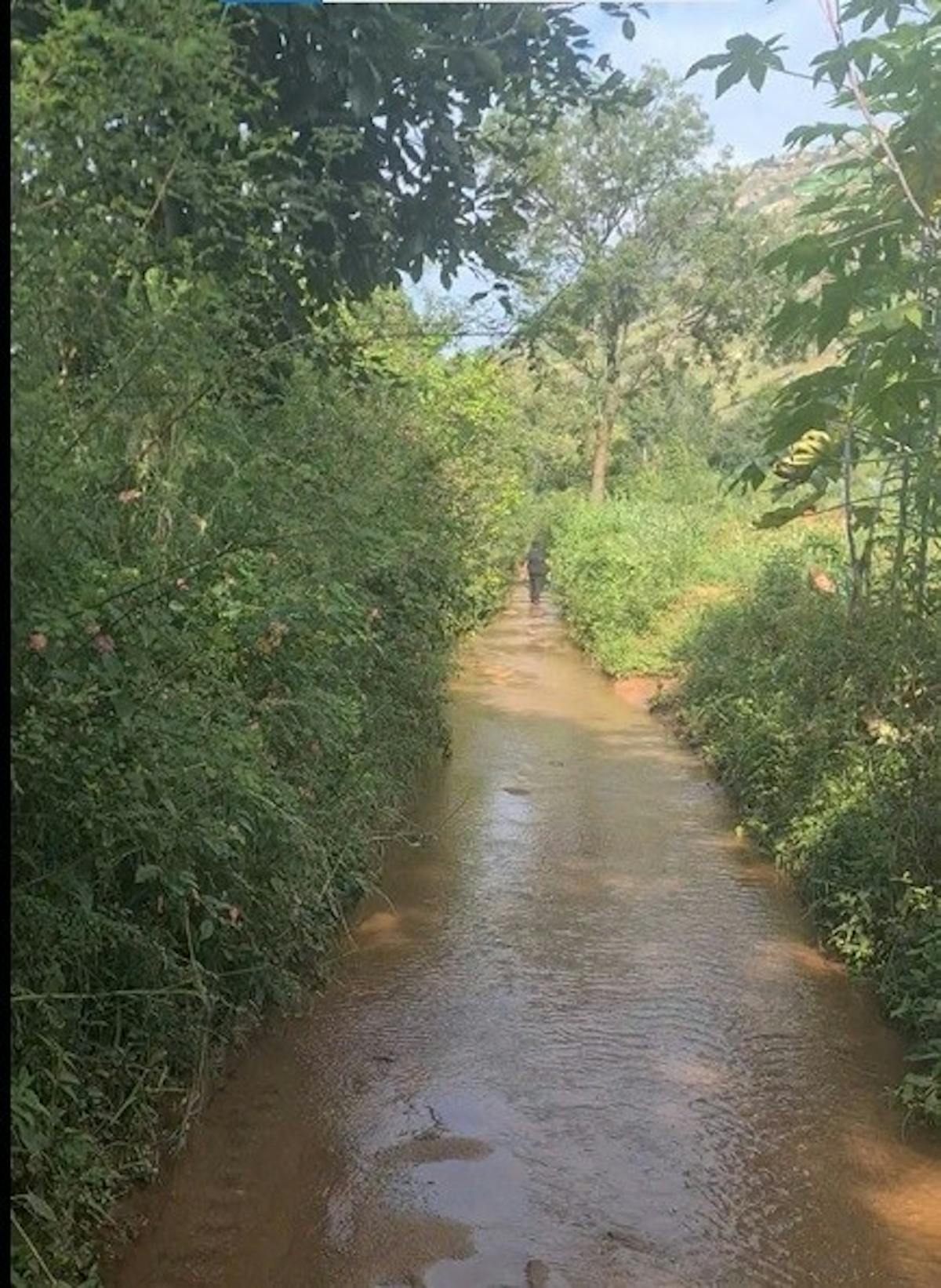 A walk in the water canal on the way from Masanipalya to Minchikall Base. Picture by Manjunath Krishnamurthy
During the monsoon, many small streams join this canal. They are just beautiful.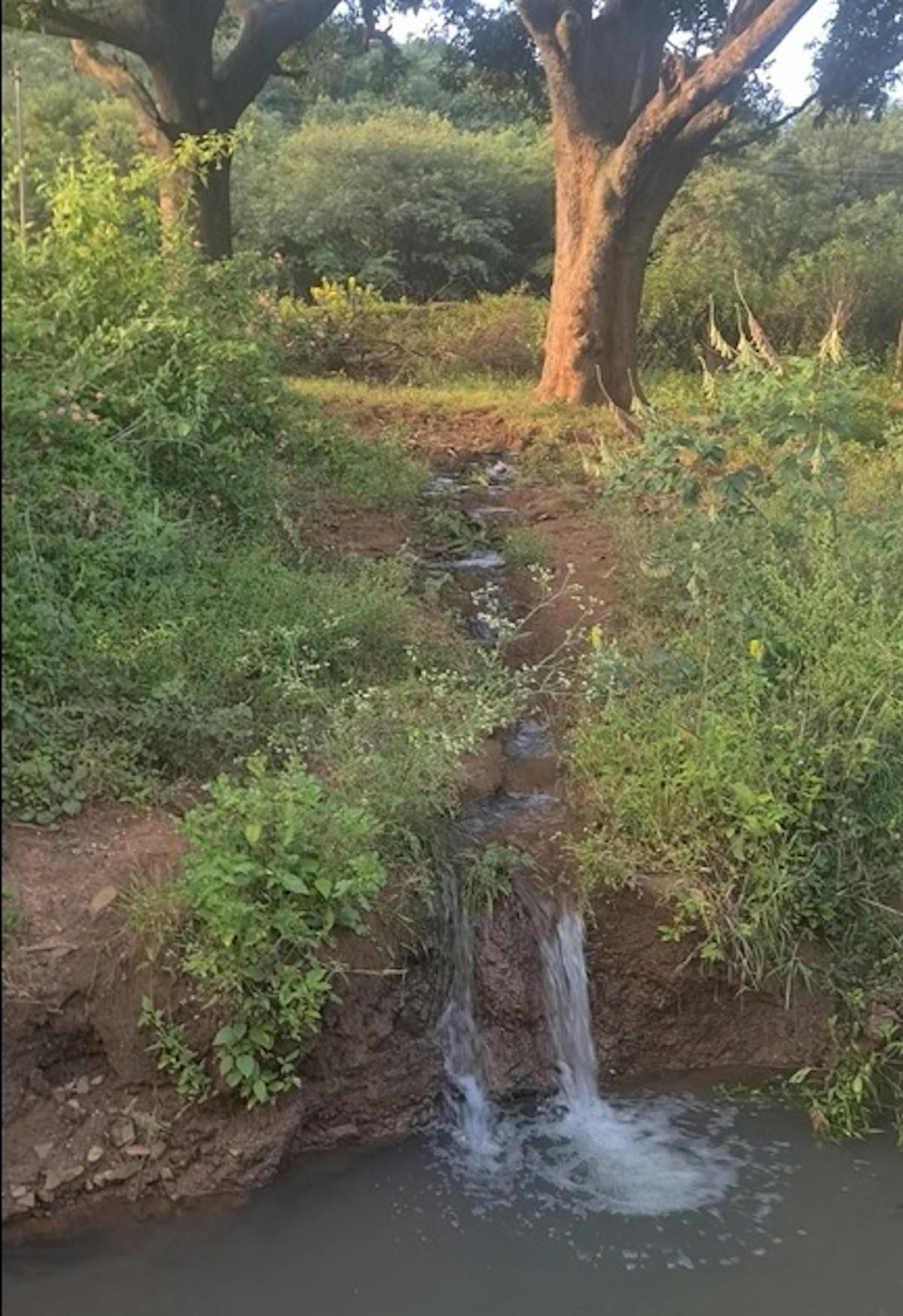 A small waterstream making its way to the canal. Picture by Manjunath Krishnamurthy
After around 300 metres of walk in the water canal, you see areca nut farms. You can see Minchikall Betta on your right from here. The trail to Minchikall base goes between two areca nut farms.
Section II: Minchikall Base to Minchikall Top
Trek Distance: 1.2 km
Trek Duration 1 hour
From the base, the trail is not well marked. It's a rocky section that ascends gradually. Choose the trail carefully. Following a zig-zag trail will reduce the angle of your ascent and help in reaching the top.
After about 600 metres of climb in the same terrain, you will reach stage I. You get an aerial view of the path you have taken to reach from here.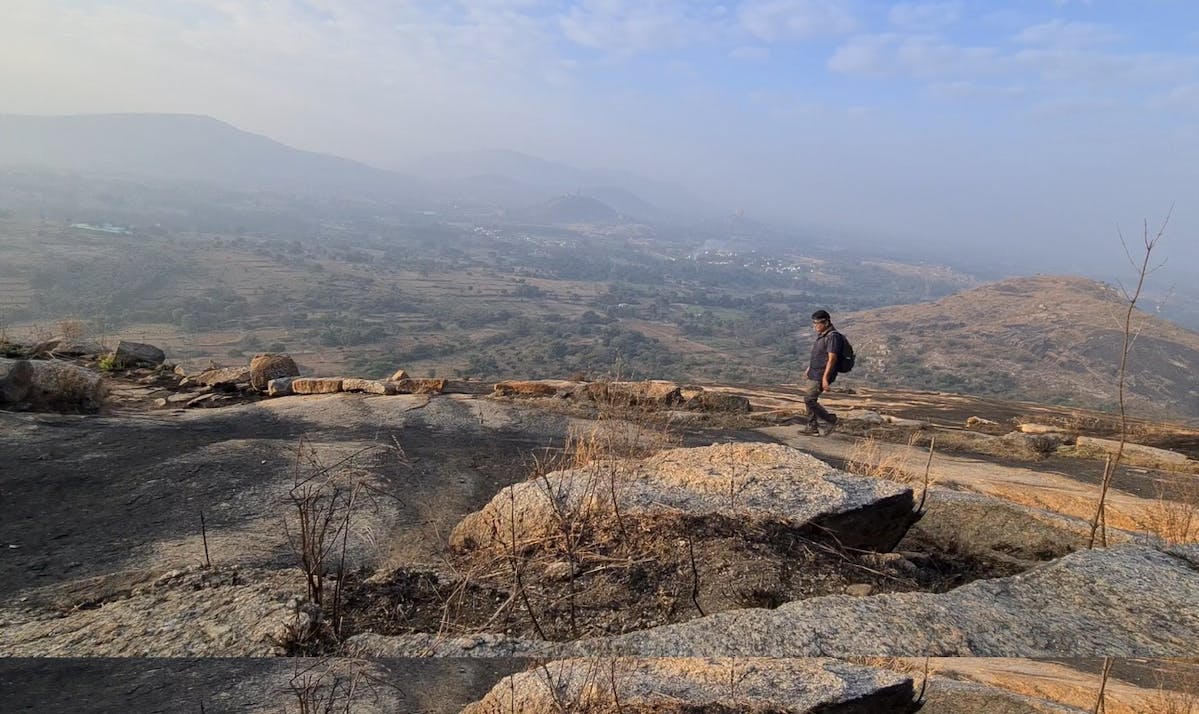 View from Stage I. It gives a good vantage point to view the path you've traversed through. Picture by Manjunath Krishnamurthy
Continue trekking towards the top through rocky terrain for another 200 m to reach stage II. As you carefully ascend to the top, surrounding hills and villages gradually unfold behind you. Don't forget to look around and soak in the beautiful views it offers. 
At stage II viewpoint, there are ruins and structures of the fort. Spend some time exploring these structures.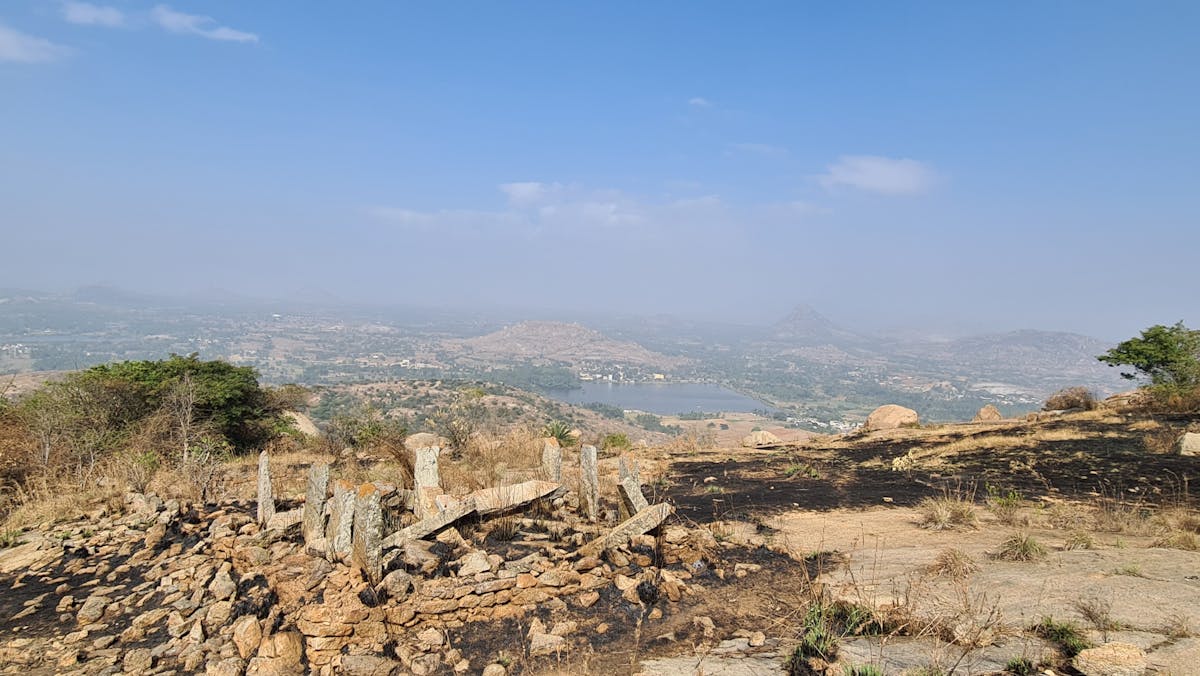 Ruins of the fort can be found on the trail as you ascend halfway to the top. Picture by Manjunath Krishnamurthy
From stage II to Minchikall top, it's another 300 m hike. 
From stage II, you have a marked trail that leads to the top. The initial trail ascends to a rock cliff through a valley. The deciduous forests you encounter in this section, again remind you of the Shola forests in Western Ghats. Also, the pop of greenery on what seemed like an endless boulder terrain is quite refreshing.
From the cliff, continue trekking towards the top. 10 minutes later, you'll reach Minchikall Top. There is a Hanuman Temple on the top. Occasionally, villagers climb to the top of the hill to worship, otherwise the place is usually deserted.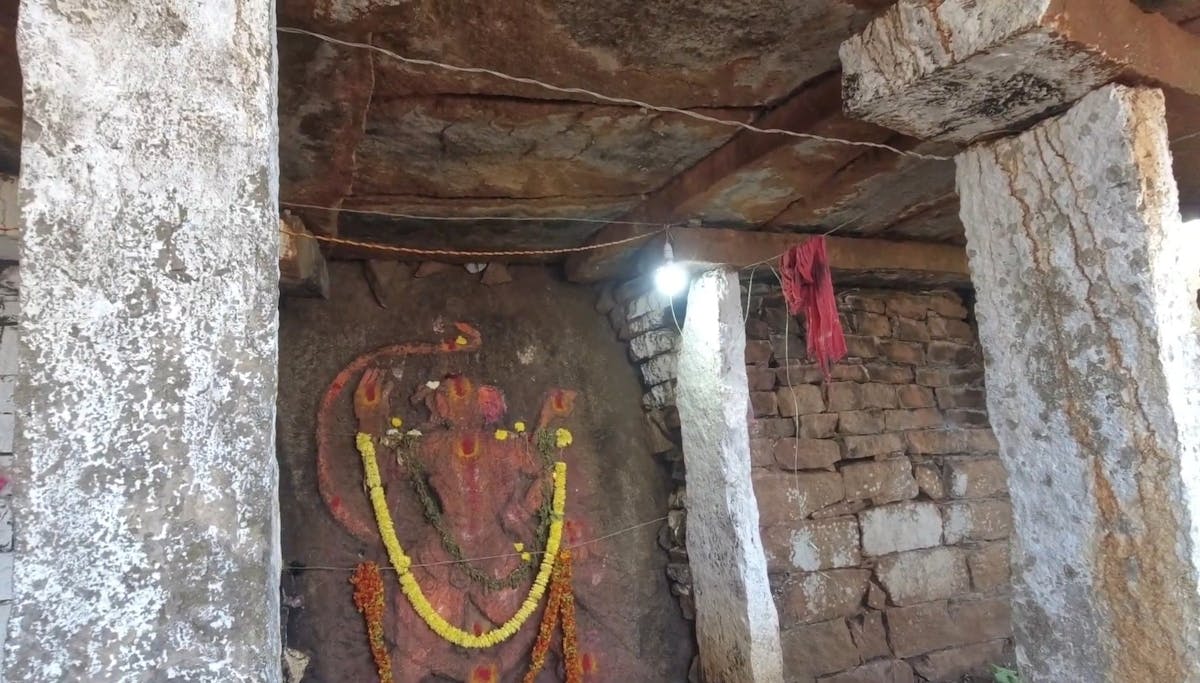 Hanuman Temple on the top of Minchikall betta. Picture by Hemanth N V
You'll find a check dam on the summit. There is a watchpoint from where you get the best views of the neighbouring hills and villages. Spend an hour here.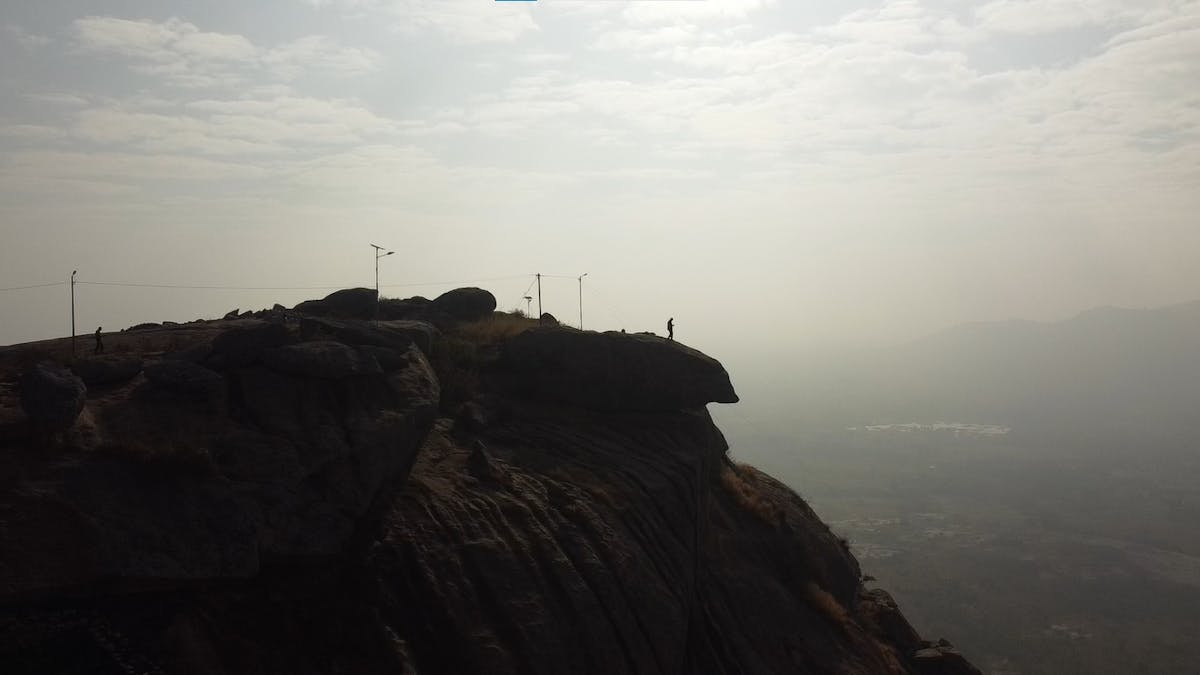 Summit watch point, Minchikall Betta. Picture by Manjunath Krishnamurthy
The descent is along the same route. It takes around an hour and a half to descend. Keep a Turn Around Time (TAT) of 4 PM so that you'll be back at the base before it gets dark.
Best Season to do the Minchikall Betta Trek
This trek can be done throughout the year. 
It can get a bit slippery during monsoon, so make sure to wear proper trekking shoes and carry a trek pole.
Difficult Sections on the Trail
This is an easy trek. There are no difficult sections as such. 
However, most of the trail is through plain rock or boulders. Navigating through them can get slightly challenging. Make sure you're well prepared. 
How to Reach Minchikall Betta Trek
The trek starts from Masanipalya Village which is around 85 km from Bangalore.
For ease of understanding, we have broken down the journey based on the transport and the route you take.
Reaching Masanipalya by your own vehicle
From Bangalore, it takes about 2 hours to reach. 
If you plan to go by your own vehicle, use this link to help set up navigation on Google Maps.
Reaching Masanipalya by Public Transport System
There are no direct buses to Masanipalya.
From Bangalore, take a bus that goes to Tumkur.
From Tumkur, you'll get frequent buses to Koratagere. Board any of them and get down at Anjaneya Temple Stop. It's on Tumkur - Koratagere Highway. From here, it's around a kilometre walk to Masanipalya.
Nearest Airport and Railway Station
Kempegowda International Airport is the nearest airport and is around 110 km away from Masanipalya.
Tumkuru Railway Station is the nearest railway station and is around 18 km away from Masanipalya.
Frequently Asked Questions about the Trek 
Permission and Camping 
There is no entry fee or permission needed for the trek.
Camping on the top is not allowed. It is a short trek and can be completed in half a day.
Stay Options near the Trek 
You don't have any stay options in Masanipalya. 
However, Tumkur is just 18 km away and you have quite a few hotels as an option. Check out the link to know more.
Timings on the Trek
This is a day trek and takes about 4 hours to complete.
Start your trek early in the morning around 7 AM. It can get very tiring otherwise, as there are no shades throughout. The weather becomes very humid and the rocks get heated up as the sun rises.
Food and Water Source on the Trek
Food: There are no hotels or shops in Masanipalya. If you want to take packed food, it's best to take it from Tumkur. There are many hotels in Tumkur. But make sure to carry your own tiffin boxes and not to use disposable containers.
Water: There are no water sources on the trek. Make sure to carry at least 2 litres of water per person.
ATMs and Network
As this trek is very near to Tumkur, you get almost all the major networks like Airtel and jio throughout the trek. 
Nearest Hospital and Police Station
Koratagere Government Hospital is the nearest hospital on the trek which is around 10 km away.
Koratagere Police Station is the nearest police station on the trek which is around 11 km away. 
In case of emergency, contact Assistant Forest Officer Office, Koratagere.
ERSS: For any kind of emergency help, you can contact the Pan-India Emergency Response Support System (ERSS) number- 112
Places to Visit after the Trek 
Madhugiri Fort Trek
The Madhugiri Fort Trek is one of the most popular treks around Bangalore. This trek is to the second-largest monolith in Asia. The highlight is the fort which stands atop the rockdome. From the peak, you get the best views of the Thimmalapura Forest range.
Channarayana Durga
Channarayana Durga, a perfect destination for a day hike, lies in the Tumkur district of Karnataka.  This fort is situated on a hill at a height of 3734 feet
There are three stages of the fort, the lower portion is covered with steep rocks, and the upper portion contains a pond that is filled with water and thick vegetation. The middle section is damaged and dug up by the treasure hunters over the years, in their quest to find any hidden treasure that may have escaped the hands of the various rulers.
You might as well do some treasure hunting while you trek and irrespective of whether or not you find anything; this experience is sure, a trekker's treasure!
Siddara Betta
Siddara Betta in Kannada means 'Hill of Saints'. It is one of the most popular places to visit around Madhugiri.
This is an appealing hike for Trekkers and Pilgrims. The pilgrims come to visit the Shrine of Lord Shiva at the top of the hill. There is also an ashram situated at the base.
The rocky trail and the caves add a lot of thrill to the climb. The route from the caves has uneven rocks and boulders, allowing only a single person to cross at a time.  Exploring the caves is a cherry on the cake, as the view from the peak is equally rewarding as it is surrounded by the lush greens of the Devanarayana Durga Forest.
Trek Contribution
Trek documented by Manjunath Krishnamurthy.
Photos contributed by Manjunath Krishnamurthy and Hemanth N V.
Trek written by Manasa N L.
GPX File Opt in
We go to great lengths to ensure you have a safe trek. So here's a GPX file of the trail to help you navigate without getting lost.