The New Classic Trek In Kashmir
For a long time, we've been looking for another trek in Kashmir that matches up to our blockbuster treks, Kashmir Great Lakes and Tarsar Marsar.
For us finding anything that compares to the great two is like looking for an elephant with wings. "It's near impossible for any trek to compare with the Kashmir Great Lakes or the Tarsar Marsar. It is hard to match up to the grand meadows, the turquoise blue lakes and picture-perfect landscapes of these two treks," says Sandhya UC, who led the exploration and documentation of the Kashmir Great Lakes (2011) and Tarsar Marsar (2015) treks.
"We have looked for trails in Gurez, Doodhpathri, around Naranag, near Margan Pass, even towards the Thajiwas glacier. While each of these is beautiful, there's always been some issue. Either the trek is too short, too monotonous, runs through disturbed areas, or has incomplete trails," says Sandhya.
Now, for the first time in seven years, we have found a trek that matches up to the KGL and Tarsar Marsar in grandeur, in variety and in the kickback. 
We are talking about the Nafran Valley trek.
When the first exploration team returned, they were singing praises of the trek. They claimed it was as good, or even prettier than the Tarsar Marsar. We took it with a pinch of salt. Everything in Kashmir is beautiful. But was it really matching up to Tarsar Marsar?
So we sent another exploration team to truly assess the trail. Does it have variety — forests, meadows, lakes, an alpine experience? Does it have terrific camping options? Does it promise adventure? These are all questions they went with.
And did they come back with answers and how! They came back with photographic evidence, with a day to day assessment of the trek and with 4 great reasons why the trek is outstanding.
Highlights
1. The endless grasslands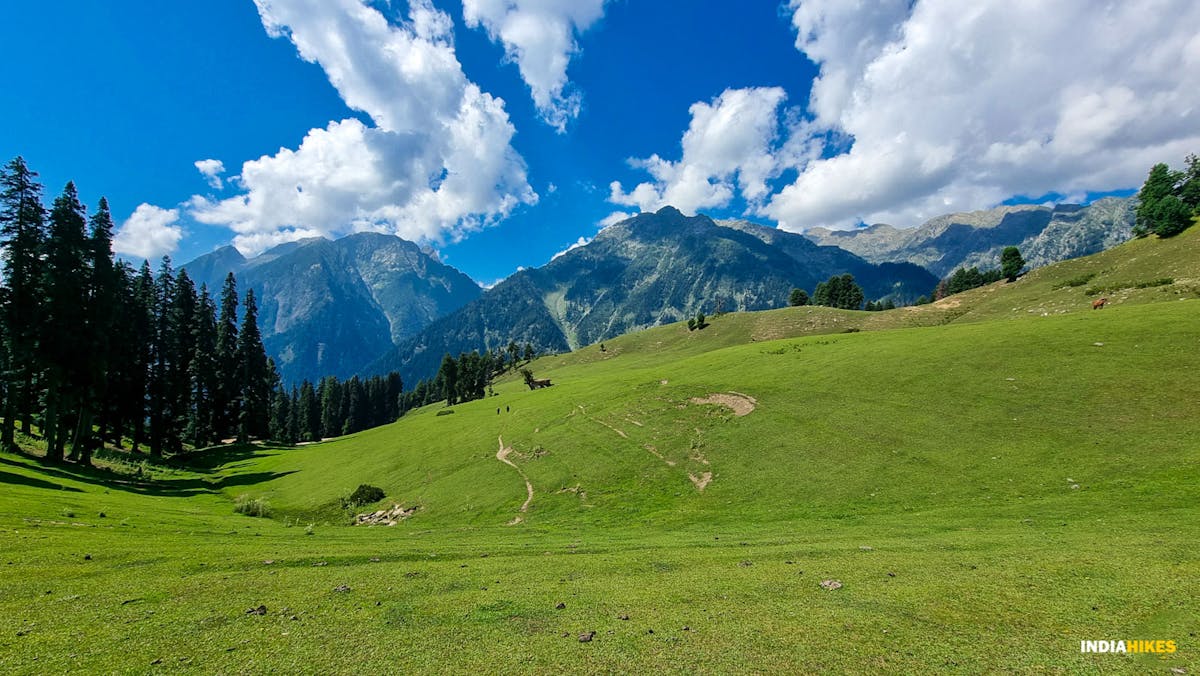 The coniferous forests open up to the beautiful meadows of Shul Margi. Picture by Dr Dhaval Jajal
"The Nafran Valley is extremely lush. Perennially fed by the waters of the Kolahoi glacier, the valley is a luxuriant green. In July, the grasslands are a soft green carpet, slowly blooming into a flower bed in August. In September, the meadows slowly start taking on a beautiful yellow tinge, still replete with flowers.
"The meadows are massive, even bigger in size than Lidderwat of Tarsar Marsar and Satsar of the Kashmir Great Lakes," says Vivek Saini, Slope Manager at Indiahikes who led the second exploration.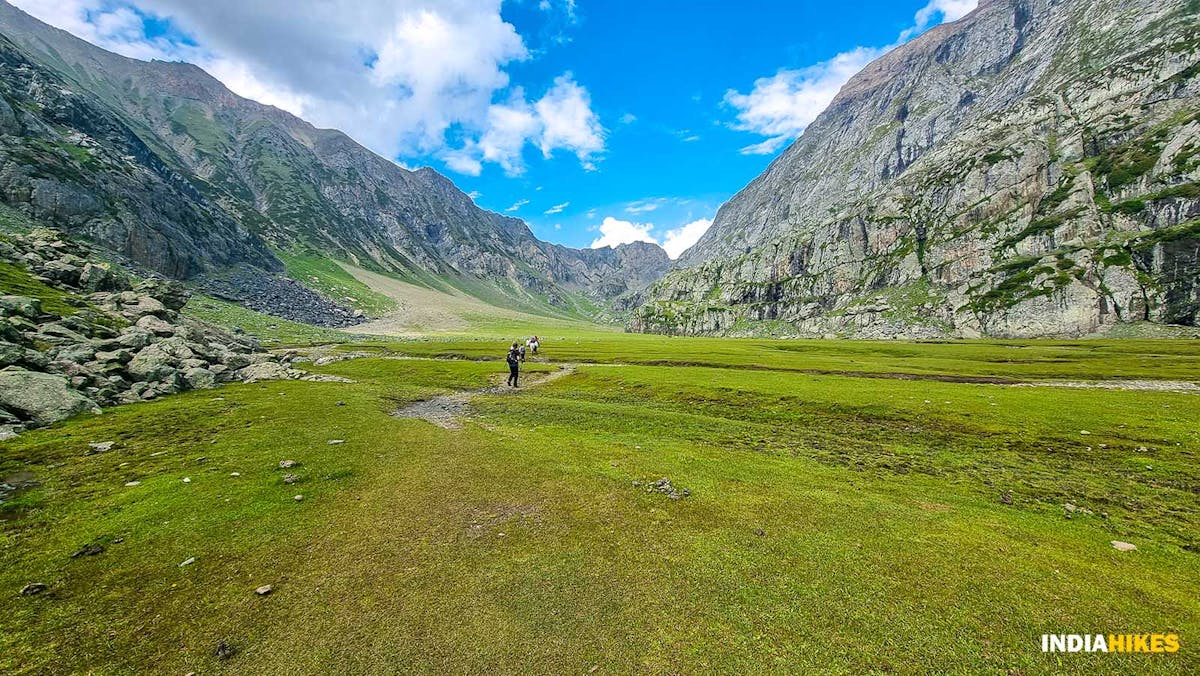 Walking on such flat grasslands is a treat on the Nafran Valley trek. Picture by Dr Dhaval Jajal
"What is unique is that you enter this vast valley within two hours of trekking, and you stay in the grasslands almost until the end of the trek," shares Vivek. "On most other treks, you trek for at least two days to enter such grasslands," he adds.
2. The striking blue lakes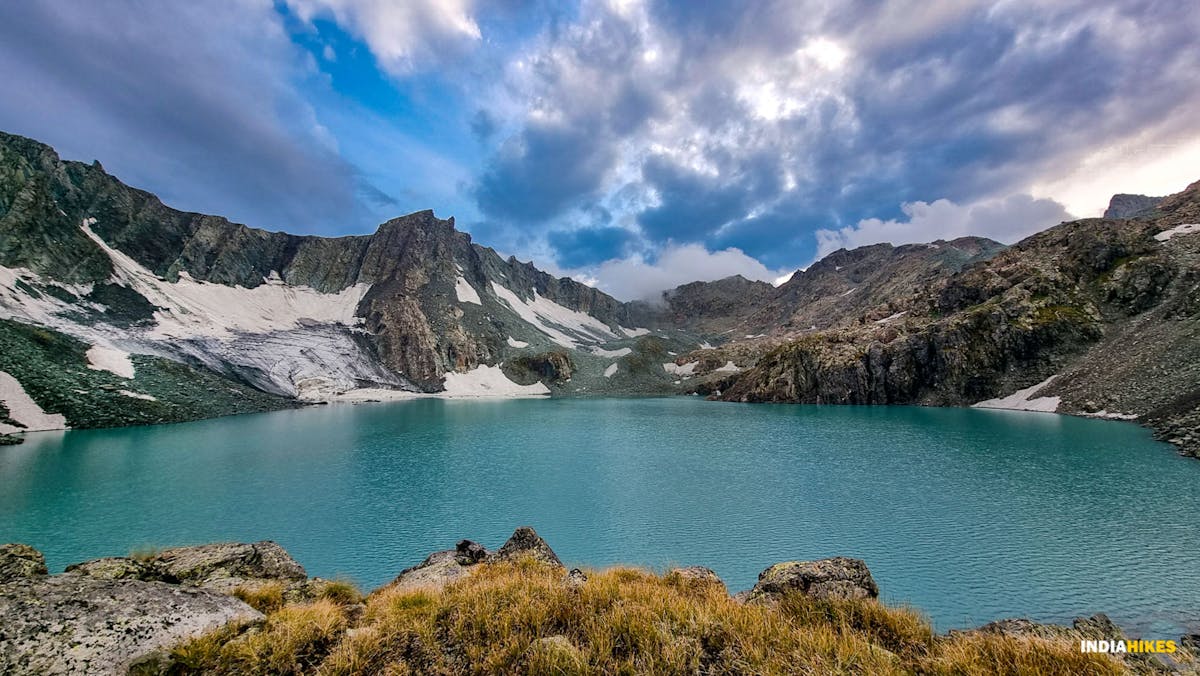 The crown jewel of the trek, Harbhagwan Lake. Picture by Dr Dhaval Jajal
It's a known fact that one of the biggest attractions of trekking in Kashmir is the alpine lakes. Nafran Valley has not one, but two such lakes — The Harbhagwan Lake and the Harnag Lake.
Both of them are a crystalline blue, with astounding reflections in the morning hours, slowly taking on the hue of the sky at midday, and reflecting millions of stars at night.
"The blue waters of the Harbhagwan Lake and Harnag Lakes are wonderful surprises for trekkers in an otherwise green valley," shares Dhaval Jajal, who was the lead explorer of the trek. The biggest bonus is that you camp on the banks of one of these lakes — the Harnag lake.
3. An extraordinary view of the Kolahoi Glacier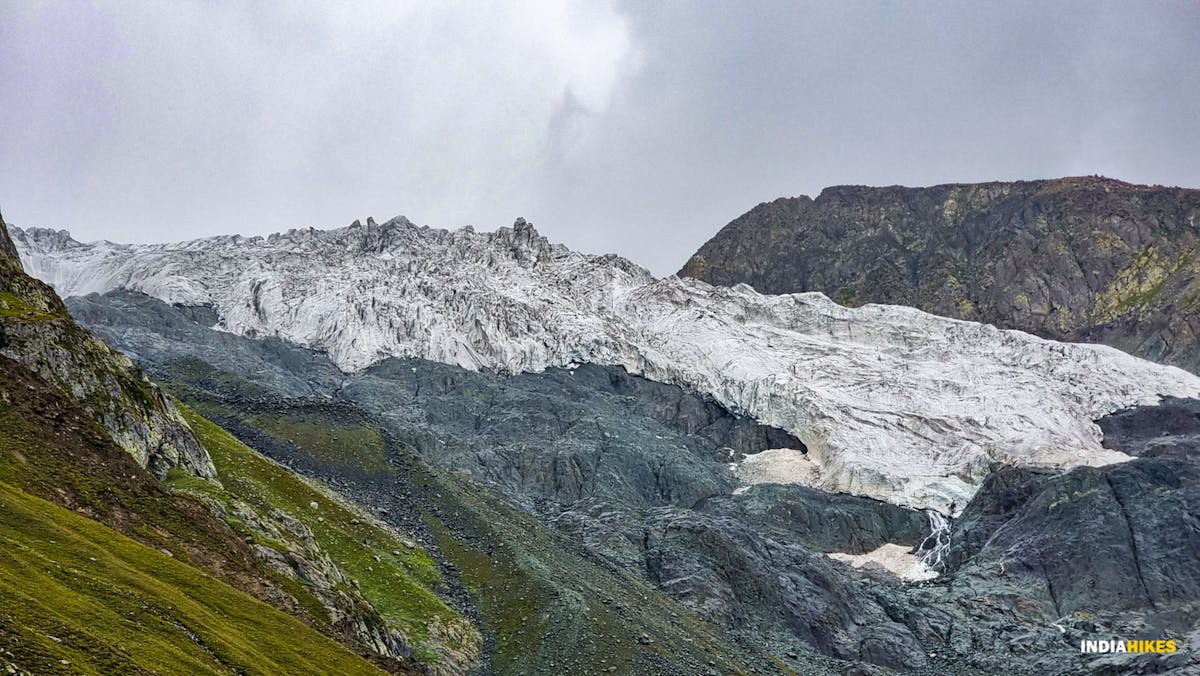 The Kolahoi glacier is a major highlight on the trek, apart from the lakes, meadows and peaks. Picture by Dr Dhaval Jajal
"While trekking from Harnag to Harbhagwan, trekkers are in for a surprise. Just as they're walking, on the left side, they start to see huge chunks of the Kolahoi glacier. Within a few minutes the entire east-facing glacier reveals itself," shares Dhaval.
"The view of the glacier hanging precariously on the Kolahoi Peak is magnificent. You don't get to go so close to glaciers on any treks, except perhaps the Gaumukh glacier. So the experience of observing a glacier at such close quarters is very special," he adds.
4. The campsite locations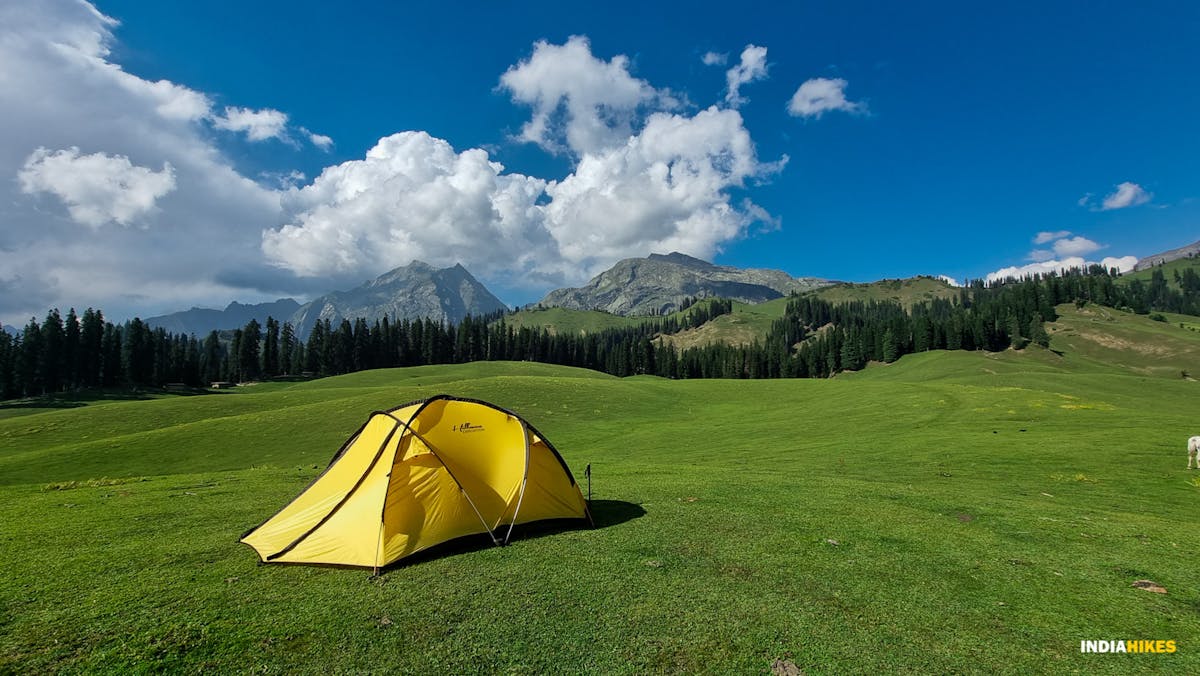 The Bhaj Margi meadows are another picturesque sight on the first day of the trek. Picture by Dr Dhaval Jajal
"It's an absolutely manicured meadow, which stretches all the way to the horizon. A few sheep graze about in the distance, some flowers sprinkled here and there. You get to camp right in the middle of these meadows. It's an experience that you'll remember for life," he says.
At the foothills of the glacier-filled peaks lies the striking blue Harnag Lake. Picture by Dr Dhaval Jajal
On the other hand, you also camp on the banks of the Harnag lake. "This is a huge lake — as big as Vishansar or Kishansar (of the KGL trek). Camping beside such a pristine lake is an absolute privilege," he adds.
While these two might be top campsites, the other camps — one in the heart of Nafran Valley and another at Arram Pathri — are no less. Both of them are lovely grasslands. "Arram Pathri has a gentle river flowing through and we camp on the banks of the river, whereas the main campsite at Nafran Valley is set amidst grand alpine meadows. You will have your Sound of Music moment in these meadows," smiles Dhaval.
Bonus: The seclusion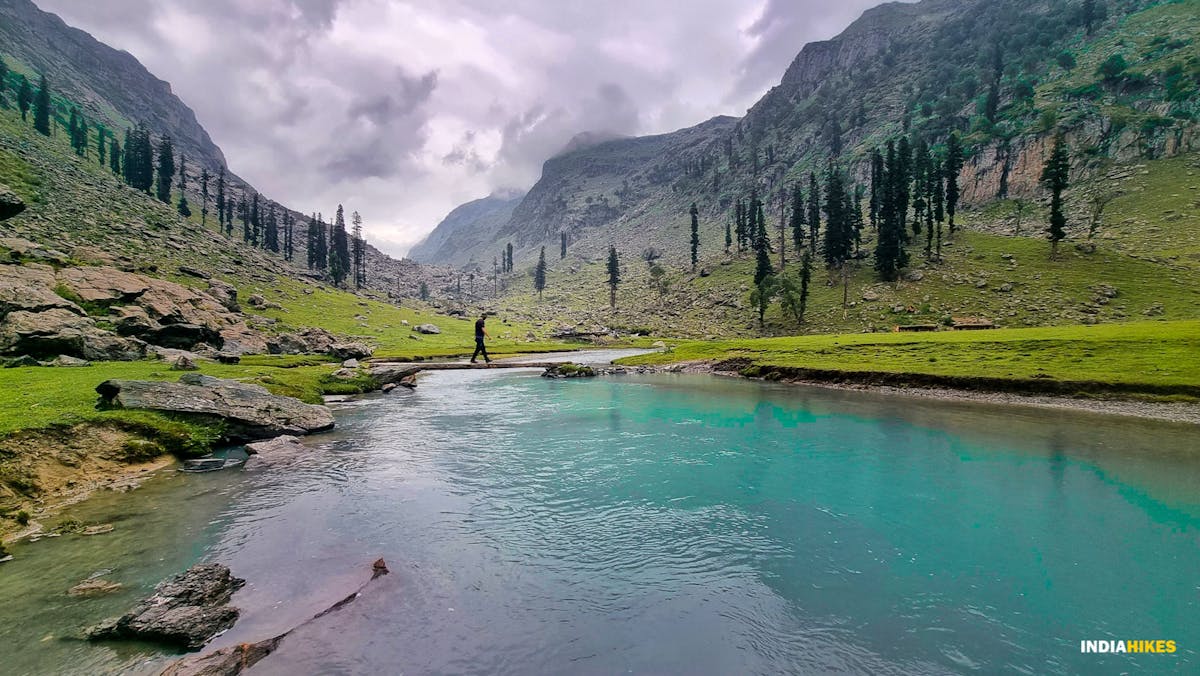 Trekker walking in the river crossing Bridge. Picture by Indiahikes Trek Leader Dhaval
The Nafran valley is in a region which even Kashmiris do not know much about, including people who live around its area. When you are visiting Nafran valley you are looking at a part of our land that is largely untouched. Except shepherds few know of this region.  
Which is why it's best to experience the Nafran valley now, while it is still secluded.
READ LESS
Trek Fee
14,450
+ 5% GST
This fee includes everything from basecamp to basecamp. See Inclusions and Exclusions
Are You Fit Enough to do this Trek?
OPTIONAL ADDITIONS
Pickup and Drop from Srinagar: We will pick you up from Sheikh Feroze Tours & Travels, Sathu Barbara Shah Chowk, Srinagar at 1.00 PM. The process of your registration, health screening, and document verification starts at 4.00 PM. Ensure you reach Aru on time for it.
Rental Gear: Don't buy. Rent from a range of products available on Indiahikes store. Renting all gears from head to toe doesn't cost you more than Rs 2000 for the entire trek. See here
RT-PCR Negative Certificate: Mandatory for Indiahikes treks. Without it, you will not be allowed to trek. You are exempted only if you've had two doses of vaccine and produce a proof of such vaccination.
Quick Itinerary
DAY 1: Drive from Srinagar to Aru
Drive Distance: 100 km | Duration: 3 hours
Altitude Gain: 5,210 ft to 7,958 ft
If you are trekking with Indiahikes, we will pick you up from Sheikh Feroze Adventures in Srinagar at 12.00 PM. Cab cost – Rs.4,000 per vehicle (5-6 Seater), to be paid by trekkers directly to the driver.
DAY 2: Drive from Aru to Mondlan and Trek from Mondlan to Bhaj Margi
Drive Distance: 6.50 km | Duration: 20 minutes
Trek Distance: 6.80 km | Duration: 6 hours
Altitude Loss and Gain: 7,958 ft to 7,640 ft, and to 10,370 ft
Trek Type: Easy to Moderate
DAY 3: Bhaj Margi to Nafran Valley via Arram Pathri Ridge
Trek Distance: 8.60 km | Duration: 6.5 hours
Altitude Gain and Loss: 10,370 ft to 11,480 ft, and to 11,355 ft
Trek Type: Easy to Moderate
DAY 4: Nafran Valley to Harnag Lake via Harnag Pass
Trek Distance: 5 km | Duration: 5 hours
Altitude Gain and Loss: 11,355 ft to 12,421 ft, and to 11,972 ft
Trek Type: Moderate
DAY 5: Harnag Lake to Harbhagwan Lake and back to Harnag Lake
Trek Distance: 12.20 km | Duration: 9 hours
Altitude Gain and Loss: 11,972 ft to 14,127 ft, and to 11,972 ft
Trek Type: Difficult
DAY 6: Harnag Lake to Arram Pathri
Trek Distance: 7.70 km | Duration: 5.5 hours
Altitude Loss: 11,972 ft to 10,476 ft
Trek Type: Easy to Moderate
DAY 7: Arram Pathri to Aru and Drive to Srinagar
Trek Distance: 9.20 km | Duration: 6 hours
Altitude Loss: 10,476 ft to 7,958 ft
Trek Type: Easy
You are expected to reach Srinagar by 8.00 PM. Cost will be Rs.3,000 per cab (5-6 Seater).
VIEW COMPLETE TREK GUIDE WITH PHOTOS
Are You Fit Enough to do this Trek?
Nafran Valley Trek Route
Advisory Note: For all your travel plans include a buffer day to accommodate bad weather on the trek/political instability. This depends completely on the circumstances on the trek and situation in Jammu and Kashmir.

It is mandatory for trekkers to carry a copy of their photo id for entry at forest check posts on the trek.
Please note that you will be staying in tents on all days of the trek. Trekkers need to make their own arrangement for stay in Srinagar on Day 7.
In case you have an extra bag that you do not require for the trek, you can leave it at the pick up location in Srinagar and collect it after the trek. Do not leave valuables such as laptops, mobile phones, cash etc.
Know Your Nafran Valley Trek
We have always wanted trekkers to be well-informed before they go on a Himalayan trek. Knowledge is the difference between a safe trek and a dangerous one. It's also the difference between a wholesome experience and a surficial experience.
Use this section to learn about the Nafran Valley trek. It has in-depth information about each day of the trek, what to expect, and how you need to prepare for it. Many years of expertise have gone into this content. Don't miss the 'Frequently Asked Questions' section. Trekkers find that extremely useful.
How Does Each Day Look Like
Complete Trek Guide With Photos
Day 1: Drive from Srinagar to Aru
Pahalgam is about 100 km from Srinagar and Aru is 12 km away from Pahalgam. Pahalgam is a more familiar place around Srinagar so if you are reaching on your own, take a shared vehicle from Srinagar to Pahalgam. It takes about 3 hours to get there.
There are two lovely routes to Pahalgam; one through Anantnag and the other through Bijbehra. The Bijbehra route is a tourist trail where you will drive through excellent rural Kashmir scenery. What tops it is the abundance of apple orchards, walnut and apricot trees along the way.
From Pahalgam, Aru is right across the Lidder river. It takes another half an hour to cover this distance. Today, after a 3.5 hour drive from Srinagar you reach Aru by 6.30 pm. There are plenty of places to stay at Aru, though they are a tad expensive. Indiahikes trekkers will stay in a homestay at the campsite.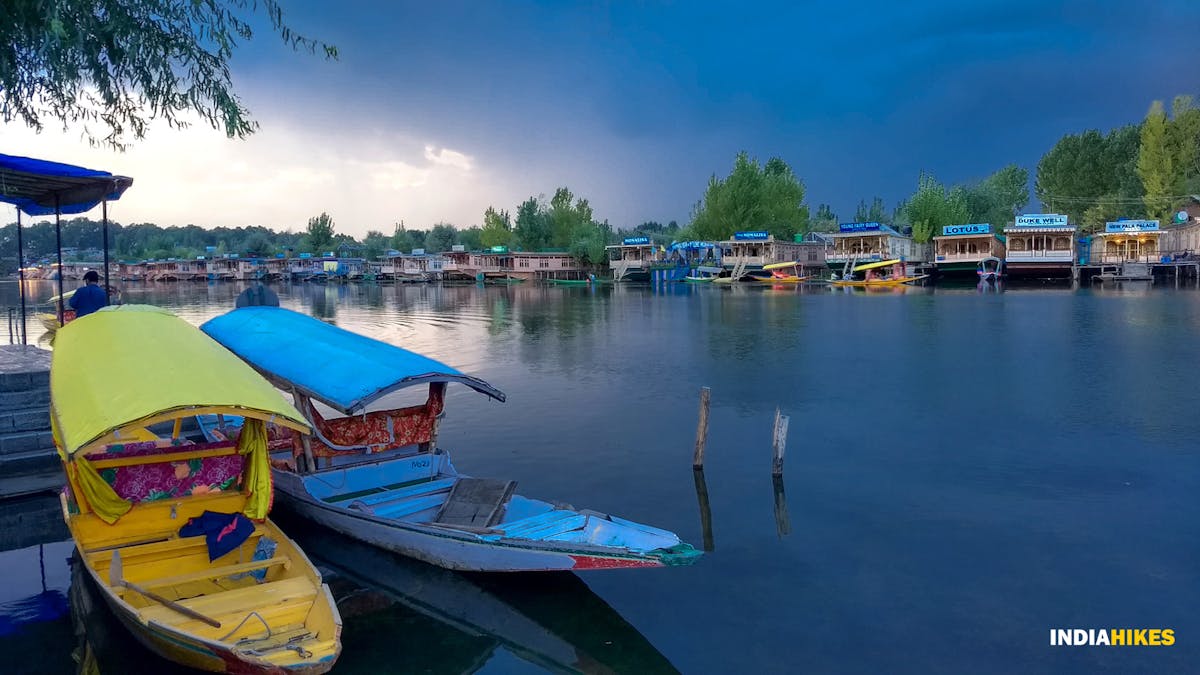 Culture in Srinagar. Picture by Dhaval Jajal
Day 2: Drive from Aru to Mondlan and Trek from Mondlan to Bhaj Margi
Trek Gradient: Easy to moderate. Gentle ascent through the forest with open patches in between, followed by dense coniferous forests.
Water Source: Carry sufficient water. A couple of water sources on this day are two water streams inside the forest a few hours into the trek.
The day starts with a drive to Mondlan, 6.5 km from Aru which takes 20 minutes. From the roadhead, the trail leads you behind the fence through a gentle slope into the forest with a few walnut trees and occasional open patches.
Look back to take in the scenic view of Pahalgam, far ahead of you.
After about 2 hours, enter the dense coniferous forest and follow the wide, marked trail. This is an easy ascent for about a kilometer. A fresh water stream flows to your left. Refill your water bottles if you are out of water as this is the only water source till you reach your campsite for the day, Bhaj Margi.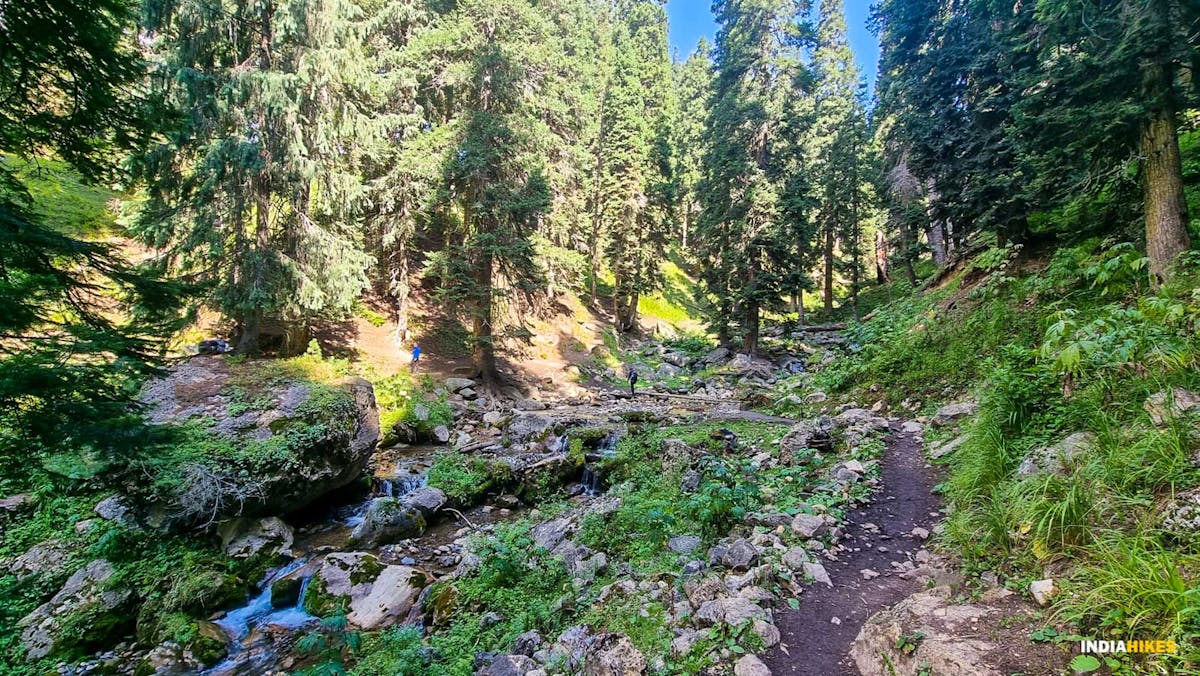 The initial forest section that gets better with each step. Picture by Dr Dhaval Jajal
The walk in the forest is a treat in itself. Enjoy the silence and hear the chirping of birds. If you're lucky, you get to spot a few species of birds. The tall coniferous trees make way for the golden rays of the sun, and at times the setting is so surreal that you wonder if you're teleported to a whole new world.
Once the water bottles are filled, cross the stream and walk for a few hundred meters to spot a cluster of shepherd huts (called Gujjar huts). Find an opening out of the forest leading you to the first scenic spot of the day, the Shul Margi meadows. Make sure to spend a few minutes here, rest and recover.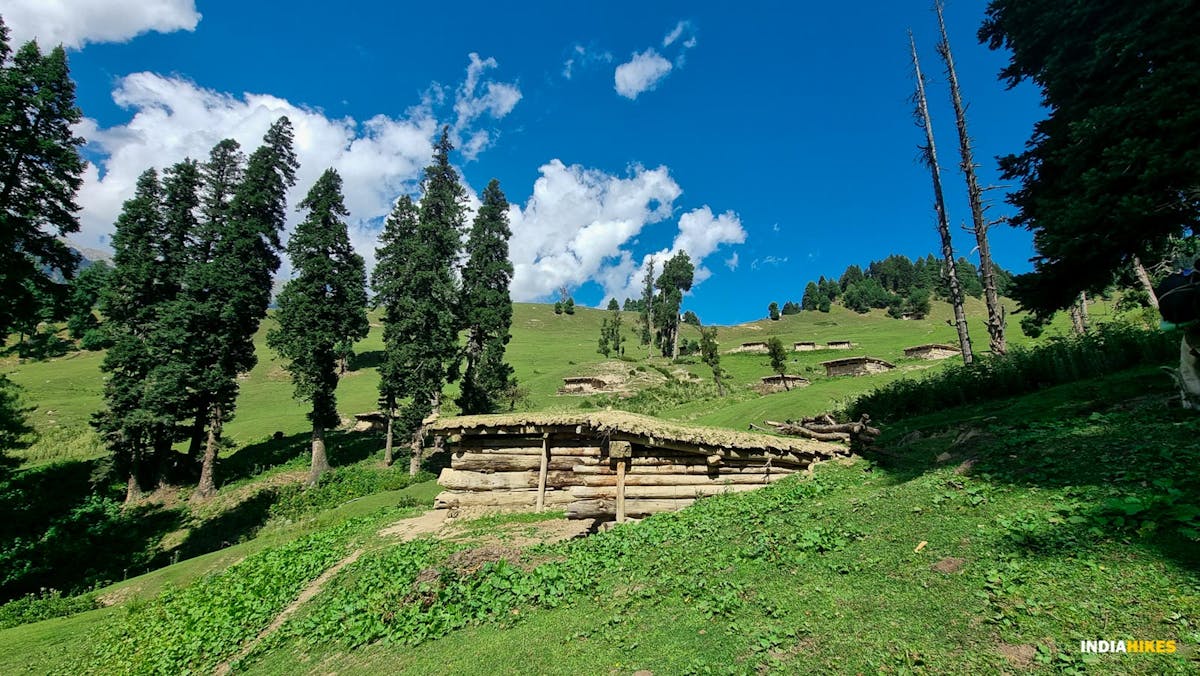 The Gujjar huts are built with such precision and grandeur by the shepherds themselves. Picture by Dr Dhaval Jajal
During the flowering season, a plethora of colourful wildflowers ranging from pinks to yellows to whites to blues can be spotted on the grasslands.. It is a treat to walk on these rainbow coloured meadows.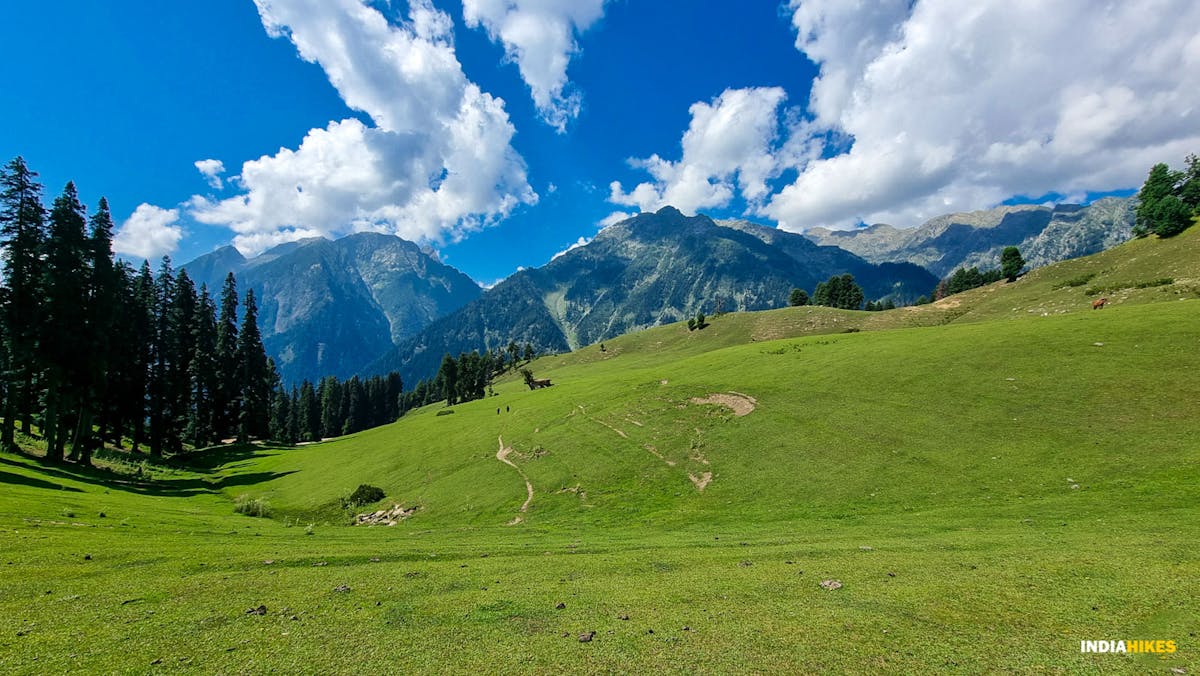 The coniferous forests open up to these wide meadows. Picture by Dr Dhaval Jajal
From Shul Margi, climb up to the end of the meadows and again find a couple of Gujjar huts. A stream flows on your right. Cross it and follow the well-marked trail to enter the dense coniferous forest again. After a couple of minutes, you are in a small opening, on a meadow. Follow the trail upwards and cross a small water stream.
The trail gets steeper from this point onwards, so be prepared for a tough climb all the way till you spot a makeshift wooden gate. A stream flows on the other side of the gate, a couple of hundred meters off the trail on your left, and this is your second water source for the day. Once you cross the gate, walk for approximately 30 minutes to reach Bhaj Margi meadows, your campsite for the day.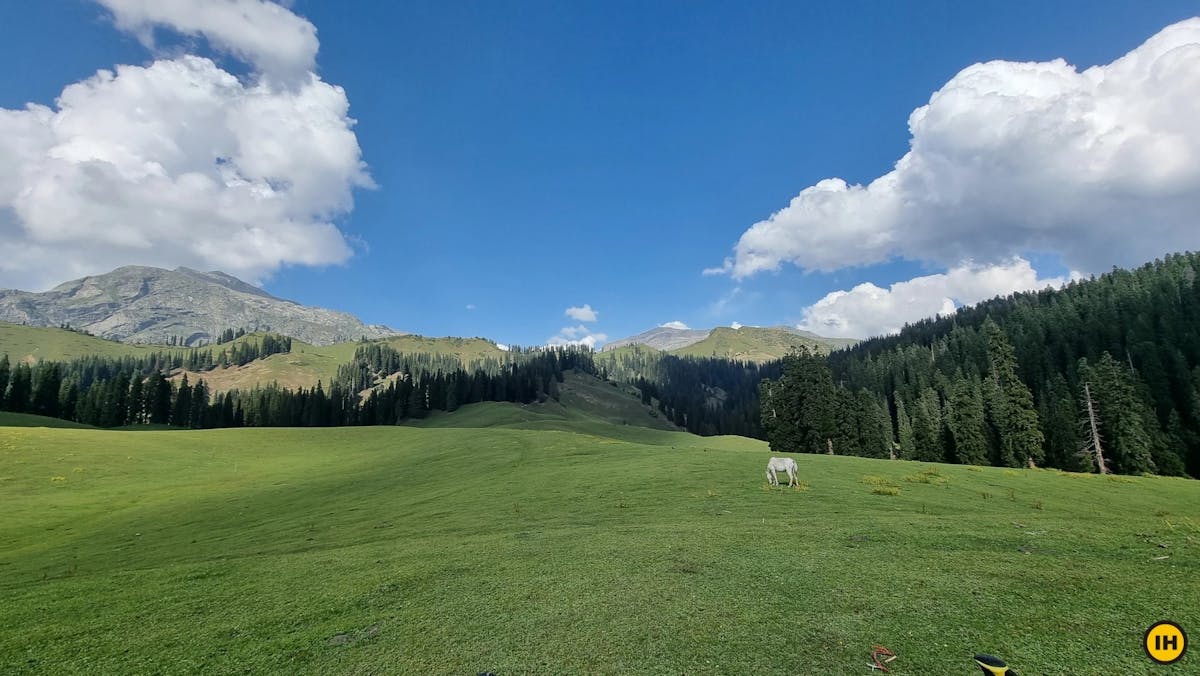 A horse grazes on the lush Bhaj Margi meadows. Picture by Dr Dhaval Jajal
The Bhaj Margi meadows are one of the most picturesque grasslands you will ever see. Horses gallop and sheep graze the soft grass, while you take in the panoramic views of the peaks, the coniferous trees and clear skies, whether from inside the comfort of your tents or outside.
If you arrive at the campsite early, explore the campsite and visit the Dadwar meadows, one and a half hours from Bhaj Margi.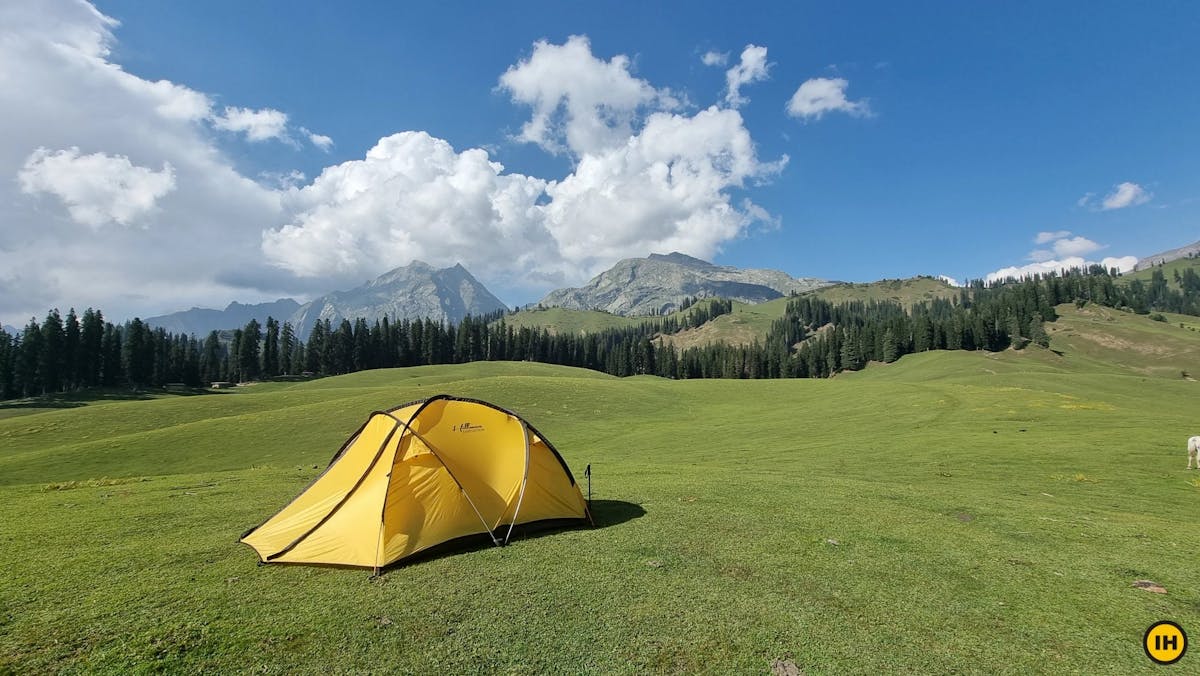 Campsite in the wonderland. Picture by Dr Dhaval Jajal
Day 3: Bhaj Margi to Nafran Valley via Arram Pathri Ridge
Trek Gradient: Easy to moderate. Gradual ascent through the forest with a few tricky sections on the ridge.
Water Source: Carry sufficient water. A few water sources are available all along the trail in case you run out of water.
Today's trail to Nafran Valley starts right from the Bhaj Margi campsite. It takes you through the coniferous forest with a gradual ascent along the way as soon as the forest section starts. The trail then meanders out of the forest and it forks at this junction.
Follow the trail on your right, and the next 2.5 km there is a gradual ascent on an undulating trail which leads you towards the top of Arram Pathri ridge. As you approach the top of the ridge, look to your right for a commanding view of both Bhaj Margi and Dadwar meadows.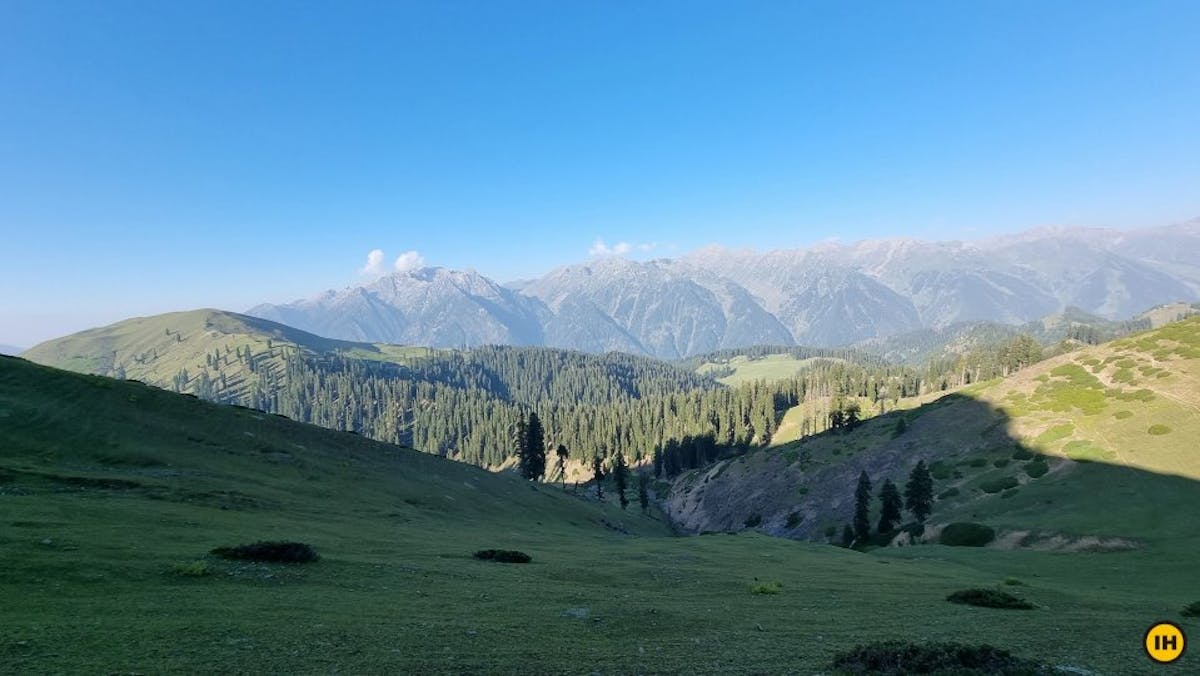 Campsite in wonderland - Nafran Valley Trek - Indiahikes - Dhaval Jajal
You come across two to three small streams before reaching the rocky terrain. Proceed with caution here as a few sections are tricky and slippery. The terrain is rocky and it requires firm footing on the ground. A view of Pahalgam Valley awaits you on the left as you traverse through the rocks carefully.
Find an opening along the ridge from where you can descend down towards Arram Pathri. It is a steep descent of 1,250 ft over 1.5 km, so it is important that you take small steps throughout. You'll know you have reached Arram Pathri when a cluster of Gujjar huts are visible on the banks of Nafran river.
The tricky descent down the Arram Pathri ridge. Picture by Dr Dhaval Jajal
If you are out of water by now, this is the right spot to refill your water bottles.
With Nafran river on your left, follow the trail which is faintly visible at a few places and is filled with boulders. The walk is going to be a long, slow one at the boulder sections. Before reaching Harnag Pass, you'll traverse through three levels of small grasslands and boulder sections one after the other.
After more than 6 hours of trek, you'll reach the Nafran campsite which is surrounded by mountains on three sides in the Nafran Valley. Retire for the day here and soak in the scenery by taking a walk in the valley for the remainder of the day.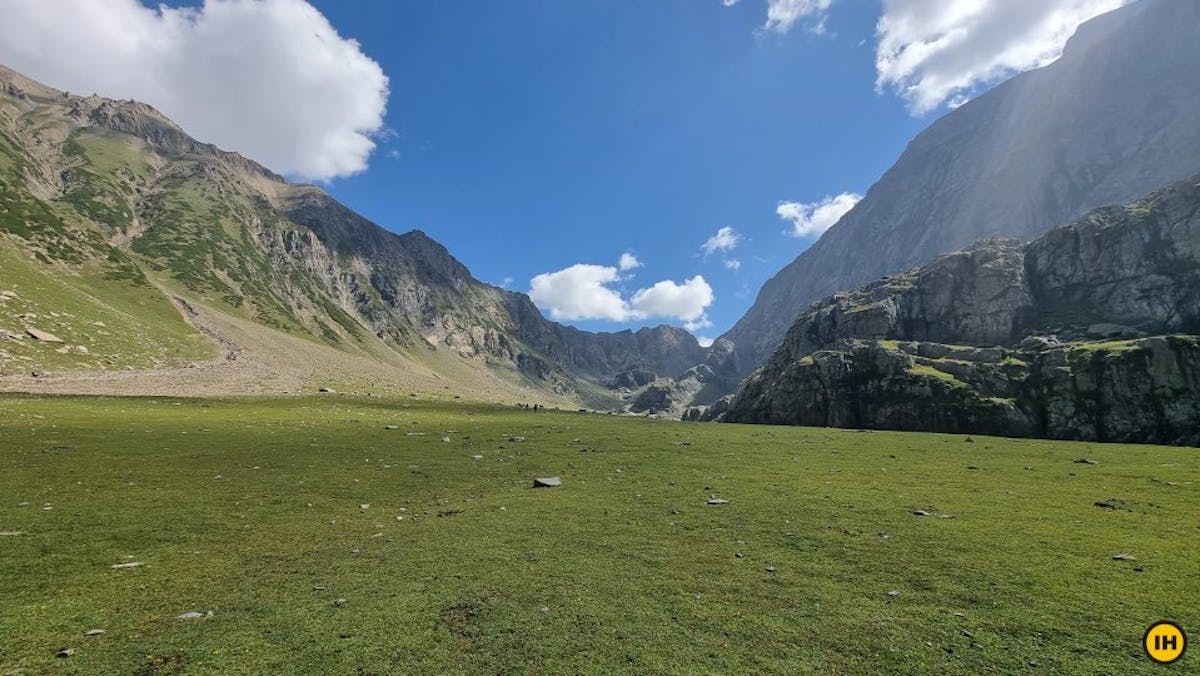 The Nafran campsite in the midst of mountains. Picture by Dr Dhaval Jajal
Day 4: Nafran Valley to Harnag Lake via Harnag Pass
Trek Gradient: Moderate. Initial flat walk turns into a gradual ascent with a steep ascent for the last kilometer.
Water Source: Carry sufficient water. Small streams flow throughout the trail that act as a water source for the day.
Harnag Pass to the Northeast, is 2 km from Nafran campsite. Proceed towards the pass on the flat trail that slowly gains altitude as you cross a cluster of shepherd huts. More than half of the climb to the pass is steep and it takes a good amount of time to reach the top of the pass because it is full of rocks and boulders.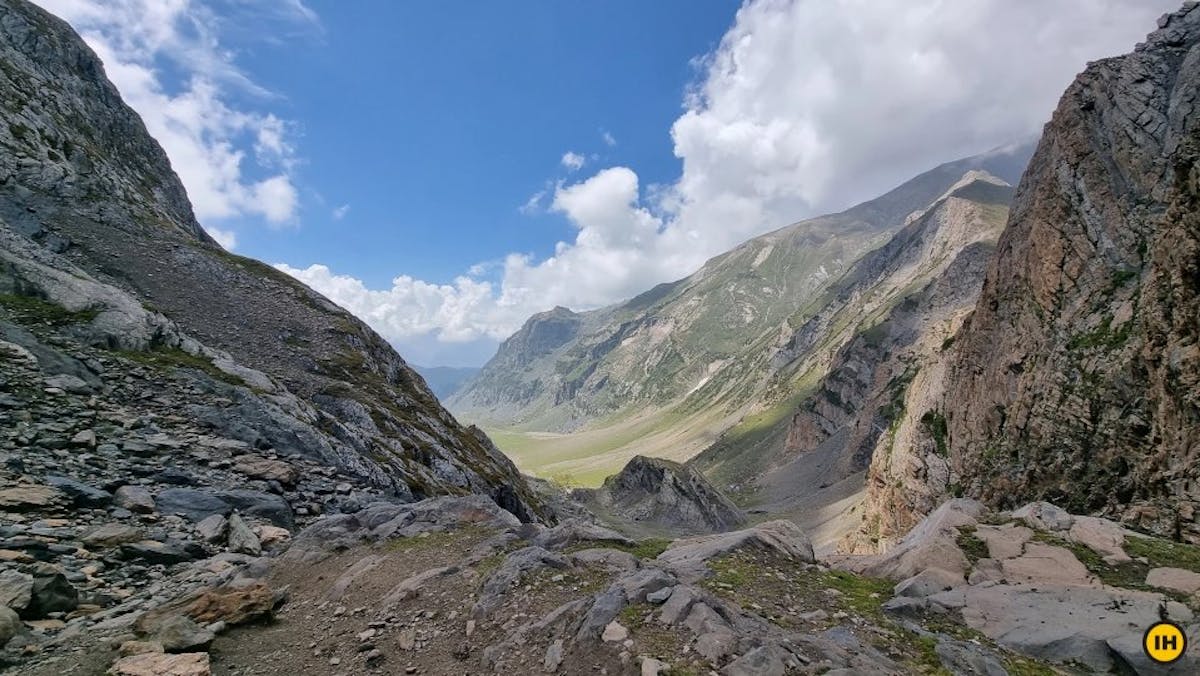 View of Nafran Valley as you turn back from Harnag Pass. Picuture by Dr Dhaval Jajal
Again, be very careful here as some of the sections consist of loose rocks and chances of an ankle twist or slips and falls are high. Adding to the difficulty is slippery boulders due to the stream that flows from the top of the pass. Watch out for them and step only on dry boulders.
From the top of the pass, the wide open valley of Nafran is spread behind you, while the Harnag valley, with the Harnag lake bang in the center of it is visible ahead of you.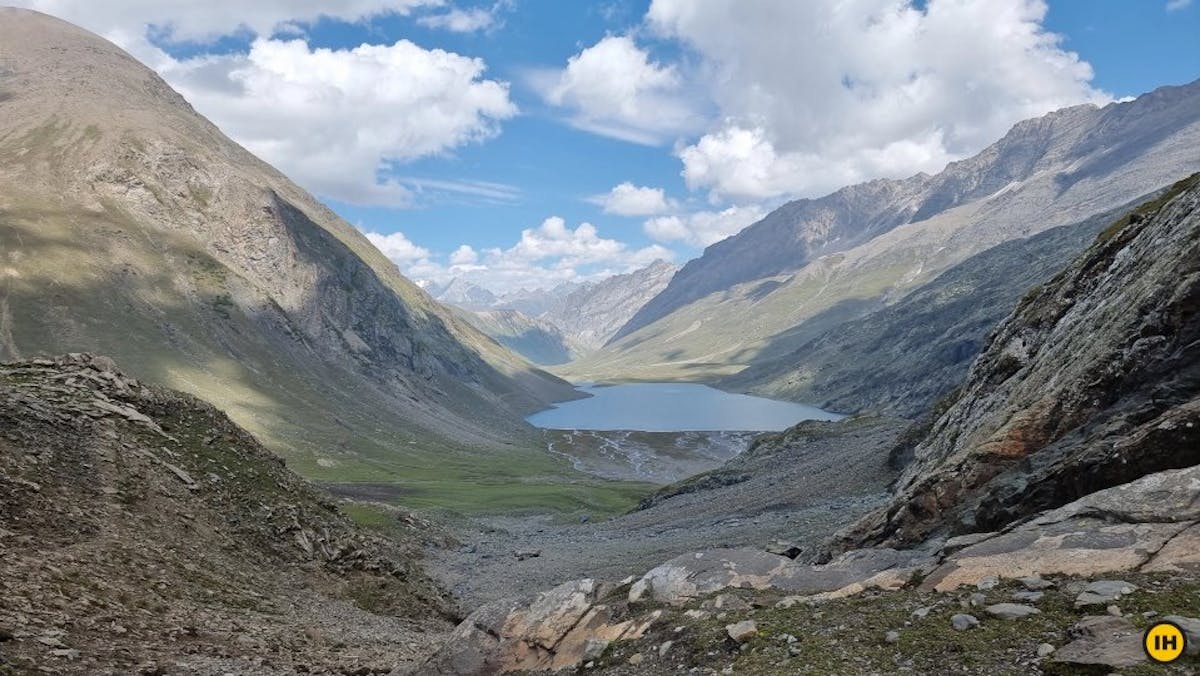 Ahead of you is the crystal blue Harnag Lake, as seen from Harnag Pass. Picture by Dr Dhaval Jajal
Just like the ascent to the pass, the descent also has similar terrain and you must take precautions not to injure yourself.
Make sure to keep to your left hand side so that you can cross the stream with the help of loose stones that are placed by the shepherds, and follow the trail towards Harnag Lake.
Make your way towards the lake where the streams feed it, and exercise caution here as the trail is on a slope and it is washed away by landslides at some places. Continue on this trail for about 20 minutes, from where you will spot a small extension of the lake on your right and the clearing near the extension is your Harnag campsite.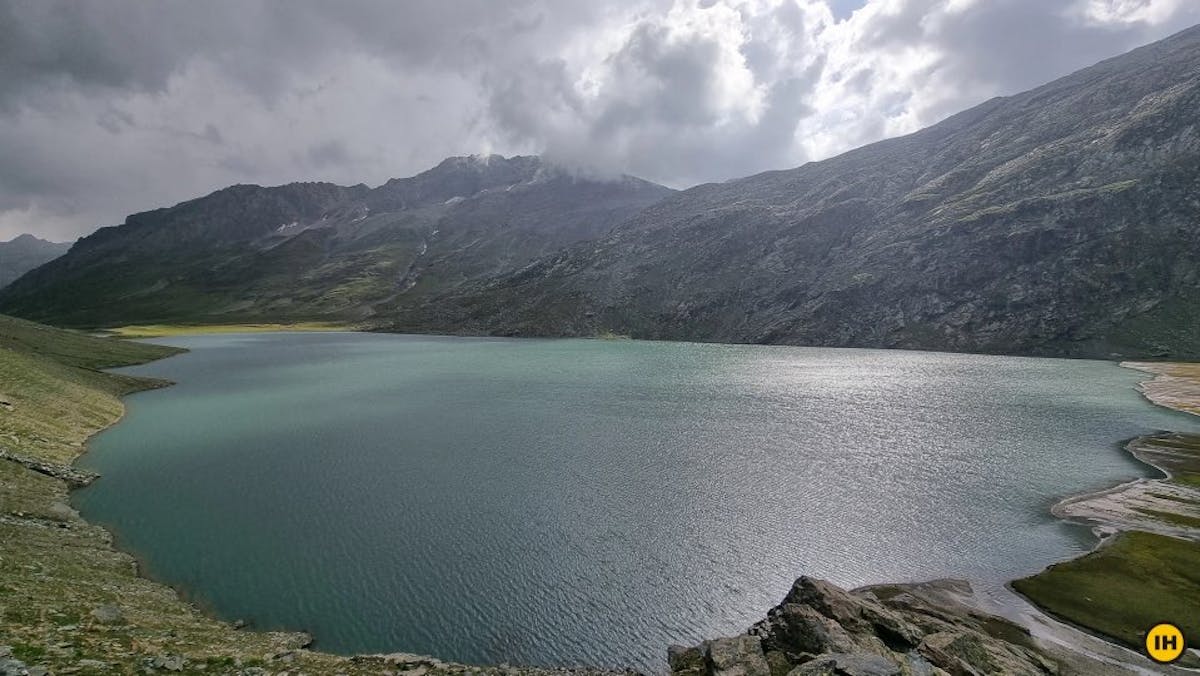 The magnitude of Harnag Lake is felt as you proceed closer to it. Picture by Dr Dhaval Jajal
Day 5: Harnag Lake to Harbhagwan Lake and back to Harnag Lake
Trek Gradient: Difficult. Rocky and bouldery terrain with steep ascent for almost the entire way.
Water Source: Carry sufficient water. The streams found along the way are your only water source.
This day is going to be long and difficult. The day starts off on a well-defined trail in a wide valley and gradually transitions into an undulating trail.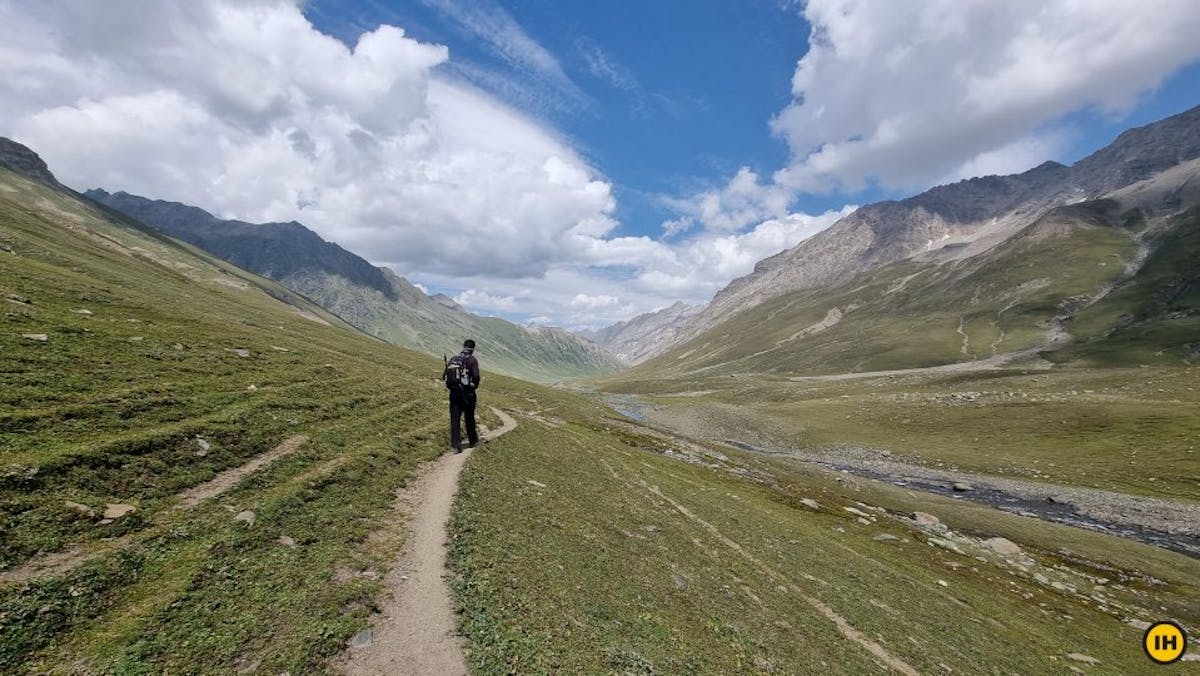 A long, undulating walk towards Kolahoi glacier. Picture by Dr Dhaval Jajal
After crossing two streams about 2 km from Harnag Lake, you will reach Kolahoi glacier viewpoint, and it is from here that you get a glimpse of the massive Kolahoi glacier at the edge of Mt Kolahoi on your left.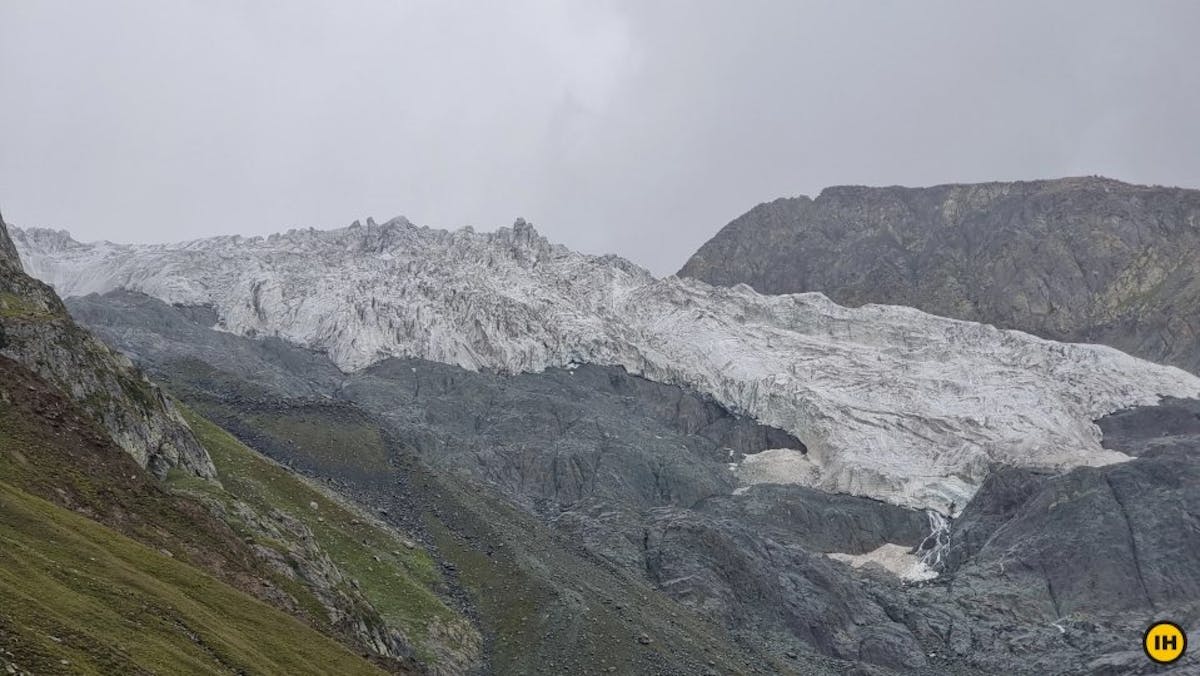 The large chunk of ice frozen from Mt Kolahoi forms the Kolahoi glacier. Picture by Dr Dhaval Jajal
Pause the view of the glacier by taking in the spectacle that's in front of you. It is not everyday that you see a glacier in the middle of a valley! Along the glacier, you'll see the east face of Mt Kolahoi.
Spot a range of sharp, pointed peaks on the right of the glacier. Just behind these peaks is the Harbhagwan Lake. The trail gets steeper from here and it is a 3 km of tough ascent till the lake. The altitude gained just at this stretch is about 2,264 ft. So, traverse this section slowly and be aware of any symptoms of high altitude sickness. You must descend immediately if you're experiencing any symptoms.
The ascent starts off on a soft, grassy terrain and has many boulder sections to watch out for. Make your way gingerly over the boulders as they are notorious for ankle twists, slips and falls.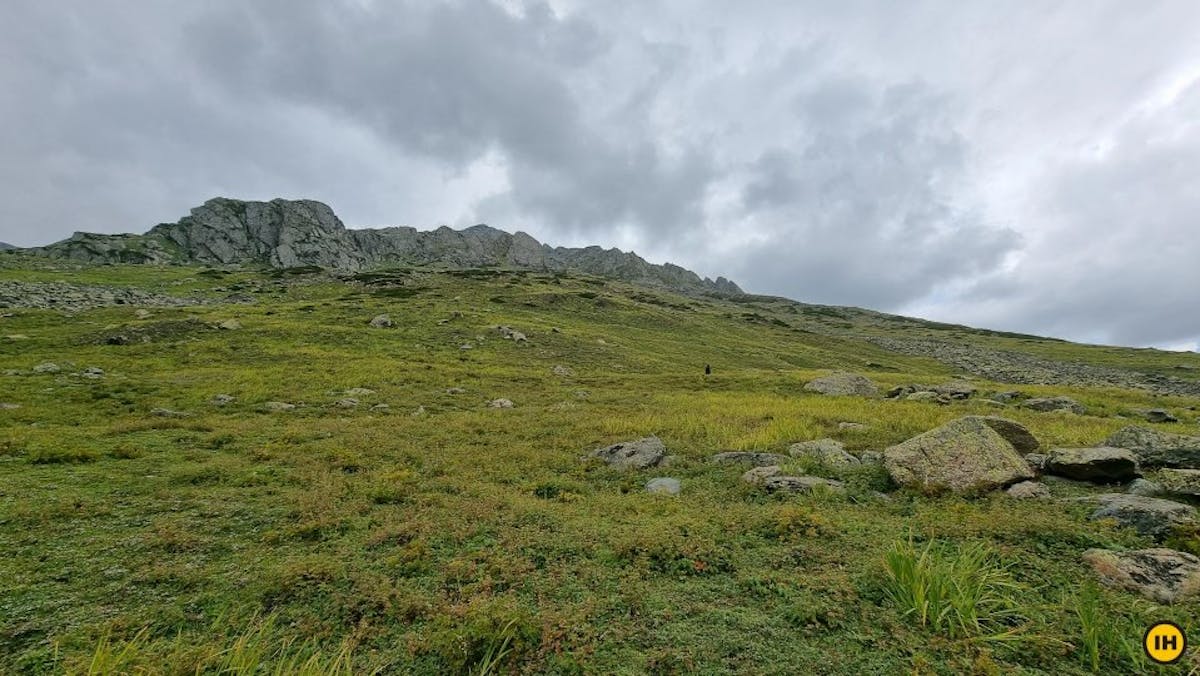 Start of the ascent on the fresh, soft glades of grass. Picture by Dr Dhaval Jajal
Once you reach a somewhat flat surface on the ridge, the trail faints away and you'll have to make your own way till the lake. A stream that flows from the top is your beacon here. Just follow the stream over a steep ascent and it will take you right to the mouth of Harbhagwan Lake.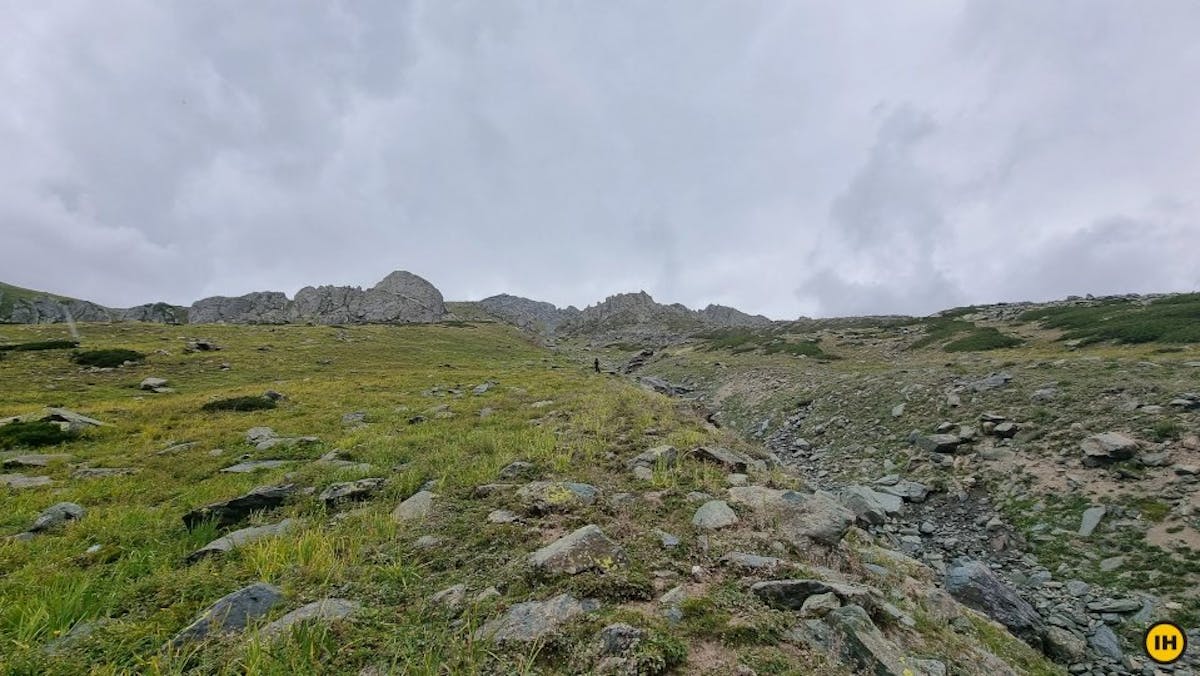 Notice the ascent getting steeper with every step. Picture by Dr Dhaval Jajal
Harbhagwan Lake is one of the most beautiful lakes placed in one of the most beautiful settings. Big chunks of ice break off the hanging glacier and feed the pristine blue lake.  Spend a good amount of time here before making your way back the same trail till you reach Harnag Lake campsite.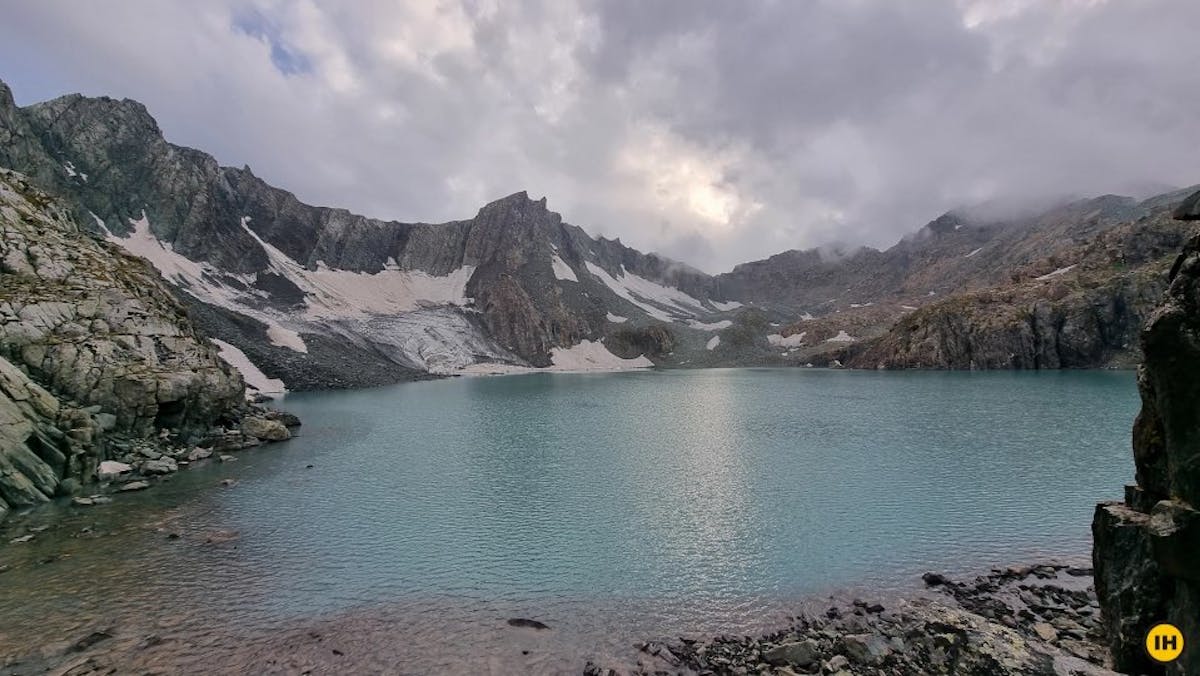 Harbhagwan Lake makes all the hard work worth it. Picture by Dr Dhaval Jajal
As a bonus, you will spot Mt Kolahoi peak if the skies are clear on the summit day!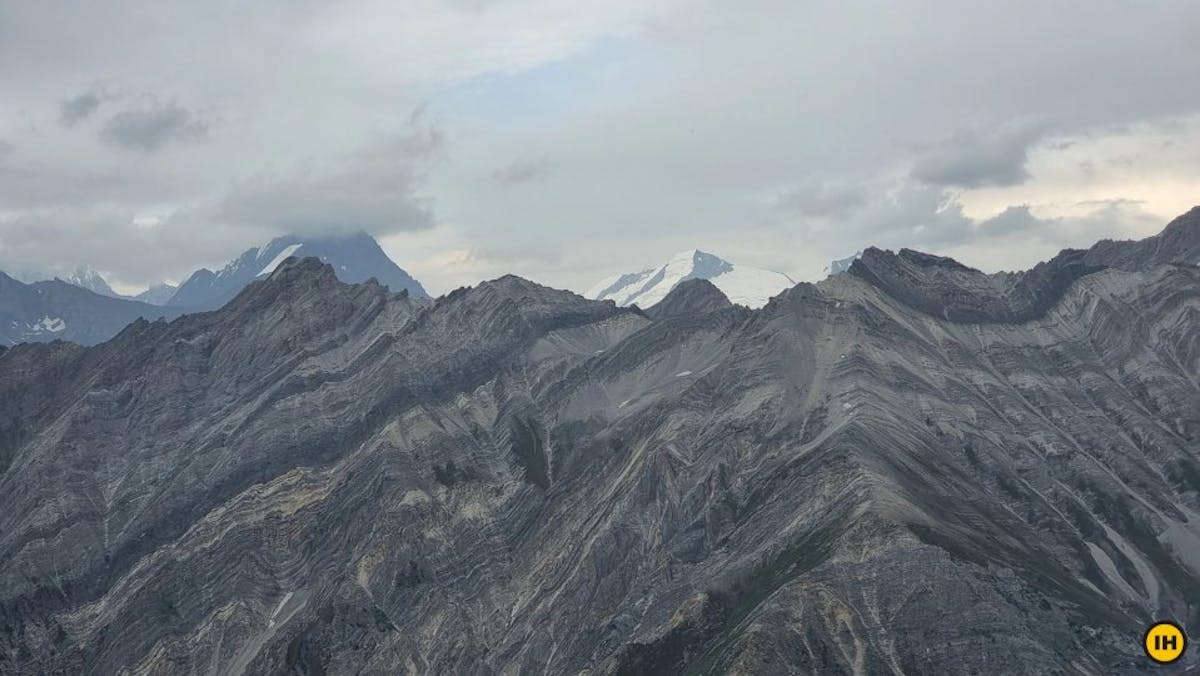 Snow covered peaks show up as you make your descent from Harbhagwan Lake. Picture by Dr Dhaval Jajal
Day 6: Harnag Lake to Arram Pathri
Trek Gradient: Easy to Moderate. Flat to gradual ascent and complete descent till Arram Pathri.
Water Source: Carry sufficient water. There are multiple water streams along the way till you reach the campsite.
The tough part of the trek is behind you. Today you make your way to Arram Pathri, a beautiful flat meadow by taking the same trail back to Harnag Pass, all the way till Arram Pathri.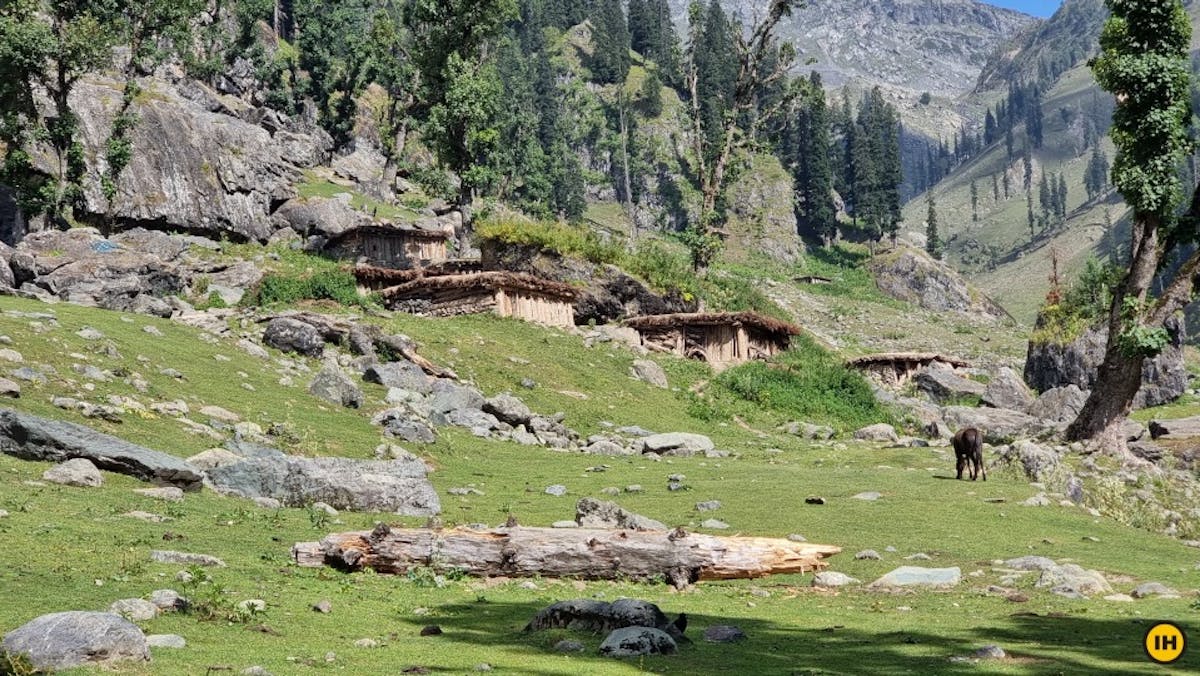 The Gujjar huts can be spotted as you camp at Arram Pathri as well. Picture by Dr Dhaval Jajal
Watch out for moderate to steep descents once you cross Harnag Pass.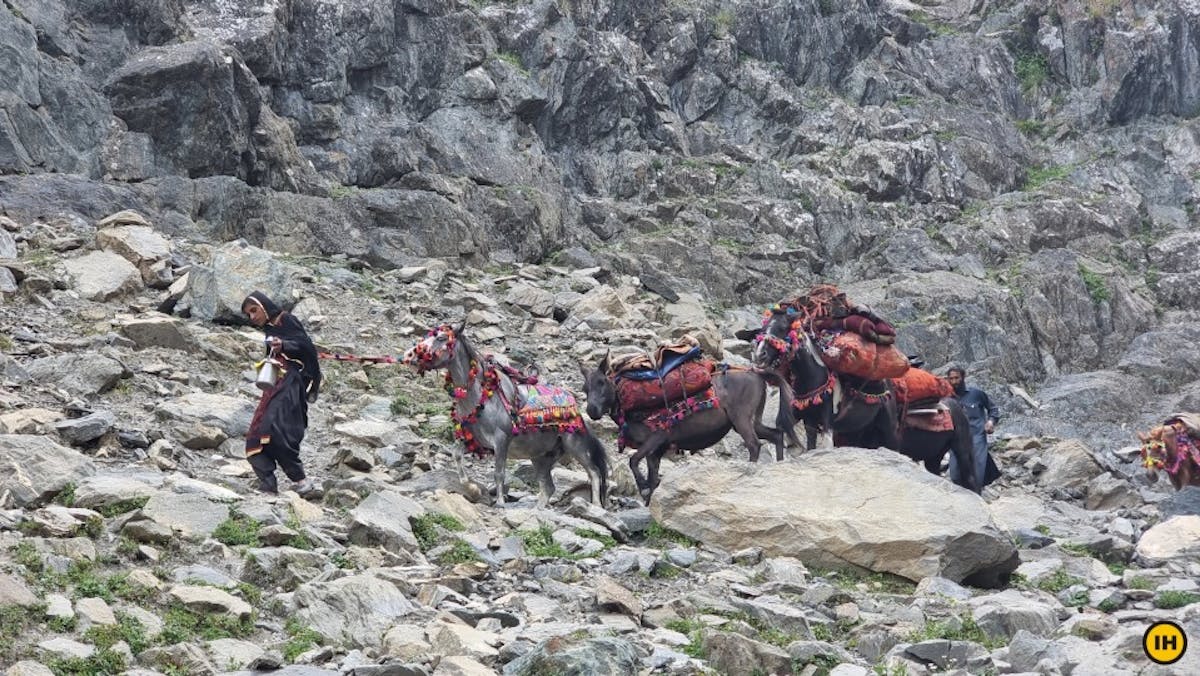 The tricky, steep, boulder section as you descend down the Harnag Pass. Picture by Dr Dhaval Jajal
Day 7: Arram Pathri to Aru and Drive to Srinagar
Trek Gradient: Easy. Gentle walk in the valley as you descend to Aru.
Water Source: Carry sufficient water. The Nafran river flowing through the valley is your water source.
Take the trail to the right from Arram Pathri. The trail to the left takes you to Mondlan.
The trail offers a different scenery as you trek through a new section of Nafran valley. Enjoy the mellow walk along the Nafran river by crossing a few streams and the river over a makeshift bridge.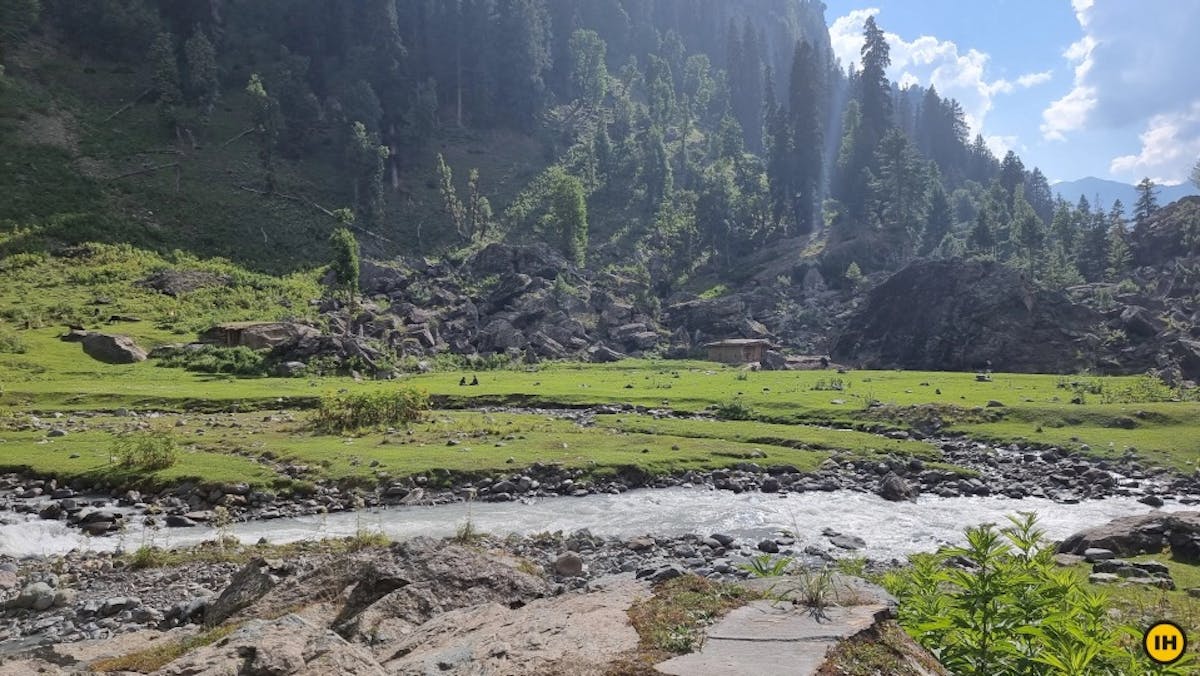 Nafran river flows alongside a fairytale setting on the way to Aru. Picture by Dr Dhaval Jajal
Along the way, you pass through -- Kanzal Pathri and Gagad Pathri -- wide open valleys and witness the confluence of Nafran and Ghash Aangan rivers.
Thick forests with coniferous trees play hide and seek between Gagad Pathri and Kanzal Pathri, while a cluster of shepherd huts remind you of the civilization at Ghirwad.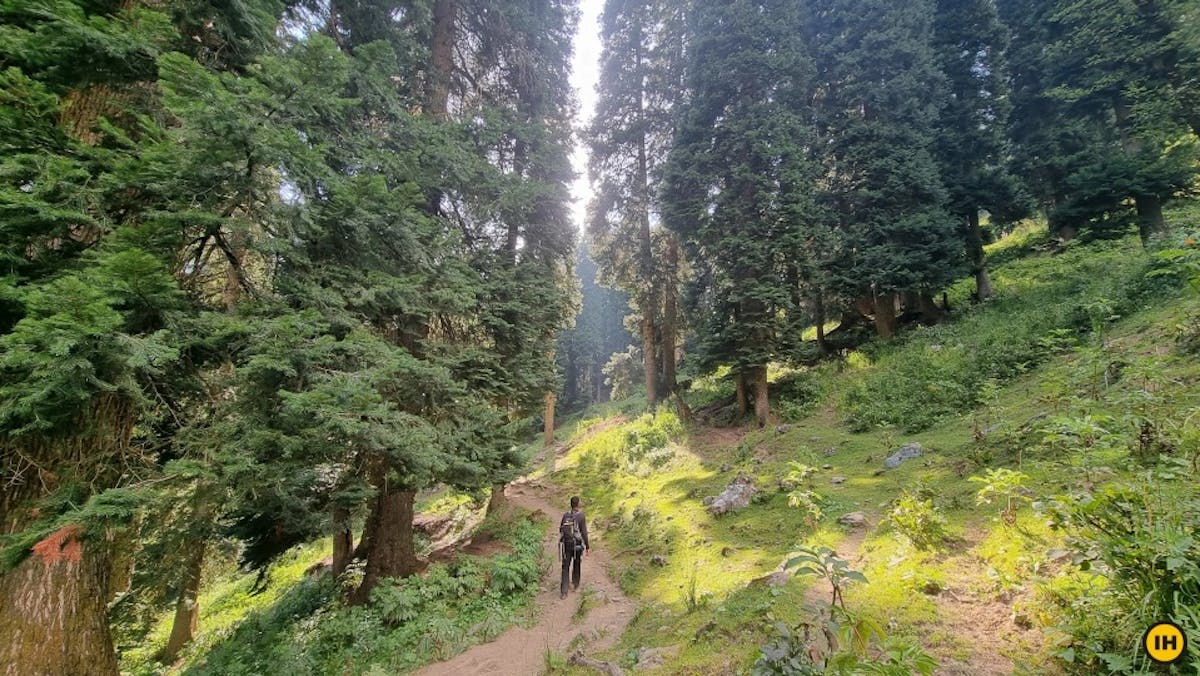 The last of the thick, coniferous forests on the trek. Picture by Dr Dhaval Jajal
It's a perfect setting to end the trek at Aru, the base camp.
Finish your lunch at Aru and relax for a while before driving back from Aru to Srinagar. If you are trekking with Indiahikes, you are expected to reach Srinagar by 8.00 PM. Cost will be Rs.3,000 per cab (5-6 Seater).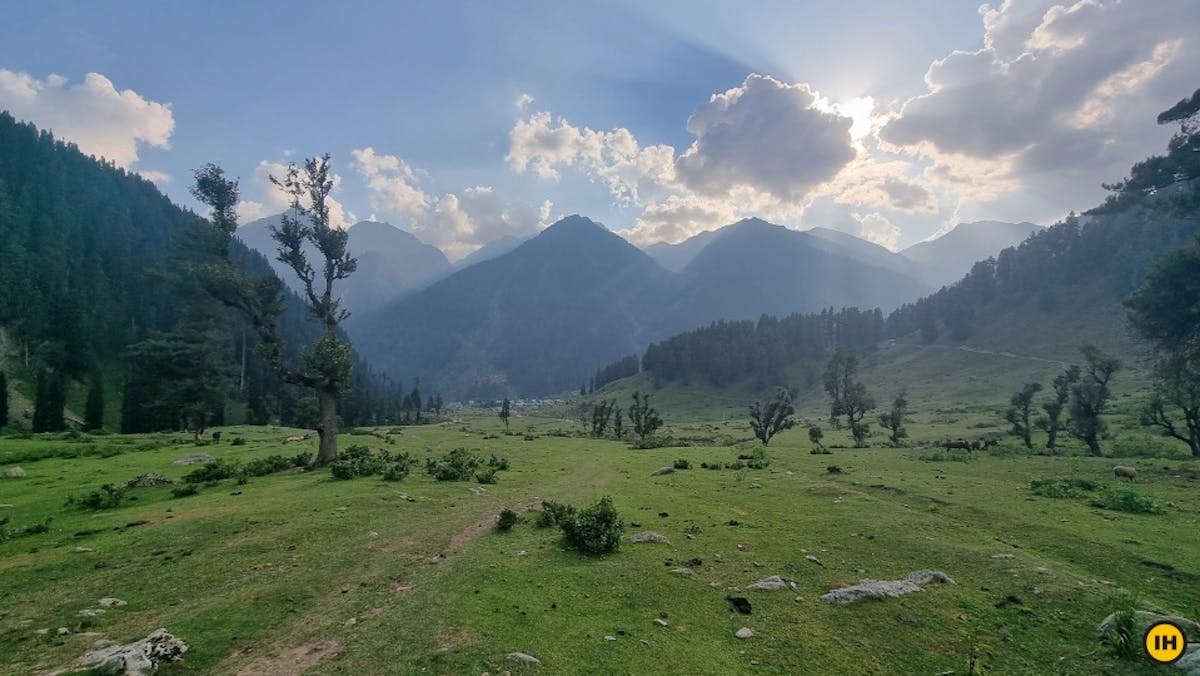 The picturesque Aru Valley. Picture by Dr Dhaval Jajal
Plan Your Travel
A Quick Guide to Plan Your Travel Dates and Time
Step out of the Srinagar (Sheikh Ul-Alam) airport. You will first need to get to the Tourist Reception Centre (TRC), which is 12 km away from the airport. But it's easy to get there.
The TRC lies in the heart of Srinagar. It is a prominent landmark and is well connected, hard to miss as it has a football ground attached to it. There are two ways to get to the TRC.
1. Government Bus: This is the best way. There are airport buses every half an hour which take you to TRC. The ticket now costs approximately Rs.80. This is the most reliable, safe and pocket-friendly way, provided you have time on your side.
2. Cab: The next option is to take a private cab. You will get plenty of them immediately as you step out of the airport. But take this option only if you are pressed for time because it is expensive. The cab will cost you around Rs.600.
Note: While autos do ply in Srinagar city, you won't find them in the airport complex. You need to walk a km or so from the airport to find an auto. We do not recommend it.
Direct Route from TRC to Aru
After you get to TRC, the next step is to begin your journey to Aru. The route to Aru goes via Pahalgam.
So, your first, most prominent leg of the journey will be to Pahalgam.
There are two parallel routes for this. One moves on the four-lane Jammu Highway and goes through Anantnag. The second is on the other side of Lidder river, which takes the same amount of time but is a notch more scenic due to the apple and apricot orchards on the way. This is the route through Bijbehra.
Both routes converge three kilometers prior to Pahalgam. The entire journey takes around 3.5 hours.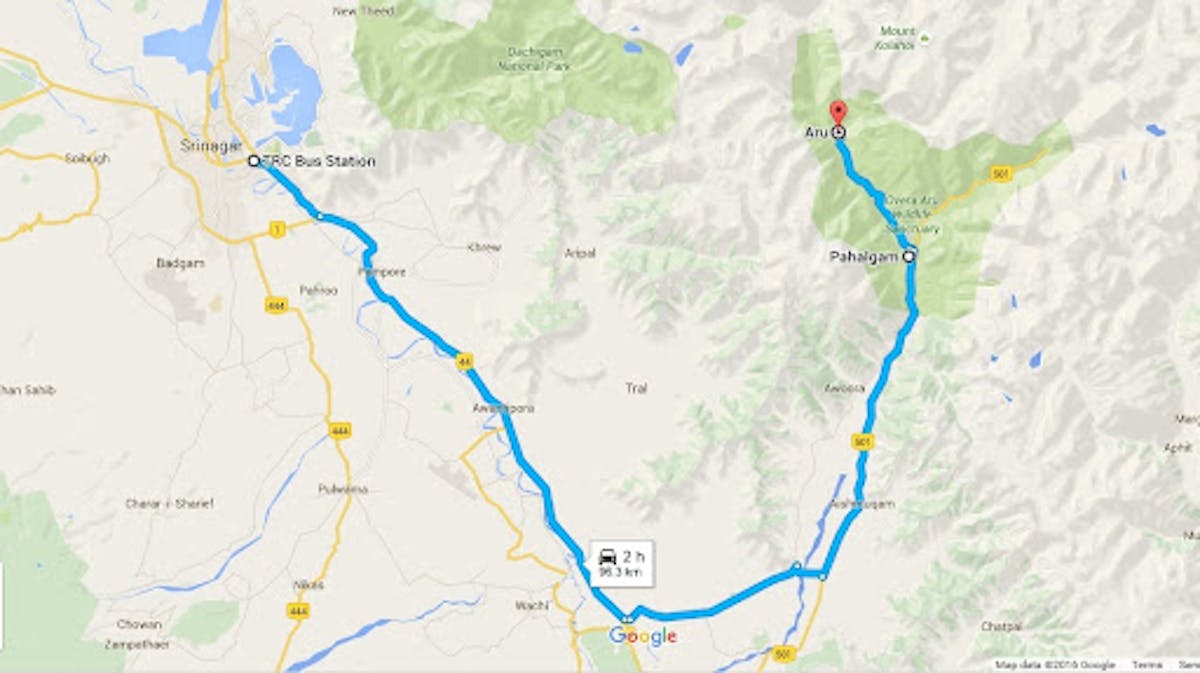 Route from Srinagar to Aru. Screenshot from Google Maps
Alternative: Break it at Anantnag
Go for this option if you are traveling on your own and want to opt for shared vehicles. You will find frequent shared cabs leaving for Anantnag from Dalgate taxi stand, near Jan Bakers on M A Road to Anantnag. It costs around Rs.80 for a distance of 58 km (1.5-2 hours).
Hop into another shared vehicle from Anantnag stand to Pahalgam. Expect it to cost around Rs.110 for a distance of 45 km (1 – 1.5 hours).
Note: There are chances your shared/private vehicle may not go till Aru as some of them do not have permission to cross Pahalgam. Enquire about this with the driver.
Aru is 12 km from Pahalgam. Cabs to Aru usually leave from the non-touristy side of Pahalgam. Talk to your cab driver or locals to figure this one out. The journey is barely 20 minutes long.
How Difficult is Nafran Valley Trek
A Reality Check on the Difficulty Level of this Trek
At Indiahikes, while rating a trek difficulty we consider a number of factors. These include altitude gained every day, length of trek everyday, highest altitude, nature of the terrain, weather etc. Based on this we rate a trek as easy or difficult or somewhere in between.
Here, we rate Nafran Valley as a 'moderate-difficult' trek. It is a very high altitude trek that takes you above 14,000 ft. The trek climbs rapidly and your safety depends a lot on the preparation you put in for the trek.
The trek is long and strenuous. It also climbs quickly. Having prior experience of trekking in the Himalayas helps in accustoming you to hardship. Having know-how about Acute Mountain Sickness greatly helps in dealing with altitude issues you may face on the trek.
Is Nafran Valley Trek Safe?
Defining Safety Standards of Trekking
Yes. Trekking to Nafran Valley is safe even though it lies in Kashmir. That's because the trail is remote, away from civilization. Most of the time it's just your group trekking on your own in nature.
But there are certain fears and misconceptions around trekking in Kashmir. We recognize them and have addressed them in this blog -- Is Trekking In Kashmir Safe? -- where team members from Indiahikes talk about how it feels to trek in Kashmir.
Coming back to the trail, being mentally prepared for the trek is as important as being physically prepared to stay safe. For this, it is crucial to have a clear mental picture of the trek. Quickly, here it is:
Trek in a nutshell: On the Nafran Valley trek you go up to an altitude of 14,127 ft. You will be trekking and camping at altitudes above 10,000 ft on four days. It is possible that you could be hit by AMS on any of these days. At Indiahikes, we believe that as long as you are well-informed and well-prepared, you can easily survive at high altitudes.
To do this effectively, let's break down and examine various aspects of Nafran Valley trek from the perspective of safety:
- Safety while trekking in Kashmir
- What you must know about AMS
- Exit points on Nafran Valley trek
- Closest hospital to Nafran Valley trek
Safety while trekking in Kashmir
While the Nafran Valley trek remains untouched during times of unrest, getting to the base camp involves traveling through populated towns like Bhijbera and Anantnag in the picturesque countryside of Kashmir. 
On your drive to Aru, be mindful of where you are going, how you are traveling and if your mode of transport is reliable.
Thumb Rule:  Stay cued into news. Be curious about what's happening around you. Keep a check of areas that are flagged red. Check if transport is getting affected and be forthcoming on enquiring about alternate routes.
Be aware, but do not worry or panic. Stay calm and keep the following pointers in mind when you are travelling in Kashmir:
- If you're staying overnight at Srinagar, stay in touristy areas like Dal Lake or Lal Chowk.
- Blend in with the crowd in terms of dressing and behavior.
- Avoid going to downtown areas. Stick to tourist spaces as they tend to be safer and well-protected during times of unrest.
- Don't panic if there is a curfew. Keep calm and wait for it to pass.
What you must know about AMS
As discussed in the above section, you are exposed to the risk of AMS when you cut the itinerary short. But if you are short on time and skip camping at Nafran, pay close attention to your body. Stay alert for any signs of altitude sickness.
Attend to your uneasiness and take curative measures. Check oxygen levels, go on a curative course of Diamox, drink water and rest. If you do not feel normal after a few hours or overnight, do not proceed further on the trek.
To help you understand AMS better, we've put together a complete guide about it. This is a series a videos you must watch before you get onto any high altitude trek:
If you experience any symptoms of AMS, even in the slightest, start taking steps to treat the sickness.
At Indiahikes, our Trek Leaders are trained and equipped to take care of any emergencies related to AMS.
Emergency Exits
Medical Emergencies can strike on any trek. The key to dealing with them lies in knowing your exit points. Know how to get out and reach the nearest hospital quickly.
On Nafran Valley trek, your best bet is to descend to Mondlan, Aru or Baltal.
When you are deep into the trek -- say at Harnag Lake --  you easily take a day to reach the Aru exit. If you cannot afford that much time, check for the alternative route via Baltal, which is 4-5 hours away.
Closest Hospital to Nafran Valley Trek
In case of a medical emergency, the closest hospital is at Pahalgam. If you need serious medical attention, head to Srinagar for better facilities.
Best Time to do Nafran Valley Trek
Experience the trek in different months to plan accordingly
The best time to do Nafran Valley trek is from the second week of July to the beginning of September. It is the traditional monsoon season in the rest of the Indian subcontinent, but things are different in the Kashmir Valley.
Kashmir receives only mild rainfall in the months of July and August. Not at all like in Himachal Pradesh or Uttarakhand. That's because of the Pir Panjal range which prevents most rain clouds from reaching the Kashmir valley.
It's a boon because it makes for a comfortable trekking experience. In all the other seasons, it's too cold to trek, the trail and the meadows are buried under snow for most part.
But even if we look at just one season, Nafran Valley trek changes appearance and colour throughout the three months - July, August and September.
Nafran Valley in early July
Trekking opens on the Nafran Valley trail in the first week of July. Until then the upper reaches are under heavy snow. The lower meadows open earlier.
When you trek in July you can expect to see remnants of snow by both the lakes on the trek - Harnag and Harbhagwan. You may even see melting ice floes in the lake in early July.
This setting offers a fleeting glimpse of how the landscape looks like for the rest of the year - buried under snow, punctuated with frozen lakes.
Sometimes, even if it's not the best phase to complete the trek, the sight is spell binding.
Nafran Valley from mid-July to the third week of August
After mid-July, Nafran Valley trek starts revealing itself in full glory.
Now, the snow has almost melted. And the trail is carpeted with bright green meadows, which are in contrast with the rugged, grey mountains rising at the fringes. The best part is, these meadows are densely dotted with so many wildflowers!
You experience this beauty, especially in the Shul Margi and Bhaj Margi plains, as you trek over tiny flowers of colours ranging from violet, red, blue, purple to yellow and white.
Frozen chunks of the alpine lakes have melted by now. Waters of Harnag and Harbhagwan are deep blue.
Rains -- more like evening showers -- pick up during this time.
Nafran Valley from the end of August to first week of September
Cold sets in as the season progresses to the end of August. The evening showers become frequent. But when the clouds part during this time of the year, you witness brilliant blue skies. Their reflection deepens the blue of the alpine lakes.
You will also see a change in the colour of the meadows. They look a bit roasted, just with a tinge of brown. Watch out for this as you camp at Nafran. Also, on the day you trek from Harnag to Harbhagwan.
The grass no longer retains the soft, fresh green tinge. The flowers wilt too. And yet, there's a beauty to this change of tone.
We usually stop our trek towards the first week of September, but some lone trekkers do attempt it till the end of September. So, it's doable. But it may not be the most comfortable time, given the cold temperatures.
What To Take
A Packing Check-List
Things to get for the Nafran Valley Trek
Nafran Valley is a very high altitude trek. The trekking gear you need to carry for this trek is different from regular treks. So pay careful attention to this entire section.
- A list of everything you need for the trek
- Medicines for your trek
- Mandatory documents
First, the Essentials. You cannot do the trek without these.
1. Trekking Shoes:
Nafran Valley trek requires trekking shoes that are sturdy, have good grip, have ankle support and can handle snow. Here is a quick video on how to choose your trekking shoes.  
Buying Tip: The Trek series and MH series are good options by Decathlon. They are tried and tested. There really isn't any necessity to buy the higher priced models. Here is a list of other budget shoes that trekkers are using.
Rental: We have the Trek series and the MH series by Decathlon available on rent from the Indiahikes store. They are already broken into and in good condition. Rental shoes are not dirty or unhygienic. This is how they are kept clean.
2. Backpack:
For a trek like Nafran Valley, you need a 50-60 litre backpack. Make sure your backpack has good hip support, shoulder support and quick access pockets. Here is a guide on how to choose a backpack.
Buying Tip: Wildcraft, Decathlon and Adventure Worx usually make good backpacks. While Wildcraft has more expensive ones, the other two brands have budget-friendly backpacks to choose from.
Rental: The 48 litre backpack by Adventure Worx is available on rent from the Indiahikes store. They are custom-made for our Himalayan treks. Rent them if you don't have a backpack.
3. Clothes:
Wearing layers is the mantra in the mountains. Layers give you maximum protection from all elements. And when the weather changes in the mountains (as it happens every few hours), you take off or put on layers as required. 
Base Layer:
3 T-shirts:
Wear one T-shirt and carry two. Carry full sleeve dry-fit T-shirts (preferably collared). These prevent your arms and neck from getting sunburnt. In the rarified air on the trek, especially at high altitudes, UV rays can burn you in no time.
Dry-fit T-shirts quickly dry your sweat, they are easy to wash and in case of a rainy day, they dry quicker. Round neck T-shirts are ok, but collared ones are better.
Buying Tip: You can get dry-fit T-shirts from Decathlon. Also, stores like Reliance Trends, Max have dry-fit T-shirts. They don't usually cost much.
Cotton or Synthetic? As Indians, we love cotton. Down in the plains when the heat is a blistering 40°C it makes sense to wear cotton. But it takes a long time to dry when it gets wet. In the mountains, where it is cooler, synthetic is what you wear. They wick sweat rapidly and keep you dry. (But they do tend to smell quickly, so carry a roll-on deodorant with you.)
ProtipIf you are extra susceptible to cold, you could get a set of thermal inners. In our experience, wearing two T-shirts over another works as a better thermal. And they save you weight and space, since you're already carrying them.
3 Insulation Layers:
The highest altitude you reach on this trek is 13,200 ft. At these altitudes it can get freezing cold even in the middle of summer. You will need at least 3 insulation layers for this trek.
You will need 2 light fleece layers, 1 full-sleeve light sweater. Do not get your grandma stitched sweaters, which can be very heavy. You need sweaters and fleece jackets that can fold into compact rolls.
1 Outer Layer:
A padded jacket serves the purpose here. You don't really need a water-resistant material. But you need an outer padded jacket that keeps the wind and cold out. Ensure your padded jacket has a hood as well.
Do you need a down/feather jacket? Not really. A regular padded/shell jacket will do. This video here will help you to learn more about the difference.
Note: Down/feather jackets are really not available these days. Many jackets masquerade as down/feather jackets. They are essentially fine polyester-filled jackets. They mimic the function of a down jacket but are usually expensive.
Rental: Padded jackets made by Fort Collins are available on rent at the Indiahikes store. They are custom made for Indiahikes and trekkers find them terrific, even in winter.
Two Trek Pants:
Two pairs of trek pants should suffice for this trek. Wear one pair and carry two just in case it rains. Trek pants with zippered cut-offs at the thighs are very suitable for treks. Also, choose quick-dry pants over cotton. They dry up soon in case of small stream crossings/rain.
Buying Tip: Go for pants with zippered pockets. They come in handy to keep your phone, handkerchief or pocket snacks.
Track pants or trek pants? Stretchable track pants make a good backup and can double up as your thermal bottoms. But track pants are not trekking pants -- so don't use them as your main outerwear. Keep them only as a backup.
Mandatory Accessories, without these too you won't be able to do the trek. 
These accessories are mandatory. Don't go to Nafran Valley without them. Trekkers generally put off purchasing / borrowing the accessories for the last minute. We suggest the opposite. Start gathering these accessories first.
1. Sunglasses:
Sunglasses are to prevent snow blindness. On a trek like Nafran Valley, especially in early July expect to walk on long stretches of snow. A small overexposure to direct sunlight on snow can lead to snow blindness (about a half hour's exposure). That's because fallen snow is like thousands of mirrors that reflect direct UV rays. So you need sunglasses with UV protection.
Tip: Try getting sunglasses that wrap around instead of those that have openings on the side. Even peripheral UV ray exposure is not a good idea.
Wear sunglasses if the trekking day is bright and sunny (on open sections, meadows). On a snowy section you must absolutely never take off your sunglasses until the section has been fully crossed.
If you wear spectacles: If you wear spectacles, you can get oversized sunglasses that you wear over your regular glasses (available at Decathlon). If that is cumbersome, photochromic lenses work equally well. Here's a quick guide on managing sunglasses with spectacles.
Contact lens users: If you use contact lenses, you can use them on the trek too. The lens solution will not freeze. You will also not face any problems in changing your lens in your tent. Just carry enough cleaning solution with you to clean your fingers well. Wear your sunglasses over your contact lens.   
 2. Sun Cap:
A sun cap is mandatory. Trekking without a sun cap can lead to headaches, sun strokes, quick dehydration and a sharp drop in trekking performance.
Tip: In the mountains, the general rule is to keep your head covered at all times. During the day a sun cap protects you from the harsh rays of the sun (it is doubly stronger with naked UV rays). A sun cap keeps your body temperature in balance. In the evening/early morning, the reverse is true. Your head loses your body heat quickly. A woolen cap prevents heat from dissipating from your head.
ProtipSun caps with flaps are a blessing for trekkers. They cut out almost all UV leaks and prevent sun burns in every possible way. They are a lot more effective than sunscreen lotion. A wide brimmed sports hat also helps to prevent sunburn in a big way. 
3. Synthetic Hand Gloves:
On a trek like Nafran Valley you are going to be handling snow quite a bit if your trekking in early July You'll need gloves to grip something or to steady yourself in snow. You also want the gloves to keep you warm.
Get synthetic hand gloves that have waterproofing on the outside and a padded lining on the inside. If you find the combination difficult to get (not likely), wear a tight-fitting fleece hand glove inside a synthetic hand glove. Hand gloves are mandatory on this trek. These are also very useful when it rains to keep your hands dry and warm.  
4. Woolen Cap or Balaclava:
Ensure these cover your ears. In the cold mountains, you lose maximum heat from your head, not from your hands, feet or the rest of your body. Which is why you need to keep your head protected, especially when the sun is down. Early mornings, late evenings, a cold trekking day are when you must use your woolen cap.
Your ears are sensitive too, so a woolen head cap that covers your ears is absolutely essential. A balaclava is a modern version of the woolen cap. It covers your ears, neck and parts of your face as well. Do not get a woolen cap that only covers your head. 
5. Socks (3 Pairs):
Apart from two sports socks, take a pair of woolen socks. Sports socks give you cushioning plus warmth. Again the mantra is to wear synthetic socks or at least a synthetic blend. Cotton socks soak in water and sweat. They are very hard to dry. As for woolen socks, they help you to keep warm and snug in the night. If you cannot get woolen socks, wearing two sports socks serves the purpose as well. 
6. Headlamp:
Trekkers are often confused about whether they need to get a headlamp or a handheld torch. You need to get a headlamp because it leaves your hands free to do other activities. On the Nafran Valley trek you'll need your hands free to wash dishes, pitch tents and hold your trek poles.
Buying Tip: Ensure your headlamp covers a wider area and is not too focused as a single beam. On a trek, your headlamp must help you see around you as much as ahead of you. 
7. Trekking Poles (a pair):
Trekking poles give you stability and balance. They reduce your energy consumption by almost 40%. On the Nafran Valley trek there are steep ascents and descents. A pair of trekking poles will make the difference between a comfortable and a strenuous trek. In India, we tend to use a single trekking pole. However, two trekking poles give you greater stability and balance. They also increase your walking pace.
Rental: Imported side-locking trekking poles are available on rent on the Indiahikes store.  
8. Rainwear:
On a trek, the weather can change quickly. A bright sunny day can turn into a downpour in a matter of minutes. Carry a poncho or a rain jacket to tackle this. A poncho is a big rain cover with openings for your arms and your head. It is extremely effective because it covers both you and your backpack. It is extremely light and weighs next to nothing.
Rain jackets are more streamlined and less cumbersome but weigh more. Rain pants are really not required. Dry fit trek pants dry quickly even if soaking wet.
Rental: High grade ponchos are available on rent on the Indiahikes store.
9. Rain Cover for your Backpack:
Backpacks are your life. You carry all your dry clothes, your warm gear in your backpack. It is important that your backpack stays dry at all times. Modern backpacks usually come with built-in rain covers.
If your back pack does not have a rain-cover, ensure you get a rain cover by either (a) buying a rain cover (b) or cutting a large plastic sheet to the size of your backpack. You can roll the plastic sheet around your backpack and keep it in place with a string or elastic. 
ProtipIt's good practice to compartmentalize your clothes, accessories and other things in plastic covers inside your backpack. That way, even if it rains and your backpack gets wet, your things are water-proof inside the backpack.
10. Daypack (20-30 ltr, optional):
Some trekkers opt to offload their bags to a porter on the Nafran Valley trek. While we do not encourage this practice, in case you opt for offloading, then carrying a daypackis mandatory. In your daypack you carry essentials like water bottles, rainwear, emergency medicines, headlamp, some snacks and a warm layer. Your main backpack that carries most of your equipment is accessible only at the campsites.
A day pack is a smaller backpack that is usually of 20-30 ltr capacity. Laptop bags are not daypacks. Do not get them.
Click here to go back to the Table of Contents.
Other Mandatory Requirements
1. A Toilet Kit:
Keep your toilet kit light. Carry just the basics -- toothbrush, toothpaste, small soap, toilet tissue roll, a small moisturizer, lip balm, and a roll-on deodorant. You will not be able to have a bath on the trek, so don't overload on soaps and shampoos.
ProtipCarry miniature-sized items. You will not need more than that. If you're travelling in a group, share one toothpaste for all.
Avoid getting large toilet rolls. The smallest size roll is more than enough for a trek like Nafran Valley.
For Women: If you are likely to have your periods on your trek date, don't worry about it. You can use your pads, tampons or menstrual cups on the trek. There will be toilet tents where you can get changed. Make sure you carry ziplock bags to bring back your menstrual waste. Don't leave behind any waste in the mountains. Watch this video to learn how to dispose your sanitary waste.
2. Cutlery:
Carry a lunch box, a mug and a spoon. Your lunch box must be leak proof. You are expected to wash your own cutlery. Trekkers often expect Indiahikes to wash their cutlery. When you allow Indiahikes to wash your cutlery, your cutlery becomes part of a mass washing system. You immediately invite germs, bacteria to settle on your cutlery. Incidence of stomach disorders rises exponentially.
ProtipCarry stainless steel cutlery. Avoid fancy high grade plastic cutlery. Stainless steel cutlery is infinitely easier to wash in cold water. Grease is easier to remove and hygiene is at the highest. Watch this video on why steel cutlery is better than plastic.
3. Two 1 Litre Bottles or a 2 Litre Hydration Pack:
Nafran Valley has long walking days. You need to carry two one-litre water bottles to keep yourself hydrated over the distance. If you are used to a hydration pack, then that is ok too. If one among the two bottles is a lightweight thermos, then that helps you to store warm water on a really cold day or for late evenings and early mornings.
Rental: You could rent lightweight thermos flasks from the Indiahikes store. 
4. Plastic Covers:
Carry 3-4 old plastic covers to keep your used clothes. You could use them even for wet clothes. Re-use old plastic bags for this and do not buy new ones.
Personal Medical Kit
Carry these medicines with you, easily accessible at all times. Do not take any medicine unless you have consulted your trek leader. 
1. Diamox (1 Strip): Be on a course of a half tablet Diamox starting from Delhi every 12 hours (125 mg). Carry on the medication until you descend down to Homwas. Being on a preventive course of Diamox greatly reduces the chances of Acute Mountain Sickness on the Nafran Valley trek.    
2. Dolo 650 (5 tablets): This is a paracetamol. It helps to tackle fever, mild pain
3. Avomine (4 tablets): Carry this especially if you are prone to motion sickness. Pop one half hour before the start of your road journey.
4. Combiflam (5 tablets): Take a combiflam if you get a sudden twist of the leg or a muscle strain. It is a pain reliever. It also contains paracetamol. 
5. Digene (4 tablets): Take it if you feel the food that you've taken is undigested. Alert your trek leader immediately. It could be a sign of AMS. 
6. ORS (6 packs): Consume a pack of ORS water at least once a day, usually mid day when you are in the middle of your trek. It replenishes essential salts lost while trekking.  Tip: It also makes cold water easier to drink.
7. Knee Brace (optional): Carry this if you are prone to knee injury or have known issues of knee pain.
Our Trek Leaders carry a high altitude medical kit with them which also consist of Life Saving Drugs. If there is an emergency our trek leaders know how to tackle it. Meanwhile, contact your trek leader before consuming any of these medicines listed here.
ProtipWe find that these medicines by trekkers are rarely used. But you cannot do away with them. At the end of the trek please donate unused medicines to your trek leader. Some of these medicines get distributed to villages on the trek and some are added to the Indiahikes medical kit.   
Mandatory Documents to Carry
These are documents required for legal purposes by Indiahikes and the forest department. Without any of these, you will not be allowed to trek.
1. Original and photocopy of government photo identity card. Anything such as a driver's license, Aadhar card, passport will do. This is required by the forest department for your identification.  
2. Disclaimer certificate. This is a legal requirement. Download the PDF, read carefully and sign it. This must be handed over to your Trek Leader during registration at the base camp - Download PDF
3. Medical certificate. There are two sections in this. The first part must be filled by a practising doctor. The second part must be filled by you. Without the medical certificate the forest department will not issue permissions for your trek. It is also a requirement by Indiahikes - Download PDF
Protip Keep important documents in a clear plastic cover and slide them into the inner pocket at the back of your backpack. This keeps them from getting wet.
How to Get Fit for Nafran Valley trek
A Step-by-Step Fitness Guide to Preparing Well for the Trek
How to prepare for Nafran Valley trek
Nafran Valley is a moderate-difficult trek. You cover an average of 8 km each day. If you want to do this trek comfortably and enjoy all it's glorious views, you will need to prepare well.
Cardiovascular endurance – Target 5 km in 35 minutes before the start of the trek
The Nafran Valley trek requires you to have a good amount of endurance and stamina. You can begin by jogging everyday. Start slow and increase your pace everyday. Swimming, cycling and stair climbing without too many breaks in between can help too.
In order to be prepared for a high altitude trek, you should have a combination of distance and speed targets.
Here's a fitness routine that works:
In case you're just starting with a regular fitness routine, phase out your distance targets in the following manner -
-->Target completing 5 km in 35 minutes when you begin.
--> Gradually increase your pace by running 4 times a week and bring it down to 5 km in less than 35 mins.
-->This holds true for trekkers above 45 years also.
If you are somebody you prefers cycling over running, then try to cover 25 km in 60 minutes.
How to send us a proof of your fitness routine?
Record your run on an app like Nike Run. Start recording your run when you start running. At the end of your run, hit the stop button. 
Take a screenshot of the summary of your run. We will need a detailed split of each kilometre of your run. This is usually integrated in all running apps.
Note: Make sure your GPS is on when you record your run. If the GPS is off, we will not accept the screenshot.
Upload two screenshots 10 days prior to the start of the trek -- one of you covering 5km in less than 35 mins along with your picture and the other with splits of your run.
Strength - Target 4 sets of squats with 20 in each set

This is another area you should work on. There is a lot of trekking distance that you will cover in high altitude carrying your backpacks.  You have to walk on uneven terrain during the trek. It could be taxing for your legs. For this, strengthening your legs will help. You can do some squats to strengthen them. Start with 3 sets of squats, with 8 squats in each set and work towards reaching your target in 3 weeks.
Flexibility
Another aspect that will help you trek comfortably is flexibility. For this, you can do some stretching exercises - stretch your hamstrings, quadriceps, hip flexors, lower back muscles and shoulders regularly. On your trek, it is important that you arrive on the slopes with your muscles relaxed. Carrying a backpack, however light, can become a strain after a while. These exercises will help you to be in good shape before the trek.
Here is a guide to help you get fit for the trek. (this includes Nafran Valley trek)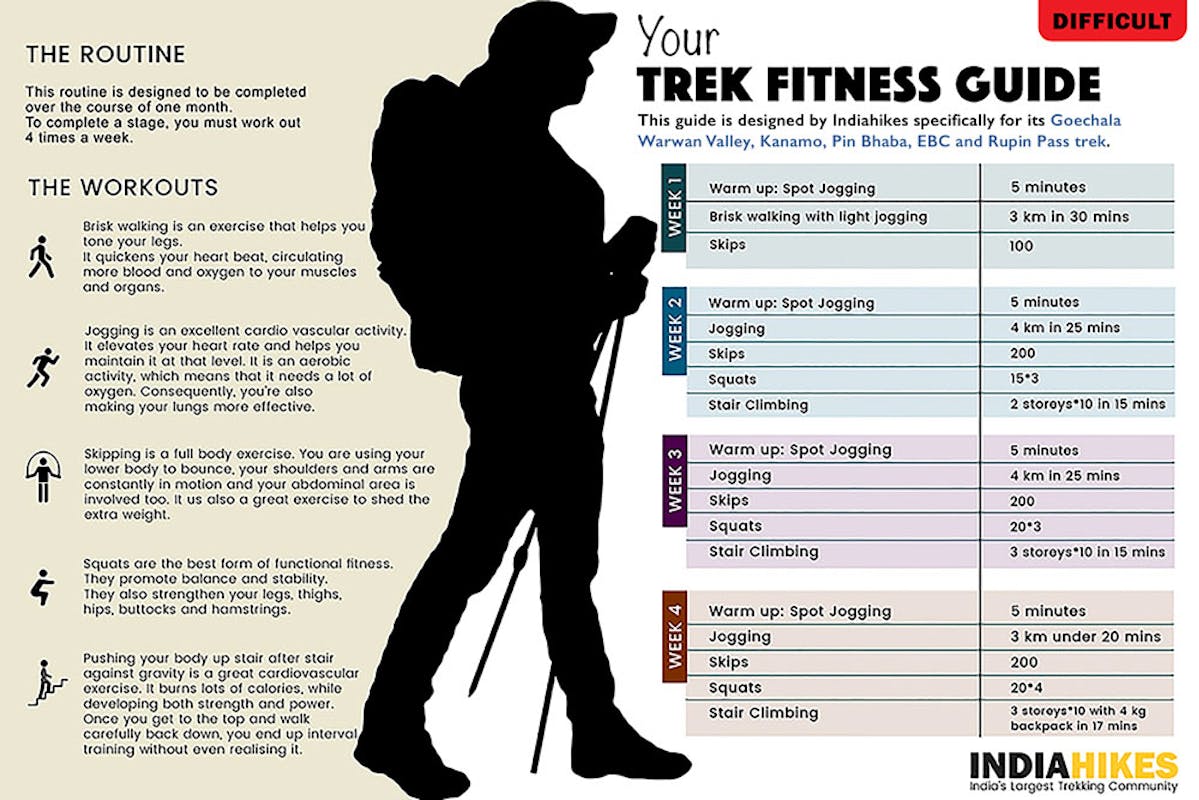 Working out indoors
If you can't go out and jog because of time and space constraints, here's a video you can use to work out indoors.
HERE IS WHAT YOUR TREK FEE INCLUDES:
Accommodation – Stay is included from Day 1 to Day 6 (Aru to Arram Pathri ). You will be staying  camping on all days of the trek (3 per tent).
Meals – All meals from dinner at Aru on Day 1 to lunch at Aru on Day 7 are included. We provide simple, nutritious vegetarian food on all days of the trek.
Camping charges – All trekking permits and forest camping charges are included.
Trekking equipment – You will stay in high quality tents and sleeping bags in all the camps. Our high altitude sleeping bags can withstand temperatures as low as -10 ºC. We provide ice axes, roped, micro spikes, gaiters etc. as required.
Safety equipment – First aid, medical kit, oxygen cylinders, stretchers etc. will be available at all campsites to deal with emergencies.
HERE IS WHAT YOUR TREK FEE EXCLUDES:
Transport to and from the base camp – We will arrange shared taxis for trekkers to pick you up from Srinagar and drop you back from Aru. This will cost approx. Rs. 2,700 per 5-6 seater vehicle one way. You will have to share this cost with the other trekkers.
Food during transit to and from the base camp – The trek fee does not include meals purchased during the journey to Aru and return from Aru.
Backpack offloading charges – If you wish to offload your backpack, there will be an additional charge of Rs.1,500 + 5% GST. The backpack cannot weigh more than 9 kg. Suitcases/strolleys/duffel bags will not be allowed.
Stay at Srinagar on the last day 
Personal expenses of any kind
Anything apart from inclusions
Latest Updates
Nepal Earthquake: Tremors felt, but all trekkers are safe
Adventure Therapy Trek Announced for 2023
Why Jan-Feb '23 treks are better than '22
Finally, A Film That Does Justice To The Dayara Bugyal Trek