Best One Day Sahyadri Treks Near Mumbai
Share this story
Best One Day Sahyadri Treks Near Mumbai
Category Region-wise Guides
By Venkat Ganesh Gudipaty
2019-04-22
Too often, after a trek, we hear trekkers saying that they can't trek so often because the Himalayas are so far off to travel too. And they don't have enough time off at work. That they love the jungles, the mountains, the valleys and the nature and wish they could trek more often. But they absolutely can. As long as they don't restrict trekking to just the Himalayas.
Because outside of Himalayas, India is blessed with the Western Ghats — a 1600 km long mountains range that stretches from Gujarat to Tamil Nadu parallel to the western coast.
UNESCO has declared them  World Heritage site and are older than Himalayas.
They're one of the hottest hotspots of bio-diversity in the world and home to some flora and fauna which are only found here.
And they make for a great day trek from Mumbai and Pune.
In fact a lot of frequent trekkers trekked for years in the Sahyadris before graduating to Himalayas.
And that is why , I'm putting up a list of places that make for great day treks in the Western Ghats. Starting with one day treks from Mumbai.
With the monsoons approaching in a few weeks, they'll make for a great weekend getaway in the nature.
Karnala Fort Trek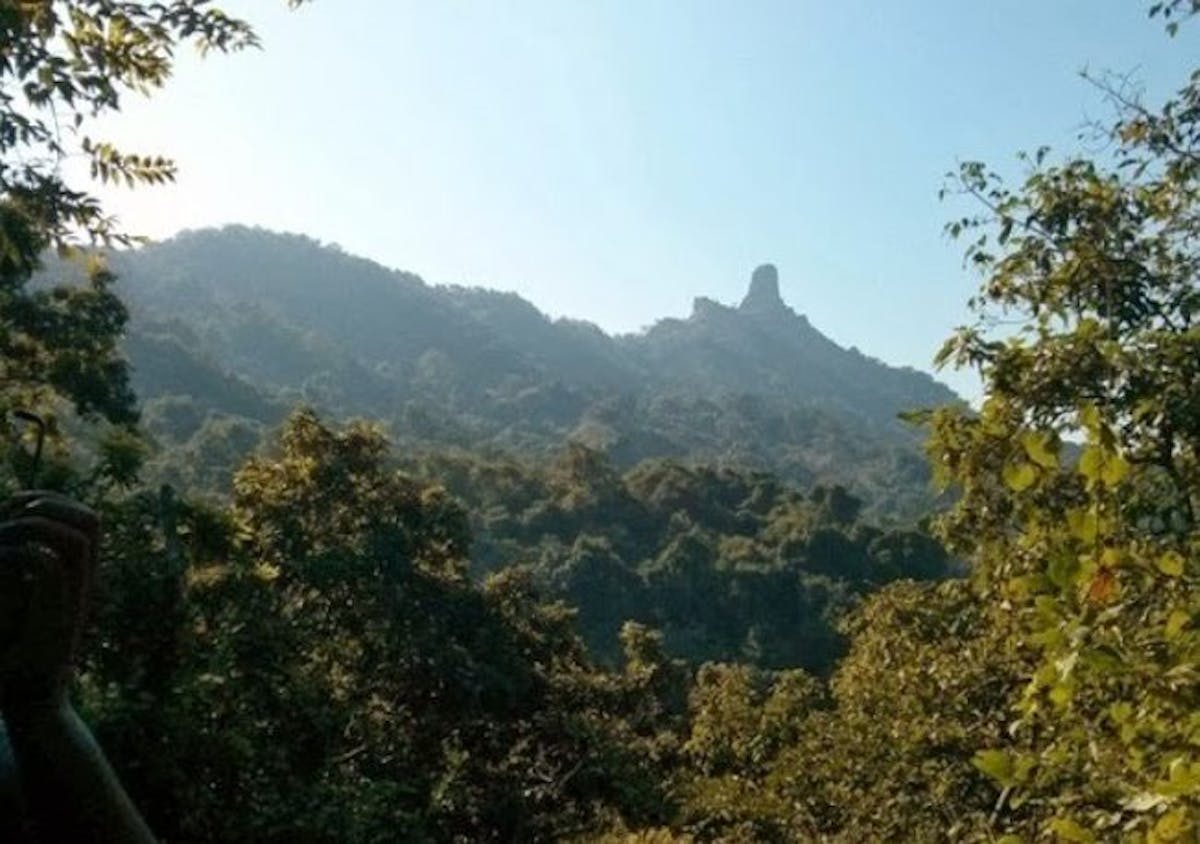 The pinnacle at the top right is Karnala Fort
One of the most accessible treks from Mumbai, the base to Karnala fort starts at Karnala Bird Sanctuary. The sanctuary lies on the Mumbai-Goa highway which is a mere 10km from Panvel Railway station.
There are multiple routes to get to the top, but the trails are well defined inspite of the thick vegetation around. The trek, though a bit challenging is thoroughly enjoyable and a provides a great introduction to trekking for beginners. The forest department also has a few shelters along the way to rest and catch your breath.
Once at the summit, you see the 600+ year old fort that has changed hands beginning with Devagiri Yadavs and ending in British East India Company with the Tughlaq rulers, Portuguese, Shivaji's command  and the Mughals in between.
The highlight of the trek is the 360 degree view of the Raigad district. On clear days towards the end of the monsoons, you see the entire surroundings painted green and that is a sight to behold.
Difficulty: Easy
Trail Type
Basecamp
Best time
Complete Guide for Karnala Trek
The Mahuli trek is popular with experienced rock climbers. But that does not mean beginners cannot go for it as long. In fact, with it proximity to the city, it is quite a popular weekend trek in Mumbai. The trek is much loved due to the lush green forest and meadows around. It is a spectrum of green and surprises you with its landscapes.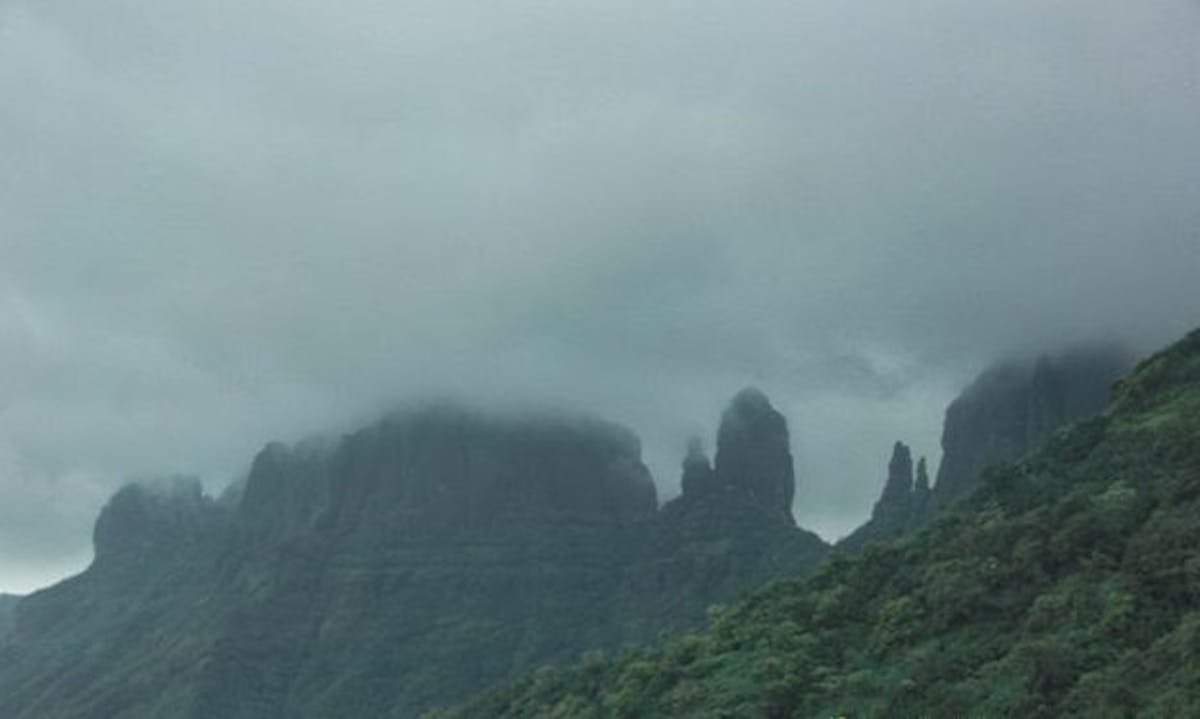 The fort pinnacles and cols
What makes is specials is that it is a complex group of pinnacles and cols. As you get closer to the fort, you really have to crane your neck to view the top. A lot of climbers turn up at the base on the weekend trying to scale this pinnacle or that. Watching them prepare and stick to rocks and climbing up in itself would be an experience to cherish.
Difficulty: Easy-Moderate
Trail Type: Well defined through lush green forests and meadows, especially during monsoon.
Basecamp: A few kilometers form Asangaon railway station. Autos are buses are available to the base
Best time: July to February.
At 5400 feet, Kalsubai might seem like a daunting task. And it is. But not something that cannot be managed within a day. Lying in the Kasara range of Western Ghats, it is the highest peak in Maharashtra. And that in itself, is a huge rush.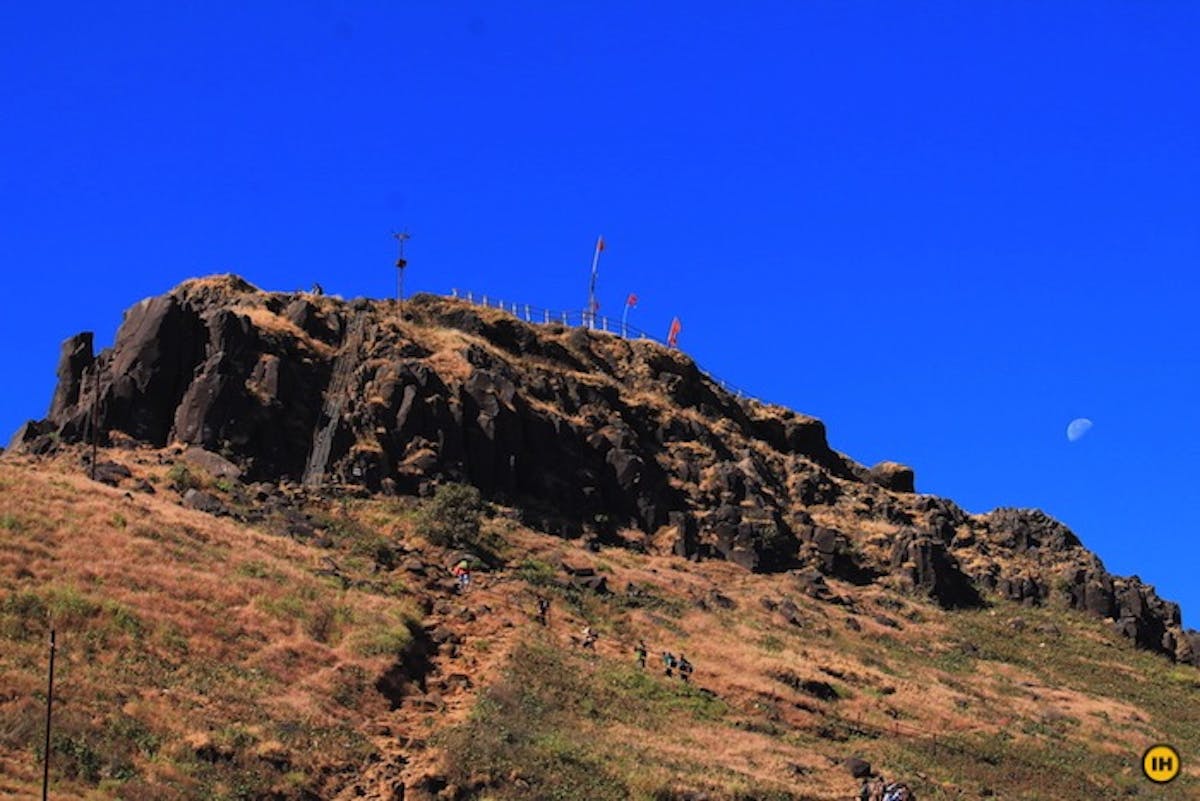 Final ascent to Kalsubai top
The final climb up the almost vertical ladder is an adrenaline shot. But once at the summit, you're calmed by the incredible views you see. To the south is the Bhandardara lake and beyond it lie  Ratangad and mighty Harishchandragad.  Turn west and you might see the trio of Alang, Madan, Kulang forts on a clear day.
Difficulty: Moderate
Trail Type: Well defined through meadows, forests, with rock steps in some places and iron ladders in others
Basecamp: Bari village. Private vehicle will have to pick you and drop you back from Kasara Railway station to Bari
Best time: July to February.
With its easy terrain and panoramic views throughout the trek, Harihar fort attracts trekkers with a range of experience – from beginners to experienced ones like Doug Scott, a legendary Himalayan mountaineer who climbed the vertical drops of Scottish kada (Nirgudpada) in November 1986.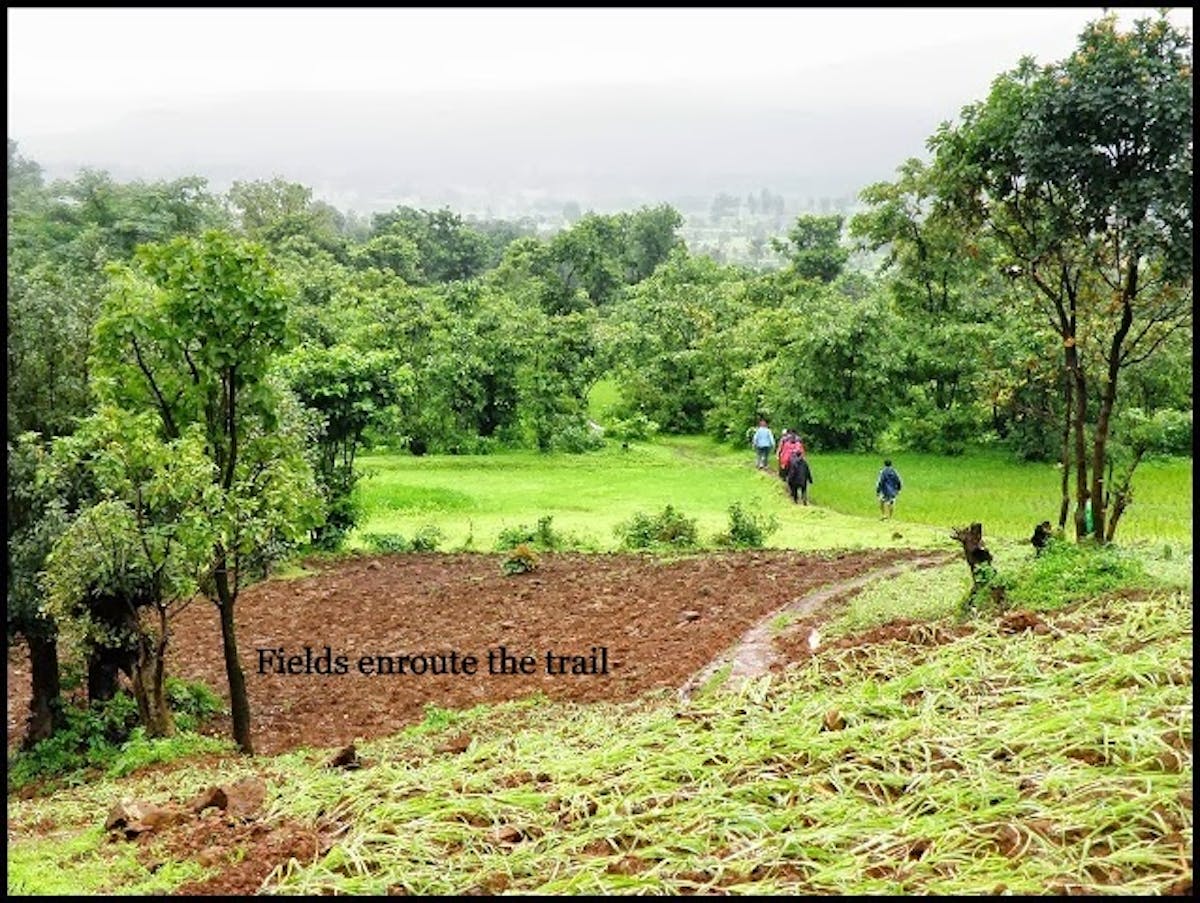 Trail through paddy fields in the monsoon
Harihar brings to you a different type of stone staircase which has been cut for providing trekkers with a pocket like grip to climb easily.While some people might avoid this trek in peak monsoons because of slippery rocks, we say the wind and the rains add to the adventure.
The fort is situated amidst the huge Vaitarna dam and the Trimbakeshwar mountain ranges offer stunning views of the area around. The fort is well supplied with water and can be attempted in any season.
Difficulty: Moderate
Trail Type: Well defined through fields, forests, streams and steep rock-cut staircases.
Basecamp: Nirugpada. Hire a local jeep to  pick you and drop you back from Kasara Railway station
Best time: July to February.
The Bhimashankar trek is a nature lover's delight. It takes you into the heart of the Bhimashankar Wildlife Sanctuary. While monsoon is the best time to do this trek, it can also be done in other seasons. The route is scenic and thrilling. Those accustomed to trekking can hike the Bhimashankar via Shidi Ghat route. While for beginners, we recommend the Ganesh Ghat route, which offers splendid views and is easier.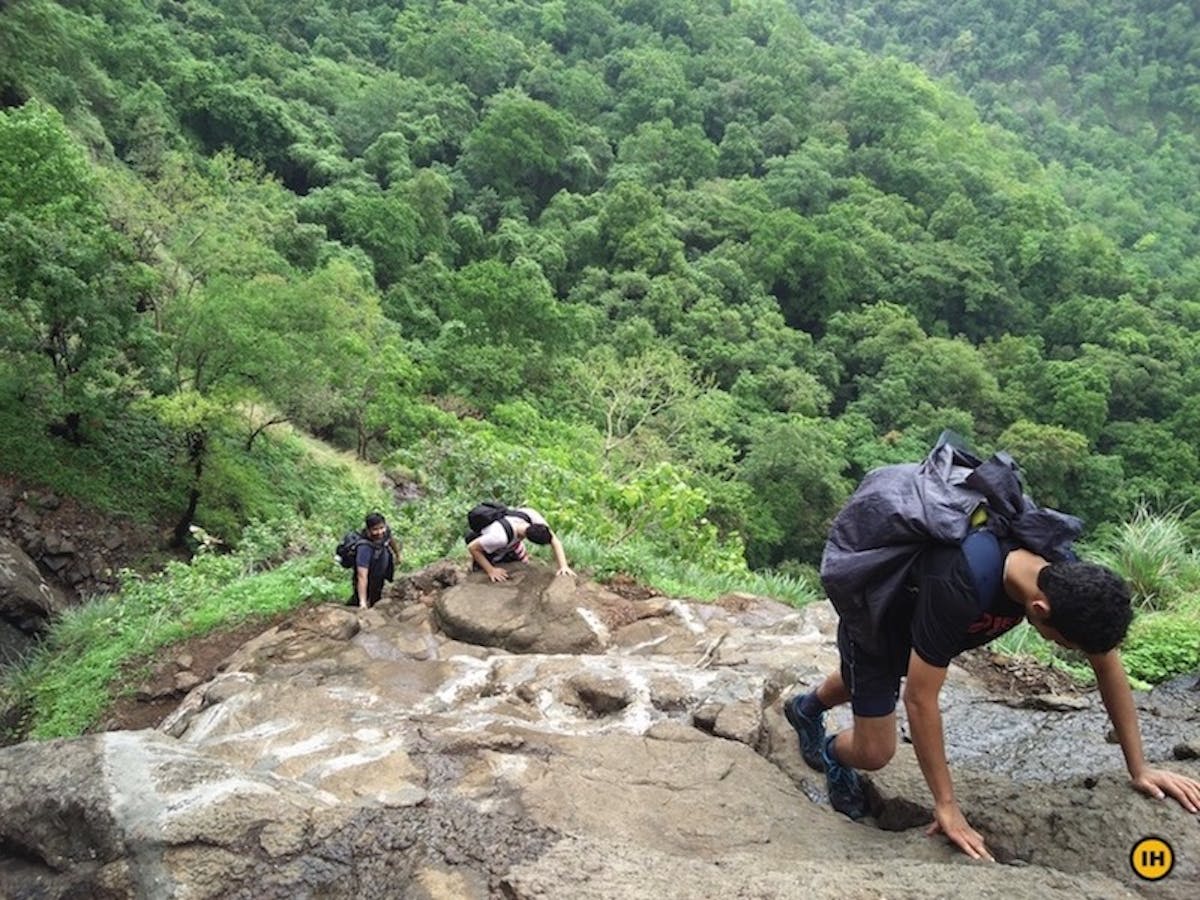 Rock patch on the way top
While in the jungle, you'll have a variety of birds, langurs and spotted dear for company. If you're lucky, you might even get to spot a 'shekar' or the Malabar Giant Squirrel.
The best part of the trek is the trail to Gupt Bhimashankar, located in the middle of a stream, underneath a rock.
There are other alternative routes to Bhimashankar. For instance Lonavala to Bhimashankar and Siddhagad to Bhimashankar
Difficulty: Easy or Moderate depending on the route
Trail Type: Well defined through fields, forests, rocks and ladders .
Basecamp: Khandas village.Private autos and jeeps are available at Karjat or Neral railway station to take you to Khandas
Best time: July to February.
Devkund waterfall is a secluded little place situated deep inside the forests surrounding Bhira dam. There is a hydroelectric power generation unit by Tata power at Bhira. This place was little known to trekkers till recent times and has come into limelight due to the waterfall present deep inside the forest.It is believed that Kundalika river originates at Devkund.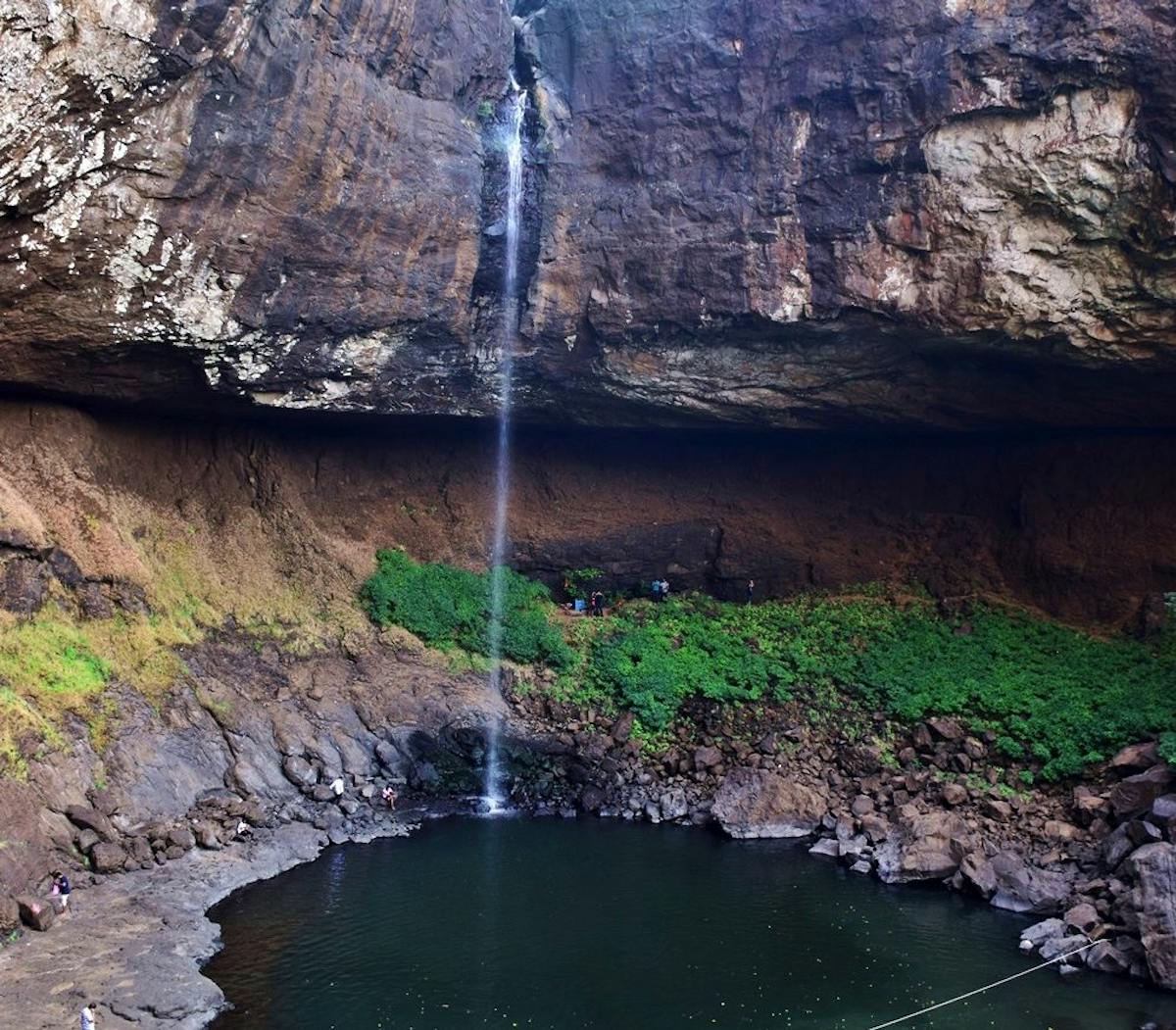 The 80 ft drop at Devkund
Though there isn't much history associated with the falls, locals here believe that once upon a time utensils used to emerge from the kund (pond) whenever there was any auspicious ceremony happening in the local village.
True or not, the place has its own charm with the water dropping from a height of over 80 ft straight into a pond of approx. 30 mt diameter.
Difficulty: Easy or Moderate depending on the route
Trail Type: Well defined through fields, forests, rocks and ladders .
Basecamp: Bhira Village. Take the bus to Pali from Panvel Railway staion and from Pali, hire an auto to Bhira village
Best time: July to February.
Sudhagad trek is a short and sweet weekend gateway for trekkers from Mumbai and Pune. The fort is almost equidistant from both the cities. One can see the peaks of Sarasgad, Tail Baila and Ghangad from the top. There are 2 huge lakes at the top where one can take a dip and build a camp for night stay. Apart from that, you can also visit Bhorai devi temple and "Pant Sachivancha Vada".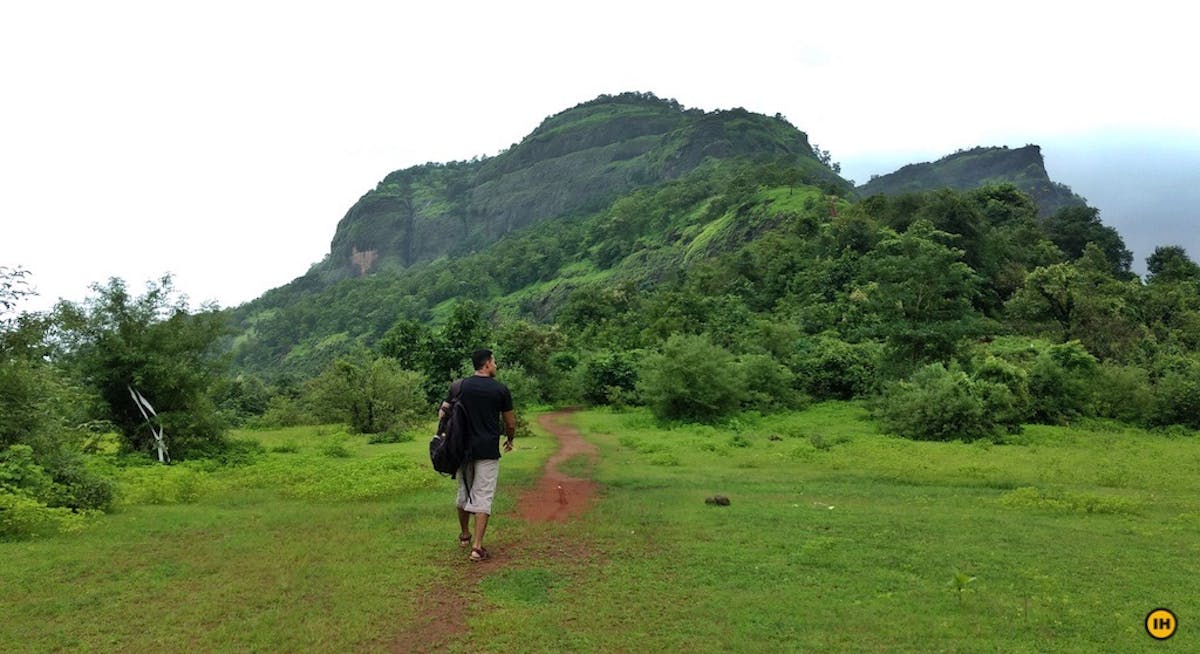 The trail to Sudhagad
Also known as Bhorapgad, the fort was named after the Goddess Bhoraidevi. The origin of the fort traces back to 2nd century BC. It was named Sudhagad after the Marathas conquered it from the Bhamani dynasty in 1657. Due to its strategic position and strength, it was actually proposed as the capital of Hindavi Swaraj. However, after a survey of Raigad, Shivaji Maharaja chose the latter because of its central location.
Difficulty: Easy or Moderate depending on the route
Trail Type: Well defined through fields, forests, rocks and ladders .
Basecamp: Thakurwadi. Take a bus to Pali from Panvel Railway station. From Pali private autos are available for hire to Thakurwadi
Best time: July to February.
Ratangad fort is a part of the Kalsubai range, which consists of some of the highest peaks in the Sahyadris. The fort gives you the best views of surrounding peaks and Bhanadardara dam. Experience the colossal cliffs unfolding in front of your eyes, one behind the other as you walk on the edge of the fort.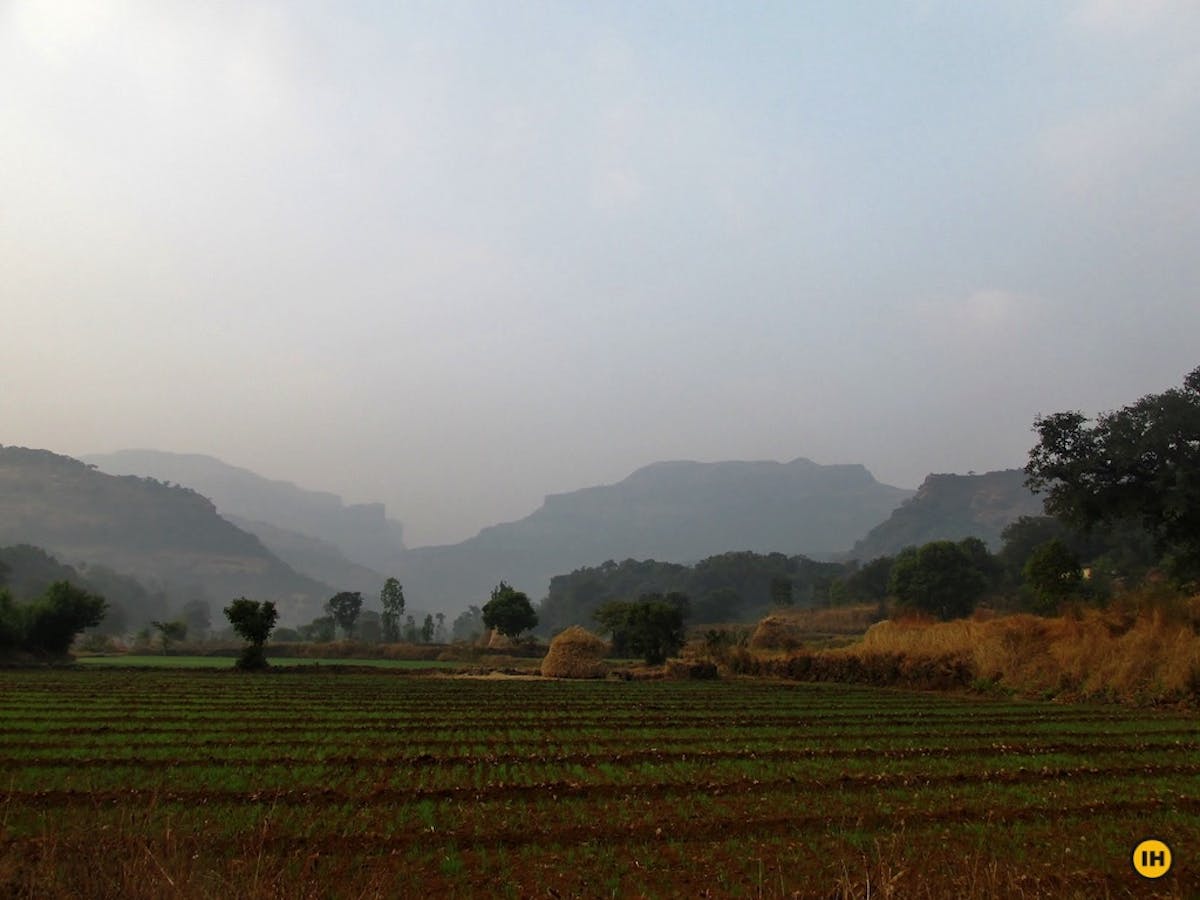 View of Ratangad from Ratanwadi
The robustness of Sahyadris can be experienced only from a few forts and Ratangad is one of them. The view from the top is mesmerising. You can get a complete 360 degree panoramic view from this point. Alang, Madan, Kulang, Kalsubai, Bhandaradara dam (Arthur Lake), Harishchandragad, Sandhan Valley, Ratangad Khutta
Difficulty: Moderate
Trail Type: Combination of trails through forest and up on iron ladders
Basecamp: Ratanwadi. Hire a local, shared jeep from Igatpuri Railway staion to Ratanwadi
Best time: September to February
—
So, those are some of the best one day treks from Mumbai. Not only is each of them special in their own way, they're easily accessible as well.
At the same time, we have more treks in our Maharashtra section of Do-It-Yourself treks. But do note that Indiahikes does not organize these treks.
If you want to trek with Himalayas check out our upcoming treks section.
What to do next
1. If you have any other treks you'd like to suggest, or if you have questions, drop in a comment below.
2. If you're looking for off beat summer treks for 2019, you'll find a list here.
3. If you would like to help us with updating trek information,photos, maps or sketches of our Do-It-Yourself Treks, fill this form
4. If you'd like to see the 13 best treks of India, get a downloadable guide here.
LEAVE A REPLY
Your email address will not be published. Required fields are marked
Sign up for our much loved Weekly Mailer
We have terrific trekking tips, trek updates and trek talks to look forward to