Why Should Your School Join The Eco Hiking Programme?
Share this story
Experiential learning. That is what forms the core value of Eco Hiking Programme.
Education is much more than being holed up in a classroom. At the Eco Hiking Programme, we help schools achieve holistic education for their students. We do this through experiential learning. It's a big word that embodies a big idea. Yet we deliver it in the simplest of ways.
In simple terms, we take students hiking up a mountain. But these hikes have been specifically designed to build upon three aspects of a student's character:
– soft skills,
– life skills and
– environmental awareness.
How We Go About It?
The Eco Hiking Programme is built upon the experiential learning model.
We believe that what students learn from their experience lasts a lifetime.
The Eco Hiking Programme is a balance of education, experience and fun.
In order to reach the top of the mountain, the students must overcome the hurdles thrown at them by mother nature. Through the activities of pitching tents and navigating tricky passages, the students learn about teamwork. Overcoming physical obstacles of the wilderness teaches them to be independent and think critically.
At the end of the day, we practice 'Quiet-time'. The students sit in silence and reflect on their trek, life and the moment. This is moment of introspection is very relevant in helping students discover their strengths and weaknesses.
The mix of experience and reflection is what makes experiential learning a highly effective tool for character development.
How Are We Different?
What sets the Eco Hiking Programme apart from the rest is its focus on trekking as a channel for experiential learning.
Learning is a continuously happening process in a trek. In our 10 years of experience in Himalayan trekking, we have observed and experienced ourselves, how trekking targets our leadership, communication, team building and teamwork skills.
Trekking is not a one time event. It is a process of building mental and physical strength that begins right from the time you reach the base camp to the time you return to base.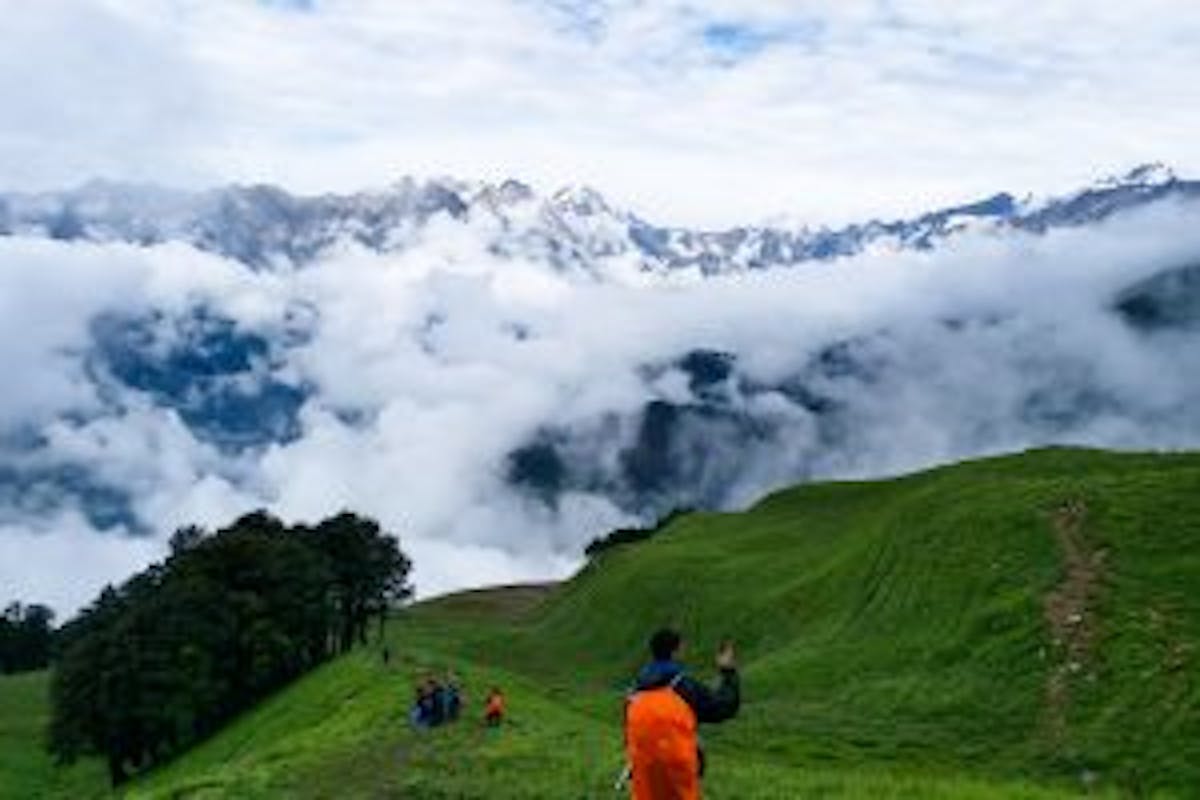 Trekking in the monsoon at Bhrigu Lake – Indiahikes – Hari
Being out in the pristine nature also makes us rethink our life choices and our impact on the environment.
For this reason, the Eco Hiking Programme as well as all Indiahikes treks follow the policy of leaving the mountains in a better condition you found them in.
Green Trails is our sustainable trekking initiative.
At the beginning of each trek, the students are given an 'Eco Bag'. This bag is used to collect any pieces of garbage that they students spot on the trek or generate themselves.
At the end of the day, the garbage is segregated and the students evaluate how much garbage they collected, and how much they generated themselves.
This instils in them a sense of responsibility towards the environment.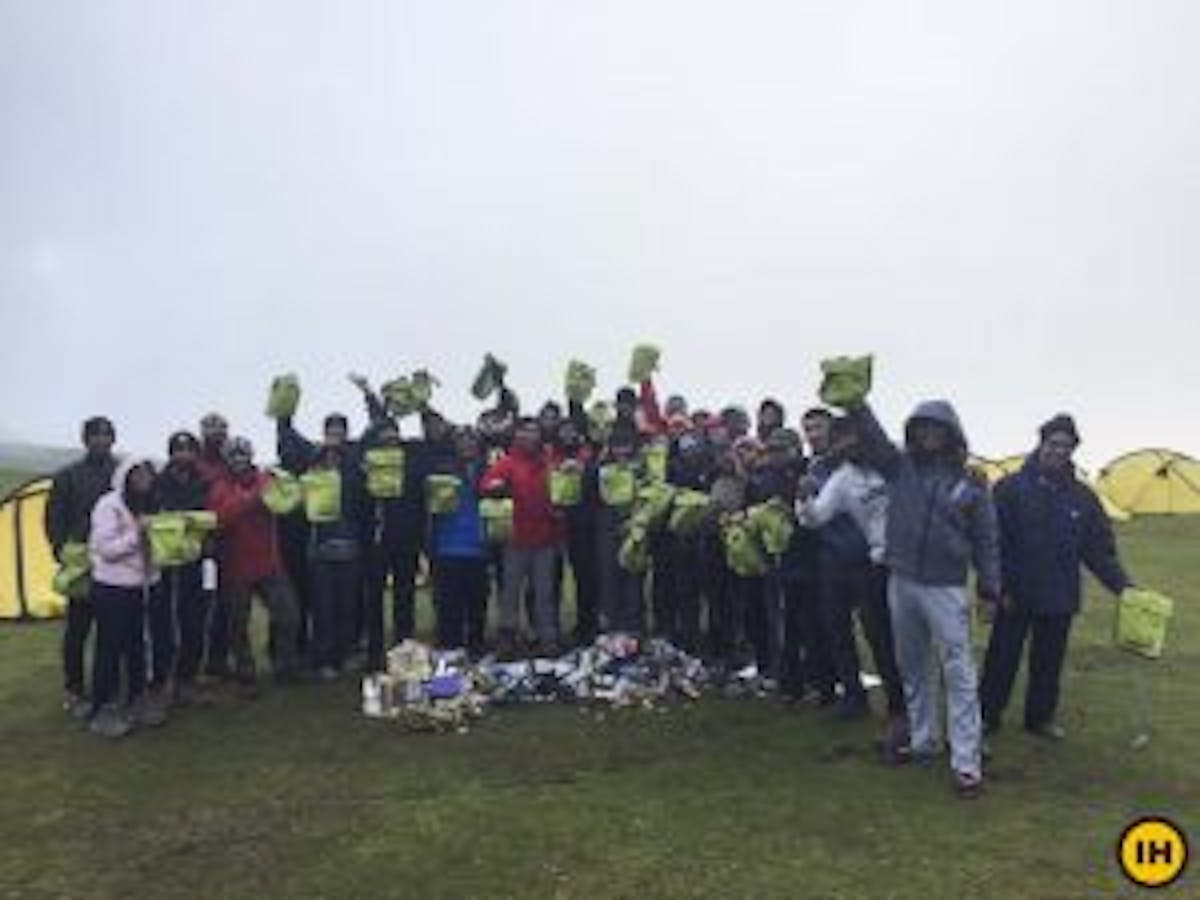 Here are some conscientious trekkers with their Eco Bags
How Does This Help The Students?
Indiahikes has been taking people, young and old alike, to the Himalayas for the last 10 years.
In that duration, we observed that the outdoors have a profound effect in humbling people and teaching them life long lessons. The great thing about experiential learning is that a lesson once learnt, stays for a lifetime. With the objective of inculcating these valuable life lessons in the young, the Eco Hiking Programme was established in 2015.
1) Students are divided into teams that are charged with responsibilities like maintaining the campsite, digging the toilet pits, waste segregation and helping with the food. Thy learn how to trust and depend on each other. The two qualities are essential to good team work.
2) The students gain self confidence and discover their own personality trails by overcoming obstacles thrown at them by the great outdoors.
3) The minimal nature of treks, where the students carry only what is necessary teaches them resource management. They learn how to make do with what they have.
4) Students learn to become more conscious of their impact on the environment. The Green Trails activities makes them rethink their consumption and disposal tendencies and turn them into more thoughtful beings.
5) Introspection time, called 'Reflection' time, helps students to look into themselves. This is the most important part of any experiential learning program. This quiet time followed by a discussion helps round off the the students' learning from their experience.
We Know What We Are Doing
Indiahikes has been conducting treks in the Himalayas for the past 10 years. We have experienced ourselves how the hills have a profound ability to mould a person's character and change their perspectives.  With the Eco Hiking Programme, we have taken these learnings and channelled them into a programme to influence children at an early stage. It is an endeavour to impart to students the life lessons that took us years to learn.
Since its initiation in 2015, the Eco Hiking Programme has received a positive feedback.. In 2017, about 1500 children across 11 schools signed up for this experiential program.
It is only natural that not each and every student of a batch will be touched by nature. But even if 4 or 5 students learn their lesson and adopt a fundamental change in their lifestyle, it is a job well done. Because the life lessons that the students learn at the Eco Hiking Programme stay with them for a lifetime.
What you should do now
1) If you would like to read more articles on Experiential Learning, click here.
2) If you are interested in signing up for this programme, then contact us here.
3) If you ended up here by chance and were actually looking for treks to do, then head over to our upcoming treks page. You'll find all our Himalayan treks there.
4) If you want to see the 13 best treks of India, then get our free guide book here.
LEAVE A REPLY
Your email address will not be published. Required fields are marked
Sign up for our much loved Weekly Mailer
We have terrific trekking tips, trek updates and trek talks to look forward to