Why A Trekking Summer Camp? 
Having taken over 8,000 children trekking in the Himalayas over the past decade, we have seen that just one exposure to a trek can change a child's entire outlook and approach to life.   
On the trekking summer camp, children go on a trekking adventure and climb a high summit in the Himalayas. Over the period of 10 days, they trek from camp to camp — backpacks on their shoulders, trekking poles in their hands — and explore the outdoors at close quarters.
Not only do they go on a trek, but the program is also designed to impart rare life skills. We bring these learnings through methods of experiential learning. These life skills are otherwise difficult to imbibe in regular school life. 
So if your child is between the ages of 8-15, this is an adventure you want to send them on. You will see recognisable changes in them, lasting all the way into their adulthood.

Which are the treks that children do?
Our 10 day summer camps are in the Himalayas. The summer camps are divided into two age groups. The Level 1 camp is for children of ages between 8 and 11 at Dayara Bugyal. The Level 2 camp is for children between 12 and 15 at Deoriatal-Chandrashila. 
Both of these treks start from Indiahikes' own community campuses, at the villages of Raithal and Sari respectively.
These treks are easy-moderate treks that offer the right amount of mental and physical challenge to children.
Trek For Age Group 8-11: Level 1 to Dayara Bugyal
Dayara Bugyal is our best trek for young children (Age group 8 - 11). Demanding just the right amount of effort from children, it takes them through a variety of sceneries. Lovely oak and maple forests in the first section, endless alpine meadows in the next and high summits surrounding them at the top. These mountains capture their imagination with rich history and mythology. 
The trek starts and ends at our own base in Raithal, where our campus serves as a wonderful starting and ending point for the summer camp.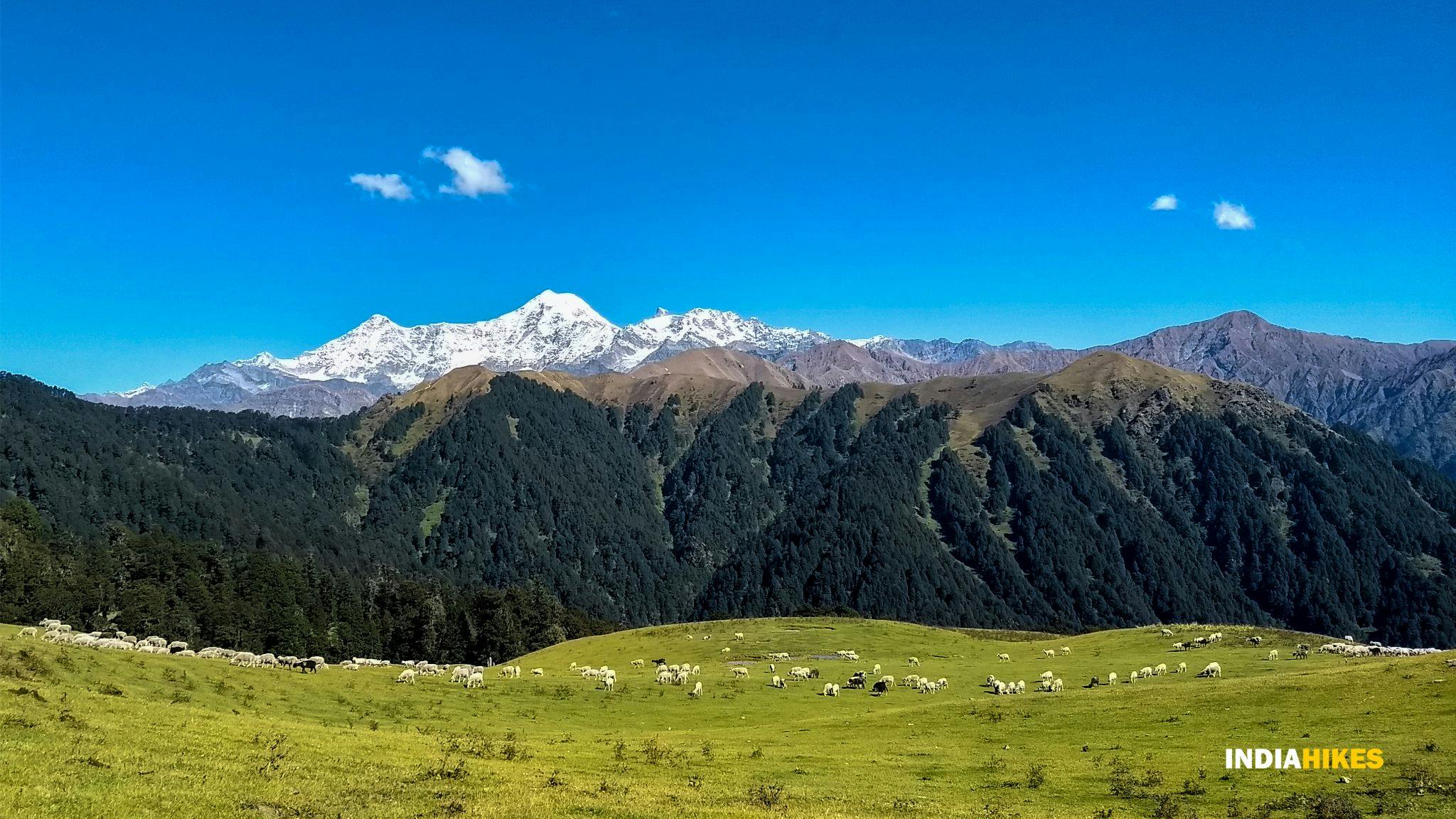 Location: Dayara Bugyal
Basecamp: Raithal, Uttarakhand
Duration: 10 days (from Delhi to Delhi) 
Total trek distance: ~22 km 
Highest altitude: 11,950 ft
Available Dates for Level 1 trek to Dayara Bugyal:
►March 21-29 (Click to register)
► April 4-12 (Click to register)
► April 18-26 (Click to register)
► May 2 -10 (Click to register)
► May 16-24 (Click to register)
► May 30-June 7 (Click to register)
Trek For Age Group 12-15: Level 2 to Deoriatal-Chandrashila
Deoriatal-Chandrashila is our go-to trek for slightly older children. It's a trek set in the heart of Uttarakhand, taking children through a few of the densest jungles of the Kedarnath Musk Deer Sanctuary, a picture-perfect lake (Deoriatal), which serves as a birding hotspot, the world's highest Shiva temple, and finally, a high summit climb to Chandrashila. The 360 degree views that children witness from the summit leave a lasting impression on them. 
This trek begins and ends at Sari, a quaint village where the Indiahikes campus serves as a homely base.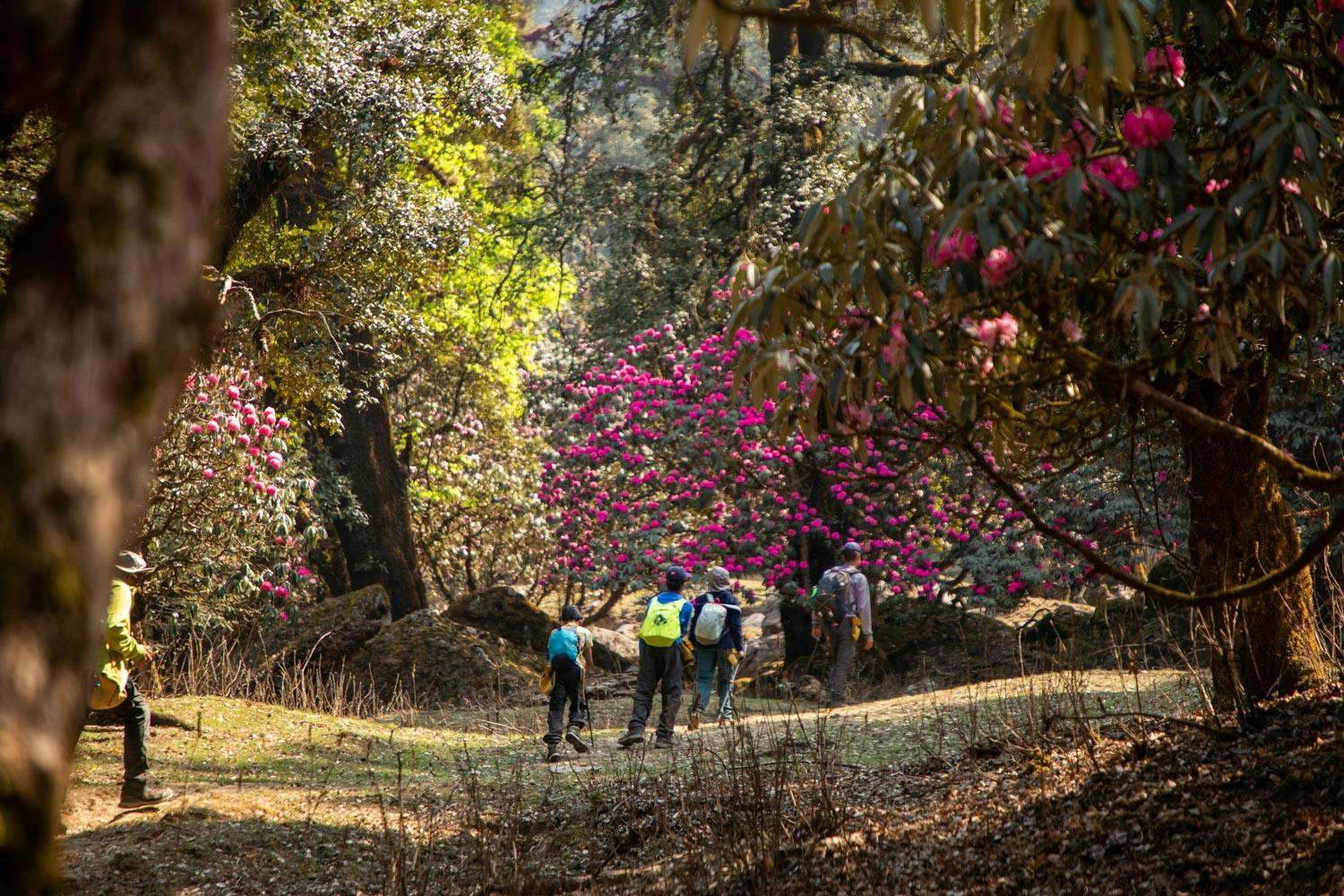 Location: Deoriatal-Chandrashila
Basecamp: Sari, Uttarakhand
Duration: 10 days (from Delhi to Delhi) 
Total trek distance: ~25 km 
Highest altitude: 12,083 ft
Available Dates for Level 2 trek to Deoriatal-Chandrashila:
► March 21-29 (Click to register)
► April 4-12 (Click to register)
► April 18-26 (Click to register)
► May 2-10 (Click to register)
► May 16-24 (Click to register)
► May 30-June 7 (Click to register)   
Summer Camp Fees:
Summer camp fee for Level 1: ₹20,500 + 5% GST per child from Delhi to Delhi
Summer camp fee for Level 2: ₹21,900 + 5% per child from Delhi to Delhi
Trek Inclusions in the fee: 
Accommodation: Stay on all days of the trek. The basecamp will have accommodation at our own campus, in Swiss tents. The rest of the days will be camping on the trek.
Meals: All meals from basecamp to basecamp are included. We provide simple, nutritious vegetarian food on all days of the trek. Since there are children, we will ensure food is less spicy. (We also have options of Jain / vegan food). 
Trekking equipment: High-quality tents and sleeping bags are included in the fee. Technical equipment like ice axes, ropes, microspikes, gaiters etc., are also provided as and when required.
Safety equipment: All safety equipment, including a high altitude medical kit, emergency oxygen cans and cylinders are included in the trek fee. 
Camping Charges: All trekking permits and forest camping charges are included.
Experience facilitation: Children will be trekking along with experts in their own fields. Whether our trek leaders, guides, or volunteers, all of them come trained with skills to facilitate experiences. The charges of these team members are included in the fee.
Travel inclusions in the fee: 
Train travel: The onward and return train travel from Delhi to Rishikesh and back. 
Road travel: The cost of the road travel from Rishikesh to the basecamp and back are included. 
Accommodation during transit: Stay at Rishikesh is included in the fee. 
All meals during transit: Whether during the train journey or the road journey, the cost of any meals incurred are included in the fee. 
Chaperone charges during travel: All children will be accompanied by Indiahikes staff right from their travel in Delhi. Their charges are included in the fee. 
Exclusions in the fee:
Travel from home to Delhi / back from Delhi to home 
Personal trekking gear like backpacks, jackets and shoes (we would recommend renting them out from our store)
Any personal expenses made by the participant
Anything apart from the inclusions
Please note: Our standard cancellation policy applies for all summer camp cancellations.
What skills children learn from the trekking summer camp
Trekking and camping skills
Our summer camps are a mix of fun, adventure and learning. Through the course of the trek and the program design, children learn the basics of trekking, camping and wilderness survival. 
Building a shelter out of bare minimum resources
First aid skills through mock drills
Navigation skills using maps and GPS tools
Skills to identify and set up campsites in the outdoors
Cooking in the wild
Learning to cross streams 
Nature skills
Given that children are in the heart of some of the richest biodiversity in our country, they learn first-hand about forests, plants, birdlife, animals and all natural elements around them. 
See and feel the rich biodiversity of Himalayan forests  
Learn about birdlife and animals endemic to the region
Learn about the stars and the Milky Way by experiencing it in real-life
Nature journaling 
Experiencing the forest  
Witness big Himalayan ranges at close quarters and learn the stories associated with them
Sustainability skills
At Indiahikes, we are very conscious about how we trek and how we treat the outdoors. There's a certain spirit of trekking we believe in — a minimal and sustainable way of trekking. These are imparted by our Green Trails initiative, which inevitably has a big impact on children.
Learn a minimal way of living by exploring lifestyles in remote villages in the foothills
Clean trekking trails and leave mountains better
Understand the importance of saving natural resources
Learn the basics of waste management — segregating and composting waste
Understand how to make composting toilets in the outdoors
Life skills and behaviours
Finally, the program design imparts priceless personal behaviours and skills among children. Within a week of our trekking summer camp we see remarkable changes in children. Children start displaying life skills that usually take years to develop. 
Gain life-long confidence after climbing to a high mountain summit 
Get accustomed to hardships
Build resilience through overcoming difficulties
Learn how to work collaboratively with a team 
Learn to own and share responsibilities 
Understand how to deal with healthy conflicts and resolve them 
Learn interpersonal communication skills
What Goes Through Childrens' Minds After Trekking
Typical trekking summer camp itinerary:
Most trekking days end by 2 pm (except the day of the summit climb). Upon reaching the campsite, children participate in activities and reflection sessions. 
 Day 1: Reach New Delhi and take an afternoon train to Haridwar. (15.20 hrs train) Drive to Rishikesh by Tempo Traveller.
Day 2: Travel from Rishikesh to Raithal/Sari, the Indiahikes community campus, by vehicle (Non-AC vehicle). Departure Rishikesh at 6.30 am. Arrival at our campus approximately between 3-4 pm.
Day 3: Trek from community campus to Camp 1
Day 4: Trek from Camp 1 to Camp 2. 
Day 5: Explore the forests around Camp 2, participate in bird watching and nature journaling
Day 6: Trek from Camp 2 to Camp 3 
Day 7: Trek from Camp 3 to Summit and back to Camp 3
Day 8: Trek from camp 3 to community campus. Reflection at community campus
Day 9: Leave community campus at 7 am and reach Rishikesh by 4 pm. Onward to Haridwar. Board an overnight train to New Delhi the same night.
Day 10: Reach Delhi by 6.00 am.
How your child's travel is planned:
Step 1: Transit from New Delhi to Rishikesh hostel 
Train travel from New Delhi to Rishikesh (Jan Shatabdi Express. Departure New Delhi Railway Station at 15.20 hrs). Arrival time at Haridwar railway station at 19.35 hrs. 
From Haridwar the children will be moved to our Rishikesh hostel by road (25 km, one hour). The transport will be arranged by Indiahikes. 
Overnight stay at our Rishikesh hostel.
During transit from Delhi to Rishikesh, children will be accompanied by Indiahikes staff members.
Step 2: Himalayan Road Journey to basecamp of the trek
Himalayan road journey from Rishikesh hostel to our respective community campus (Raithal village or Sari village). Journey time is approximately 7 hrs, with toilet and snack breaks.
Return Journey:
Step 1: Himalayan road journey from our community campus to Haridwar Railway station, via Rishikesh (note: there is no stay at Rishikesh on the return journey)
Step 2: Train travel from Rishikesh to New Delhi
How we take care of your child's safety
Indiahikes is known to be the safest trekking organisation in India, especially for children. First, the summer camp is conducted off our own campus at Raithal and Sari villages. These are not remote hotels or lodges but Indiahikes community campuses. No children are allowed to step out of the campus unless accompanied by Indiahikes staff members. 
On the trek, children stay at Indiahikes campsites all along the route. All activities are conducted under the direct supervision of Indiahikes trek leaders, facilitators and support staff.
Our people
Our Trek Leaders are certified mountaineers with a Basic Mountaineering Course or Advanced Mountaineering Course. Trek Leaders assigned to lead summer camps are Wilderness First Responders (WFR) and NOLS certified. They have led several Himalayan treks, ranging from moderate-difficult to difficult treks. 
All our mountain staff too have gone through extensive training to handle emergencies. Additionally for our summer camps, women staff members compulsorily accompany every group of children.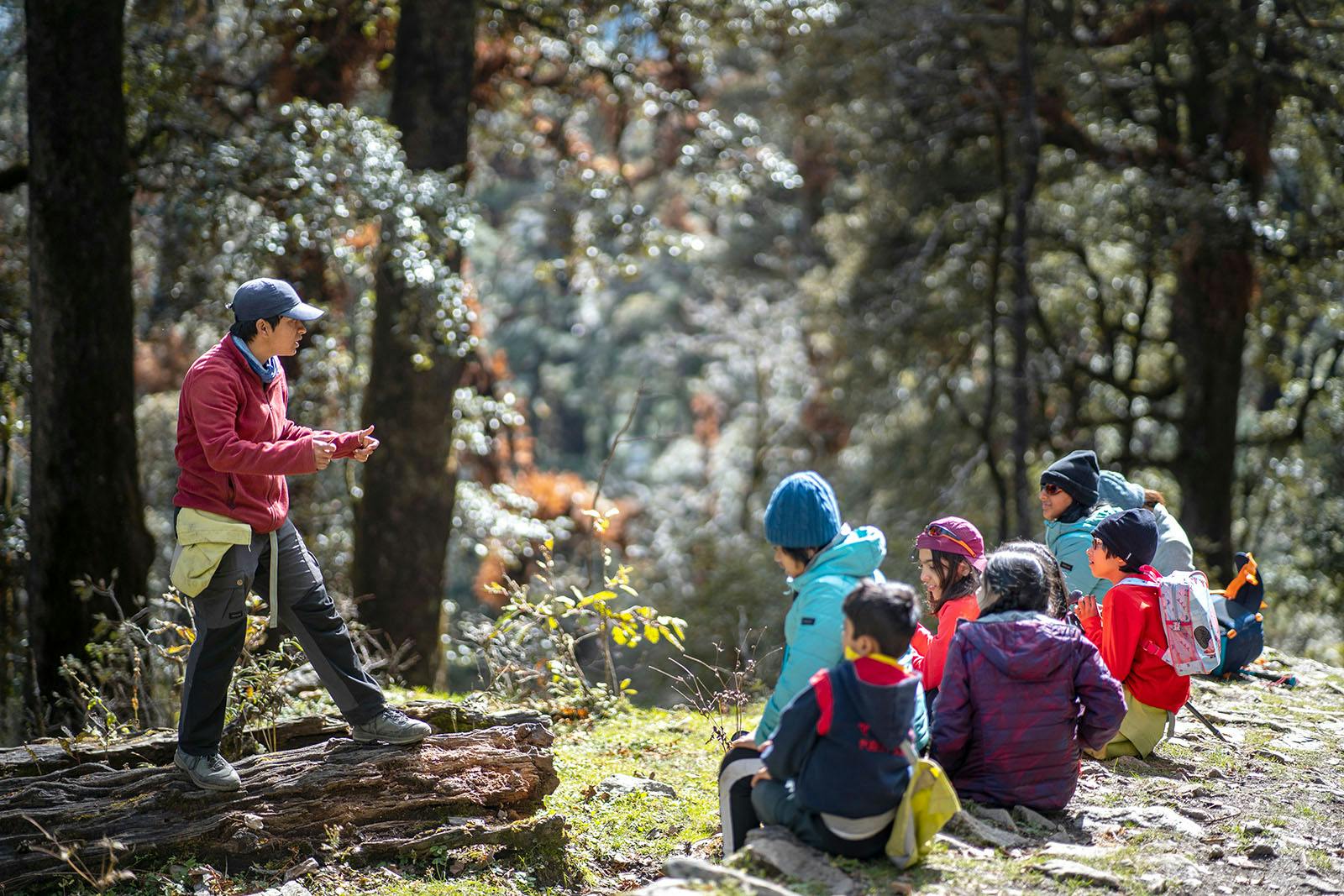 Our processes
For over a decade, it is our water-tight safety process that has mitigated all kinds of risks — ranging from health-related and medical risks to outdoor risks. This process includes our initial safety check-in at the base camp, our thrice-a-day health checks, our medical protocol in case of any symptoms. 
Additionally, all risks associated with the program are analysed in advance and a risk mitigation plan is developed. Every possible risk is properly planned for. Processes have been put in place for all common emergency scenarios. Our staff are trained to follow these processes stringently.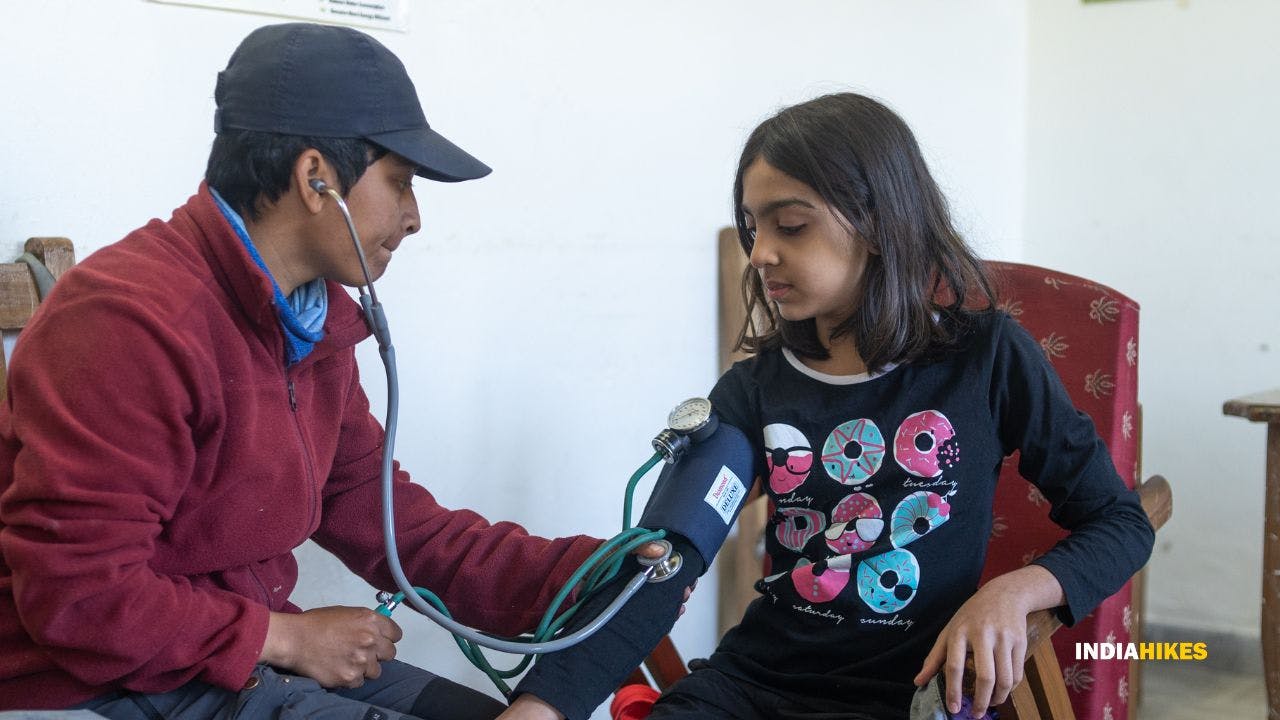 Our Equipment
Most modern safety equipment regularly used on treks in India were introduced by Indiahikes.
We have safety equipment of the highest standards. On the trek, the trek group will carry a fully equipped safety and medical kit, evacuation kit and technical gear kit. This provides support for the team to handle any emergency in a proficient way.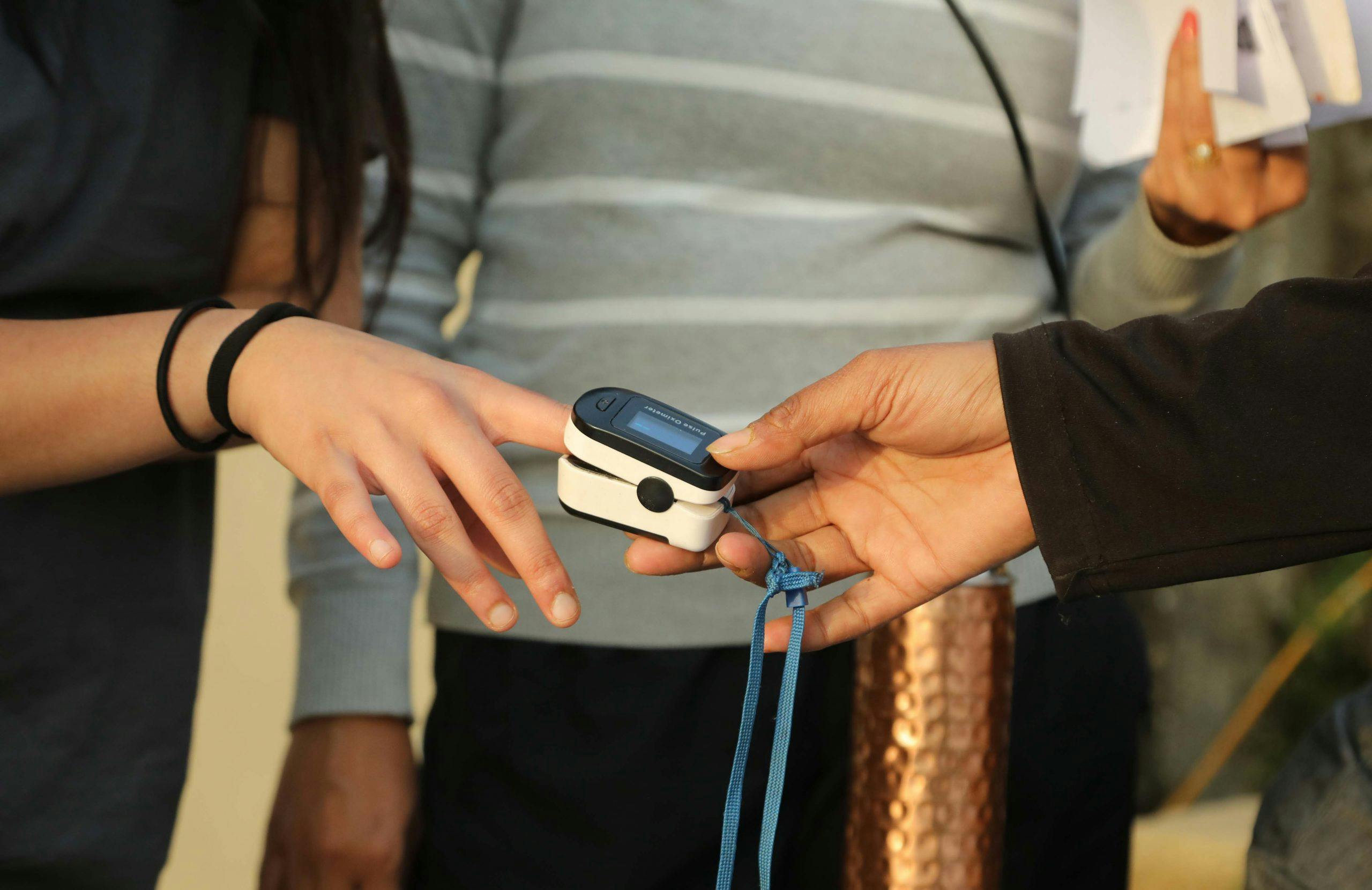 Top questions parents have been asking us
We serve simple, nutritious vegetarian food at our summer camps. You can expect roti, subzi, dal and rice at every meal, along with some surprise desserts! Since the group comprises mostly of children, the food will be on the less spicy side. 
All our meals are prepared freshly at every campsite by our kitchen teams. We go to great lengths to ensure that the food is healthy, sustainable and fresh. So avoid sending food with your children. As for packaged snacks, they are banned on our treks. 
We do have options of Jain food / vegan food upon request. 

At the basecamps of Raithal and Sari, children will be staying in Swiss tents (in dorm-style beds). These tents will be separate for boys and girls.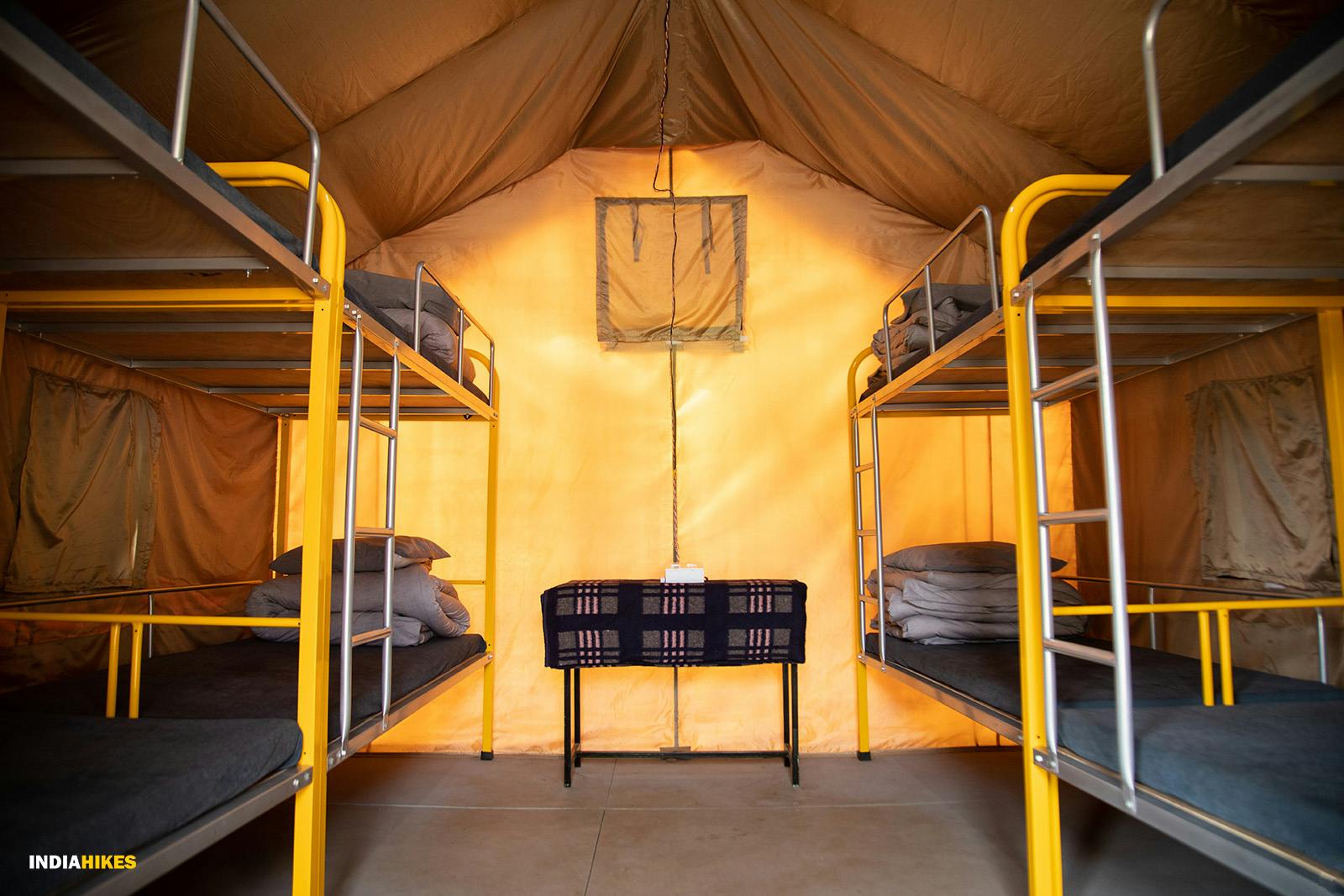 At campsites, children will be staying in 3-man expedition tents. These are comfortable tents that will keep the ambient temperature a good 10 degrees warmer than the outside temperature. These will also be separate for boys and girls. 
Each child will be provided with sleeping bags and hygiene liners at all campsites, which they will sleep inside. 

Indiahikes will not be able to organise transport to Delhi. Parents will have to drop off their children at Delhi, from where the Indiahikes team will accompany children all the way to the basecamp. 
Indiahikes will provide sleeping bags, tents and any snow equipment required for children.
We would recommend renting out the rest of the gear from our store for your children. 
Children will need comfortable trekking shoes, jackets, backpacks, trekking poles and headlamps for the trek. We do not recommend buying these, since it becomes too expensive.
(Please note: Rentals will open around 45 days before the start date of the trek)
You can expect snow from March till mid-April on both the treks. The snow slowly reduces during this period, giving rise to springtime greenery. 
The higher reaches, especially the summit climb, will have snow. We will be giving children microspikes to attach to their shoes to get traction in snow. They will also be given gaiters in case the snow level is above their ankles. Our technical team will be with them throughout these sections to guide them. 
This video about our safety equipment on every trek will also give you a clear picture of the safety you can expect for your child.

You will not be able to contact your child on the phone, since these are remote areas without mobile network. You will, however, be able to stay in touch with the Indiahikes team. Our team is in continuous touch with the whole team through radio communication / walkie talkies and will be able to share updates with you.
You can definitely do this. If they are just turning 12, the age gap between other children and your child will not be much. Besides, if it is their first trek, Dayara Bugyal will be a lot gentler for them. So you can sign them up for the Dayara Bugyal trek without hesitation.
Please use your own email id and phone number to register your child. We share important information on travel, gear, co-ordination and trek details over email and Whatsapp. This is crucial to your child's summercamp. So you need an email id and phone number that is in regular use.
However, please ensure you use your child's name and age in the registration process.
The Indiahikes Community Campus at Sari and Raithal
Sign up for our much loved Weekly Mailer
We have terrific trekking tips, trek updates and trek talks to look forward to