5 Mesmerising Campsites For Stargazing In The Himalayas
Share this story
5 Mesmerising Campsites For Stargazing In The Himalayas
Category Region-wise Guides
By Latika Payak
2021-03-16
I remember the first time I saw the stars on a Himalayan trek. My eyes – accustomed to seeing a few scattered, dull, stars through the city smog – stared at a sky crowded with bright, twinkling stars. That night I couldn't believe what I saw.
Could this be real? I had gasped, staring at the thick band of Milky Way streaking across the dark sky above the Bedni Bugyal campsite. 
Himalayan treks are known for such mesmerizing sights. But not all campsites are great for stargazing. Not all make you go weak at your knees. The ones that do, are the ones you must watch out for if you are about to go for a Himalayan trek.
Do a little groundwork to see the star-lit sky in its full glory. Astrophotographer Rahul Sen suggests, "First of all, go through the light pollution map and find regions with least or zero light pollutions. That'll be the darkest zone near you."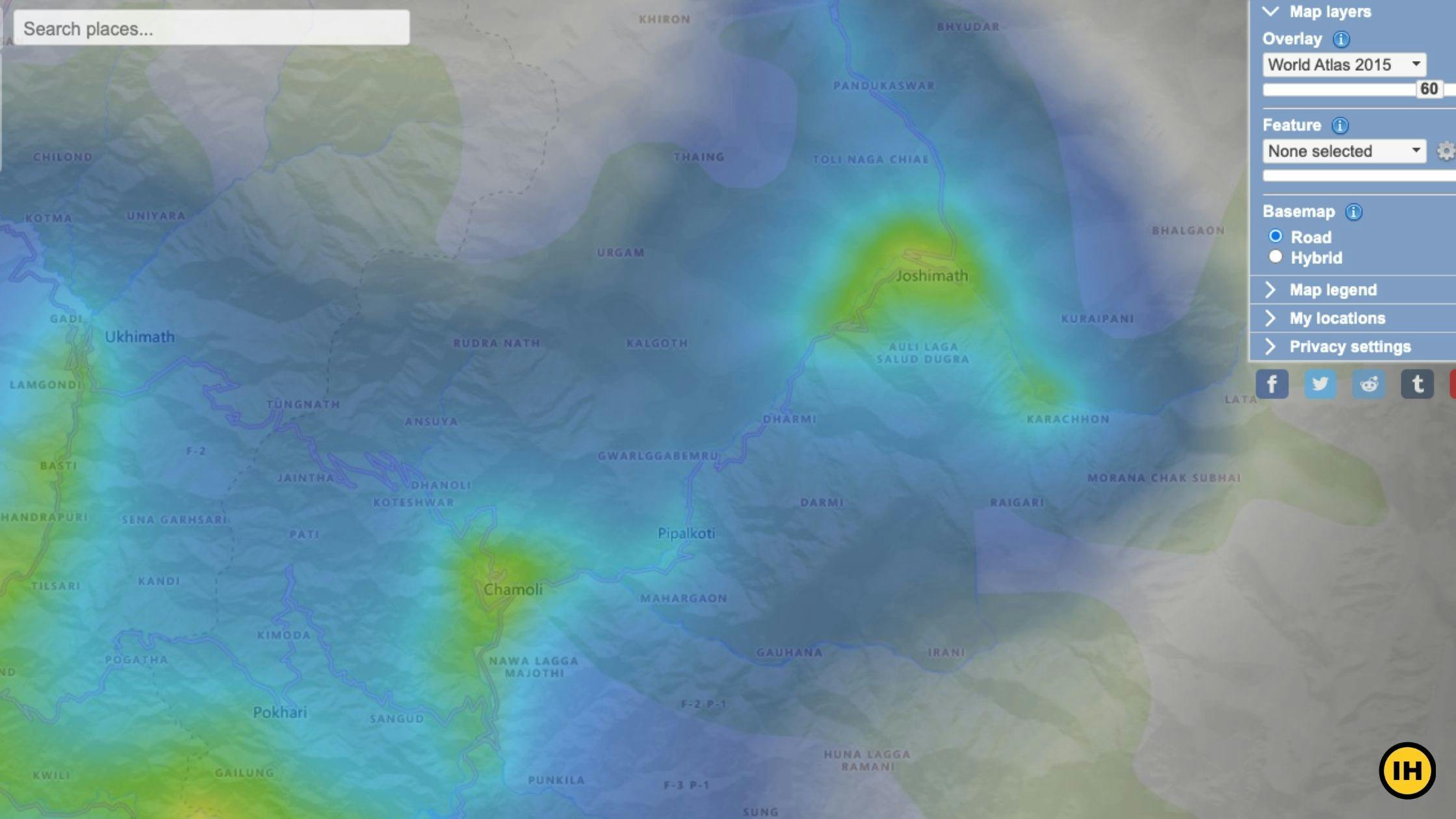 Apart from this, keep an eye on the phases of the moon. "The best would be a moonless night as you'll be able to see the whole night sky without any moonlight," Rahul says.
Research goes a long way while chasing the stars. But we have a ready-made list of campsites – spots where our trek leaders have spent repeated nights – perfect for stargazing in the Himalayas.
This list gives you an idea about what kind of settings lend themselves for a good stargazing experience. Read carefully and take notes.
1. Dhanderas Thatch of Rupin Pass Trek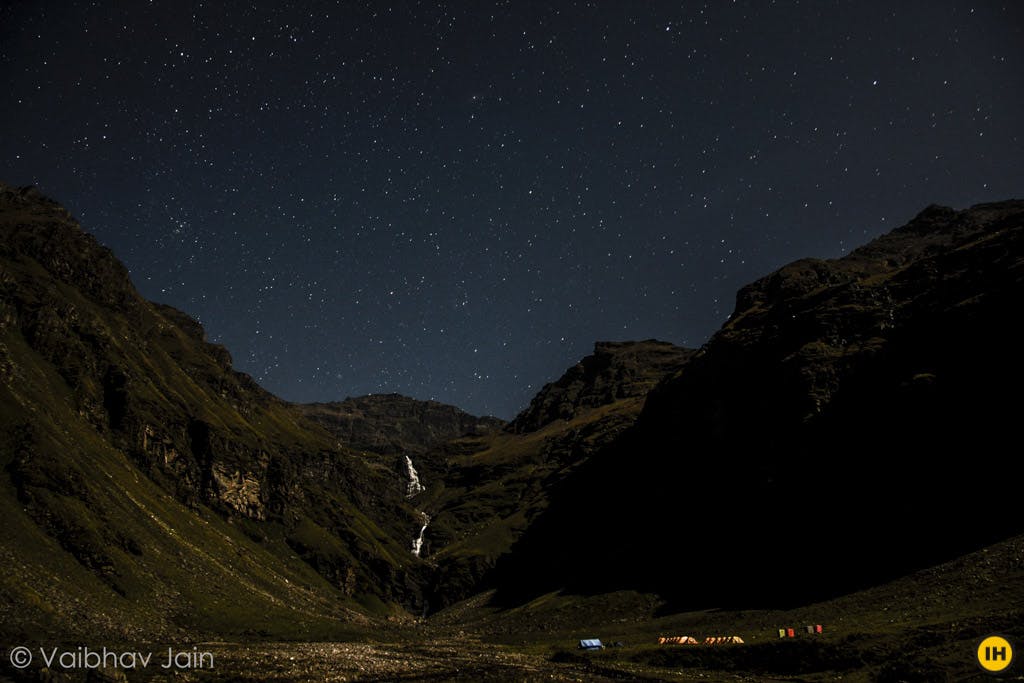 You spend the second and third night of your Rupin Pass trek at Dhanderas Thatch. The location of this campsite is really pretty because you camp right in the middle of a valley which curves up like a bowl. 
But it is not a small bowl. The valley is wide. Right in front of you, Rupin gushes down in three stages and gurgles past the campsite in a steady stream. 
At night, the setting of this campsite makes stargazing in the Himalayas special. 
"Dhanderas Thatch is also far from civilization. So in this open valley, you have the Rupin waterfall glimmering silver under a starry sky," Sandhya UC, Co-founder of Indiahikes remembers nostalgically.
2. River Campsite of Buran Ghati Trek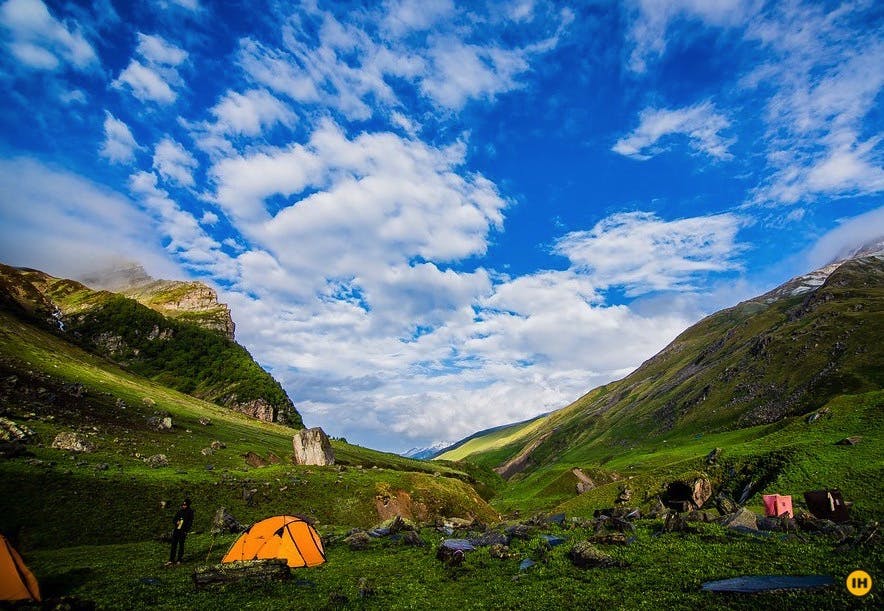 The topic of stargazing reminded Megha Bheda, Social Media Manager at Indiahikes, about the River Campsite of Buran Ghati trek. This is the last camp on the Buran Ghati trek. It is perched at 11,800 feet in a valley.
"We were camping at the River Campsite after crossing the pass. It had been a long day. At night when I stepped out of my tent for dinner, I did not notice the night sky at first. But when I finally looked up, I saw a sky filled with stars. It was mesmerizing. That night I stayed out – just staring at the stars – till 3 am," she says.
3. Shea Goru of Hampta Pass Trek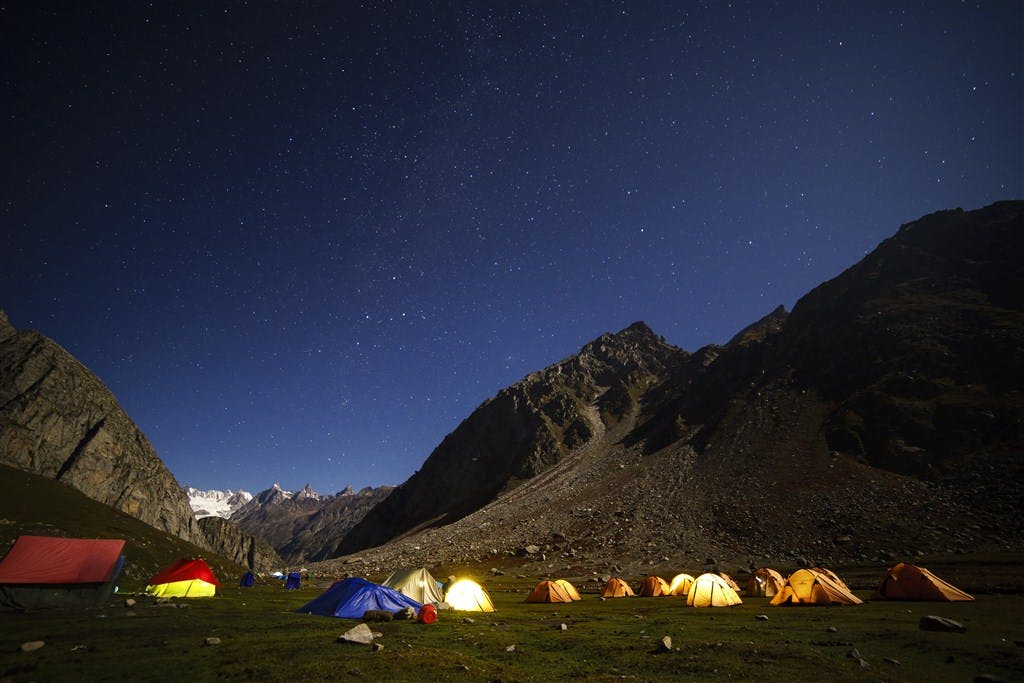 This is the last campsite on the Hampta Pass trek. It is the coldest one, as it lies on the other side of the Hampta Pass. 
"Shea Goru is in the rain shadow region. There are not a lot of clouds here. So all you get is mountains and clear skies. Due to this, although you see Milky Way from other campsites, you don't see it as clearly as you see from Shea Goru," says Trek Leader Leo Saldhana. 
In the absence of clouds in this region, no moonlight bounces back. This is why the Milky Way looks stellar from this lovely campsite of the Hampta Pass trek.
4. Mangrungse of Pin Bhaba Pass Trek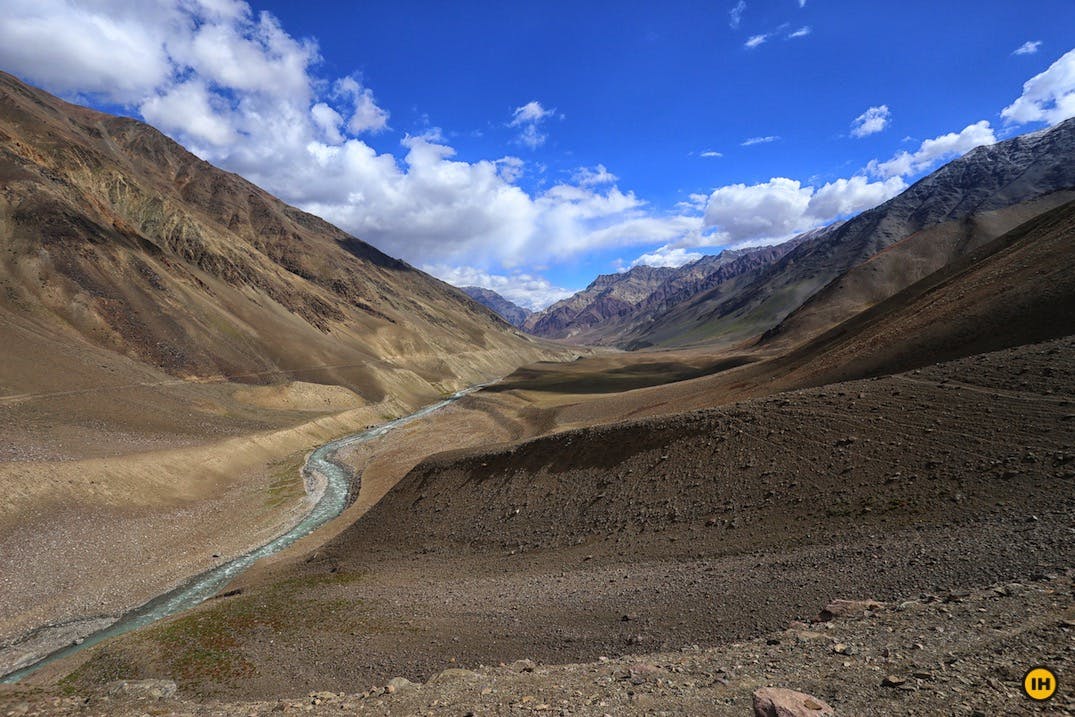 This campsite lies on the Pin Bhaba Pass trek, in Himachal Pradesh, around 200 km from Shimla. You reach here after 33 km of trekking from the base camp Kafnu. 
"You can see Mangrungse from a distance because there are no mountains obstructing the view. It is in the middle of Pin Valley. In 15 km of its radius, there is no civilization. This is on one side. On the other side for almost 50 km the landscape is totally isolated. You won't even find an animal in the vicinity," says Trek Leader Vijeet Shaw. 
The isolation helps in reducing any kind of light pollution. Moreover, Pin Bhaba trek is open during the monsoon months – between June to September. During that time, you see the thickest streak of Milky Way. 
That, with the open setting of Mangrungse makes it one of the coveted campsites for stargazing in the Himalayas.
5. Lidderwat of Tarsar Marsar Trek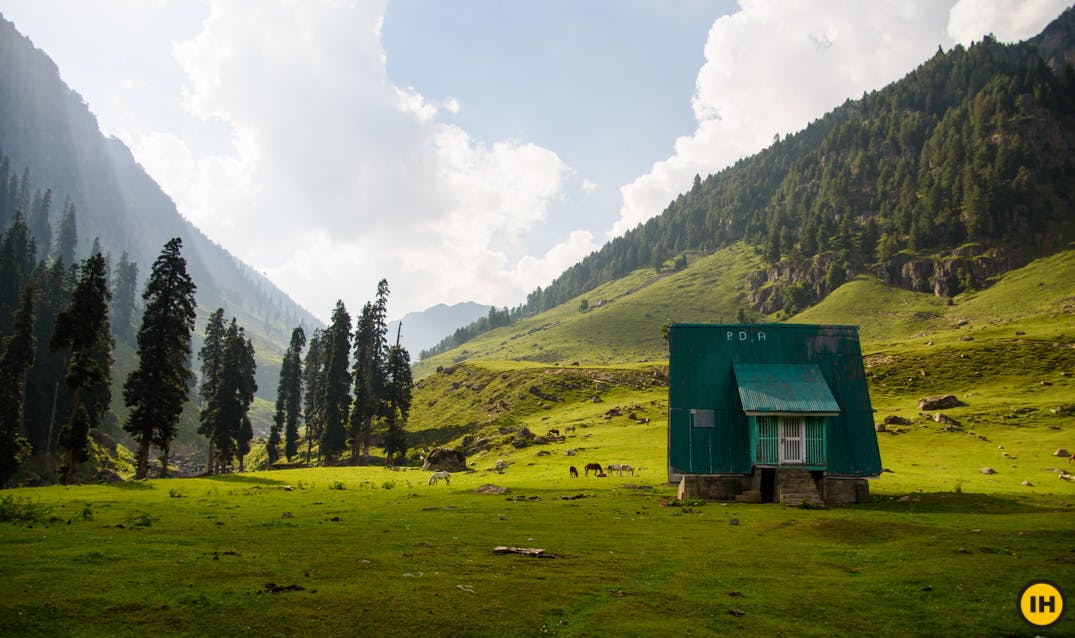 Talking about open campsites by the gurgling river, another name pops up in the conversation – Lidderwat. This campsite is on the Tarsar Marsar trek, situated by the Lidder river. 
Leo piques in, saying, "Above the Lidderwat campsite, you have open skies of the remotest part of Kashmir. The views are not obstructed because mountains around this campsite are not tall."
Imagine this setting with a soothing Lidder gurgling in the background. The sound and the setting lend a magical touch to a starry night. 
We run the Tarsar Marsar trek during the monsoon when temperatures are not plummeting. Temperature also plays a part in making this entire experience worthwhile. 
"At night you can comfortably walk out, maybe lie down on a foam mat to stargaze at leisure," says Leo. This is something you cannot do on a trek or campsite that gets very cold.
Bonus: High-Altitude Lakes of Uttarakhand, Kashmir, Spiti and Sikkim
An open sky tucked in the folds of the Himalayas with no light pollution is perfect for stargazing in the Himalayas. What's even better is a silent, still lake reflecting the stars in such a setting.
As the conversation flowed, names of campsites set-up by high altitude alpine lakes tumbled out.
The first lakeside campsite to be mentioned was Vishnusar on the Kashmir Great Lakes trek. "The place where we camp is a sprawling field of at least 2 km in length. In that field, you only have your Hillman tents and the whole sky is visible. The night sky also blends in with the meadows, which offers a special ambiance," said Vijeet. 
While Vijeet did not mention how the lake looked under a starry night, the attention was drawn to spots where we camped near lakes.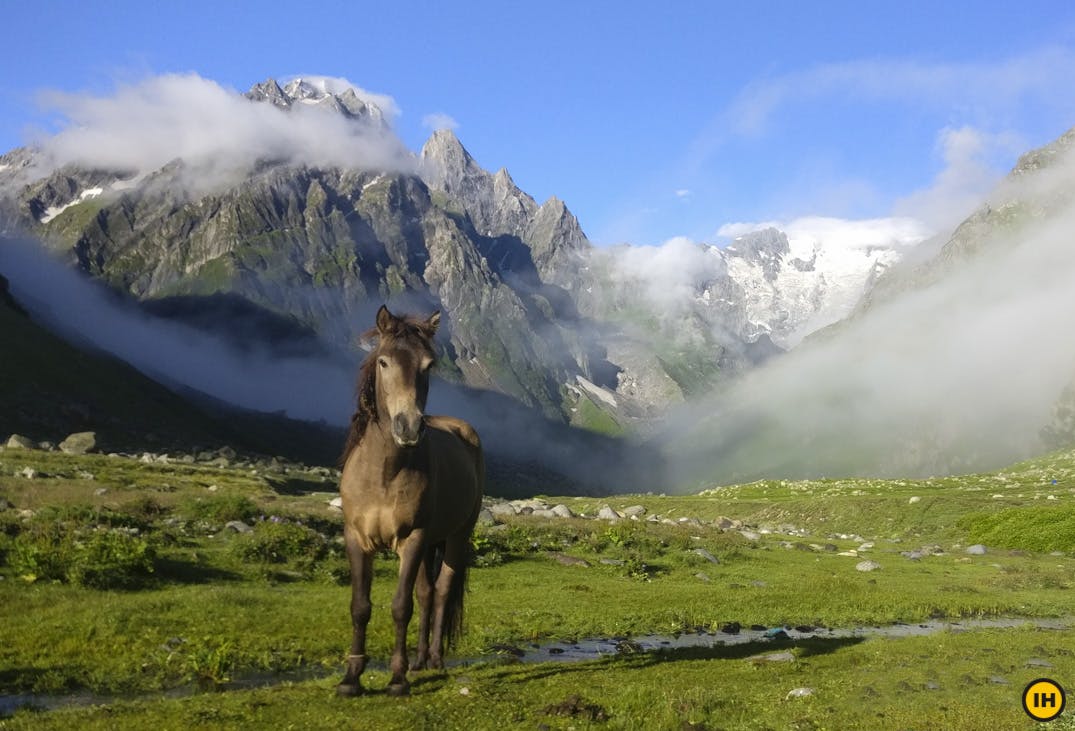 That reminded Leo of Karah on Pin Bhaba Pass trek. "The experience of watching the reflection of Milky Way on the Karah lake was brilliant." This mention triggered murmurs. SImilar memories from various parts of the Himalayas started popping up. Names like Brahmatal, Deoriatal, and Samiti Lake of Goechala trek joined the list. 
"Brahmatal is also a great campsite under a starry sky. In fact, we take our trekkers for a night walk to Brahmatal during the trek," Leo says.
In line with this memory, Vijeet recalled watching the silhouette of Mt. Chaukhamba and the reflection of stars in the undisturbed waters of Deoriatal on the Deoriatal-Chandrashila trek.
Among these, the Samiti Lake of Goechala probably presents the best setting. Unfortunately, camping by Samiti Lake is no longer possible. But if we dip into our archives, a memory of Founder and CEO Arjun Majumdar offers a clear picture.
"On the dark absolute still waters of Samiti, a reflection of the entire mountain stared at me. I could see every snow patch, every crag, and every gully of the great mountain.
Overwhelmed at what I was seeing, for the first time in my life on a trek, tears welled up in my eyes. That night I cried for everything I loved and despaired. I wondered why I was alone," he had written in the article — Meteor Shower On Goechala Trek: A Story That Will Give You Goosebumps.
Conclusion
Stargazing in the Himalayas is special. It is not an opportunity you come across every now and then.
The best way to make the most of it is to plan well. If you are planning for a trek that takes you far away from the city lights, check if the setting is conducive for stargazing. Read up, maybe, download apps that aid your stargazing.
Alternatively, if you've been to the mountains and know a campsite that's spectacular for stargazing in the Himalayas, please drop the name and details (trek, best season for stargazing) in the comment section below. We will add it to this blog 🙂
LEAVE A REPLY
Your email address will not be published. Required fields are marked
Sign up for our much loved Weekly Mailer
We have terrific trekking tips, trek updates and trek talks to look forward to