Another Terrific Trek Opened in Lahaul: Ghepan Lake Trek
You'll have to act quickly on this one. We're opening the Ghepan Lake trek as early as 7th September
View Trek
Highest Altitude
14,009 ft
The Prettiest Grassland Trek In Himachal
A lot of trekkers do the Bhrigu Lake trek (Read: A Photostory of the Surreal Bhrigu Lake Trek) for the lake steeped in mythology. This trek lies in Himachal Pradesh, around 20 km north of Manali and can be accessed from Gulaba.
It is known as the place where the famous saint Maharishi Bhrigu sat in deep meditation. However, we believe the lake is not the only thing the trek has to offer. You must do the Bhrigu Lake trek for its grasslands.
To enter an alpine meadow in our country, one has to often spend at least a day or two trekking within the treeline. We are talking about two or three days of hard ascent. This is because most alpine meadows start at around 11,000 ft above the treeline.
However, on this trek, you are in the meadows within the first 10 minutes of this trek! Imagine having meadows such as these right in your backyard. No wonder we go gaga over landscapes that are seen in places like Switzerland.
The meadows on the Bhrigu Lake trek stretch far and wide – almost like an endless carpet. Wild horses gallop around you. The grazing sheep look up when you come out of the treeline, almost as if to greet you.
From these grassy knolls, you will see the mountains of Pir Panjal and Dhauladhar dominating the skyline.
This is your garden in the sky. In the months of July to September, you'll see the meadows at their lushest green. You'll spot wildflowers everywhere.
The meadows change texture, shape, and colour but stay with you all along the trek – right until Bhrigu Lake. This is what makes the trek special. Getting a chance to be in such alpine meadows all along a trek is a rare opportunity.
This four-day trek gives you a good idea of what Himalayan treks offer – meadows, glacial lake, mountain views. Even though it is a short trek, it climbs to the daunting altitude of 14,000 ft. so you experience the thrill of a climb as well.
With its easy access from Manali, it is a great trek to do for beginners or families looking to explore the wilderness.
Expert Speak
What I like about Bhrigu Lake Trek
1. The rolling, textured grasslands of Bhrigu Lake

Here, the grasslands stretched in lovely undulating green dunes as far as the eye could see; perhaps even beyond. It was special. 
I hadn't seen something like this: the meadows changed texture and colour with every altitude gained. What started as a short, bright, but a coarse carpet turned a rich, succulent green as we climbed.
At one point we stopped for a short snack break. I took off my shoes, felt the velvet touch of the immaculate lushness under my feet. The moist softness and the deeply aromatic smell still stays with me.
2. The commanding views from Rola Kholi

I loved walking through the cauldron that is called Rolakholi. We did not stop there, but pitched our tent on a ledge jutting out from the walls of the cauldron. I could not have asked for a more commanding view of the mountains of the Pir Panjal range.
Early in the morning, I walked up the gently sloping banks around Rolakholi. The sun lit up the grassland in bright yellowish streaks, cotton wool clouds hung in the air below me. 
In front Mt Hanuman Tibba, Ladaki Peak, Friendship Peak, the summits of Lahaul stretched out. It was just us and the abundance of a teeming, flourishing grassland. I had underrated the trek.
3. Reflection of mountains in Bhrigu Lake from a high point
When I climbed a bit higher over the banks of the Bhrigu lake, I saw the mountain ranges reflected on the waters of the lake. Clouds hung below us and we were almost looking at the lake as it hung out of the air. We were at 14,000 feet. I couldn't believe we were that high!
4. Stunning green valley on the other side

We were early to the lake, so we went beyond, towards Pandurupa. It is not too far, perhaps half an hour on the other side. 
I had fallen in love with the trek, but I should have waited. 
The other side was equally stunning. A wide green valley stretched below us. Green grassy mountainsides rising out of the valley and a line of forest way down below. I wish we could trek this side too. But I knew the trail was long and winding. We couldn't camp in between. Reluctantly, we made our way back to the lake.  
I had not expected much out of the Bhrigu lake trek. I didn't think a trek right out of Manali could be so grand. I wish I was not so full of my own image setting. Bhrigu Lake is one of the best grassland treks that I have done in my life.
What I don't like about Bhrigu Lake Trek
The Bhrigu Lake in itself didn't appeal to me much. It was a bit of a downer after the exhilaration of the climb and the stunning scenery around. I expected the lake to be larger, with a grassy bank around it. There wasn't. It had a muddy bank. A few local folks were even taking a dip in its water. That killed the setting. Perhaps my overfed imagination expected too much.
<!–- -–>
Bhrigu Lake Trek Is Best Discovered Through Pictures
Quick Itinerary
DAY 1: Drive from Manali to Gulaba. Trek from Gulaba to Jonker Thatch 
Reach Rambaugh Circle, Manali at 12.30 pm. (Best way to reach Manali: Fly to Chandigarh. Take a bus from Chandigarh to Manali)
Start drive from Rambaugh Circle to Gulaba. En route, drop your cloakroom bag and collect your rentals. You reach your first campsite by 3 pm.
Drive distance: 24 km | Duration: 1 hours
Trek distance: 1.5 km | Duration: 1.5 hour
Altitude gain: 6,725 ft to 10,370 ft 
| Note: Please have lunch before you reach Rambaugh Circle.
DAY 2: Jonker Thatch to Rola Kholi
Trek distance: 5 km | Duration: 3-4 hours
Altitude gain: 10,370 ft to 12,566 ft
Trek type: Moderate. Steep ascent throughout followed by an undulating walk for the last 30 minutes. 
DAY 3: Rola Kholi to Bhrigu Lake and back to Rola Kholi
Trek distance: 10 km | Duration: 5-6 hours
Altitude gain: 12,566 ft to 14,009 ft and back
Trek type: Moderate. Starts on a stony trail. Initial ascent for 2 hours followed by 10 minutes descent. Level walk for 15 minutes followed by an hour's steep ascent to the lake. 
DAY 4: Rola Kholi to Gulaba. Drive back to Manali 
Trek distance: 5 km | Duration: 3-4 hours
Altitude loss: 12,566 ft to 10,370 ft
Easy: Easy. Mostly descending.
You are expected to reach Manali by 3.30 pm. 
Know Your Bhrigu Lake Trek
We have always wanted trekkers to be well-informed before they go on a Himalayan trek. Knowledge is the difference between a safe trek and a dangerous one. It's also the difference between a wholesome experience and a surficial experience.
Use this section to learn about the Bhrigu Lake trek. It has in-depth information about each day of the trek, what to expect, and how you need to prepare for it. Many years of expertise have gone into this content. Don't miss the 'Frequently Asked Questions' section. Trekkers find that extremely useful.
How Does Each Day Look Like
Complete Trek Guide With Photos
Day 1: Reach Gulaba
The Bhrigu Lake trek begins at Gulaba. The 24 km route to Gulaba takes you on the Manali-Rohtang Pass road, past Kolang, Palchan and Kothi. You get fabulous views of pine forests and mountains as soon as you cross Kothi. Once a quiet hamlet, Gulaba is now buzzing with tourists in transit to Rohtang Pass.
Altitude: 10,370 ft (3,161 m)
Time taken: 1 hour drive + 1 hour 15 minutes trek. Pick up from Rambaugh Circle, Manali at 12.30 PM
Vehicles drop you off at the road head near Gulaba checkpost.
Trek steadily underneath forest cover, passing through open grasslands every now and then. You will reach the Jonkar Thatch campsite in about an hour and fifteen minutes.
Day 2: Jonker Thatch to Rola Kholi
Altitude: 10,370 ft (3,161 m) to 12,566 ft (3,830 m)
Time taken: 3-4 hours, 5 km
Trek gradient: Moderate; Steep ascent throughout followed by an undulating walk for the last 30 minutes.
Water sources: Carry 2 litres of water from Gulaba. The first water source is 15 minutes before Rola Kholi campsite and the second one is 10 minutes before - both at stream crossings. The first one is a better place for filling your water bottles since it has a steady flow of water. This saves you time.
The trail begins with a steep ascent. Make note of brown oak, cedar and birch trees on the trail here. These are few of the most prominent trees in the Himalayas. After around 20 minutes, the trail enters an open meadow where shepherds camp.
Observe Mt. Hanuman Tibba towering over the meadow in the background. Below Hanuman Tibba are the Seven Sister peaks seated in the Beas Kund Valley. Turn right from the upper ridge of the meadow and head south. The second forested cover begins here.
Rola Kholi is a scenic grazing ground used by local shepherds. Located at the base of Bhrigu Lake, it makes for an ideal camping spot. You water source here is Chor Nallah, which flows across the camping ground.
The clouds are so dramatic on this trek. They keep popping like cotton candy in the valley. When you reach the Rola Kholi campsite, you see these floating clouds below you. Especially early in the morning, with sun rays dancing on the clouds. To see this is very rare. After Sandakphu, I think this is the next trek which offers such a spectacular cloud experience.
Day 3: Rola Kholi to Bhrigu Lake and back to Rola Kholi
Altitude: 12,565 ft (3,830 m) to 14,009 ft (4,270 m); back to 12,565 ft (3,830 m)
Time taken: 6-7 hours, 10 km
Trek gradient: Moderate; Starts on a stony trail. Initial steep ascent for 2 hours followed by a 10 minutes descent. Level walk for 15 minutes followed by an hour's steep ascent to the lake.
Water sources: Bhrigu lake, streams along the way
Start early as you have a lot of distance to cover today. You have to trek a height of around 1,348 ft to reach Bhrigu Lake.
Bhrigu Lake rests between two high-altitude ridges. You begin with hiking to the first ridge, which is an hour away. In June, the trail is usually covered in snow. In July, as the snow melts on the lower reaches, you see the trail slowly turning from green to brown and white. As you reach the ridge, look for an oval glacial lake in the distance. Depending on the season, the lake is either surrounded by snow or fresh grass, along with alpine flowers.
If you climb over the ridge on the side of Bhrigu Lake and look down, you see the three campsites of Hampta Pass trek - Chikha, Jwara, and Balu ka Ghera -  laid out in front of you. But be careful as you climb over the ridge. From the edge, it is a nerve-wrackingly steep drop into the valley. 
On a clear day, you can catch a stunning panoramic view of Pir Pinjal and Dhauladhar ranges. Also, major peaks such as Indrasen, Deo Tibba and Hanuman Tibba stand majestically before you. The lake is normally enveloped in fog which can make finding the route tricky. It is always advisable to hire a local guide.
After spending time at the lake, retrace your way to Rola Kholi.
Day 4: Rola Kholi to Gulaba
Altitude: 12,565 ft (3,830 m) to 10,370 ft (3,161 m)
Time taken: 3-4 hours, 5 km
Trek gradient: Easy. Mostly descending.
Water sources: Carry 2 litres of water from Rola Kholi
Today's trek is an easy one. You get back to Gulaba through the meadows you came up from. The descent can be  a bit steep but is good on your legs given you are always in the meadows. It takes 3-4 hours to reach Gulaba. Gulaba at around 10,370 ft is a better exit for your knees and feet as compared to Vasisht at 7,000 ft.
Banner image by Braham Ghairola
How to Plan Your Travel
Quick Guide on How to Reach the Basecamp
Your journey will be in two phases -- reaching Manali and then traveling from Manali to Bhrigu Lake.
How to reach Manali?
The best way to reach Manali is by an overnight bus from Chandigarh or Delhi. The travel time from Delhi to Manali is around 12 to 14 hours and the travel time from Chandigarh to Manali is around 8-10 hours. We recommend that you book the Himachal Government Volvo buses. They are reliable and usually on schedule.
Ensure you leave at around 6 pm the previous evening, so that you are well on time for the pick up in case of unexpected delays in reaching Manali.
Flying to Kullu airport is not recommended, as the flights commonly get delayed and cancelled in case of unexpected changes in weather.
The journey to Manali is a very beautiful one, especially after Mandi.  Please choose to sit on the right side of the bus.  You will be driving along the Beas River all the way till Manali and it is absolutely beautiful against the backdrop of the mountains.
During the monsoon season, the Beas will be flowing hard and you will catch tourists doing river rafting as well. You will also be passing through Kullu, another major town on this drive.
After you cross Kullu, en route to Manali, watch out for the small villages along the way. The houses especially stand out. The architecture is very unique to this region.
How to reach Bhrigu Lake?
From Manali bus stop, every 1 hour you will get buses (till late afternoon) going towards Gulaba. Bus Ticket Rs.30. It takes 1-1.5 hours to reach there. Get down at Gulaba check post, which is the starting point. 
Tata Sumos/Boleros also run as shared taxis along the Palchan route. They charge Rs.2,000 per vehicle which is shared among travellers. It takes around 1 hour to reach Palchan.
| Note: Shared taxi might not get much travellers going towards Gulaba, in such cases you will have to hire the entire cab and pay Rs.2,000. Cab cost depends on the season, they have cab unions in Manali and they decide the cab costs every season for every route. So, cab costs might vary.
How Difficult Is Bhrigu Lake Trek?
A Reality Check on the Difficulty of this Trek
At Indiahikes, while rating a trek difficulty we consider a number of factors. These include, altitude gained every day, length of trek everyday, highest altitude, nature of the terrain, weather etc. Based on this we rate a trek as easy or difficult or somewhere in between.
With respect to the above criteria, Bhrigu Lake trek  is a moderate trek on a difficulty level ranging from easy to difficult.
You start from Manali which is at an altitude of 6,725 ft and reach an altitude of 14,009 ft in a matter of 4 days.
The trail is a steady ascent to the lake. It tests your endurance during the final climb to Bhrigu Lake.
This makes the trek a moderate one. It is a good trek for fit first timers.
You will need at least 4 weeks of solid preparation for this trek. You can begin preparation by going for brisk walks and then do brisk jogs to improve your cardio. Your target should be to cover 5 km in 37 minutes comfortably by the start of the trek. Here's how you can get fit for the Bhrigu Lake trek.
Is Bhrigu Lake Trek Safe?
Defining Safety Standards of Trekking
Yes. Bhrigu Lake is a safe trek to do. Provided you have done your research, prepared well and are well-equipped and carrying the necessary trekking gear.
Indiahikes stands for safety. One of the big reasons why thousands of people choose to trek with Indiahikes every year is because of the safety that Indiahikes brings in. We have pioneered safety systems in India. And we are known across the trekking world as the safest organisation to trek with.
Most modern safety processes that you see on treks today have been brought in by Indiahikes. You will notice how these systems, processes, and people keep you extremely safe on the Bhrigu Lake trek. You will notice our concern for safety in every small interaction with you -- in our WhatsApp messages, in our emails, and even our phone conversations.
We do not take safety lightly. Neither must you.
Spend time reading this page in great detail. It contains information that will keep you safe on the Bhrigu Lake trek.
Being mentally prepared for the trek is as important as being physically prepared to stay safe. For this, it is crucial to have a clear mental picture of the trek.
There are three parts to safety on Bhrigu Lake trek:
Terrain Wise

Altitude Wise

Weather Wise
Safety on Bhrigu Lake -- Terrain wise
1. While walking on the snow-bound trail in June, ensure your microspikes are worn before you step on snow. Hard snow is extremely prone to slips. A small slip can result in injuries like a ligament tear, a sprained ankle or even a fracture. Always put your foot on footholds made by earlier trekkers. Look out for deep footholds. Do not try to make new paths of your own.
If you're trekking with Indiahikes, your Trek Leader will let you know when to wear the microspikes. Indiahikes technical team will lead the you in this section. Technical team will make the footholds required for trekkers to step on. This section does not require ropes.
However, if the snow is feeble, the technical team will use ropes to take the team forward. The technical team will also be assisted by the Indiahikes Trek Leader.
2. When it rains a lot in the months of July-August, the trail becomes muddy and slushy, be careful of the slushy sections which are very slippery. Use shoes that have good grip on slippery terrain. A slip on these sections will result in a fall and you will injure yourself badly, especially on the narrow sections on the meadow with a deep valley down below. Here's a complete guide to choose the best trekking shoes.
3. Probability of getting lost: The trail disappears in the meadows on many occasions. So, it is risky to trek solo to Bhrigu Lake if you are not well versed with the region.
| Safety Advice: Hire a competent guide or sign up with a responsible trekking organisation for this one. You must also download the GPX for the Bhrigu Lake trek before venturing on this trail.
4. Descend from Vashisht: This is the more popular route but it is extremely hard on your knees as you end up descending more than 4,000 feet in one go.
If you're trekking with Indiahikes, we avoid this as our itinerary retraces the trail back to Gulaba.
Safety on Bhrigu Lake -- Altitude wise
The Bhrigu Lake trek climbs quickly. So, it is advisable to camp at Jonker Thatch to help your body acclimatize to the change in air pressure.
If you are trying to do this trek within a day, pay close attention to your body. Stay alert for any signs of altitude sickness.
Attend to your uneasiness and take curative measures. Check oxygen levels, go on a curative course of Diamox, drink water and rest. If you do not feel normal after a few hours or overnight, do not proceed further on the trek.
To help you understand AMS better, we've put together a complete guide about it. This is a series a videos you must watch before you get onto any high altitude trek:
If you experience any symptoms of AMS, even in the slightest, start taking steps to treat the sickness.
At Indiahikes, our Trek Leaders are trained and equipped to take care of any emergencies related to AMS.
Safety on Bhrigu Lake -- Weather wise
Weather plays a big role in whether you are safe on a trek or not, especially because Bhrigu Lake trek happens in monsoon months. Here are some of the weather related issues that can play an important role in your Bhrigu Lake trek.
It can rain abruptly any time on your trek. Usually low pressures over a region can cause rain, even though the next valley may be bone dry! Rain at the lower slope can mean a dusting of snow on the upper slope.
However, rain that lasts more than four hours can change your trek plans. It can flood the trails or make them too slushy to walk safely on. Some normal sections can become very slippery.
| Safety Advice: Always carry a rain jacket or poncho on your trek. Think of investing in the waterproof socks at the Indiahikes store. This keeps your feet dry at all times. On a trek a dry foot is the difference between a happy and a miserable trek.
If the rain becomes heavy with winds, stop where you are. Take shelter under a tree. Ensure the tree is within a forest and not a lone tree. Wait for the rain to ease before venturing again. Do not wait for the rain to completely stop. A drizzle is safe enough for walking.
Exit Points and Closest Hospital To Bhrigu Lake
In case of an AMS emergency before or after reaching Bhrigu Lake, you will need to return to Gulaba. If a medical emergency occurs before or after the lake, then Manali is where you would need to go to get to a hospital. Manali is an hour's drive from Gulaba.
Mission Hospital in Manali is the closest one to Bhrigu Lake, in case of a medical emergency during the trek.
Address: Model Town, Siyal, Manali, Himachal Pradesh – 175131
Phone: +911902252379
Manu Diagnostics Center and Hospital is another option.
Address: Snowdrop Hotel building, Gompa Road, opposite Buddhist Monastery, Manali, Himachal Pradesh – 175131
Phone: +919418083587
| Note: As India's safest trekking organisation, we ingrain safety aspects in the people we work with, in the processes that we follow and in the equipment we carry. Here's how we at Indiahikes are ensuring that we make you trek the safest
Best Time to do the Bhrigu Lake Trek
Experience the trek in different months to plan accordingly
Bhrigu Lake is a high-altitude trek and it can be done for almost four months in a year. The very best time would be between June and September. You can extend it to the end of October.
Early in the season when I was there, the lake was completely frozen. The lake was surrounded by snow. Slowly as the season progressed I saw the lake melting. Later into the season, in August you see the deep blue water in Bhrigu Lake. During this time, there are flowers blooming all around the lake.
In May you will find a lot of snow during your final ascent to Bhrigu lake. This makes it difficult to reach the lake. So, it's advisable to trek to Bhrigu Lake between June and September.
The terrain changes colours and texture even during this window which ideally begins from mid-June.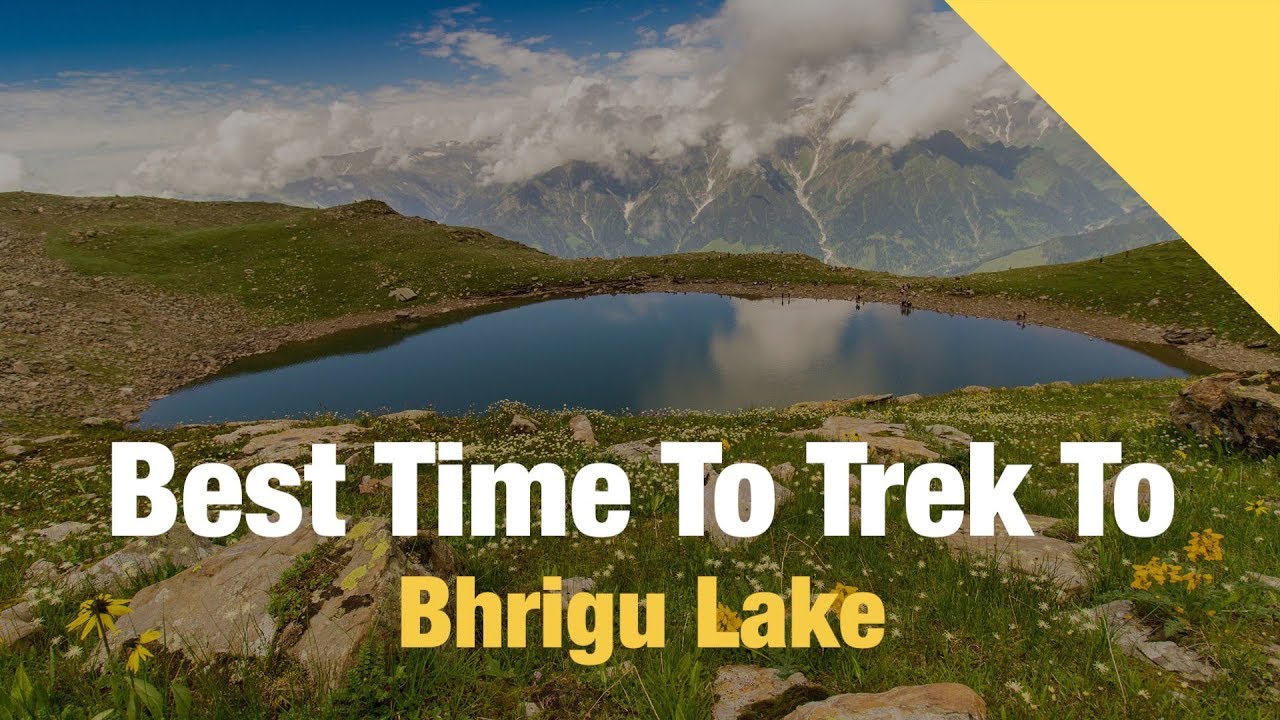 Month
What You Will Get To Experience
Mid-June to Mid-July
- Snow patches on trail
- Frozen Bhrigu Lake
- Warm days and cold nights

Mid-July to Mid-August
- Expect early monsoon showers
- Valley turns lush green because of rains
- Snow around the lake starts melting
- Ice on Bhrigu Lake also melts

Mid-August to September
- Valley is completely green when season resumes
- Bhrigu Lake is deep royal blue with green meadow around it.
- Crisp chill in the air during the evening and nights. But days are warm

Bhrigu Lake from mid-June to mid-July
At the beginning of the season, around mid-June you will find a lot of snow at Rola Kholi. It is evident that the trek is just starting to emerge from the snow. During this time, you will find many traces of winter lingering on the trek.
The most prominent being a frozen Bhrigu Lake, surrounded by snow. The ice begins to thaw only as July descends.
Even though the meadows are a highlight of this trek, they emerge only as the monsoon season deepens.
Bhrigu Lake from mid-July to mid-August
As the season progresses into July, the blanket of snow starts lifting. You still find some snow on your final ascend to Bhrigu lake, especially in early July, but most snow on the trek has melted.
The frozen Bhrigu Lake has also started melting in small concentric circles. Parts of it are still icy, but the ice is thinning. Meadows around the lake also start emerging as you pass mid-July.
Now, monsoon is also at its peak. Rains become frequent and clouds usually glide in unannounced shrouding the lake and the trail. You get to see a beautiful dance of clouds when at Rola Kholi.
Bhrigu Lake from mid-August to September
Like a climax, the last leg of the season is set up on a grand stage with lush meadows.
The snow is gone. Bhrigu Lake flaunts a deep royal blue colour with green grass and flowers blooming around it. It is a sight to behold.
Monsoon is receding now and blue skies have started peeping out. It's a great time to catch the arresting views of the underrated mountains of Himachal Pradesh.
When you camp at Rola Kholi, you see the Dhauladhar range rising tall with the seven sisters, Hanuman Tibba, Mt Manali, Shitidhar among many others. These views sparkle under the brilliant blue sky as autumn emerges in September.
---
Weather And Temperature On Bhrigu Lake

Even though the trek is open for one season, the weather and temperature on the trail changes as the season progresses from June to July/August and then September.

Here, we discuss the changes in detail.

Bhrigu Lake trek in June

When the trek opens up for the summer in June, it is a very short season. And despite it being summers, expect snow patches on the ground.

Expect cold nights at your higher camps. Temperature during the night can drop to around zero but generally will hover around 1-5° C. The day temperatures are usually very pleasant on the trek at an average of 15-20° C. If the sun goes behind the clouds and there is a bout of rain, then the temperature can fall to around 10° C.

Bhrigu Lake in July and August

As we head into July, monsoons arrive. Prepare yourself for some rain while on the trail or at the campsites. Keep your ponchos easily accessible as it can rain anytime and mostly it does.

You will also have to pack differently for a monsoon trek.  You can find more information on this here.

Temperatures more or less remain the same as in July, with cloud cover bringing the temperatures down to 10° C.

But as we move closer to September the sky clears up and temperatures begin to dip a little.

Bhrigu Lake in September

By early to mid September the monsoon season is over. The skies are at their clearest blue with a very little chance of rain.

Having said that, expect a 3-5° C drop in temperature every couple of weeks as we head closer to winter months of October and onward.

Temperature Chart

Click to see the average temperature on the Bhrigu Lake trek.

Rainfall Chart
What To Take
A Packing Check-List
Bhrigu Lake is a high altitude trek. The trekking gear you need to carry for this trek is different from regular treks. So pay careful attention to this entire section.  
First, The
Most Essentials
. You cannot do the trek without these.
1.Trekking Shoes
:
Buying Tip: The Trek series and MH series are good options by Decathlon. They are tried and tested. There really isn't any necessity to buy the higher priced models. Here is a list of other budget shoes that trekkers are using.

Rental: We have the Trek series and the MH series by Decathlon available on rent from the Indiahikes store. They are already broken into and in good condition. Rental shoes are not dirty or unhygienic. This is how they are kept clean.
2.Backpack
For a trek like Bhrigu Lake, you need a 30-40 litre backpack. Make sure your backpack has good hip support, shoulder support and quick access pockets. Here is a guide on how to choose a backpack. 
| Buying Tip: Wildcraft, Decathlon and Adventure Worx usually make good backpacks. While Wildcraft has more expensive ones, the other two brands have budget-friendly backpacks to choose from. 
| Rental: The 48 litre backpack by Adventure Worx is available on rent from the Indiahikes store. They are custom-made for our Himalayan treks. Rent them if you don't have a backpack.
2.Clothes

Wearing layers is the mantra in the mountains. Layers give you maximum protection from all elements. And when the weather changes in the mountains (as it happens every few hours), you take take off or put on layers as required.
Base layer:
2 T-shirts
:
Wear one T-shirt and carry one. Carry full sleeve dry-fit T-shirts (preferably collared). These prevent your arms and neck from getting sunburnt. In the rarified air on the trek, especially at high altitudes, UV rays can burn you in no time.

Dry-fit T-shirts quickly dry your sweat, they are easy to wash and in case of a rainy day, they dry quicker. Round neck T-shirts are ok, but collared ones are better.

| Buying tip: You can get dry-fit T-shirts from Decathlon. Also, stores like Reliance Trends, Max have dry-fit T-shirts. They don't usually cost much.
| Cotton or Synthetic? As Indians, we love cotton. Down in the plains when the heat is a blistering 40°C it makes sense to wear cotton. But it takes a long time to dry when it gets wet. In the mountains, where it is cooler, synthetic is what you wear. They wick sweat rapidly and keep you dry. (But they do tend to smell quickly, so carry a roll-on deodorant with you.)
Pro Tip: If you are extra susceptible to cold, you could get a set of thermal inners. In our experience, wearing two T-shirts over another works as a better thermal. And they save you weight and space, since you're already carrying them. 
2 Insulation layers
 The highest altitude you reach on this trek is 14,009 ft. At these altitudes it can get freezing cold even in the middle of summer. You will need at least 2 insulation layers for this trek. 
You will need 2 light fleece layers or 1 thick fleece layer. Do not get your grandma stitched sweaters, which can be very heavy. You need sweaters and fleece jackets that can fold into compact rolls.

|Note: During winters(Dec-March) carry 3 insulation layers.
1 Outer layer:
 A padded jacket serves the purpose here. You don't really need a water resistant material. But you need an outer padded jacket that keeps the wind and cold out. Ensure your padded jacket has a hood as well. 
|Do you need a down/feather jacket? Not really. A regular padded/shell jacket will do. This video here will help you to learn more about the difference.  
|Note: Down/feather jackets are really not available these days. Many jackets masquerade as down/feather jackets. They are essentially fine polyester-filled jackets. They mimic the function of a down jacket but are usually expensive.  
|Rental: Padded jackets made by Fort Collins are available on rent at the Indiahikes store. They are custom made for Indiahikes and trekkers find them terrific, even in winter.
Two trek pants
 Two pairs of  pants should suffice for this trek. Wear one pair and carry one just in case it rains. Trek pants with zippered cut offs at the thighs are very suitable for treks. Also, choose quick-dry pants over cotton. They dry up soon in case of small stream crossings / rain.
| Buying tip: Go for pants with zippered pockets. They come in handy to keep your phone, handkerchief or pocket snacks.
|Track pants or trek pants? Stretchable track pants make a good backup and can double up as your thermal bottoms. But track pants are not trek pants -- so don't use them as your main outerwear. Keep them only as a backup. 
Mandatory Accessories,
without these too you won't be able to do the trek.
These accessories are mandatory. Don't go to Bhrigu Lake without them. Trekkers generally put off purchasing / borrowing the accessories for the last minute. We suggest the opposite. Start gathering these accessories first. 
1. Sunglasses
Sunglasses are to prevent snow blindness. On a trek like Bhrigu Lake, you are in a permafrost region (there's snow all around the year). Expect to walk on long stretches of snow. A small overexposure to direct sunlight on snow can lead to snow blindness (about a half hour's exposure). That's because fallen snow is like thousands of mirrors that reflect direct UV rays. So you need sunglasses with UV protection. 
|Tip: Try getting sunglasses that wrap around instead of those that have openings on the side. Even peripheral UV ray exposure is not a good idea.  Wear sunglasses if the trekking day is bright and sunny (on open sections, meadows). On a snowy section you must absolutely never take off your sunglasses until the section has been fully crossed.
If you wear spectacles: If you wear spectacles, you can get oversized sunglasses that you wear over your regular glasses (available at Decathlon). If that is cumbersome, photochromic lenses work equally well. Here's a quick guide on managing sunglasses with spectacles.
Contact lens users: If you use contact lenses, you can use them on the trek too. The lens solution will not freeze. You will also not face any problems in changing your lens in your tent. Just carry enough cleaning solution with you to clean your fingers well. Wear your sunglasses over your contact lens.   
 2. Suncap
A sun cap is mandatory. Trekking without a sun cap can lead to headaches, sun strokes, quick dehydration and a sharp drop in trekking performance. 
|Tip: In the mountains, the general rule is to keep your head covered at all times. During the day a sun cap protects you from the harsh rays of the sun (it is doubly stronger with naked UV rays). A sun cap keeps your body temperature in balance. In the evening/early morning, the reverse is true. Your head loses your body heat quickly. A woolen cap prevents heat from dissipating from your head.

|Pro Tip: Sun caps with flaps are a blessing for trekkers. They cut out almost all UV leaks. They prevent sun burns in every possible way. They are a lot more effective than sunscreen lotion. A wide brimmed sports hat also helps to prevent sunburn in a big way. 
3. Synthetic hand gloves

On a trek like Bhrigu Lake you are going to be handling snow quite a bit. You'll need gloves to grip something or to steady yourself in snow. You also want the gloves to keep you warm. Get synthetic hand gloves that have waterproofing on the outside and a padded lining on the inside. If you find the combination difficult to get (not likely), wear a tight-fitting fleece hand glove inside a synthetic hand glove. Hand gloves are mandatory on this trek.   
4.Woolen cap
or
Balaclava
Ensure these cover your ears. In the cold mountains, you lose maximum heat from your head, not from your hands, feet or the rest of your body. Which is why you need to keep your head protected, especially when the sun is down. Early mornings, late evenings, a cold trekking day are when you must use your woollen cap. 
Your ears are sensitive too, so a woolen head cap that covers your ears is absolutely essential. A balaclava is a modern version of the woolen cap. It covers your ears, neck and parts of your face as well. Do not get a woolen cap that only covers your head. 
5. Socks (5 pairs)
Apart from two sports socks, take a pair of woollen socks. Sports socks give you cushioning plus warmth. Again the mantra is to wear synthetic socks or at least a synthetic blend. Cotton socks soak in water and sweat. They are very hard to dry. As for woollen socks, they help you to keep warm and snug in the night. If you cannot get woolen socks, wearing two sports socks serves the purpose as well. 
6. Headlamp

Trekkers are often confused about whether they need to get a headlamp or a handheld torch. You need to get a headlamp because it leaves your hands free to do other activities. On the Bhrigu Lake trek you'll need your hands free to wash dishes, pitch tents and hold your trek poles. 
Ensure your headlamp covers a wider area and is not too focused as a single beam. On a trek, your headlamp must help you see around you as much as ahead of you. 
7.Trekking pole (a pair)

 Trekking poles give you stability and balance. They reduce your energy consumption by almost 40%. On the Bhrigu Lake trek there are steep ascents and descents. A pair of trekking poles will make the difference between a comfortable and a strenuous trek. In India we tend to use a single trekking pole. However, two trekking poles give you greater stability and balance. They also increase your walking pace. 
|Rental: Imported side-locking trekking poles are available on rent on the Indiahikes store.  
8. Rainwear
On a trek, the weather can change quickly. A bright sunny day can turn into a downpour in a matter of minutes. Carry a poncho or a rain jacket to tackle this. A poncho is a big rain cover with openings for your arms and your head. It is extremely effective because it covers both you and your backpack. It is extremely light and weighs next to nothing. 
Rain jackets are more streamlined and less cumbersome but weigh more. Rain pants are really not required. Dry fit trek pants dry quickly even if soaking wet.  
Rental: High grade ponchos are available on rent on the Indiahikes store.
9. Rain cover for your backpack

Backpacks are your life. You carry all your dry clothes, your warm gear in your backpack. It is important that your backpack stays dry at all times. Modern backpacks usually come with built in rain-covers. If your back pack does not have a rain-cover, ensure you get a rain cover by either (a) buying a rain cover (b) or cutting a large plastic sheet to the size of your backpack. You can roll the plastic sheet around your backpack and keep it in place with a string or elastic.  
Pro tip: It's good practice to compartmentalise your clothes, accessories and other things in plastic covers inside your backpack. That way, even if it rains and your backpack gets wet, your things are water-proof inside the backpack.
10. Daypack (20-30 ltrs, optional)
Some trekkers opt to offload their bags to a porter on the Bhrigu Lake trek. While we do not encourage this practice, in case you opt for offloading, then carrying a daypack is mandatory. In your daypack you carry essentials like water bottles, rainwear, emergency medicines, headlamp, some snacks and a warm layer. Your main backpack that carries most of your equipment is accessible only at the campsites. 
A daypack is a smaller backpack that is usually of 20-30 ltr capacity. Laptop bags are not daypacks. Do not get them. 
Other mandatory requirement
1. A toilet kit
Keep your toilet kit light. Carry just the basics -- toothbrush, toothpaste, small soap, toilet tissue roll, a small moisturiser, lip balm, and a roll-on deodorant. You will not be able to have a bath on the trek, so don't overload on soaps and shampoos.
Pro tip: Carry miniature-sized items. You will not need more than that. If you're travelling in a group, share one toothpaste for all. 
Avoid getting large toilet rolls. The smallest size roll is more than enough for a trek like Bhrigu Lake.  
|For women: If you are likely to have your periods on your trek date, don't worry about it. You can use your pads, tampons or menstrual cups on the trek. There will be toilet tents where you can get changed. Make sure you carry ziplock bags to bring back your menstrual waste. Don't leave behind any waste in the mountains. Watch this video to learn how to dispose your sanitary waste.
2. Cutlery

 Carry a lunch box, a mug and a spoon. Your lunch box must be leak proof. You are expected to wash your own cutlery. Trekkers often expect Indiahikes to wash their cutlery. When you allow Indiahikes to wash your cutlery, your cutlery becomes part of a mass washing system. You immediately invite germs, bacteria to settle on your cutlery. Incidence of stomach disorders rises exponentially.  
Pro tip: Carry stainless steel cutlery. Avoid fancy high grade plastic cutlery. Stainless steel cutlery is infinitely easier to wash in cold water. Grease is easier to remove and hygiene is at the highest. 
|Two 1 litre bottles or a 2 litre hydration pack: Bhrigu Lake has long walking days. You need to carry two one litre water bottles to keep yourself hydrated over the distance. If you are used to a hydration pack, then that is ok too. If one among the two bottles is a lightweight thermos, then that helps you to store warm water on a really cold day or for late evenings and early mornings.   
|Rental: You could rent lightweight thermos flasks from the Indiahikes store. 
3. Plastic covers
 Carry 4-5 old plastic covers to keep your used clothes. You could use them even for wet clothes. Re-use old plastic bags for this and do not buy new ones.
---
Personal Medical Kit
Carry these medicines with you, easily accessible at all times. Do not take any medicine unless you have consulted your trek leader. 
Diamox

(1 Strip): Be on a course of a half tablet Diamox starting from Delhi every 12 hours (125 mg). Carry on the medication until you descend down to Yamunotri. Being on a preventive course of Diamox greatly reduces the chances of Acute Mountain Sickness on the

Bhrigu Lake

trek.    

Dolo 650

(4 tablets): This is a paracetamol. It helps to tackle fever, mild pain

Avomine

(4 tablets): Carry this especially if you are prone to motion sickness. Pop one half hour before the start of your road journey.

Combiflam

(3 tablets): Take a combiflam if you get a sudden twist of the leg or a muscle strain. It is a pain reliever. It also contains paracetamol. 

Digene

(4 tablets): Take it if you feel the food that you've taken is undigested. Alert your trek leader immediately. It could be a sign of AMS. 

ORS

(5 packs): Consume a pack of ORS water at least once a day, usually mid day when you are in the middle of your trek. It replenishes essential salts lost while trekking. 

Tip

: It also makes cold water easier to drink.

Knee Brace

(optional)

:

Carry this if you are prone to knee injury or have known issues of knee pain.
Our trek leaders carry a high altitude medical kit with them which also consist of Life Saving Drugs. If there is an emergency our trek leaders know how to tackle it. Meanwhile, contact your trek leader before consuming any of these medicines listed here.
| Pro tip: We find that these medicines by trekkers are rarely used. But you cannot do away with them. At the end of the trek please donate unused medicines to your trek leader. Some of these medicines get distributed to villages on the trek and some are added to the Indiahikes medical kit.   

Mandatory Documents to carry
These are documents required for legal purposes by Indiahikes and the forest department. Without any of these, you will not be allowed to trek.
Original and photocopy of government photo identity card.

Anything such as a driver's license, Aadhar card, passport will do. This is required by the forest department for your identification.  

Disclaimer certificate.

This is a legal requirement. Download the PDF, read carefully and sign it. This must be handed over to your Trek Leader during registration at the base camp -

Download PDF

Medical certificate.

There are two sections in this. The first part must be filled by a practising doctor. The second part must be filled by you. Without the medical certificate the forest department will not issue permissions for your trek. It is also a requirement by Indiahikes -

Download PDF
Pro tip: Keep important documents in a clear plastic cover and slide them into the inner pocket at the back of your backpack. This keeps them from getting wet.
How To Get Fit for Bhrigu Lake Trek
A Step-by-Step Fitness Guide to Preparing Well for the Trek
The Bhrigu Lake trek is classified as a trek of moderate difficulty. You start from an altitude of 8,530 ft at Gulaba and you reach the highest point of the trek at 14,009 ft.  This means you gain around 5,480 ft over just two days of trekking. This can make the trek quite demanding. Here are the 3 areas that you must work on. Scroll below to see a chart that will help you to get fit in 4 weeks.
ATTENTION: There will be a fitness screening after you reach the basecamp. If your fitness is not up to the mark, your Trek Leader can take the call to

not take you forward

on the trek.
Cardiovascular endurance
This trek requires a good amount of cardiovascular endurance. You can begin by jogging every day. Start jogging at a slow pace and then keep increasing your pace day by day. In order to be prepared for high altitude trek, you should have a combination of distance and speed targets.
Here's a fitness routine that works:

-->Target completing 5 km in 40 minutes when you begin.
-->Gradually increase your pace by running 4 times a week and bring it down to 5 km in less than 37 mins.
-->If you are 45 years old and above and are comfortable with long distance walking than jogging, then before you go on the trek, you should be able to walk at least 10 km at a stretch. Target completing this in 90 minutes.
If jogging is fine for you, your target should be completing 5 km in 45 minutes. As you get closer to the trek date you should be able to cover 5 km in under 40 minutes
-->If you are somebody who prefers cycling over running, your target must be to cover 22 km in 60 minutes.
Here is a guide to help you get fit for the Bhrigu Lake trek (or any other moderate treks we run)

Working out indoors
If you can't go out and jog because of time and space constraints, here's a video you can use to work out indoors.
Indlusions and Exclusions
What You Need To Know About Your Trek Fee
Here is what the trek fee includes:
Accommodation – Stay is included from Day 1 to Day 3 (Gulaba to Rola Khuli). You camp on all days. (3 per tent).
Transport – We arrange pick up from Manali on Day 1 and drop back to Manali on Day 4 in shared cabs.
Meals – All meals from dinner at Gulaba to lunch on Day 4 are included. Meals are  nutritious  and vegetarian.
Camping charges – All trekking permits and forest camping charges are included.
Trekking equipment – We provide high quality tents, sleeping bags, ice axes, roped, micro spikes, gaiters etc. as required.
Safety equipment – First aid, medical kit, oxygen cylinders, stretchers etc.
Here is what the trek fee excludes:
Food during transit to and from the base camp –
Backpack offloading charges – Rs 750 for the full trek + 5% GST. The backpack cannot weigh more than 9 kg. Suitcases/strolleys/duffel bags will not be allowed. Please note that last minute offloading - when you decide to offload your bag after reaching Gulaba is not possible on this trek.
Stay at Manali on the last day 
Anything apart from inclusions
Frequently Asked Questions About Bhrigu Lake Trek
How do I get to Bhrigu Lake?
The Bhrigu Lake trek starts from Gulaba, which is 24 km from Manali. Indiahikes organizes transport for trekkers from Manali to Gulaba on Day 1 of the trek. Manali is well connected to Delhi.
If you take an overnight bus from Delhi, it will take you 12-14 hours to reach Manali. Tickets can be booked online at www.redbus.in or www.hrtc.gov.in. Choose government buses such as HPTDC and HRTC as they usually run on schedule.
| Note: Since Delhi-Manali is a long journey, most private buses leave Delhi between 5.00 pm and 6.00 pm. The last government bus leaves at 8.30 pm from ISBT Kashmere Gate.
<!–- -–>
How long is Bhrigu Lake trek?
Starting from Gulaba (24 km from Manali), the Bhrigu Lake treks is approximately 22 km which you may cover over 4 days.
Here's a quick itinerary to give you an idea:
Day 1: Drive from Manali to Gulaba. Then an hour trek to the campsite (Jonker Thatch).
Day 2: Jonker Thatch (10,370 ft) to Rola Kholi (12,566 ft); 3-4 hours, 5 km
Day 3: Rola Kholi (12,566 ft) to Bhrigu Lake (14,009 ft) and back to Rola Kholi; 5-6 hours, 10 km
Day 4: Rola Kholi (12,566 ft) to Gulaba (10,370 ft); 3-4 hours, 5 km. Drive to Manali. You are expected to reach Manali by 3:30 pm.
<!–- -–>
Is Bhrigu Lake trek difficult?
The Bhrigu Lake trek is classified as a trek of moderate difficulty. You start from an altitude of 8,530 ft at Gulaba and you reach the highest point of the trek at 14,009 ft.
This means you gain around 5,480 ft over just two days of trekking. This can make the trek quite demanding. So, it is necessary to train well for the trek. Focus on cardiovascular and strength training if you are planning to go for Bhrigu Lake trek.
<!–- -–>
Is there network, connectivity and electricity on Bhrigu Lake trek?
You won't find any electricity after you set off from Manali. Even the network starts getting sketchy. But you may find Vodafone and Jio network at Rola Kholi campsite. And, 100 metres from Rola Kholi sometimes you even find Airtel. But all these are subjective to the weather. The network gets affected when clouds roll into the valley.
<!–- -–>
Where to find the last ATM on Bhrigu Lake trek?
Manali is your last stop for an ATM. You won't come across any ATM after Manali. So, if you need cash, withdraw it from Manali and only then set off for Gulaba.
<!–- -–>
Is it safe in Manali?
Yes, Manali is a safe hill-station to be in because it is a popular tourist destination, buzzing with people from various nationalities almost throughout the year. You will find a range of hotels (for all budgets), cafes, eateries popping up at every turn.
<!–- -–>
Available dates
We will open up dates shortly. Click here to see other similar treks that might have dates.
What the colours mean

Registration is on.

The group is full, but cancellations are likely to happen. We have 5 waitlist slots for every group. You may register for the group. Waitlist slots confirmation chances are high if booked more than 30 days in advance.

Indicates the number of slots available in a group.

Indicates the group is full. No further slots are likely.
Thoughts On Bhrigu Lake Trek