Difficulty
?
Moderate treks may have steep ascents and descents. These can go upto 14,000 ft or higher and trekking hours can go upto 6 hours everyday. Easy exits are possible from a few campsites.
Moderate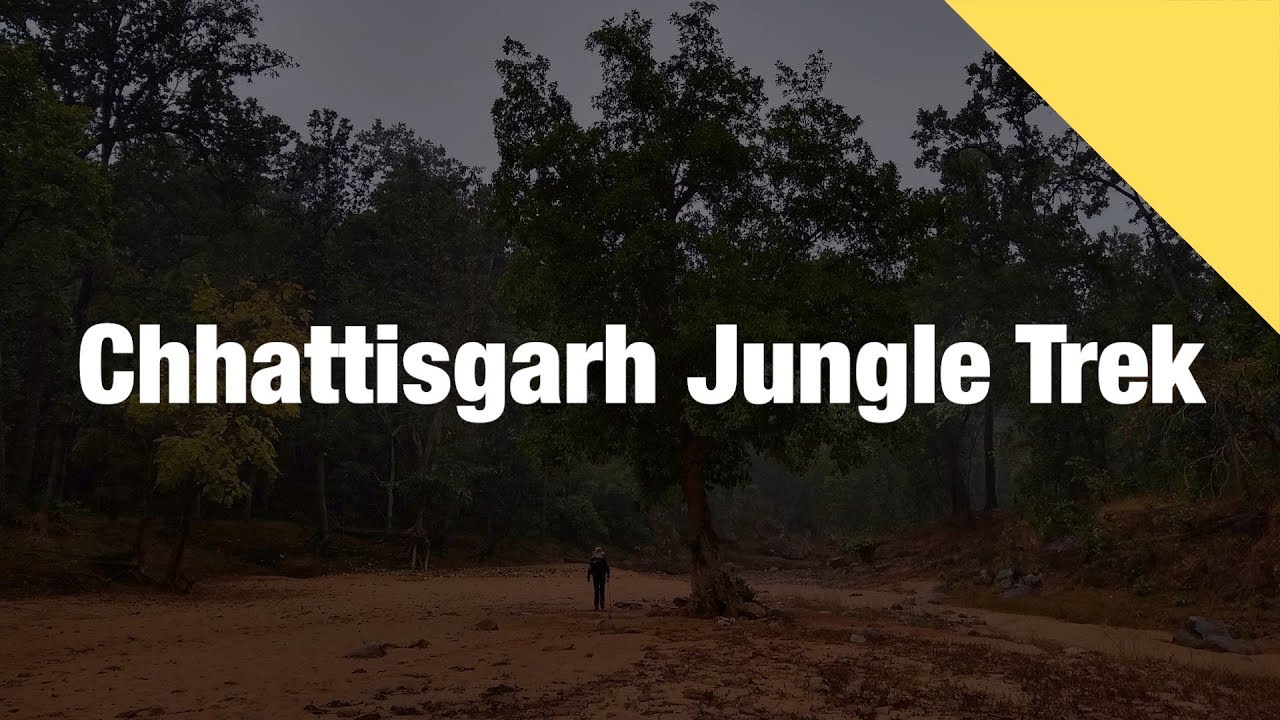 Chhattisgarh Jungle Trek: The Jungle Book Trek
It is hard for the jungles of Chhattisgarh to not set your imagination ablaze. The setting is such that you're constantly transported to the mysterious world of Rudyard Kipling's Jungle Book. Lying in the heart of the Guru Ghasidas National Park, this trek winds through deep forests goes alongside a river and has an air of omnipresence of wildlife.
Now, not many have heard of Guru Ghasidas National Park. Yet, at 1,440 sq km it is larger than the Ranthambore National Park and Kanha Tiger reserve put together. Or bigger than Bandipur and Mudumalai National Park put together.  Which makes this trek is inside a large and relatively unexplored forest. What makes this trek even more special is that you need the forest department to help you get inside a national park. These are reserved areas and access to the common man is prohibited. So with the help of the Forest Department, we get to explore a real, wild jungle untouched by safari tourism. It is not often you get to experience jungles of our country like this.
The trek is meant for those who want to experience trekking through the wilderness.  If jungles and wildlife are fascinating for you, then this is the trek you must do. A word of caution:  While the trek is by no means difficult, it is not easy on the legs either. There are long walks every day – about 10-14 km on largely forested terrain. Fitness is critical.
What to Watch Out For
The variety of terrain in the jungle
If you are expecting trekking through the forests of Chhattisgarh to be similar every day, you would be wrong. Every day is a new trek. Sometimes the forests take you to the top of a hill where you get a bird's eye view of the jungle. Sometimes it's a flat trail. Sometimes you are trekking by the river. Sometimes you are wading through these rivers and streams. Sometimes you camp by the beach of the river. The variety in the trail and forests will certainly keep you glued. The forests are never too dense to make you feel claustrophobic, yet when you walk under them, you never want the forest to end.
The presence of wildlife
As in Rudyard Kipling put it so eloquently in his book, "The air was full of night noises that, taken together, make one big silence." All through the trek, you feel the omnipresence of wildlife. Very often you walk by the footprints or traces left behind by the wild inhabitants of the jungle. You may even be lucky to get a glimpse of the elusive creatures. You also camp deep inside this wilderness. And when you wake up, it is these sounds of the jungle you will hear.
The rural Chhattisgarh
We consider getting to see Chhattisgarh, a place not often explored or talked about, a big highlight. Somehow the idea of going to see this state is not a part of our everyday conversation. This is a trek that will get you in contact with indigenous culture. You see tribal settlements in the middle of the forests. They have lived, largely insulated from the outside world. So far they haven't seen trekkers or tourists before. Expect a lot of curiosity from them — especially the children.
<!–- -–>
Short Itinerary:
Day 1 (Pick-up Day): Reach Baikunthpur Road Station by 6.30 am. Drive down to Gurughasidas National Park, Ramgadh Post and start trek to Gidhar. 10-11 kms. 6-7  hours.
Day 2: Trek from Gidhar to Turrapani Campsite. 5-6 kms, 4-5 hours
Day 3: Trek from Turrapani to Tadiyabaan. 9 kms, 6-7 hours
Day 4 (Drive-back Day): Trek from Tadiyabaan to Ramgadh Post. Drive down from Ramgadh to Baikunthpur. Take an overnight train to Raipur. Train is scheduled to leave Baikunthpur Road station at 11.10 pm.
What this itinerary means:
This Short Itinerary offers a quick glance at the Indiahikes route, the campsites, the altitudes, distances and time taken everyday.

We have chosen this route to give you the best experience of Chhattisgarh Trek. We've arrived at this one after many explorations and experiments on other routes. (We still continue to explore more trails in the region.)

This is part of why you trek with Indiahikes.

When you sign up for a trek with Indiahikes, you are signing for an experience beyond the trek. Our team works tirelessly to design an itinerary that gives you a transformative experience. We also focus on the safety aspect of the trail, the environmental impact and the information we have on the trail, which we share with you transparently.

Screenshot the itinerary and save it on your phone. It comes handy while planning your travel too.
Important points to note:

The exact itinerary, route and campsite locations may change (the itinerary could get reversed), subject to weather conditions and animal movement. However, the number of trek days will remain the same.

Please note that stay on all days of the trek will be in tents (3 per tent).

It is mandatory for trekkers to carry a copy of their photo id for entry at forest check posts on the trek.

If you wish to offload your backpack, make sure you pay for it online before starting from your home town. Offline backpack offloading is available from the base camp, however we do not recommending doing as we might be unable to arrange for it at the last moment.
The Trek
Important note: Exact itinerary, route and campsite locations may change, subject to weather conditions and animal movement. Please refer 'Short Itinerary' for the updated route and map. 
Day 1: Chulaadhar Road to River camp
You reach Baikunthpur Road station at about 6.30 am. It is best to get going on the road towards Guru Ghasidas soon after. Though Baikunthpur is a bustling town, it is unlikely for the town to wake up before 9 am. Multi-utility vehicles such as the Bolero, which can be hired from Baikunthpur are your best option to drop you off to your trek start point 70 km away.
Indiahikes will organize Bolero's or similar vehicles to pick up trekkers from Baikunthpur Road railway station when the train from Raipur arrives. Nothing much can be done at Baikunthpur that early in the morning except for withdrawing cash at the many ATM's that exist in town.
From Baikunthpur, the road starts to climb up the ghat section very soon. In 25 km of a quick winding road, you reach Sonhat the last little town before the national park. Sonhat is also the range office of the forest department. Have your breakfast here before heading into the forest gate 5 km away. Sonhat is also where you get your last phone signal. Inside the national park, only BSNL signal exists in pockets.
Once inside the forest gate at Mendra Check post, you are in the middle of thick Sal forests on either side. The metal road cuts through in between the trees. For the most part of the 30 km journey through the forest, you are the only vehicle on the road. It is a public road with checks though. The road journey of 40 minutes inside the forest brings you to another forest gate – the Ramgad checkpost.
Ramgadh is a village of about 150 houses spread over 2-3 km outside the parking area. Though a remote village surrounded by the forest, it has a school, a health centre, a girls hostel and something very striking – an RO water dispenser.
Ramgadh is the village where you drop your excess left luggage and drive towards the start of the trek. From Ramgadh, drive on the Chuladhar road. 5 km down the drive, we leave the metal road and turn into the forest. The mud track is smooth for the initial 3 km after which it becomes rough. This is where you get off the vehicles and get on your feet. There is a small shallow stream to cross almost immediately. The next 2 km on the mud road bring you to the sandy beach of the Pairi river. The sand stretches out making it a wide river bed, ideal to pitch tents. The river flows gently down and in about a kilometre joins the bigger Bijadur river. Your trek the next two days is largely up the Pairi river.
Ensure your toilet tents are pitched up in the forest land away from the river bed though.
You are expected to reach the camp on day 1 by lunch time at 1 pm. Post lunch, walk around on the river bed or sit on the rocks basking the last few hours of sunshine for the day.
Day 2: River Camp to Gidhar 11 km, 5-6 hours
The Pairi river is your highlight of the day. You see the river winding its way through the jungle. You see the rock formations by its banks and on the river bed. You walk along the river upstream and see it change in form, size, colour and speed. Colours change from brown to blue to green to turquoise.  You see it flowing fast and you see it calm down. You see it come out of gorges and you also see it spread out in wide sandy beaches. The river comes alive today.
Negotiating the river on its course upstream sees you crossing it several times. You walk on both its banks but the right bank offers better foot trails. At intermittent places where it is not possible to walk on the riverbank, you climb up into the clump of trees a bit higher.
The first couple of hours of the day are either on or besides beautifully cut rocks. Cut by the sheer force of water, you will be fascinated as much by the rocks as much by the river itself.
Somewhere around the 6 km mark of your day's trek, find a shady spot on the river beach to have lunch. Very soon you will briefly leave the river and climb up into the forested hills.
The campsite one and the initial 7 km of the day's trek are outside the park boundaries. There is nothing to show this boundary demarcation physically but it can be seen on a GPS map on your phone.
At the park boundary, the river turns right. You have an option to continue along the river or cut through the forest to take the shorter route. We recommend the forest route as it offers scenery and terrain change.
400 meters into the forest, you will reach a dilapidated wooden house.  Right behind it, follow the trail going up for another 10 mins. You reach a high point. You can see the hills ahead of you.
From the high point, take the trail going down to your right. In five minutes you see the river again. Follow the trail till the river.  Cross the river and walk along the beach upstream until you get to a wide sandy beach.
This is your campsite for the day.
Day 3: Gidhar to Turrapaani 14 km, 7-8 hours
Today's trek has 6 distinct sections in it. Each section is very different from the other and enthralling in its own way. This is the longest day of the whole trek stretching over 14 km. But if your legs can take the distance, your eyes and spirit are in for a feast every kilometre of the 14!
From your campsite, continue on the river bed moving further upstream. There is a big change in the pace of the river now. You will notice that it is flowing very gently and the waters are shallow. The river bed is wider and the beaches very sandy. It is a pleasure to walk across the river anywhere. The first one hour of the day's trek is entirely on the sandy beach of the river. You don't need your shoes at all. You can walk barefoot and experience the crunchy sand beneath or wear sandals.
As you walk, keep your eyes peeled for footprints of wild animals. Usually, there are many. Bears, leopards, hyenas usually come to the river for water.
On either side of the river are forest beds. You can take short cuts through the trees at times. After about 40 minutes, the river turns left. Red cliffs rise to your right. You soon see a wide mud track to your right. Take the track which turns into a stone bed walk in about 50 meters. This stone bed continues to the right where a small rocky hillock called Khalas Pahad raises.  The rocks here are pink and purplish-white – a beautiful contrast to the green trees around. If you look at the trees around, you notice that they are younger. These are the middle age forests. The ones that you came through till here were the older mature forests.
Climbing Khalas Pahad takes only 10 minutes but the view from the top rewards you a lot more than the effort put in. You see the river flowing and its curvy course. You see the hills at the far end of the horizon behind the river. You get sweeping views of the forests of the national park.
Spend about 10 minutes on top and descend down. Behind the river to your right is a wall of hills that runs as far as you can see. Your destination for the day is beyond the hill wall that you see to your far right. Traverse through the forest moving right. You get to cross the Pairi river again for the last time.
The forest traverse lasts for about an hour and a half. Though predominantly Sal, notice the variation in density and age of the trees. After about an hour you start noticing the trees giving way to a few clearings. You also come to a deep trench running across the forest. This marks the demarcation of the parking area with the regular. Walking along the trench brings you to the base of the hills. Your trail goes up once such hill which has a rocky opening to climb up. This brings an end to the second section of the day's trek.
The trail climbs up in 3 stages. First two stages being rocky and the last one being a trail up. A quick climb of fewer than 45 minutes sees you at the top of the hill. Once up, you get sweeping views of the national park in front of you. Guru Ghasidas is huge and stretches out beyond what the eye can see.
Once you reach the top, you realize that you are not on top of a hill but on top of a gently sloping large plateau. Sparsely spread out young trees constitute the vegetation. These are the young forests. This part of the park also has trees which serve as food for the herbivores like Chinkaras and Neelgais. It is not uncommon to spot the droppings of these animals on the trails.
The gentle descent on the plateau takes about an hour. At the end of the plateau is a sudden drop. The drop is not much but takes you down to a dry stream bed under a canopy of trees. The dry stream leads to a bigger dry river bed. This river is a tributary of the Pairi joining it almost where you started the trek. Turn left and follow the river for an hour. You are now walking along the rivers downstream.
As you walk along the dry bed, you start seeing a variety of rock formations both in the centre and the sides. Along the way the formations increase and almost become springs from where the river was being fed. You even see creepers and trees intertwined in the rocks.
The rocky springs with trees and creepers bring in a mysterious charm to the whole place. In about 10 minutes of climb, the river springs are over and you are back into the trees. The trees here are tall. The trail is wide. The forest feel is different. 15 minutes of this walk pops out suddenly to a metal road and a couple of village buildings. This is Turrapaani village. The road is the main park road connecting Ramgad to Mendra Gate.
Cross the road and walk ahead along the village fields.  Follow the mud trail for another 5 mins. You pass by a well with a hand pump on your right.  This well collects the water from the natural spring for the villagers to use. Keep walking straight.  You will see a set of yellow buildings. That is the school.
Your camp for the day is right next to the school. The road outside the school marks the boundary between the village and the forest.
There is a solar pump bringing in water to the school. Expect it to work only on bright sunny days. If the weather is cloudy, water has to be ferried from the spring to the school.
Day 4: Turrapaani to Tediyabaandh 8 km, 4-5 hours
Turrapaani is a natural spring which is the only source of water to the entire 35 house village.
Start the day with a walk through the village. There are 7-8 houses nearby. The houses have high mud walls and tile roofs. Vegetable gardens and mustard fields surround the houses while the kids and baby goats play around. Spend a while here interacting with the curious villagers and get an insight into their life in the wilderness.
Your trek today is comparatively short. You start from the village, go to the natural spring, traverse the forest and come out at the Tediyabaandh lake.
Come back to your campsite from the village and follow the mud trail going into the treeline. The forest floor starts becoming a red rock bed and descends. Just when you wonder where this is headed to, the spring cave comes up on your right. Freshwater flows out of the red rocky wall and gets collected in a man-made tank. The rock cave has a central opening in the roof letting in sunlight. Take in this natural wonder by spending a few minutes before moving on.
From the spring, the trail goes further on the red rocks before entering the forest. The forest trail changes from one type of forest cover to another. Small rocky climbs and dry streams come by. You cross a section of the forest with a lot of green grass. The green floor adds a whole new feel to the forest.
When you climb on the rock plateaus, you see the hills ahead. The prominent Raja pahad falls on the left. There are no foot trails to the hill. Climb it only to get an adrenaline rush of rock climbing. Descent from Raja pahad is also a make your own trail exercise. In any case, you need to come back to where you started and join the main trail that goes right away from the hill.
If you do not intend to climb Raja pahad, your trail veers right. As you move down, the forests thin out bringing you to a huge lake called Tediyabaandh. You are at the far end of the lake. The spring which is the source of the lake is just a few meters away and worth a visit.  Move right following the stream of water feeding the lake. Jump over the rocks if you do not want to take off your shoes.
Once back from the spring walk along the lake. Pink lotuses bloom all around. Head towards the clump of trees just beside the lake on the flat grassy bed. Spend time, have lunch and relax here before heading out to the tiny mud track that leads you to the metalled road.
Ramgadh, your start of the trek is about 10 km from here.
Note: The exact itinerary, route and campsite locations may change, subject to weather conditions and animal movement. However, the number of trek days will remain the same.
Though this part of the country is new to most people, it is not very hard to reach the Guru Ghasidas National Park. If you are travelling from the South your closest railhead would be Raipur. If you are travelling from the North or West, Bilaspur would be the closest railhead.

There is a daily night train (Durg Ambikapur express Train number 18241) that connects Raipur to the Baikunthpur Road station. Sleeper class tickets should be easy to obtain if you book 2-3 weeks before your schedule.
The train arrives at Raipur junction at 9:35 pm and reached Baikunthpur at 6 am the next morning.
The national park entrance, Mendra Gate is a drive of 30 kms from the Baikunthpur Road railway station. Your trek starts a further 40 kms inside the park making it a 70 km drive and takes about 2 hours.

Pick up point for Indiahikes trekkers is at 6:30 AM  from Baikunthpur Road Railway Station (To avoid any confusion the name of the railway station is 'Baikunthpur Road). Charges for pick up are Rs. 1,500 per cab from Baikunthpur Road Station to Ramgadh. On the return it costs Rs. 2,000 per vehicle on the way back as the drive from Tediyabaand increases the distance by another 10 kms.
For the return, you drive back to Baikunthpur road and catch the same train on its return.
Reaching Baikunthpur from Ramgadh on your own
If you miss the Indiahikes pickup on the day of the trek, or you want to reach on your own, here's what you can do:
A bus leaves from Baikunthpur for Ramgadh every day at 2.00 pm. It costs Rs. 70 per seat.
Network Connectivity
BSNL, Vodafone and Airtel network available only till Songhat. Network is available in patches throught out the trek if you are lucky.
How to get fit for the Chhattisgarh Jungle trek
The Chhattisgarh Jungle trek is marked as an moderate trek. Although it is not a high altitude trek the longer days of trekking(approx 10 – 14 km daily) makes it a trek that you should not take as easy.
The trek is in the forest and has its share of climbs, descents and long walks.
Cardiovascular endurance
This trek requires a good amount of cardiovascular endurance. You can begin by jogging everyday. Start jogging at a slow pace and then keep increasing your pace day by day. To prepare for a trek, you should have a combination of distance and speed targets.
Here's a fitness routine that works:

In case you're just starting with a regular fitness routine, phase out your distance targets in the following manner –

–>Target completing 5 km in 45 minutes when you begin.

–> Gradually increase your pace by running 4 times a week and bring it down to 5 km in 40 mins.

–>If you are 45 years or above, try to cover 5km in less than 47minutes.

If you are somebody you prefers cycling over running, then try to cover 18 km in 60 minutes.

How to send us a proof of your fitness routine?

Record your run on an app like Nike Run. Start recording your run when you start running. At the end of your run, hit the stop button.

Take a screenshot of the summary of your run. We will need a detailed split of each kilometre of your run. This is usually integrated in all running apps.

Note: Make sure your GPS is on when you record your run. If the GPS is off, we will not accept the screenshot.

Upload two screenshots 10 days prior to the start of the trek

For < 45 years age : One screenshot of 5 km in 45 minutes and the second 5 km in 40 minutes.

For > 45 years age : Two screenshots of 5 km in 47 minutes.

If you love cycling, cover a distance of 18 km in one hour and upload the same.

Fitness proof to be uploaded with GPS on and along with your picture.
Here's a guide to help you prepare for the trek.
Working out indoors
If you can't go out and jog because of time and space constraints, here's a video you can use to work out indoors.
What to take on the Chhattisgarh Jungle Trek
If you're trekking in the Chhattisgarh jungles in winter, the temperature during the day will be at around 15 to 25 degrees and at night, the temperature will drop to 5 to 7 degrees. You will need to carry a minimum of two warm layers. Apart from this, ensure you carry your warm accessories such as synthetic (water resistant) gloves, woollen socks and balaclava.
Ensure you carry a sandals, poncho and full sleeve t-shirts and pants to have a comfortable trek.
Bare Necessities:
Trekking shoes: Carry trekking shoes and not sports shoes. The trail will be slippery at several places and will require shoes with good grip and ankle support. You can watch this video to learn to choose the right trekking shoes. 
Backpack (40-60 litres): A backpack with sturdy straps and a supporting frame. Rain cover for backpack is essential.
Clothes
On a trek, carry fewer clothes than you would normally need. Do not pack for 'what if situations'. That will only add to the weight of your backpack and not be used on the trek. Once your clothes get warmed up on a trek, you will not feel like changing. Just maintain personal hygiene.
Two layers of warm clothes: If you're trekking in winter, carry a fleece jacket and a padded jacket. (Note: In summers, the minimum temperature hovers around 22°c, so you wouldn't need any warm layer.)
Two trek pants: Carry light quick dry trek pants. One of your pants can be tights that you can wear as an inner layer while trekking. Denim/jeans and shorts are not suitable for trekking.
Two collared t-shirts: Carry light, full sleeved t-shirts that prevent sun burns on the neck and arms. Let one of these be a dry-fit t-shirt. It will dry quickly in case you are trekking on a rainy day. A common mistake that trekkers make is not changing their tshirts often enough. Regardless of how cold it is, the body tends to sweat a lot. Trekkers who don't change to fresh clothes after reaching the campsite fall ill due to wet clothes and are often unable to complete their trek. 
Sandals: Carry sandals on this trek as there are multiple river crossings. Trekking shoes are required for the forest but have a handy pair of sandals to slip into.
Accessories
Sunglasses: Sunglasses are mandatory. This is to protect you from the harsh winter sun.
Hand gloves: A fleece or woolen glove will do
Balaclava

: 

You'll need this to cover your head, as most of the heat escapes from your head. (Note: Not required in summer)

Socks (2 pairs) and a pair of woollen socks: Apart from two sports socks, you can take a pair of woollen socks for the night.
Headlamp/LED torch: Mandatory
Trekking pole:

 Watch this video to understand

why you need a trekking pole

. 

Ponchos: In a jungle, unexpected rain is possible at anytime, and hence it's mandatory to carry a poncho so that you don't get wet.
Others
Daypack (20 litres): You will need this to carry water bottles, light snacks and medical kit in case you decide to offload your backpack.
Toiletries: Sunscreen, moisturizer, light towel, lip balm, toilet paper, toothbrush, toothpaste, hand sanitiser. Do not carry wet wipes since these are not biodegradable. We do not like biodegradable wet wipes because they take a long time to decompose in the mountains. Use toilet paper instead.
Sanitary waste: Make sure you bring your used sanitary napkins back to the city with you. Carry a zip lock bag to put used napkins. Bring this ziplock bag back with you to the city and do not dispose sanitary napkins in the mountains.
Cutlery:Carry a spoon, coffee mug and a lunch box. We insist on trekkers getting their own cutlery for hygiene reasons. We do not allow biodegradable or disposable cutlery on our treks.
Three water bottles: 1 litre each.  We recommend the Lifestraw Go. Indiahikes trekkers can get it at a discount here. 
Plastic covers: While packing, use plastic bags to compartmentalize

things

and carry few extra plastic bags for wet clothes.
Odomos or any other insect repellant
Mandatory Personal Medical Kit 
Crocin – 6 tablets (fever)

Avomine – 4 tablets (motion sickness)

Avil 25mg – 4 tablets (allergies)

Combiflam – 4 tablets (Pain killer)

Norflox TZ & Lomofen– 6 tablets each (diarrhea)

Digene – 10 tablets (acidity)

Omez/ Rantadine – 10 tablets (antacids)

Crepe bandage – 3 to 5 meters

Gauze – 1 small roll

Band aid – 10 strips

Cotton – 1 small roll

ORS – 10 packets

Betadine or any antiseptic cream

Moov spray (aches, & sprains)

Knee cap, if you are prone to knee injury
Anti fungal powder
Odomos or any other insect repellent
Mandatory Documents
Please carry the below documents. Document two and three need to be downloaded (PDF), filled in, signed and handed over to the trek leader at the base camp. 
Original and photocopy of government photo identity card- (driving license, voters ID, etc.) – It is mandatory for trekkers to carry a copy of their photo id for entry at forest check posts on the trek. Since Baikunthpur will have limited facilities to photo copy, do not leave this till the end. 
Medical Certificate (first part to be filled by a doctor and second part by the trekker) – Download PDF
Disclaimer form (to be filled by the trekker) – Download PDF
Here's a guide to help you pack for the trek – 
The Indiahikes Special Covid Cancellation Policy
We understand the pain of cancelling a trek. As trekkers, we always look forward to treks, and after months of training and planning, if we have to cancel our trek, there's no greater disappointment than that. 
This is why we have one of the most trekker-friendly cancellation policies.
This policy is effective for registrations starting January 5, 2021.
|
Face
no cancellation charges
any time before the trek date
– Cancellation upto 7 days before the start date of the trek — Get a complete cash refund (minus 4% transaction fee). The money is refunded to the same bank account, credit or debit card from where payment was made. 
– Cancellation during the last 6 days before the start date of the trek, and not counting the day of the trek — Full refund with 100% of the trek fee in the form of an Indiahikes Trek Voucher. Valid for 1 year from date of issue. Can be used on any Indiahikes trek. 
– Cancellation on the start day of the trek, or no show on the start day of the trek — Unfortunately, no refund. 
Important note: The Trek Insurance amount is not refundable. 
|
In the rare event that we cancel a trek, this is the policy we follow:
We almost never cancel our treks. But in case we cancel a trek because of natural calamities (snowstorms, thunderstorms, floods, landslides, earthquakes) or unexpected political unrest, curfews, local riots, or government orders, Indiahikes will issue a voucher for the full amount of your trek fee (minus the trek insurance). You can redeem the Trek Voucher on any of our treks over the next one year.
Important note: The Trek Insurance amount is not refundable. 
|

The Indiahikes "Repeat My Trek" Policy (trekkers love this!)
There are some thoughts and ideologies that we hold close to our hearts.
1. As trekkers, there are times when we have to let go of a trek midway. Sometimes we fall ill, or get hit by AMS or at times simply fatigue pulls us down. At other times bad weather plays spoilsport, or the trail is blocked. It can happen that your Trek Leader sends you down due to a safety or health issue.
At Indiahikes we feel terrible when such an event happens.
Should such a situation occur that you have to drop out from this trek, we want you to know that we feel as bad as you do. You can always come back another time and finish your adventure. For this you do not have to pay Indiahikes any money.
2. On the other hand, there are times when you fall in love with a trek. So much so that you want to do it again, perhaps see it in another season. If you ever desire to do a trek again, please do so. You don't have to pay Indiahikes any money for repeating this trek. Just inform your Experience Coordinator who will guide you through a special internal process. 
Our only request: Just register for your trek in advance – you know how it is with our groups – they get booked in advance.
Note: The Indiahikes "Repeat My Trek" policy does not apply to our international treks.
If you cancel any rental gear from our store:
Cancellation of rental gear 7 days before the start date of the trek

— Get a full refund minus 4% transaction charges.

Cancellation of rental gear less than 7 days before the start date of the trek

— Get a voucher for the whole amount. This voucher is applicable on all our future treks.
If you cancel the offloading of your backpack:
The offloading fee will be refunded to your account with a 4% transaction charge. 
If you choose to cancel your backpack offloading AFTER reaching the base camp, you will get a voucher of the offloading fee. 
|
How to cancel your trek: 
In case, you wish to cancel your trek, follow these steps. 
Login to your Indiahikes Trek Dashboard

using this link

. 

Find your upcoming trek on your home page. 

Click on "Cancel Trek" 

Mention why you're cancelling your trek on the form that appears.

Choose either a voucher or a refund (where applicable). 

Click on "Cancel Booking" 
How long does the refund process take?
After you have cancelled your trek, if you have opted for a refund, the refund amount will land in the same account that you have made the payment from. It will take 4-5 working days.
If you have chosen a trek voucher, it will land in your inbox within an hour. You will also be able to see it on your Trek Dashboard.
What is a Trek Voucher?
Trek Vouchers are credit amounts added to your Indiahikes account. You can redeem these on any of your future treks with Indiahikes. Every Trek Voucher has a validity of one year.
Important note: Indiahikes Trek Vouchers are non-refundable, not transferable to others or extendable. 
How to use an Indiahikes Trek Voucher?
If you have received an Indiahikes Trek Voucher, you will automatically see it when you are making a payment for your next trek. 
Once you click on the voucher and apply it, the system will deduct the voucher amount from your payable amount. 
If you have any questions, don't hesitate to get in touch with your Experience Coordinator. 
What your trek includes –
Accommodation – Stay is included from Day 1 to Day 4. You will be staying in camps on all days of the trek (3 per tent).
Meals – All meals from Day 1 to Day 4 are included. We provide simple, nutritious vegetarian food on all days of the trek.
Camping charges – All trekking permits and forest camping charges are included.
Trekking equipment – You will stay in high quality tents and sleeping bags in all the camps. Our high altitude sleeping bags can withstand temperatures as low as -10 ºC.
Safety equipment – First aid, medical kit, oxygen cylinders, stretchers etc. will be available at all campsites to deal with emergencies.
Services of an expert Trek Leader – All our trek leaders are qualified in basic / advanced mountaineering courses.
Services of an expert Trek Team – The mountain staff on this trek consists of well trained guides, cooks, helpers and porters.
What your trek does not include –
Transport to and from the base camp –We will arrange shared taxis for trekkers to pick you up from Baikunthpur railway station and drop you back after the trek. This will cost approx Rs. 2,500 per 5-6 seater vehicle one way. You will have to share this cost with the other trekkers
Food during transit to and from the base camp – The trek fee does not include meals purchased during the journey to and from Baikuntpur railway station.
Backpack offloading charges – If you wish to offload your backpack, there will be an additional charge of Rs. 1,000 + 5% GST. The backpack cannot weigh more than 9 kg. Suitcases/strolleys/duffel bags will not be allowed. Please note that charges will vary for last minute offloading in case you decide to offload your bag after reaching Rajmergarh(Rs.335 per day + 5% GST). Online offloading in advance is possible up to two days prior to the trek start date.
Personal expenses of any kind
Anything apart from inclusions
Cancellation Policy
In the event that you cancel your trek, this is the cancellation policy we follow:
– Cancellation 30 days before the starting date of the trek — Get your full trek fee back in an Indiahikes Trek Voucher OR get a monetary refund with 15% cancellation charges.
– Cancellation between 30 days and 20 days before the starting date of the trek — Get 80% of the trek fee in an Indiahikes Trek Voucher OR get a monetary refund with 50% cancellation charges.
– Cancellation less than 20 days before the starting date of the trek — No monetary refund, get 50% of your fees in an Indiahikes Trek Voucher
Fitness
A long, strenuous trek through dense jungle requires considerable fitness. Your body needs to train itself to process more work with lower levels of oxygen. Therefore, on treks, cardiovascular training is critically important. As a measure of your fitness, we require you to be able to run at least 5 km in 40 minutes by the time your trek starts. If you are 45 years or above, try to cover 5 km in 47 minutes. This is a minimum requirement.
If you prefer cycling over running, then try to cover 18 km in 60 minutes.
Unable to do so can make your trek difficult.
In addition, preparation of trek needs to include strength and flexibility training. Registering for the trek is an understanding that you will undertake the mandated fitness training and upload the fitness screenshots on your dashboard. Trekkers who have not adequately prepared may be asked to discontinue the trek at any point.
Indiahikes has the right to reject trekkers who do not meet our eligibility requirement at the base camp.
Backpack offloading
Indiahikes expects all trekkers to carry their own backpacks. All common gear will be carried by the support team. If for some reason a trekker is unable to carry his or her backpack, he/she can offload the same by paying an additional charge.
Backpack offloading charges – Rs 250 per day plus GST of 5%. Charges for last minute offloading during the trek will be Rs. 375 per day inclusive of tax. You can opt for offloading directly your dashboard after your payment is done for the trek.
Partial offloading is not allowed. The backpack cannot weigh more than 9 kg. No suitcases/trolleys/duffel bags will be allowed.
Online offloading in advance is possible up to three days prior to the trek start date.
Transport
Indiahikes will organise the pick up from Baikuntpur station at 6:30 am in the morning on day 1 of your trek.
Repeat Trekker Policy
At Indiahikes, we believe that the mountains hold all the aces. The weather could play spoilsport, the altitude could mess with a trekker, the unpredictability of nature itself could turn against him. Whatever the reason might be, it is never nice to turn away from a trek midway.
In the event that a trekker has to come down without completing your trek, they can always head back to the mountain and do the same trek again. If this happens, trekkers don't have to pay the trek fee. They have to just make the optional payment for the insurance amount.
On another note, it could also happen that you love a trek so much that you want to go back time and again. Trekkers don't have to pay the trek fee for repeating a trek.
Note – The Repeat Trekker Policy holds good only for Indian Treks.
It is not valid for treks we run in Nepal.
Discount Policy
If there is a group size of 10 trekkers and above, then we will waive off the trek fee charges for one person.
Note - There is no discount available if the group size is 9 or less than that.
You can register the entire group and send us an email. If the group is registering individually, then the primary participant needs to send an email to the Trek Coordinator with the list of trekkers from the same group.
If you want to make the payment individually, then individual registrations have to be done.
This will be the case for a group of 10 trekkers. So if you have a group of 20 trekkers, then we will waive off the charges for 2 trekkers.
Video by Sushil Chordia
Available dates
What the colours mean

Registration is on.

The group is full, but cancellations are likely to happen. We have 5 waitlist slots for every group. You may register for the group. Waitlist slots confirmation chances are high if booked more than 30 days in advance.

Indicates the number of slots available in a group.

FULL:

Indicates the group is full. No further slots are likely.

We are not accepting fresh registrations for these groups because of Omicron.
Dates not suiting you? Click here to see other similar treks.