5 Things Trekkers Love About The Chhattisgarh Jungle Trek
Share this story
When we had just explored and opened the Chhattisgarh Jungle Trek in 2019, we were all very excited for our trekkers to experience the unexplored jungles of Chhattisgarh.
At the same time, we were curious to know how trekkers would take to a non-Himalayan trek. 
I remember having conversations with trekkers who were about to go on this trek. 
"What kind of wildlife will be there in the jungle?"
"Is it safe to trek among wildlife?"
"Will it be cold?"
"Will it be at par with a Himalayan trek in terms of an experience?"
With so many questions from trekkers, we waited with bated breath to see how they would react after the trek. 
Once the trek was over, though, we saw that trekkers were bowled over by what they saw. Almost everyone came back with the same one liner — "It was as if 'The Jungle Book' had come alive!"
Ever since, trekkers have come back telling us they love the trek. We have always been curious about exactly what they loved about the trek. Which is why we caught up with them to ask about their experience. 
Here are five things that trekkers absolutely love about the Chhattisgarh Jungle Trek.
1. You get to camp in the jungle
"You get to trek in the wilderness in many places in India, be it the Sahyadris or the Himalayas. But camping inside a jungle for the whole duration of the trek at different locations, being at such close proximity to wildlife, is something I was amazed to experience," says Abhay Pingle, who has done quite a few treks like Roopkund and Rupin Pass.
Just like Abhay, most of the trekkers choose to do this trek because of the real-life camping experience inside the dense forests of Guru Ghasidas National Park.
"I have been to Jim Corbett and Ranthambore in search of the thrill of jungle life. However staying in the lodges, far away (even beyond the safe distance) brings some sort of disconnect to the whole experience. I think my quench for the jungle thrill got fulfilled after doing this trek in Chhattisgarh. It gave me a complete insight as to how it feels living in the jungle for 4 days," says Souvik Sinha, who went on the trek late in mid-October.
"I'm from Raipur in Chhattisgarh itself. But this was my first time trekking, and it was wonderful and rejuvenating to see this part of the jungle. Also, seeing people from other states appreciating Chhattisgarh was amazing," says Yash, who was part of the team in January 2022.
2. Experiencing wildlife so closely
There's one thing that stood out the most for the trekkers. Spending time searching for animal footprints.
"They were always on their toes (quite literally) to look for signs of wildlife. I was amazed to know that they had so many stories about their experience with wildlife!" shares our Trek Leader, Kiranjit Pathak, who led most of the teams in Chhattisgarh.
"Apart from exploring the wilderness and camping in the wild, the trek has much more to look for. Trekkers get the opportunity to build campfires using ancient methods, climb trees, swim in lakes and rivers and even track wild animals by following paw prints.
There are plenty of leopard, monkey, bear and langoor tracks. I remember exploring the caves to find a bear family's home. That was just an icing on the cake," says Lakshay Bansal, a first-time trekker with Indiahikes.
"Many people think that trekking in a jungle means you will see animals casually passing by the trails or that you will get to spot wildlife at an eye distance. However, that is not the case and one should not be so naive to expect that. Finding footprints or signs of animals at the places where we were walking, then trying to figure out from where they might have come from and where they would have gone to was so much more exciting yet safe at the same time. One doesn't want to have fun at the cost of the wildlife or their own life," says Souvik Sinha, Indiahikes Trekker.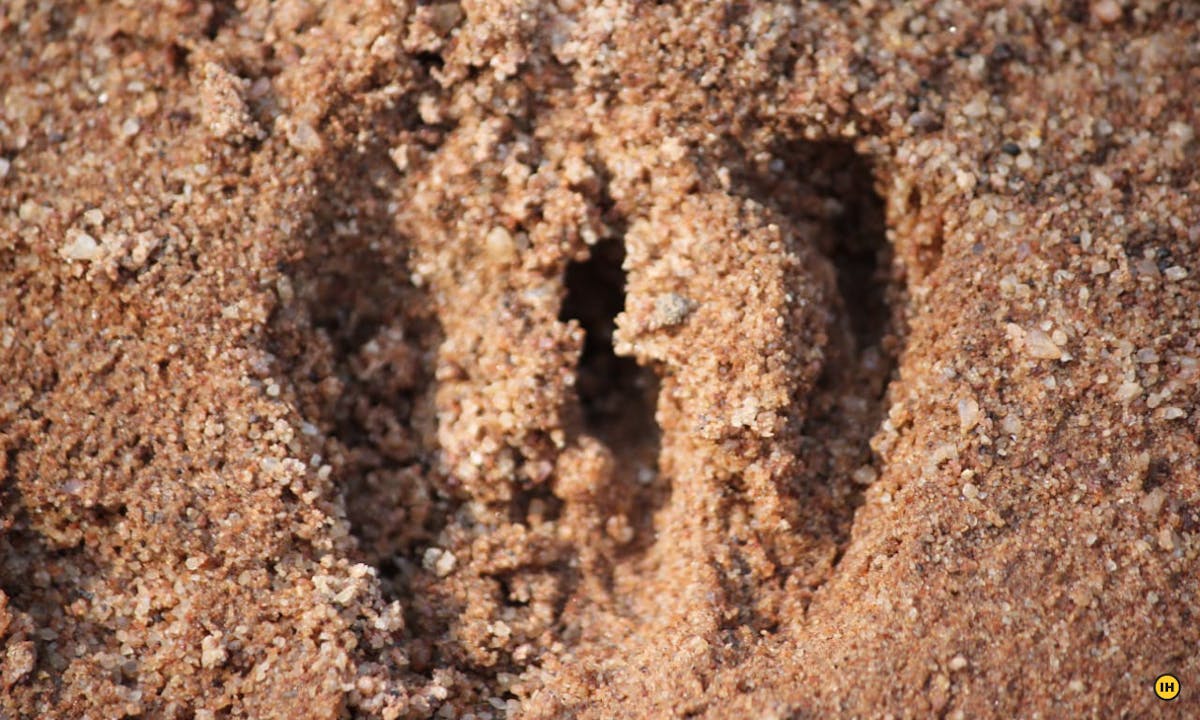 The overall experience becomes much more exciting after finding such fresh animal footprints! Picture by Kiranjit Pathak.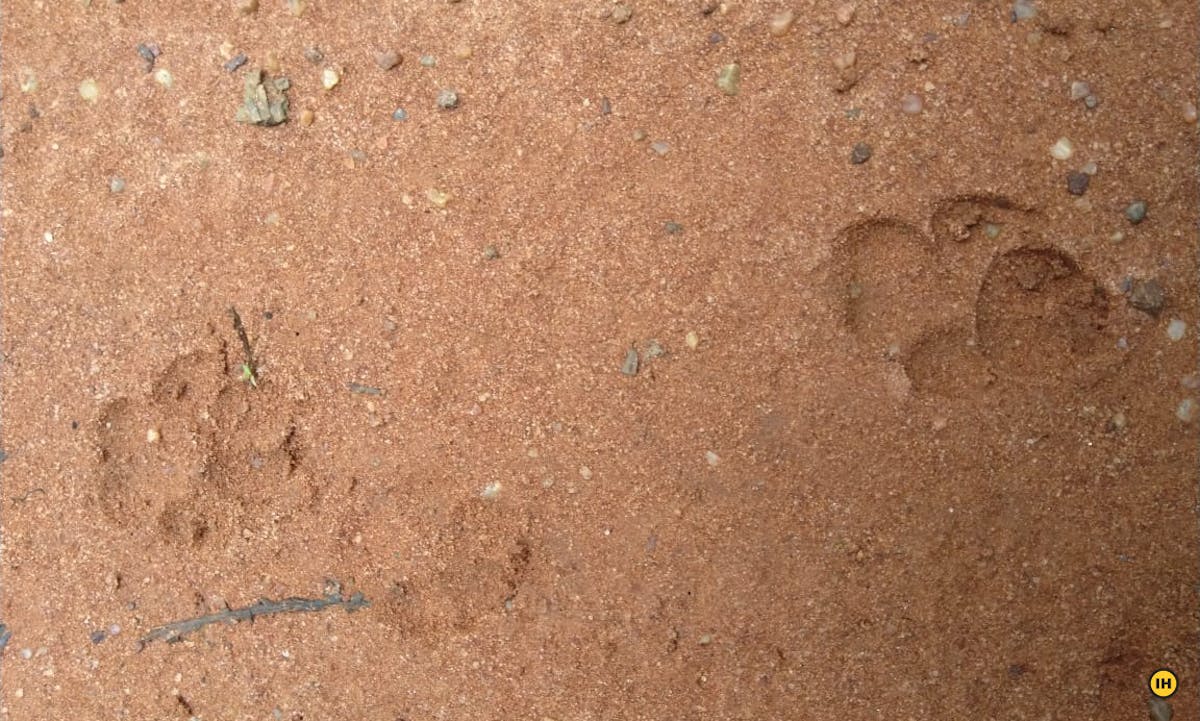 Pawprints on the trail spotted by trekkers in October. Picture by Kiranjit Pathak.
3. A unique river-walk and riverside camping experience
You have river crossings on most treks, especially in the Himalayas. However, most of the Himalayan rivers are bone-chillingly cold. You would want to get out of the water as soon as you step in. But here, on the Chhattisgarh Jungle Trek, you have one of the most pleasurable river walks, and you have it for a whole day! It's a once-in-a-lifetime experience for anyone. 
"Day 4 is the riverwalk on the Gopat river. When I first saw the river. I thought 'this is like a beach!' There's not a single pebble on the river bed. It's smooth and sandy. The river is shallow, with water flowing just above your ankles. You don't cross this river, or walk beside it. You walk inside it throughout the day," says Nitesh Kumar, Senior Trek Leader who explored the latest route we take to Chhattisgarh.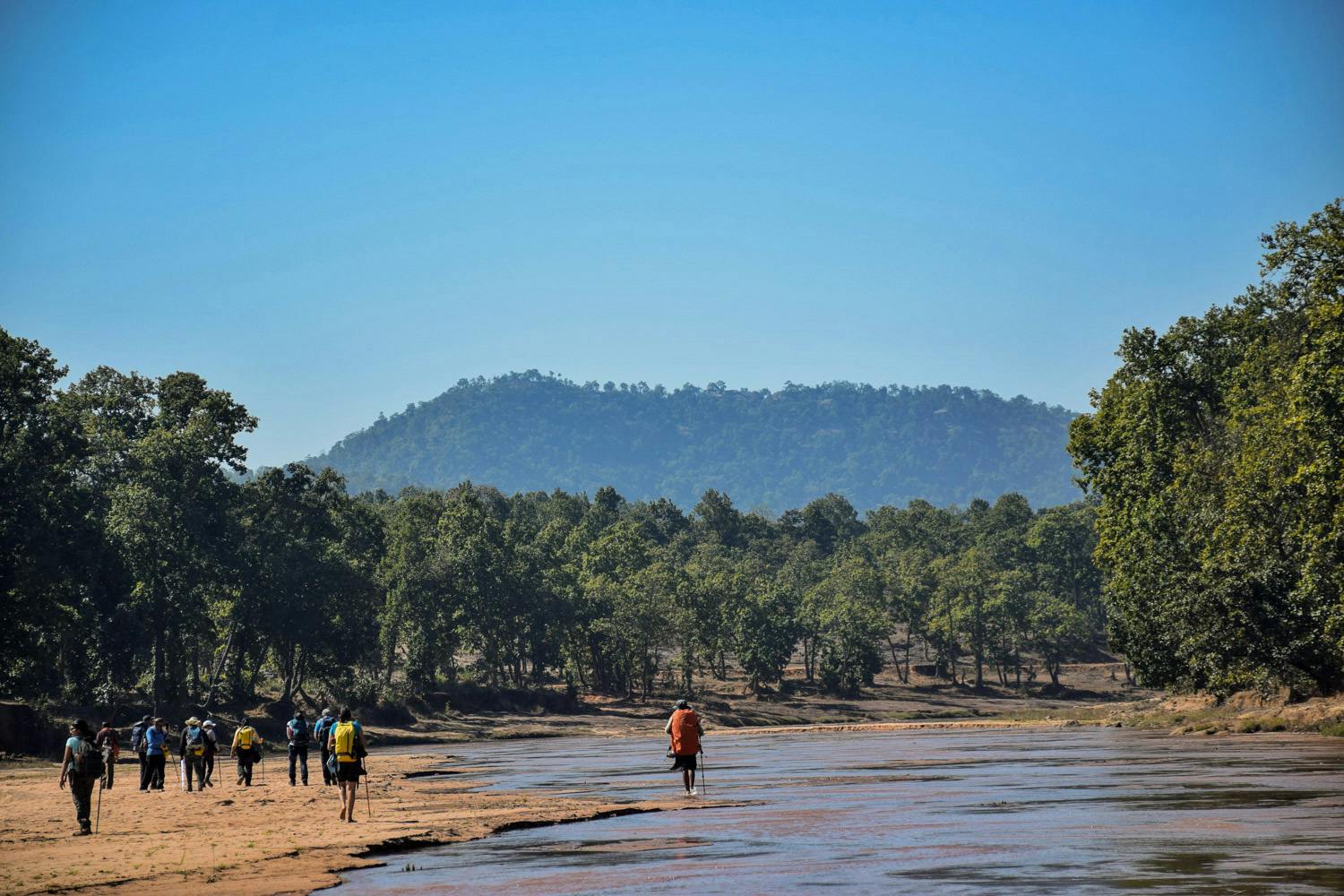 "The blazing sun is above you, but your feet are in cool waters. You're in the middle of a jungle, with no one around. It's an unmatched experience," exclaims Nitesh. 
If this was not enough, you actually camp next to the Gopat river. "Your tent flap opens up to the gentle lull of the river. It's a dreamy setting sleeping to the tinkling sound of the river and waking up to it in the soft morning light," shares Nitesh. 3. The trek has the right amount of challenge.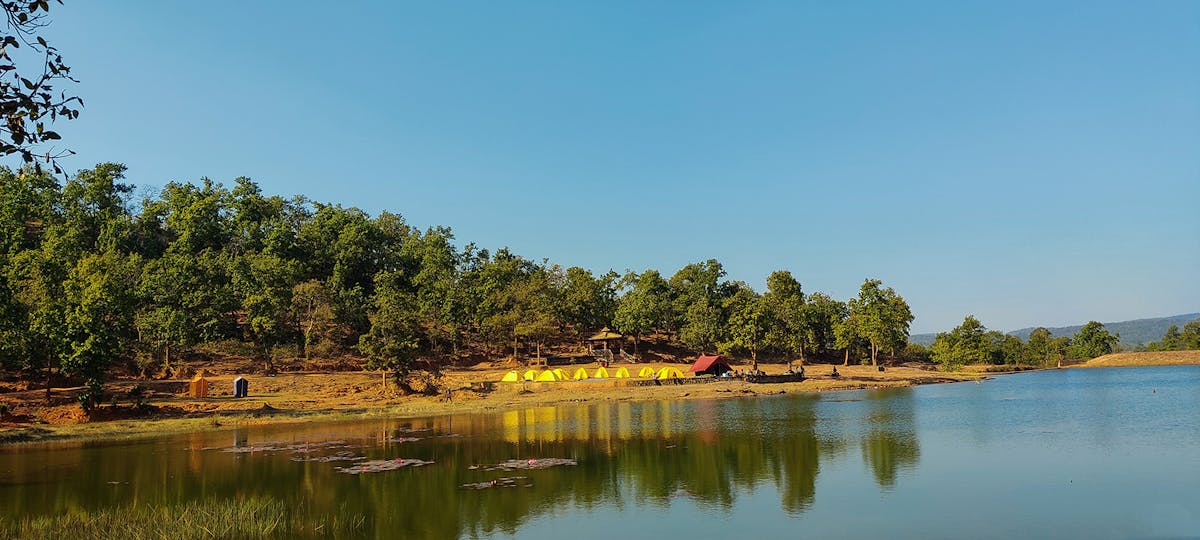 The unique riverside campsite on the Chhattisgarh Jungle Trek. Picture by Nitesh Kumar
4. A sneak peek into the tribal life of Chhattisgarh locals
If there's one thing trekkers can't stop talking about, it's this. Gurughasidas National Park, being a restricted area to the normal public, gives you an opportunity to meet these adivasi families living inside the national park.
"We got to stay in an adivasi village mud house and interact with the locals. The calm and serenity offered by the village really puts the important things in one's life into perspective and takes them away from the daily rat race.
"The village also has an abundance of agricultural crops and trees, which makes evening walks while identifying the various trees like mango, jackfruit, guava and many more a truly informative and enjoyable session," says Lakshay, who was really happy from the interactions he had with the adivasi families.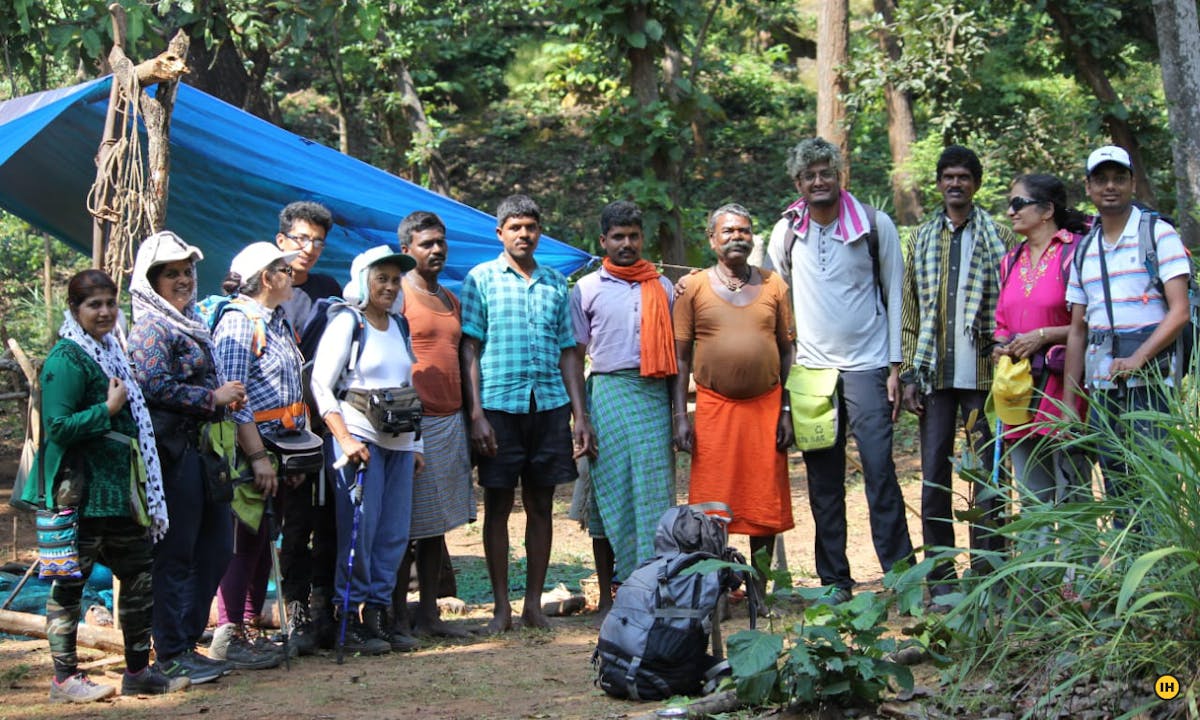 Trekkers spending time with the locals of a small village near Tediyabandh. Picture by Abhay Pingle.
5. It's at par with a Himalayan winter trek in terms of variety
When trekkers think about winter treks, the first thought that pops into their mind is a snowy setting. We must admit, it's hard to beat the snow-draped forests, the vast white stretches of meadows and snow-capped mountains. 
But here's a trek that not only comes at par with the variety of a Himalayan trek, but may even beat the experience of the white Himalayan monotone. 
"The jungles here take the cake. You know, in most regions of India, you can drive through forests. But here, you're walking in the heart of it. The best part? There's a section where you climb to a bit of a height, and you are above the jungle, at a vantage point. It's almost like a summit view. The whole jungle opens up below you and you can retrace your path all the way. The feeling of standing at the top is euphoric," says Prashant, a trekker from Bangalore who trekked in early 2022.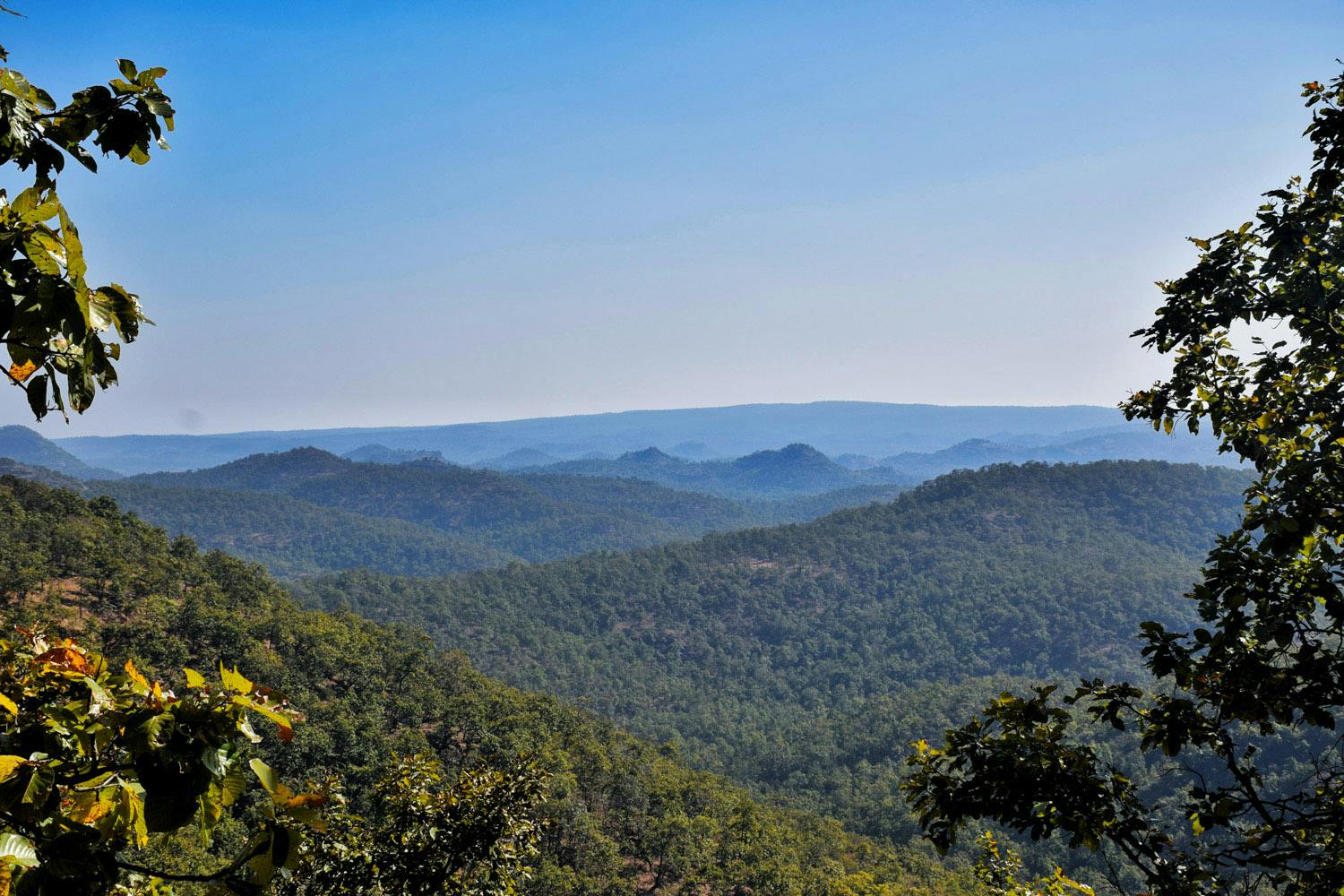 Aside from that, "The kind of variety you see on this trek is at par with any Himalayan trek. Walking amidst the deciduous sal and teak forests, exploring Chhattisgarh's ancient limestone caves with their stalagmites and stalactites, interacting with adivasi tribes, being in the heart of wildlife, walking in the beachy rivers, camping beside a lake, climbing to a vantage point from where you see terrific views of the whole Guru Ghasidas National Park… Each day is like doing a new trek in a new region," shares Nitesh.  
After leading Himalayan treks for more than three years, he admits that this is one of the best treks he has done till date.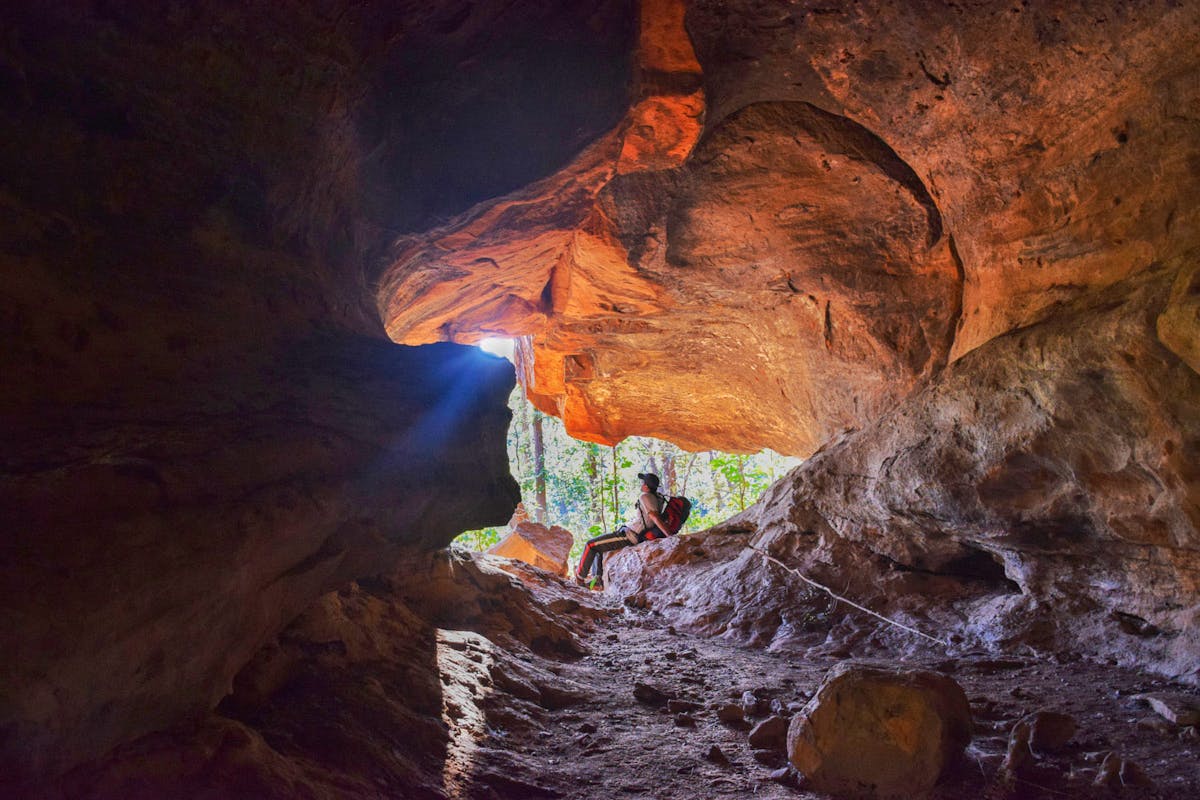 The ancient limestone caves of Chhattisgarh. Picture by Nitesh Kumar
A note on the difficulty level of the Chhattisgarh Jungle Trek: A lot of trekkers assume that the Chhattisgarh Jungle trek isn't challenging enough. Before going on this trek many trekkers had the misconception that the trek would be just a simple flat walk in the jungle. When I was constantly pushing the trekkers to be consistent with their fitness they would often ask, "But what is there to worry about on a jungle trail?"
However, after coming back from the trek most of them who had taken their fitness preparations seriously were happy with the fact that they were able to enjoy the trek without getting tired as compared to some others who were struggling.
"I don't think this trek is a cakewalk in any way. There were long walks everyday and the paths were rugged and rough at many places. Not to forget the river crossings which were fun but challenged our strength too," says our trekker Souvik Sinha.
So, this is what the Chhattisgarh Jungle Trek looks like from the eyes of our trekkers.
To know more, watch this video by Swathi Chatrapathy talking about the best time to do the Chhattisgarh Jungle Trek.
If you have already been on this trek, do comment below and share your experience with us. If you have any questions about this trek, comment below, and we will help you.
Sign up for our much loved Weekly Mailer
We have terrific trekking tips, trek updates and trek talks to look forward to