8 Things You Must Do in Rishikesh that No One's Heard Of
Share this story
8 Things You Must Do in Rishikesh that No One's Heard Of
Category Travel Tips
By Radha Ramachandran
2022-08-18
Rishikesh is a hub for trekkers. It is the pick-up point for many of our Himalayan Treks — Brahmatal, Ali Bedni Bugyal, Deoriatal-Chandrashila… A majority of our trekkers choose to stay back for a day or two and explore Rishikesh. And why not! With the River Ganga flowing with all her grace and hills rising just off her banks, Rishikesh is an extremely charming town. 
My grouse with trekkers is that they end up doing the usual touristy stuff in Rishikesh, amongst large crowds, spending more than they should. 
So today, I want to share with you some off-beat experiences in Rishikesh. I got in touch with some of our expert Trek Leaders and keen travellers to make this list.
"One valuable tip I'll give is to plan your Rishikesh tour after your trek and not before your trek. Before a trek, it's best to come directly from home, at your fittest, freshest best, without any tiredness from travelling. Consider a visit to Rishikesh as a post-trek experience," advices Dushyant Sharma, Senior Trek Leader at Indiahikes. Taking this advice in mind, let's jump right into our list.
1. Take a walk along the banks of River Ganga from Lakshman Jhula to Ram Jhula
At about 4 or 4.30 in the evening, start your walk from Lakshman Jhula from the other side of the main road. The crisp evening air, the canopy of trees and the tinkling Ganga cruising along with you keep you wonderful company. The beauty of Rishikesh, pregnant with meaningful silence, will sing to you beautifully. By the time you reach Ram Jhula, you'll be right on time to witness the breathtaking Ganga Aarti.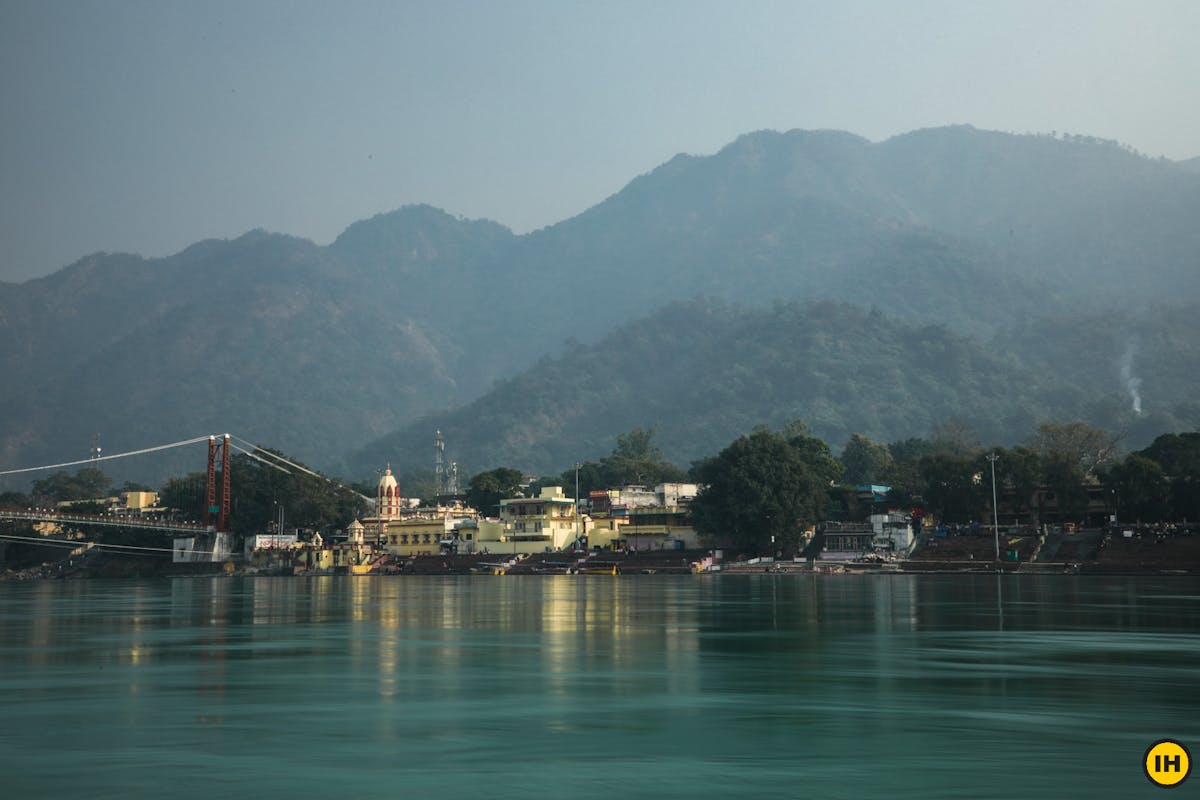 It's a serene walk by the turquoise water of River Ganga. Photo by Jothiranjan
2. Witness the Ganga Aarti at Triveni Ghat
At 6 pm, make sure you have the right view at Triveni Ghat because the Ganga Aarti is a must-see on your Rishikesh checklist. Situated right next to Ram Jhula, the Triveni Ghat is going to be crowded for the Ganga Aarti, but the experience will be worth it. 
You can still find a quiet moment to reflect quietly while you light lamps and send them floating on the waters of the Ganga on the other side of the Ghat.
Bonus Tip: There are two viewpoints from which the Ganga Aarti can be enjoyed. One is through the temple and the other is from the shores of the riverbank on the other side. Take a short walk from the GMVN to the riverbank to find your viewpoint.
"On a quiet day, you can find sadhus giving religious discourses along the banks of the river. Join in silently, if you wish," says Arjun Majumdar, the founder of Indiahikes.
While you are here, don't forget to treat yourself to a variety of street food outside Triveni Ghat. From traditional Indian Chaat to Chow Mein and Momos, you will find a mélange of snacks. (Make sure you use your own cutlery here, avoid any disposables!)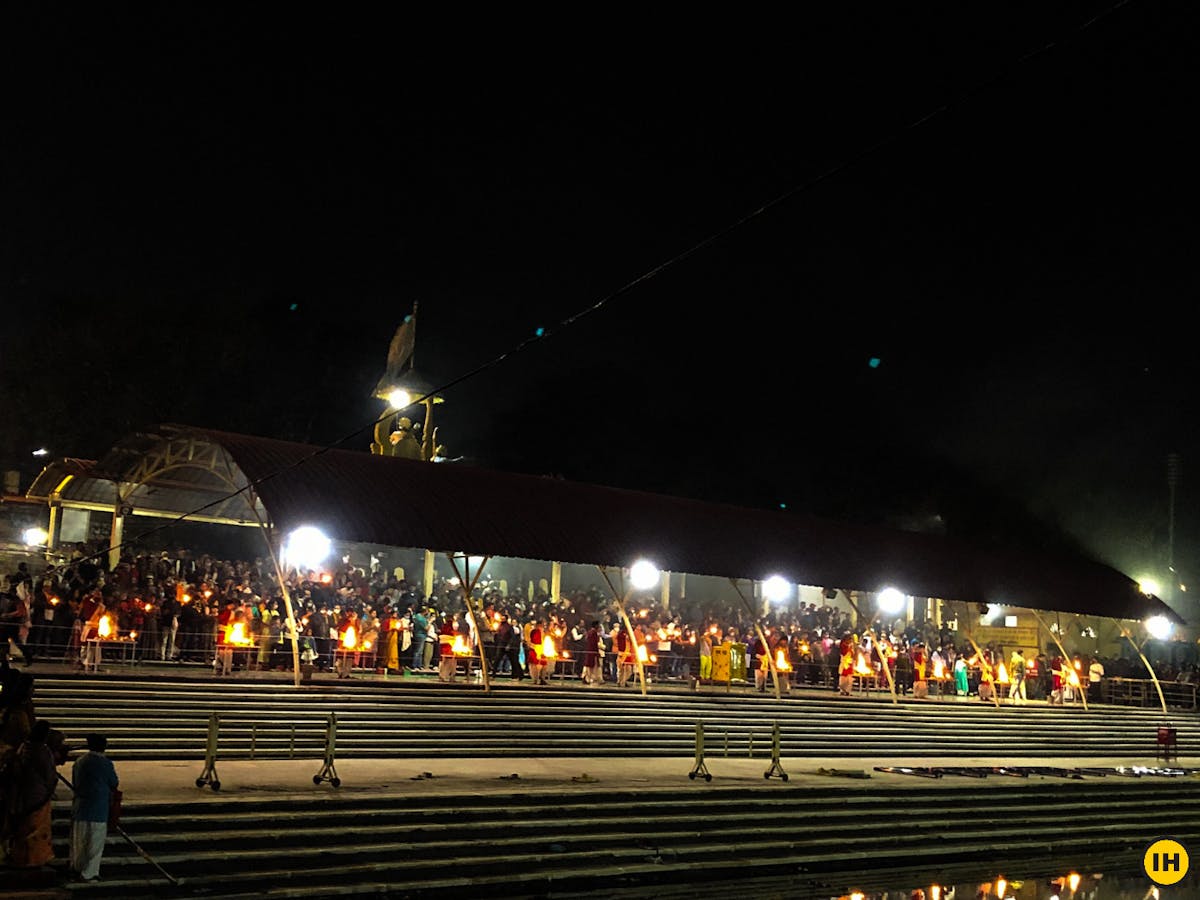 The Ganga Aarti is a must-see on your Rishikesh checklist. Situated right next to Ram Jhula, the Triveni Ghat is going to be crowded for the Ganga Aarti, but the experience will be worth it. Photo taken from Indiahikes Archive
3. Food joints you must visit in Rishikesh
A lot of people suggest the vegetarian restaurant at Chotiwala. All of us at Indiahikes feel it is overrated.
Instead, venture into any of the continental Cafes that you find on the way to Lakshman Jhula. Beatles Cafe is one of our Trek Leaders' favourite haunts. 
"Many of these cafes have amazing vegan options, sometimes even rarer than what most metro cities have. For instance, I found a vegan Apple pie and Carrot cake at Tattv Cafe, which I've rarely seen anywhere else. So you get a lot of vegan food in these cafes," says Lakshmi Selvakumaran, the Head of Experience at Indiahikes.
There is also a famous German Bakery near Lakshman Jula. The bread and pastries here are a must try.
Bonus Tip: The Parmarth Niketan Ashram in Rishikesh is a spiritual center that conducts daily prayers, Yoga and meditation classes. In the afternoons all the visitors are treated to a simple yet sumptuous lunch, free of cost, by the Ashram. This makes for an experience in itself.
4. Take a break at Rishikesh's most famous Lassi spot
On the main road in the Old Rishikesh market, there is a small Lassi place that is famous in all of Rishikesh — Pappu Lassi. Head over here to get your fix of cold Lassi.
5. Start your rafting at Shivpuri waterfalls
If there's one thing that Rishikesh is famous for outside of the Ganga Aarti, it is rafting. But most trekkers start their rafting experience at Byasi or Kaudiyala. 
My recommendation is that instead of starting your rafting experience at crowded spots, start at Shivpuri waterfalls. Situated 16 km above Rishikesh, you get a wonderful experience of rafting in the wild waters of the Ganga all the way down to Lakshman Jhula. (You could even dive off a cliff into the river on this route.)
Bonus Tip: The Paddle India and Himalayan Outdoors are some of the in-house favorites when it comes to rafting in Rishikesh. Head to their website for more information.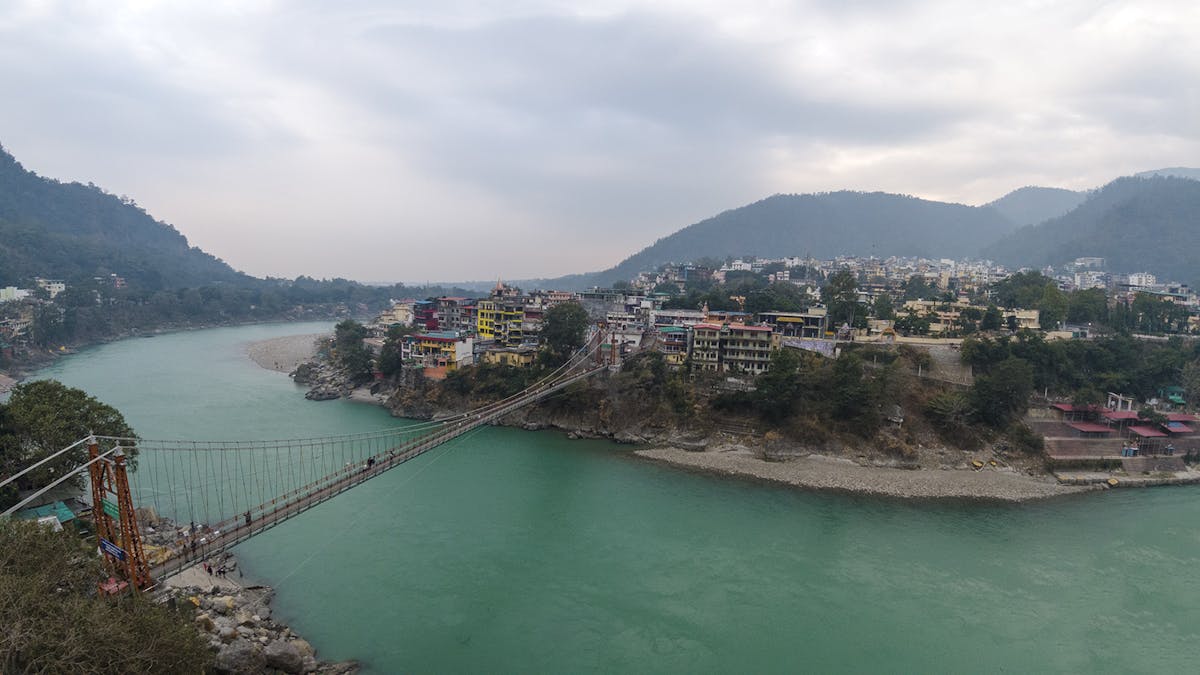 The Lakhman Jhula over river Ganga. Photo by Jothiranjan
6. Head to Haridwar for a good Tandai
While you're at Rishikesh, be sure to visit her twin town, Haridwar, if you have the time. Hardiwar is just around 20 km away. The Tandai and Rabri that you get from the street vendors here are to-die-for.
Bonus tip: We already spoke about the Ganga Aarti at Rishikesh, but don't miss the Ganga Aarti at Har ki Pauri when you're in Haridwar. The Ganga Aarti is a spectacle that you can experience multiple times in many different places and it would still render you awestruck every single time.
7. Experience the Hostel Culture of Rishikesh
Hostels are not only just inexpensive and safe, but also add a certain charm to the entire Rishikesh Experience. "I haven't seen such a thriving hostel culture in most places in our country, not even the tourist-friendly Manali," says Lakshmi. 
The best part is that many hostels like Live Free Hostel host events, walking tours and other group activities themselves. You meet people from all walks of life, backpackers and travellers from all over the world and get a chance to learn from their experiences.  
Bonus tip: Don't miss the very interesting Hippie culture of Rishikesh. It's something you will experience first hand in these hostels and also in the cafes around Rishikesh.
8. Go Bungee jumping at India's Highest Bungee jumping point
Located around 52 km outside of Rishikesh, you'll find the highest Bungee jumping point of India at Mohan Chutti. Though bungee jumping has become common in many places in India, this was the first and still is the highest point for Bungee jumping in India.
You could either take a cab To Mohan Chutti or avail the cab service of the Bungee jumping organisation.
Additional tips for travelers in Rishikesh
– To commute in and around Rishikesh, use Vikrams. These are shared autos, and have very minimal charges.
– It is also very easy to rent Scooters to drive to longer distances in Rishikesh.
That brings us to the end of this list of things to do in and around Rishikesh. 
If you have done something interesting, or found any other rare experiences in Rishikesh, we'd love to know about it. Our trekkers are also waiting for more tips. So make sure you leave a comment below and help us out! 
Related Videos
The Smartest Way to Reach Rishikesh
How To Reach Deoriatal Chandrashila
Sign up for our much loved Weekly Mailer
We have terrific trekking tips, trek updates and trek talks to look forward to