March 2016 Photo Contest - Results out!
Share this story
March 2016 Photo Contest - Results out!
Category Photo Contest
By Swathi Chatrapathy
2016-04-28
Brilliantly captured photo contest entries for March kept coming in well past deadlines and we couldn't help but welcome them with a smile. Our judge Ravindra Joisa had a tough time picking a few out of the lot. The winning photographs are below! Take a look!
Congratulations to the winners! Keep trekking and keep clicking!
WINNER!
Jai Pandya- Kedarkantha 
This frame, as serene as it looks, can tell a thousand stories. A perfect capture with colors balancing out the snow covered land. Do we really need to point out the 'subject' here? To top it of, Jai Pandya has also put together a blog with drop-dead gorgeous pictures from the trek.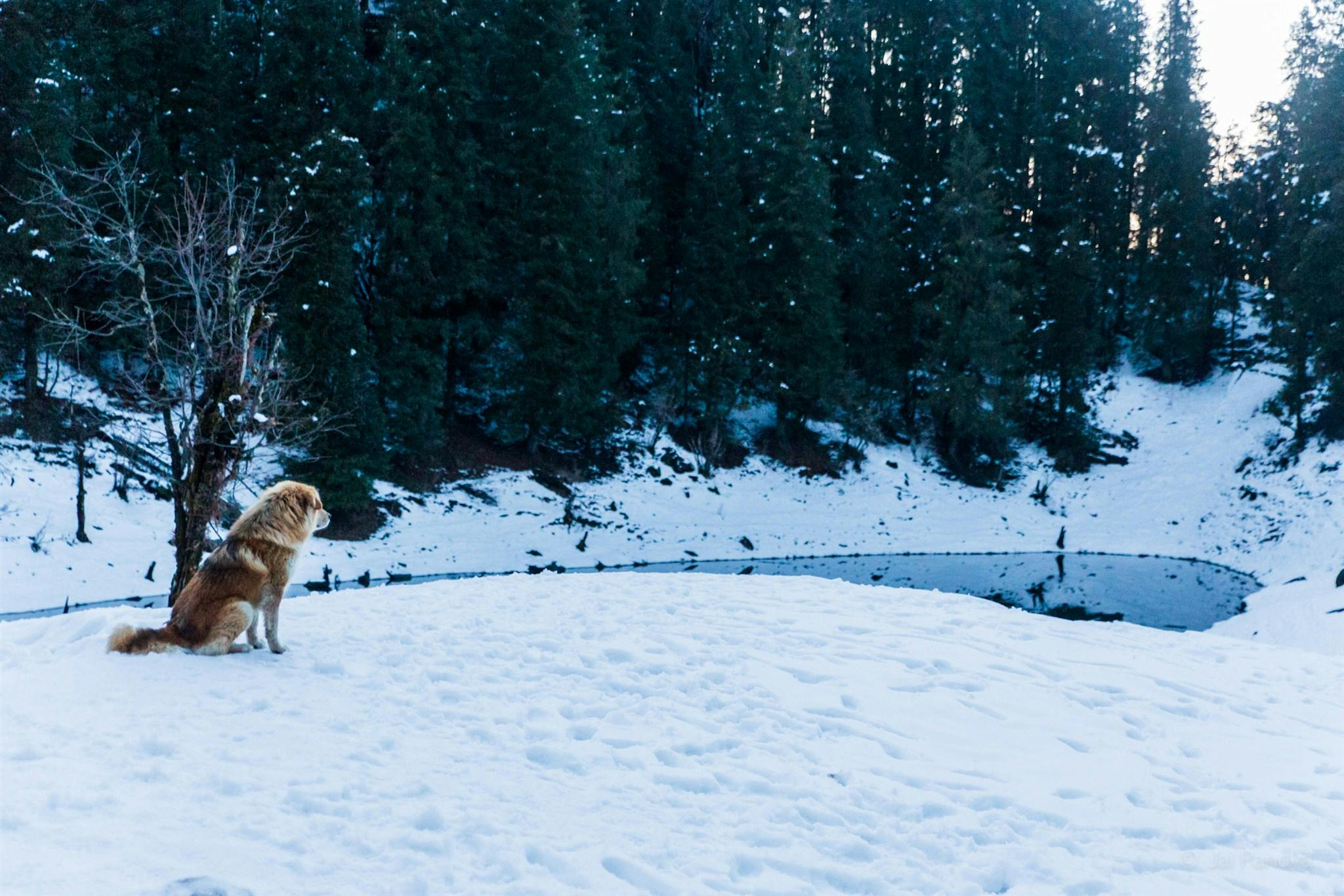 1st Runner Up
Satyen Dasgupta –  Chandrashila
The first few rays before sunrise from behind the razor-sharp peaks are clearly mesmerising! The picture looks unreal, but we know that it hardly has any editing! This is a very well-timed and symmetric shot!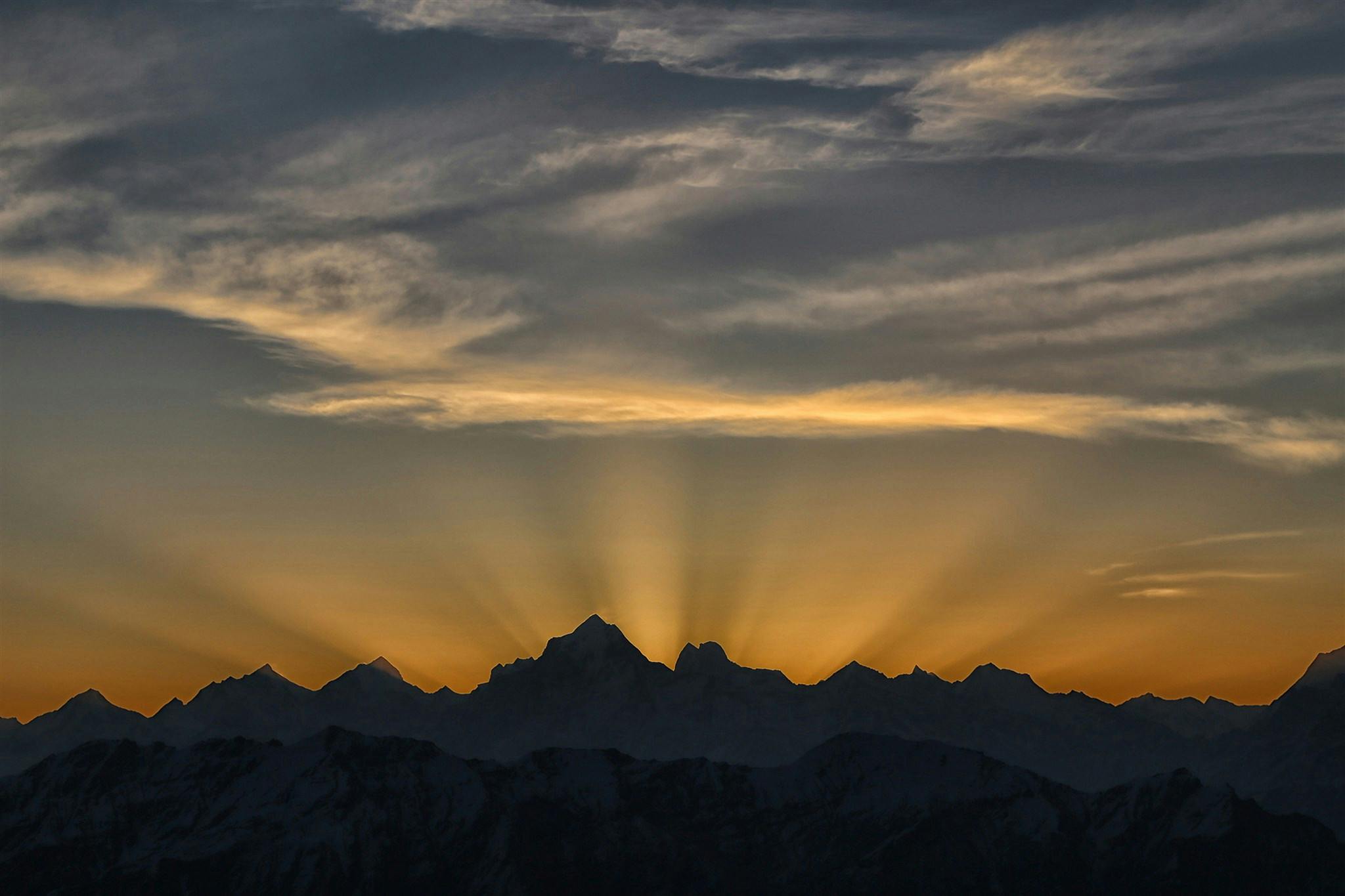 2nd Runner Up
Deepak J Nayak- Kedarkantha
The Kedarkantha base camp! Love the way the trees and branches are used as natural frames, showing the landscape and the mountain range in the background. Some campsites are simply breathtaking.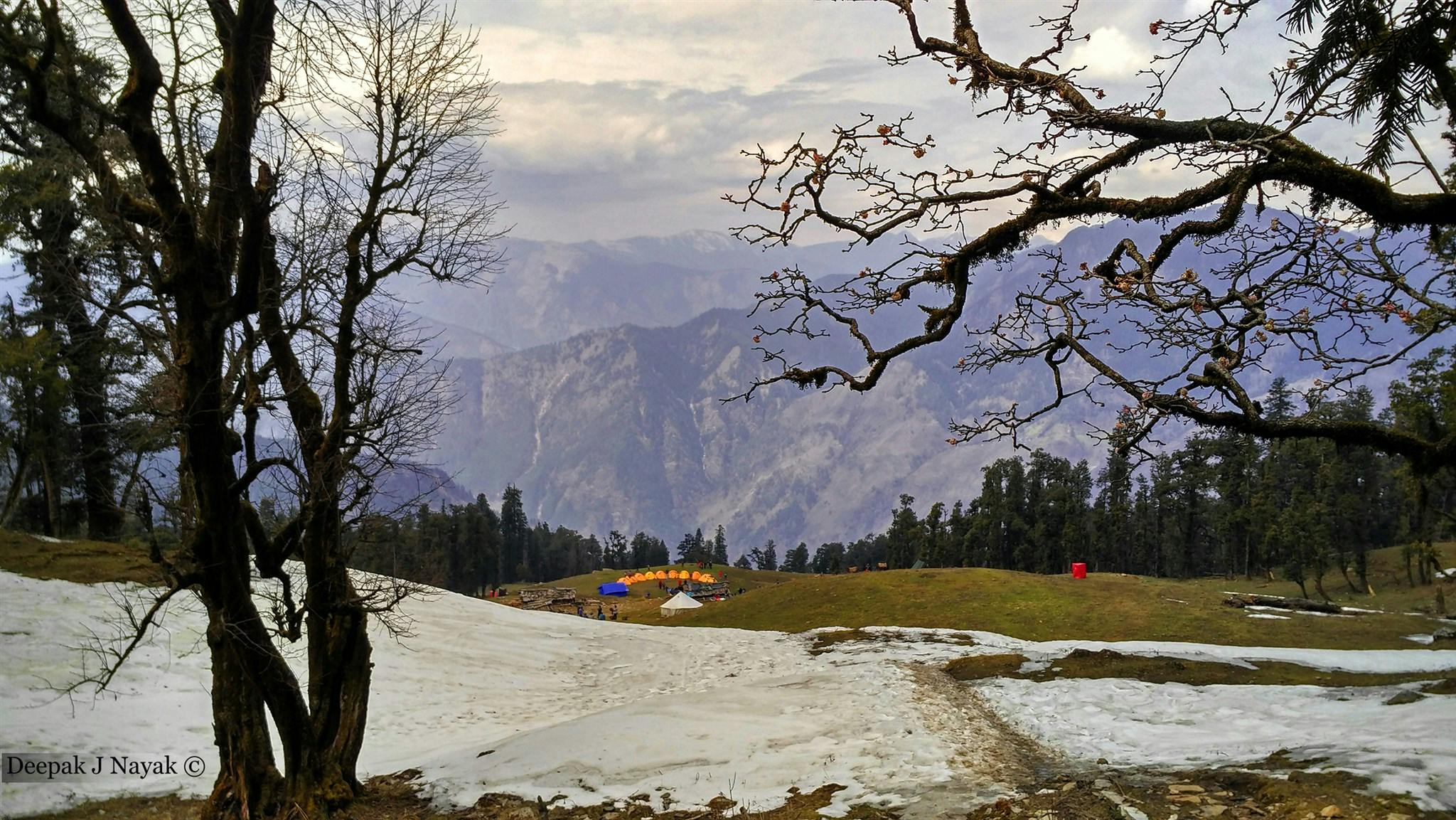 NOMINATIONS
1.Usha Ambaliya – Chandrashila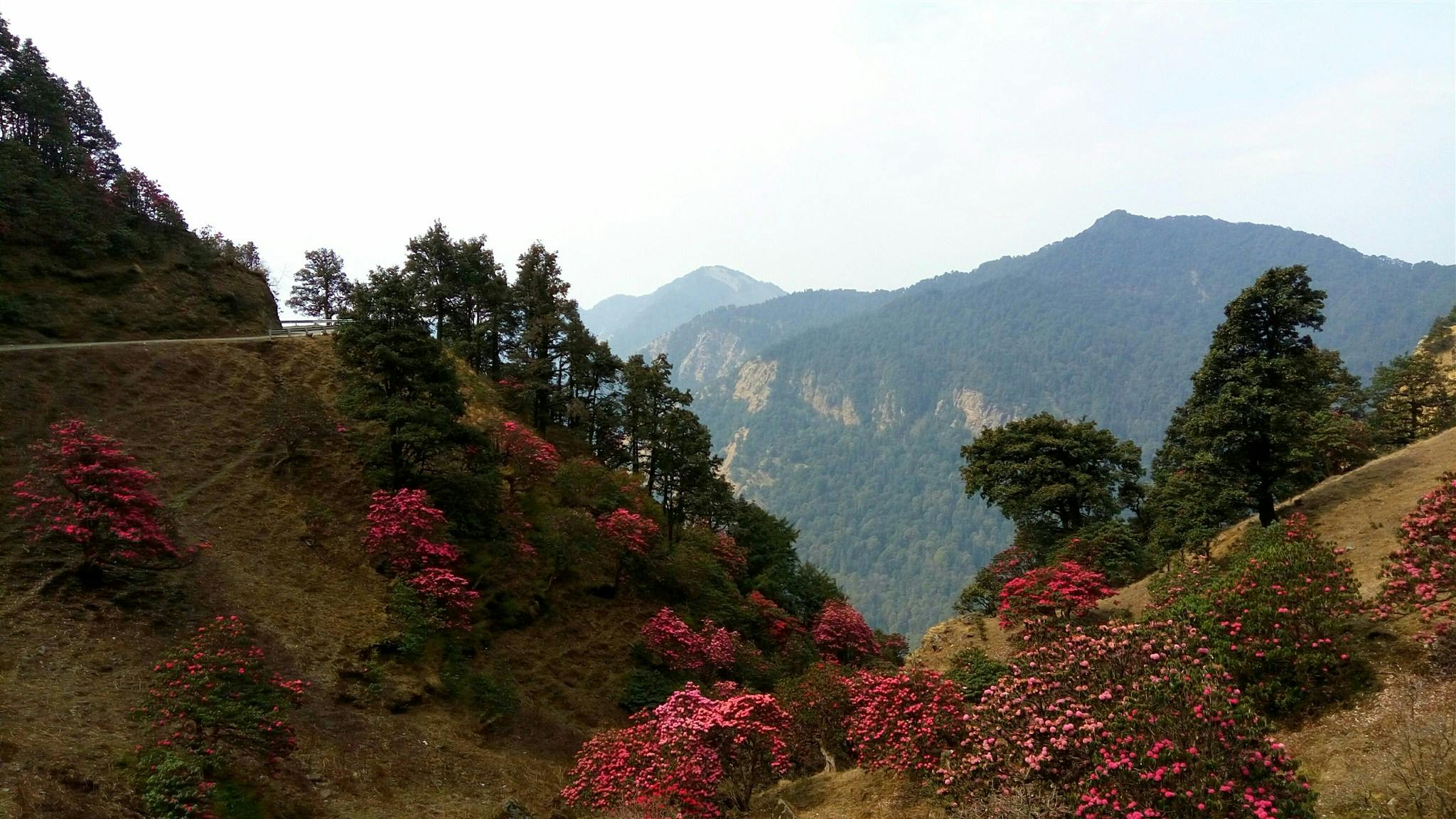 2. Gayatri- Nag Tibba
Nag Tibba has truly refreshing sights to offer along the trail. The greens and hazed mountains can only make you feel more alive than ever!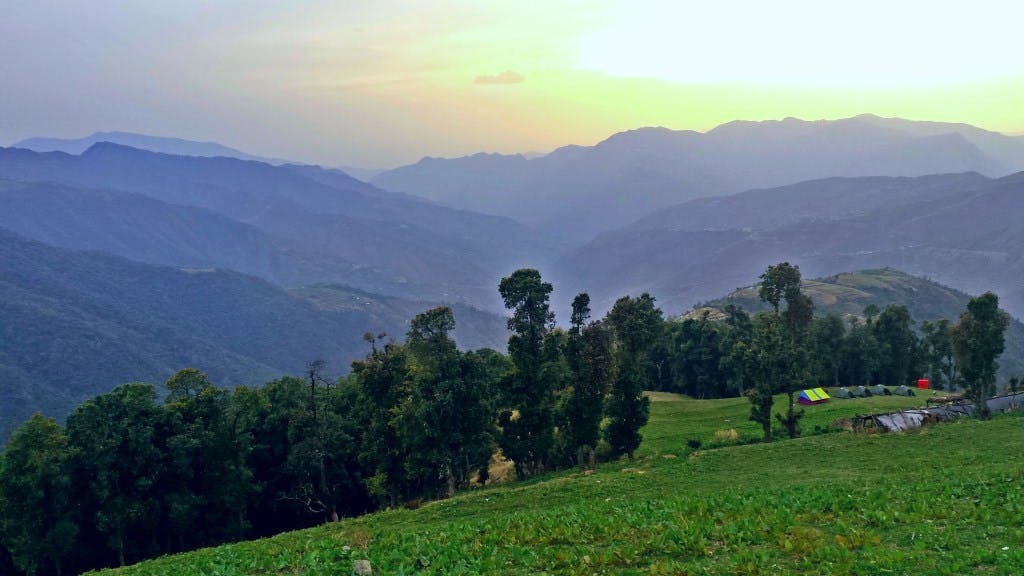 3. Anand Tamhankar- Kedarkantha
A shot right before the trekkers summited at Kedarkantha. A walk that is said to make one realize, it was worth the climb after all.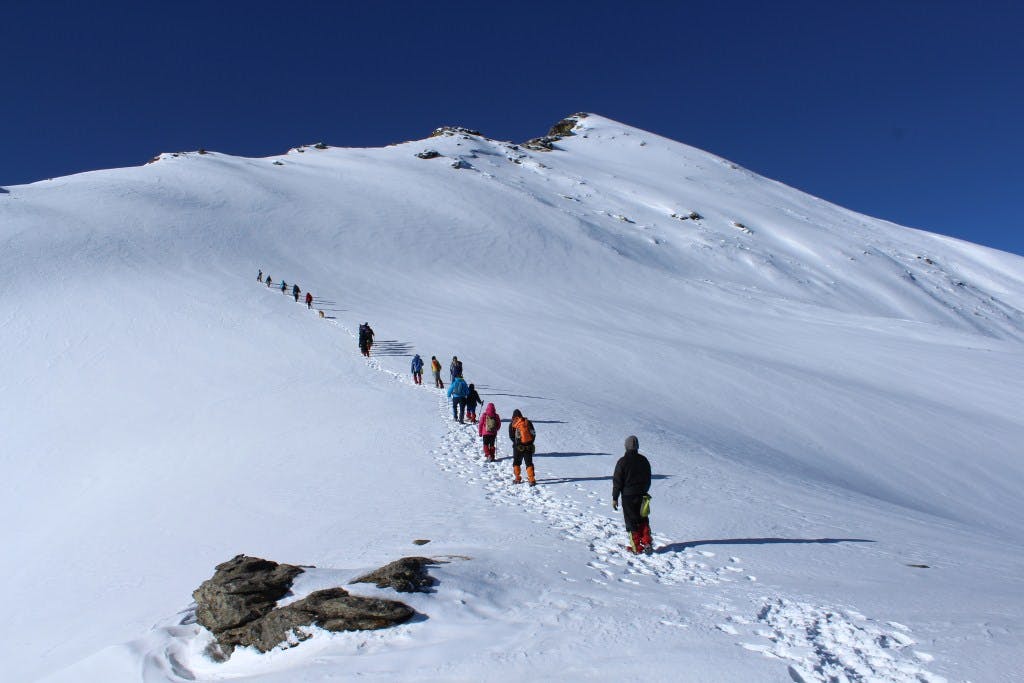 4. Satyen Dasgupta – Chandrashila
"Is this even for real?" This other-worldly picture has to be in the nominations simply thanks to the rarity of such a capture!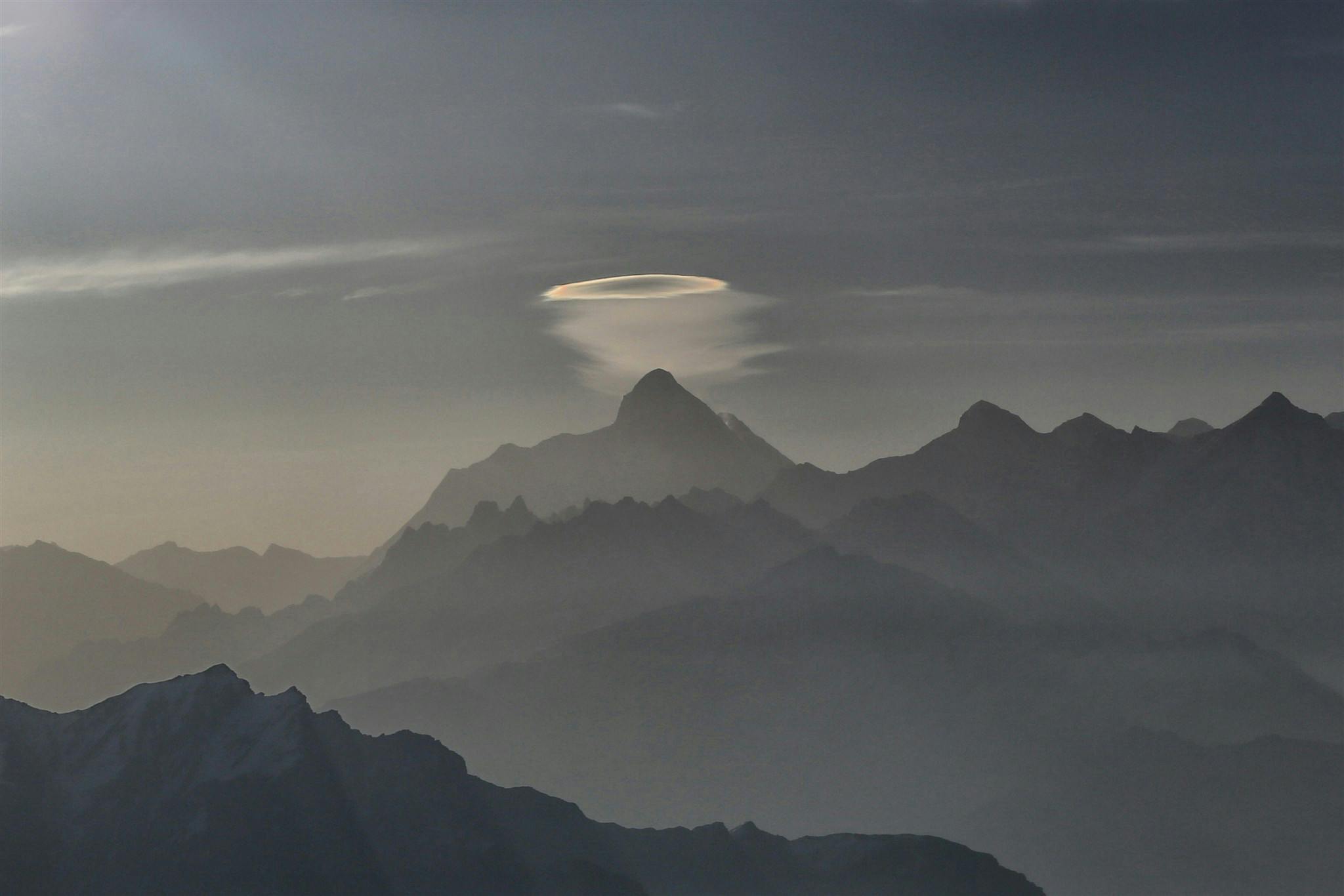 5. Aishwarya Rajendran – Deoriatal-Chandrashila
These are the kind of views from the summit that can easily send chills down your spine! This clear and close-up shot of the Himalayan Range from the Chandrashila summit is something that pops your eye out! We especially love how the clouds are kissing the peaks!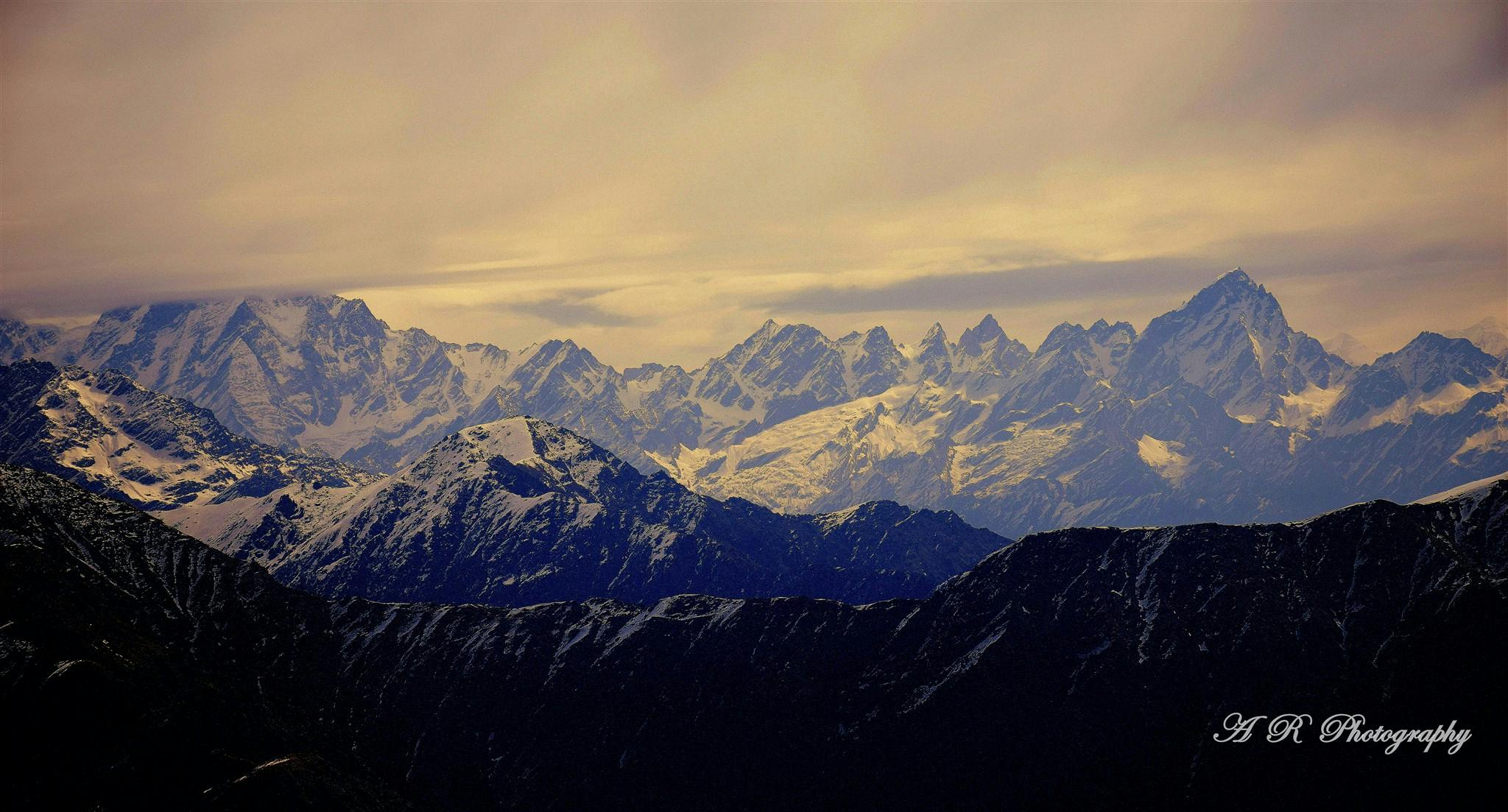 6. Vamsi Krishna- Har Ki Dun
This is a perfect rule of thirds frame. The snow playing charmer across wide landscapes is something you'd never miss to notice along the Har Ki Dun trail.
7. Varuni Chauhan-Har Ki Dun
It looks like the foreground full of flowers and the path, is intentionally luring the viewer's eye straight to the snow covered mountain peak. A well composed frame.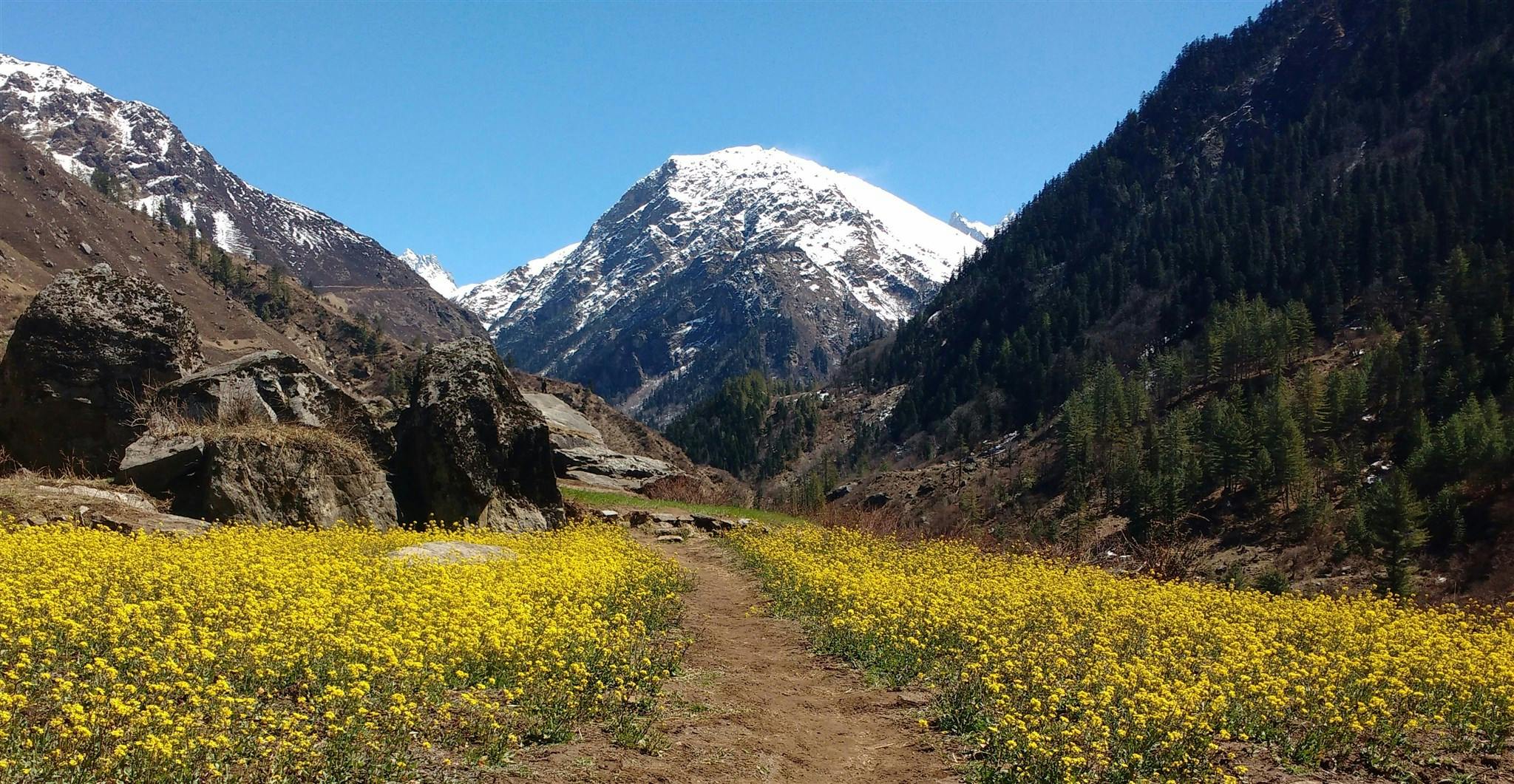 8. Sandeep Suresh – Sandakphu
This is one of the best shots of Sandakphu trail we've come across. A well placed subject with the lovely landscape playing perfect backdrop for this dreamy capture. There is golden light with oncoming clouds – that explains the Sandakphu trail so perfectly!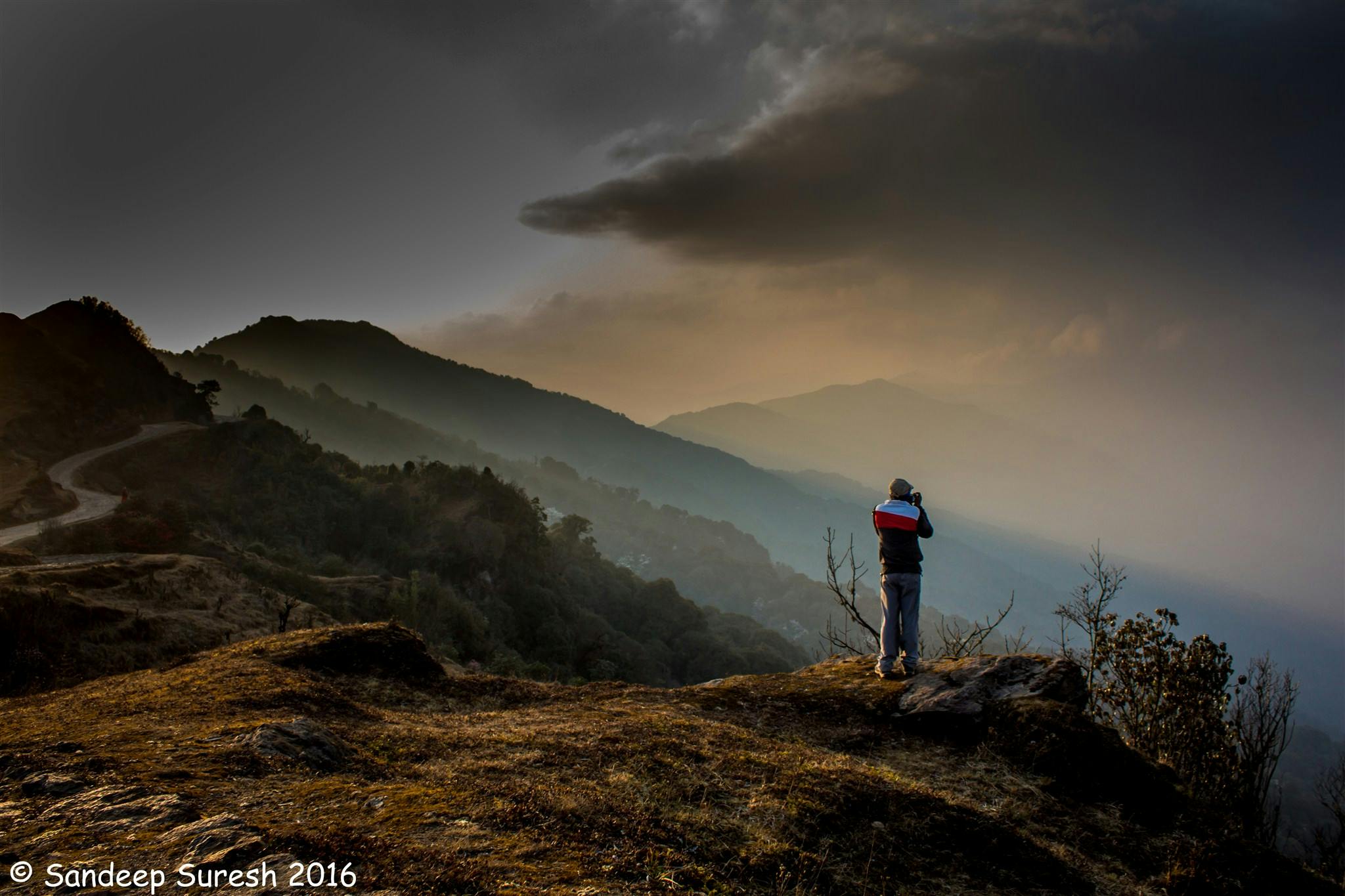 9. Nagendra – Kedarkantha
The interestingly fogged mountains in the background and trekkers climbing uphill just show how tiny humans can be in the lap of the mountains.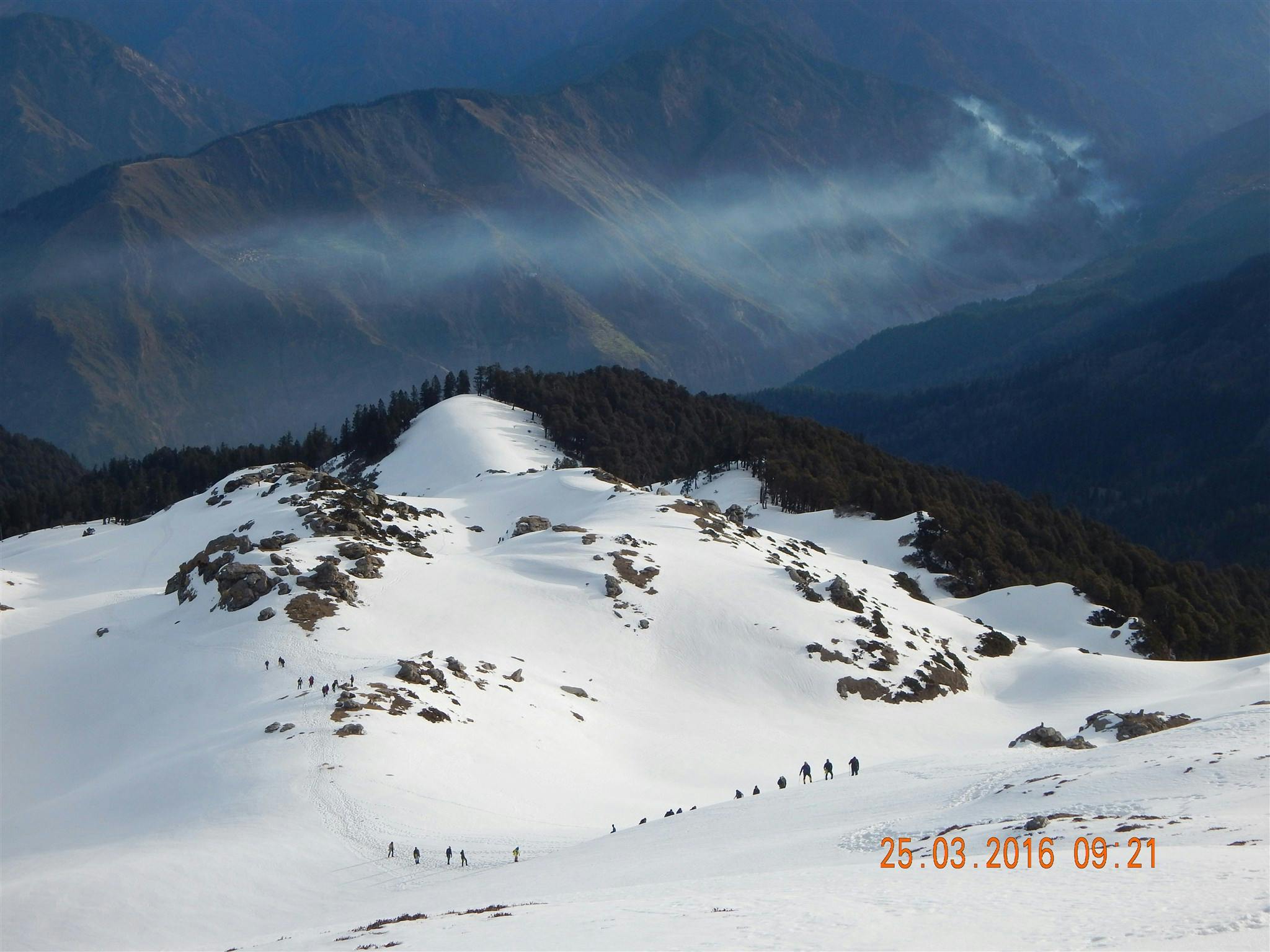 10. Jimit Gadhia – Kedarkantha
Another beautiful campsite and the reflection, well captured. Don't you wish you could live in that tent on the lake!
11. Santanu Sain – Sandakphu
Another tough shot from the trails of Sandakphu. The image has been well captured in spite of low light and fog. We think this picture alone captures the spirit of the Sandakphu trail, where mist floats in and out, surprising trekkers with sudden gifts, such as these flowers!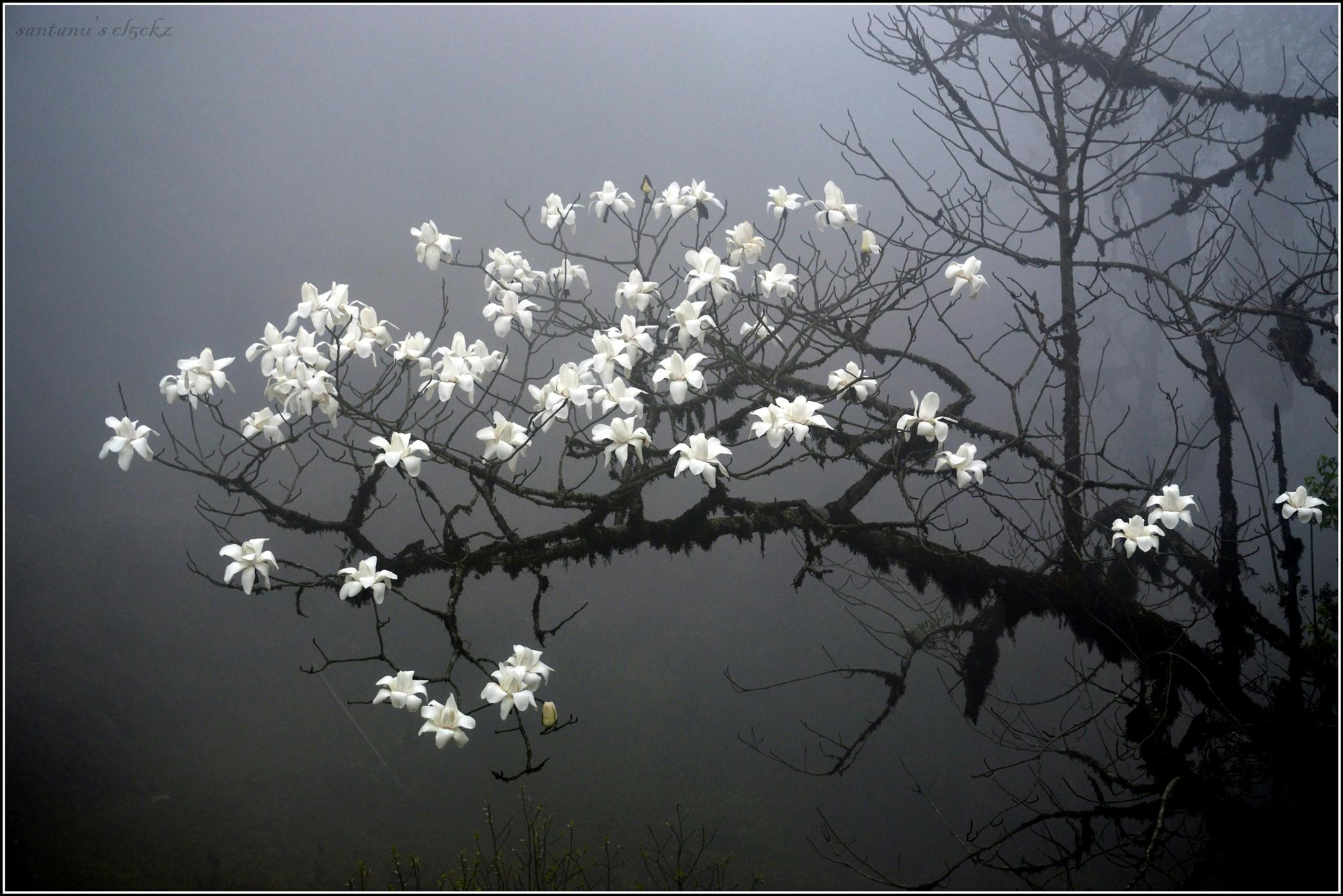 12. Bharath Raj – Kedarkantha
Clear skies, flowers well in bloom, a cottage tucked away in peace, well, things that a city life cannot offer? A lovely capture.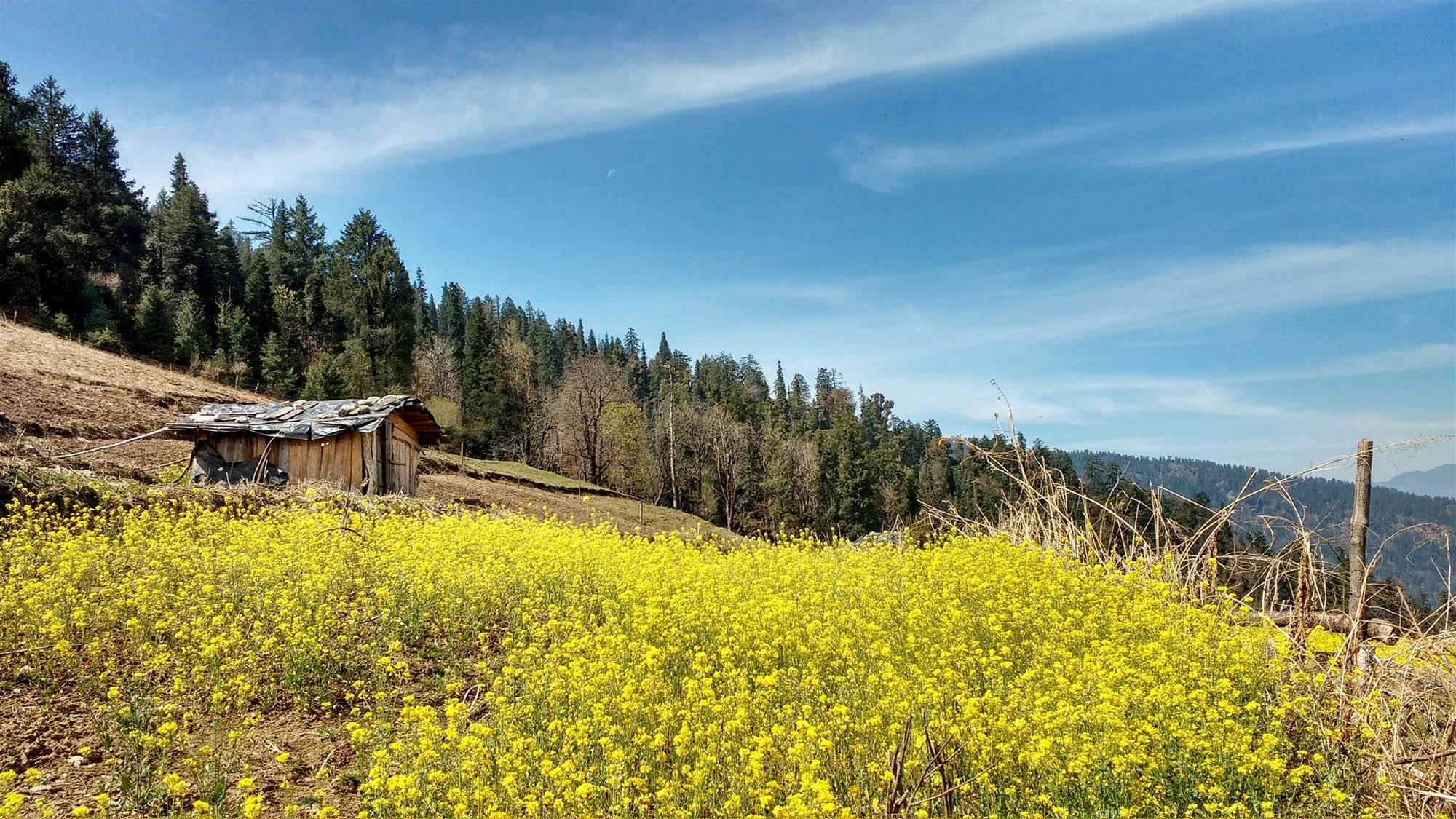 So those are the Top 15 pictures for the March 2016 Photo Contest.
This photograph right below deserves a special shout out. It's a fascinating shot that four trekkers worked to produce! They were making the best use of their torches weren't they? 🙂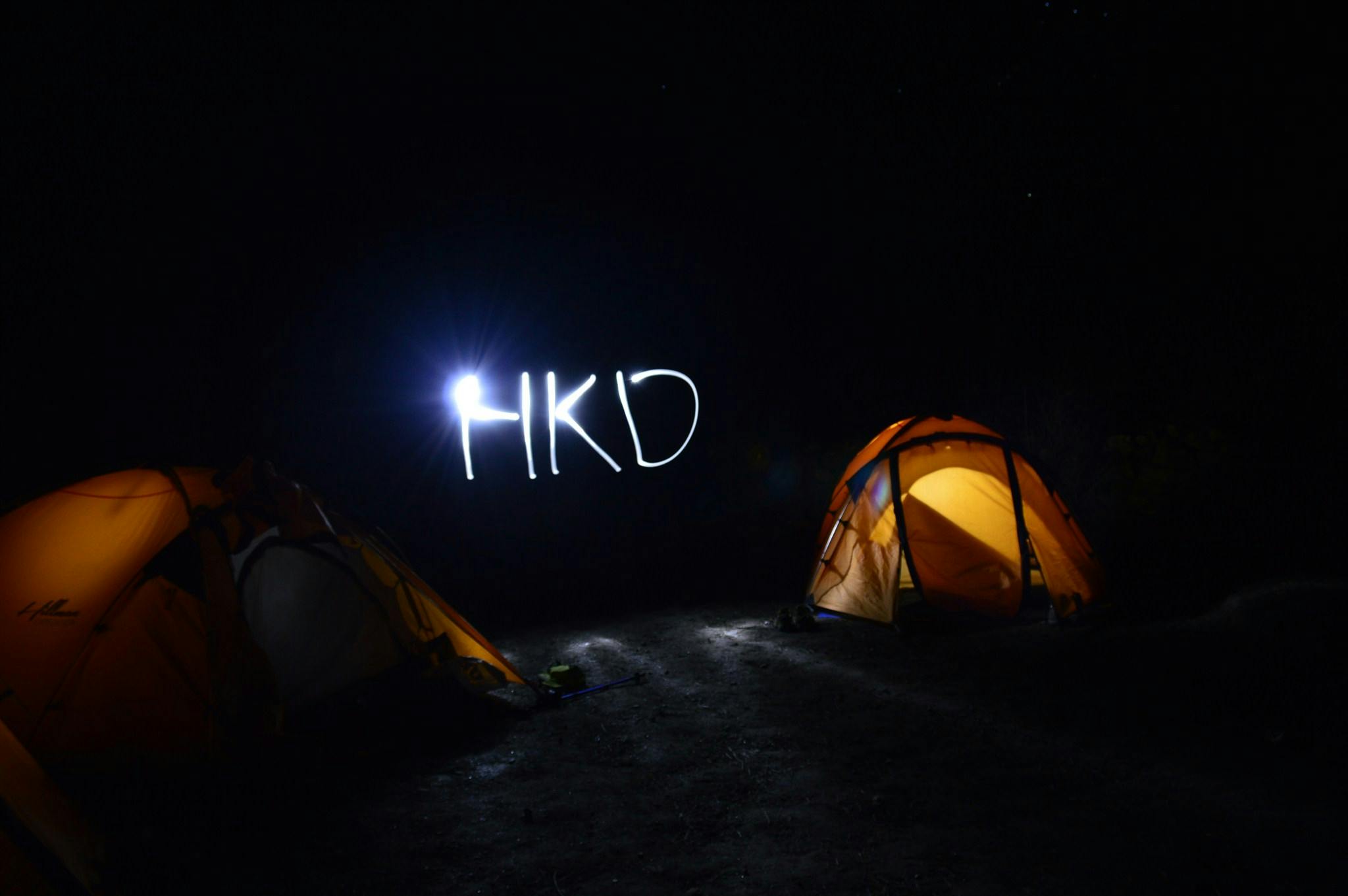 A note about our judge: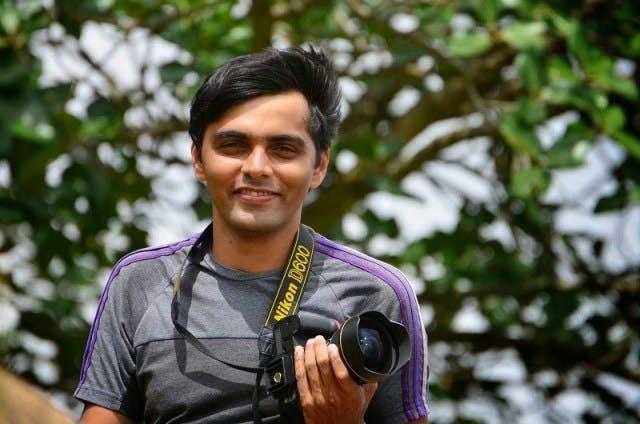 Ravindra Joisa
Ravindra Joisa is a resident of Bangalore and has spent his childhood days in Mangalore, Karnataka, India. He is an outdoor lover and has completed several treks such as Kashmir Great Lakes, Tarsar Marsar and Roopkund.
He was gifted with his first camera – Canon Powershot 100/130 IS (Point and shoot) at the age of 23, using which he had experimented different types of photography for about 5 years. At 28, he bought his first DSLR Nikon D600 (full frame, currently using D610) along with a 50mm 1.4D prime lens.
Ravindra now specializes in photographic education and plans for leading photo tours on weekends. He uses a unique blend of illustrations, animations and photographs along with his experience in photography, all of which makes learning photography easy and fun. 
You can take a look at this website here – http://www.ravindrajoisa.com/
You can also follow his accounts on Facebook or Twitter. He's always posting fantastic pictures! 
To take a look at the winner of the March 2016 blog contest, click here.
Sign up for our much loved Weekly Mailer
We have terrific trekking tips, trek updates and trek talks to look forward to