3 Nepal Treks You Cannot Overlook This Year
Share this story
3 Nepal Treks You Cannot Overlook This Year
By Swathi Chatrapathy
2019-08-16
The whole world treks in Nepal! Every time our teams go to Nepal, they bump into trekkers and mountaineers from the remotest parts of the world. And they are all in Nepal just to get a glimpse of the world's tallest, most intimidating mountains. 
So it's no surprise that most high altitude trekkers believe their lives are incomplete without a trek in Nepal. 
I'm proud that at Indiahikes, we run 3 of Nepal's best treks. 
I'm writing to you particularly in February, because now is when you must plan a trek in Nepal, if you haven't started already (it's already a bit late). 
And the 3 treks I'm talking about today are best done in spring — the months of March and April.
Spring in Nepal is all about lovely blue skies, with the tallest mountains of the world etched into the horizon. They stretch as far as your eyes can see. If you time it even one week after spring, you risk the chance of the mountains being covered by a summer haze. So time it well within the spring season for the best views of the big mountains!
Let's start with the trek everyone must do but no one has heard of — The Khopra Ridge Trek
This is a trek we brought out in 2018. It's a terrific trek where you see the real mountains of Nepal. We talk highly about the Khopra Ridge trek because our trek leaders feel it is even better than the Annapurna Base Camp trek. 
• You see 23 big mountains of Nepal on this trek — including the Annapurna Massif, the fish tail Machapuchare and the 7th highest summit in the world Dhaulagiri. Even on the ABC you do not see as many mountain views as you do in this trek. 
• Variety — Besides, the trek has superb variety of forests, and alpine zones. In Nepal treks you generally don't get such variety — which makes the Khopra ridge extremely endearing.  
• Added to the mountain views, this is perhaps the least known trek in Nepal. So while it has the lovely tea houses that Nepal treks boast of, it doesn't have the infamous crowds of Nepal. 
• The cherry on top is the climb to Khayar Lake, which takes you to 16,000 feet. The lake remains hidden until you actually get there. Trekkers love the adventurous climb to the lake. It is thrilling, adrenalin pumping and takes you to a rarefied alpine zone. Trekkers who have done Roopkund will immediately see the similarity. 
Click here for the Khopra Ridge Trek details, trek itinerary, and other trek information.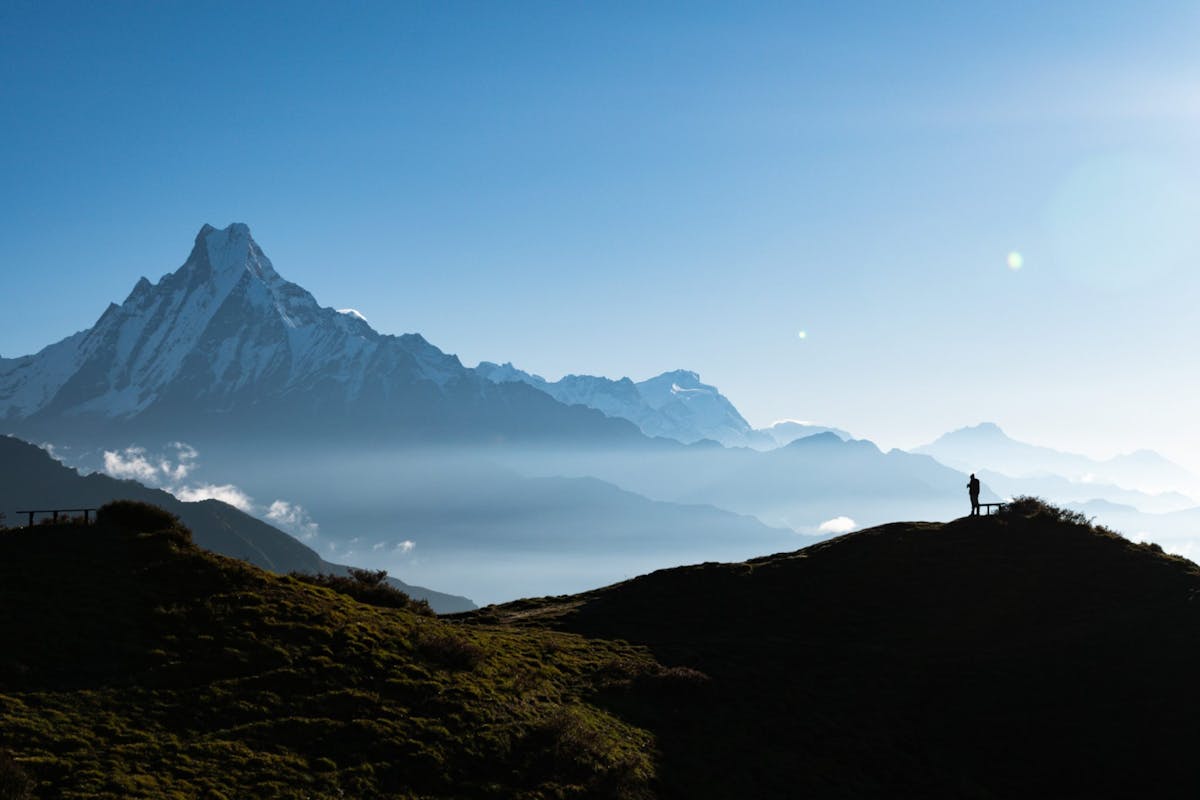 The early morning view from Muldhai viewpoint, Khopra Ridge trek, Nepal. Picture by Krunal Patel
Next, where the whole world treks (and with good reason), Annapurna Base Camp!
I'll be honest here. Annapurna Base Camp is not an unknown trek. It is crowded, it has a paved staircase throughout, it is almost too well-established.  
Having said that, I'm yet to see a person who has been left unimpressed by this trek. Standing before the regal Annapurna South Face can make even the hardest mountaineer weak in the knees. And this is what happens to most trekkers. 
You see almost 10,000 feet of the sheer south face of Annapurna right there at your fingertips, close enough for you to get on it and climb it yourself! It's a jaw-dropping sight! 
To top it off, our trekkers reach the base camp at the break of dawn. The golden light show on the Annapurna massif is a sight to behold! I'd be surprised if you didn't shed a tear.
What makes it even more compelling is that this trail is home to so many historic mountaineering feats. Annapurna was, after all, the first eight thousander to be scaled as early as 1950. The foreboding mountain has taken hundreds of lives, it has allowed a few feats, and it still remains one of the toughest peaks to scale. It isn't half as commercialised as Mt Everest. So it retains the raw grandeur that comes with the big mountains of Nepal! 
I would strongly recommend reading some books on Mt Annapurna before going there. Who knows! You may even bump into some famous mountaineers. I know our Trek Leaders have! 
Click here for the Annapurna Base Camp Trek details, trek itinerary, and other trek information.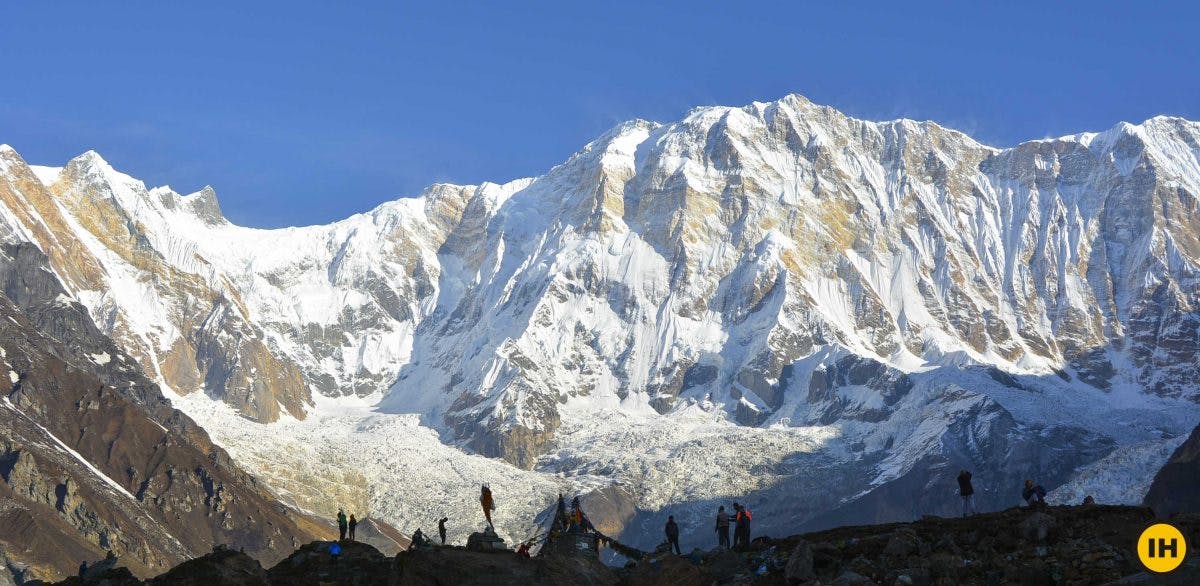 The daunting Annapurna Massif as seen from the Annapurna Base Camp. Picture by Indiahikes Team
Lastly, the Everest Base Camp Trek via Gokyo Ri
Nearly 80% of the world does the Everest Base Camp trek on the standard route — via Tengboche. Which is good. Because they have left the best route to a few others, which is via Gokyo Ri. 
The trail to EBC via Gokyo Ri forks at Namche Bazaar and stems away from the main trail. You bid goodbye to most of the crowd at this junction. 
I'll admit that it is slightly more difficult. You do go over 17,000 feet three times on the trek. But considering EBC is a difficult trek, the Gokyo Ri route is only slightly more difficult than the regular route. 
But the Gokyo Ri route makes all the difference. 
The views of Cho Oyu, better views of Mt Everest, the terrific trek alonge five blue alpine lakes (which you don't see on the regular route), the thrilling climb to Chola Pass, climbing to the summit of Gokyo Ri and Kalapatthar, suffice to say, it is overwhelmingly better than the crowded regular route. 
And that's why at Indiahikes we are so much in love with the Gokyo Ri route.
Click here for the Everest Base Camp via Gokyo Ri Trek details, trek itinerary, and other trek information.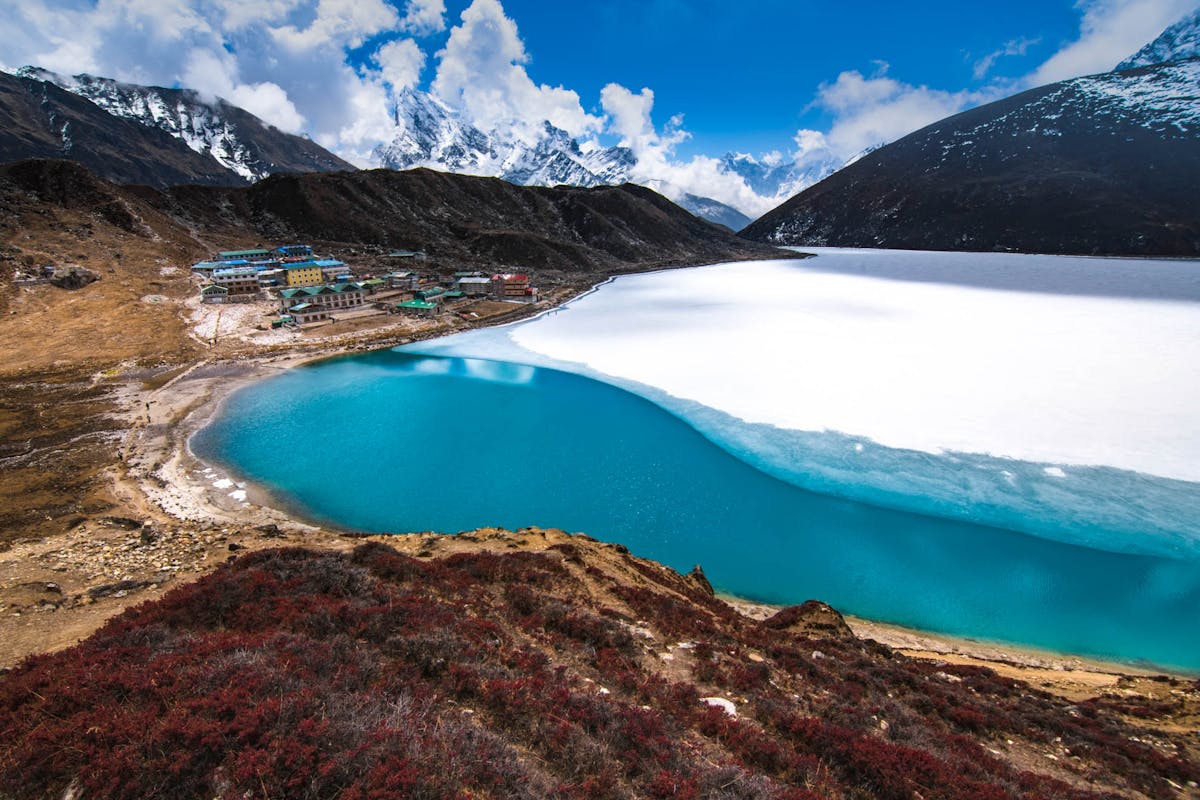 A view of Gokyo Ri on the Everest Base Camp – Gokyo Ri Trek. Picture by Geet Tryambake
Getting back to why I am sending you this email today. All these Nepal treks have a life of their own in spring. And I thought this email would be a timely reminder to put you in action. 
If you have any questions about trekking in Nepal, drop in a comment below. We have several Nepal experts on the Indiahikes team, who can answer them for you! 🙂 
LEAVE A REPLY
Your email address will not be published. Required fields are marked
Latest Updates
Our Second International Trek is Here!
We've Opened Groups for 4-Day Treks Near Manali
Warwan Valley Dates Announced
We Are Looking For Remote Trek Documenters
New Video On How To Do The Sandakphu Trek On Your Own
Sign up for our much loved Weekly Mailer
We have terrific trekking tips, trek updates and trek talks to look forward to