Can You Help Us With Photographs Of This Trek?
We are looking to enrich this documentation with more photos. Pictures go a long way in explaining the trail, more than words ever can. If you have done this trek, can you share your photos with us? We will include them on this page, with due credit to you. Click here to contribute.
The Bajling Top Trek is an unexplored trail in Uttarakhand. On our recent treks in Pindari and Sunderdhunga valleys in Kumaon, we happened to discover a few interesting day treks. With the closure of Kafni Glacier route (due to landslides), the Indiahikes team had a few extra days to spare for some added excursions. In the following blog, Vaibhav Chauhan talks about his personal experience trekking near Pindari – Kafni & Sunderdhunga Glacier.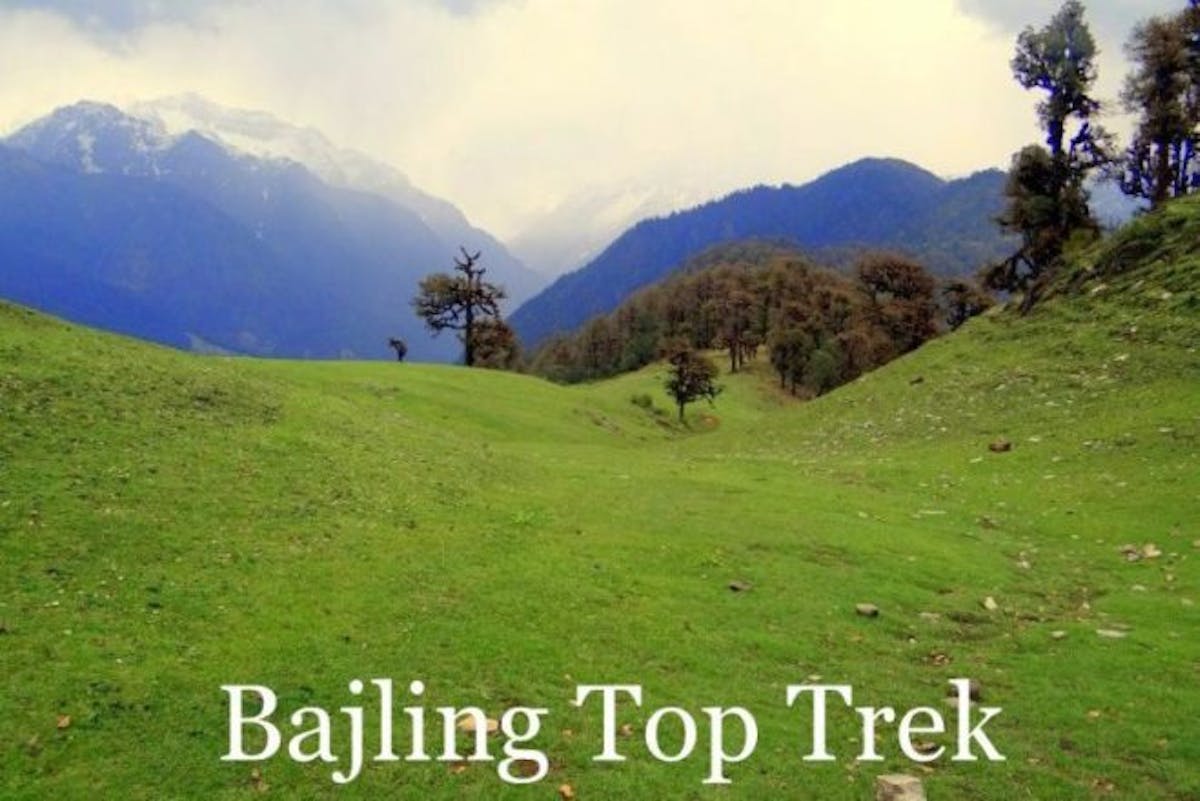 It was 5 pm and we had just returned from Pindari Glacier to the safe havens of Khati village. Tired but dazed with the beauty of Pindari Glacier, we retreated to a small dhaba for coffee and crispy french fries. We heard a group of foreign mountain cyclists talking about a day-long hike from Khati village. On speaking to them further, we learnt of a one-day trek to the mountain top above Khati village. The name of the trek was not clear, coming from European cyclists. One name that caught my attention was "Pankhwa Top."
Having read about Pankhwa Dhar (or Top) in Harish Kapadia's book, I asked my guide about the route details. Pankhwa Dhar is located on the top-most connecting ridge above Khati village. One has to climb up via the dense forest of Pangras Dhar and pass the twin meadows of Jaikun Dhar and Bajling Dhar. We estimated the trail distance to Pankhwa Top to be around 12 km one way. This would involve overnight camping. Having an extra day to spare, we thought of trekking to Bajling Dhar and camping there for the night. We were told to start early as it generally rains late in the morning.
There is no source of drinking water en route, so we had to carry extra water for the entire trek. There are two known routes to Bajling Dhar from Khati. One is by retracing the trail going back to Kharkiya and taking a trail ascending up the forest ridge (from Khati school) to Jaikun and Bajling Dhar. The second one is a shorter, but steeper one that ascends from the forest ridge above the New KMVN Lodge on Khati to Dwali trail. The second trail made more sense to us, as it was a short-cut and we could think of getting back to base before the regular afternoon thunderstorms. With most of the Pindari Team choosing to leave for Almora, Sudhir, Akhil and I were the only ones going on this trek. After waking up early and saying goodbye to other trekkers, we started our day trek. Our guide for the day was our cook, Mohan.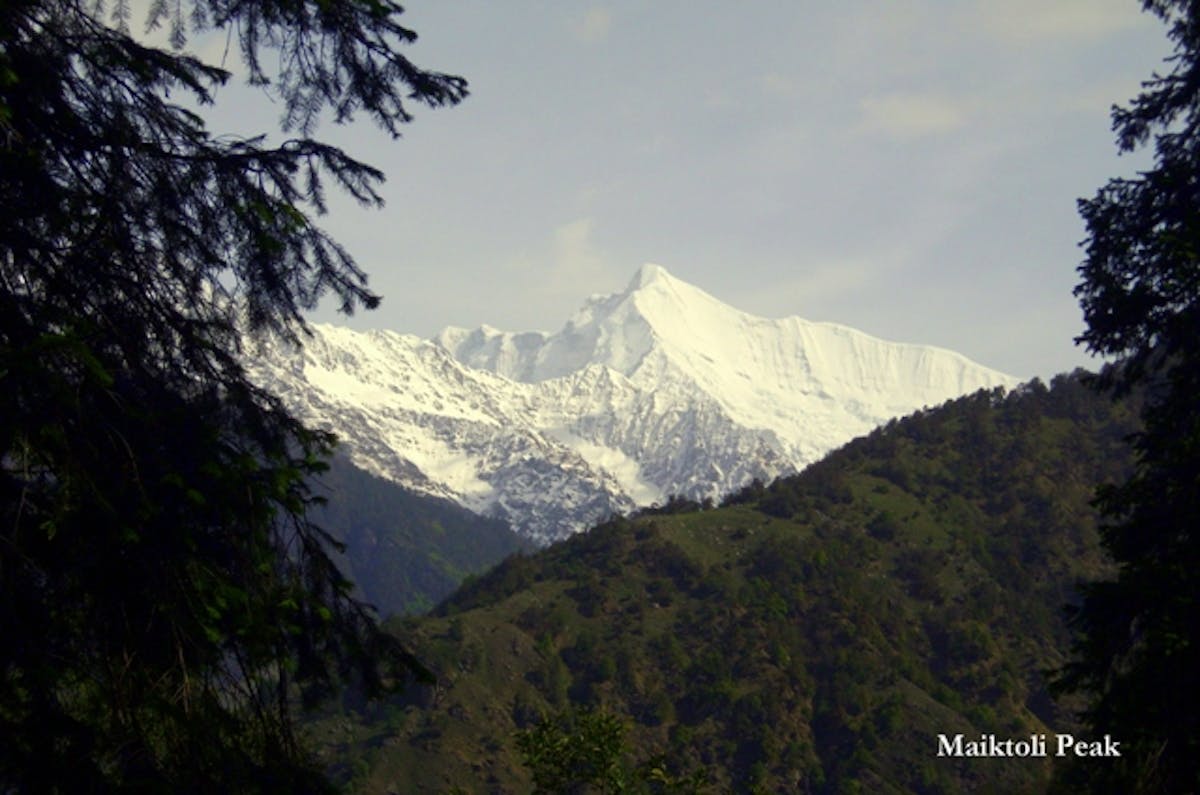 Taking the Khati-Dwali trail, we re-visited the Pindari trail, from where we had returned the previous day. Passing by New KMVN Guest lodge, Mohan took a sharp right and took a barely visible trail ascending the forest ridge towards our right. "Short-cut hain, sir," Mohan replied with conviction. As we entered a dense forest trail, the climb was steep with never ending scissor bends. But Mohan was correct in his account, the trail was very much present, used by locals and shepherds frequently. An hour and a half of laborious climb later, we had reached a small ground known as Pangrus Dhar. We saw a couple of broken shepherd huts without roofs. Ahead of us was the connecting ridge from Jaikun dhar (not visible and behind the ridge) to Bajling Top towards our right. Having climbed over 1700 feet, we still had another 850 feet to climb. We proceeded along the forested ridge towards our right and entered the first open meadow. The views from here were fantastic. The peaks were obscured with clouds, but still made for a beautiful sight.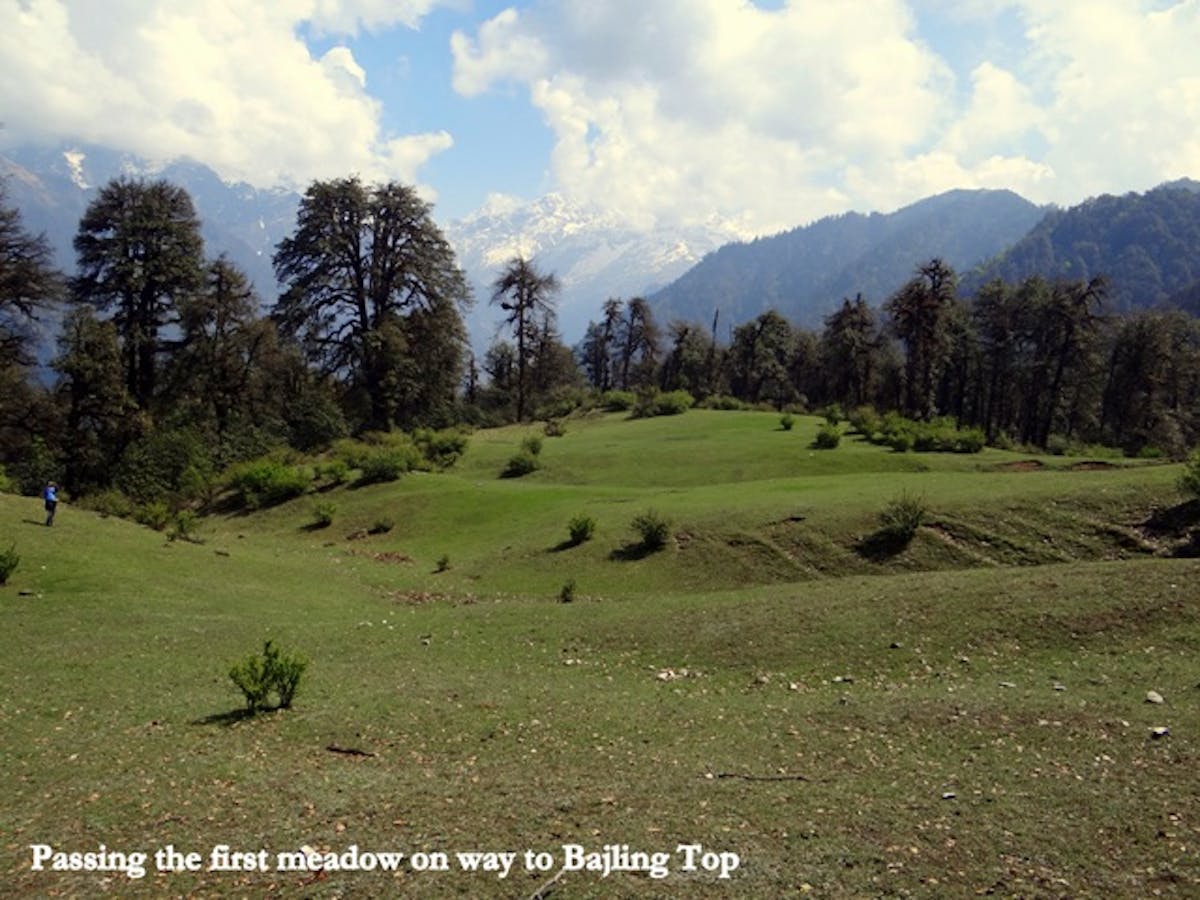 Leaving this lovely meadow behind, we re-entered the forest ridge. From here, we saw Maiktoli Peak towards Sunderdhunga Valley from a few spots where the forest was not dense. The weather started to deteriorate as clouds began to envelope the ridge. We knew we had to push if we wanted a good view from Bajling Top. Once we reached the high ground of the forest ridge, a 20 minute ridge walk was all that was left to reach the meadows of Bajling Top. Passing by an old temple, we were greeted with a grand view of the wide expanse of the beautiful grassland of Bajling. As we descended from the grass hill top, we were at a zone, from where we got a 360 degree view of Pindari Valley. Towards our left and below, was Khati Village. The forest ridge ahead of us ran all the way to Pankhwa Top, which was clearly visible in front. Behind Pankhwa, we could see Nandabaner (6,236 m), Nandakot (6,861 m) and Laspadhura (5,913 m) peaks. Towards our right below was Supi village. Mohan told us one can trek from Supi village to Bajling Dhar and Supi Village is connected with a motarable road. He also suggested trekking here in winter, when Bajling Dhar receives snowfall.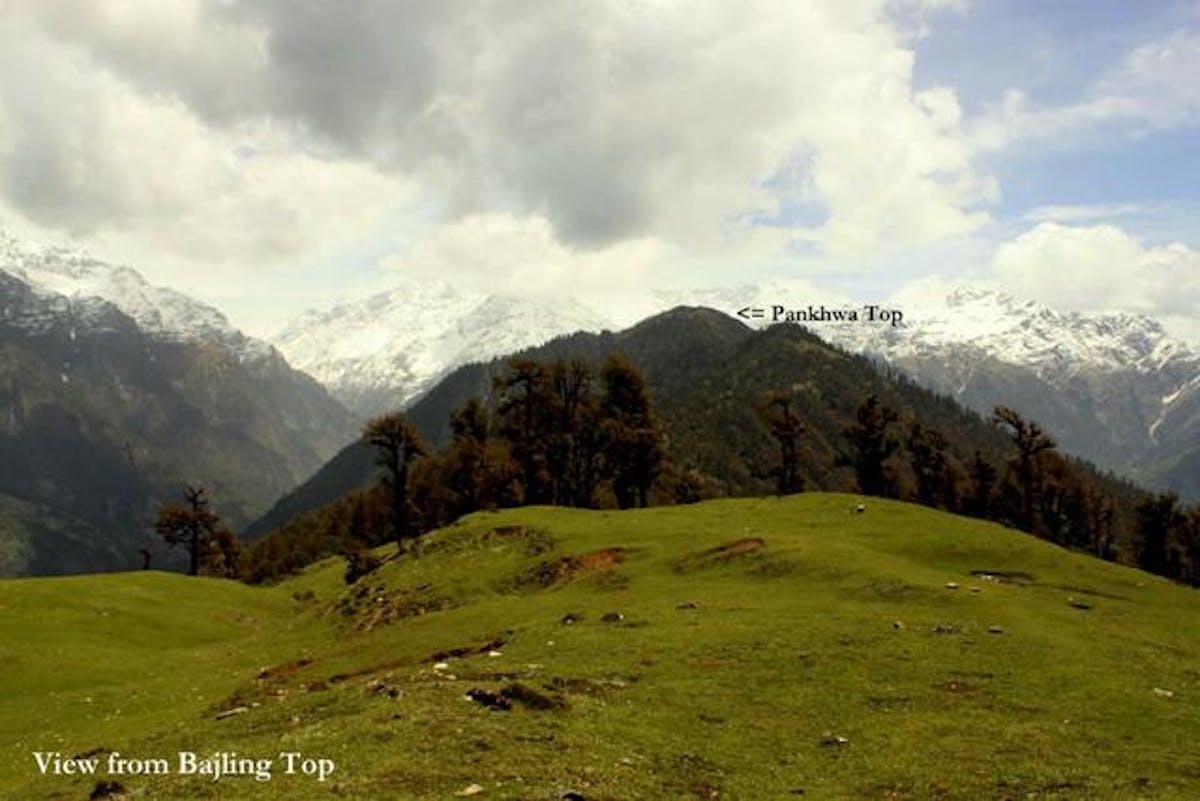 The trail to Pankhwa Top did not look that far but it would easily be over 8 km of ridge walk from here. I remembered the pictures taken of Pankhwa Top in Harish Kapadia's book. One can even see the Pindari Glacier ice field from Pankhwa Top, something I wanted to see. Knowing the weather now would not allow us to attempt Pankhwa Top, we decided to retreat back to Khati. We were able to make a few phone calls from here, but the signal was weak. The return to Khati was a swift but tiring one. Our guide took us from another short-cut, which turned out to be a slippery, harrowing experience over a dense forest with no actual trail. Ironically, Mohan had no idea of the trail and refused to acknowledge his shortcoming. We saw him trek down the slippery forest in green Paragon slippers with relative ease, while we kept slipping in trekking shoes. This short-cut is something that I'll never recommend to anyone. To wrap up, Bajling Top Trek is a nice leisurely trek that needs a special mention. The trek is recommended for those looking to do something more while trekking in Pindari Valley. On a clear day, the views from the top are outstanding. One has multiple options of trekking further to Pankhwa Top or down to Supi Village or doing a ridge walk all the way to Dhakuri camp site, which is the most beautiful camping spot of the region.
➤ Short Itinerary
An unexplored trail in Uttarakhand
Experience the thrill of trekking to the high ground of the forest ridge to reach the beautiful meadows of Bajling Top.
The trail provides stunning views when you descend, a zone which offers 360 degree view of Pindari Valley.
Towards our left and below, was Khati Village. The forest ridge ahead of us ran all the way to Pankhwa Top, which was clearly visible in front.
➤ How to Get Fit for Bajling Top Trek
Cardiovascular endurance 
The secret to ascending any trail lies in building your cardiovascular endurance. You can begin by jogging everyday. Ideally, you should be able to jog 4 km in 20 minutes before the start of the trek. It takes time to be able to cover this distance in the given time. Start slow and increase your pace everyday. Swimming, cycling and stair climbing without too many breaks in between can help too. Strength This is another area you should work on. You will need to build strength in your muscles and in your core body. You can do some squats to strengthen your leg muscles. Do around 3 sets of squats, with 8 squats in each set. Apart from this, you can add planks and crunches to your work out.
Flexibility
Another aspect that will help you trek comfortably is flexibility. For this, you can do some stretching exercises – stretch your hamstrings, quadriceps, hip flexors, lower back muscles and shoulders regularly. Carrying a backpack, however light, can become a strain after a while. These exercises will help you to be in good shape before the trek. Working out indoors
➤ What to Take on Your Trek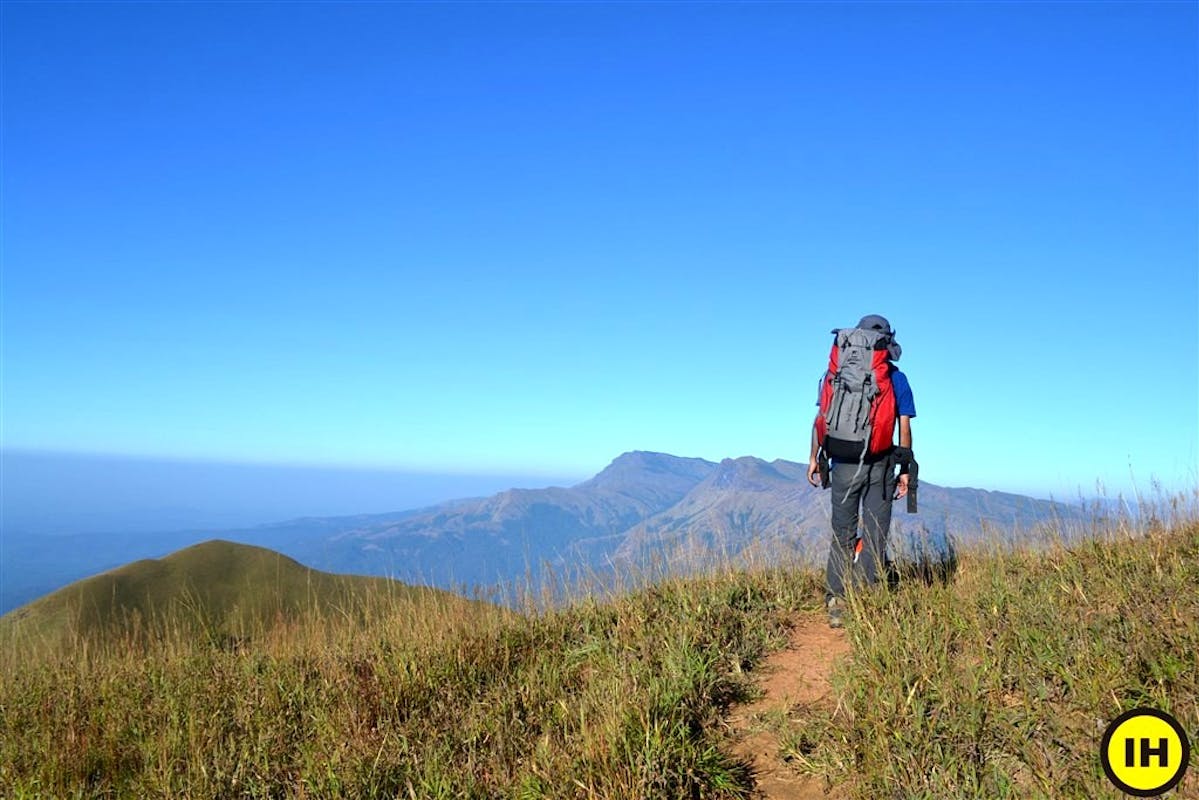 No, stuffing it all in isn't the right way to do it Packing a backpack correctly saves precious time that you might waste trying to find your things later. It is wise to spend some time on learning what really goes into packing a backpack.
What should I pack? On a trek, you only get what you take. Something as simple as a forgotten matchbox can cripple your cooking plans throughout the trek. So, it's essential to prepare early and prepare well. To begin with, make a checklist. While shopping, remember this thumb rule – keep it light. "Every item needs to be light. This ensures that your backpack, on the whole, stays light," says Sandhya UC, co-founder of Indiahikes. Balancing out heavy items with light ones isn't going to have the same effect as having all light items. "Always opt for good quality, light items," says Sandhya.
How much should my bag weigh?
"Your backpack for a weekend trek should weigh between 8 and 10 kg," explains Arjun Majumdar, co-founder of Indiahikes, "To break it down, your tent should weigh around 2.5 kg, your sleeping bag, around 1.5 kg, and the ration, stove and clothes should constitute the other 5 kg." The best way to plan is by concentrating on the basic necessities – food, shelter and clothes. Gather only those things that you'll need to survive. Do not pack for 'if' situations. "That's one of the common mistakes that people make – packing for 'if situations'. It only adds to the baggage that you can do without on a trek," says Sandhya.
One good way to go about it is to prepare a list of absolute essentials. Start with the most essential and end with the least essential. That way, when you feel you are overshooting the limit, you can start eliminating from the bottom. Another tip is to be smart while packing clothes. Invest in light. wash and wear fabrics. "Replace a sweater with two t-shirts," adds Sandhya. Layering is the mantra when it comes to trekking. Refer to Sandhya's clothes list to pack smart.
How to pack The thumb rule for this one is to eliminate air spaces. Make sure that everything is packed tightly, especially clothes and jackets, as they tend to take up maximum air space. Put in all the large items first. Then squeeze in the smaller ones in the gaps. This ensures minimum air space. A good way to pack clothes is by using the Ranger Roll method.
Where to pack Bottom Sleeping bag: Make this your base layer. Sleeping bags tend to be voluminous, but do not weigh much. They're perfect for the bottom of the bag. Tent: Just like the sleeping bag, even tents are voluminous and light. Keep the tent poles separately and place the fabric at the bottom of the backpack. Middle Heavy jacket: Roll up the jacket in a tight ball and place it in the middle of the backpack, close to your back. The middle region of the backpack should always have the heaviest items. You can store other things like ration or mini stoves in the middle. Other clothes: Roll other clothes and place them in the remaining space, to fill air gaps.
Top Water: Water, although heavy, needs to be easily accessible. So put it in the top most region of your backpack. Medicine box: This is another component that you wouldn't want to be scavenging for when in need. Poncho: It could rain at any time in the mountains. So, ponchos should be accessible easily. Also, having a waterproof poncho at the top of the backpack provides additional waterproofing to items in the bag.
Bajling Top makes for a great trek. But by itself, it's not worth the effort to travel all the way and go for a day trek. What you could do instead is go for a weekend trek at a more accessible location. And none better than Nag Tibba.
It is a must-do weekend trek if you're from Delhi, Gurgaon, Noida or Chandigarh. With lovely oak forests, meadows and stunning views of snow-capped mountains from the top, this trek gives you everything that a long Himalayan trek would. Have a look at some pictures from the trek here
Another great alternative trek you can do which is as easily accessible is the Deoban trek. In just two days, Deoban weekend trek offers you a view that is exclusive. On a clear day, you can spot close to 55 mountains from the highest point of this trek — including Nanda Devi, the tallest mountain entirely in India. This is a rare feast for the eyes. It is difficult to find these views on a seven day trek, much less a two day one!