Can You Help Us With Photographs Of This Trek?
We are looking to enrich this documentation with more photos. Pictures go a long way in explaining the trail, more than words ever can. If you have done this trek, can you share your photos with us? We will include them on this page, with due credit to you.Click here to contribute.
The Complete Guide to the Madhu Makrandgad Trek
Madhu Makarandgad lies in the vicinity of the famous Pratapgad, near Mahabaleshwar (dist. Satara, Maharashtra). Historically, it is said the fort could not see itself in its prime and glory like its neighbor. Shivaji Maharaj, the then ruler of the region conquered the forest of Javali. Due to the dense spread of these Javali trees, this was a feat considered almost impossible by many.
The fort can be approached via two base villages - Hatlot or Chaturbet.
The gradient from each side of the fort is similar. However, the route through Hatlot gives you an experience of walking through the dense canopy of 'Javali' forest.
An approximately two-hour climb through this leads one to a simple, modest Lord Shankar temple. Flanked by jackfruit tress, this temple serves as a perfect space to stay for trekkers interested in a 2-day trek. Temple lies at the base of the final climb to the top of the fort. Descent from the opposite side of the climb leads one to the Chaturbet side of the hike.
The nearest village from this temple, Gonaspur lies on the Chaturbet route. If you choose to self-drive for this trek, you get vehicular access to Gonaspur village. After this, 30-45 minutes of easy hike leads you to the Lord Shankar temple.
The summit gives you a beautiful panoramic view of Mahabaleshwar.
Highlights of the trek
An easy-moderate trek close to Mahabaleshwar, that you can complete within a few hours.
The trail runs through a thick forest canopy, making it ideal in any season, including summer.
Get beautiful views of Mahabaleshwar and the Koyna river from the summit.
Trail Information
Altitude: 4,055 ft
Time taken: 2 hours each way
Trek gradient: Easy-moderate
Water sources: None. Carry at least 2-3 litres of water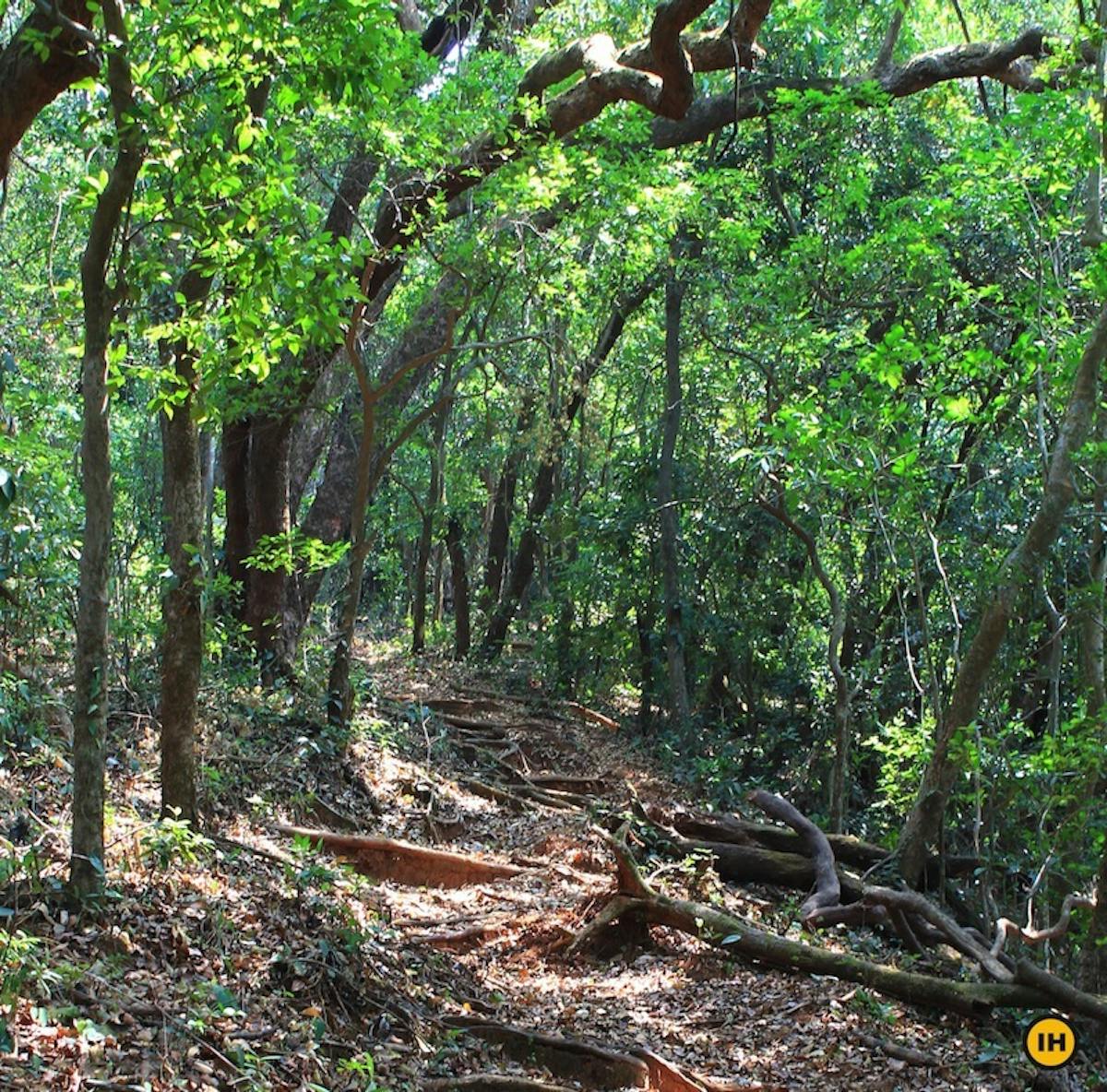 Forested trail on the Hatlot route to Madhu Makrandgad. PC: Nikhil Apte
Once you reach Hatlot village, cross a small bridge, after which the trek route begins. The trek does not have an established cobbled route but is a narrow path initially besides small houses, and later through the woods. Please make sure whenever you face any point where the road is split in two, always choose the left route.
Once you leave the village behind, the trek begins with a much-needed forest trail. The route through this trail is straight. One needs to keep walking over one ridge of the fort's structure.
The route rarely has any forks. However, you need to keep in mind, that the fort pinnacle always needs to be on your right while climbing.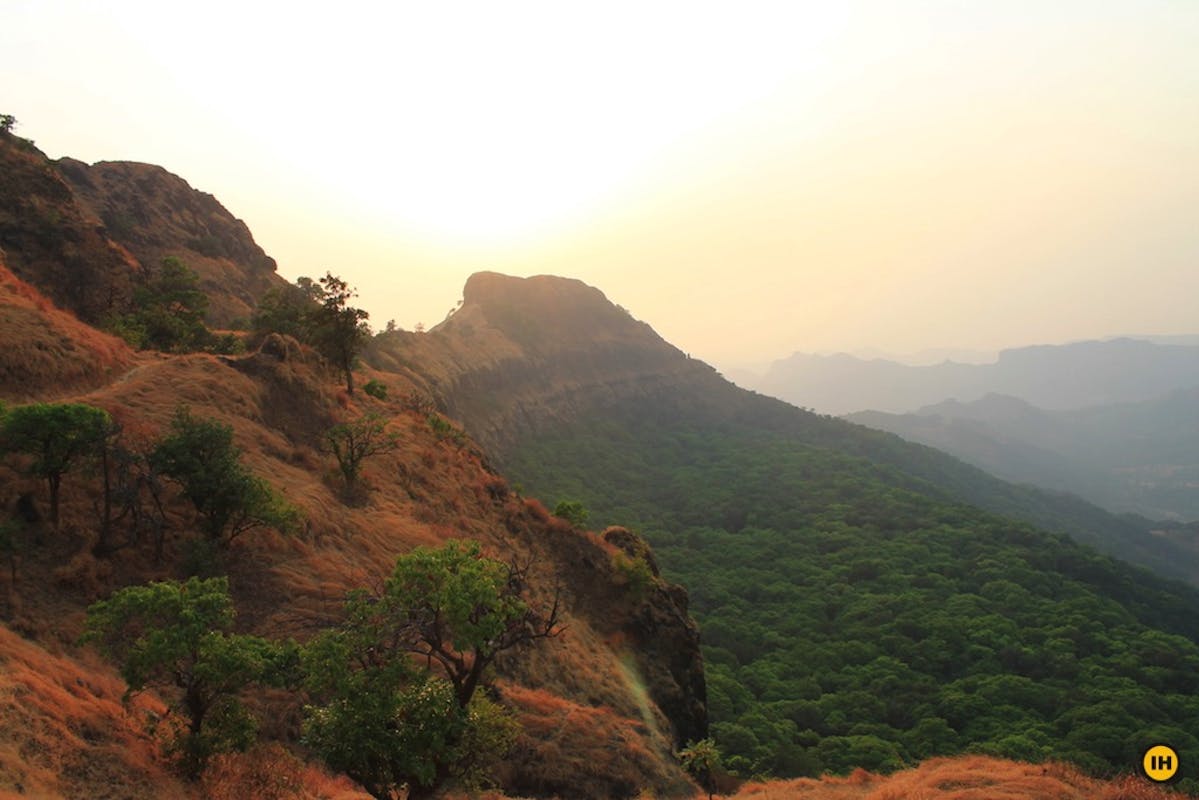 View of Makrandgad from one of the ridges. PC: Nikhil Apte
After about an hour's climb, you pass through a small region, where there isn't any tree cover. You can see a wide stretch of Karvi plants on your right. Karvi is a plant known as trekker's friend and also an indicator of altitude.
As you approach closer to the top, take a left to enter a clearing/open grassland. A walk through this lasts for about 10-15mins. The route is marked with white arrows, keep your right to again enter in a forest patch.
After a 15 minute walk, you come across a big ficus family tree. Spend some time here to observe and feel the silence around the place.
Last walk of about 25 minutes leads you to the first sight of Shankar Temple. This is a good place to stay overnight.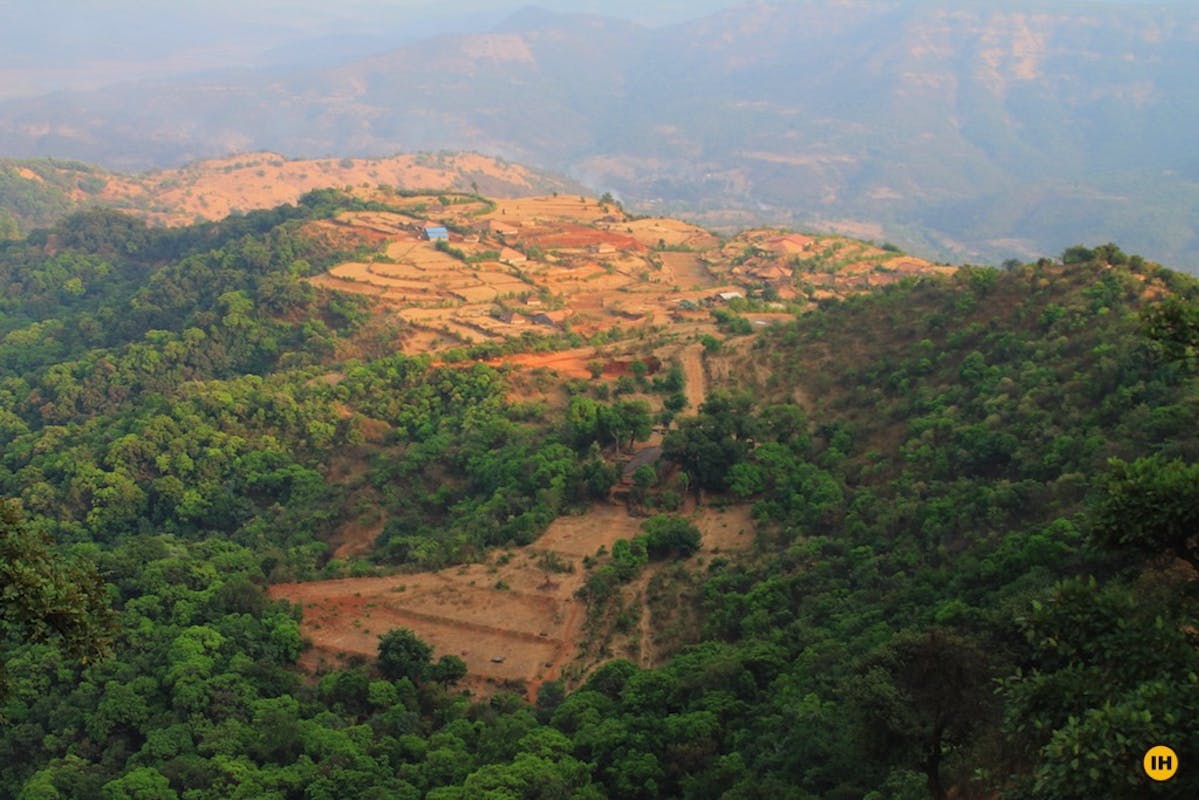 View of Gonaspur village in the distance and the temple in the thicket below. PC: Nikhil Apte
If you face the entrance of the temple, the fort pinnacle lies on your left side. The route is visible, with no for points. A small ascent of 20 minutes will lead you to the best sunset/sunrise view.
Unlike other forts in the Sahyadris, Madhu Makrandgad does not give you a view of historical doors/walls. You encounter a bulky structure of stones, or stones stacked together to give the mountain top a higher elevation. Since the fort never witnessed its construction completion, there are no traces of old hallways/doors etc.
Retrace your path down the same way if you have a vehicle waiting at Hatlot. Else, you can come back to the temple and descent to the other side to Gonaspur village.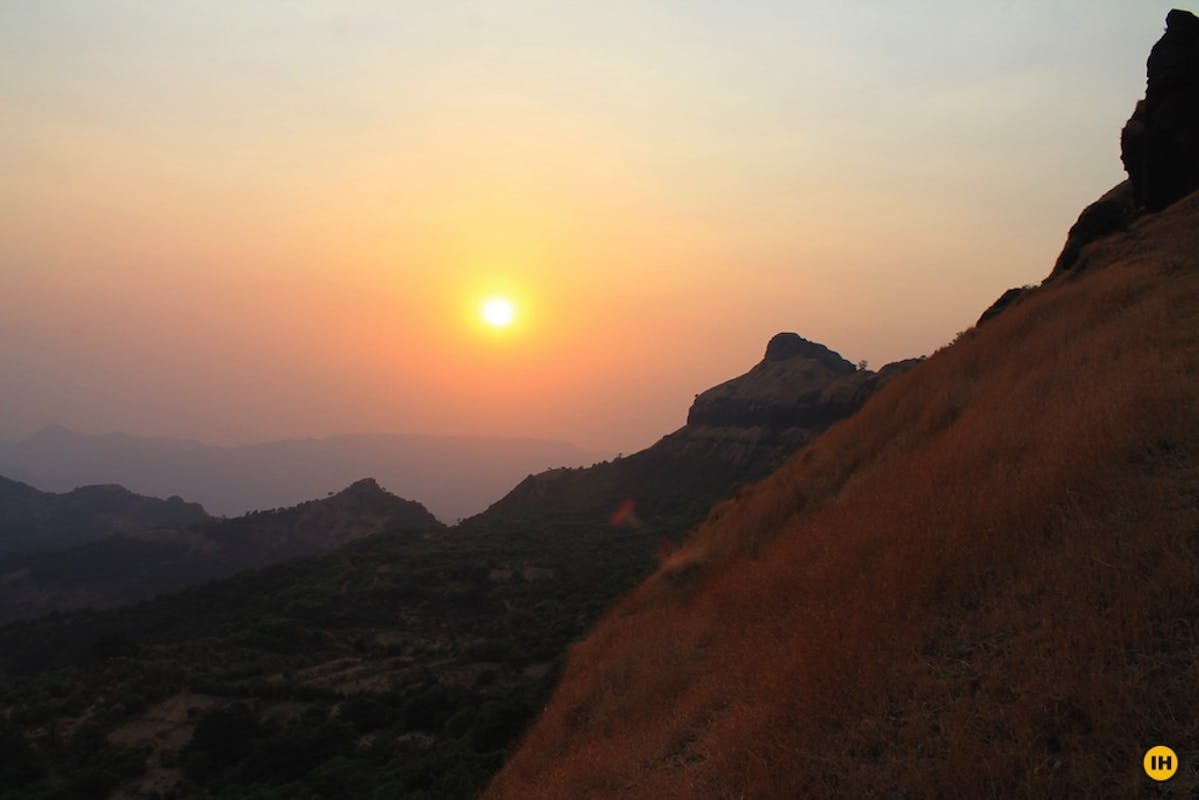 Sunset from Makrandgad. PC: Nikhil Apte
Points to note:
There are no water sources. If you plan to stay overnight at the temple, carry sufficient water with you.
There's no food available on the trail. You can request packed meals from the base village below. If you head up from the Gonaspur side, you can contact Lakshman Barge at 94213 18358 for fresh meals which you can get packed.
Hatlot village offers homestays. INR 500-700 for twin sharing rooms (negotiable)
You can carry your own mats and sleep in the temple compound on the trail at no cost.
How to plan your travel
Drive from Pune
Pune- Mahabaleshwar distance is approximately 120 km and 4hours drive
Once you cross Mahabaleshwar, take the route towards Ambe Nali ghat, the road leading to Pratapgad. Villages/areas you cross - Haroshi, Kumbharoshi, Par.
Take a left turn towards 'Paar gaon'. Keep following the road until you reach a T junction. Take a left towards 'Hatlot' village. After left, keep following the road for about 45 mins until you come across a bridge. Take a U-turn to head towards Hatlot. The straight route here leads to Chaturbet. The main river you cross/ drive along for a while is Koyna river)
As you approach Hatlot, you will cross a temple on your left. Keep going straight, you will find a river/stream. Near this area, parking facility is available.
Bus from Pune
Departure: Pune (Pune Station, Swargate, Katraj options)
Timings: Almost every two hours. First bus as early as 5.30 am.
Travel time: Approx 4 hours. (Subject to change as per weather and driver)
Arrival: Mahabaleshwar
Fares: Ranging between 130-200 (Depends upon the kind of bus you choose)
Mahabaleshwar to Hatlot village bus frequency is low.
Trek Contribution
Author: Rucha Ghanekar.