Can You Help Us With Photographs Of This Trek?
We are looking to enrich this documentation with more photos. Pictures go a long way in explaining the trail, more than words ever can. If you have done this trek, can you share your photos with us? We will include them on this page, with due credit to you.Click here to contribute.
Hills, rhododendrons and tea estates in God's Own Country, Kerala
View hundreds of blooming Rhododendrons, charming tea estates and gurgling brooks.
Meesapulimala is a trek through eight hills, passing through the shared border of Tamil Nadu and Kerala.
Meesapulimala Peak trek is a trek through lush green valleys, hundreds of blooming Rhododendrons, charming tea estates, gurgling brooks - peace is easy to find in the idyllic surroundings of Meesapulimala. Located at a significant altitude of 8,661 feet in the Idukki district of Kerala, Meesapulimala is a trek through eight hills, passing through the shared border of Tamil Nadu and Kerala.
This 8 km trek from Rhodovalley takes you through high-altitude grasslands, rainforests and wildlife. The Meesapulima Peak is called so because it apparently resembles a tiger's face, although you're not likely to spot any tiger here. "Meesa" means mustache, "puli" means tiger and "mala" means hill. Hence, it is from this that the peak gets its name and this is why it is called so.
This is just a day's trek and hence trekkers of any age can go for this trek. There are plenty of scenic spots on this trek that trekkers can enjoy and capture. It is an easy to moderate trek and therefore can be completed without any hindrances.
Trail Information
Trek to Meesapulimala through Rhodovalley
Trek duration: 6-8 hours
Distance: 8 km
Trek difficulty: Moderate
The trail starts from a Jeep track that goes to the base of the hill. After around 10 minutes, the trail swerves left. It becomes steeper, taking you towards the peak of the first hill. The climb here takes a good 30 minutes. This trail also boasts of Neelakurinji flowers that bloom once in 12 years. From atop this hill, you can see the Meesapulimala peak to the left. You can also catch a glimpse of Munnar and Suryanelli town.
Descend this hill. You'll soon come across a small stream, which you need to cross. The Anayaironkal Lake appears on this trail. Another 20 minutes later, you ascend the next hill. The remaining hills are easy to climb and of similar heights.
Soon, you reach the seventh hill. This is a relatively steep climb. Once you cross over the remaining hills, you finally reach Meesapulimala Peak. You also get a view of the shared border between the states of Tamil Nadu and Kerala. The trek from Rhodovalley to the peak takes around 2 hours.
Note: The trek can also be started from Silent Valley, which is 6 km prior to Rhodovalley. The trek starts from the forest behind Sky Cottages at Silent Valley and takes you through waterfalls, marshy lands and grasslands, until you reach Rhodovalley.
Descent:
The descent is from the other side of hill and is steep. It enters shola forests and remains in the forest for around 40 minutes. Another 30-40 minutes later, you will get a glimpse of beautiful Kollukumalai tea estates that are situated at a height of 6,675 feet. A Jeep track around these estates takes you to Suryanelli town in another couple of hours.
You can also retrace your route and trek back to Rhodovalley from Meesapulimala.
Trek to Meesapulimala through Kurangini
Trek duration: 9 hours
Distance: 15 km 
Trek difficulty: Moderate
This route starts from Kurangini, a small village. The trail gradually inclines towards a steep mountain. The trek is steep, exhausting and there are no water sources on this trail. After 2-3 hours of trekking, you reach a peak with a single pine tree. From here, the path zig-zags around the curves of the mountain.
One to two hours later, you will hit 48 hair pin bends that lead you towards Kollukumalai tea estates. As you trek, watch out for panoramic views of green valleys and vast stretches of grasslands. Walking through this stretch leads you towards shola forests.
From the forest, it is another 1.5 km to Kollukumalai tea estates. The stretch towards tea estates can be tough, especially if the route is covered with vegetation. These tea estates are situated at a height of 6675 feet and boast of an old tea factory built by British.
Beyond the tea plantations, the narrow trail enters a Jeep track and ascends. Once the tea plantations end, the trail becomes narrow, entering once again into shola forests. The summit is close from here. The final one kilometre trek to the peak is slightly steep.
Food and Accommodation
Rhodovalley, Silent Valley, Kollukumalai are good places for accommodation. Take sufficient water, as there are not many water sources on the trail. Avoid monsoon time as the trails can be very slippery and full of leeches.
How Difficult is the Meesapulimala Trek
Cardiovascular endurance
The secret to ascending any trail lies in building your cardiovascular endurance. You can begin by jogging everyday. Ideally, you should be able to jog 4 km in 20 minutes before the start of the trek. It takes time to be able to cover this distance in the given time. Start slow and increase your pace everyday. Swimming, cycling and stair climbing without too many breaks in between can help too. Strength This is another area you should work on. You will need to build strength in your muscles and in your core body. You can do some squats to strengthen your leg muscles. Do around 3 sets of squats, with 8 squats in each set. Apart from this, you can add planks and crunches to your work out.
Flexibility
Another aspect that will help you trek comfortably is flexibility. For this, you can do some stretching exercises - stretch your hamstrings, quadriceps, hip flexors, lower back muscles and shoulders regularly. Carrying a backpack, however light, can become a strain after a while. These exercises will help you to be in good shape before the trek. Working out indoors
How to Plan Your Travel
How to reach the start of the trek
There are two popular trails to this peak. The shorter one (8 km) is through Rhodovalley, which is so named because of plenty of rhododendron trees lining the valley. The longer one (15 km) begins from Kurangani.
To reach Rhodovalley
Board a bus towards Munnar, which is 463 km from Bangalore. You can then catch a Jeep towards Rhodovalley.
To reach Kurangini
Board a bus to Theni in Tamil Nadu. Theni is around 430 km from Bangalore. From there, you get buses to Bodi, which is around 16 km from Theni and then board another bus to Kurangini.
What to Take on Your Trek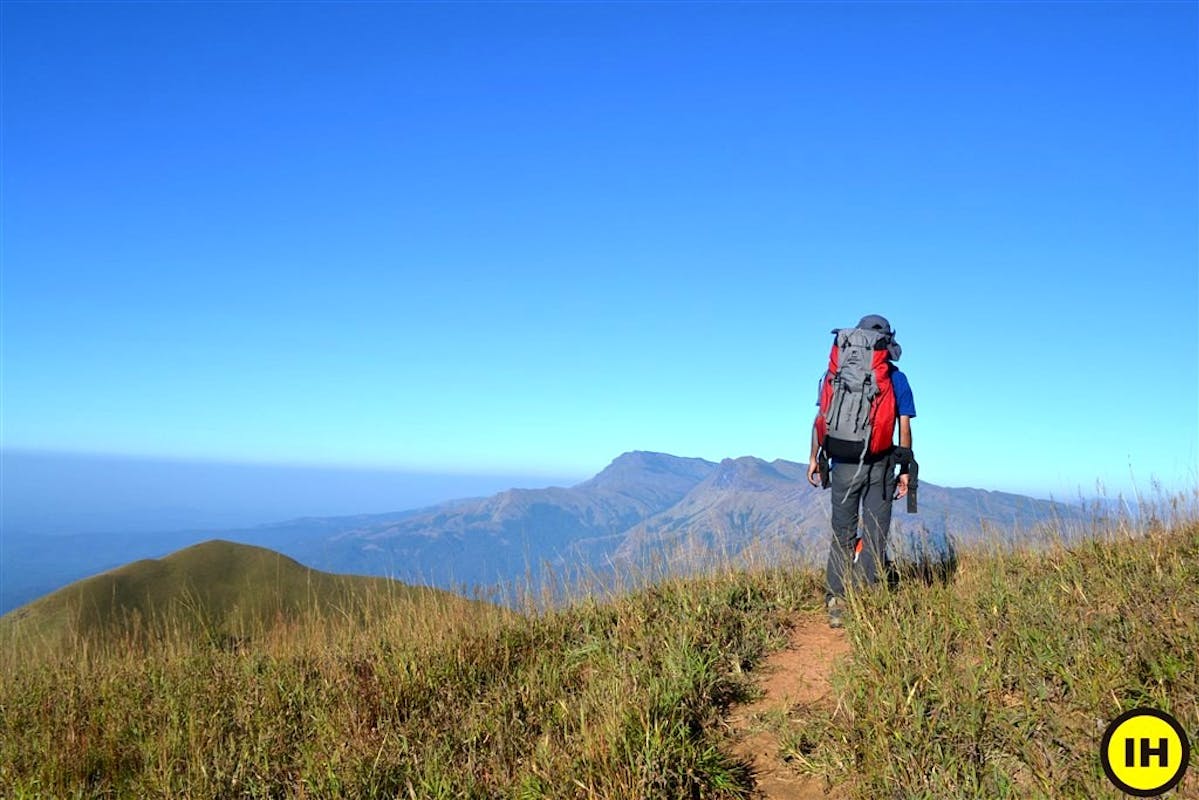 Trek backpack
No, stuffing it all in isn't the right way to do it Packing a backpack correctly saves precious time that you might waste trying to find your things later. It is wise to spend some time learning what really goes into packing a backpack.
What should I pack?
On a trek, you only get what you take. Something as simple as a forgotten matchbox can cripple your cooking plans throughout the trek. So, it's essential to prepare early and prepare well. To begin with, make a checklist. While shopping, remember this thumb rule - keep it light. "Every item needs to be light. This ensures that your backpack, on the whole, stays light," says Sandhya UC, co-founder of Indiahikes. Balancing out heavy items with light ones isn't going to have the same effect as having all light items. "Always opt for good quality, light items," says Sandhya.
How much should my bag weigh?
"Your backpack for a weekend trek should weigh between 8 and 10 kg," explains Arjun Majumdar, co-founder of Indiahikes, "To break it down, your tent should weigh around 2.5 kg, your sleeping bag, around 1.5 kg, and the ration, stove and clothes should constitute the other 5 kg." The best way to plan is by concentrating on the basic necessities – food, shelter and clothes. Gather only those things that you'll need to survive. Do not pack for 'if' situations. "That's one of the common mistakes that people make – packing for 'if situations'. It only adds to the baggage that you can do without on a trek," says Sandhya.
One good way to go about it is to prepare a list of absolute essentials. Start with the most essential and end with the least essential. That way, when you feel you are overshooting the limit, you can start eliminating from the bottom. Another tip is to be smart while packing clothes. Invest in light. wash and wear fabrics. "Replace a sweater with two t-shirts," adds Sandhya. Layering is the mantra when it comes to trekking. Refer to Sandhya's clothes list to pack smart.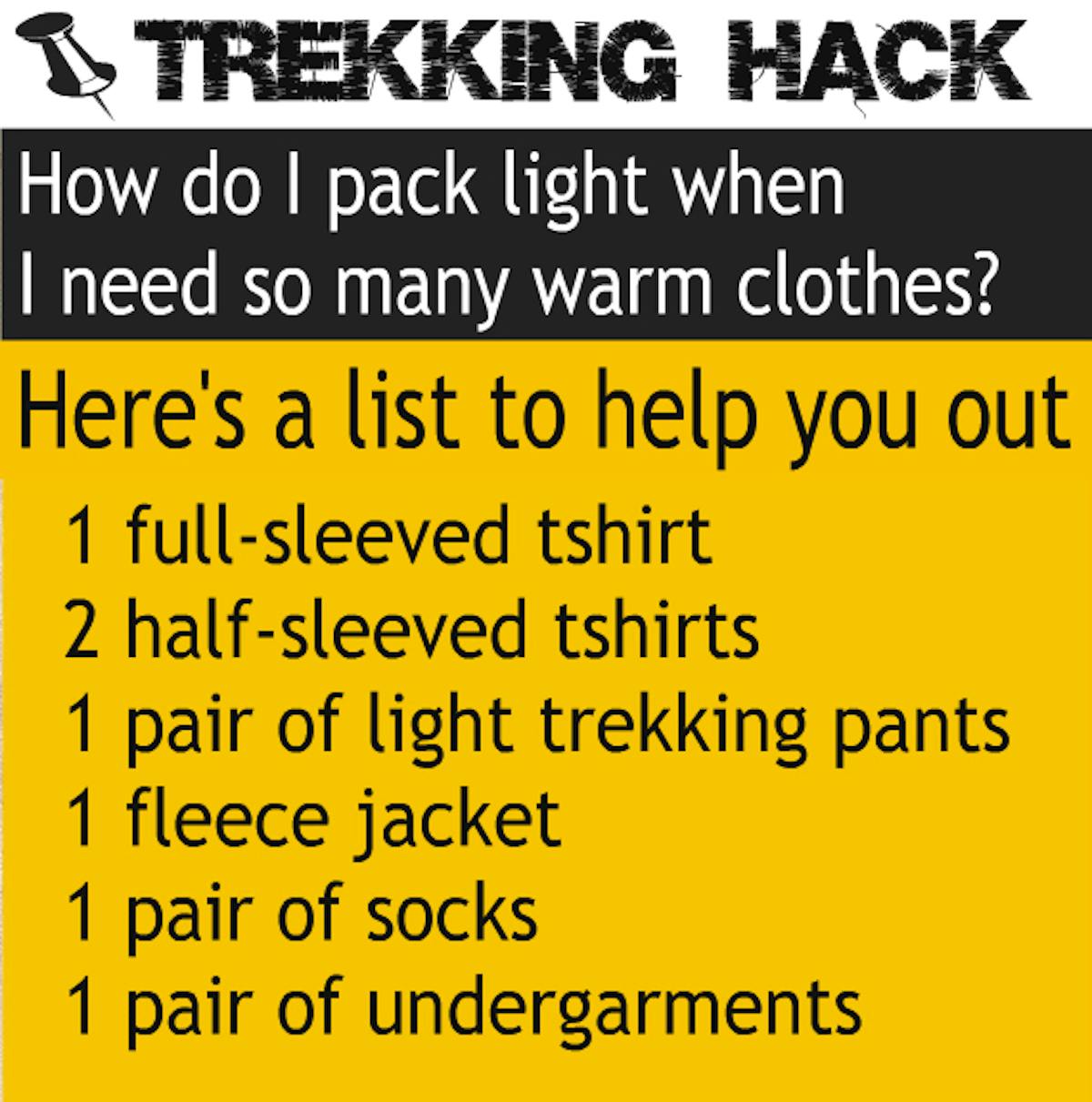 Trekking hack
How to pack
The thumb rule for this one is to eliminate air spaces. Make sure that everything is packed tightly, especially clothes and jackets, as they tend to take up maximum air space. Put in all the large items first. Then squeeze in the smaller ones in the gaps. This ensures minimum air space. A good way to pack clothes is by using the Ranger Roll method.
Where to pack
BottomSleeping bag: Make this your base layer. Sleeping bags tend to be voluminous, but do not weigh much. They're perfect for the bottom of the bag. Tent: Just like the sleeping bag, even tents are voluminous and light. Keep the tent poles separately and place the fabric at the bottom of the backpack.
MiddleHeavy jacket: Roll up the jacket in a tight ball and place it in the middle of the backpack, close to your back. The middle region of the backpack should always have the heaviest items. You can store other things like rations or mini stoves in the middle. Other clothes: Roll other clothes and place them in the remaining space, to fill air gaps.
TopWater: Water, although heavy, needs to be easily accessible. So put it in the topmost region of your backpack. Medicine box: This is another component that you wouldn't want to be scavenging for when in need. Poncho: It could rain at any time in the mountains. So, ponchos should be accessible easily. Also, having a waterproof poncho at the top of the backpack provides additional waterproofing to items in the bag.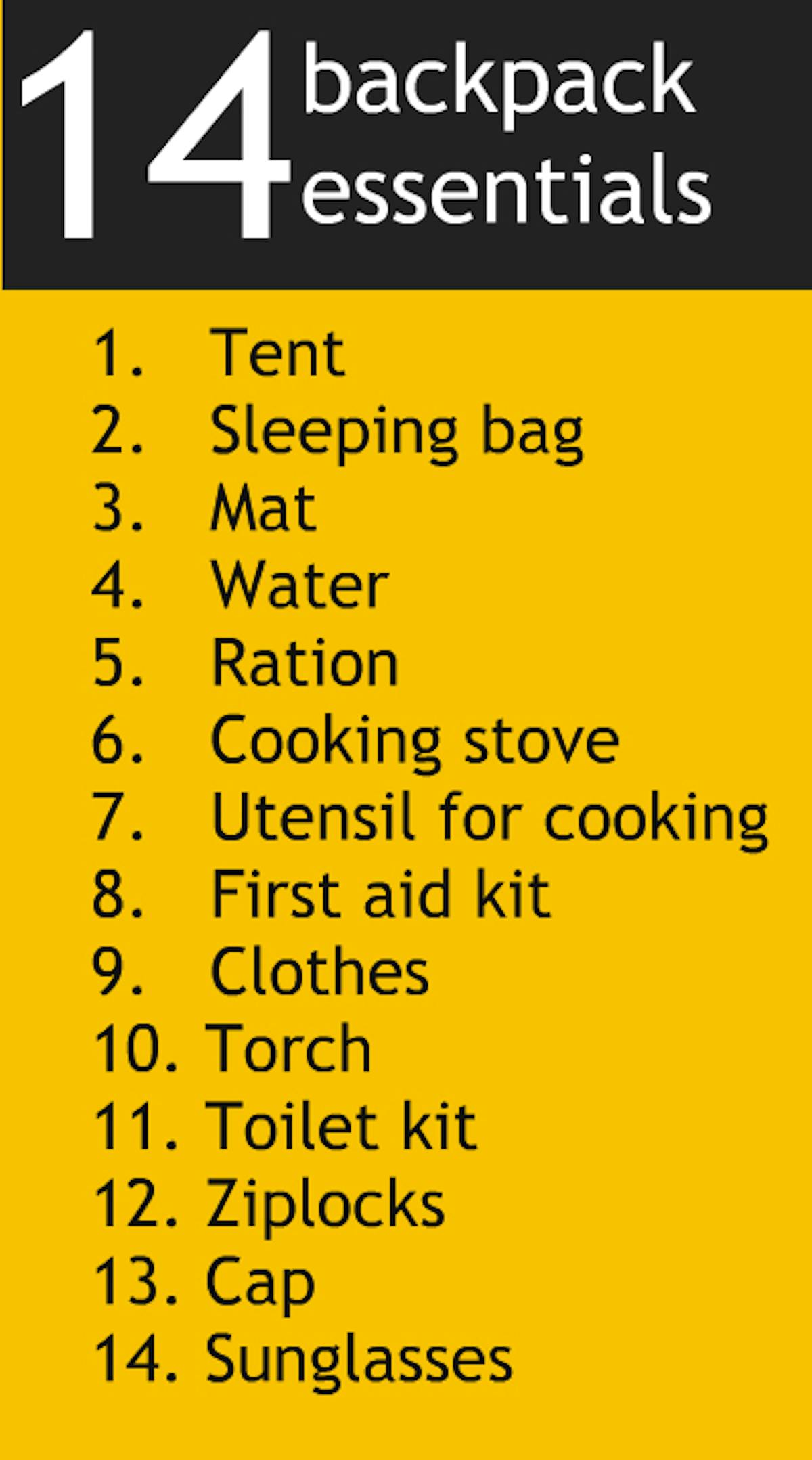 Backpack essentials
Trek Contribution
Author: Usha Hariprasad