Can You Help Us With Photographs Of This Trek?
We are looking to enrich this documentation with more photos. Pictures go a long way in explaining the trail, more than words ever can. If you have done this trek, can you share your photos with us? We will include them on this page, with due credit to you.Click here to contribute.
A Complete Guide To Panwali Kantha Trek
Panwali Kantha Trek is one of the less frequented high altitude meadows of Garhwal Himalayas. Apart from its exhilarating landscape, it is also known for a variety of flowering herbs. Not only that; during months of April and May, the trail is decked with red and pink rhododendrons.
However, a huge bonus of the trek is that, it offers few of the most captivating views of Himalayan ranges. You get to see rarest views of the complete range of Yumnotri- Gangotri- Kedarnath- Badrinath mountain peaks. Prominent snow peaks like Thalay Sagar, Meru, Kirti Stambh, Kedar Dome, Kedarnath, Chaukhambha, Nilkanth, etc. are all visible during the trek. These look especially beautiful at sunset from Panwali Kantha.
The trek is along the old pilgrimage route from Gangotri to Sri Kedarnath. Thought it's not used by pilgrims anymore, you find a lot shepherds who live between the Shivalik Ranges and the Greater Himalayas. It is a relatively easy trek with a well marked trail and can be done in any season.
Each season brings in different shades of the countryside. During monsoon, you come across lush green bughyals of Panwali Kantha along with birds and flowers of vivid colours. In winter, you get to see snow-drenched peaks kissing bright blue skies.
On the flipside, from November to April, the trail becomes rather challenging, as you have to navigate narrow snow ridges to reach the Kyunkhola Pass. However, it is an easy – moderate trek from June to September.
Autumn is the best time as rains are less likely and the skies are mostly clear. The Himalayan range and lively green meadows decked with colourful wild flowers are clearly visible. This trek can be approached from Sonprayag / Triyugi Narayan or from Ghuttu. If approached from Triyugi Narayan, one can visit the Triyugi Narayan temple. It is of great religious importance, as it is believed that Lord Shiva and Parvati's wedding ceremony was conducted here, in the presence of Lord Vishnu.
You may wish to set aside a day at Panwali Kantha to explore the beauty of the Bugyals and enjoy the sun set and sun rise view from there. You can also extend the trek further from Ghuttu all the way to Lata near Uttarkashi. The scenic landscapes and relatively lower altitudes make it a pleasant trek.
The Panwali meadows, in the northern Garhwal Himalayas, are home to several wild animals. So, if you're lucky, you can spot high-altitude animals like Bharal (blue sheep) Ghoral, Himalayan bears, weasels and the rare musk deer.
Short Itinerary
Panwali Kantha is a trek that offers unique visual treats in every season – right from lush green meadows after monsoon, to gentle slopes of snow-covered meadows in winter.
The moderate altitude and easy access make it a fantastic winter trek.
The Panwali Kantha, situated at 10826 ft., commands a magnificent view of the Himalayan peaks. It is known for its excellent sun set views.
Apart from the exquisite peaks of the Garhwal Himalayas on one side, trekkers pass through dense woods and beautiful alpine meadows (bugyals).
Detailed Trail Information
Day 1: Sonprayag – Triyugi Narayan – Maggu Chatti
Altitude: 5,673 ft to 10,631 ft
Distance: 13 km
Time taken: 9 hours
The trek starts from Sonprayag, which is a village located 5 km before Gaurikund. Gaurikund is the base of Kedarnath. There are a few grocery shops and dhabas in Sonprayag, which serve delicious food to the yatris; you can replenish your supplies here.
There are two ways you can go about this trek. You can either take a shared jeep (13 km) till Triyugi Narayan or trek up 5 km.
If you choose to do the latter, take the shepherd trail on the left, going along the mountain ridge. It appears just before the Kedarnath entry barricades. The trail climbs up rather steeply through the sheds built for khachhars and horses.  In a couple of minutes, you'll be across the sheds and a few metres above the village.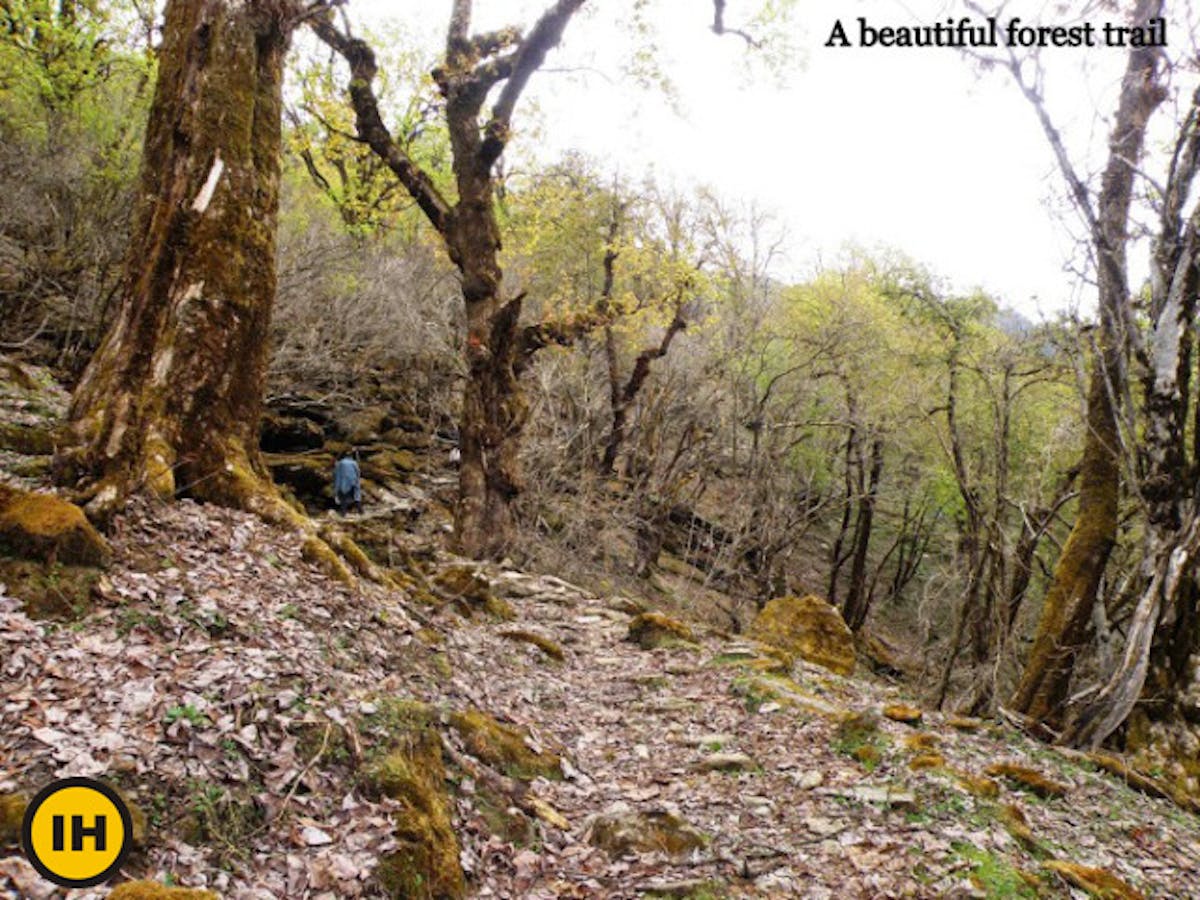 Forest trail
The stone-paved trail from here on is well-marked, as it is frequently used by the locals.  The climb for the first 15 – 20 minutes is steep, until you come across a water tank on the left. From the tank, the trail ascends gently.
After hiking for around 30 minutes, you come across a motorable road. Sonprayag is one kilometre from here. Triyugi is still 4 km away. Stick to the right side for a couple of meters. After this, spot a hiking trail on the corner, where the road takes a U-turn. A yellow board that says "Triyugi Narayan walkway – 4 km" in the local language marks this spot.
The trail from here is fairly level, with shady trees on either side. As you climb higher up, you begin to see snow peaks clearly. Continue till you come across another water source in the form of Gaumukh. You can fill water here.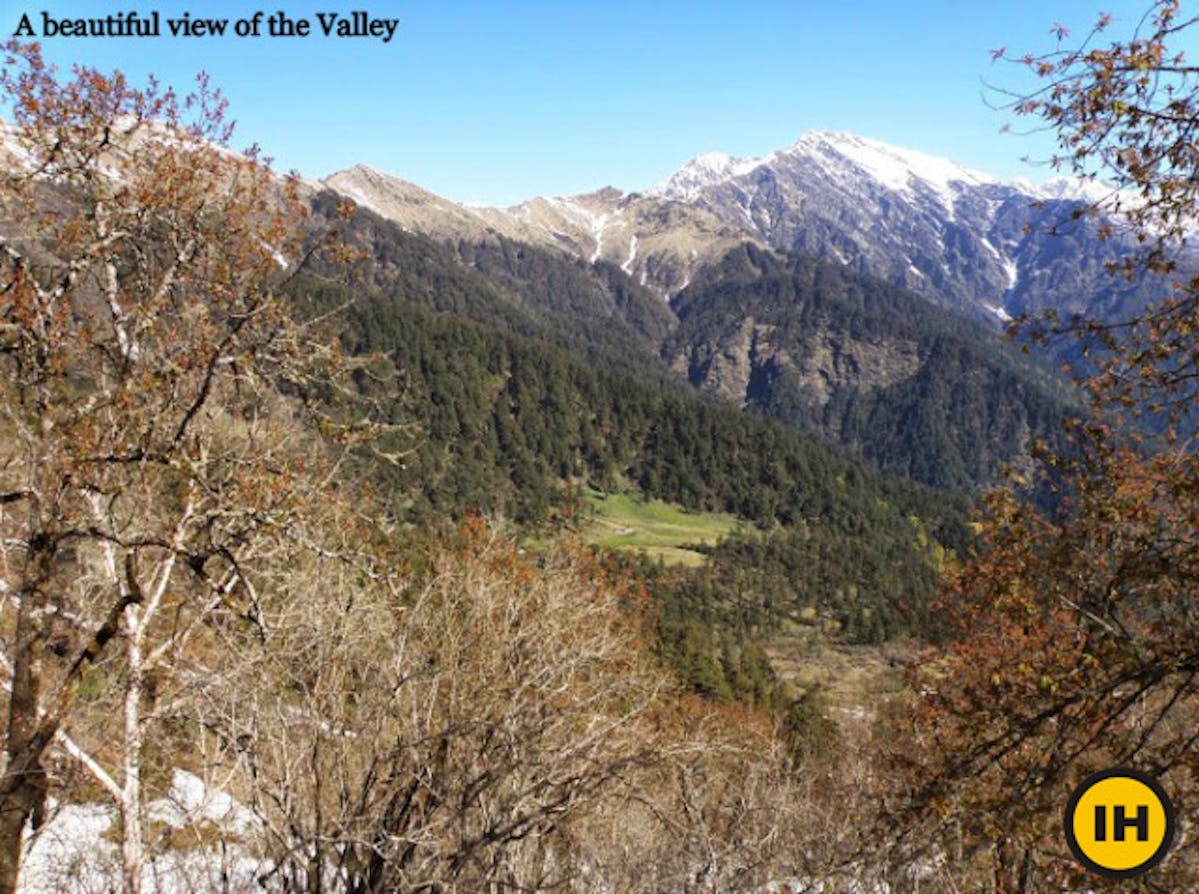 View of the valley ahead
Throughout, you can see water pipes running parallel to the trail. You can also see some terrace fields and settlements at a distance. In another 25 – 30 minutes, you'll reach a small stone temple. The trail forks here, you need to take the trail going to your right.
Within another 20 minutes, you'll reach a stream and in a couple of minutes from there, you come across a few edifices. It is GB Pant Institute of Himalayan Environment and Development.
Your next landmark is a small waterfall, which you'll reach in 15 minutes. This is followed by another waterfall with a Gharat (traditional wheat grinding unit) constructed on one of the streams. It takes around two hours to reach this point from the beginning. You can see Triyugi village at a distance.
Cross the bridge over the stream. The trail is still stone-paved. In another 15 – 20 minutes, you'll reach Triyugi Village. You can visit the ancient Triyugi Narayan temple here.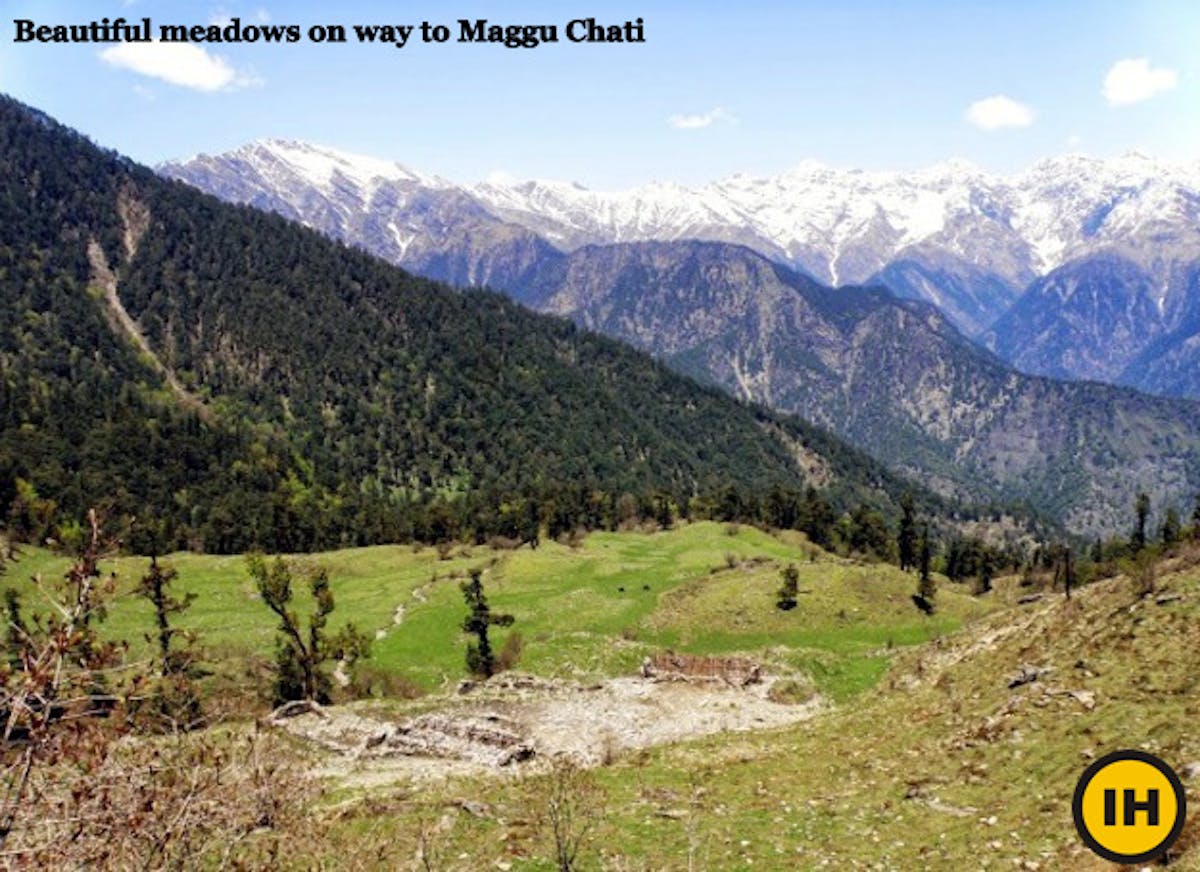 Meadows on route to Maggu Chati
Continue on the trail going right. It runs up the hill beyond Triyugi Narayan temple. Pass through the upper Triyugi Narayan village. After a gradual climb of 10 minutes, make note of a huge playground, bordered by stone walls. This is part of a school premises. As you walk further with the school on your left, you come across a large water tank, where the water is suitable for drinking.
Beyond this, the trail rolls out into a meadow, steadily moving right. Ensure you stick right on the stony trail. It is a gradual climb up the hill through thick woods. In an hour, the trail emerges into vast plains. You can rest here for some time.
Beyond this, the trail winds its way among beautiful rhododendron trees, which are in full blossom in the months of April – May. Continue on the trail for another 45 minutes, till you see a huge lush green meadow on your right, along with temporary settlements. The meadow has a stream running right in the middle, dividing the meadow in two equal halves.
snowy terrain
The best part is that the entire trail offers you tremendous views of magnificent peaks, right from the beginning. Walk past the meadows. In an hour, you'll see a huge waterfall. It takes around 4 hours to reach here from Triyugi.
Across the bridge, the trail takes a U-turn and you now climb up with the valley on your right. Maggu is around 2 km from here and the trail is covered with snow in the month of April and early May.
An hour later, you come across another stream; this is your only source of water if Maggu is covered in snow. Maggu is still one kilometre away.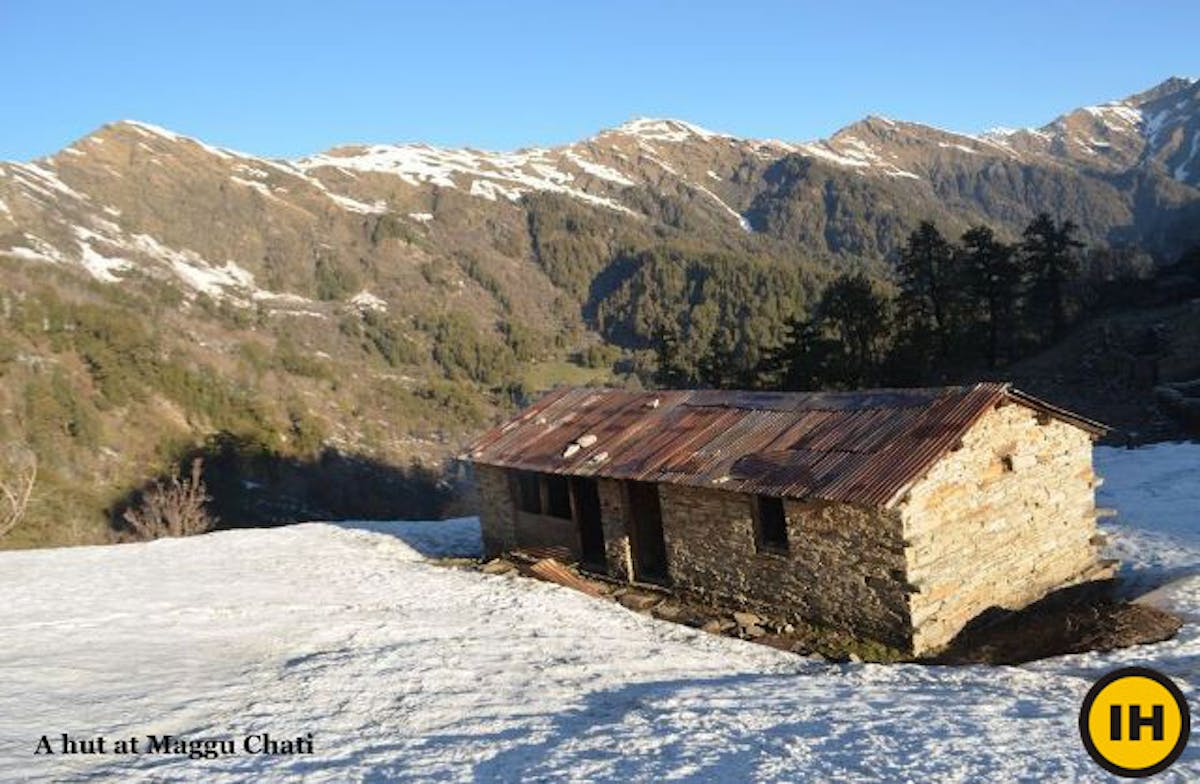 A hut at Maggu Chati
It takes around 5-6 hours to reach Maggu from Triyugi and around 8-9 hrs to reach Maggu from Sonprayag. Maggu has one Dharmshala (very basic, just 4 walls and a roof) with two rooms that can be used by the trekkers. 
Day 2: Maggu Chatti – Campsite below Kyunkhola Khal
Altitude: 10,631 feet to 10,015 feet
Distance: 5 km
Time taken: 8 hours
Today is going to be challenging. It mainly involves traversing snow slopes with hard ice patches. It is advisable to carry an ice axe and a trekking pole if you decide to do the trek in winter or early summer.
Kyunkhola pass is around 2 km from Maggu. When there is no snow, it is a pleasant walk that takes hardly an hour.
From the Maggu's dharmshala, get onto the trail on the left. The dharmshala must be to your right. You can see Kyunkhola Pass right ahead of you. The trail gradually ascends as the valley gets deeper on your right. If there is snow, the trail might not be visible. From the trail, the green meadow below Kyunkhola Khal is clearly visible.

Bhartekhunta, Kedarnath, Mandani Parbat and Janhukut peaks
As you hike, you come across several frozen waterfalls. You'll have to get past them carefully. The valley broadens as the mountain pass closes in and the ridge becomes wider.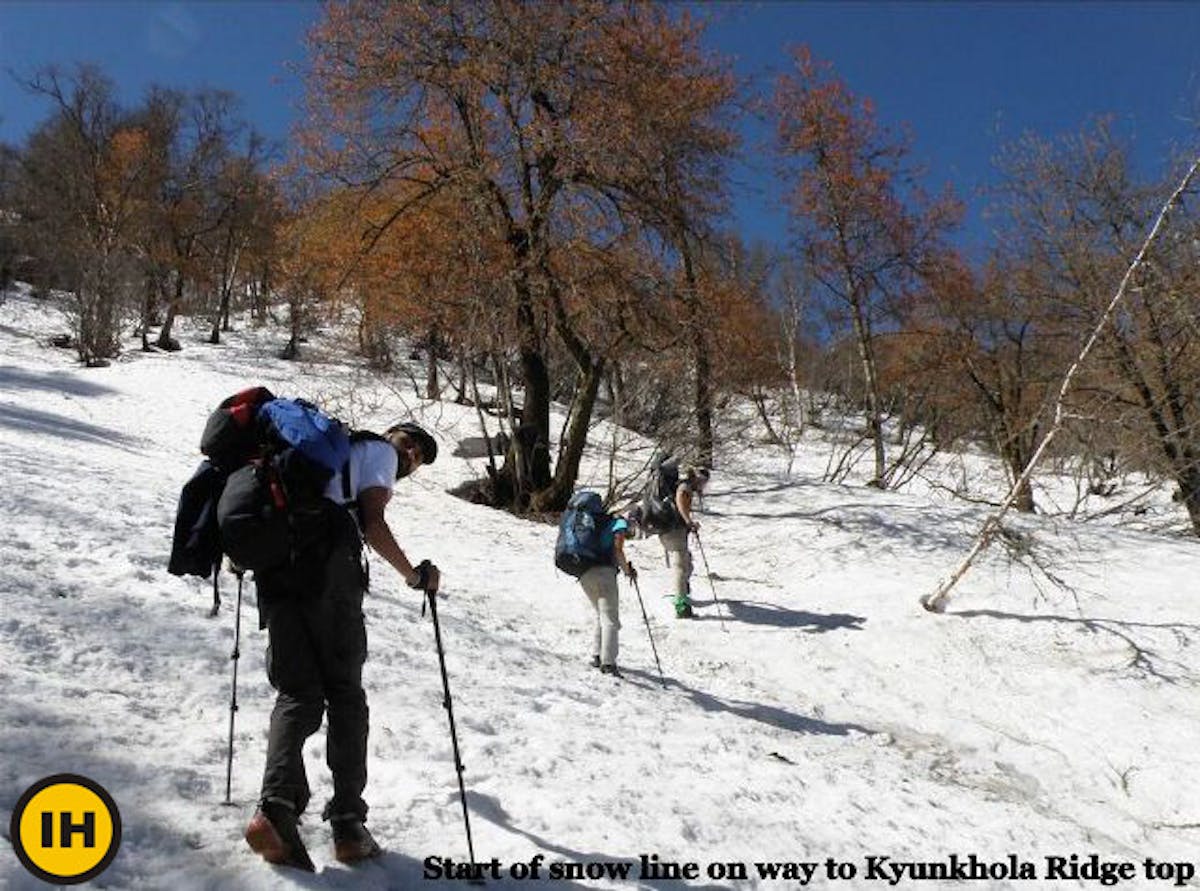 Start of snow line on way to Kyunkhola Ridge Top
If you are well in time, you can cross the pass and move to the other side. The nearest camp site on the other side is the Panwali meadow. It is a good 8-9 km from the pass. If you are short of time and the snow conditions are rather challenging, you can either go back to Maggu or to the campsite below Kyunkhola Khal. The campsite is around 350 – 400 metres below the pass.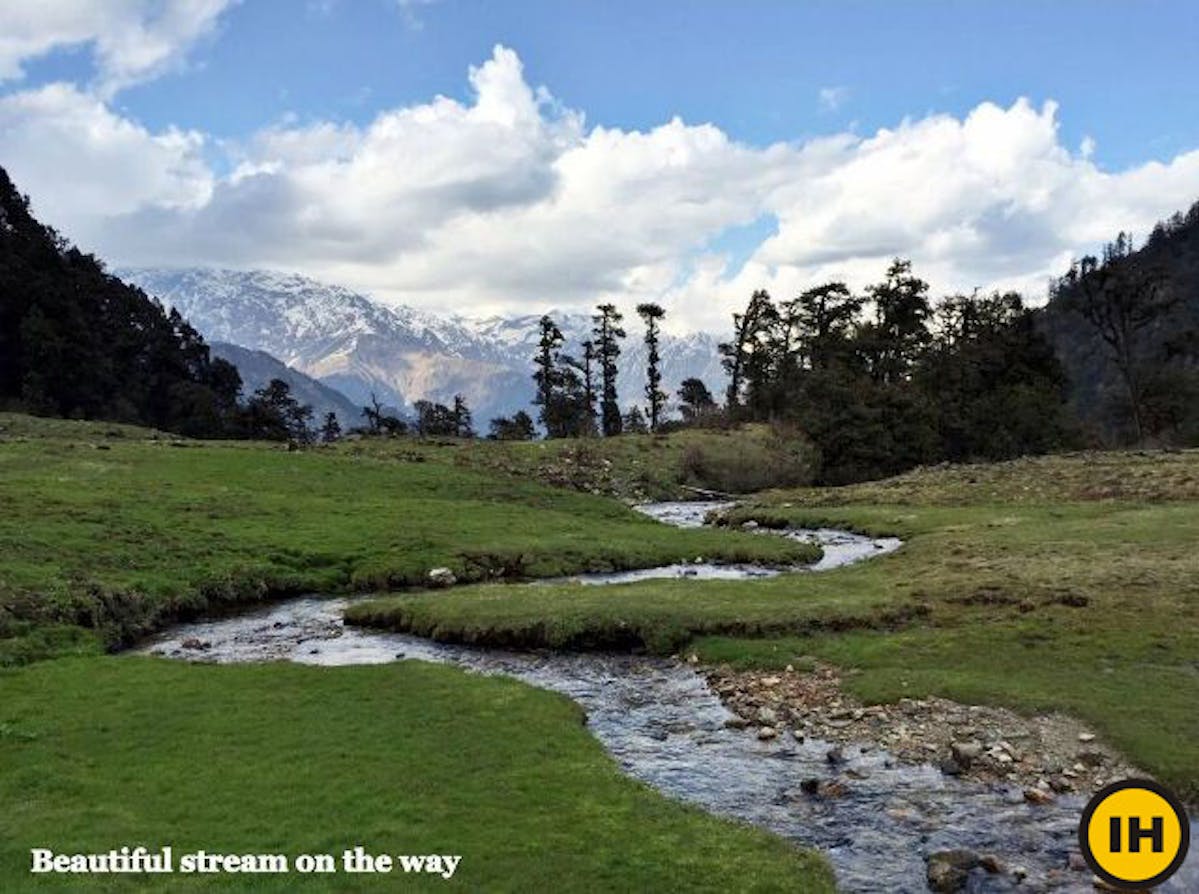 A beautiful stream on the way
Descend on snow slope with the camp site on your right. The descent gets gentler and gentler and the snow, thinner. You'll soon come across a few streams. Cross all of them and walk march straight.
Keep your eyes open for a shepherd trail going right. Hop onto that trail. It runs down a slope. In around 10 minutes you will come across a huge lush green meadow with a stream flowing right through the middle. You can see temporary shepherd houses on the left.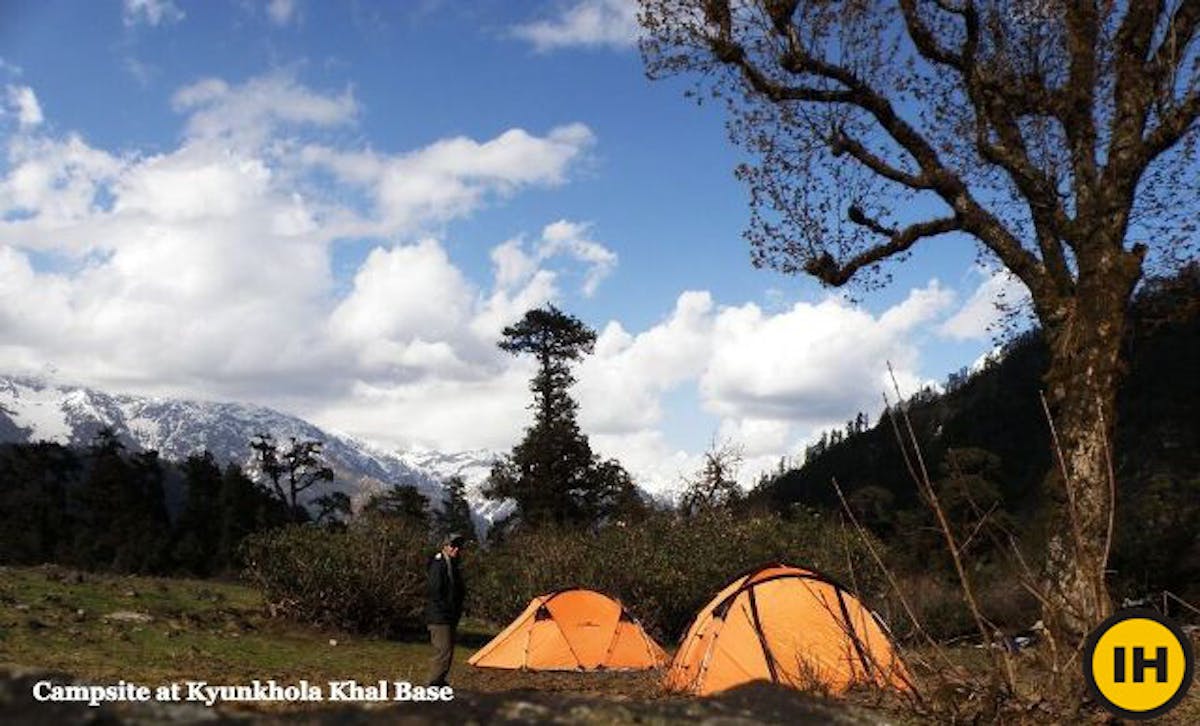 Kyunkhola Khal base campsite
Camp for the night on the flat grounds on the right side of the stream.
Note: During winter (January-April), trekking from Maggu to Panwali Kantha can be difficult due to large accumulation of snow. Camping below Kyunkhola Khal is advisable. During summer and just after monsoon, one can easily trek till Panwali Kantha camp site on Day 2, which is a 15 kilometer trek from Maggu.
The Day 3 and Day 4 trek accounts are based on Araib Hasan and Vinita Chhatwani's treks.  
Day 3: Kyunkhola Khal camp site to Panwali Kantha
Altitude: 10,015 feet to 10826 feet
Distance: 8 km
Time taken: 5-6 hours
Start early in the day, so that maximum distance can be covered before snow starts to melt. Reaching Panwali Kantha in winter requires certain equipment like ice axes, crampons, gaiters and micro spikes. 
Take the trail that you descended on Day 2, all the way back to the Kyunkhola ridge. After a series of switchbacks, the laborious climb concludes at the top of Kyunkhola Pass at 10,905 feet.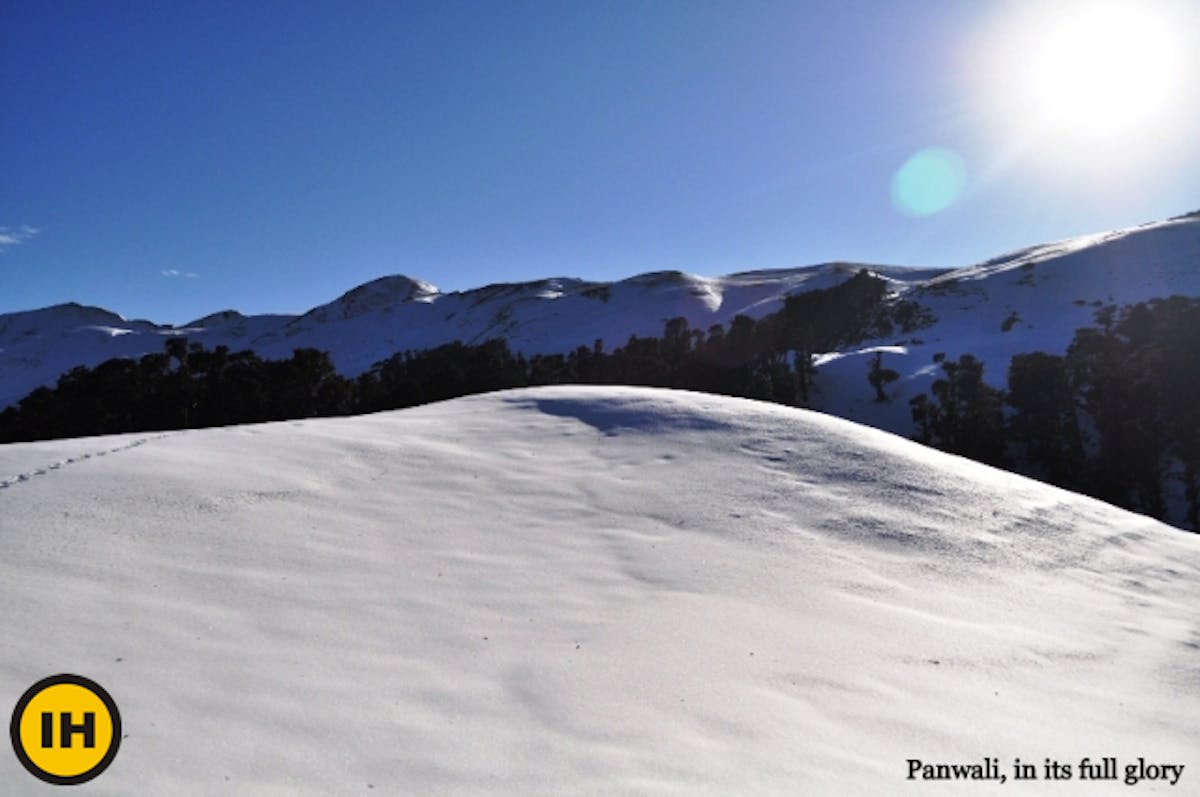 Panwali in it's full glory
From here, the trail meanders towards the meadows of Panwali. It alternates between ascents and descents. Midway, the ridge broadens into a lovely meadow carpeted with snow.  
Trek further as you pass by some abandoned settlements used by shepherds. On a clear day, you can see the charming Bhilangna Valley on the right. After a few kilometres, you hit the summer villages of Panwali. Look for a suitable spot to pitch your tent for the night. If you're trekking in winter, you can settle in one of the shepherd huts, if they're empty.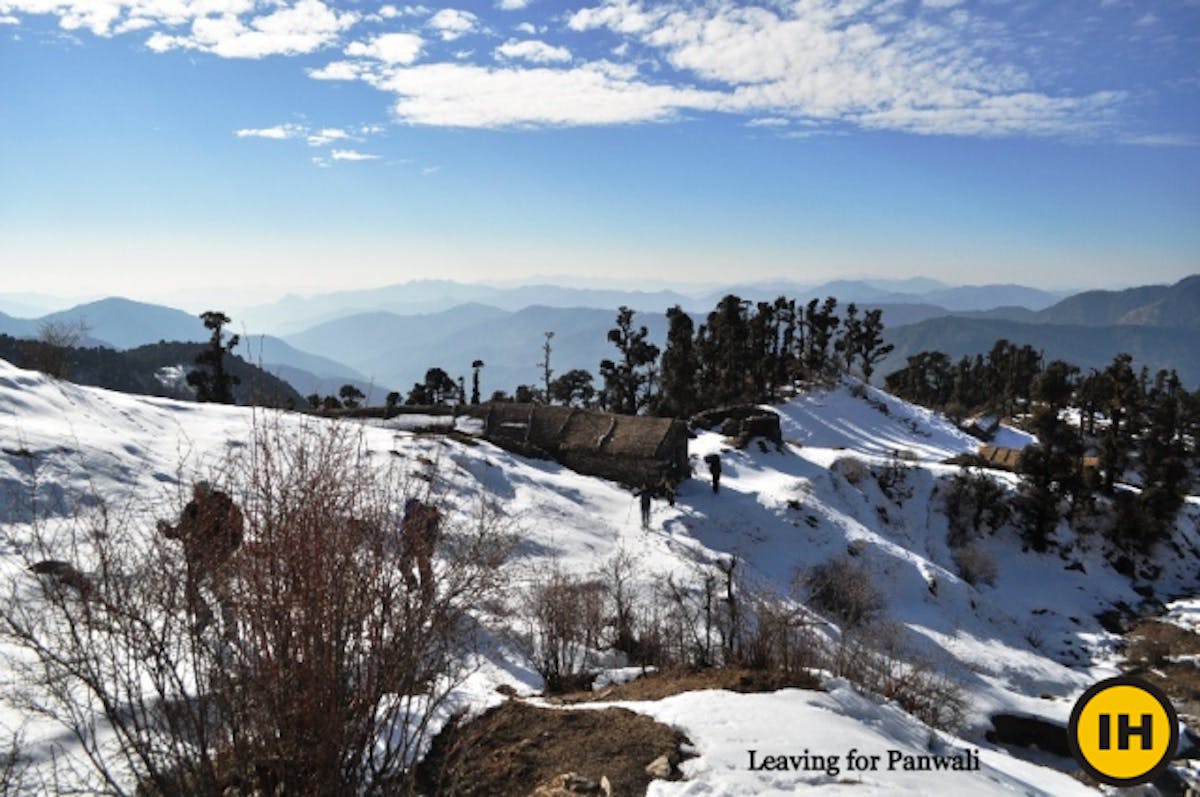 Leaving for Panwali
From here, look out for magnificent panoramic views of the entire Garhwal Himalayas. Peaks like Gangotri, Kedarnath, Kedar dome, Chaukhamba, Trisul, Kamet, Nanda Devi can be seen on a clear day.
One has to rely on melting snow, as no water is available during winter season. 
Day 4: Panwali Kantha – Ghuttu Village
Altitude: 10826 feet to 4,658 feet
Distance: 20 km trek
Time taken: 7 - 8 hours
Today is a long day for trekking. The day starts with an ascent to the top of Panwali Kantha ridge. This may take 45 to 50 minutes, depending upon the level of snow. You can see the highest point of the ridge, where a small temple sits. The ridge stands at 11,500 feet.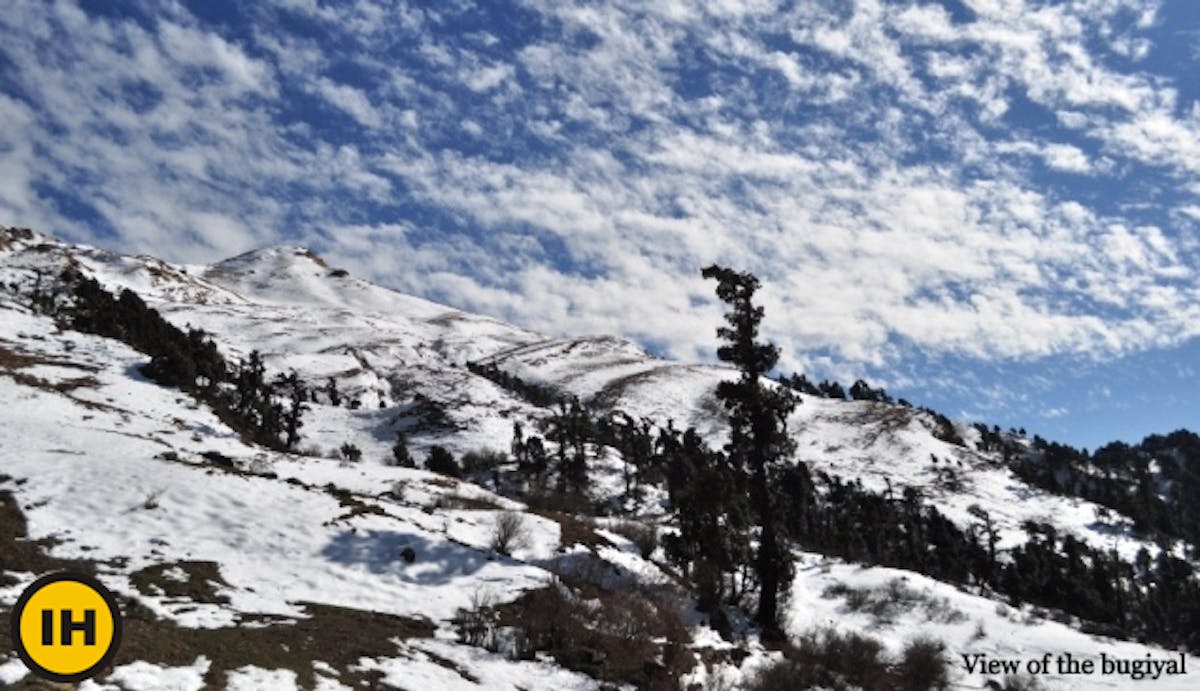 Bugyal
Once at the top, the 360 degree views of the mountain valley are breathtaking.  The landscape that presents itself suddenly is sure to take your breath away. Miles and miles of meadows covered in snow are a perfect reward for the tiring journey to this point. 
Walk towards the other side of Panwali ridge to get a bird's eye view of the descent to Ghuttu village. The downhill walk on the snow meadow is an absolute delight, though it can get tiring after a while.  Once familiar with walking on snow, you will have a speedy descent.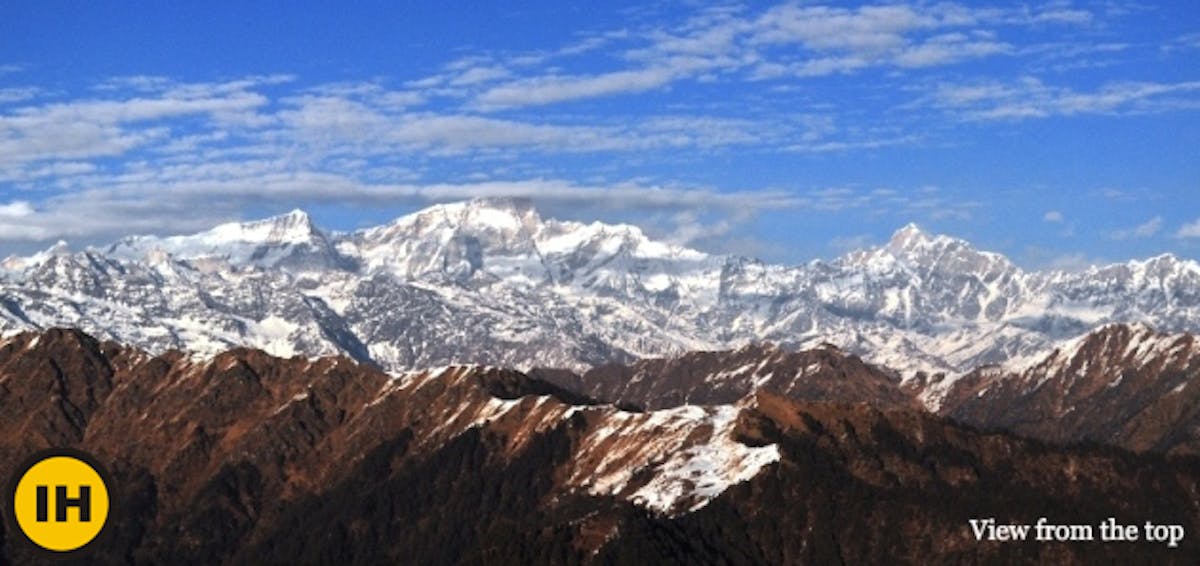 Views from the top
Leaving the snowy meadows behind, enter the forest ridge. Tread carefully on some of the slippery sections over hard snow and semi-frozen rivulets.  After couple of hours, look for signs of the camp site at Gaurmanda. Ghuttu is now only 10 kilometres and 3,600 feet of descent away.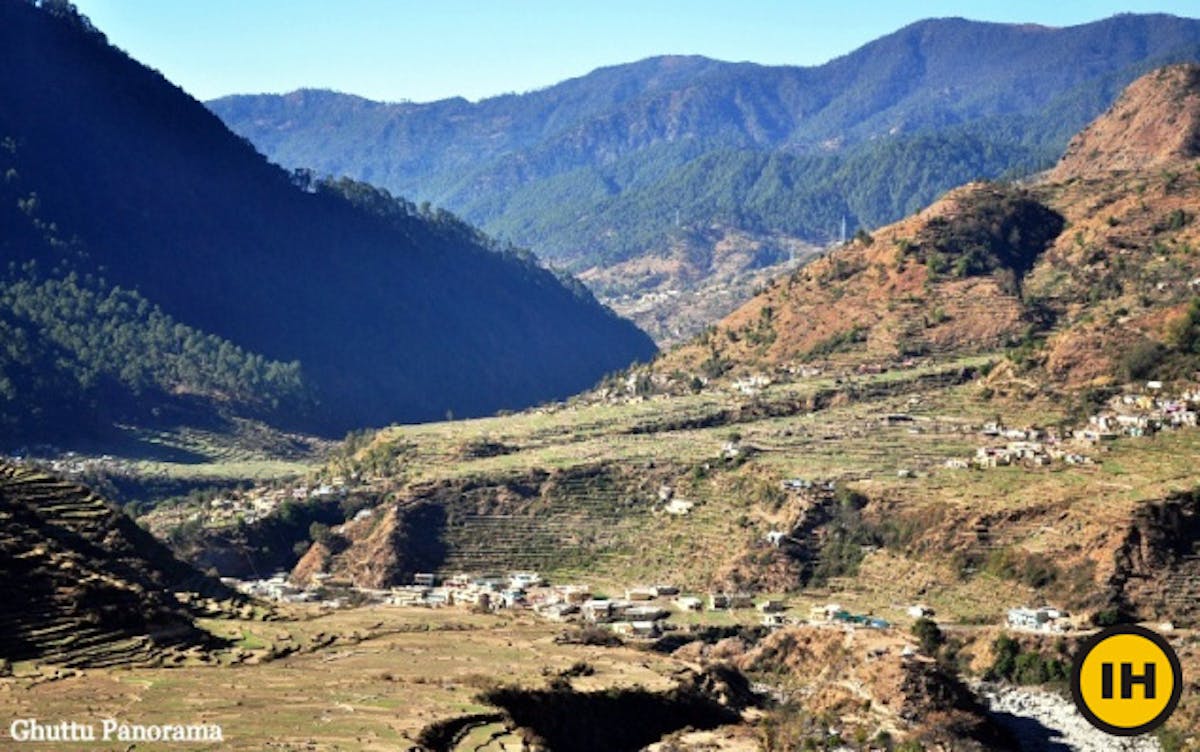 Ghuttu Panorama
This section of the trek may have snow up till your knee. After around three hours, you'll reach the final camp site at Ghuttu.
How To Get Fit For The Trek
Cardiovascular endurance
This trek requires a good amount of endurance. You can begin by jogging everyday. Start jogging at a slow pace and then keep increasing your pace day by day. Make sure you are able to jog 4 km in 20 minutes before the start of the trek. It takes time to be able to cover this distance in the given time. Swimming, cycling and stair climbing without too many breaks in between can help too.
Strength
This is another area you should work on. There is a lot of trekking distance that you will cover carrying your backpacks and trekking along with your backpack is not a very easy task. You have to walk on uneven terrain during the trek. It could be taxing for your legs. For this, strengthening your legs will help. You can do some squats to strengthen them. Do around 3 sets of squats, with 8 squats in each set.
Flexibility
Another aspect that will help you trek comfortably is flexibility. For this, you can do some stretching exercises - stretch your hamstrings, quadriceps, hip flexors, lower back muscles and shoulders regularly. On your trek, it is important that you arrive on the slopes with your muscles relaxed. Carrying a backpack, however light, can become a strain after a while. These exercises will help you to be in good shape before the trek.
Working out indoors
If you can't go out and jog because of time and space constraints, here's a video you can use to work out indoors.
What To Pack For The Trek
Bare necessities
Trekking shoes: The trek distance is long and you will have to walk for long distances which need you to have comfortable trekking shoes. You can watch this video to learn to choose the right trekking shoes.
Backpack (40-60 litres): A backpack with sturdy straps and a supporting frame. Rain cover for backpack is essential.
The Miyar Valley Dun trek happens round the year except for monsoons so make sure your have the proper clothing as per the season demands so you can keep yourself protected during the trek.
Clothes
Three (Five in Winter) Warm Layers: You will be trekking and camping at high altitudes. So make sure you have the apt clothes for the climatic conditions. It will be cold at the higher altitudes so make sure you have at least three layers of warm clothes to protect yourself.
Two trek pants: One pair of pants should suffice for this trek. But you can carry one spare pair in case the first one gets wet. Wear one pair and carry one pair.
Two collared t-shirts: Carry light, full sleeved t-shirts that prevent sun burns on the neck and arms. Again, wear one and carry one.
Thermals (Optional): Those who are more susceptible to cold can carry thermals to wear at night.
Accessories
Sunglasses: Sunglasses are to prevent snow blindness. There might be snow in Har Ki Dun Valley or from Kalkatiyadhaar (depending on the season you are going in), so carry a pair of sunglasses.
Suncap: The sun is more harsh at high altitudes so wear a suncap to protect your face and neck.
Synthetic hand gloves: One pair of fleece or woolen hand gloves. One pair of water proof/resistant, wind proof gloves.
Balaclava: You may use woollen scarves instead as well.
Socks (2 pairs): Apart from two sports socks, you can take a pair of woollen socks for the night.
Headlamp/LED torch: Mandatory
Trekking pole: Watch this video to understand why you need a trekking pole.
Others
Daypack (20 litres): If you are offloading your backpack, you will need a smaller backpack to carry water, medical kit and some light snacks.
Toiletries (Sunscreen, moisturiser, light towel, lip balm, toilet paper, toothbrush, toothpaste)
Cutlery: Carry a spoon, coffee mug and a lunch box. We insist on trekkers getting their own cutlery for hygiene reasons.
Two water bottles: 1 litre each
Plastic covers: While packing, use plastic bags to compartmentalise things and carry few extra plastic bags for wet clothes.
Mandatory Personal Medical Kit
Diamox - 10 tablets (to prevent AMS)
Crocin – 6 tablets (fever)
Avomine – 4 tablets (motion sickness)
Avil 25mg – 4 tablets (allergies)
Combiflam – 4 tablets (Pain killer)
Disprin – 6 tablets (headache)
Norflox TZ & Lomofen– 6 tablets each (diarrhea)
Digene - 10 tablets (acidity)
Omez/ Rantadine – 10 tablets (antacids)
Crepe bandage – 3 to 5 meters
Gauze - 1 small roll
Band aid – 10 strips
Cotton – 1 small roll
ORS – 10 packets
Betadine or any antiseptic cream
Moov spray (aches, & sprains)
Trek Contribution
Author: Naveen Kanakadandi