Can You Help Us With Photographs Of This Trek?
We are looking to enrich this documentation with more photos. Pictures go a long way in explaining the trail, more than words ever can. If you have done this trek, can you share your photos with us? We will include them on this page, with due credit to you. Click here to contribute.
The Complete Guide to Rajgad Trek
Rajgad trek is the most beautiful trek in Maharashtra. As the name suggests it is the king of forts. Because of the rich history and the mesmerizing architecture of the fort, it stands out among other forts in Western Ghats.
It is situated at an altitude of 4,514 ft near Pune. This fort was built on the hill Murumb Devacha Dongar, having a diameter of about 40 km. The huge size of the fort made it difficult to lay siege on it which helped the Marathas to make strategic decisions.
Rajgad was the capital of the Maratha emperor Chhatrapati Shivaji Maharaj for 26 years after which he shifted to Raigad. This is one of the reasons how the fort was built so beautifully.
Since Chhatrapati Shivaji Maharaj stayed for so long in this fort, it has significant historic events. Including the birth of his son Rajaram I to the death of his queen Saibai, Rajgad has witnessed many such events. It was also one of the 17 forts that Chhatrapati Shivaji Maharaj kept when he signed the treaty of Purandar in 1665.
Trek to Rajgad offers the beauty of the Sahyadris as well as the fort. The fortification of the 3 Machis: Padmavati Machi, Suvela Machi, and Sanjivani Machi define the architectural creativity of that time. There are many temples, water cisterns, and ashrams that are very rich in architecture.
It also offers a splendid view of other surrounding forts like Torna, Lingana, Raigad, Sinhagad, Purandar, Mangalgad, Vajragad, Rohida, Raireshwar, Mahabaleshwar mountain range, Makarandgad, Pratapgad, Varandha Ghat, Kavlya fort, Mohangad, Gopya Ghat, Madhe Ghat, Raidand, Lohgad, Visapaur, Tung, and Tikona.
➤Table Of Contents
Just like you, we love trekking! And this is a trek we've documented in great detail to help you do it on your own. Drop in comments at the end of the page if you need any help!  You will get all the information required to do the Rajgad trek on your own.
To navigate through the documentation easily, use this section of the table of contents
What to Watch out for
Trail Information of the Rajgad Trek
Best Season to do the Rajgad Trek
How to Reach the base of the Rajgad Trek
Difficult Sections on the Rajgad Trek
How To Get Fit for the Rajgad Trek
Things to Take on the Rajgad Trek
Permission, Water Sources and other finer details about the Rajgad Trek
Nearby Places to Visit after the Rajgad Trek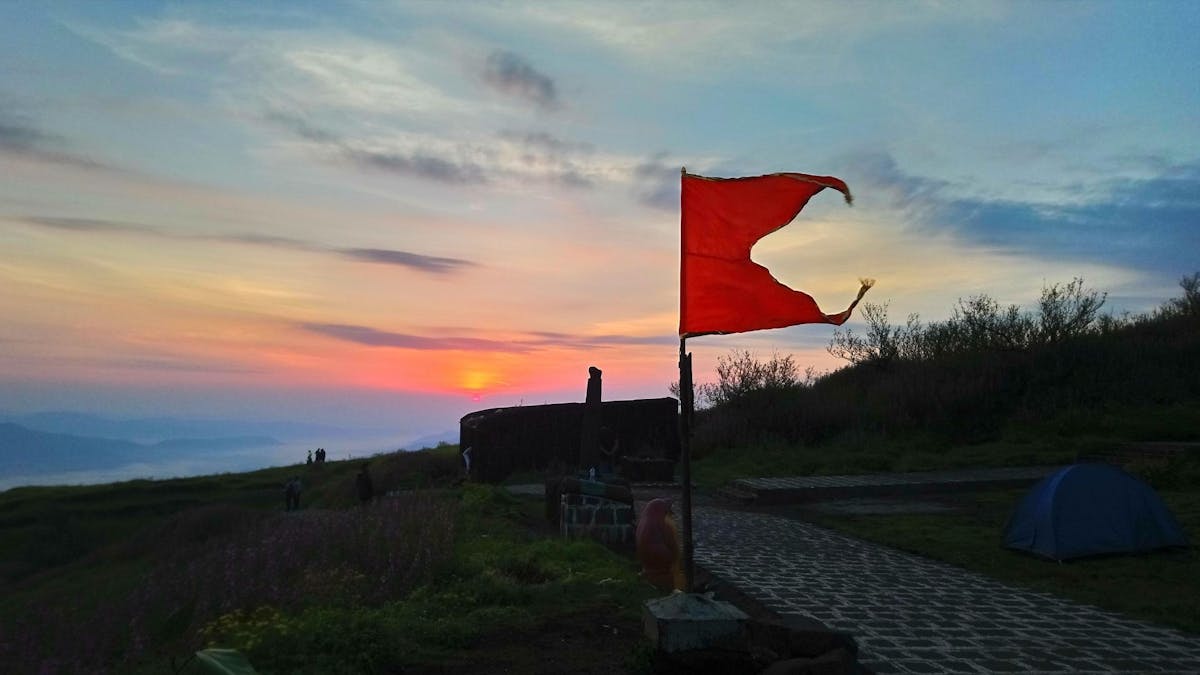 ➤What To Watch Out For
1. The High-Class Architecture of the Fort 
Rajgad fort is one of the forts where Shivaji Maharaj has personally overseen the design and architecture of it. There are many things on the fort that define great architecture. 
There are long watchpoints (Machis) on the fort which is constructed like a snake. They were built using double fortified walls which is very interesting to see. 
There are also houses, temples, and small lakes that represent the rich history of the Marathas.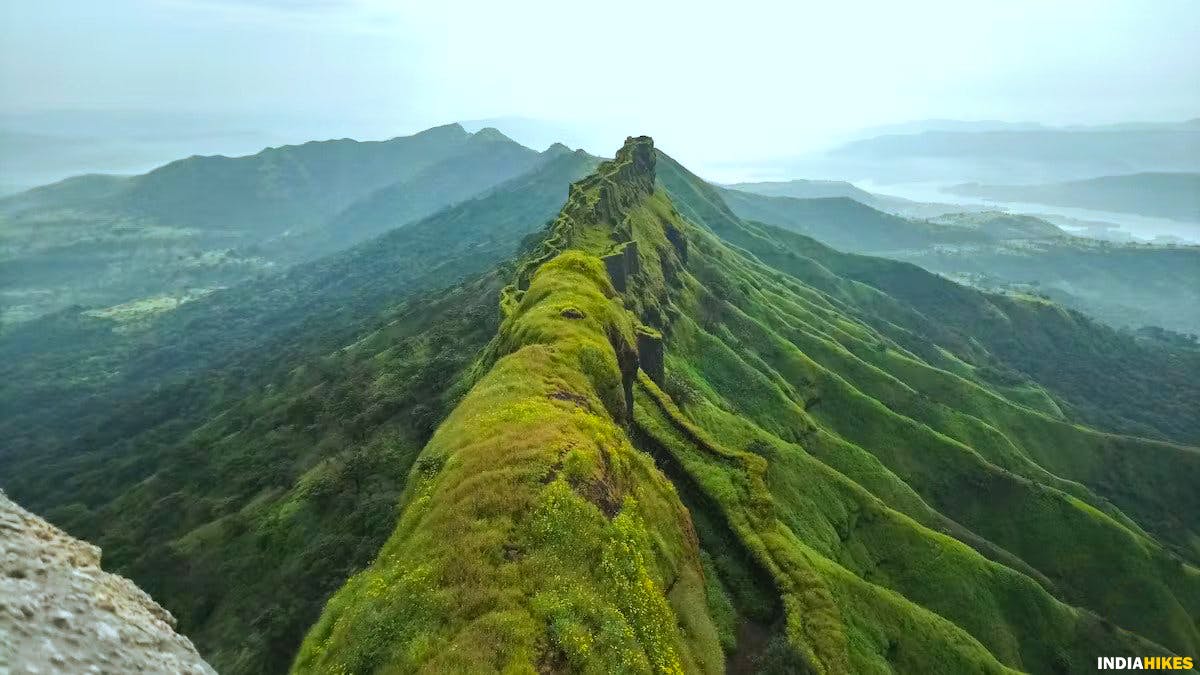 Double fortified wall of the Suvela machi. Picture by Nitesh Kumar
2. Astonishing Views from the Fort
The fort offers splendid views from the top in all seasons. You can see many forts like Torna, Lingana, Raigad, Sinhagad, and many more. 
Sunrise from the fort is one of the beautiful sights to witness.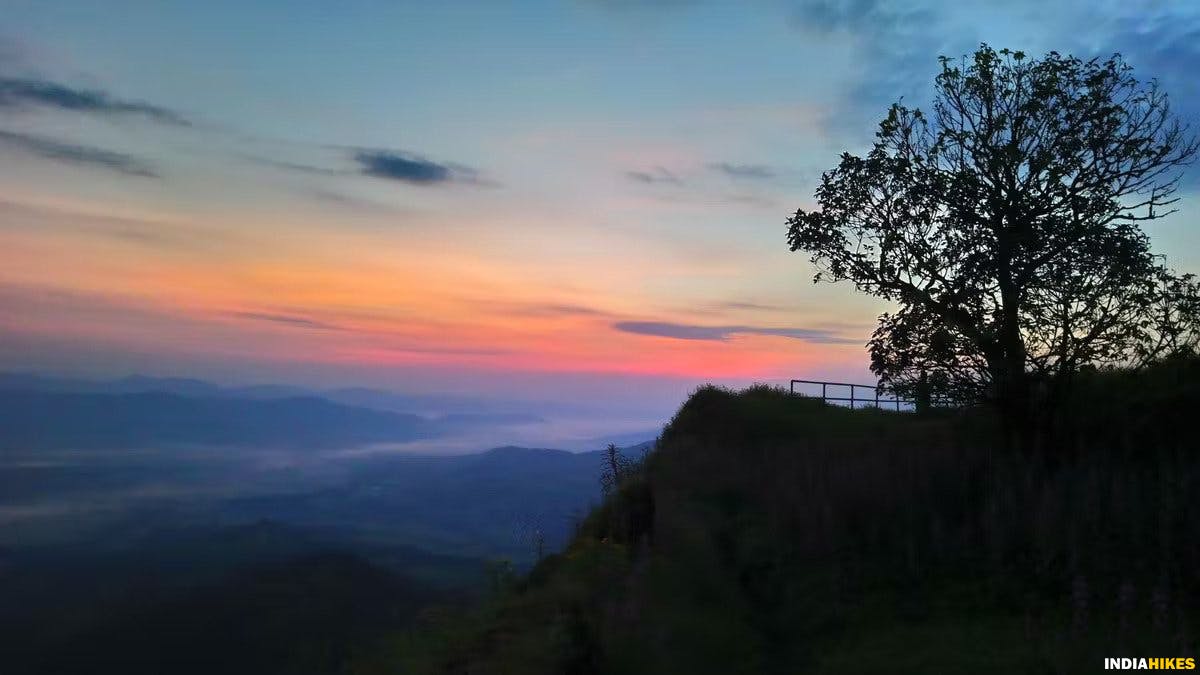 Sunrise as seen from the Rajgad fort. Picture by Nitesh Kumar
3. A Natural Hole Created in the Wall
On the Suvela Machi, there is a naturally created hole. This is called as Nedhe in Marathi which means hole. This hole is so big that you can spot it from the plateau as well as the distant places like Sinhagad fort.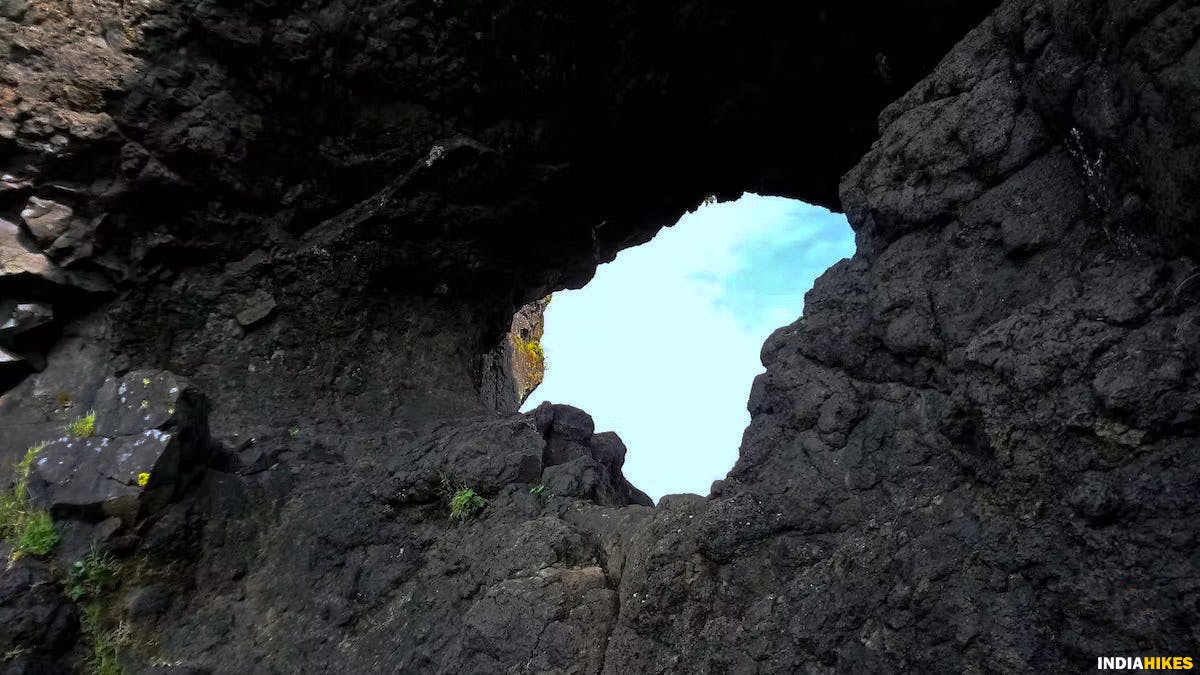 Natural hole -- Nedhe created on the wall of Suvela Machi. Picture by Nitesh Kumar
4. An Elephant Structure Created on a Rock on Suvela Machi 
There is a huge elephant-like structure created on a huge rock. You can see this while trekking in Suvela Machi on the wall where the natural hole is present.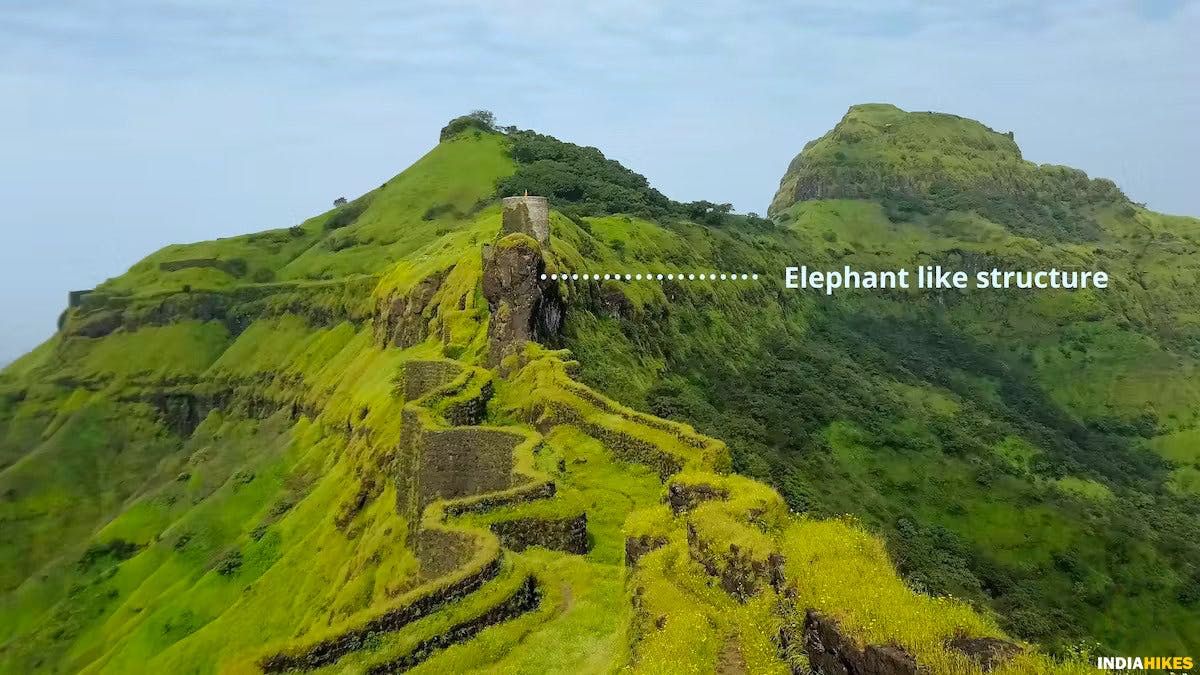 Spot the elephant-like structure while exploring Suvela Machi. Picture by Nitesh Kumar
➤Trail Information
Rajgad trek has many routes. In this exhaustive trek guide, we have covered one of the famous routes that start from Gunjavane village in detail. 
The trail from Gunjavane village can be divided into 3 sections.
Gunjavane Village to the plateau: 30 minutes
Plateau to the Chor Darwaza: 2 hours
Historical places on the fort: Half a day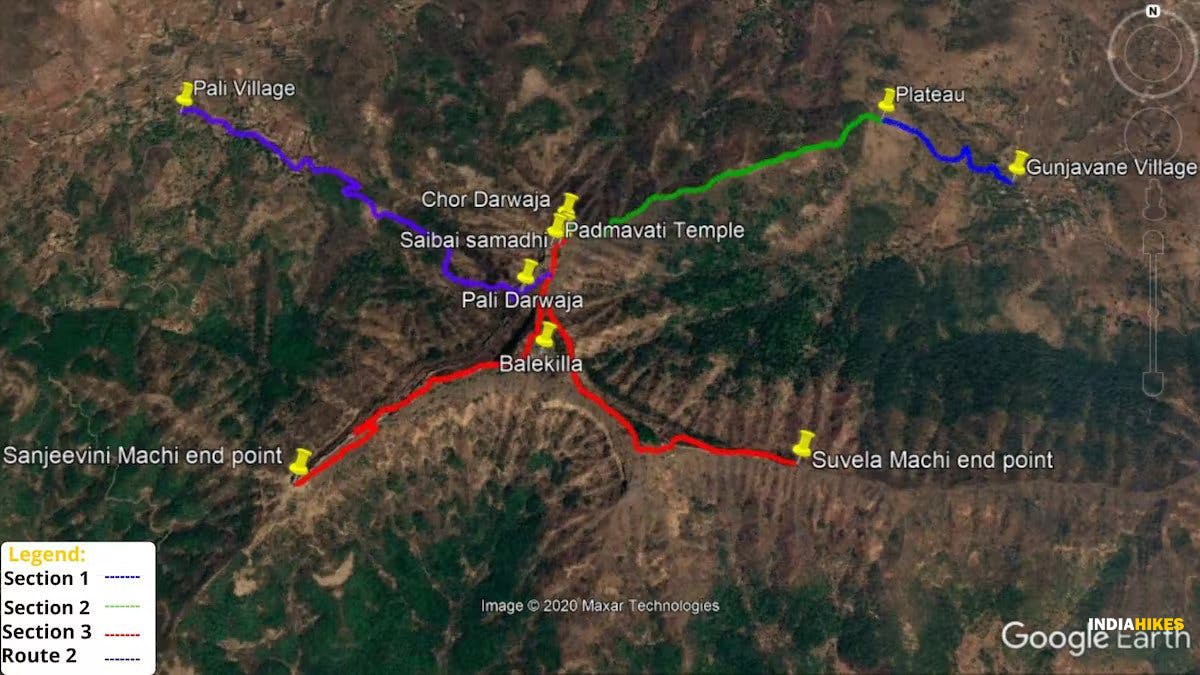 Trail Map of Rajgad Trek. Screenshot on Google Earth Pro
Trek distance: 1 km
Trek duration: 30 minutes
GPS coordinates of Gunjavane village:   18°15'14.30"n 73°42'19.75"e
GPS coordinates of the plateau:   18°15'26.27"n 73°41'57.91"e
Rajgad trek starts from Gunjavane village. It is a very small village with 4 to 5 hotels at the base and few houses. The trek starts from the road behind the hotel Suvela Garden.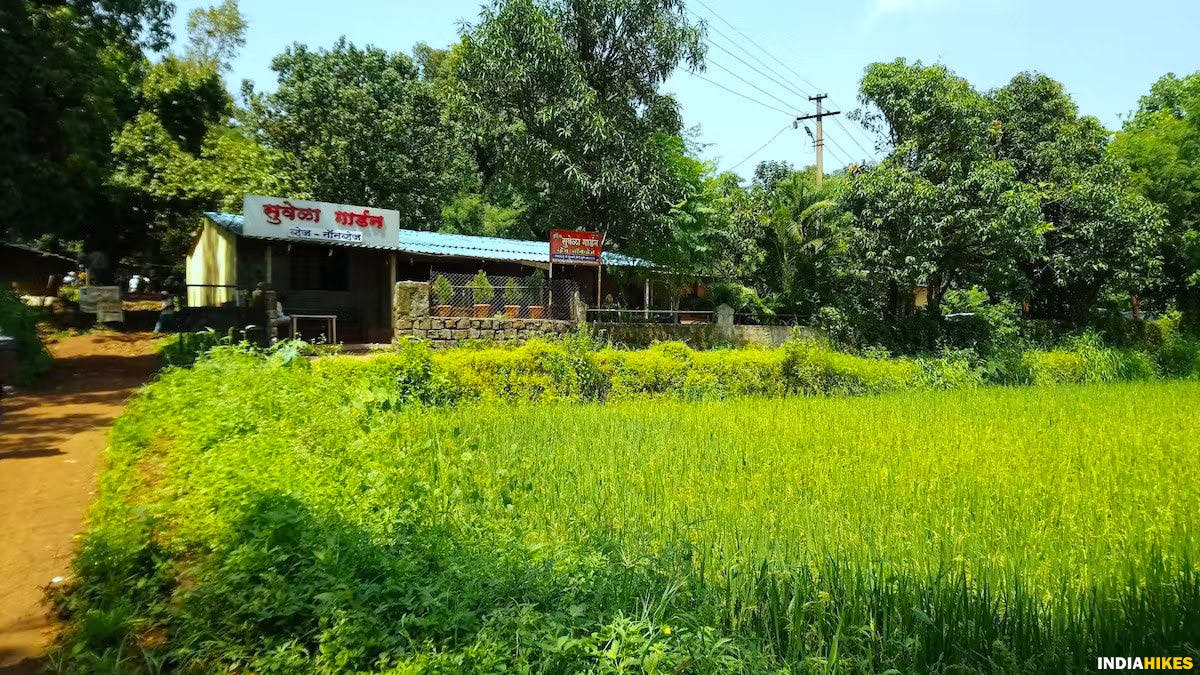 Take the road next to the hotel Suvela Garden. Picture by Nitesh Kumar
Once you cross this hotel after a 5-minute walk you get an entrance gate. Enter the gate to start the trek.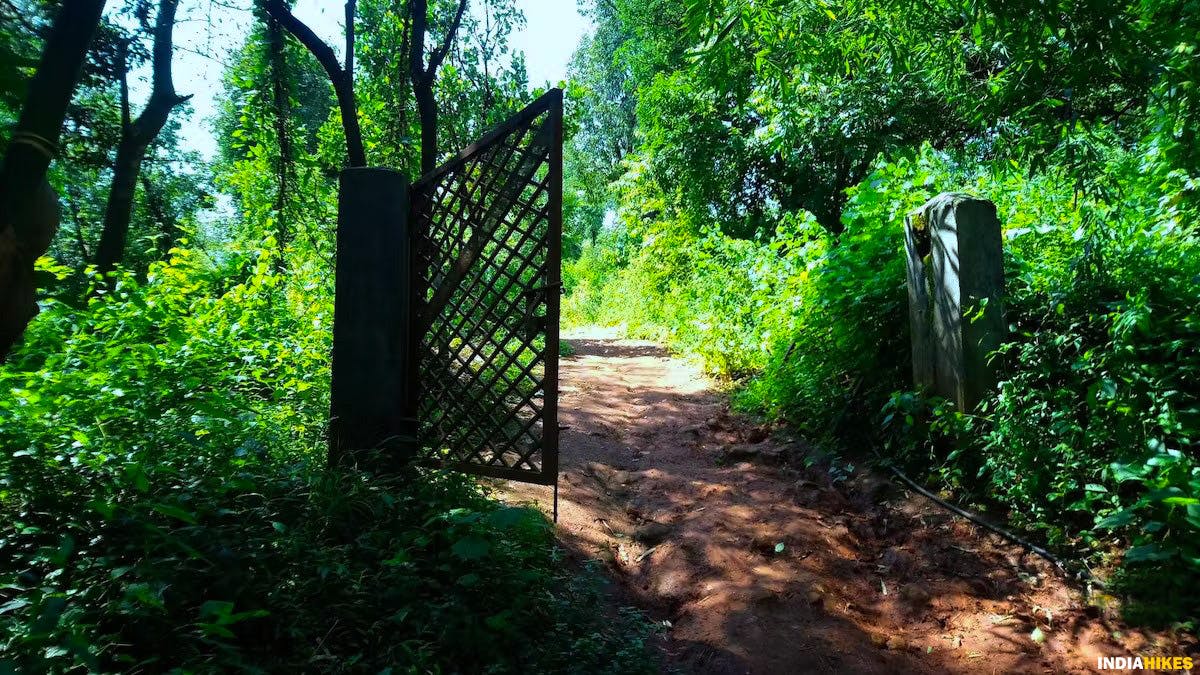 Entrance gate to the Rajgad fort. Picture by Nitesh Kumar
The trail from here is pretty straightforward. The chance of getting lost on this trail is very less. 
The initial trail goes through the field and wide mud trail. Continue on the same trail for another 15 to 20 minutes.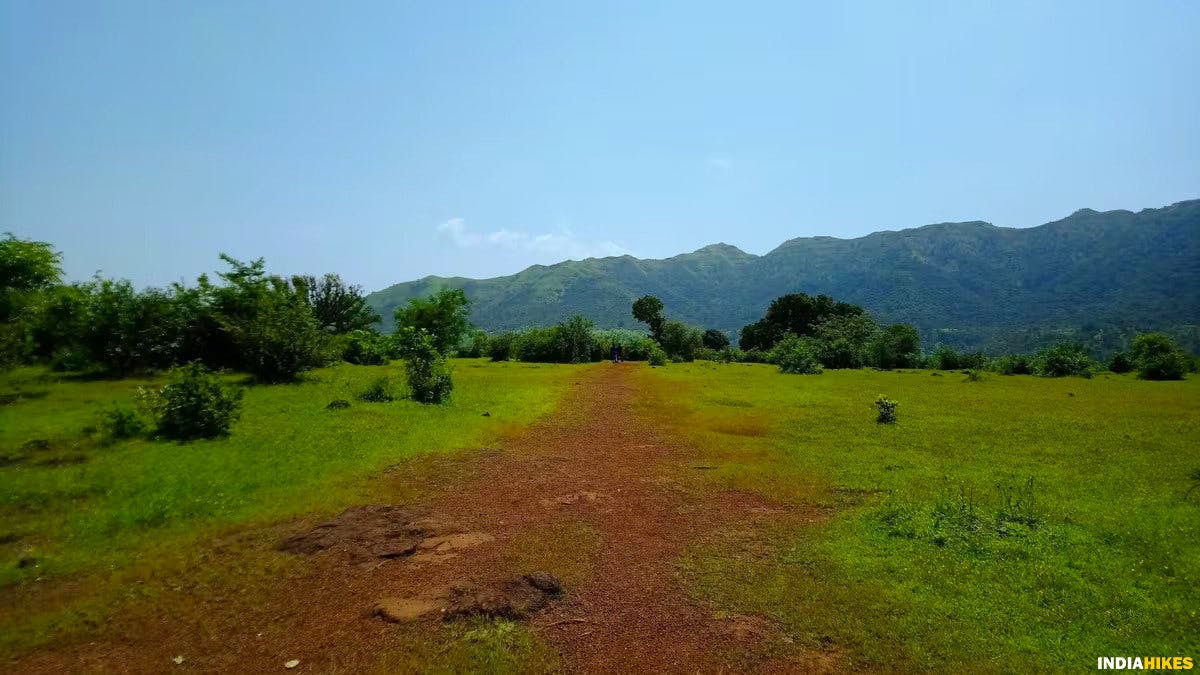 Initial trail from the Gunjavane village. Picture by Nitesh Kumar
The trail gradually climbs uphill. Here, you constantly trek between the open area and forest section. The trail has a combination of mud and loose rocks.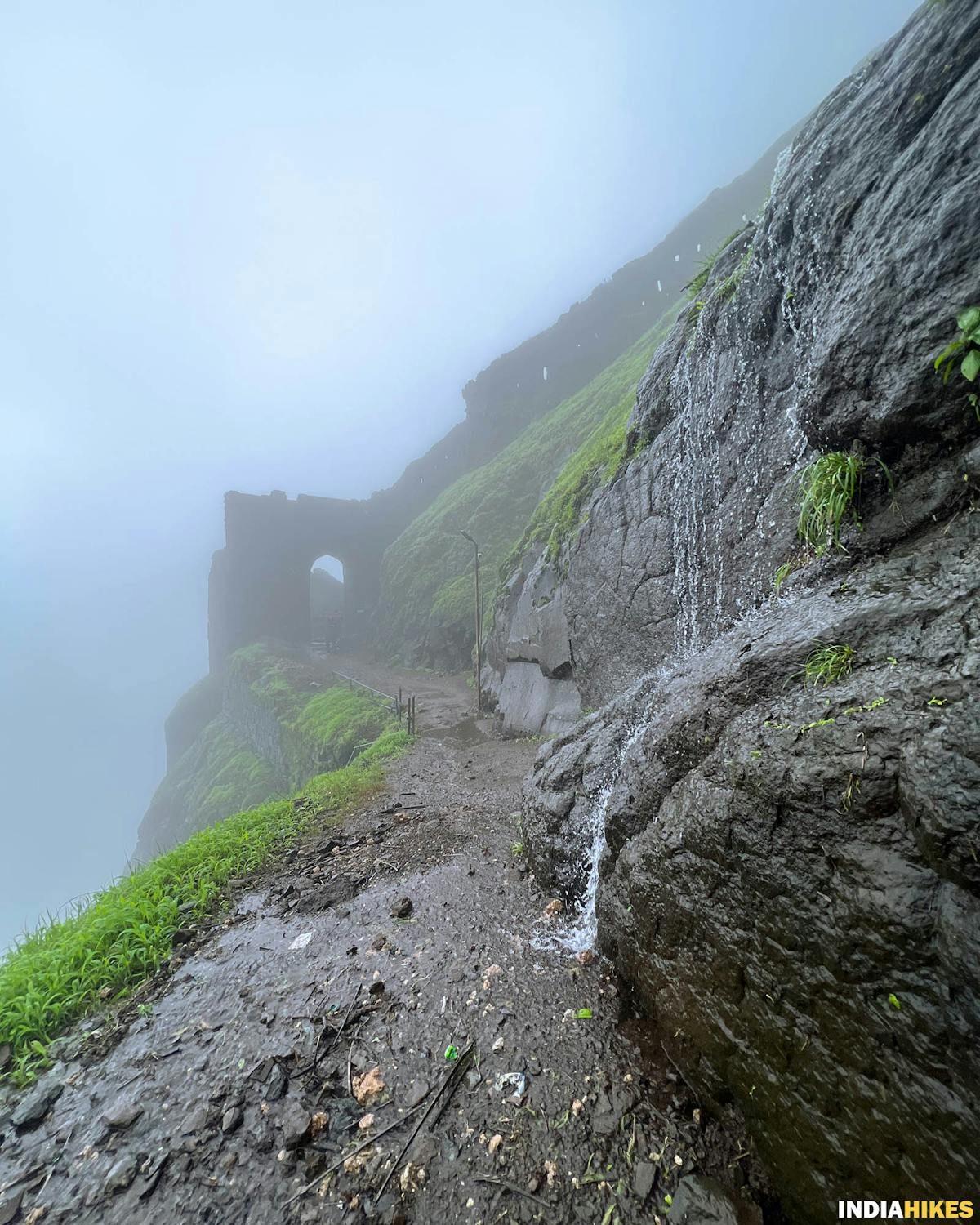 Waterfalls on the Rajgad fort walls during monsoon, be careful while traversing. Picture by Vishal M
Now, you will be trekking parallel to the Suvela Machi. After 20 minutes of trek, you reach a huge plateau. From here, you can see the Rajgad fort and Nedhe along with Suvela Machi. 
There is a small hut that serves snacks and water. Take a short break here and then continue towards the fort.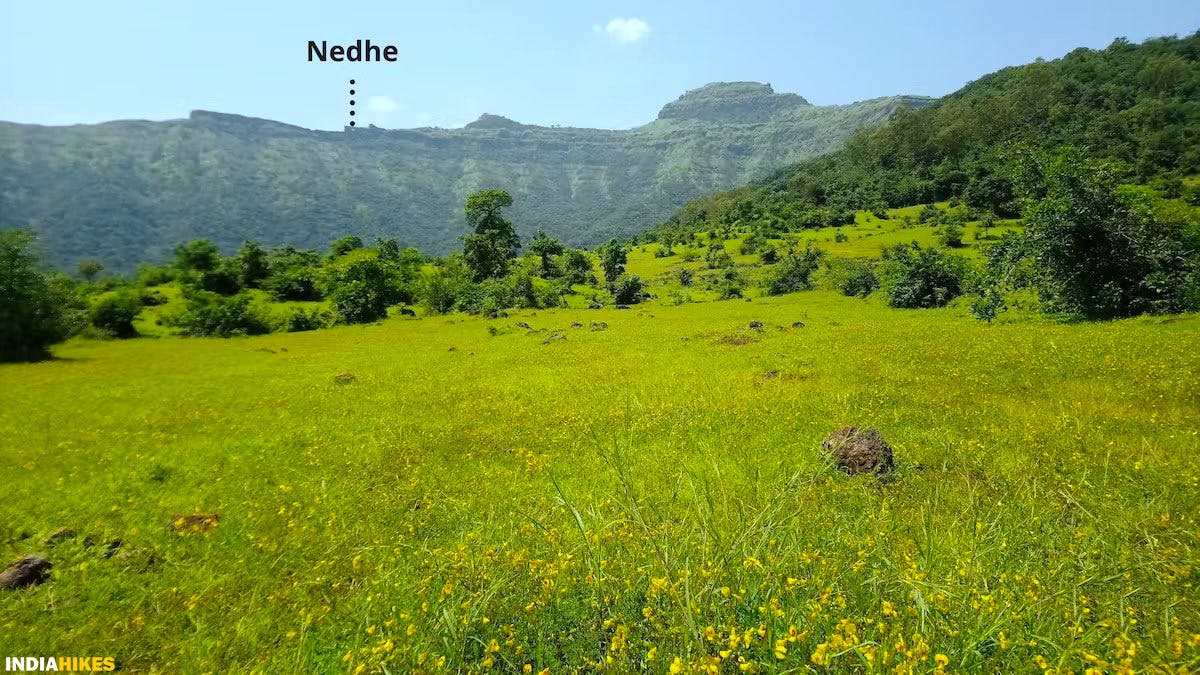 Rajgad fort and Nedhe as seen from the plateau. Picture by Nitesh Kumar
Trek distance: 3 km
Trek duration:  2.30 hours
GPS coordinates of the plateau:   18°15'26.27"n 73°41'57.91"e
GPS coordinates of the Chor Darwaza:  18°15'6.45"n 73°41'0.63"e
After the break, start the trek towards the fort. The initial trial has a gradual ascent. There is a proper trail up to the Chor Darwaza.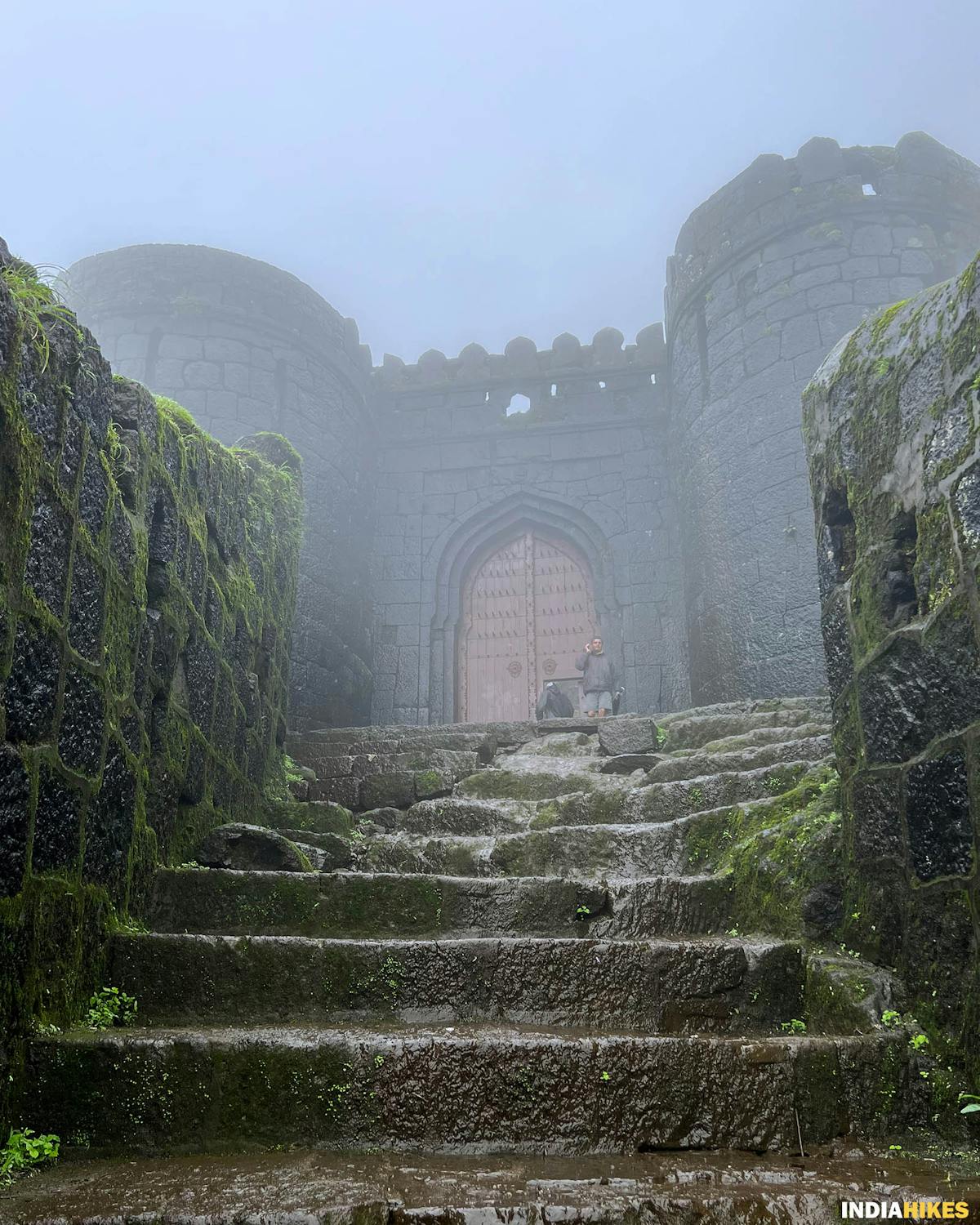 Darwaza at the entrance of the Rajgad Fort. Picture by Vishal M
The trail continues to be like this for another 30 to 40 minutes. During the monsoon and post-monsoon season, you can see many flowers here. 
Now, the trail connects you to the ridge that directly goes to the fort. Follow the trail until you see a final rock patch. 
This section is pretty steep. Since it was the back door of the fort, there are no proper rock-cut steps. But now, to make the climb easier, there are railings till the entrance to Chor Darwaza.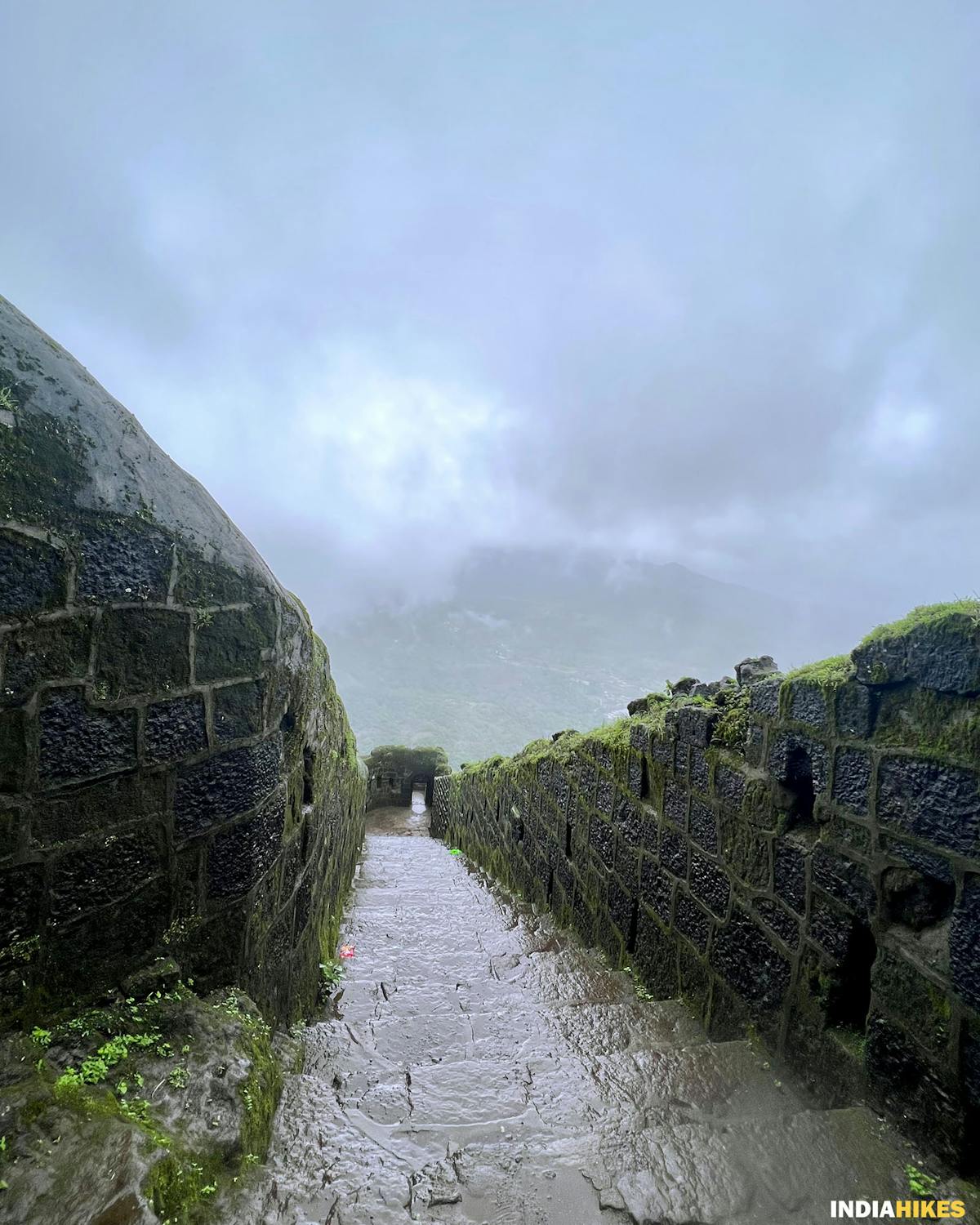 Fort walls leading to a scenic valley view. Picture by Vishal M
As soon as you reach the endpoint, you can see a small door. This is the Chor Darwaza. Watch your head while getting inside. 
The entrance of the Chor Darwaza taken from the inside. Picture by Nitesh Kumar
Once you exit the door, immediately there is a staircase that takes you to Padmavati Machi. As soon as you climb up, a clear view of the Sahyadris welcomes you with mind-blowing views.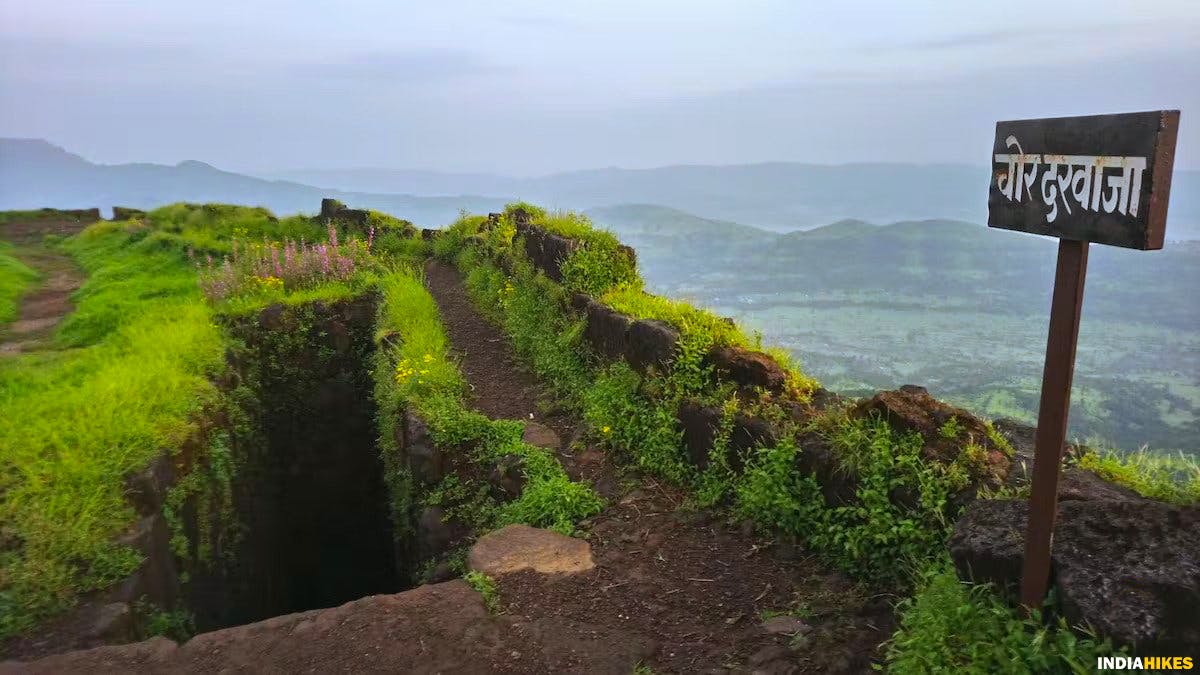 The exit point from Chor Darwaza. Observe the view of the Sahyadris. Picture by Nitesh Kumar
It will take around 2 and a half to 3 hours to reach the top from Gunjavane village. From here, after a few minutes of trek, you reach Padmavati Machi. You can see the amazing Sahyadris from here. 
Section III: Historical Places on the Top of Rajgad
On the top, starting from the entrance, you can see many small lakes, houses, and temples. 
Continue trekking on the Padmavati Machi. After 10 minutes, you reach Padmavati temple. There is also a Padmavati lake. You can camp here or stay inside the temple.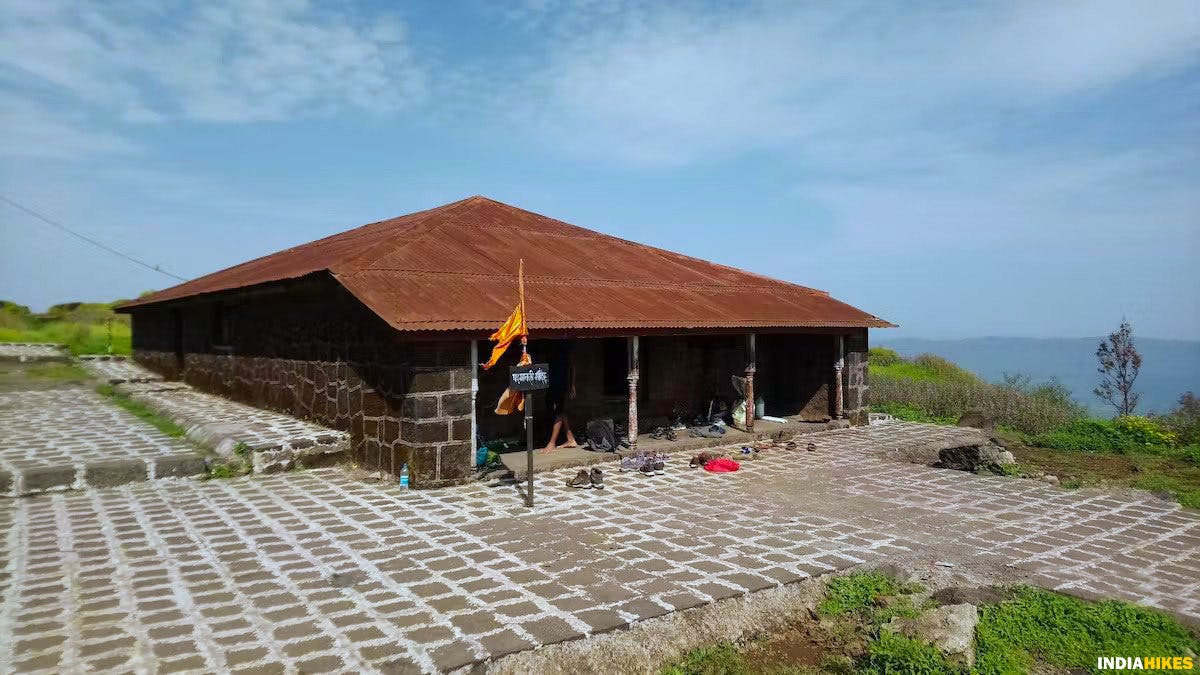 Padmavati temple on the Padmavati Machi of Rajgad Fort. Picture by Nitesh Kumar
Explore the Padmavati Machi before proceeding to the other 2 Machis. There are some old canons, Saibai's tomb, 'Daru-gola (Kothar)' (arms & weapons storehouse), 'Sadar' (the place of meetings of important people), a private chamber under Sadar, and a water cistern that contains potable water. 
At the end of Padmavati Machi, the trail splits into 3 sections. The trail in front of you takes you to Balekilla, the left one goes to Suvela Machi and the right one goes to Sanjivani Machi. 
Sanjivani Machi is 2.5 km long and has a double fortified wall. The architecture of the Machi is an interesting thing to witness.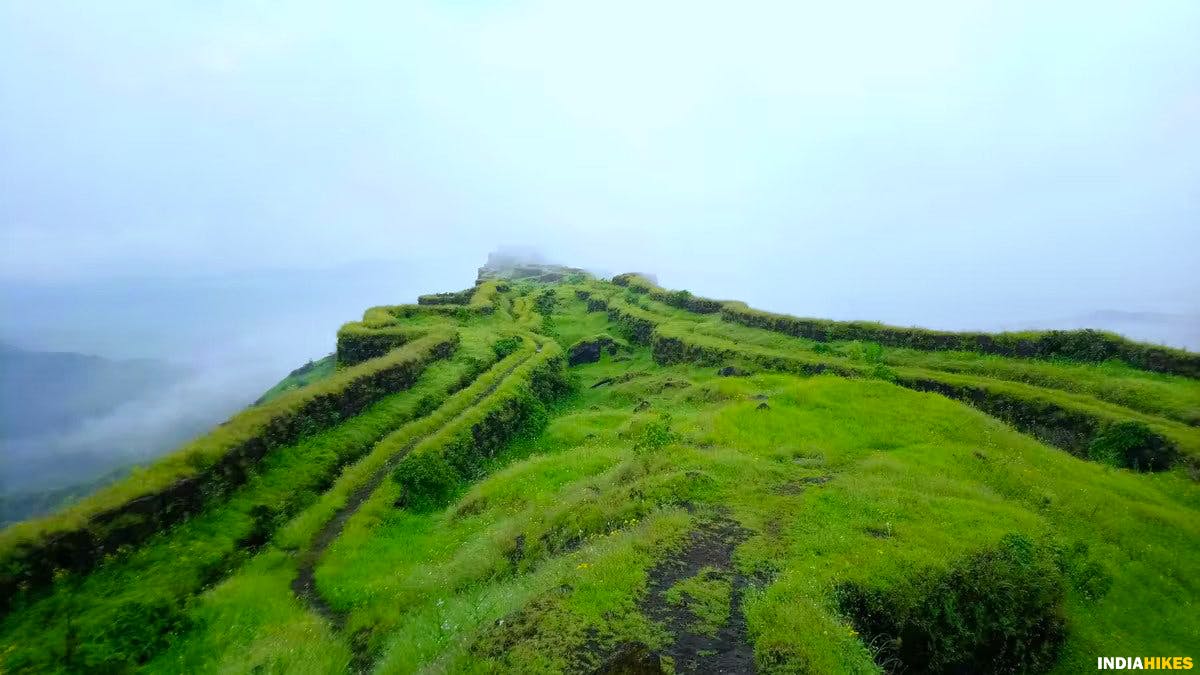 The Sanjivani Machi of Rajgad Fort. Picture by Nitesh Kumar
While approaching towards the end of the Sanjivani Machi, there is a short descend heading towards Alu Darwaza. This is the exit point from Sanjivani Machi from Rajgad and connects to Torna fort ridge.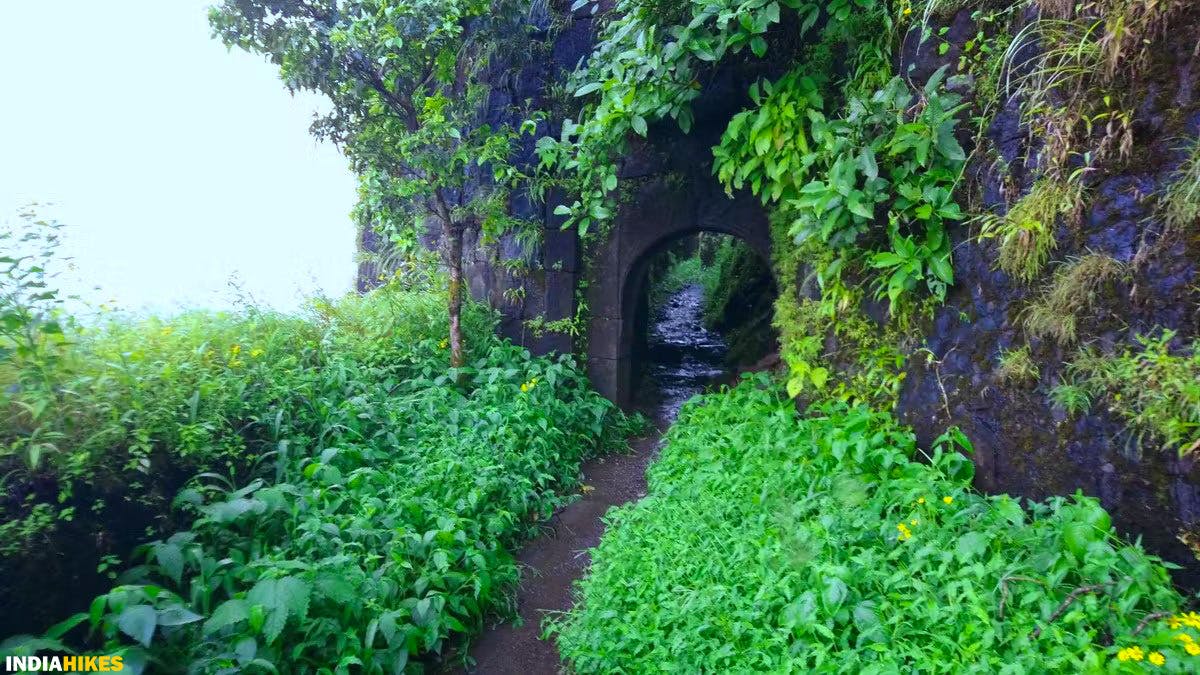 Alu Darwaza at the end of Sanjivani machi. It leads to the ridge of Rajgad and Torna fort. Picture by Nitesh Kumar
The trail to the Balekilla is steep. There are ropes tied for trekkers' safety to negotiate a few rock patches. Make sure you take complete support of that while climbing.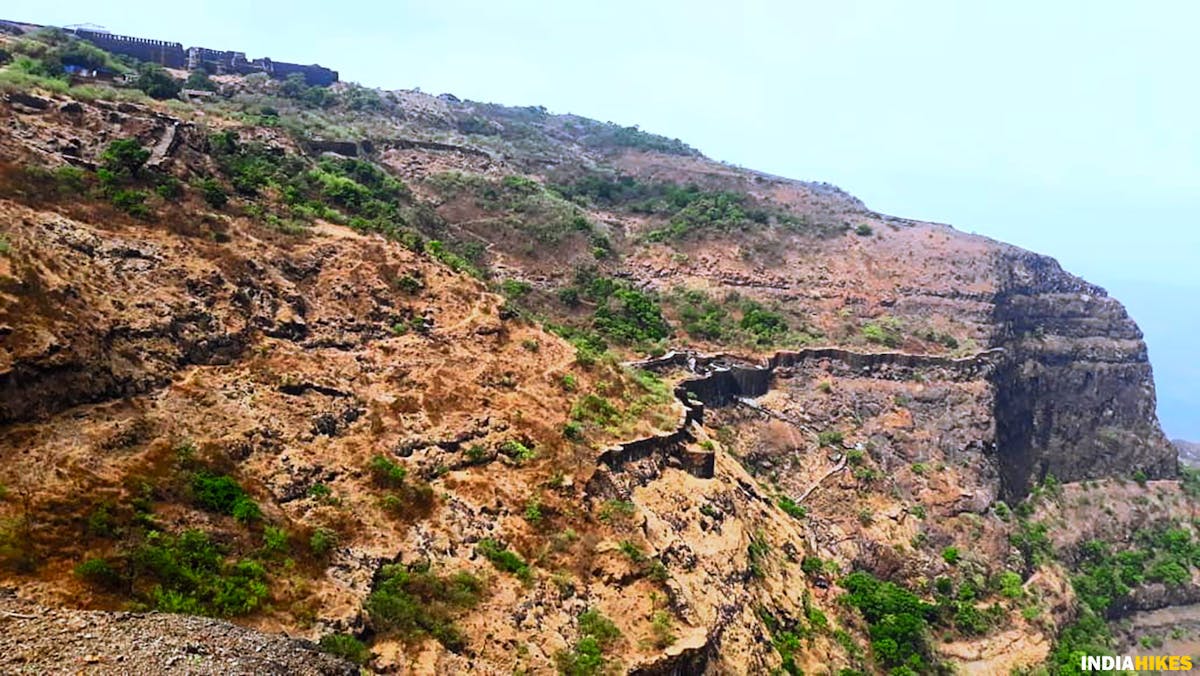 Notice the fort walls running through the mountains. Picture by Rajesh Chandra
After around 25 minutes of a climb just before the Balekilla, you come across a Maha Darwaza which is of 6-meter height.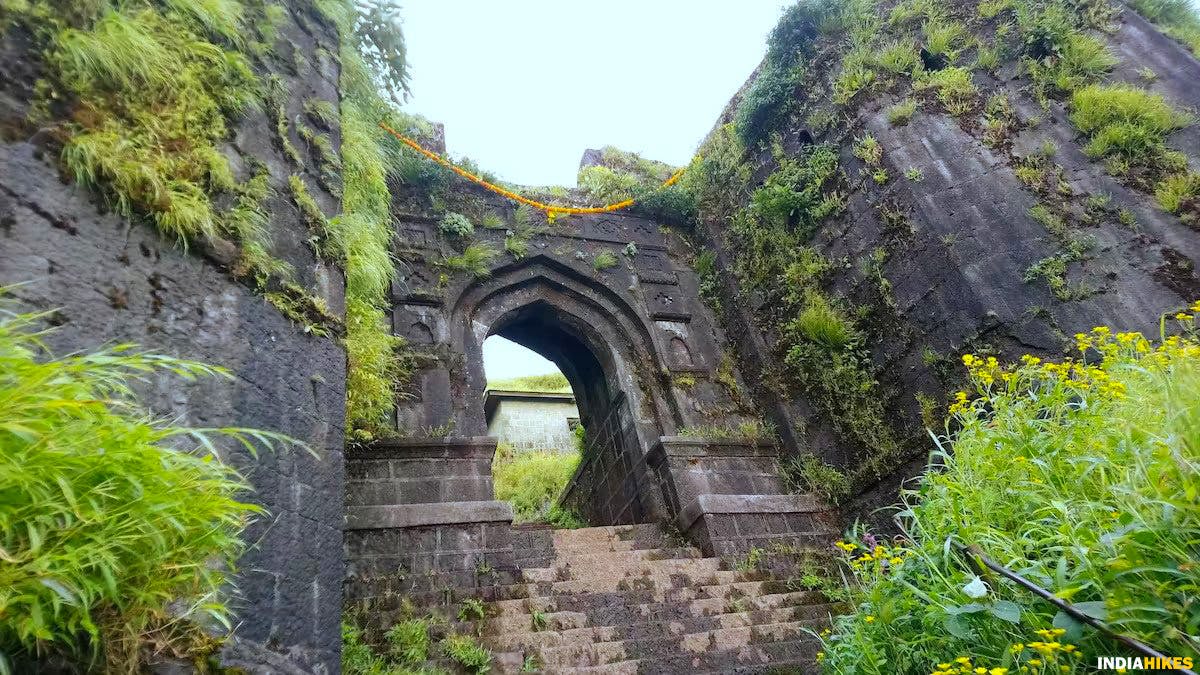 Maha Darwaza, just before entering the Balekilla. Picture by Nitesh Kumar
After Maha Darwaza, you see a beautiful half-moon-shaped lake called Chandrakor pond. This name is because of its shape.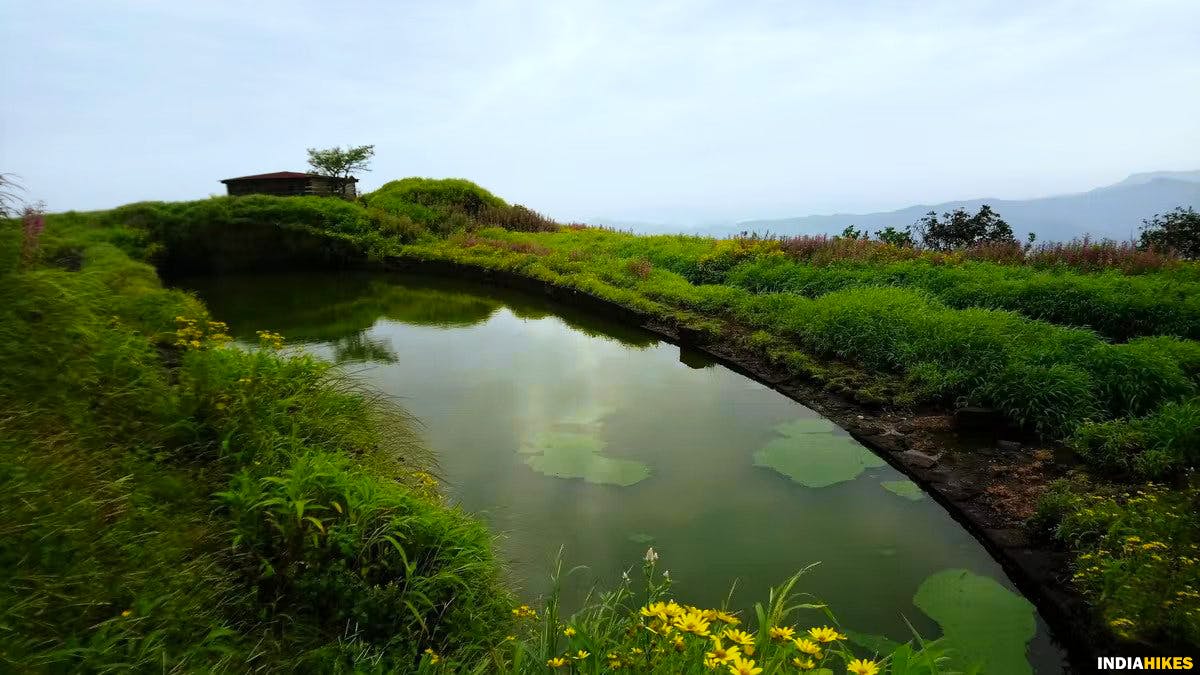 Chandrakor pond, seen on the way to Balekilla. Picture by Nitesh Kumar
From Balekilla you can see Torna, Pratapgad, Tung, Lingana, Sinhagad, Visapur forts, and all the above-mentioned fort at a distance. You also get enchanting views of the Sahyadris, Mahabaleshwar range, and Raireshwar plateau.
While descending from Balekilla, you find a trail going towards the right. It directly takes you to Suvela Machi. The trail passes through thick shrubs and bushes.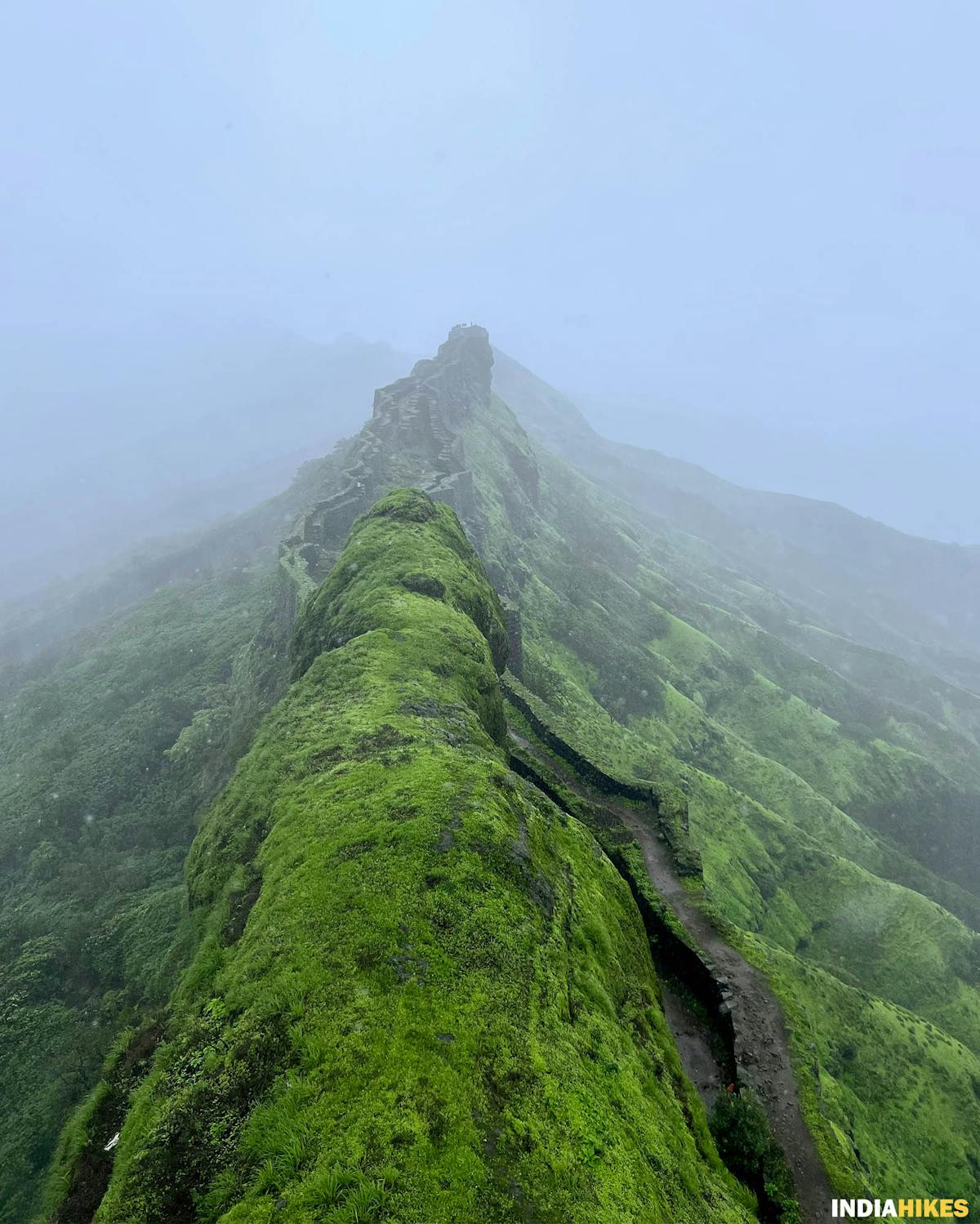 Suvela Machi as seen from Balekilla. Picture by Vishal M
After a 15-minute walk on the Suvela Machi, you come across a small Hanuman temple on your left. It has a small hanuman idol surrounded by stones. 
View from Ballekilla. Picture by Nishant Kajale
As you continue on the same trail, you see a tiny hidden door that leads to an underground passage. It has a hole at the end that was used as an entry and exit point to the 'Met' (security checkpoints).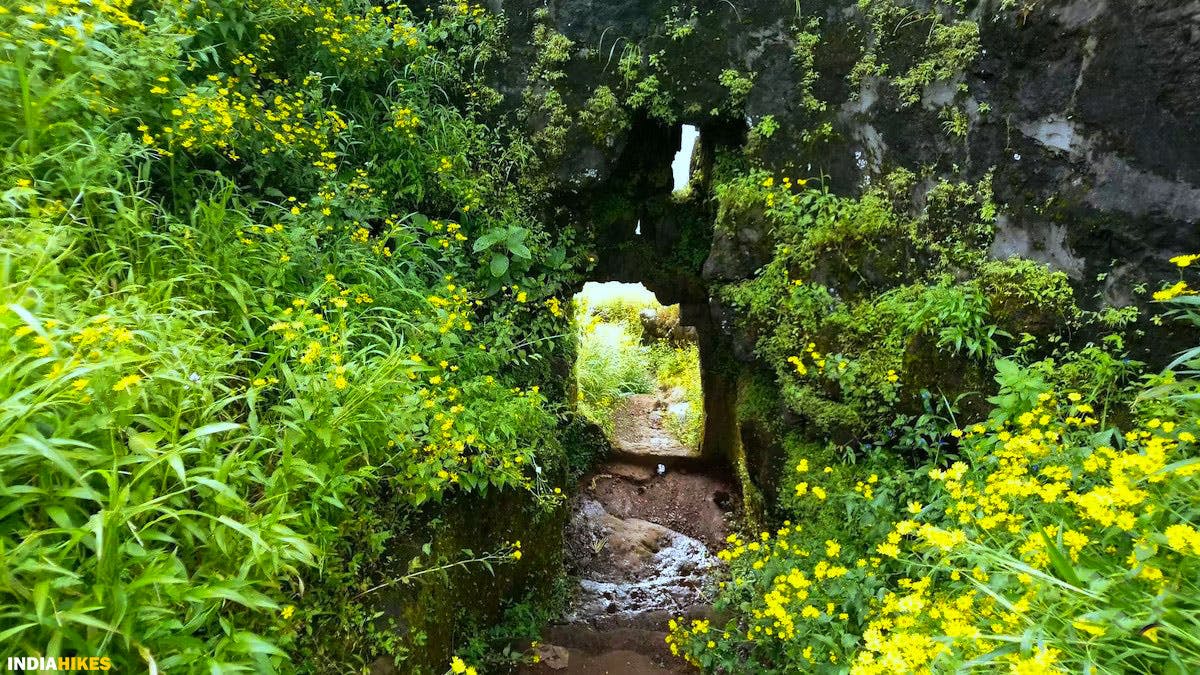 A tiny door leads to the underground passage. Picture by Nitesh Kumar
After 15 minutes of the trek on the same trail, you come across steps that lead you to Chilkhati Buruj. Chilkat means 'shield' and Buruj means 'bastion'. Here Chilkhati Buruj means that bastions that can bear cannon firings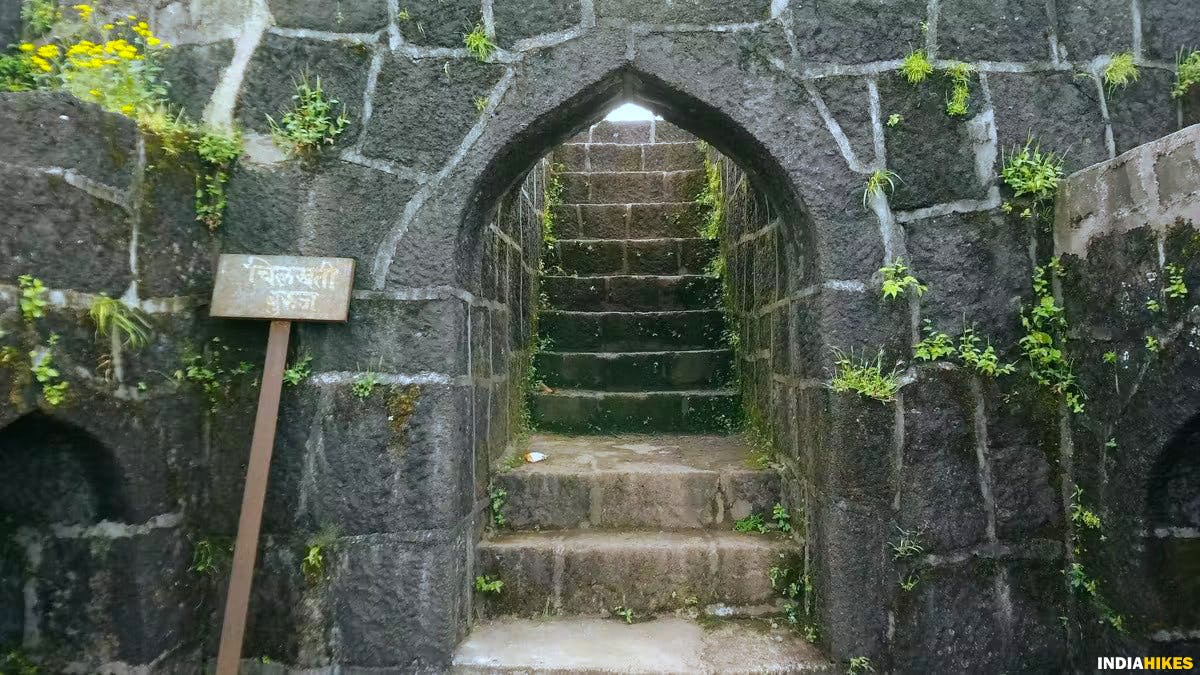 Entrance of the Chilkhati Buruj. Picture by Nitesh Kumar
As you move ahead from the Buruj, you come across a gigantic narrow rock that resembles an elephant and hence it is called Hathi Prastar. 
It has a natural large round hole in the wall called the 'Nedhe' which can be seen from the plateau. You can climb up the rock to the hole for some marvelous views.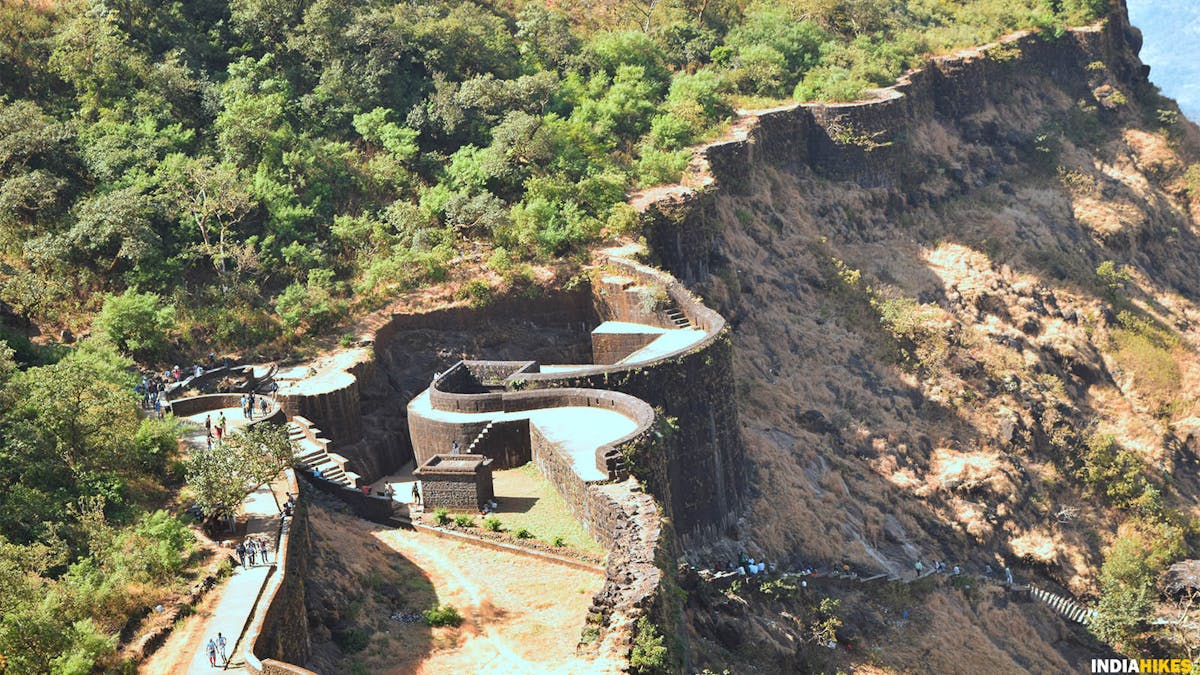 View of the Rajgad fortwalls & Maha Darwaza from a distance. Picture by Vishal Aranke
Proceed to the end of the Machi from where you get tremendous views of Bhatghar dam and the valley below.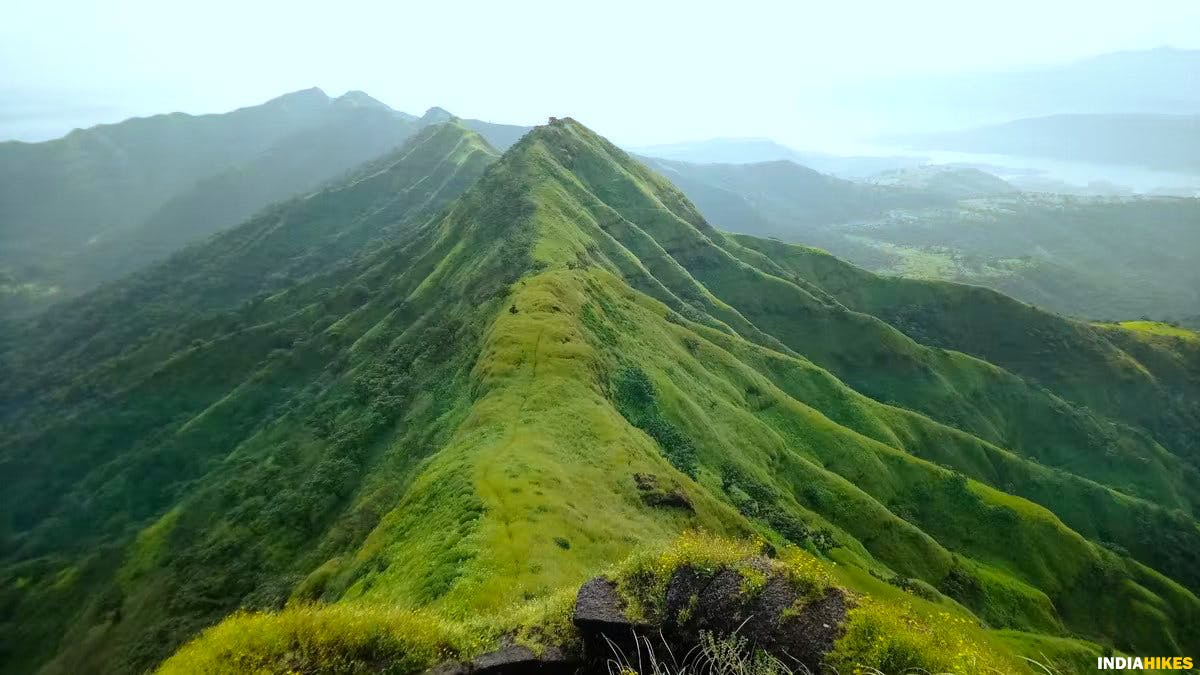 View from the end of Suvela machi. Spot the Bhatghar dam towards the left. Picture by Nitesh Kumar
After absorbing the views, return to hanuman temple. From here a trail takes you straight to Padmavati Machi through a small door in the rock.
After exploring the fort, rest for a while and proceed down the same route to Gunjavane village. You can also take the route that ends at Pali village.
If you want to cover Torna fort, proceed to Sanjivani Machi and start the trek towards the ridge that connects the fort.
➤Best Season To Do The Rajgad Trek
One of the best things about Rajgad trek is you can do this in any season. It offers a variety of views in all seasons. 
If you are trekking in the monsoon season, you can see the lush green Sahyadris. The trail becomes exciting with many small stream crossings. You get to see blooming wildflowers throughout the trek.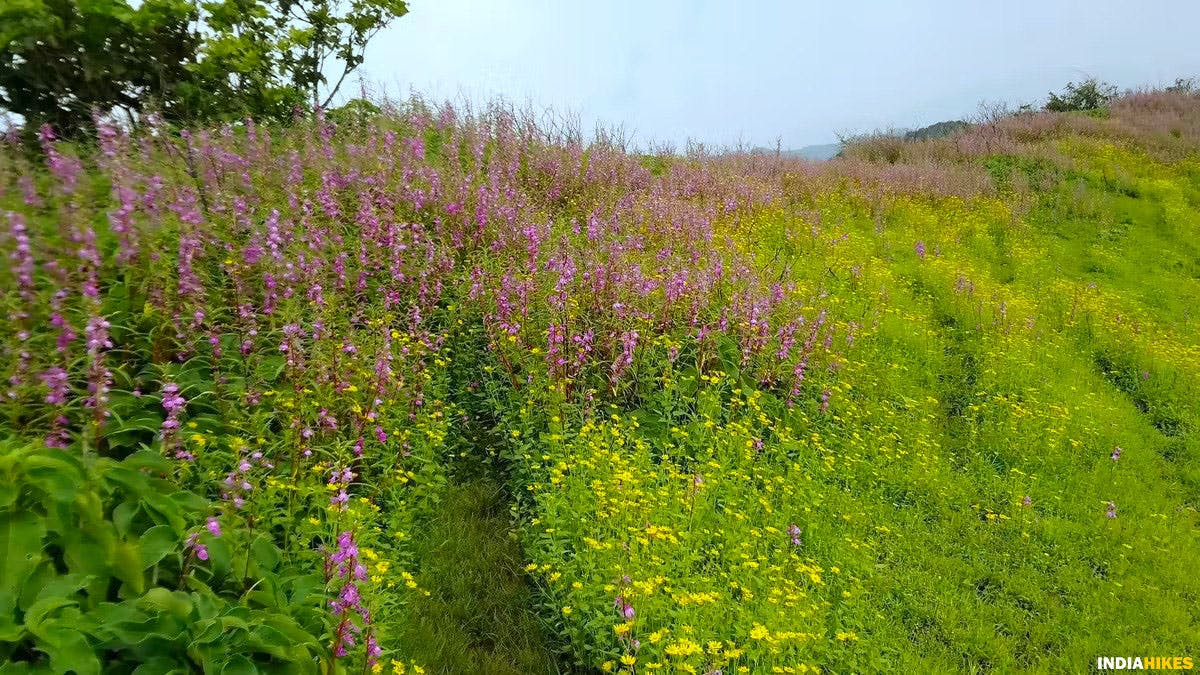 Wildflowers spotted on the Rajgad fort in September. Picture by Nitesh Kumar
If you are trekking in the winter and summer, you can expect a clear view from the fort. you can spot many famous forts from Balekilla.
View from the Rajgad fort in February. Picture by Kartik Mehta
➤How To Reach Rajgad Trek
Rajgad trek has multiple routes as there are many entrances to this fort. However, 3 trails are very famous and easily accessible. They are:
Gunjavane village route: via Chor Darwaza
Pali village route: via Pali Darwaza
Torna fort to Rajgad (Velhe village): via Alu Darwaza
All the villages are close to Pune and are easily accessible by public transport or private vehicle. 
To know detailed information about reaching the base village, go through the below section. 
Reaching the starting point by your vehicle
Both the villages mentioned above have roads wide enough to allow cars. use the links given below to help set up navigation in google maps. 
Reaching Gunjavane village: It is closer to Pune than Mumbai. If you are traveling from Pune, use this link to reach the base. To travel from Mumbai, refer to this link. 
You can park your vehicle at the village and start the trek. There is enough space to park vehicles. 
Reaching the starting point by Public Transport System
Reaching Gunjavane village
If you are traveling from Mumbai, reach Pune. There are many trains and buses that go to Pune from Mumbai. Get down at Swargate bus station, Pune. From here, catch a bus that goes to Gunjavane village. The trek starts from the trail behind the Suvela hotel. 
There are other multiple options to reach Gunjavane village. 
Get into a bus that goes to Velhe from Pune, get down at Margasani. From here you can get many shared taxis that go to Gunjavane village. 
From Swargate bus stand Pune, there are direct buses to Gunjavane village. The frequency of the buses may vary seasonally.
Another option from Pune is to get into a bus that goes to Satara/Kolhapur or Bangalore. Get down at Nasrapur. From here, many local taxis or autos go to Gunjavane village. 
If you are starting the trek from Pali village, get into the shared taxi or auto from Margasani or Nasrapur. Ask the driver to drop you at Pali village, Rajgad trek entrance. 
Return option: You can follow the same route while returning. There are very few buses after 4 pm from both the villages. Make sure you reach by then.
Tip: If you are travelling in a group with 5 to 6 people, hire a cab from Pune. They might charge you around Rs 2000 for a round trip. But you don't have to worry about catching a bus. 
Stay options: You can stay on the fort inside the Padmavati temple. There is enough space available for 50 people. You can also pitch tents near the temple or anywhere on the fort.  
Nearest Railway Station
Pune junction railway station: 61 km 
Nearest International and Domestic Airport
Pune international airport: 68 km 
➤How Difficult is Rajgad Trek
The difficulty level of Rajgad is of an Easy-Moderate level. There are no difficult sections as such on the Rajgad fort. However, a few sections need to be navigated carefully. Those are:
The final climb to the Chor Darwaza from Gunjavane village is steep. There is a railing given for support. However, place your foot very carefully while climbing.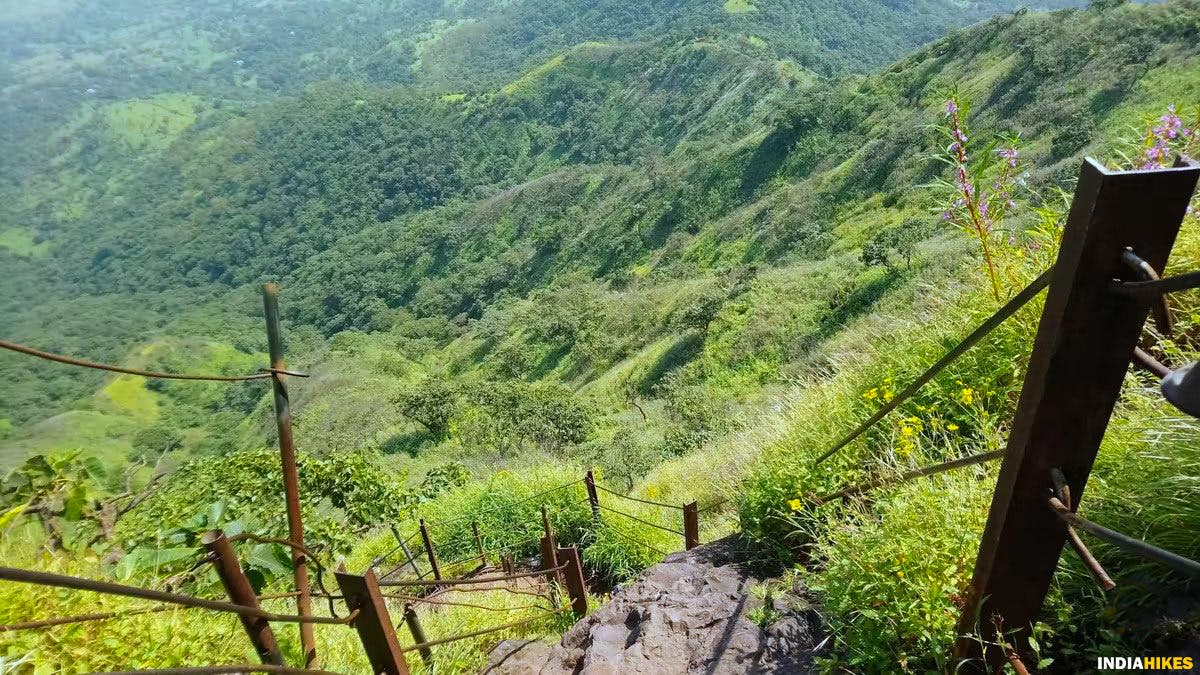 The final climb to Chor Darwaza. Picture by Nitesh Kumar
The trail to the Balekilla on the fort climbs to 500 ft. Some patches are very steep and there are no proper steps to negotiate. However, ropes are given for trekkers' safety. Make complete use of them.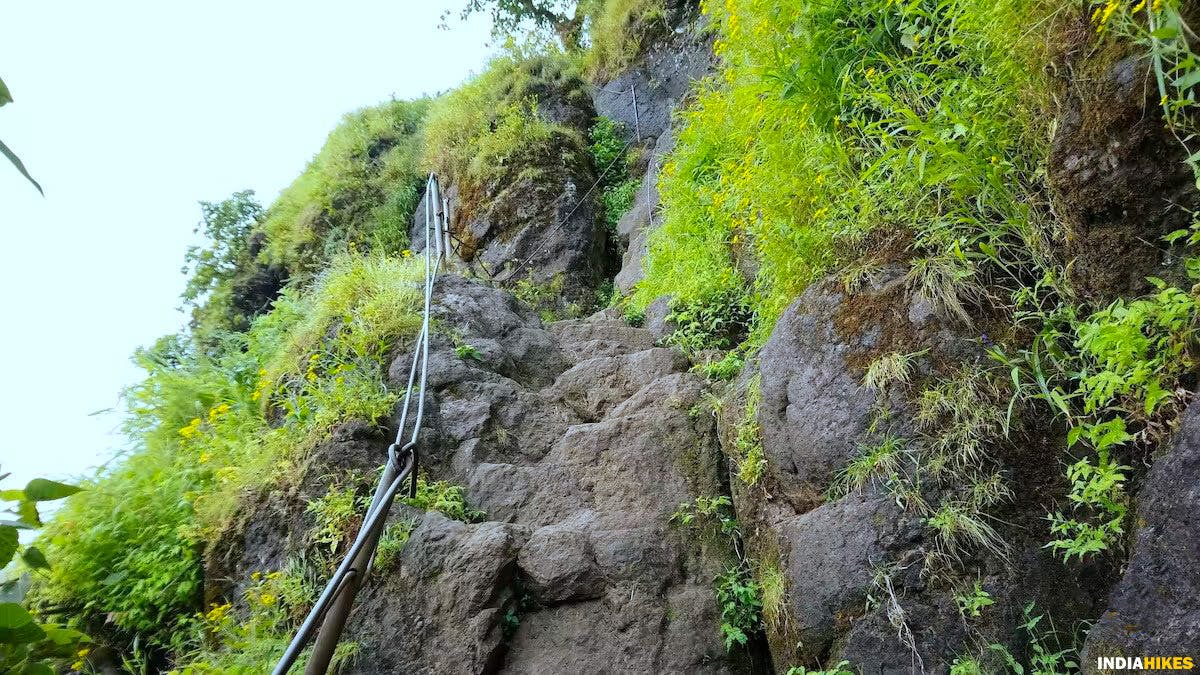 The steep climb up to the Balekilla. Picture by Nitesh Kumar
➤How To Get Fit For Rajgad Trek
The Rajgad trek is classified as an Easy-Moderate grade trek. From the base, you will gain approximately 2000 feet in altitude till the top of the fort.
The trail is pretty steep from the plateau up to the Chor Darwaza. This requires good stamina and endurance.
Here's a guide to help you get fit for the trek in 4 weeks:
➤ Cardiovascular Endurance
In case you're just starting with a fitness routine, start slow and increase your pace every day in the following manner –
Target completing a jog of 5 km in 45 minutes when you begin.
Gradually increase your pace by running 5 km, 4 times a week.
As you become more comfortable, introduce another day of running in your routine. 
Progressively increase the distance you run in a workout until you can complete 5 km in 40 mins.
If you prefer cycling over running, target covering 15 km in 60 minutes when you begin.
Progressively increase your pace to cover 20 km in one hour.
➤ Strength Training
This is an important area you need to work on.
Strength training is equally important to trek comfortably. Work on your glutes, calves and knees. Additionally, work on strengthening your core.
You must strengthen your core muscles. For strengthening your core muscles, holding a plank and it's variations (elbow, side planks) are the best exercises to go about doing it.
Also, try these exercises for strength:
Target 4 sets of squats with 20 in each set.
– Squats (mix it up with sumo squats)
– Lunges (forward, backward and lateral lunges)
– Planks
➤ Flexibility
Flexibility determines the amount of movement your bones can make in any direction around joints such as shoulders, elbows, hips and knees.
It is an aspect that will help you trek comfortably. Carrying a backpack, however light, can become a strain. Stretching your hamstrings, quadriceps, hip flexors and lower back muscles regularly, promotes relaxation in the tissues reducing the strain on your back.
If you can't go out and jog because of time and space constraints, here's a video you can use to work out indoors
Click here to go back to the table of contents.

➤What To Pack For Rajgad Trek
Basic First Aid kit*
Identity Card
Cap/ Scarf/ Bandana & Sunglasses
Water (Minimum two litres)
Lemon and salt OR Electrolyte Powder/Drink (Electral/Gatorade/Glucon D, etc.)
High-calorie snacks (Nuts & dry fruits, home-baked cake, etc.)
Safety Pins, Rubber bands & Whistle (Useful in emergencies.)
Quick Dry T-shirts are preferable over cotton tees.
A warm layer (Pullover, sweater or a jacket)
Poncho, only during post-monsoons
Plastic sheet to wrap electronic devices, only during monsoons
Sunscreen (SPF 50+)
Trekking poles
Tent (3-Person or 2-Person - Depending on the number of people sharing)
Sleeping Bag

First aid kit:
Scissors
Band-aids (Regular & Waterproof)
Analgesic spray (Relispray, Volini, etc.)
Antiseptic Liquid (Savlon, Dettol etc.)
Antiseptic powder (Povidone-Iodine based powders like Cipladine, Savlon, etc.)
Cotton roll & Bandage
Crepe Bandage
1-inch wide medical tape (paper or cloth.)
Micropore tape
Tablet for motion sickness (Avomine), Acidity (Gelusil, Digene, etc.).
Mild pain relief tablet (Crocin)
| Note: Always consult a doctor before taking any medicine.
Click here to go back to the table of contents.

➤Frequently Asked Questions About Rajgad Trek
1. Do I need permission to do Rajgad Trek?
Rajgad trek does not require permission from the forest department. You can do this trek on your own without any permission. 
2. Can we stay on Rajgad Fort?
There are no restrictions on camping. You can camp near the Padmavati temple on the fort. If you do not have a tent, you can also stay in the temple. It can accommodate a maximum of 50 people. 
3. Are there any food and water sources available on Rajgad Trek?
Rajgad trek starts from small villages. And these villages have many small food stalls where you get food. You find many such stalls on the top as well. They serve decent food. Carry your tiffin box with some dry fruits on the trek. 
There are few hotels that can provide food as well as tents for rent. Here are the contact details:
Gunjavane village :- Rasal :- 7776099165,  7218486356
Pali village :-  Subhash Jadhav: 8847767041
                         Sangita Debe: 9921797611
There is a well in Gunjavane village where you can fill the water bottle. If you are trekking in the monsoon season, you find a lot of small streams on the trail which are potable. On the top, there is also another well near Padmavati temple where you can fill your water bottles.
Make sure you carry a minimum of 2 liters of water along with you.
Tip: If you are not comfortable with having water from outside carry purification tablets or life straw bottles to purify the water.
4. Who can do the Rajgad Trek?
Rajgad trek has multiple routes with varying difficulty levels. 
The trail from Pali village is pretty easy compared to the Gunjavane route. So a beginner can attempt this route. 
The trail from Gunjavane village is of moderate difficulty. However, there are no technical sections on this route. Hence, a fit beginner can attempt this route. 
5. What is the ideal time to start Rajgad Trek?
Rajgad trek can be done in one day or two days. You need a minimum of 3 hours to explore half of the fort.
If you are planning to complete the trek in one day, start late at night from Mumbai on the previous day. Reach the base village before sunrise and start the trek immediately. You will reach the fort by 10 am. You can return from the top after having lunch. 
If you are planning to do this trek for 2 days, leave Mumbai on a Saturday late morning. Reach the base village by 4 pm. You will need 2:30 to 3 hours to reach the top. Camp there near the Padmavati temple. The next day, explore the fort completely and return.
If you are depending on public transport, make sure you reach the base village before 4 pm. There are very few buses after that. 
6. Is Rajgad one day trek?
Yes. Rajgad Fort Trek can be done in either one or two days. But if you are planning for a one day trek, make sure you reach Gunjavani village a night before and start your trek early in the morning, latest by 6 am.
7. How long does it take to Rajgad fort?
Rajgad fort trek takes around 2.5 to 3 hours to reach the top of the fort. There are 3 Machis - Padmavati Machi, Suvela Machi and Sanjeevani Machi. Further time that you take depends on how long you explore these. But you keep a minimum of 5 hours for the whole trek.
8. How long is Rajgad Fort trek?
Trek to the top of Rajgad Fort is 4 km long from Gunjavane village. Exploring the various Machis might add a couple of more kilometres to your entire trek distance.
9. Is Rajgad trek easy?
Rajgad is an Easy-Moderate trek. This means that it can be done by both fit beginners and experienced trekkers.
10. Why is Rajgad Fort famous?
The Rajgad Fort is famous for it's architecture and the history that dates back to the times of Chatrapathi Shivaji Maharaj. The fort has witnessed many significant historical events from the birth of Shivaji Maharaj's son Rajaram I to the death of his queen Saibai.
Apart from the rich history, the Rajgad Fort trek is extremely beautiful. If you trek here during monsoon, the lush greenery of the whole place is mind blowing. You get stunning views of the Sahyadris from the top.
Emergency contact for Rajgad Trek 
Hospital: Primary Health Center, Velhe is the nearest hospital to Rajgad trek. It is 20 km away from Gunjavane village and 14 km from Pali village. 
police station: Khed Shivapur police station is the nearest police station to Gunjavane or Pali village.
ERSS: For any kind of emergency help, you can contact the pan-India emergency response support system (ERSS) number- 112
ATMs and Network on the Rajgad Trek
ATMs: Nasrapur is the nearest ATM to gunjavane village which is 22 km away. However, Pune is the nearest place where you can find reliable ATMs. 
Make sure you carry a minimum of Rs 2000 from your starting location.
Mobile Networks: There are networks at the base village. Some network providers like Jio, Airtel do catch signals while on the trek but very poor signal. 
On the top of the Balekilla, you get the network. Most of the network providers catch the signal there.
➤ Places To Visit After Rajgad Trek
Rajgad fort has many things to offer on the top. You need a complete day to explore the entire fort. Apart from that, there are some places you can cover after the trek. 
Torna fort can be done from Rajgad fort. You can continue the trek from Rajgad to Torna trek and end it from there. 
This trail requires good stamina, as it is a very long trail. There are a few steep sections as well. So if you have prior experience, you can attempt this trial. 
This is one of the closest fort ones can attempt. One can start the trek from Torna, reach Rajgad, and then end the trek from Sinhagad. it will take 2 days to complete. 
This was the capital of Chatrapati Shivaji Maharaj after he moved from Rajgad. This is very rich in history. There is a statue of Shivaji's pet dog which was re-installed Shri Shivaji Raigad Smarak Samiti in 2012. 
➤ Trek Contribution
Trek done and documented by Nitesh Kumar, Saini Krishnamurthy and Prabhuraj Kore
Special thanks to Nitesh Kumar and Kartik Mehta, Vishal M, Vishal Aranke, Prathamesh Kulkarni for the pictures
Banner Image by Nitesh Kumar
GPX File Opt in
We go to great lengths to ensure you have a safe trek. So here's a GPX file of the trail to help you navigate without getting lost.