Can You Help Us With Photographs Of This Trek?
We are looking to enrich this documentation with more photos. Pictures go a long way in explaining the trail, more than words ever can. If you have done this trek, can you share your photos with us? We will include them on this page, with due credit to you.Click here to contribute.
The Complete Guide to Rohtang Pass Trek
The Rohtang Pass Trek is a hauntingly beautiful winter trek. Lahaul looks amazingly beautiful in winters. And if you are just looking it through a photograph, you are actually missing quite a lot in your life. Rohtang becomes as silent as a graveyard during winters. A thick sheet of snow engulfs the area within a 10 km radius and life comes to a standstill. That is when you need to visit the Rohtang. That's when you feel the might of the mountains.
Short Itinerary
A hauntingly beautiful winter trek
Lahaul looks amazingly beautiful in winters. And if you are just looking it through a photograph, you are actually missing quite a lot in your life.
Rohtang becomes as silent as a graveyard during winters. A thick sheet of snow engulfs the area within a 10 km radius and life comes to a standstill. That is when you need to visit the Rohtang. That's when you feel the might of the mountains.
Altitude: 3980 meters (12740 feet)
Trail Type: Very Difficult Trail. Although the walking distance is just 20km (both sides), you need to be cautious while stepping on dry and fresh snow. Advisable to stick close to the locals walking with you. The top of the pass is too windy, must not spend much time there.
Rail Ahead: Pathankot is the nearest rail-head
Road Ahead: No buses are available. Only cabs and that too until 04:30 in the early morning. From Keylang side, cabs start as early as 02:30 A.M. Make an advance booking.
Day 1: Marhi to Koksar – 8-10 km – 6-8 hours
Day 2: Koksar to Keylang – By Road – Cabs at Koksar – INR 400-500 per person.
Day 3: Early start from Keylang (02:00 A.M.)
Best Season: First-Second week of April.
Guides and Porters: No Idea about guides and porters as we don't/didn't hire any.
Maximum Elevation: 3980 meter – Rohtang Pass Top
Weather: Extremely Cold weather. Expect the temperature to dip as low as -5 degree Celsius. Chances of heavy rains or snow at any time.
Permits: No permits to be obtained.
Trail Information
My first trek across the Rohtang Pass (2012) during winter was a lucky escape. I did not have much experience of trekking in snow and all I could see was myself standing atop the ocean of snow staring straight at the Ghepan Goh (5870 meters). I did manage to cross the pass somehow. While others took 4-5 hours from Marhi to Khoksar, I took 8 hours. And once I was in the valley, I did not know what to do. I had thought only about crossing the pass. I returned the very next day and made my leg injury even worse. But that doesn't matter today. That didn't even matter then. The mesmerizing view atop the pass, with a vast ocean of snow spread right beneath your feet is worth every drop of sweat and blood.
Lahauli's start moving across the pass in April. Sometimes in March also, if it is a dry period. I gathered information from my friend, who had crossed the pass in 2008 and started contacting taxi guys in Manali. 11th April was decided to be the day. The cabs leave from Manali at 04:00 A.M. in the morning. The first time it was a group of government teachers walking across the pass because there were no flights. The next time (2013) it was a group of Zanskaris planning to cross the Shingo La in April itself.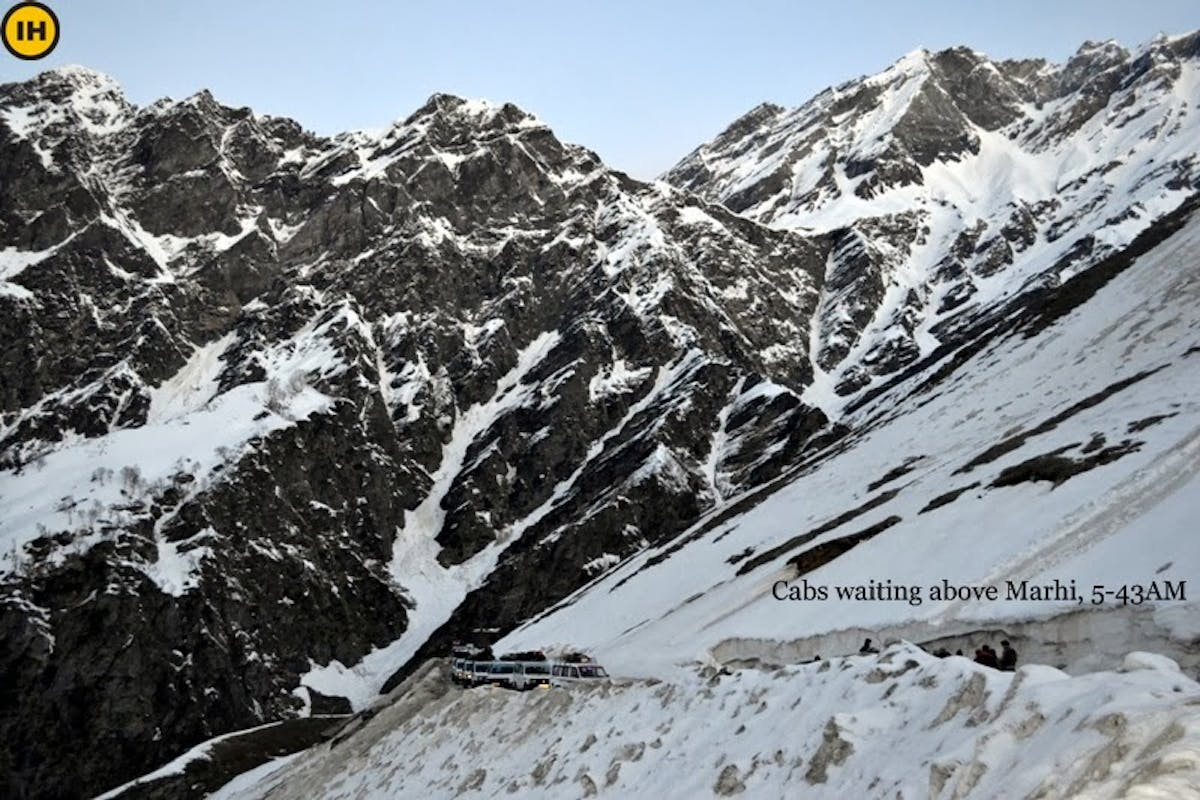 Cabs waiting above Marhi, 5.43 AM
The cab rates vary every year, depending on how far you want them to go. If it is risky, they will charge anything from 500-600 per passenger. If there is sudden road blockage en route, they will adjust their fare accordingly.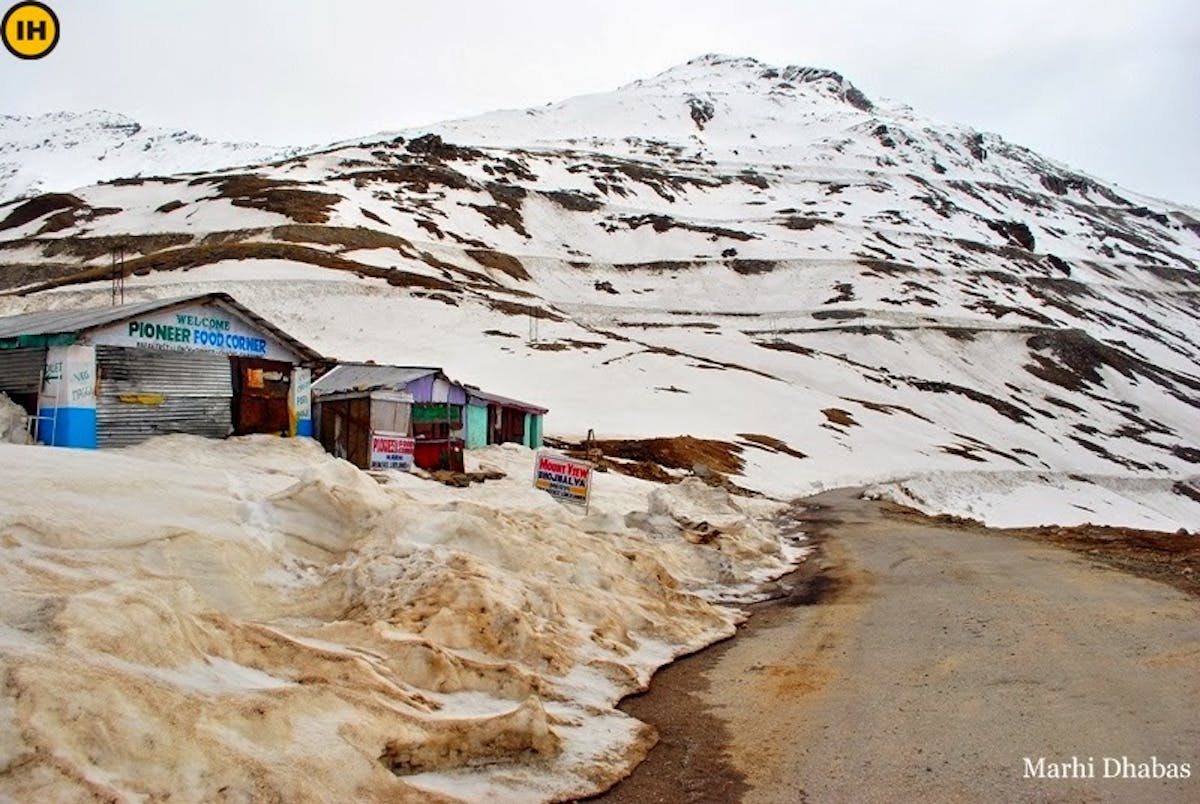 Marhi Dhabas
Once they have dropped you at Marhi (say), they will wait there until those crossing from Lahaul side come. Imagine spending those six hours in that snow desert. That's some risk they take.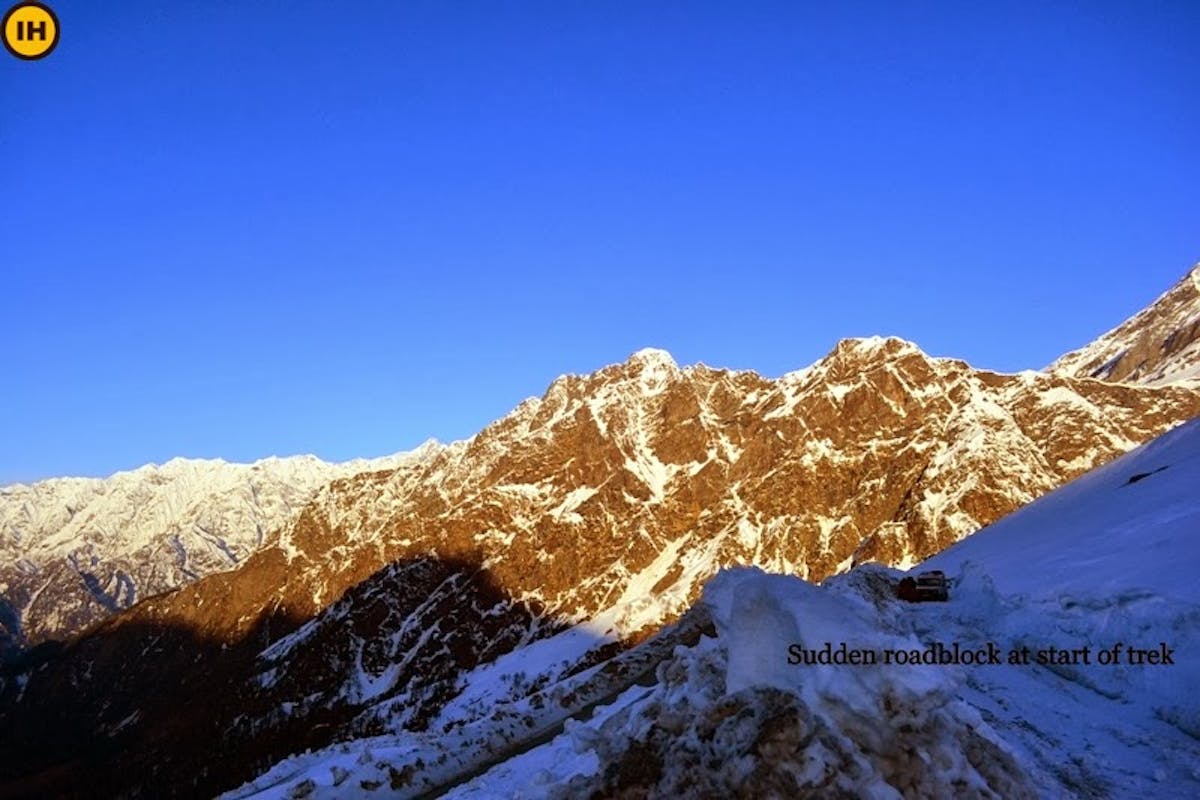 Sudden roadblock at the start of the trek
The tire-marks of BRO vehicles on the road are the only signs of human-life you will find there. People falling every now and then on hard ice make the atmosphere humorous and risky. There have been cases of fractured bones and cracked skulls. During my 2013 journey across the Rohtang, I tried to match my step with Lahaulis'. After walking for three hours, I was lagging by one hour behind the slowest Lahauli. If you are early, like I was in 2013 (April 6), chances are that you will have to traverse the steep gradient of 'Rakshas Dhank'. If you are late, like I was in 2012 (April 11), chances are that you will not get to see the frozen blues of River Chandra.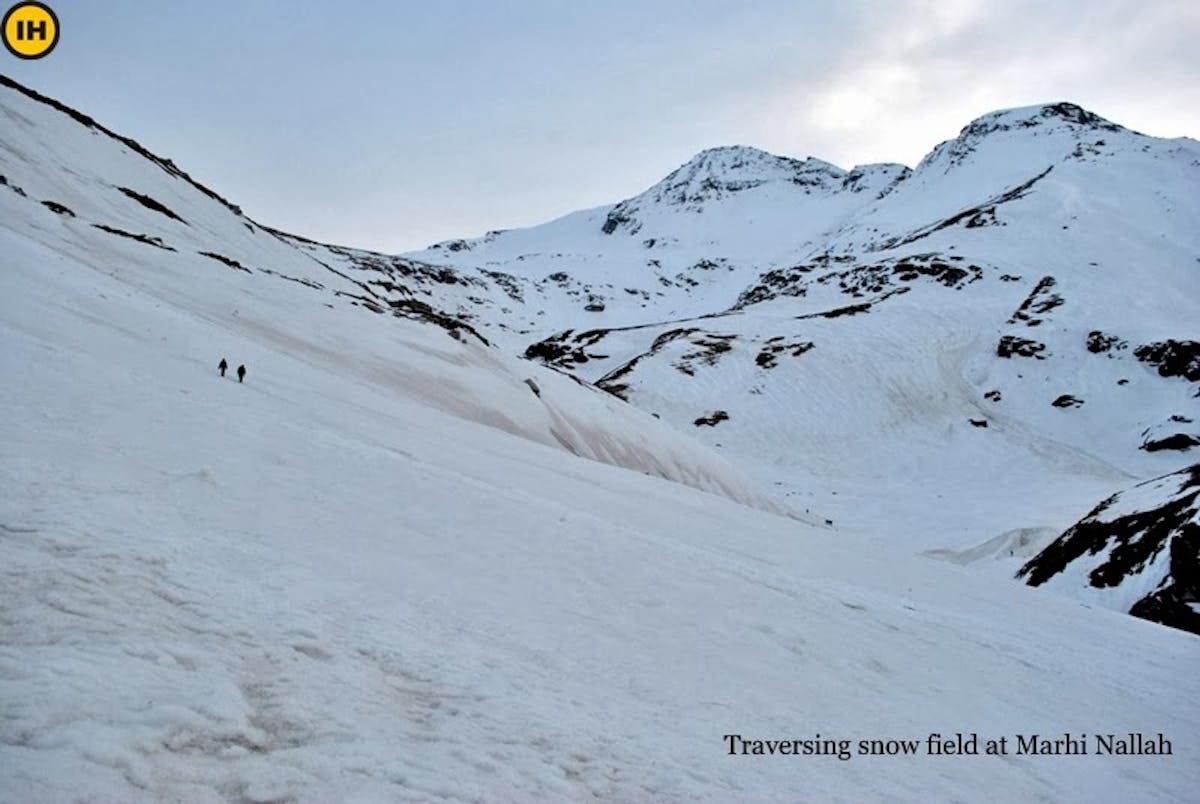 Traversing snow fields at Marhi Nallah
The most difficult part of this trek is traversing the Rahni Nallah stretch. The arduous slope and frozen winds make it a little risky to make it across. Technically, ropes must be used at this spot but then Lahaulis' do things in their own way. And eventually, you also muster the courage to follow in their footsteps. The view atop the pass cannot be described in words. Let me try though. Right in front of you stands the pride of Lahaul, the Ghepan Goh peak (5870 meters).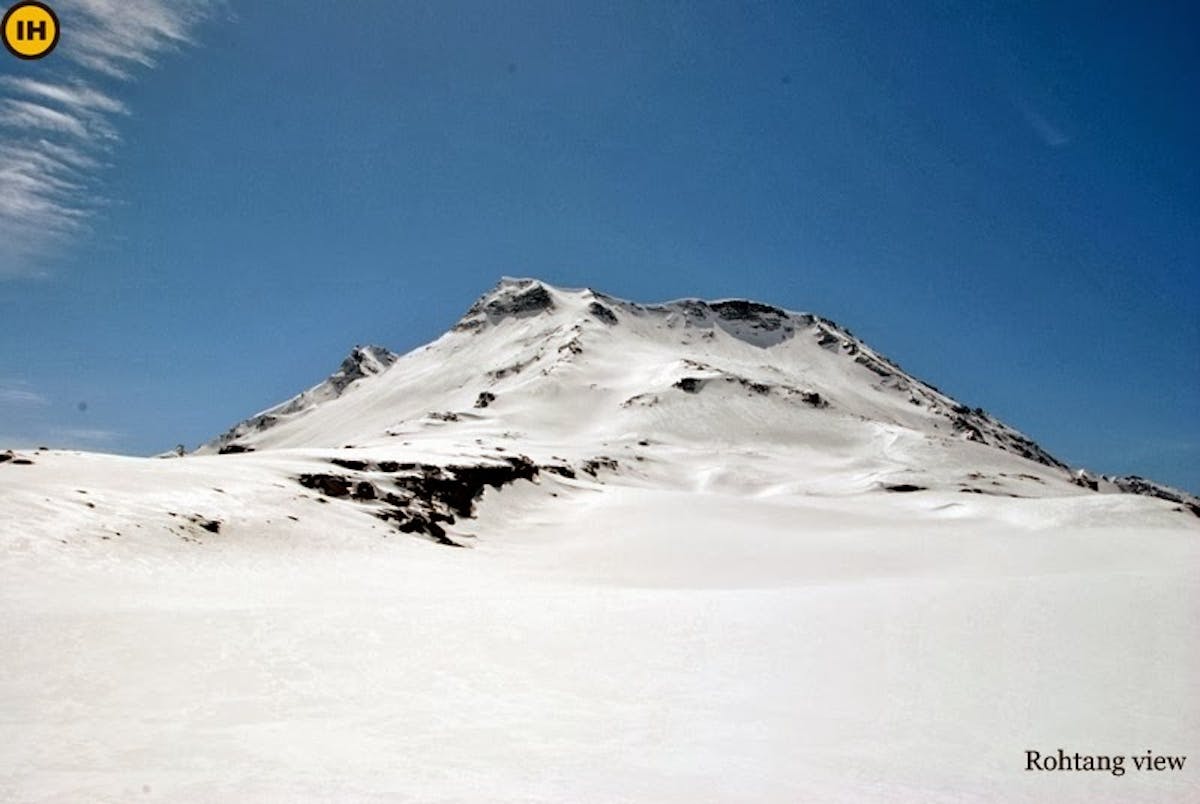 Rohtang view
To your right is the guardian mountain of the Rohtang Pass. All white as if someone has painted it with fresh silver, shining bright in your eyes. The powdered snow moving beneath your feet and tiny snowflakes hitting your face with every step you take takes you to a dream world. And as you move past the ridge atop the pass, you get a glimpse of the cabs from the other side waiting for you. You may call it your coming back to life moment.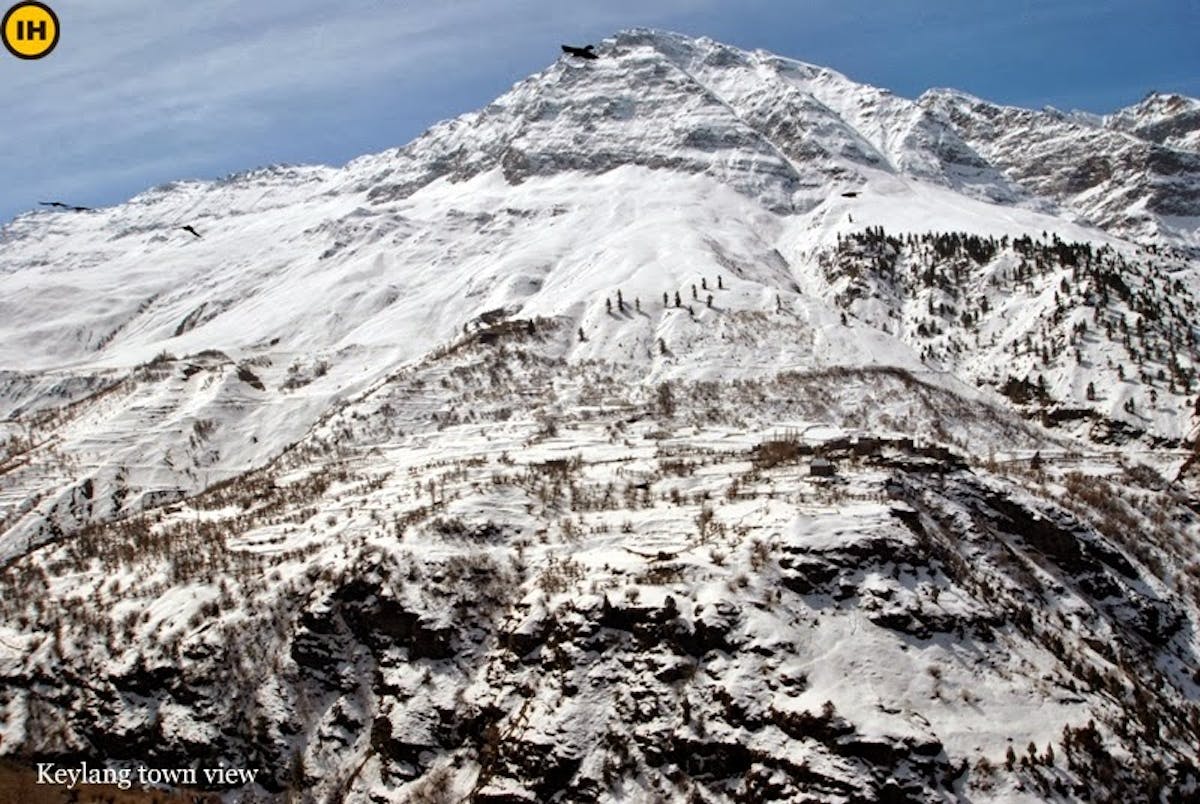 Keylang Town
Both the times I was left behind alone and every time I saw people worried about me. My descent was delayed by as much as 3 hours, partly because I was slow and partly because I was busy clicking photographs atop the pass. Despite bad weather, everybody insisted that they wait for me. And not just Lahaulis', even people from planes of Himachal shared the same sentiment. And Rohtang's bad weather is not your ordinary bad. It means 'real bad'.
That's what these mountains do to you. That's what Lahaul does to you.
Alternative Indiahikes treks you can do
Rohtang Pass is an exciting trek. No doubt about it. But if you're a first time trekker, the process of organizing a trek by yourself might get a bit overwhelming. If you want to trek with your family or friend then you might not want the hassle of doing it. In such cases, we have a couple of great treks for you.
If you have a couple of days more in hand, Beas Kund is a great option. The starting point of the trek is Solang, just an hour's drive from Manali. That makes it very easy to access. If you're a beginner, it is the perfect trek with great views of the biggest mountains of Manali. Moreover, you get to stand right at the base of the Pir Panjal Range.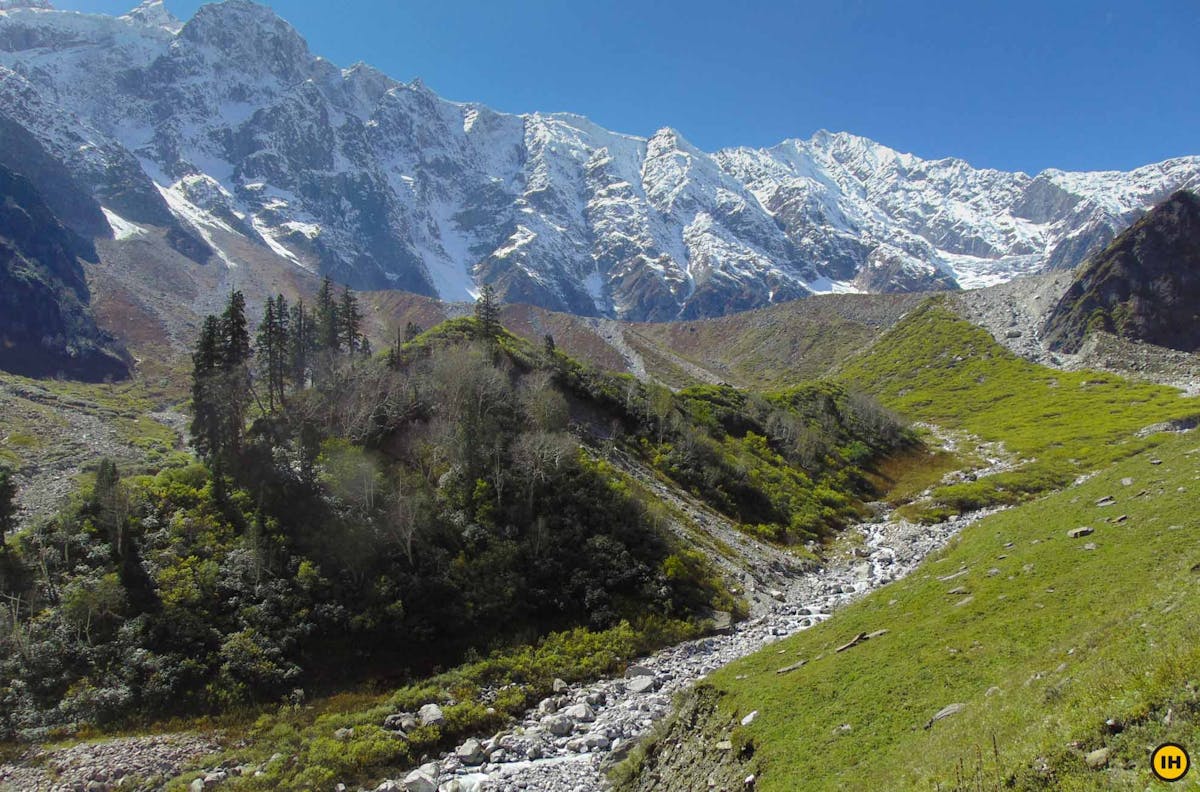 Hanuman Tibba on the way to Beas Kund
What to Take on Your Trek
Here's everything you need.
Bare necessities
Trekking shoes
Backpack (40-60 litres): A backpack with sturdy straps and a supporting frame.
Daypack (20 litres): This is required ONLY if you are offloading your backpack.
Clothes
Three warm layers: Here's a video on how you can layer yourself.
Three trek pants: Wear one pair and carry one pair. This should be enough. But your pants could get wet while sliding, so carry an extra pair.
Three collared t-shirts: Carry light, full-sleeved t-shirts that prevent sunburns on the neck and arms.
Thermals: Carry thermals to keep warm at night. Keep them fresh. Don't wear them while trekking.
Accessories
Sunglasses: Sunglasses are to prevent snow blindness. They are mandatory.
Suncap: The sun is more harsh on your skin at high altitude and will zap your energy quickly. Wearing a suncap will help.
Synthetic hand gloves: One pair of water proof/resistant gloves.
Balaclava: You may use woollen scarves instead as well.
Socks (2 pairs): Apart from two sports socks, you can take a pair of woollen socks for the night.
Headlamp/LED torch: Mandatory
Trekking pole: Watch this video to understand why you need a trekking pole.
Others
Toiletries (Sunscreen, moisturizer, light towel, lip balm, toilet paper, toothbrush, toothpaste)
Cutlery: Carry a spoon, mug and a lunch box. We insist on trekkers getting their own cutlery for hygiene reasons.
Two water bottles: 1 litre each
Plastic covers: While packing, use plastic bags to compartmentalize things and carry a few extra plastic bags for wet clothes.
Mandatory Personal Medical Kit 
Diamox – 10 tablets (to prevent AMS)
Crocin – 6 tablets (fever)
Avomine – 4 tablets (motion sickness)
Avil 25mg – 4 tablets (allergies)
Combiflam – 4 tablets (Pain killer)
Disprin – 6 tablets (headache)
Norflox TZ & Lomofen– 6 tablets each (diarrhea)
Digene – 10 tablets (acidity)
Omez/ Rantadine – 10 tablets (antacids)
Crepe bandage – 3 to 5 meters
Gauze – 1 small roll
Band-aid – 10 strips
Cotton – 1 small roll
ORS – 10 packets
Betadine or any antiseptic cream
Moov spray (aches, & sprains)
Mandatory Documents
Please carry the below documents. Document two and three need to be downloaded (PDF), filled in, signed and handed over to the trek leader at the base camp.
Original and photocopy of government photo identity card- (driving license, voters ID, etc.)
Medical Certificate and Disclaimer (to be filled by the trekker) – Download PDF
Medical certificate (to be filled by a doctor) – Download PDF
If you're shopping or packing for the trek, you can download this quick and simple checklist for offline use.
How to Get Fit for Your Trek
Cardiovascular endurance
The secret to ascending any trail lies in building your cardiovascular endurance. You can begin by jogging every day. Ideally, you should be able to jog 4 km in 20 minutes before the start of the trek. It takes time to be able to cover this distance in the given time. Start slow and increase your pace every day. Swimming, cycling and stair climbing without too many breaks in between can help too. Strength This is another area you should work on. You will need to build strength in your muscles and in your core body. You can do some squats to strengthen your leg muscles. Do around 3 sets of squats, with 8 squats in each set. Apart from this, you can add planks and crunches to your workout.
Flexibility
Another aspect that will help you trek comfortably is flexibility. For this, you can do some stretching exercises - stretch your hamstrings, quadriceps, hip flexors, lower back muscles and shoulders regularly. Carrying a backpack, however light, can become a strain after a while. These exercises will help you to be in good shape before the trek.
Working out indoors
If you can't go out and jog because of time and space constraints, here's a video you can use to work out indoors.
Trek Contribution
Author: Tarun Goel