Can You Help Us With Photographs Of This Trek?
We are looking to enrich this documentation with more photos. Pictures go a long way in explaining the trail, more than words ever can. If you have done this trek, can you share your photos with us? We will include them on this page, with due credit to you. Click here to contribute.
The Complete Guide to Sunderdhunga Trek
➤Highlights
Located less than 40 kms from the city of Pune, Sinhagad is one of the most popular treks of the region. Part of the strategically important triumvirate of Sinhagad, Rajgad and Torna, it has been the centre of a number of battles.
A fort steeped in history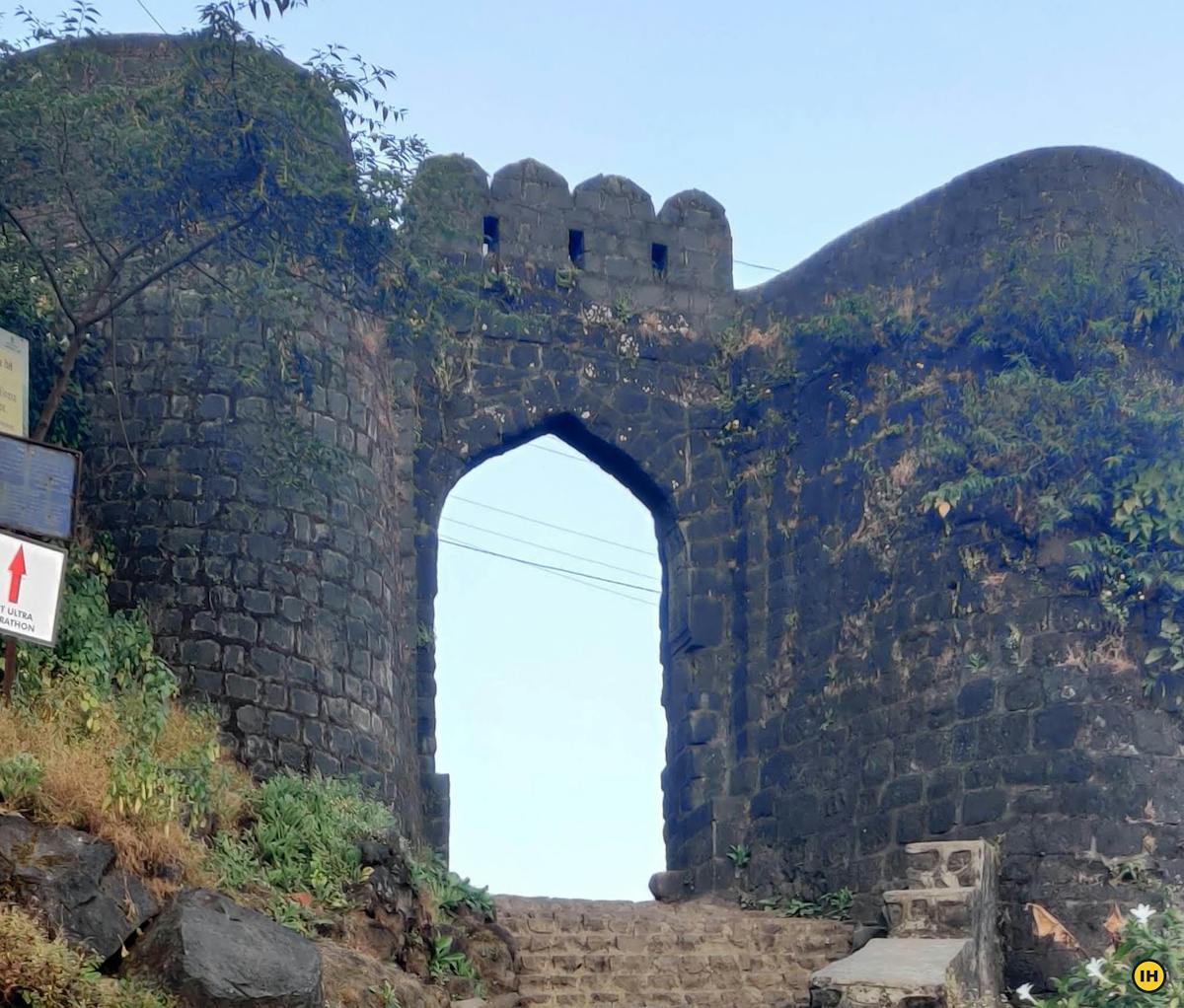 Image by Mohit Jogelakar
Well preserved remnants of the fortification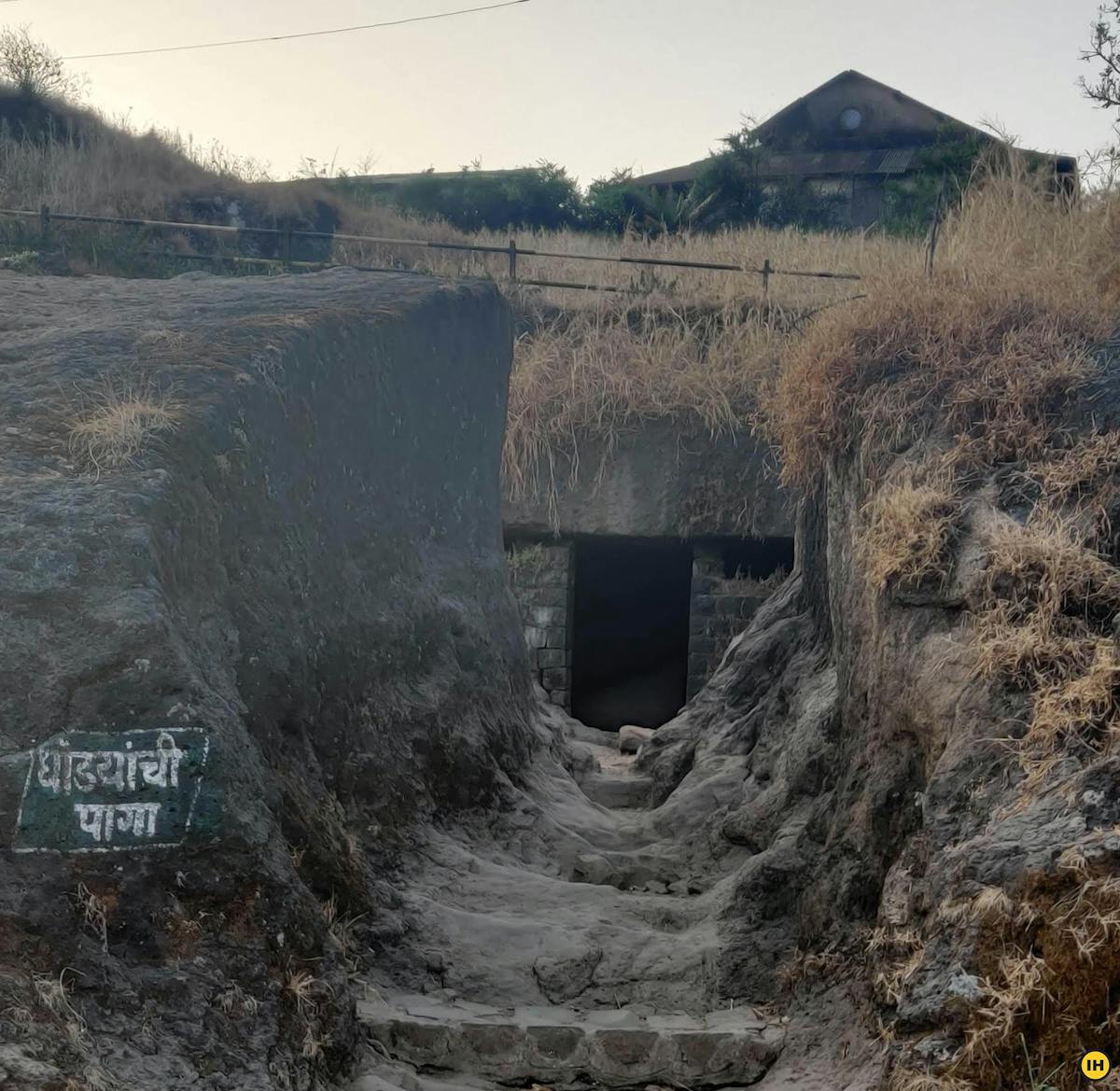 Image by Mohit Jogelakar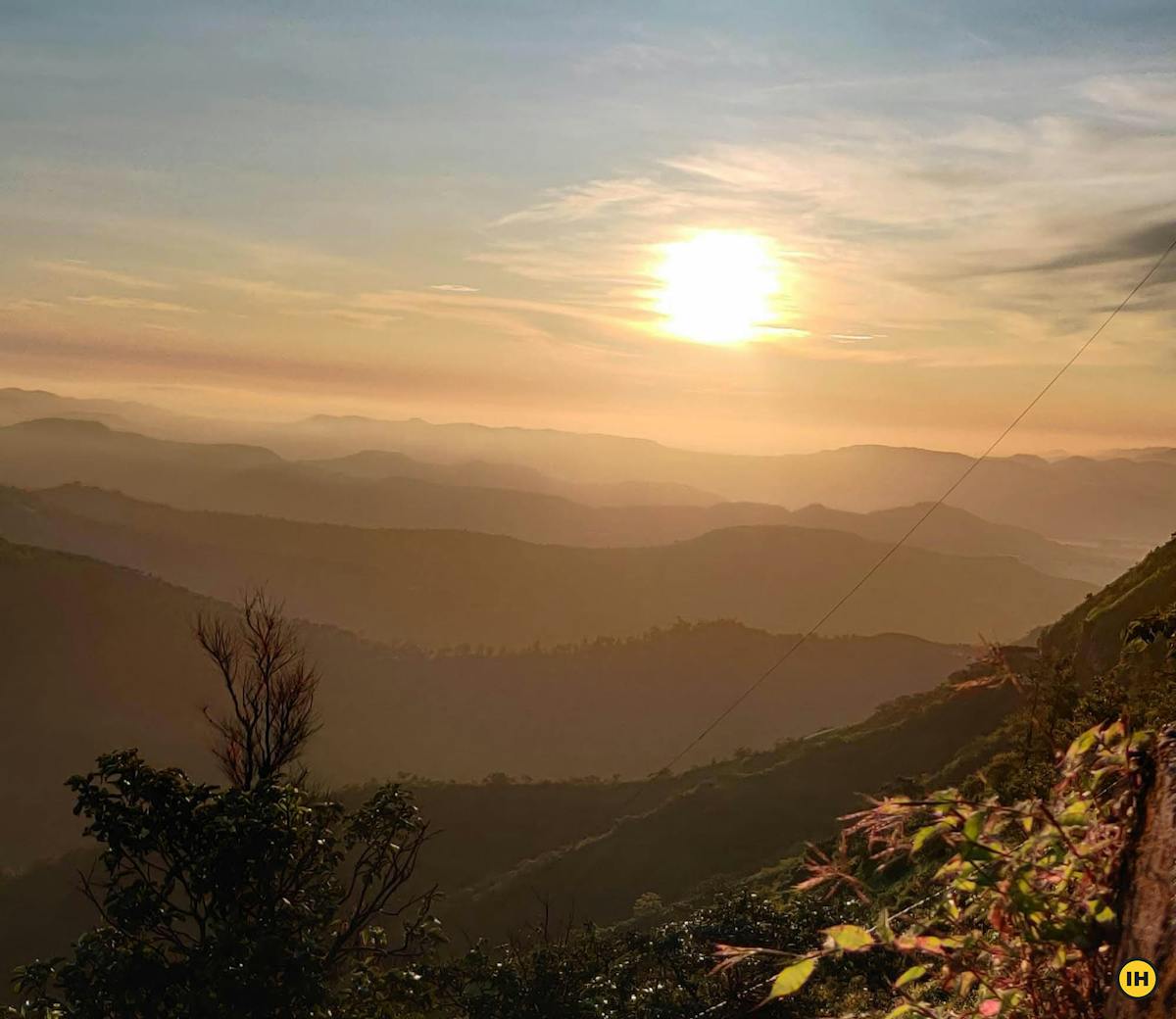 Image by Mohit Jogelakar
Mobile users: Click on 'Complete trek guide' at the bottom of the page to access the rest of the Sinhagad Trek Guide.
Trek documented by Mohit Joglekar
➤Trail Information
The trail originates from the Donje Gaon Phata bus stop.
The trek itself can be divided into two sections- the first stretch is a tar road from Donje Gaon that gently climbs up to the parking spot for two-wheelers. It can also be covered on a bike. The second half of the trek is a steep but incredibly rewarding climb to the top of the fort.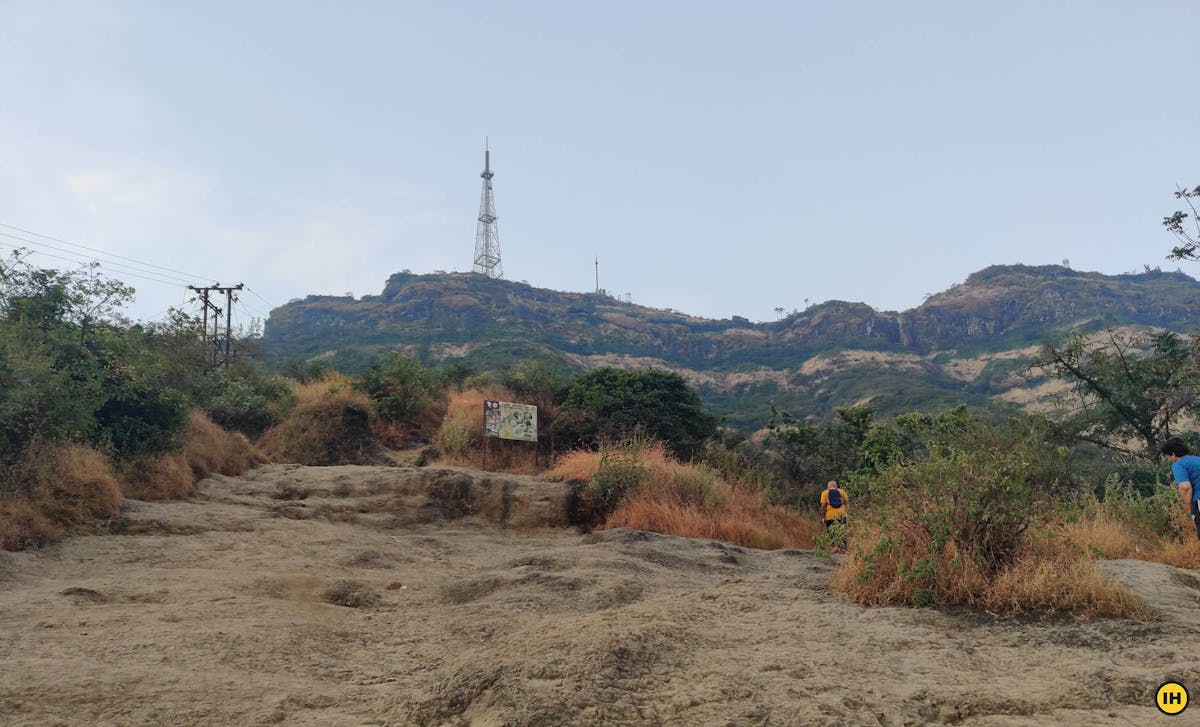 Image by Mohit Jogelakar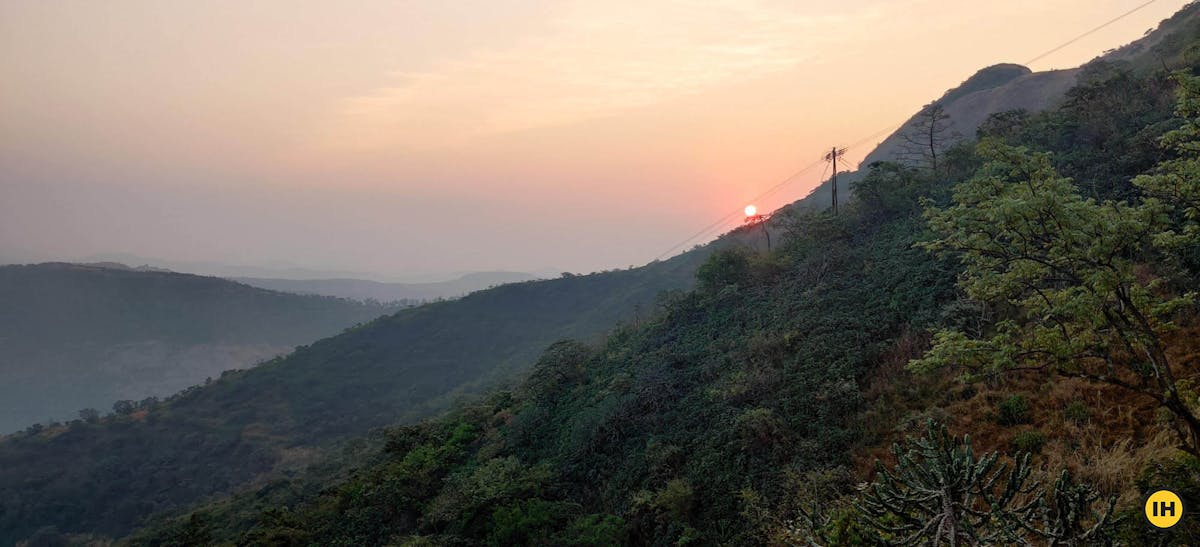 Image by Mohit Jogelakar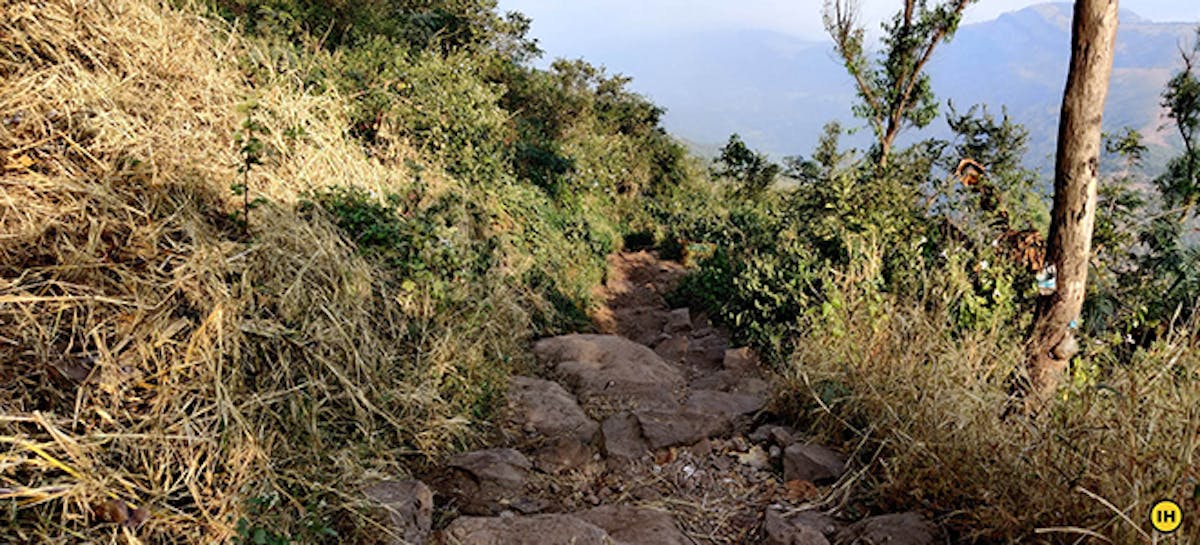 Image by Mohit Jogelakar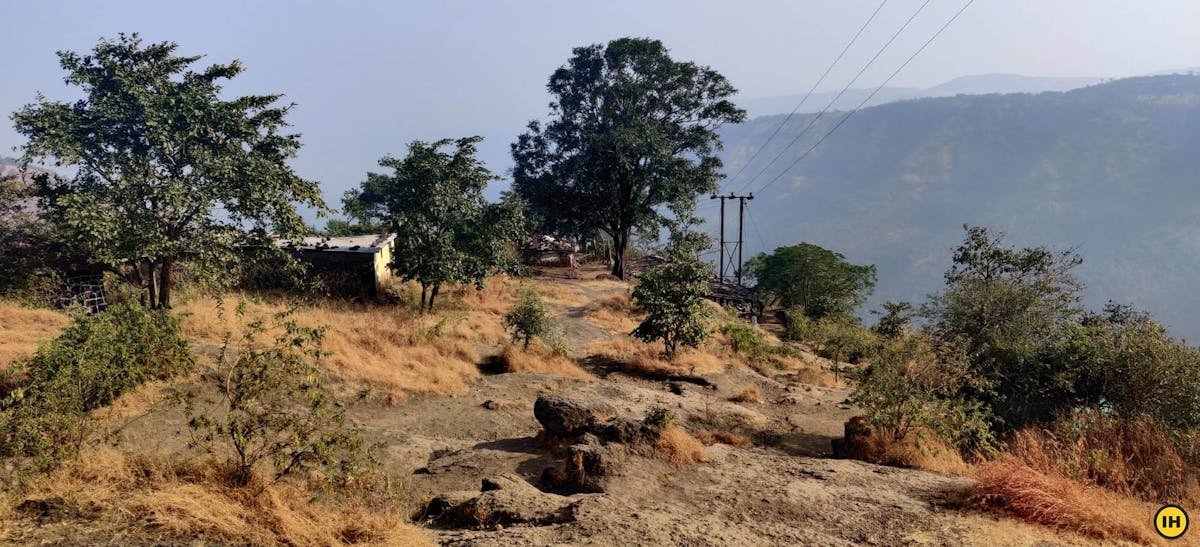 Image by Mohit Jogelakar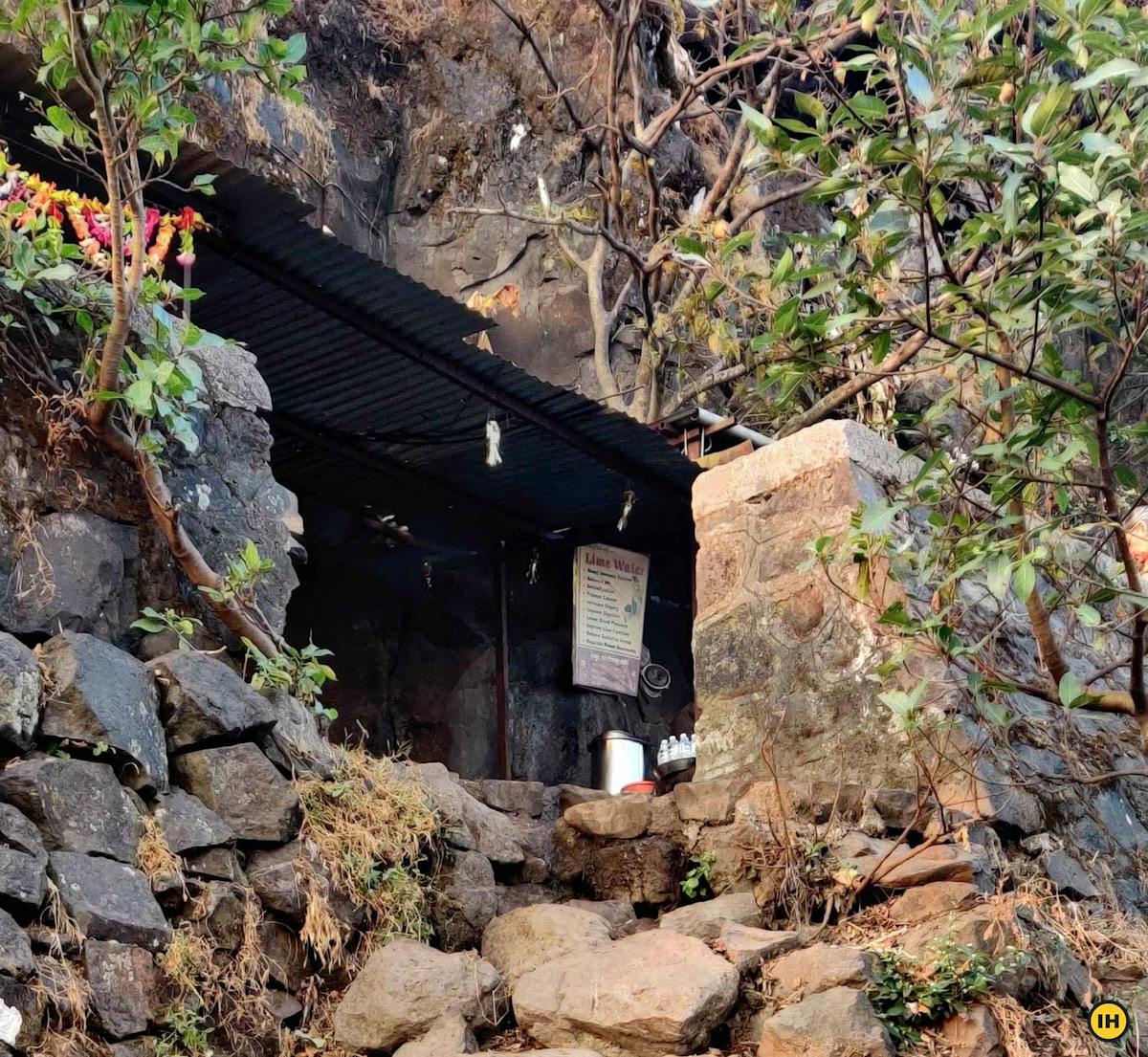 Image by Mohit Jogelakar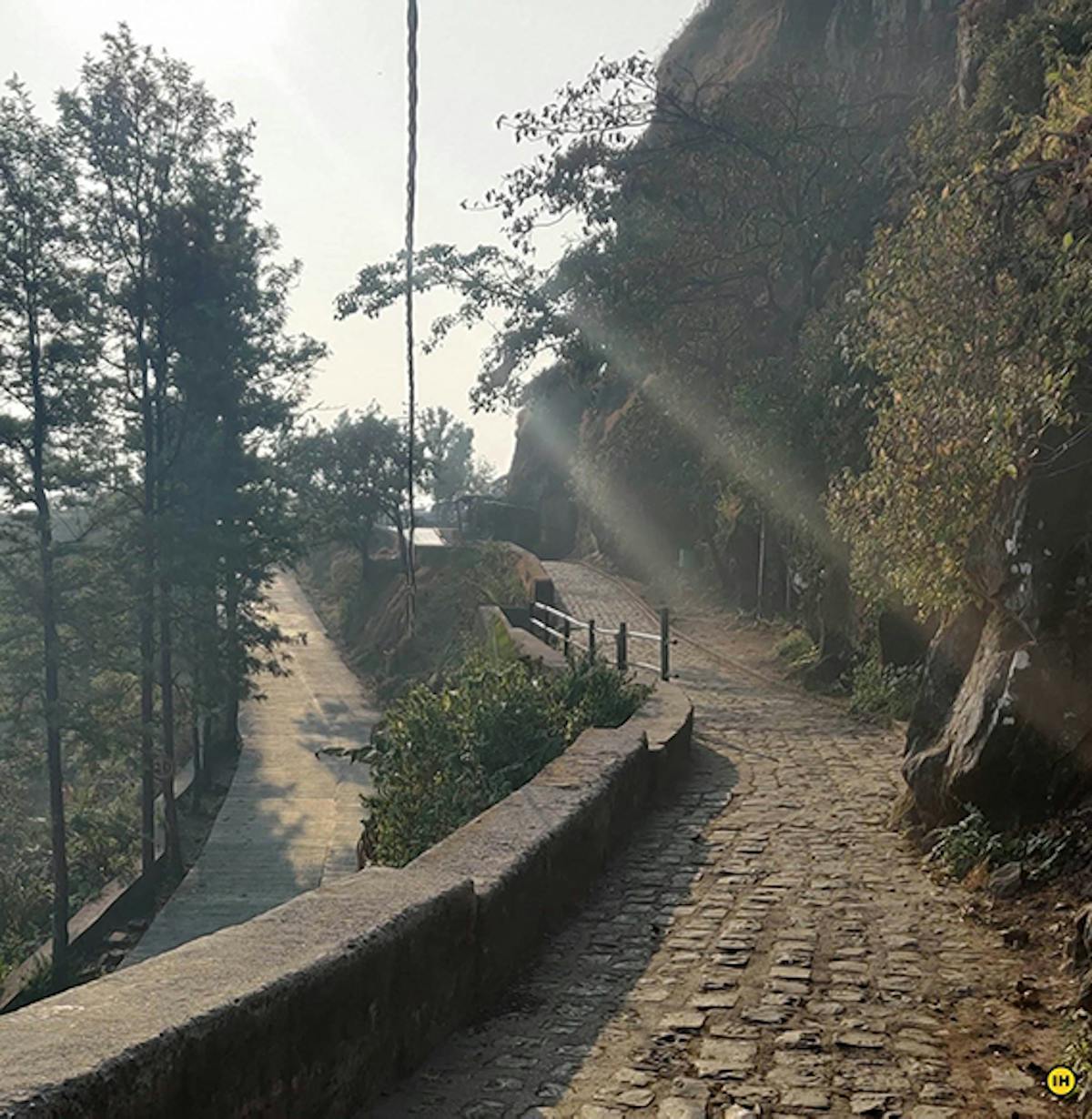 Image by Mohit Jogelakar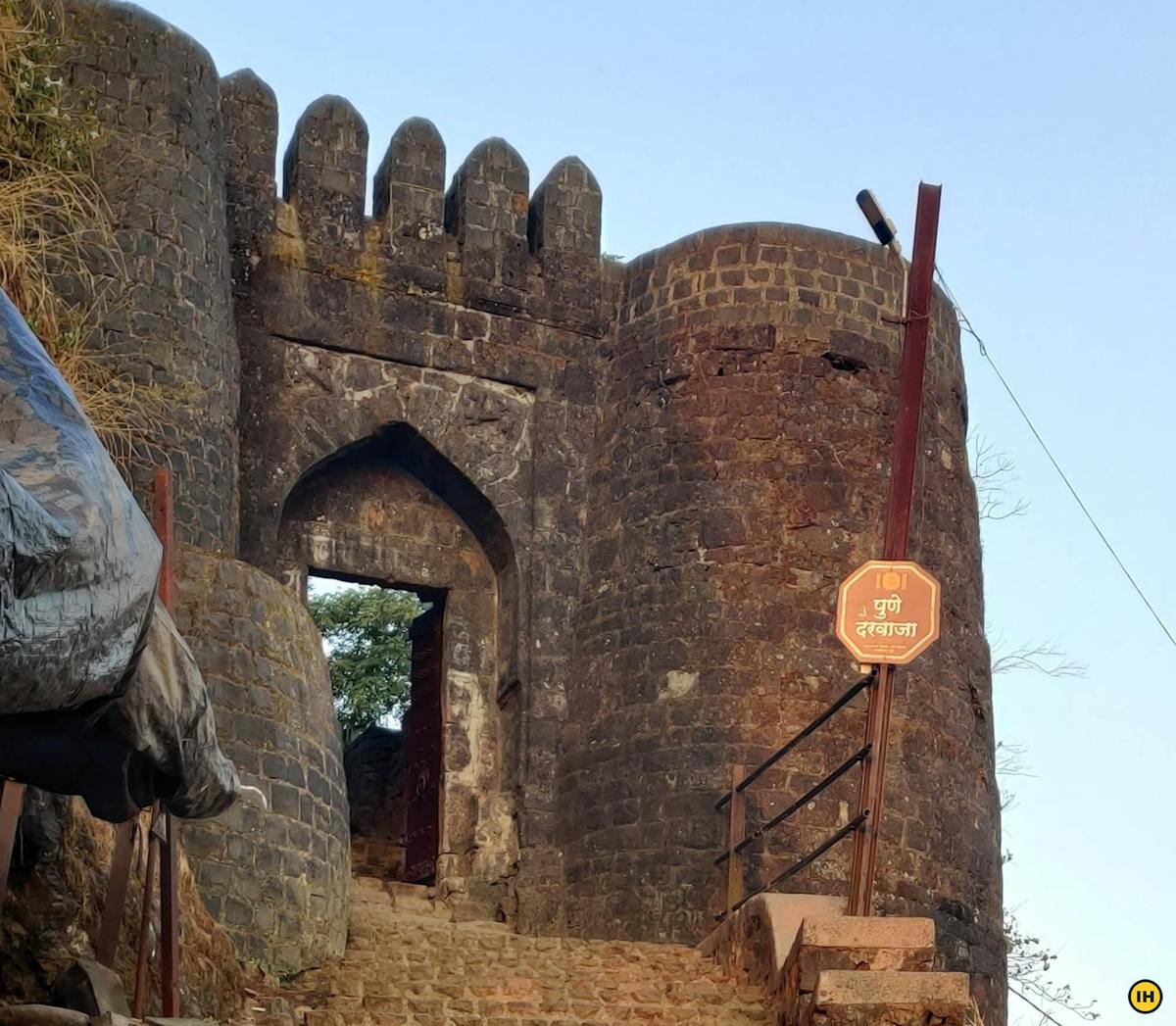 Image by Mohit Jogelakar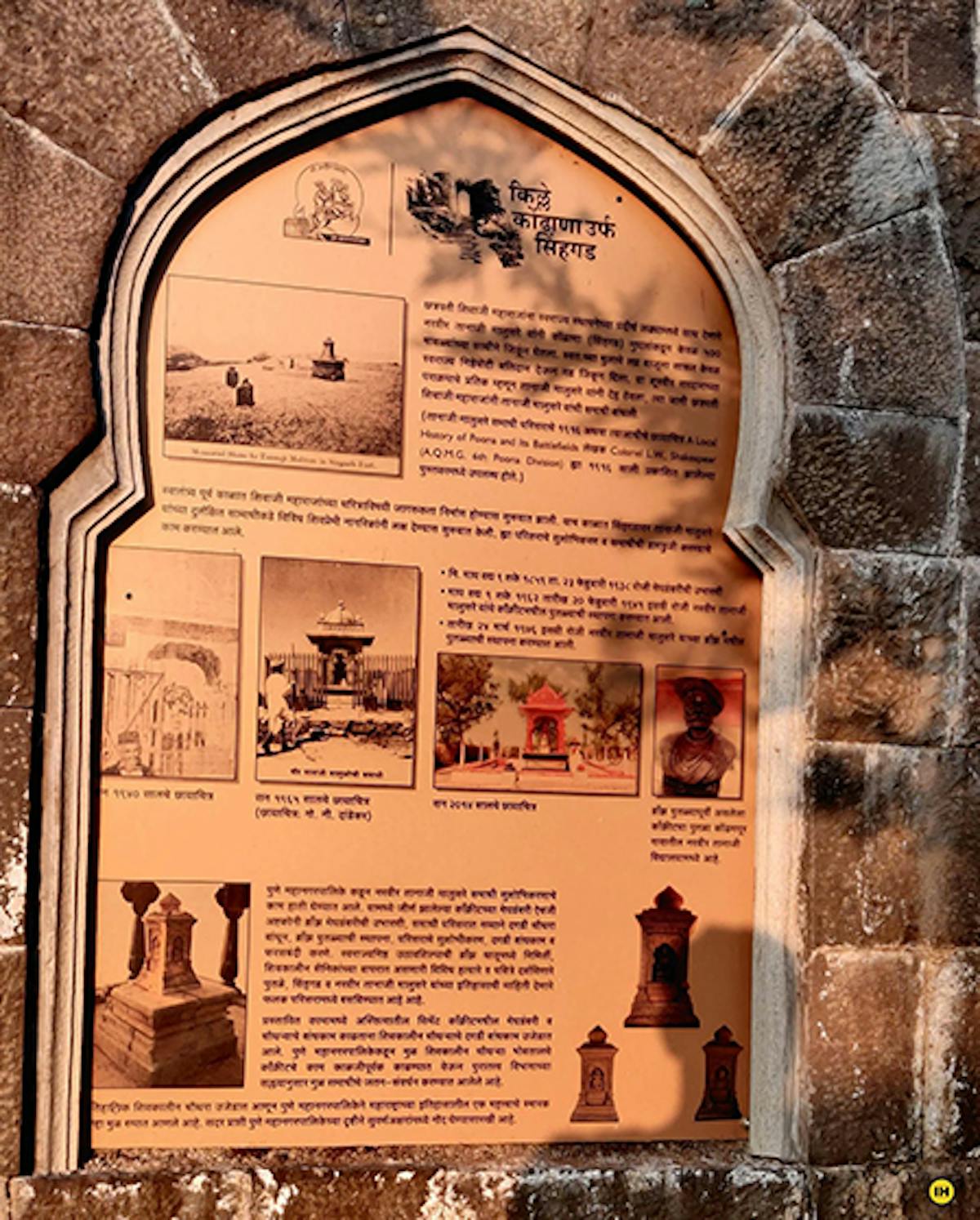 Image by Mohit Jogelakar
Image by Mohit Jogelakar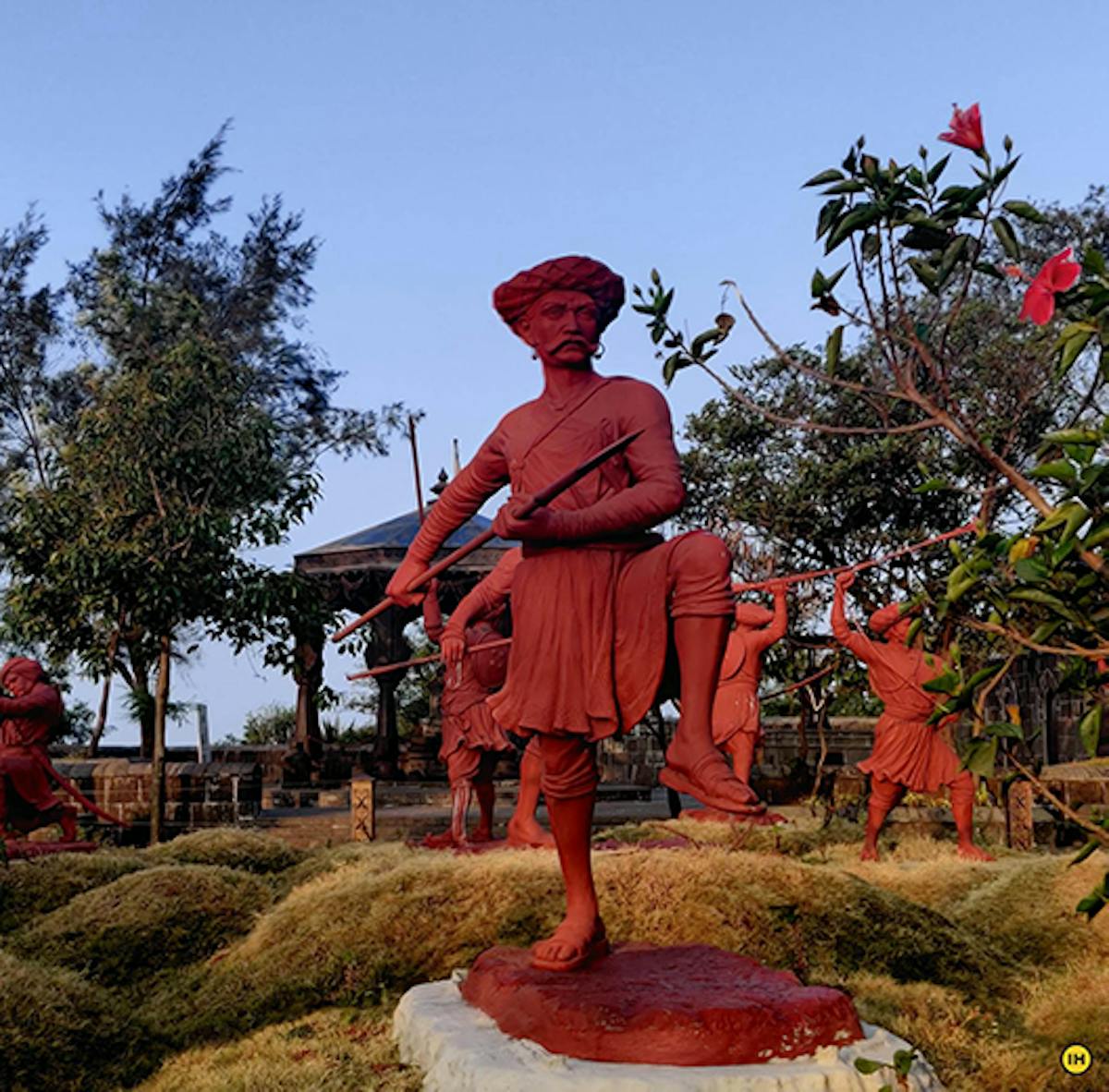 Image by Mohit Jogelakar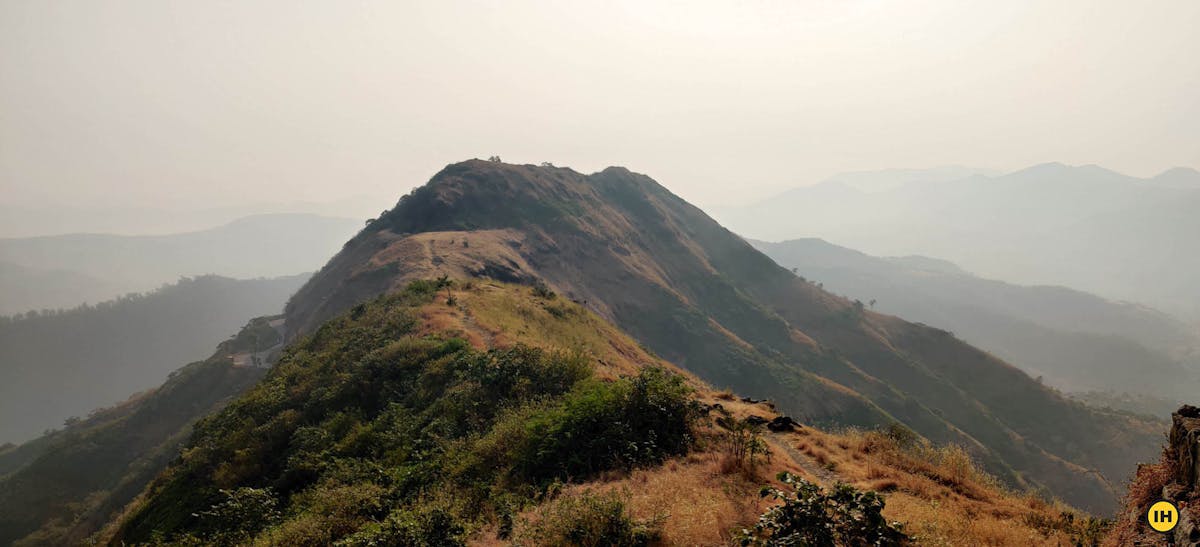 Image by Mohit Jogelakar
➤Maps and Chart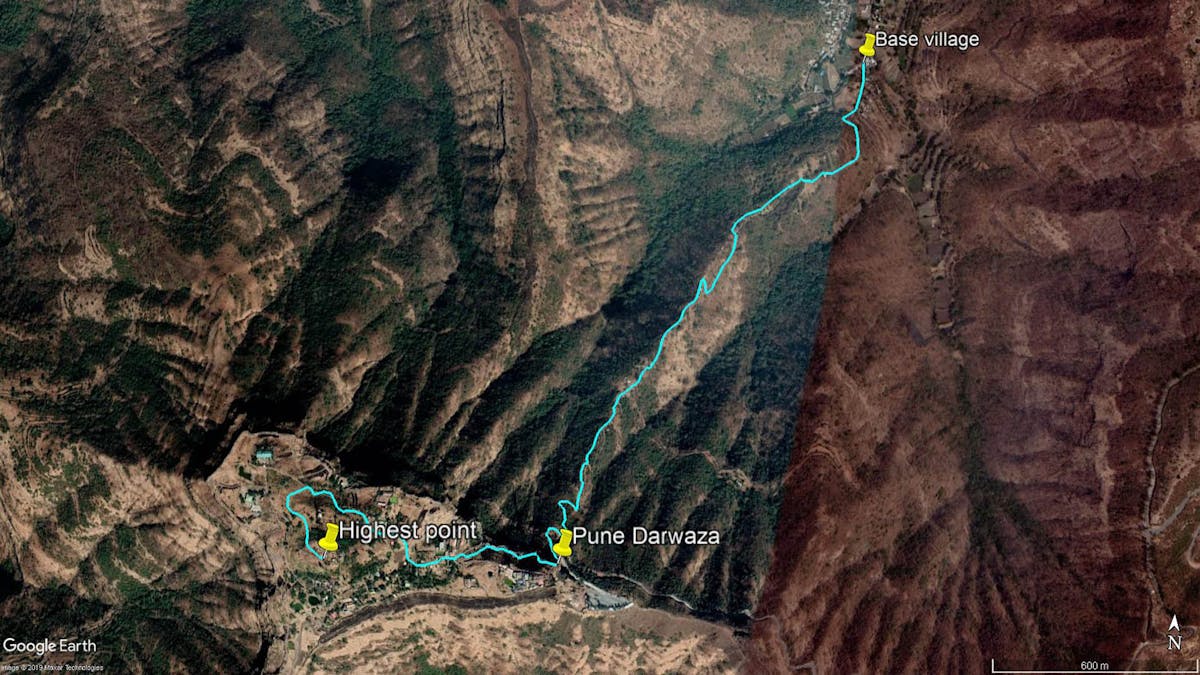 Total trail length: ~11 km. Image:Google Earth
➤How to get fit for the Sinhagad trek
The Sinhagad trek is classified as an Easy-Moderate grade trek. From Donje Gaon at 2,100 feet, you will gain another 2,100 feet in altitude. Though the altitude gain is not much, the continuous ascent can be quite demanding for people who lead a sedentary lifestyle.
Training yourself for a low-altitude Easy-Moderate grade trek
Here's a guide to help you get fit for the trek in 4 weeks.
Cardiovascular endurance
In case you're just starting with a fitness routine, start slow and increase your pace every day in the following manner –
Target completing a brisk walk of 5 km in 45 minutes when you begin.
Gradually increase your pace by walking 5 km, 4 times a week.
As you become more comfortable, introduce jogging into your routine.
Progressively increase the distance you jog in a workout until you can complete 5 km in 40 mins.
If you prefer cycling over running, target covering 15 km in 60 minutes when you begin.
Progressively increase your pace to cover 18 km in one hour.
Strength training
This is an important area you need to work on.
Strength training is equally important to trek comfortably. Work on your glutes, calves and knees. Additionally, work on strengthening your core.
You must strengthen your core muscles. For strengthening your core muscles, holding a plank and its variations (elbow, side planks) are the best exercises to go about doing it.
Also, try these exercises for strength-
Target 4 sets of squats with 20 in each set
– Squats (Mix it up with sumo squats)
– Lunges (Forward, backward and lateral lunges)
– Planks
Flexibility
Flexibility determines the amount of movement your bones can make in any direction around joints such as shoulders, elbows, hips and knees.
It is an aspect that will help you trek comfortably. Carrying a backpack, however, light can become a strain. Stretching your hamstrings, quadriceps, hip flexors and lower back muscles regularly, promotes relaxation in the tissues reducing the strain on your back.
If you can't go out and jog because of time and space constraints, here's a video you can use to work out indoors.
➤What to pack for the Sinhagad trek
When attempting it as a standalone trek in Summer & Winter-
Basic First Aid kit*
Identity Card
Trail/ region map
Cap/ Scarf/ Bandana & Sunglasses
Water (Minimum two litres)
Lemon and salt OR Electrolyte Powder/Drink (Electral/Gatorade/Glucon D, etc.)
High-calorie snacks (Nuts & dry fruits, a home-baked cake, etc.)
Insect repellent (Odomos, etc.)
Spare newspaper
Multi-Tool/ Swiss Army Knife
Torch/ Headlamp with spare batteries.
Powerbank
Safety Pins, Rubber bands & Whistle (Useful in emergencies.)
Optional: Rope, Camera.
During Monsoon–
Quick Dry T-shirts are preferable over cotton tees.
Poncho
An additional set of clothes, socks, etc.
Plastic sheet to wrap electronic devices.
If you are attempting Sinhagad as part of a longer multi-day trek, you should carry-
Sunscreen (SPF 50+)
Rehydration pouch/ bladder
Tent & Sleeping Bag/ Mat
Trekking pole
A spare set of clothes & footwear (Floaters, sandals, etc.)
Water filter/ Thin cotton cloth & water purification tablet.
Utensils
Antiperspirant powder (Candid, etc.)
Magnesium Flint/ Matchboxes
Basic Toiletries: Toothbrush & Toothpaste/Mouthwash.
*First aid kit:
Scissor
Band-aids (Regular & Waterproof)
Analgesic spray (Relispray, Volini, etc.)
Antiseptic Liquid (Savlon, Dettol etc.)
Antiseptic powder (Povidone-Iodine based powders like Cipladine, Savlon, etc.)
Cotton roll & Bandage
Crepe Bandage
1-inch wide medical tape (paper or cloth.)
Micropore tape
Tablet for motion sickness (Avomine), Acidity (Gelusil, Digene, etc.).
Mild pain relief tablet (Crocin)
Note: Always consult a doctor before taking any medicine.
➤Plan Your Travel
Nearest International and Domestic Airport
Chhatrapati Shivaji International Airport, Mumbai
Pune International Airport, Pune
Nearest Railway station
Pune is the nearest major railhead for the Sinhagad trek. It also boasts of excellent road connectivity with Mumbai, Panvel (Navi Mumbai) & Nashik.
Reaching Sinhagad By Your Vehicle
If you are planning to reach Sinhagad using your vehicle, use this link to help set up navigation in Google maps.
Reaching Sinhagad By Public Transport System
From the Pune railway station, the most convenient way to reach Sinhagad is as follows:
Pune railway station → Donje Gaon Phata → Climb to Sinhagad
➤Mobile network
You'll get a mobile network for almost all major operators like Airtel, Vodafone & Jio throughout the trek.
Nearest ATM
➤Frequently Asked Questions
Can I do this trek if I have never been on a Sahyadri trek before?
Yes, a person who follows an active lifestyle, can consider Sinhagad for their first Sahyadri trek.
What are the accommodation options near Sinhagad?
There are multiple accommodation options near Sinhagad. You can arrange a homestay at the base village near Donje Gaon. There are also MTDC resorts on top of the fort.
Where can I get food and water during the trek?
Small huts selling food and lemon juice can be found at regular intervals during the trek. You'll also find a couple of them on the fort itself.
Do I need to obtain permission to trek to Sinhagad? 
No. You don't need permission to trek to Sinhagad.
Where can I get a guide for the trek?
The trail to the fort is very prominent. Therefore, you won't need a guide as such. However, you can use the GPX file linked in the maps section to help navigate the trail.
Looking for places to visit after your Sinhagad trek?
Here you go:
Rajgad
Torna