Can You Help Us With Photographs Of This Trek?
We are looking to enrich this documentation with more photos. Pictures go a long way in explaining the trail, more than words ever can. If you have done this trek, can you share your photos with us? We will include them on this page, with due credit to you.Click here to contribute.
The Complete Guide to Buxa Fort Trek
Buxa is a forest near the borderline between West Bengal and Bhutan. It has an array of trees, hills and rivers. Contrary to its name, it is known to be home to more elephants than tigers. If you want to experience a typical jungle trail, this might be the one!
Considering there are multiple trails in the forest, it can keep you occupied for days together. However, the trail to Buxa Fort and Pompsey Peak is tailor-made for weekends.
Considering there are multiple trails in the forest, it can keep you occupied for days together. However, the trail to Buxa Fort and Pompsey Peak is tailor-made for weekends.

A view of a village near Buxa Fort. Picture from Indihikes Archive
History and folklore
The Buxa Fort, at an altitude of 2,600 feet, was established as a cantonment by the East India Company in 1873. It was used as a deportation camp for political prisoners. It was the most notorious and unreachable prison in India after the Cellular Jail in Andaman.
Pompsey peak, at an altitude of close to 4000 feet, is one of the tallest peaks in the region, peering over the forest through a dense mist. The trail to the base of the peak is surrounded by tall fig trees and it takes just about an hour from the base to the peak.
➤ Highlights
A trek on the West Bengal-Bhutan border.
A fort that links to the colonial history of India.
Explore the different peaks in West Bengal and experience its charm.
➤ Trail Information
Day 1: Jayanti to Lepcheka via Buxa Fort 
Altitude: ­­­­­660 m to 850 m
Time took: 7-8 hours, 15 km
The fort is almost 15 km away from Jayanti, the lodge point. The trail has an easy gradient until the last 5 km, where the trail is steep. On the right of the trail is Bhutan. The prominent peak of Pompsey looks stunning and inviting.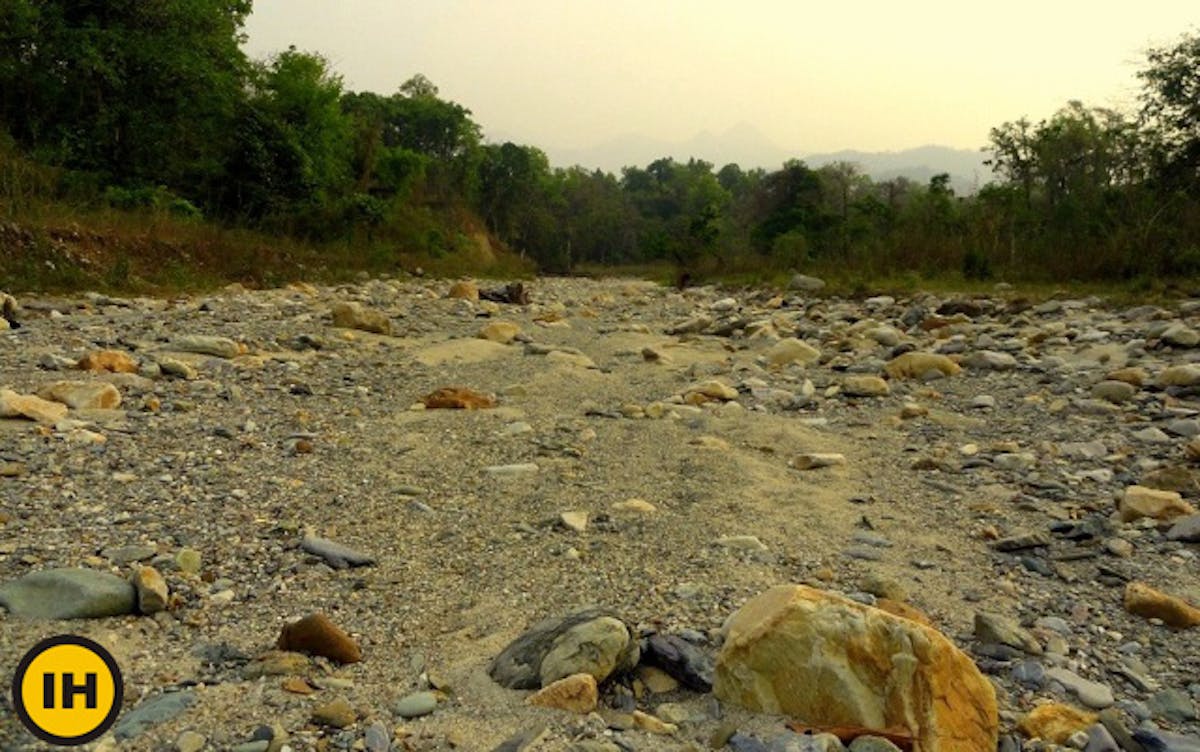 Passing Bala Jhora River basin. Picture from Indiahikes Archive
The trail goes over the forest floor and through patches that have been cleared to grow fodder for elephants. This is so that they avoid having to enter surrounding villages. You'll come across three dried up river beds on the way and you're likely to hear the calls of peafowls during your hike.
After crossing the third river bed, Santlabari, a small settlement, begins to gather shape at the horizon. From Santlabari, it is a steep 3 km hike to the hilltop. Once you get to the top, look back and retrace the trail you walked on; the very thought that you walked all the way will give you a burst of energy!
From this point, you can see the ruins of the fort. You've to trek for another half hour to reach the fort. The walls of the fort are dilapidated and crumbling. There is a small memorial for the prisoners who passed away here.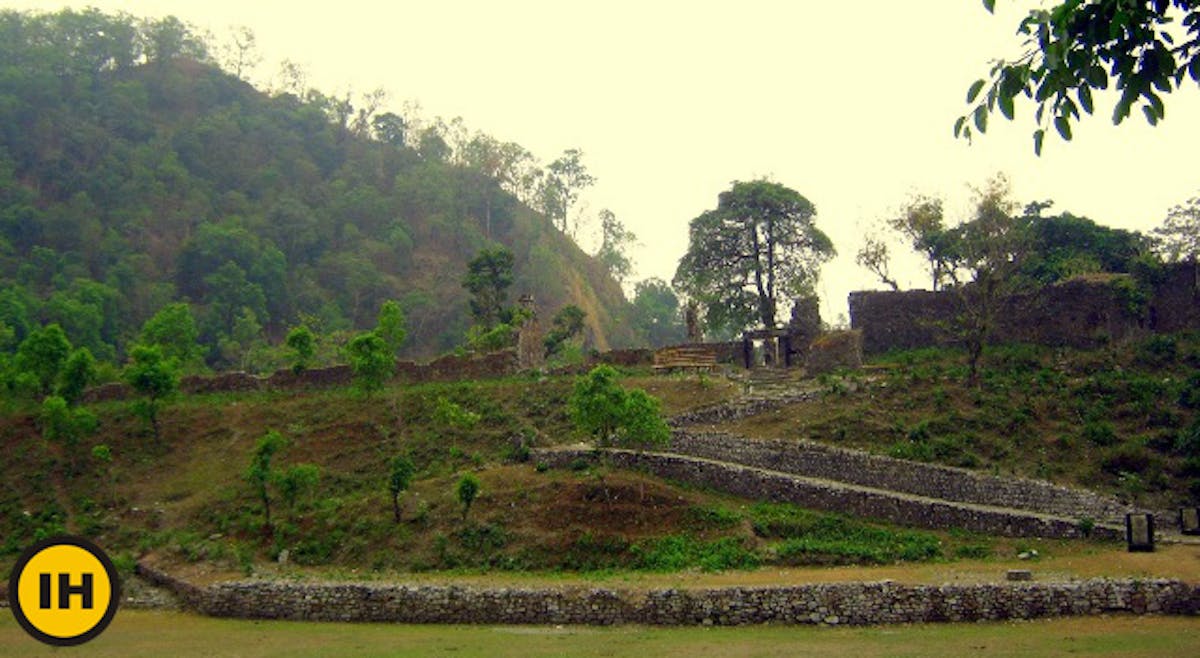 Buxa Fort. Picture from Indiahikes Archive
It takes half an hour to Lepcheka, where you can spend the night.
Day 2: Lepcheka to Pompsey base camp
Altitude: 850­­ m to 1,210 m
Time took: 9-10 hours, 15-17 km
In Lepchakha, there is a small chorten (shrine), from where you can enjoy a grand view of three rivers – – Dima, Bala and Jayanti – in one frame. The trail to the base of Pompsey peak goes across tall fig-trees, with almost no people around. Do carry tents and food supplies along as there is nowhere to buy food or stay. Lepcheka is the closest place to replenish your requirements.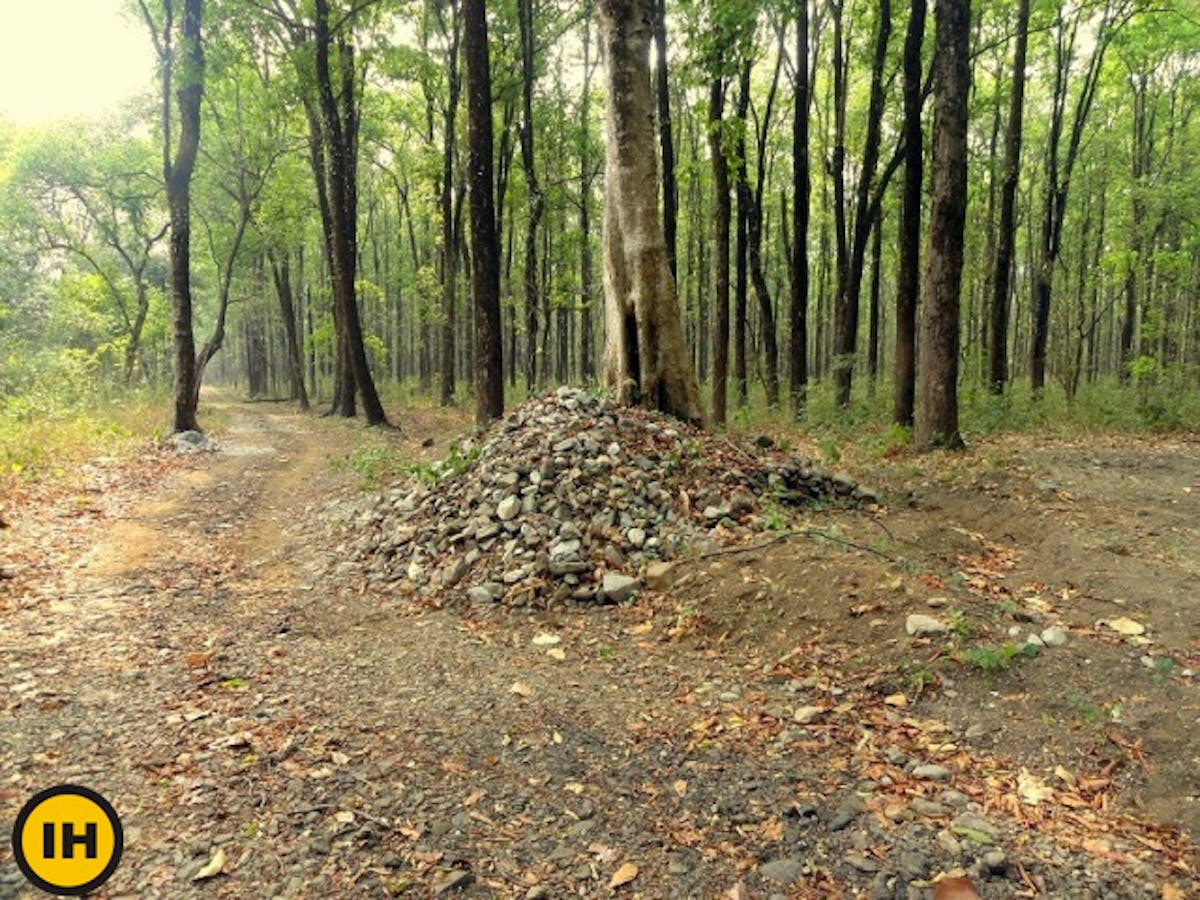 Forest trail. Picture from Indiahikes Archive
It takes an hour to the peak, which is especially beautiful early in the morning when you can see the sunrise. You can spend the day at the peak and come down to the base camp.
Note: You can also head back to Jayanti on the same day if you're short of time.
Day 3: Pompsey base camp to Jayanti
Altitude: 1,210­­ m to 660 m
Time took: 8-9 hours, 23-25 km
The trail down to Jayanti is much easier, with gentle descents interspersed with a few steep slopes.  The trek downhill is steep till Santalbari. There is a motorable road that connects Santalbari to Jayanti. You can either take a vehicle down that road, or you can choose to trek down 5 km.
➤ What to Pack for your Trek
Bare necessities
Trekking shoes: The trek distance is long and you will have to walk for long distances which needs you to have comfortable trekking shoes. You can watch this video to learn to choose the right trekking shoes.
Backpack (40-60 litres): A backpack with sturdy straps and a supporting frame. Rain cover for the backpack is essential.
The Miyar Valley Dun trek happens round the year except for monsoons so make sure you have the proper clothing as per the season demands so you can keep yourself protected during the trek.
Clothes
Three (Five in Winter) Warm Layers: You will be trekking and camping at high altitudes. So make sure you have the apt clothes for the climatic conditions. It will be cold at the higher altitudes so make sure you have at least three layers of warm clothes to protect yourself.
Two trek pants: One pair of pants should suffice for this trek. But you can carry one spare pair in case the first one gets wet. Wear one pair and carry one pair.
Two collared t-shirts: Carry light, full sleeved t-shirts that prevent sunburns on the neck and arms. Again, wear one and carry one.
Thermals (Optional): Those who are more susceptible to cold can carry thermals to wear at night.
Accessories
Sunglasses: Sunglasses are to prevent snow blindness. There might be snow in Har Ki Dun Valley or from Kalkatiyadhaar (depending on the season you are going in), so carry a pair of sunglasses.
Suncap: The sun is harsher at high altitudes so wear a sun cap to protect your face and neck.
Synthetic hand gloves: One pair of fleece or woollen hand gloves. One pair of waterproof/resistant, windproof gloves.
Balaclava: You may use woollen scarves instead as well.
Socks (2 pairs): Apart from two sports socks, you can take a pair of woollen socks for the night.
Headlamp/LED torch: Mandatory
Trekking pole: Watch this video to understand why you need a trekking pole.
Others
Daypack (20 litres): If you are offloading your backpack, you will need a smaller backpack to carry water, a medical kit and some light snacks.
Toiletries (Sunscreen, moisturiser, light towel, lip balm, toilet paper, toothbrush, toothpaste)
Cutlery: Carry a spoon, coffee mug and a lunch box. We insist on trekkers getting their cutlery for hygiene reasons.
Two water bottles: 1 litre each
Plastic covers: While packing, use plastic bags to compartmentalise things and carry a few extra plastic bags for wet clothes.
Mandatory Personal Medical Kit
Diamox – 10 tablets (to prevent AMS)
Crocin – 6 tablets (fever)
Avomine – 4 tablets (motion sickness)
Avil 25mg – 4 tablets (allergies)
Combiflam – 4 tablets (Pain killer)
Disprin – 6 tablets (headache)
Norflox TZ & Lomofen– 6 tablets each (diarrhoea)
Digene – 10 tablets (acidity)
Omez/ Rantadine – 10 tablets (antacids)
Crepe bandage – 3 to 5 meters
Gauze – 1 small roll
Band-aid – 10 strips
Cotton – 1 small roll
ORS – 10 packets
Betadine or any antiseptic cream
Moov spray (aches, & sprains)
➤ How to Get Fit for your Trek
Cardiovascular endurance

This trek requires a good amount of endurance. You can begin by jogging every day. Start jogging at a slow pace and then keep increasing your pace day by day. Make sure you can jog 4 km in 20 minutes before the start of the trek. It takes time to be able to cover this distance in the given time. Swimming, cycling and stair climbing without too many breaks in between can help too.
Strength

This is another area you should work on. There is a lot of trekking distance that you will cover carrying your backpacks and trekking along with your backpack is not a very easy task. You have to walk on uneven terrain during the trek. It could be taxing for your legs. For this, strengthening your legs will help. You can do some squats to strengthen them. Do around 3 sets of squats, with 8 squats in each set.
Flexibility

Another aspect that will help you trek comfortably is flexibility. For this, you can do some stretching exercises – stretch your hamstrings, quadriceps, hip flexors, lower back muscles and shoulders regularly. On your trek, you must arrive on the slopes with your muscles relaxed. Carrying a backpack, however, light can become a strain after a while. These exercises will help you to be in good shape before the trek.
Working out indoors

If you can't go out and jog because of time and space constraints, here's a video you can use to work out indoors.