Can You Help Us With Photographs Of This Trek?
We are looking to enrich this documentation with more photos. Pictures go a long way in explaining the trail, more than words ever can. If you have done this trek, can you share your photos with us? We will include them on this page, with due credit to you. Click here to contribute.
The Complete Guide to Varlakonda Fort Trek
A hidden gem of a trek close to Bengaluru!
The Varlakonda Fort Trek is a scenic hike on the outskirts of Bengaluru. You trek through wildflowers and shrubbery, past cacti and vast rock sections, amid beautiful views of the city surrounded by other hills.
It is one of the few treks close to Bengaluru to have such diverse terrain. Further, the view from the top is unmatched.
➤ Highlights
1. The rock section
For most of the trek, you are negotiating a path on the beautiful red, grey and black rock surface. You also come across depressions in the rock. This is where water collects during monsoons water. These depressions turn into ponds rich with aquatic life. This rocky section is a beautiful phase of the trek, and it is equally challenging.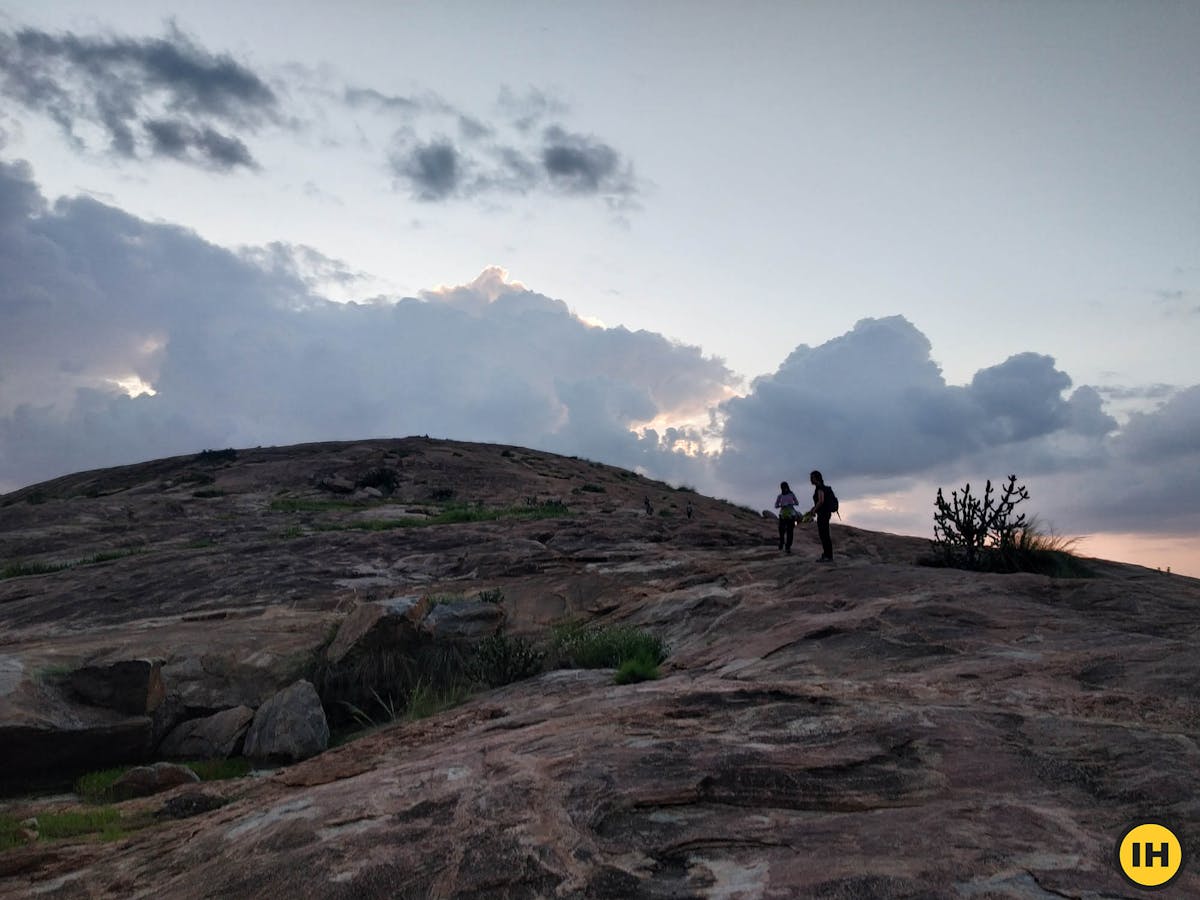 The beautiful rocky section of the trek during sunset. Picture by Saurabh Sawant.
2. View of the surrounding hills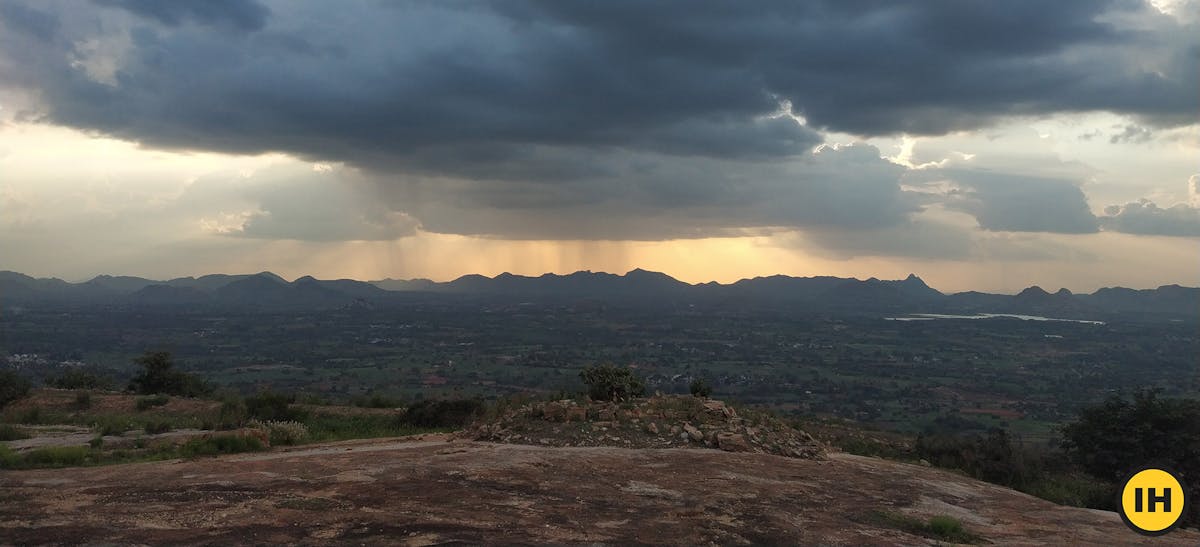 Sunset from Varlakonda fort. Picture by Saurabh Sawant
You get an unmatched view of Avalabetta Hill and its surrounding hills from the summit of Varlakonda Fort. Look around carefully here to spot several little lakes as well. Sunset from this point is brilliant – the sky turns deep orange and then red behind the mountains, leaving a splash of purple and pink as the sun disappears into the horizon.
➤ Trail Information
There are two ways to begin this trek. Let's call them Path A and Path B from now on.
Path A
This route begins from the road itself. It is narrow and easy to miss at first glance. But here's a trick to find it. Face the Varlakonda rock and look to the left of the field. You will be able to spot the path in clear view. It runs past the field and brings you to a small forest section.
This forest trail steadily climbs for 10 minutes It has great views of the Varlakonda rock. At the end of 10 minutes, you reach a rock section. Here, the ascent is extremely steep.
This is where the two paths meet.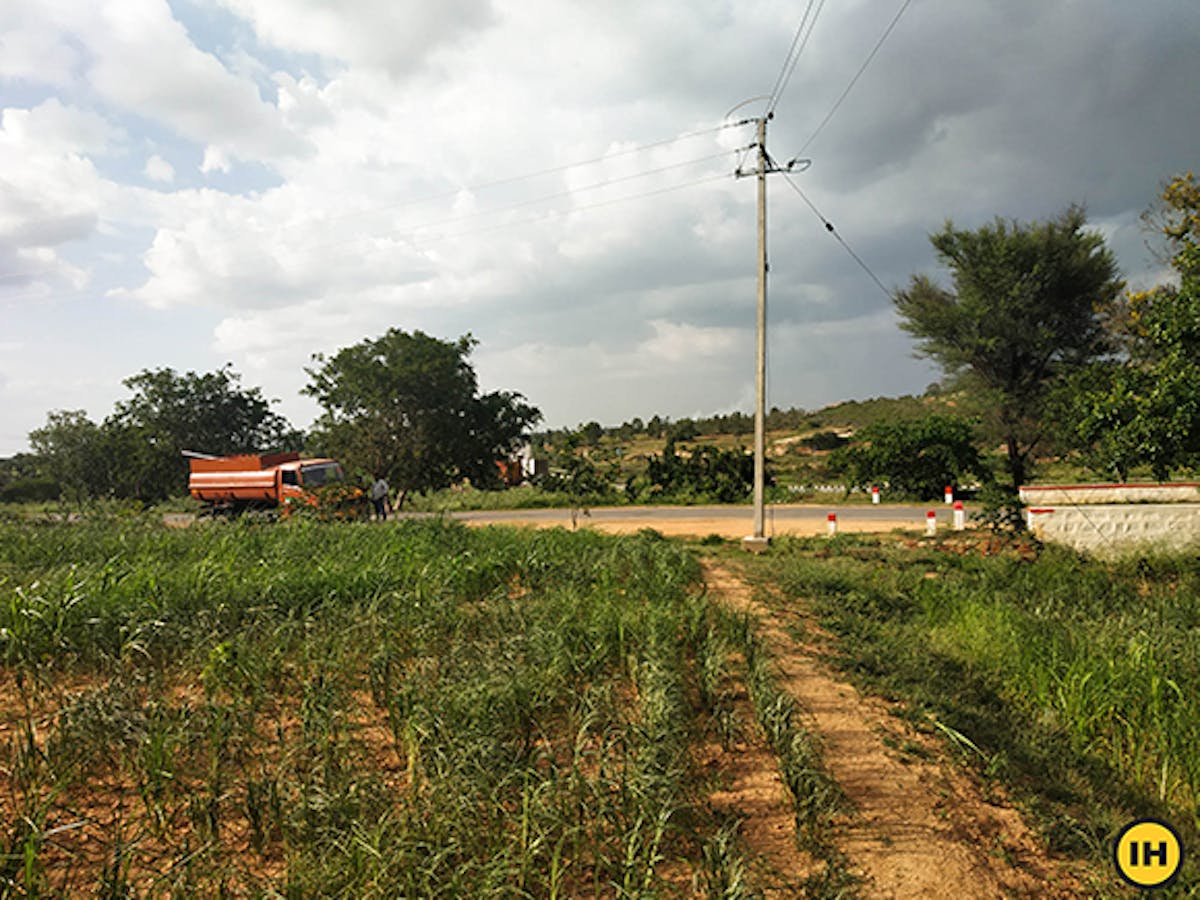 Path that emerges to the left of the field while facing the rock. Picture by Saurabh Sawanth
Path B
Path B starts about 150 m away from Path A. It is closer to the National Highway to Varlakonda. You reach Path B when you go off the service road and take a left turn. Note that this route goes through a small portion of the Varlakonda village.
Path B begins from the mini-forest section. It climbs gradually for 10 minutes. The route winds in and out, almost like switchbacks and at the end of 10 minutes you reach a rock section with an extremely steep ascent.
The two paths meet here. The ascent is steep for about 10-15 steps. You might have to get down on all fours for this. Grab onto nearby rocks and shoot for support. Be careful of loose rocks here. Most shrubs have thorns, so place your hands carefully.
Look around, you will find mushrooms and plenty of butterflies fluttering around. Please don't touch or pluck any of the mushrooms, unless you are an expert on mushrooms.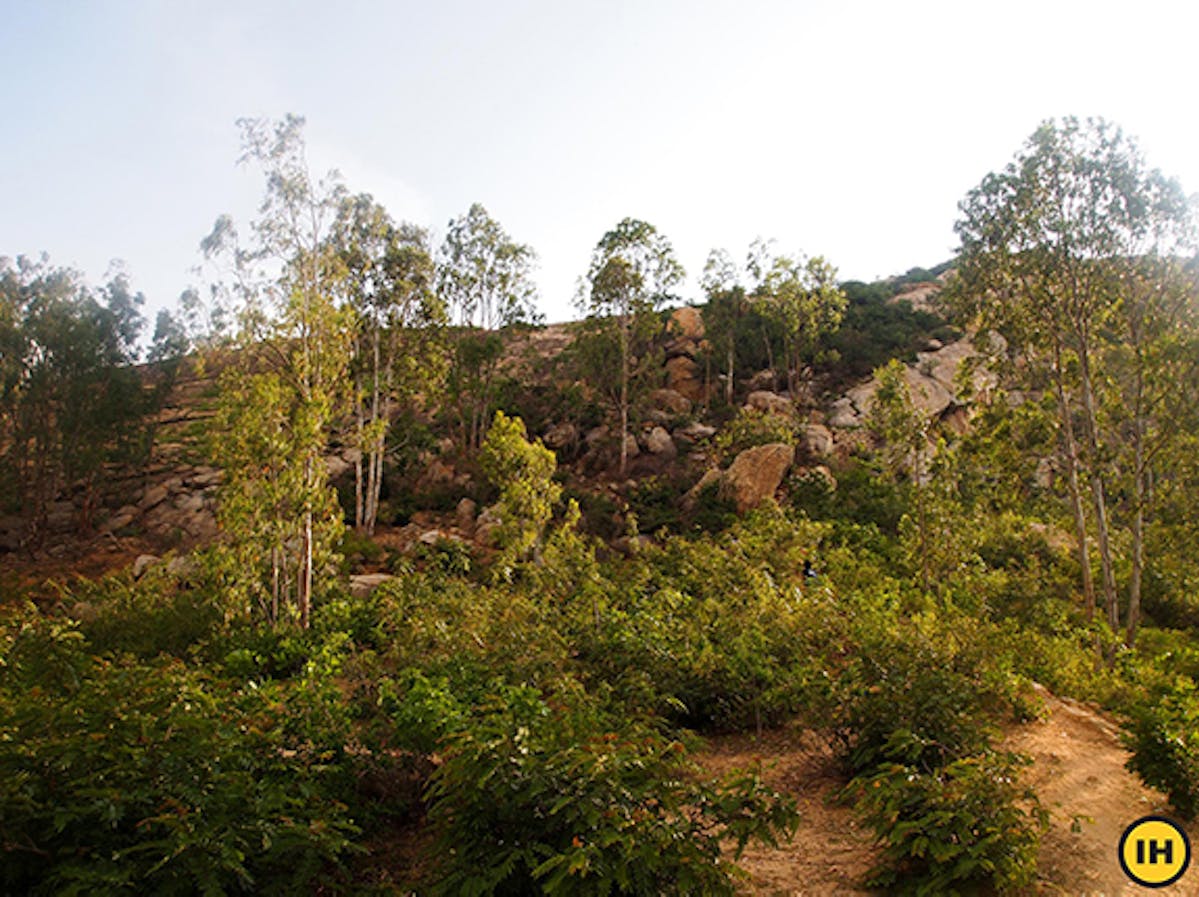 Path A and Path B converge right before the rock section visible in the picture. Picture by Saurabh Sawant.
The Rock Section
The most exciting part begins after the two paths meet. This is the rock section. Here, you find only a slight imprint of a path. If you are unable to find it, don't worry. Face east and keep climbing uphill with your back towards the highway. You will see the beautiful rock face unfold in front of you, layer after layer. Look back at the tree cover you just trekked through.
The rock section is a steep climb for 5 mins. Walk steadily and carefully on the rocks until you reach a small clearing. This is in a flatter area of the rock. This can be your first rest point.
This rock section is laden with well-camouflaged, beautiful bugs. They are so easy to miss!
Continue further up the trail for 20 minutes. There are no trees here anymore. It is a vast open space. Notice the colours of the rock while climbing up.
After climbing for about 20 minutes, you reach a very steep portion – an approximately 10 ft incline.  Climb up on this.
On the top you see a small grassland, about the size of a badminton court. In early September, you see beautiful red flowers glistening in the sun in this patch.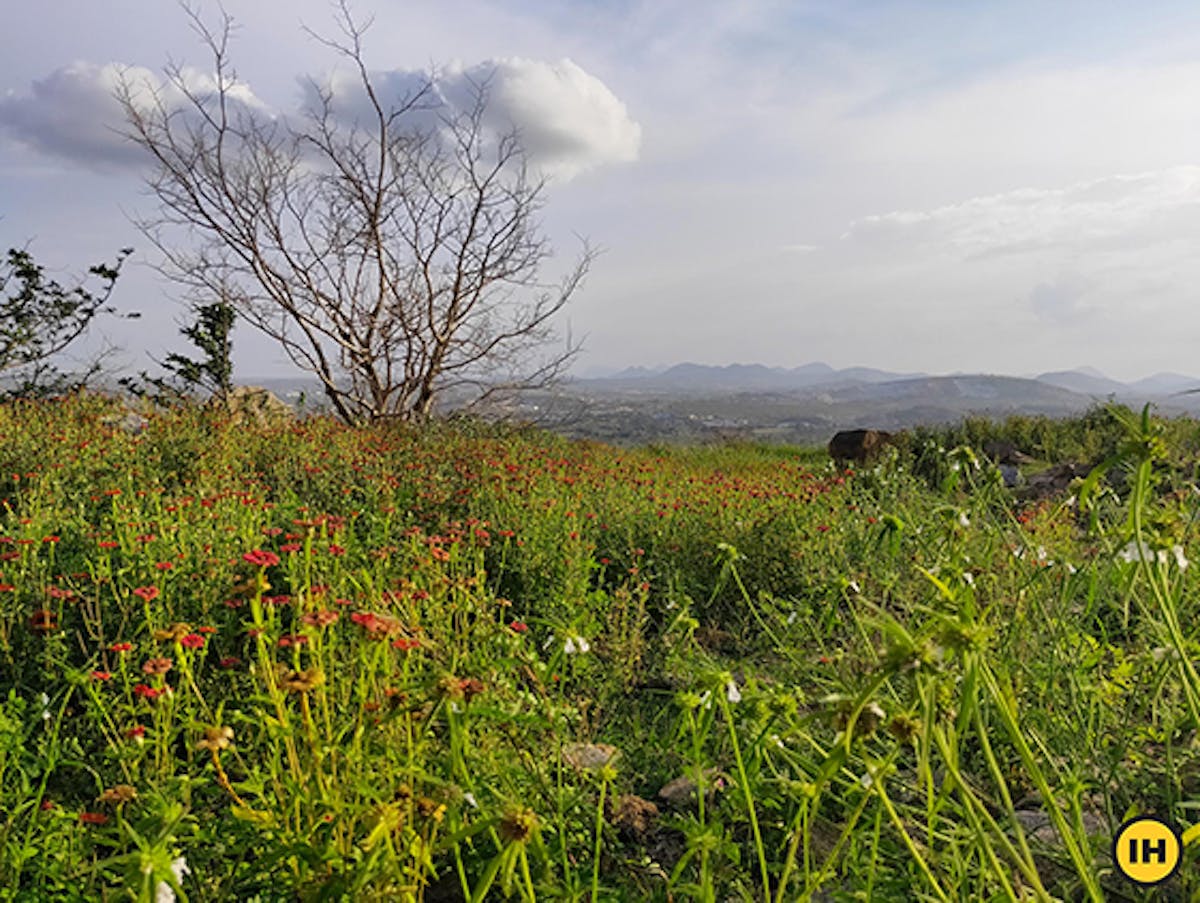 The small grassland with beautiful red flowers in September. Picture by Izzat Yaganagi
From here, continue further up for about 15-20 minutes. The rock now has patches of grass, shrubs, and occasional cacti.
15-20 minutes later you arrive at a clearing where you will find the ruins of a fort. This is a good rest point. The views are wonderful from here.
Soon after this, descend a couple of steps and walk on a flat surface for about 200 m. You will also see a small cave-like enclosure formed in the rocks here.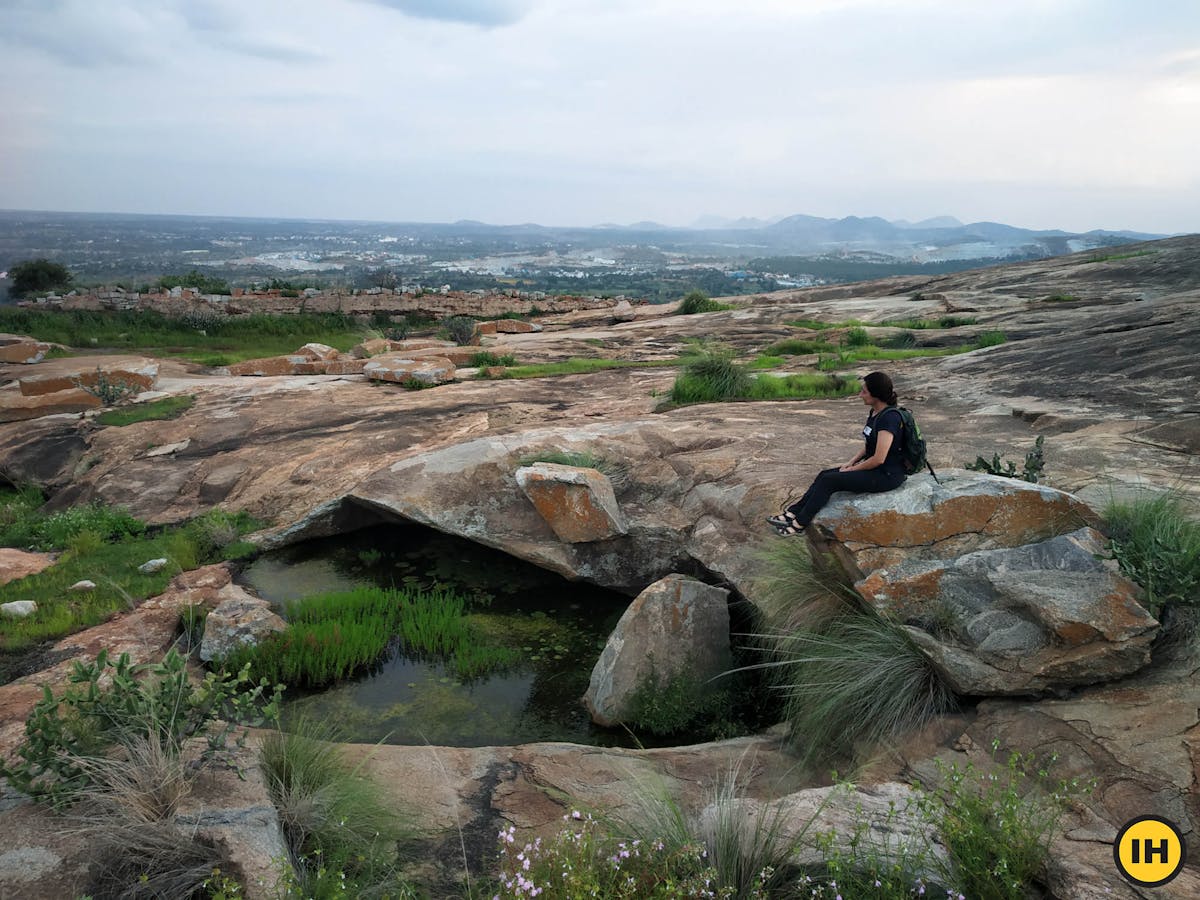 Small cave like structures where collects during monsoons. Picture by Gautam Singh
It is almost a flat walk from here, punctuated with a couple of downhill steps. Nearby you see a small unstable looking structure. This is a temple – the Sri Seetha Rama Lakshmana Temple.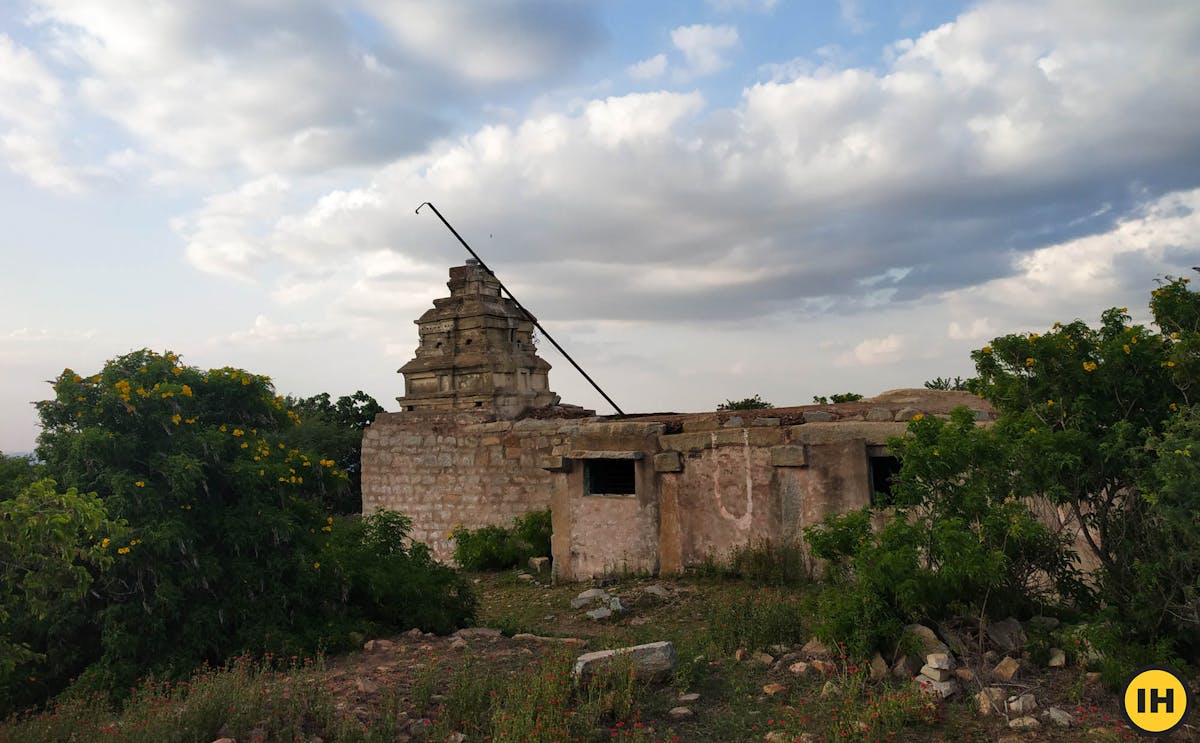 The Sri Rama Lakshmana temple at the top. Picture by Suhas Saya.
A couple of steps further you make a steep descent until you reach a small house-like structure made with rocks.  Watch out for some lizards here.
From here, there is a large clearing. This is the top or the peak of the hill. Sit down and take in the beautiful views on all sides.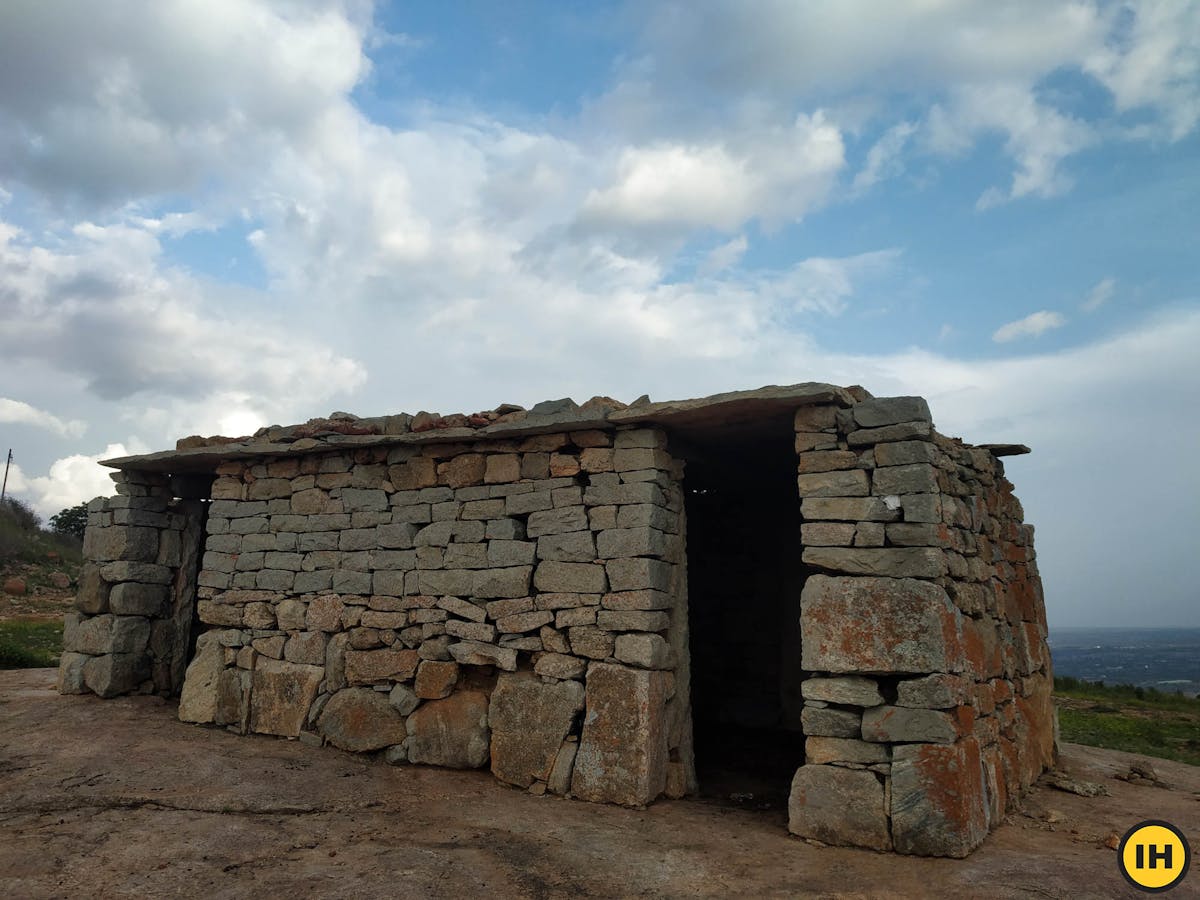 The small rock structure at the peak of the trek, just beside the rock clearing. Picture by Suhas Saya.
The Descent
You may trace the same route back down. After crossing the grassy patches on the rocks, begin your descent. Be extremely sure-footed. The rocks are slippery, and the descent is steep. By this time, you will have a visual of where you began your trek, or at least the road head.
At any point, if you feel lost, make sure to move towards the road head. If you look carefully enough, some sections of the trek will bear an imprint of the path on the route. Follow this.
➤ How Difficult is the Trek
The steep rock faces can be a bit of a challenge.
The rock section while ascending and descending are very steep. You must anchor yourself well while crossing these sections. Shoes with ankle support and a good grip on the sole will help. If required get down on all fours for better balance.
During the monsoon, the rocks will become extremely slippery.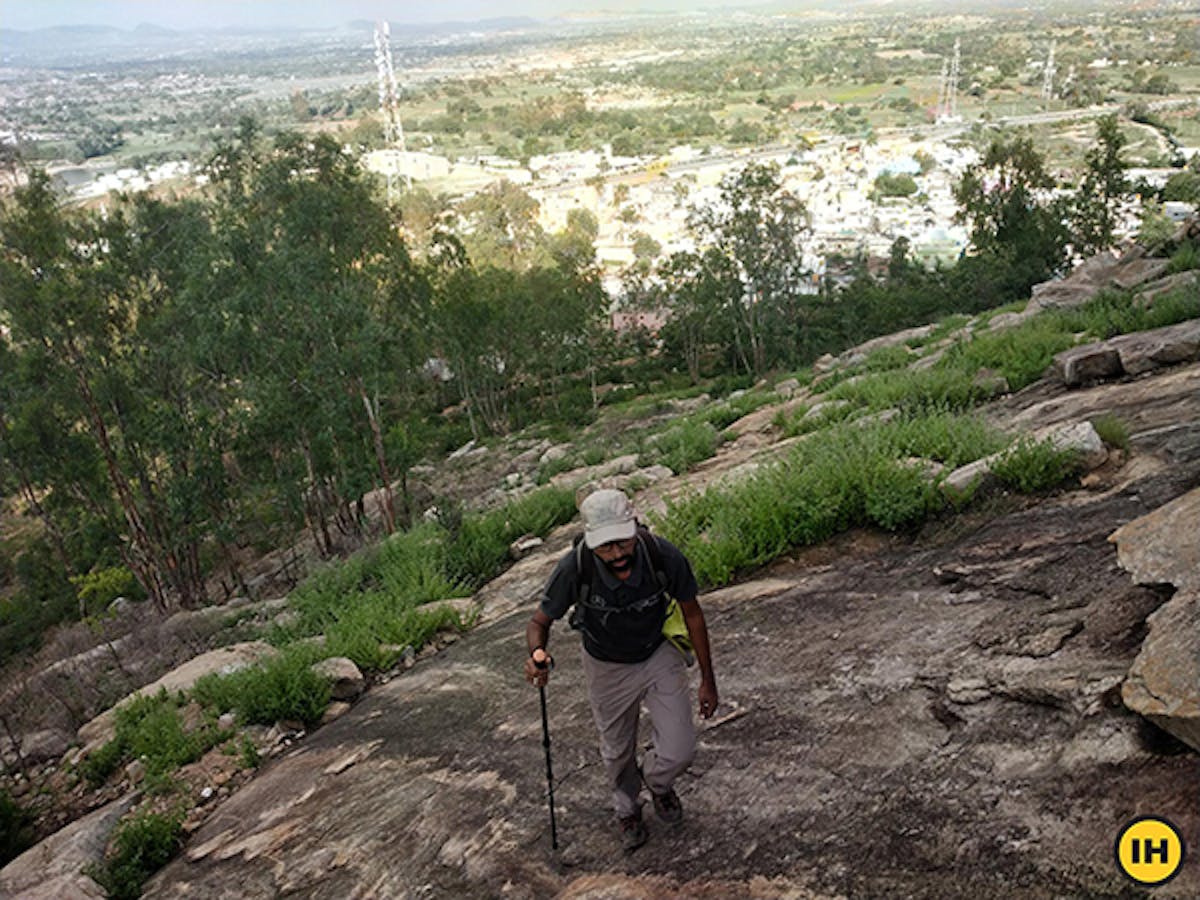 Place your feet carefully, and lock your ankles while trekking on the steep rock section. Using a trekking pole will help. Picture by Saurabh Sawant
➤ How to Reach the Base of the Trek
Distances
Bengaluru (Majestic Bus Stand) →  Varlakonda Bus Stand – 82 km
Bengaluru (Majestic Bus Stand) →  Chikkaballapura Bus Stand – 60 km
Chikkaballapura Bus Stand  → Varlakonda Bus Stand – 22kms
Note: Be alert and get off at the New KSRTC Bus Stand. Do not go to the old KSRTC Bus Stand or the KSRTC Bus Stand. You will necessarily have a 15min walk back to the New Bus Stand.
Reaching The Base
From Bengaluru (via Chikkaballapura)
To reach Varlakonda you can take a bus from the Majestic bus stand. Take a KSRTC bust from Bengaluru to Chikkaballapura. You will find the black-grey-and red KSRTC busses. There are signboards at the bus stand directing you to the correct platform. In case you are having difficulty, ask around.
Note: KSRTC officials at the platform wear a white uniform with name badges. They are easy to spot and are usually helpful.
You will also be able to board these busses at Hebbal Bus Stand opposite Esteem mall. Or at the Kodigenahalli Cross under the flyover.
From Chikkaballapura
From the Chikkaballapura bus stand keep your ears open. There are lots of private buses, and KSRTC buses plying towards Varlakonda. Make sure to inform your conductor that you want to get off at the exit to Varlakonda town. This drops you closest to the beginning of the trek.
In case you want to eat something first, or get some tea, get off at the Varlakonda bus stand. And there are a few stalls selling food and drinks.
Planning Your Return
Post the trek, join the service road you drove on. And make your way to the bus stand. You can ask locals, they will help you. Catch a bus to Chikkaballapura. They are frequent, so at the most, you might have to wait for 45 minutes. From Chikkaballapura board a bus heading to Bengaluru City.
➤ What to Pack for the Trek
Here is a list of things you must carry on the trek:
Basic First Aid kit*
Identity Card
Trail/ region map
Cap with sun flap/ Scarf/ Bandana & Sunglasses
Water (Minimum two litres)
Lemon and salt OR Electrolyte Powder/Drink (Electral/Gatorade/Glucon D, etc.)
High-calorie snacks (Nuts & dry fruits, a home-baked cake, etc.)
Poncho (During monsoons)
Spare newspaper
Multi-Tool/ Swiss Army Knife
Powerbank
Safety Pins, Rubber bands & Whistle (Useful in emergencies.)
Optional: Rope, Camera.
➤ Frequently Asked Questions
Emergency Contacts
Nearest police station: Gudibande police station
Contact number: 081562 72262
Location link: Google maps link
ERSS: For any kind of emergency help, you can contact the Pan-India Emergency Response Support System (ERSS) number- 112.
Mobile network and ATM
Mobile connectivity is good throughout the trek, with a 4G network available for all major network carriers.
The closest ATM is about 10 km toward Chikkaballapur. Location link- SBI ATM