Forclaz 500 High/Trek 100: Excellent Hiking Shoes For Rough Himalayan ...
Share this story
Forclaz 500 High/Trek 100: Excellent Hiking Shoes For Rough Himalayan Terrain
Category Shoes Trek Gear Review
By Arjun Majumdar
2016-09-30
| Editor's Note: The Forclaz 500 High has been renamed by Decathlon as Forclaz Trek 100. The Forclaz 100 High has been renamed as Quechua NH300.
When my old trekking shoe split wide open at the sole a few days before a Himalayan trek I was mighty worried. The last thing I wanted was to get on a Himalayan trek on new trekking shoes.
When Seersha from our content team heard that I was looking for new trekking shoes, she immediately wanted a review on it.
There were plenty of shoes to choose from. I liked the looks of Wildcraft's Amphibia range. Power from Bata had some good trekking shoes though they were better suited for lower altitude simpler trails.
My job requires me to go on rough Himalayan treks. I needed a shoe that could take the grind of tough descents, moraines, possible stream crossings and snow. It also had to be long lasting and durable.
While there were some good shoes in the market, my final choices were down to Quechua's Forclaz 100 High and the Forclaz 500 High.  I definitely did not want to import any shoe. I had not seen any functional difference between an imported shoe and the ones available with Decathlon's Quechua.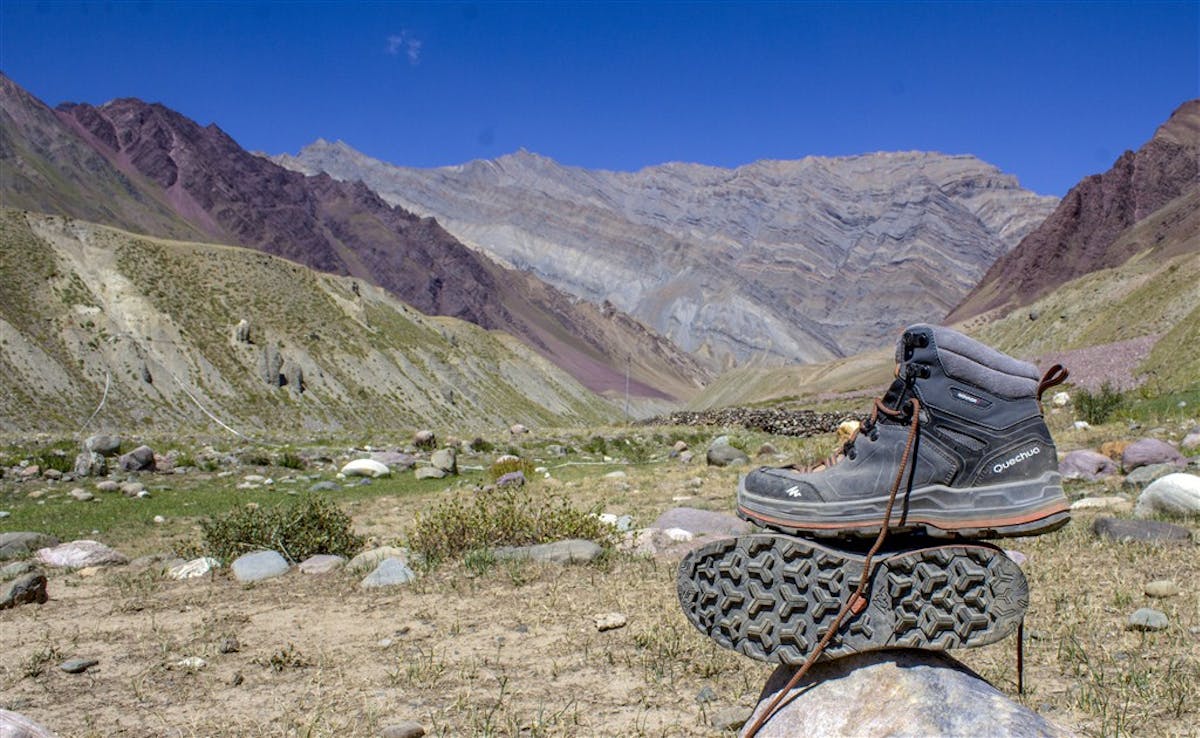 Forclaz 500 High shot after a grueling trek in Spiti
I decided to give them a run down at the nearby Decathlon store. Both shoes felt comfortable when I wore them. Both had good grooves, though the Forclaz 500 had modern 'Y' studs on its groove, which Quechua called the Crosscontact sole. Both had similar locking mechanisms, with punched eyelets right up to the curve of the ankles, with the final two ending in hook eyelets. The hook eyelets were a superb addition. It made tying a lace so much faster. I did not notice these hooks in shoes of other brands.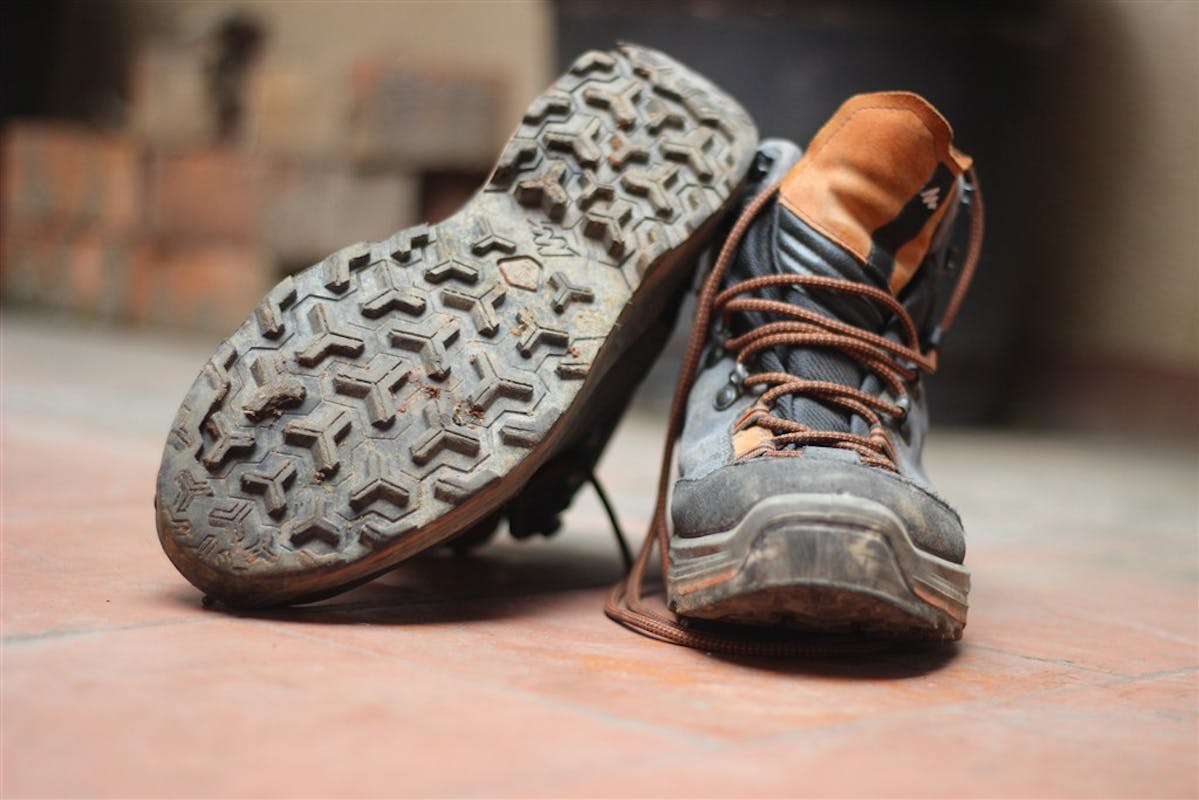 The Y-shaped grooves on the sole of Forclaz 500 High
The Forclaz 100 looked breathable and porous. In a hiking shoe that's something you want. Long walks make your feet sweat. You want your shoes to stay dry and non smelly. The Forclaz 500 looked wrapped up and closed. That bothered me a bit.
For the upcoming Himalayan trek I was going to do couple of stream crossings. I wanted a shoe that could momentarily keep the wetness out. The last thing I wanted on a trek was a wet shoes and feet. Wet shoes on long walks produce heat that causes blisters. Worse, they feel squishy and uncomfortable. Considering that I would get snow too, I opted for the Forclaz 500 High.
The Forclaz 500 High gave me better cover from moisture. It also meant that the extra water resistance could make the shoe less breathable and stinky. With a slight apprehension at the back of my mind, I decided to see how the Forclaz 500 High performed in real mountain settings.
I gave myself a week to get used to the shoe. The first day the shoe felt odd like a boot. I almost missed a step getting down stairs. The second day onwards the shoe grew on me. By the time I left for the trek, the shoe was a part of my body.
Performance of Forclaz 500 High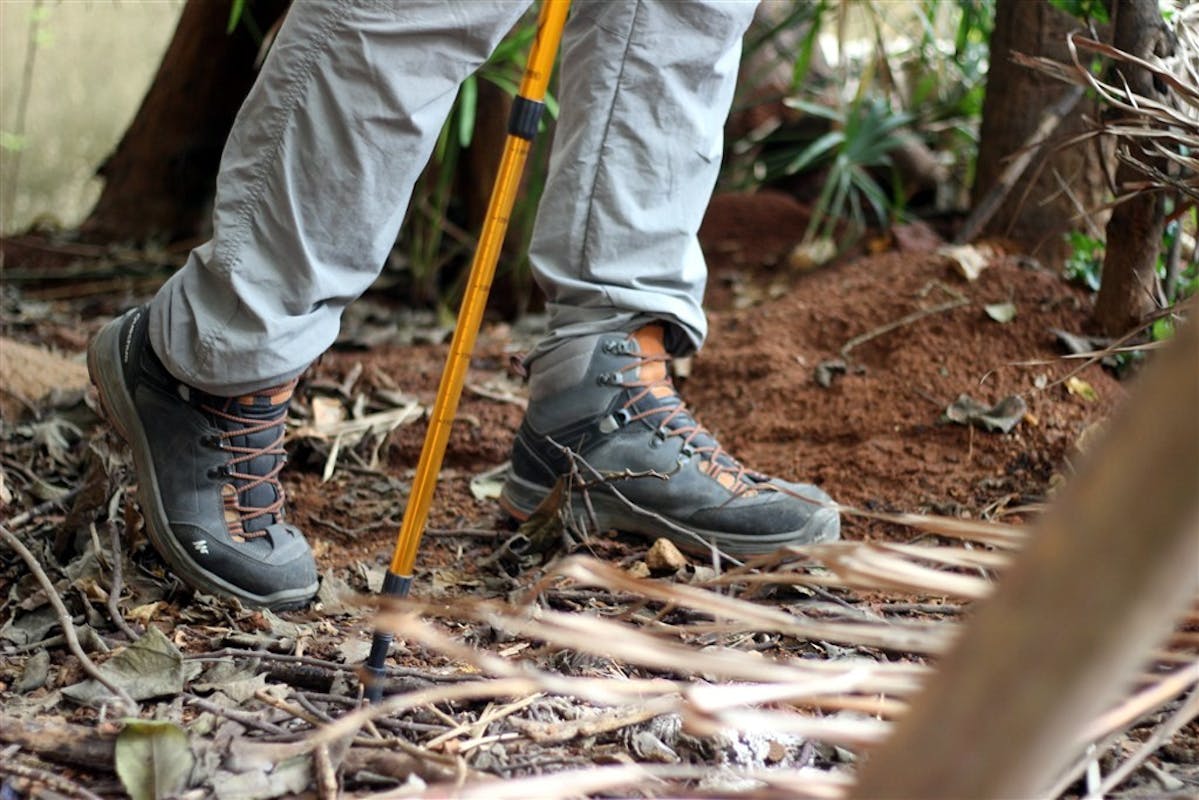 Quechua Forclaz 500 High fit for rough Himalayan terrain
 In slush
Starting out, I had to wade through some slush — that effectively took care of the lovely shine on the new shoes! While I hated the brown mud on the grey skin, I didn't notice any dampness that a prolonged exposure to slush can bring. The Forclaz 500 High was already earning points.  
While crossing streams
On the second day we had to hop over streams. I made it a point to linger longer during the crossings. At times the shoes dipped to its laces in water. Inside I was bone dry. I was beginning to really like the shoe.
On hard snow
The shoe went through its toughest trial the day we had to cross a pass at 16,000 feet. First, we had to get on snow that had become hard. I was staring down an incline. The traverse was looking tricky but the grips held firm. I was off the incline in minutes. My confidence in the shoe grew.
Through hours and hours of moraines
Then for the next 6 hours the pounding on the shoe began. Descending down moraines where it is nothing but rocks is hard on any shoe. On this trek it was rougher than usual. I remember thinking to myself that I was probably taking the life out of the shoe on its very first trek. Hour after hour the shoe took knocks on stones, gravel and rocks. It had its skin scratched, its sole scrapped and its seams stretched every minute of the descent.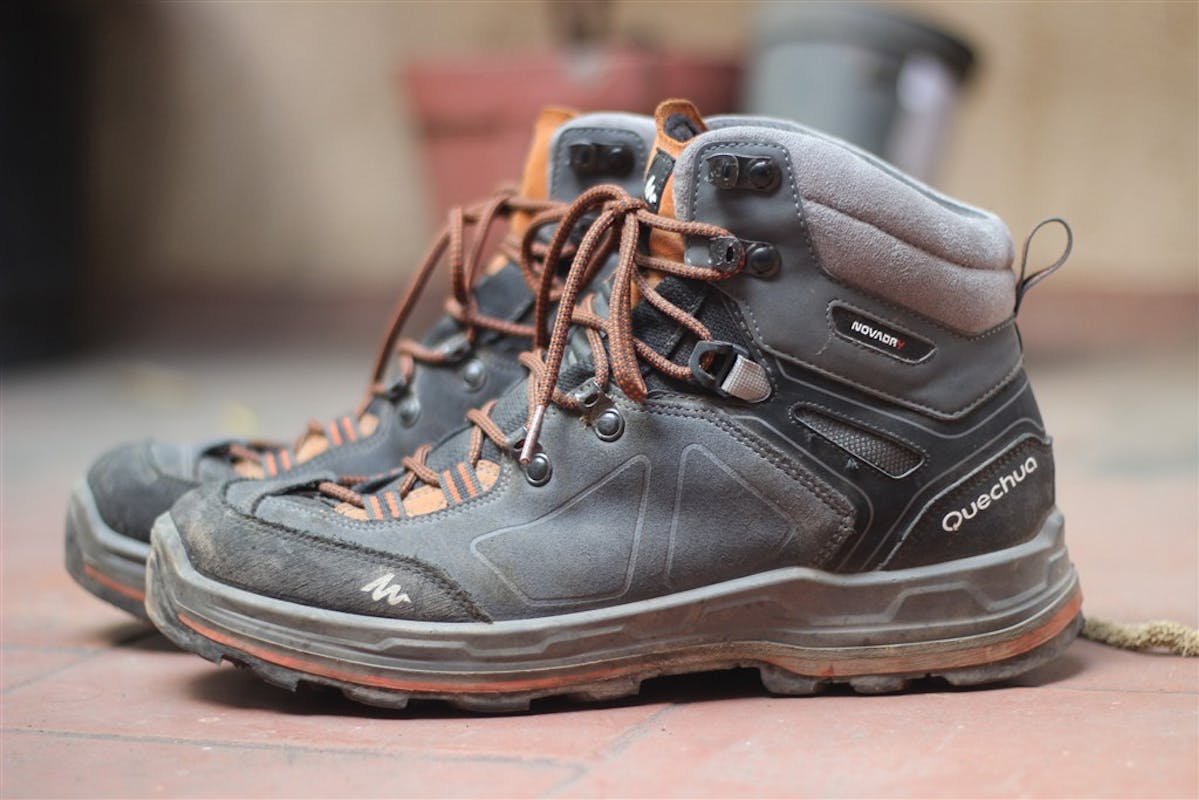 The Forclaz 500 high post trek
What about odour at the end of the trek?
When I finally got to camp, I was sore from the descent. We had been trekking for 11 hours. I took off my shoe, expecting a whiff of bad smell to hit me. I didn't get any. The shoe smelled as fresh as a daisy. I looked for damages. Baring a few surface scratches and the dust the shoe didn't look any worse off. I was totally in love with the shoe!
The verdict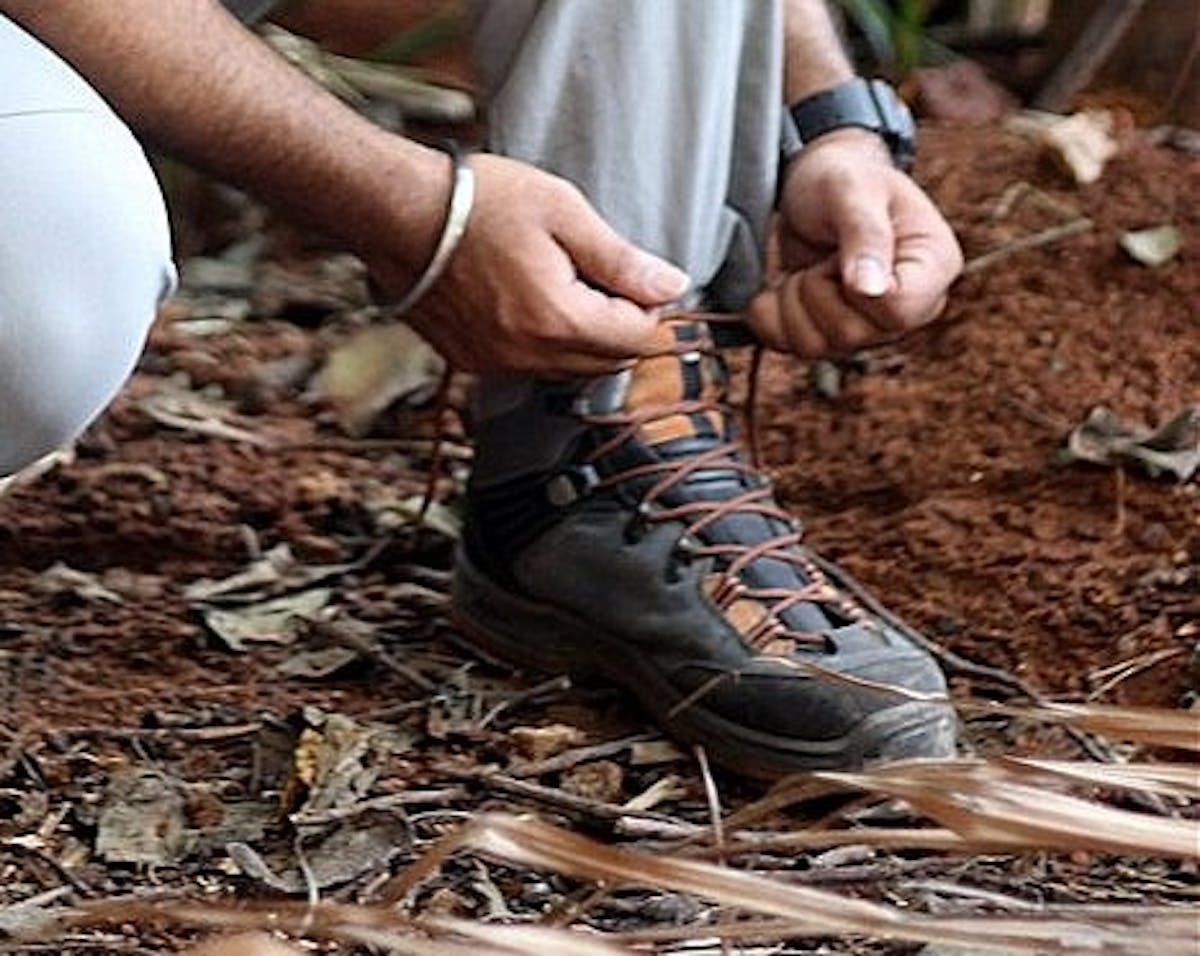 Forclaz 500 High is comfortable and sturdy for long Himalayan treks
The Forclaz 500 High feels very comfortable inside out. The padding is superb. Even after a 6 hour pounding on rough moraines, my feet felt tired but not sore. The shoe didn't sweat even after an 11 hour trek. With its lovely water resistance I had the confidence to take it out on treks with more snow. The outer leather and synthetics felt tough and durable.
The Forclaz 500 High is light, weighing about half a kilogram. The shoe does not feel heavy on the feet, which is a blessing when you are on high altitude treks.
All in all, the Forclaz 500 High is a great shoe for high altitude trekking. The steep Rs 6,000 for the shoe is something that bothers me, but its performance on rough terrain, water and snow is as good as any mountain shoe that I have worn. I loved its orange and grey colours as well. It made the shoe look good and stand out.
I give the Forclaz 500 High good ratings, easily a 4.5 out of 5. For our upcoming treks like the Kedarkantha, Deoriatal or even the summer treks like Roopkund or Rupin Pass, the Forclaz 500 High is ideal.
The Forclaz 500 has recently been renamed as the Trek  100.
LEAVE A REPLY
Your email address will not be published. Required fields are marked
Sign up for our much loved Weekly Mailer
We have terrific trekking tips, trek updates and trek talks to look forward to