We have changed Rupin Pass pick-up time from Shimla to 5.30 am
Because of slushy roads and traffic build-ups, vehicles are getting delayed on the journey from Shimla to Jiskun. We have advanced our pick-up time to 5.30 am. Please plan your travel accordingly
Difficulty
Moderate-Difficult
Highest Altitude
15,279 ft
A Change in Scenery at Every Turn
If there is a classic trek in India, it has to be the Rupin Pass. This trek is like an orchestra, building up momentum with surprises in scenery every hour or so. With every step, the trek throws up a new vista to see, new scenery to unfold. Quite suddenly too!
The surprises begin right from your first day of trekking. When, around 20 minutes into the trail,  you see the Rupin River make an appearance, fanning out into a wide bed below you. And it doesn't stop here.
From here, the trail takes you through hanging villages, and then quite suddenly, it plunges into a deep pine forest!  That's not all. The trail then meanders through glacial meadows, snow bridges, glacial valleys, snowfields, and hundreds of waterfalls!
Highlights of Rupin Pass Trek
Rupin Pass trek is 7 days long (including the drive to and from the trek, buffer, and acclimatization day) in the Himalayas. It begins at the remote village of Jiskun and ends at the village of Sangla in Himachal Pradesh.
Lower waterfall campsite
The lower waterfall campsite is probably one of the most exquisite Himalayas have to offer. Snuggled at the bottom of a perfect "U" shaped glacial valley – it lies on the bed of a lush green meadow. From your view at the bottom of the meadow, snow-patched cliffs tower on all three sides.
In front, the Rupin cascades down from the snowy Dhauladhar range for over two thousand feet to form the famous Rupin waterfall.  Spending two days at this campsite is a luxury!
The adventurous pass crossing
The Rupin gully is a half tube cut out of the mountainside. When you first see it from the trail, the sight of the near-vertical climb is enough to make your heart stop. (A sentiment even our staff and Trek Leaders attest to – despite having done this trek multiple times!).
The climb is 200 meters, on a steep snowy flank through narrow rocky confines of the mountain. As finding a foothold in this terrain is difficult, our staff will cuts steps for you in the hard ice. As you climb, placing your foot on these steps – you find that voices echo and travel sharply all over the gully. This climb is as thrilling as it gets!
The grasslands on the Kinnaur side
From the snowline after the pass, the trail descends sharply through endless meadows that stretch all the way to Sangla Kanda.  The Ronti Gad campsite is amid these grasslands. Towering, snow-capped mountains lean over the campsite and a bountiful stream flows along with the camp.
This is a gift after the long pass day! The meadows of Sangla Kanda are awe-inspiring, especially in its setting. The sharp serrated edge of the Kinnaur Kailash range, all over 20,000 ft, overlooking the meadows of Sangla Kanda is enough to make you stand still in amazement.
<!–- -–>
Rupin Pass Is Best Discovered Through Pictures
Quick Itinerary
Day 1: Reach Jiskun (7,700 ft); 10-11 hours drive from Shimla.
We will pick you up from Hotel Crystal Palace in Shimla at 5.30 AM. It is a 10-minute walk from the Old Shimla Bus Stand. Cab cost – Rs. 10,000 (Bolero) and Rs 16,000 (Temo Traveller) per vehicle, to be paid by trekkers directly to the driver.
Day 2: Jiskun (7,700 ft) to Jhaka (10,318 ft); 5 hours
Day 3: Jhaka (10,318 ft) to Saruwas Thatch
Day 4: Saruwas Thatch to Dhanderas thatch
Day 5: Dhanderas thatch (11,700 ft) to Upper Waterfall camp (13,385 ft); 2 – 3 hours
Day 6: Upper Waterfall camp (13,385 ft) to Rupin Pass (15,279 ft) via Rati Pheri, further on to Ronti Gad (13,139 ft); 10-11 hours
Day 7: Ronti Gad (13,139 ft) to Sangla (8,776 ft) Via Sangla Kanda (11,427 ft); 6 hours.
After the trek ends, we arrange a cab to Shimla from Sangla. The cab leaves at 2.00 pm from Sangla and you reach Shimla at 1.00 am. The fare for this ride is Rs.10,000 (Trax Cruiser) and Rs 16,000 (Tempo Traveller) per vehicle, to be shared and paid by the trekkers directly to the driver.
Please note that you will be staying in tents on all days of the trek.
It is mandatory for trekkers to carry a copy of their photo id for entry at forest check posts on the trek. Since Jiskun will have limited facilities to photo copy, do not leave this till the end. 
Know Your Rupin Pass Trek
We have always wanted trekkers to be well-informed before they go on a Himalayan trek. Knowledge is the difference between a safe trek and a dangerous one. It's also the difference between a wholesome experience and a surficial experience.
Use this section to learn about the Rupin Pass trek. It has in-depth information about each day of the trek, what to expect, and how you need to prepare for it. Many years of expertise have gone into this content. Don't miss the 'Frequently Asked Questions' section. Trekkers find that extremely useful.
How Does Each Day Look Like
Complete Trek Guide With Photos
The Trek
Day 1: Reach Jiskun
Altitude: 7,700 feet
Time taken: 10-11 hours drive from Shimla. Pick-up from Hotel Crystal at Shimla at 5.30 am.
Instead of traveling from Dehradun to Dhaula, as per the traditional itinerary of Rupin Pass trek, drive down from Shimla to Jiskun. Start early from Shimla. This route is a lot better and scenic than the route to Dhaula.
Jiskun (7,700 ft) is the base for the Rupin Pass trek. Jiskun, high above the confluence of Nargani and Rupin, is a village in two parts — lower Jiskun is now called Bawta. Jiskun is a good place to replenish your supplies if you are running short. There are local stores where you can stock up on your rice, wheat, sugar, spices and vegetables.
The route goes through Rohru, where road splits into two. One road goes to Janglik, the base camp of Buran Ghati trek and the other goes to Jiskun. The road to Jiskun goes through the beautiful and extremely scenic Chainsheel valley, which is a trek in itself
Day 2: Jiskun to Udaknal
Altitude: 7,700 ft (2,347 m) to 10,318 ft (3,145 m)
Time taken: 6 hours, 8.7 km
Trek gradient: Difficult. An hour's descent followed by an hour's steep ascent, easing off till the fir forest. Steep descent for an hour followed by a gentle walk.
Water sources: Carry sufficient water. You can refill your water bottles at Jhaka, 3.5 km from Jiskun. An hour's descent from Jhaka will bring you to the Rupin river, which will stay with you for the rest of the day.
It is a 3½ km walk to Jakha, the highest and the last village on the Rupin pass trek. The trail out of Jiskun descends rapidly through a forest of deodars and walnut until it reaches an enchanting dark fold in the mountain. The fold's upper reaches are dark and beyond human touch. Sight the remains of an old wooden bridge, almost hidden in the foliage. Below, at eye level, cross the new wooden bridge and crane your neck up to an eerie trail cut out of the rock face. So out of place and strange, you need moments to fathom how this was built and who made them.
The next one hour climb to Jakha is through one of the best trekking trails. The scenery changes frequently. The trail initially zig-zags up on the ridge line of the slope. Looking up from below, the trail appears ominous, reaching out to the sky. Once you start climbing it isn't as monumental as it looks. The trail winds through an enchanting mixed forest – with cliff faces on the other side of the valley and whistling birds keeping you company on this side. Two thirds of the way up, watch out for an equally broad trail that forks to your left. The other trail heads up to a village, Dhara, higher than Jakha. Stick to the trail that veers to the right.
The trail mostly climbs with one gentle walk in between. Jakha is a village completely enveloped in the ways of the Satsang. No meat is taken here. Avoid asking for any live animals or eating meat out of canned tins. The campsite is just above the village and doubles up as the children's playground. An alternative campsite is the school courtyard itself.
Jakha is the last stop to replenish your supplies and also to look for porters if you are running short of either. For the next few days of your trek, there is rarely a soul you'll encounter, except shepherds tending to their flocks. This is how it is until you reach Sangla.
The well defined trail ascends past the playground, passing through fields of the upper Jakha village before entering a magnificent fir forest. The entry to the forest is again so sudden that it is almost like someone has opened up a gate to let you in. The towering blue pines, each more than few centuries old, take you through pristine and untouched surroundings. If you have a keen eye, catch a few maple trees within the pines, their golden orange leaves strewn amidst the pine cones.
On the other side of the trail, high above, cliffs hang over the V-shaped valley. In their crags you notice the first patches of snow. An hour into the descending walk through the fir forest, and around a bend in the trail, is the biggest surprise of the day.
Stretched under is a vast snow bridge across the Rupin – the last thing that you would expect on the trail. With no trace of snow earlier and only glimpses of snow patches at higher ground, finding a snow bridge at a lower height will make you gasp.
Run down to the snow bridge, put on your sunglasses, and for the first time on the trek feel snow under your boots. The snow bridge is magnificent, with the Rupin carving out gaps and holes through it. Climb up to the higher reaches of the snow bridge, cross the Rupin and get on to the trail on the other side.
Note: During some blistering summer years the snow bridge melts with no chance of crossing. But don't worry, the original trail, after a brief crossing of a tributary stream over wooden logs, continues further until you come to a wooden bridge that gets you to the other side of the Rupin.
The trail is no longer wide but a narrow foot trodden path made by passing cattle and the shepherds. Follow the trail until you get to a wooden bridge mentioned above. Do not cross the bridge, but carry on with the Rupin on your left.
The bridge has its advantages though. Higher up, to the right of the bridge is the first open grassland of Udakanal. Trekkers often camp here. But 2½ hrs out of Jakha is hardly the time to camp. Carry on further for more excitement stored for the day.
The scenery is rather different from what you have left behind. Most times the trail follows the course of the Rupin. Little tributaries from the upper reaches of the mountain flow into the Rupin, their bottom characterized with perennial snow patches. Often you are walking on the boulder strewn river bed. The Rupin changes colour to a glorious icy blue – the water clear as crystal. No need to look for water to quench your thirst – just dip into the Rupin.
After an hour and half of intermittent boulder walk, and hopping over many cascading streams that feed the Rupin, the trail climbs and heads to the right, heading for a clump of forest. Just before the trail enters there forest, you are met with a small open grass land. It is easily recognizable by a big rivulet that gushes out of the hill side – the water pure and clean. This is Burans Kandi, an excellent place to camp if you don't mind the many cows that graze in the bounties of nature here.
Day 3: Udaknal to Dhanderas thatch (lower water fall camp)
Altitude: 10,318 ft (3,145 m) to 11,700 ft (3,566 m)
Time taken: 4 hours, 4.6 km
Trek gradient: Easy-moderate. Gradual ascent all the way; tricky terrain over the snow bridge.
Water sources: Carry sufficient water. You can refill water bottles from the river.
Below, the Rupin thunders on. On the opposite bank, huge snow patches cover the gullies that once were part of glaciers feeding the river. A clump of forest starts just outside the camp area, and before you know it, you are in deep foliage.
The ascent is steep. The Rupin next to you and on your left climbs along rapidly in a series of mini water falls. The climb isn't for long. Ten minutes later it evens out to leave you speechless. You are surrounded by thousands of Rhododendrons in full bloom. Where did they come from? They are in myriad colours – white, pink, purple. They are everywhere. The Rhododendrons are the dwarf kind and rarely cross your chest. The trail weaves through the roots of the plants and some hang out on the Rupin – their flowers touching the clear waters of the river.
A small clearing and the Rhododendrons now adorn the slopes, the plants climbing a few thousand feet into the air. Walk a bit further to a bigger clearing and get your second surprise of the day. You are in a glade with the Rupin on your left forking to give away to a little island. The island has a carpet of green grass, lush with life. Right in the middle are a few Silver birch trees completing a picture of utmost serenity. Just as you thought that the glade was a pretty sight, for the first time on your trek you catch a glimpse of the famous Rupin waterfall in the far distance. You can't help but gasp. The sight of the U-shaped valley and the Rupin climbing down from the clouds above will make you hold on to something just to steady yourself. Bet on excitement to set in as you relish the prospect of an amazing adventure in store.
The day's walk is perhaps one of the best you'll ever do. What's amazing about Saruwas thatch is the sight of the Rupin gushing out of a gorge just ahead and to your left. While everyone's seen a gorge from above, very few can claim to see a gorge at eye level.The heady sight behind you, walk along an even trail with snow patches on the mountain side to your right getting bigger and lower around you. Silver birches (Bhoj trees) are common, their barks peeling off to reveal the sacred Bhoj leaves. Collect a few as souvenirs. The legend goes that the epic Ramayana was written on these leaves. Climb to a bump on the trail – and let the big surprise of the day overcome you.
The climb through forest and shrubs makes way to a grand amphitheater of green. You stand on the edge and enjoy front row seats of a grand scale production. As you peer from the lip of the U-Shaped valley you notice thousands of waterfalls cascading down its brown walls to meet the Rupin. In contrast, laid out in front of you are miles of green meadows, dotted with thousands of yellow marigolds. And in between the undulating meadows the Rupin gracefully snakes its way down from its source. To top the scenery you have white snow patches lying scattered all along on the edges of the meadows.
Climb down to the valley of yellow marigolds. Enjoy the gentle undulating walk to the first hurdle of your trek: a snow bridge over the Rupin. The slope of the snow bridge is much steeper than you can anticipate. Get a good grip and try to climb upward and higher. The steep bit isn't for long and the flat of the snow bridge is a thrill to walk on. Crossing the snow bridge is easy and soon you are on the left bank of the Rupin.
The walk climbs gently through the lushness of the meadows. Every few steps tiny brooks gurgle under your boots as you hipety hop over them. Wild flowers sprout everywhere. This time they are blue, purple, green, yellow and white. The Rupin gently makes it way down the valley, an icy blue.
Cross a big boulder sitting on the edge of the river and find the Rupin fanning out into a wide river bed. Step on the river bed and walk along its edge and reach the base of another snow bridge, the biggest of all you have come cross. Climb on to the snow bridge and cross the Rupin once more, bringing you to the base of a short climb that leads to a plateau above.
The climb is like inching along near the top of a roller coaster ride, waiting, anticipating for the next view. It doesn't disappoint you. You have arrived at the prettiest meadow of the trek, a site so beautiful, that you want to set up camp right there. And you do, for no Himalayan camp site can better the location. You are in the middle of the valley's bowl. Ahead, the Rupin thunders down its three stages of waterfall. Beyond the waterfall is the alpine Dhauladar Range looming large. On your two sides are the snowy valley walls with their numerous waterfalls.
Water isn't a problem. You just have to walk in any direction to find a crystal clear icy rivulet passing by. Pitch tent but sit out on the grandest landscaped lawn that nature can serve up. This is Dhanderas Thatch.
Day 4: Acclimatization day at Dhanderas Thatch
Day 5: Dhanderas thatch to Upper Waterfall camp 
Altitude: 11,700 ft (3,566 m) to 13,385 ft (4080 m)
Time taken: 3 hours , 2.4 kms
Trek gradient: Moderate. Continuously climbing trail, tricky around the snow patches at the base and top of the waterfall.
Water sources: Carry sufficient water. You can refill your water bottles at streams.
This is perhaps the most important day of your trek. The acclimatization climb to the top of the waterfall will help you immensely for a super successful climb to the Rupin pass.
From Dhanderas Thatch the altitude gain for the Rupin pass crossing is almost 2,500 ft. It is considerable and it is almost certain that many will suffer from altitude sickness. It makes better sense to climb up about 1,500 ft to the top of the waterfall, allow your body to feel the effects of the altitude.  Acclimatized somewhat, your body is better prepared for the grueling climb to the Rupin pass the next day. Unlike most days, start your day at leisure. Let strength come back to your limbs. After breakfast, prepare for the climb to the top of the waterfall.
It is about a kilometer to the base of the waterfall from Dhanderas Thatch. On the way you'll get plenty of streams to hop and jump over and the wild display of yellow marigolds. Sometimes, the marigolds are laid out in a carpet and you just want to lie down on them.
Things get serious when you reach the snow patch at the base of the waterfall. Avoid getting on the snow patch directly, but climb against its side on the boulder strewn hill side until you come to the trail that cuts across the snow patch. It would make sense to have a stick or trekking pole for support. An ice-axe is extremely helpful here. If the trail has already been made on the ice-patch, send a prayer of thanks upwards. If the trail is barely visible, then start cutting steps with your boots or ice-axe and slowly inch your way across the ice patch. This brings you to the top of the lower water fall.
(Note: the step cutting is invaluable and can save your life from a slip or a fall)
It is another similar series of snow patch crossing and intermittent climbs before you are on to the big snow bridge over the Rupin. The sight is spectacular when you stand on the middle of the snow bridge and look up to the waterfall and watch the Rupin disappear under your feet hidden somewhere under the snow bridge. At this spot you are over the middle water fall.
Crossing over to the other side of the Rupin, it is a steep climb flanking the slopes that leads to the top of the waterfall. It is like climbing a series of ledges (and a minor snow patch) before getting down to the meadow at the top of the waterfall.
For the first time you catch a view of what it is actually like at the top of the waterfall. It is quite unlike what you expected, keeping to the tradition of surprises of the Rupin trail. It is a wide meadow, reaching out to a flat bowl. Streams fed from the alpine snowy flank that converge on the bowl merge together to form the Rupin.
Get down to the snout of the waterfall and sit on the edge. Dangle your legs over as you watch the Rupin crash down to the valley below. This is the top of the waterfall, a spot that has been in your sight the last two days.
Day 6: Upper Waterfall camp to Rupin Pass via Rati Pheri, further on to Ronti Gad
Altitude: 13,385 ft (4080 m) to 15,279 ft (4,657 m) to 13,139 ft (4,005 m)
Time taken: 10-11 hours , 7.4 kms
Trek gradient: Difficult. Steep climb to the pass followed by a steep decent.
Water sources: Carry sufficient water from the camp before starting. Refill your water bottles completely at Rati Pheri – 1 hour after you begin. Water sources will be limited hereafter.
Steep climb to the pass followed by a sharp descent. This is the longest day of your trek and the most gruelling – and perhaps the most exciting too. It has enough adventure in store to haunt your memories for a long time.
Start your day even before sun up. Make sure you are out of the camp by 5:00 am. Carry breakfast with you. You'll need the energy boost for your brief halt at the top of the pass.
The trail to Rati Pheri starts out to the left of the meadow, climbing steeply along a snow patch that looks a mile long. The climb gains altitude in bountiful. An hour into the climb, the ascent veers left, rounding the shoulder of a ridge and opens out to the camping grounds of Rati Pheri. Stop here for a breather and much needed drink of water (and also fill your bottles for water source is limited until you cross the pass). Also, marvel at the change in scenery.
The Rupin valley that has been your companion for the last six days is lost to view, and the alpine Dhauladar range takes its place to your right and across the valley. It is now snow fields and alpine country till you get to the Rupin pass. This is a good time to put on your gaiters if you are carrying them.
From Rati Pheri, for the first time, across vast acres of snow fields, you get a glimpse of the Rupin pass, a tiny gap on the ridge line of the Dhauladar. It looks so far away, that the thought of actually climbing through the gap does not register.
The slow walk over the undulating snow fields is endless. The snow makes the going difficult. At times you are going to slip and slide a few meters. At times your foot is going to sink in up to the thighs. But never is it going to get so difficult that it scares the life out of you. The scenery is singularly white.
There are no tracks on the snow and you need to keep a general sense of direction towards the Rupin pass gully. The good news is, there are hardly any chances of losing your way, and if you keep your sight on the pass and stick to your right, you will eventually, after an arduous trek of an hour and half, come to the foot of the Rupin pass gully.
Rest for a while, collect your breath and prepare yourself for a thrilling adventurous climb through the Rupin pass gully.
A word of caution here: The trek through the gully is a short climb of about 200 meters. What makes the climb tricky is the loose stones and boulders (scree) that line its entire length. Add to it the initial climb leading to the gully over a steep snowy flank of the slope. Footholds on the icy slope are difficult to find and scrambling on all fours is sometimes the only option. An ice-axe to cut steps is extremely handy here.
It is a good idea to let your guides and porters go in advance as they can mark out the route for you. In addition they can give you precious hand-holds in some of the tricky stretches.
Climb in a single file and place your step in the hollow of the footstep in front. Watch for falling stones and rocks and gingerly make your way to the base of the gully.
The gully is a half tube cut out of the mountain side. Voices echo and travel sharply all over the gully. Conversations at regular tone get amplified and it is fun listening to the travails of the trekkers as they make their way up the gully.
Crane your neck up to the mouth of the gully. A multitude of prayer flags flutters in the high winds that blow across. You are looking at the Rupin pass.
The climb through the gully is as thrilling as it gets. The rocky world is surreal. The anticipation of reaching the pass exhilarating. It won't take you more than fifteen to twenty minutes to get to the top of the pass.
The pass is a saddle on a ridge line cutting its way through and across the Dhauladar range. For the first time you catch views of the Sangla side of the mountain – and you are again spun into the world of eternal surprises of the trek. The green open mountainscape is so much in stark contrast to the snow and alpine country behind you that it takes a while for the scenery to sink in.
The Rupin Pass
Hundreds of little stone cairns line up the ridge line of the Rupin pass. Multicolour prayer flags flutter in the high winds of the pass. All around are the many branches of the Dhauladar range, like a spider's legs branching off from the Rupin pass.
On the Sangla side, the descent is steep and the only place to camp is in the vast meadows below the snowline. Unlike the Rupin side, getting down to the snowline is quicker and steeper.
Step out of the pass and slide down the chutes of the snow. And if you think you can walk down the slope (like I did), that's a big mistake. There's only one way to get down and that's on your bottom.
The slide down the slope is in three stages and each them is so much fun that you want to do it again. Grown ups squeal and whoop in delight as the rush of sliding the slope brings to surface the little ones in everyone. Within minutes you lose about 400 ft in altitude.
After the slides the slope evens out to a more manageable trudge over snow. Numerous melting streams trickle out of the snow below your feet joining the now roaring feeder of the Rukti gad.
It takes slightly more than an hour to get to the edge of the snowline. Looking back, Rupin pass is high above, a speck in the ridge line.
From the snowline, there is a sharp descent to the endless meadows that stretches all the way to Sangla Kanda (3 hours away). At the base of the descent there is a clear bountiful stream. Pitch camp at the even grounds that is around it. Remnant of old camping fire are another way to recognize the camping ground – otherwise indistinguishable from the surrounding. This is the camping grounds of Ronti Gad – another green paradise on earth.
You are again in meadows land – but the scenery is different. Towering, snow capped mountains lean over the campsite. The visual is a blend of whites of the snows and the greens of the meadows. A just reward for a hard day's trekking, starting at 13,100 ft, climbing to 15,380 ft and then dropping down to 13,100 ft. At Ronti Gad you are going to spend your coldest night of the trek, so dive into your sleeping bags early for a well deserved rest.
Day 7: Ronti Gad to Sangla Via Sangla Kanda
Altitude: 13,139 ft (4,005 m) to 8,776 ft (2,675 m) via 11,427 ft (3,483 m)
Time taken: 6 hours , 11.9 kms.
Trek gradient: Moderate – difficult. You will be constantly descending today.
Water sources: Carry sufficient water. You will find several water  taps along the trail as you begin to approach villages.
The descent to Sangla is hell on your knees and toes but makes up for everything with its ever changing scenery. For the first time you get to view the Kinner Kailash range and the blue pines of the Baspa valley.
Start the day leisurely but not too late. The descent will make you lose height rapidly and it can get rather warm near Sangla (that's all comparative with the chilling height of the Rupin Pass)
The trail out of the campsite is a shepherd's trail that heads to the valley below. After days you will come across shepherds tending to their flocks. Multiple trails join your path and some go away from it. If you come to two trails that look alike and you want to make a choice, it doesn't matter. All of them lead to Sangla Kanda. Only, avoid the trails that head down to the river.
After an hour and half and a drop of over a 1,500 ft, the trail leaves the narrow valley of the Ronti Gad, veers left and opens out to the valley overlooking the Rukti Gad. To the right, is the snow bound Nalgan pass, a gentle reminder of a trek for another day.
The meadows abound the entire slope of the mountains, the snows behind and out of sight. What takes your breath away is the sudden appearance of the Kinner Kailash range right in front. The sharp serrated edge of the range all over 20,000 ft overlooking the meadows of Sangla Kanda is enough to make you stand still, awed by the moment — that has now become an expected twist and turn of the Rupin pass trek plot.
Far below are the first signs of civilization – the lake of Sangla Kanda and the tiny settlement of the village. It takes another hour and half to get to the village. The sharp descent would have taken a toll on your toes and knees – and the village is a good place to take a break. The villagers are warm and friendly and you can always get yourself a warm cup of tea exchanging stories of your climb to the Rupin pass.
There are many trails that lead out of Sangla Kanda to Sangla. Ask a villager for directions or take any trail that turns right. Most trails would join the main trail that skirts its way around and below the lake. After days, you get below the tree line – and almost welcome it.
The mixed vegetation abruptly gives way to a forest of blue pines – the last of the surprises of the trek. The trail to Sangla is now entirely along the Rukti Gad (about 500-700 ft below). The descent through the pines is refreshing and occasionally you come across hectic activity of a road being built. The road is a feeder that in future would connect Sangla and Kanda – a much needed infrastructure for the locals but a blob in the landscape for a trekker from the Rupin pass.
The trail is broad and descends rapidly to Sangla passing quaint wooden houses and step farms. The woods of the blue pine give way to apple orchards and more of civilization. Telephone lines, a resting place in the middle of the track, cell phone connectivity and you know Sangla is not too much further off.
Half an hour later and a sharp descent to the Baspa along a school with children in uniform, you get to the bridge below the forest rest house. Cross the muddy waters of the Baspa, look back one last time at the blue pines behind and above you – a symbol of a trek that is part of the best that the country can give you.
Footnote: From the bridge over the Baspa, it is a steep 20 minute climb to the motorable road at Sangla. There are many concrete lanes that you can take to get to the main road and some wind their way without seeming to go anywhere. Ask for directions to the bus stand, though the route is clearly marked in paint.
At the bus stand, there are restaurants where you can eat and places to stay. Most of them are good and offer basic bed and bedding. Charges are reasonable and quite negotiable. The last bus to Shimla leaves at 5:00 pm and gets to Shimla at 3:00 am the following day.
How to Plan Your Travel
Quick Guide on How to Reach the Basecamp
Plan Your Travel for the Rupin Pass trek
It is great to see you going on the Rupin Pass Trek. While it is a great trek to do, you need to get your travel plan worked out perfectly.
Here is a step-by-step guide on what to do next. Use this guide and nothing else to plan your travel.  
1. Here's a quick view on how to plan your travel. 
Day 0: Book your air ticket to Delhi or Chandigarh. 
Day 1: Drive from Shimla to Jiskun. Reach Jiskun; 10-11 hours drive from Shimla 201 Kms). We organise transport from Hotel Crystal Palace at 5.30 am to Jiskun.  It costs around Rs 12,000 per Trax Cruiser and Rs. 15,000 per Tempo Traveller.
Day 2: Trek Jiskun (7,700 ft) to Udaknal (10,318 ft); 5 hours, 8.7 kms
Day 3: Trek Udaknal (10,318 ft) to Dhanderas thatch (11,700 ft); 5 hours, 4.6 kms
Day 4: Acclimatization day at Dhanderas Thatch
Day 5: Dhanderas thatch (11,700 ft) to Upper Waterfall camp (13,385 ft); 2 – 3 hours, 2.4 kms
Day 6: Upper Waterfall camp (13,385 ft) to Rupin Pass (15,279 ft) via Rati Pheri, further on to Ronti Gad (13,139 ft); 10-11 hours, 7.4 kms
Day 7: Ronti Gad (13,139 ft) to Sangla (8,776 ft) via Sangla Kanda (11,427 ft); 6 hours, 11.9 kms.
Then book your return to Shimla/Kalka/Delhi/Chandigarh. Click here for more explanation.  
| Important points to note:
While getting to Jiskun, we recommend you arrive a day earlier and stay at Shimla (Day zero). Get a good night's rest for the journey the next day.

On your return from the trek do not book any tickets by train or flight on Day 7 from Shimla, Kalka, Chandigarh or Delhi. Your return ticket has to be on day 10. You travel from Sangla by road on Day 7 to Shimla, the

cost is around Rs. 9,000 for an SUV that 5-6 trekkers can share. From Sangla to Kalka the cab will cost you around Rs. 11,000 for an SUV. Around 5-6 people can share this cab. And from Sangla to Chandigarh the cab will cost you around Rs. 13,500 for an SUV that 5-6 trekkers can share.


Acclimatization day: This is already included in the itinerary and is mandatory for high altitude treks. The acclimatisation day is meant to give rest and more oxygenation time. We have seen adequate rest goes a long way in ensuring successful completion of a trek.
2. Planning your onward flight/train booking
If you are travelling from Bengaluru, Chennai, Pune, Mumbai or any other city, book your air tickets for Day Zero, which is the day before Day 1 on the itinerary.
Example: If your trek start day is 25 September, then book your air tickets for 24 September to either Chandigarh or Delhi. 
There are two options for your flight tickets.
Option 1: Fly directly to Chandigarh
We recommend this. It gives you an added rest day at Shimla. It also makes your travel time less. However, if the cost of the flight ticket to Chandigarh is too high, book your flight to Delhi and travel to Shimla by bus.
| Tip: Land at the Chandigarh airport and head directly to Sector 43 (which is the main Interstate bus terminal of Chandigarh). You get AC airport buses to Sector 43, from just outside the arrivals. It is about 10 km and the buses run every half hour or so. A ticket costs Rs 60 for these buses.
Always target to reach Chandigarh before 12 noon. It takes an hour or so to get out of the airport and get to ISBT in Sector 43.
Getting a bus connection to Shimla may take about half an hour or so. It is usually a 4 hour bus journey to Shimla (125 kms on mountain roads). The number of local buses to Shimla will reduce post 3 pm. You will later get only overnight buses post 3 pm.
Pro Tip: If you are in a group of 3-4, then it may make sense to take a taxi from Chandigarh airport to Shimla directly. A taxi charges about Rs 1,600 for the trip. You can book a taxi from Goibibo or Ola in advance. We use this system often.  
Option 2: Flying to Delhi
Flying to Delhi may be a lot cheaper than getting to Chandigarh. Make sure to book a flight that reaches Delhi by 7.00 pm. You must arrive in Delhi on Day Zero and not on Day 1.
| Note: If you notice the difference in air ticket prices between Delhi and Chandigarh less than Rs 1,000 then book directly to Chandigarh. The rest and shorter travel time is worth the difference.  
Bus to Shimla: Take the bus from ISBT Kashmiri Gate to the Old Shimla Bus Stand or also known as Victory Tunnel (ask the bus conductor specifically for this). It is a 10-11 hour bus journey from Delhi to Shimla. Avoid taking buses to Shimla ISBT at Tutikandi. Our pick up point at Hotel Crystal Palace is closer to the Old Shimla Bus Stand. The distance from Tutikandi ISBT to Old bus stand is about 5 km. Taxis will set you back by Rs 300 to 500 for that early morning drop. 
Take a bus that leaves Delhi around 9.00 pm.
| Tip: Use HRTC or Himachal Tourism buses. They usually run on time.
3. Planning your return flight/train booking

Booking your return tickets require some thought. Once you reach Shimla there are several exits. 
Sangla to Shimla to Delhi by road
Option 1: Sangla to Shimla by cab and to Delhi by bus
The Rupin Pass trek ends at Sangla, around 1 pm on day 7. Sangla is a small touristy village in Himachal. From Sangla, we arrange a cab to Shimla. The cab will cost around Rs. 9,000 for an SUV that 5-6 trekkers can share. You have the option of starting for Shimla by 2.00 pm and reaching by 1.00 am the following morning.
If you wish to avoid traveling at night, stay overnight at Sangla and leave at 6.00 am the following morning. You will reach Shimla by 4.00 pm.
Buses start at 5am from Shimla old bus stop. There are buses leaving from Shimla to Delhi every 15 minutes. Shimla to Delhi is 10-12 hrs by bus. Cost
Book your flight from Delhi keeping the 12 hour journey in mind. Book a flight from Delhi after 8 pm on day 10 or stay overnight at Delhi and take any flight on Day 11.
Option 2: Sangla - Shimla - Delhi by bus
There are 2 local buses from Sangla to Shimla –
5.30 pm – you can take this the same evening you finish the trek and reach Shimla by 6.00 am the following day
6.30 am – you can take this bus the following day and reach Shimla in the evening.
| Tip: Taking a bus from Sangla to Shimla will be the most economical option.
Buses start at 5am from Shimla old bus stop. There are buses leaving from Shimla to Delhi every 15 minutes. Shimla to Delhi is 10-12 hrs by bus. Cost
Book your flight from Delhi keeping the 12 hour journey in mind. Book a flight from Delhi after 8 pm on day 10 or stay overnight at Delhi and take any flight on Day 11.
| Important point to note: Metro trains in Delhi do not start before 5.00 am. 
Sangla → Kalka → Delhi by road and then train
You will reach Sangla at around 1 pm after you trek. You can take the Indiahikes cab at 4pm and head to Kalka railway station. The cab will cost you around Rs 11,000 for an SUV. Around 5-6 people can share this cab. You will reach Kalka station at 4am, from there take the Kalka Shatabdi Express(Train No 12006) that goes to Delhi. It leaves at 6.15 am and reaches  Delhi by 10:20 am.
| Pro tip: Taking the Kalka Shatabdi is the best and fastest way to reach Delhi.
Take any flight after 2pm on Day 10 from Delhi.
| Note: Metro trains in Delhi do not start before 5.00 am.  
Sangla → Chandigarh by cab
Another option if you have to get to an airport is to go to Chandigarh. From Sangla, you can take a cab or bus to Chandigarh via Shimla. This will cost you around Rs. 13,500 for an SUV that 5-6 trekkers can share. If you leave Sangla by 4pm, you will reach Chandigarh by 6 am.  Take an auto or bus to Chandigarh airport to catch your flight. Book a flight after 10am on Day 10.
Shimla to Chandigarh by bus
Buses to Chandigarh depart from Shimla old bus stand at 5.00 am. Many of our trekkers wait in the bus stand itself to board one of these. It is safe to wait at the Shimla bus stand. Buses leave from Shimla Old bus stand to Chandigarh every 15 minutes and it takes 5 hours by bus. Take an auto or bus to Chandigarh airport to catch your flight. Book a flight after 10am on Day 10.
| Tip: It is very economical to travel by bus and there are frequent buses too.
| Tip: Chandigarh is the closest airport for trekkers heading to the Southern cities like  Bengaluru, Chennai, Pune, Mumbai. Taking a flight from Delhi is far and costly.


Please note, transport providers who drive to Chandigarh require a special permit since that is in a different state. Most have valid permits to operate vehicles only within Himachal Pradesh. If you opt to hire a cab directly to Chandigarh or Kalka, ensure that you confirm in advance with your transport provider about the validity of their permit in Chandigarh.
| Pro Tip: From Sangla visit Chitkul which is a beautiful and the last inhabited Indian village near the Indo - Tibet border, it is about 1 ½ hours and 22 kms away. Shared cabs and Himachal Pradesh buses are available from Sangla. You can spend a couple of days there.
4. Planning your hotel/stay
Booking stay at Shimla is not easy. In June, Shimla is packed with tourists. It is difficult to find good places at the last minute. So ensure to book your hotel stay well in advance.
During the off season (September- October), it is not difficult to find last minute hotel booking.
| Tip: Book for two nights in advance at Shimla. This guarantees you a confirmation of your stay irrespective of whether you use a buffer day or not. 
Pro Tip: A bit risky but it is something we have seen that works. Book for your stay on the last day of the trek. Take this call based on the buffer day being used. When the trek is about to end at Barua, you get network connectivity. You can either book directly or ask your friends or family members to book while you are traveling to Shimla. You may not get the best of hotels but you usually get a room over your head.
Hotel options in Shimla
➤ Hotel Amber
This is close to Shimla Old Bus stand. A decent hotel to spend a night in Shimla. The cost ranges from Rs 800 to Rs 1000 for a double bedroom. The advantage of this hotel is it's just about 5 mins away from the bus stand. Website: http://www.hotelambershimla.in/.
Location: https://goo.gl/maps/9H8Xakmt8p2TpYFS6
Contact Number: 070189 14266
---
➤ YMCA Shimla
It is run by the Christian missionaries and a very clean place. This is a good option for solo trekkers and backpackers. The stay is in bunk beds with shared bathrooms. The cost is Rs 500 for a one-night stay. It is behind the Church on the Mall road.
Location: https://goo.gl/maps/MCfW3oNG7DdPFAtP6
Contact Number: 0177-2652375, 2650021
Email ID: [email protected]
---
➤ Hotel Crystal Palace
This is a moderate priced hotel. It may not be the very best but makes sense since your pickup and drop is from its premises. The cost ranges from Rs 1,200 to Rs 1,500 for a  double bedroom. The cost varies according to the seasons.
Website: http://www.hotelcrystalpalaceshimla.com/.
Location: https://goo.gl/maps/nm8ikNY8EUWJ7Udw6.
Contact Number: +91-9816025758
You can also look up Oyo Rooms and book your stay close to the Old bus stand. The price varies from one season to another. 
What if you miss the Indiahikes pickup? Getting to Jiskun on your own.
If you miss the Indiahikes pick up from Shimla, here is how you can get to Jiskun base camp on your own. 
Step 1: Go to Lakkar Bazar from Shimla Old bus stand which is 2.5 km away.

Step 2: Take a local bus from Lakkar Bazar to Rohru. This is a 5 hour journey.
There are buses leaving at these timings: 7 am, 8.30 am, 11 am, 12 noon to Rohru.
There is also a bus from Lakkar Bazar that goes directly to Chirgaon (which is an hour away from Janglik). It leaves at 11 am. But do not bank on this bus -- the bus can be very unpredictable.
Step 3: From Rohru/Chirgaon you'll need to move further to Jiskun. You won't find any public transport on this route. So, you will have to arrange a private vehicle till Jiskun. 
How Difficult is Rupin Pass Trek
A reality check on the difficulty level of this trek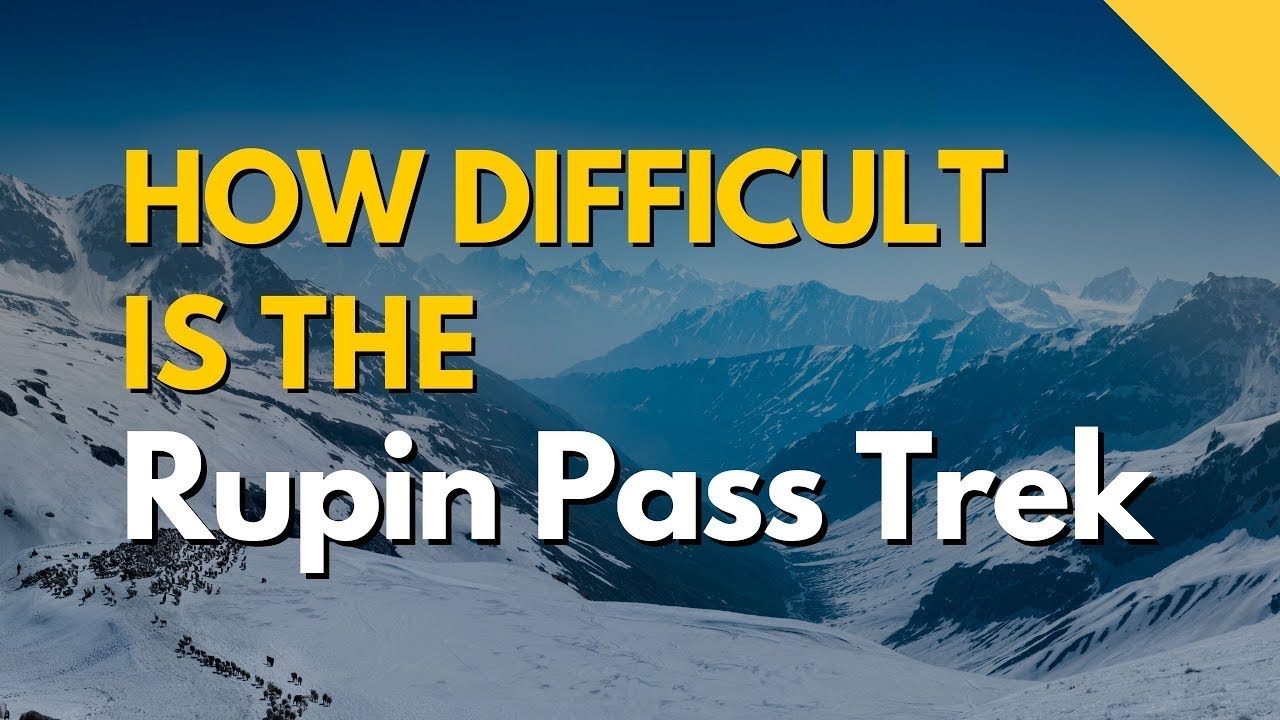 The Rupin Pass trek is rated as a moderate-difficult trek. 
At Indiahikes, while rating a trek difficulty we consider a number of factors. These include altitude gained every day, length of trek every day, highest altitude, nature of the terrain, weather, ease of access to and exits from the trail etc. Based on this we rate a trek as easy or difficult or somewhere in between.
The Rupin Pass takes you to a height of 15,279 ft. Trekking to 15,000+ ft brings its own share of challenges. By that sheer altitude itself it takes the trek to the moderate-difficult category.
The route from Jiskun to Dhanteras Thatch is more or less straightforward. However, from Dhanderas Thatch onward is where the route gets challenging. In summers there are snow bridges to cross and vast snow fields of Rata Pheri to navigate before the steep ascent to Rupin gully. 
The same sections during autumn might require setting up ropes or pulleys to cross as there are no snow bridges and river flows with a strong force. 
Moreover, irrespective of the season, the pass crossing is a difficult day that takes close to 10 hours from Upper Waterfall to Ronti Gad across Rata Pheri and Rupin Pass. 
It is these factors that lead to us at Indiahikes rating this trek as a moderate-difficult trek. Therefore, planning your safety is one of the factors that is of utmost importance while trekking
Is Rupin Pass Trek Safe?
Defining Safety Standards of Trekking
When in the wilderness, it is very important to follow safety precautions and protocols. More so on a moderate-difficult trek like Rupin Pass.
There are not just tricky sections on the trail to navigate through, but also the trek is very remote. The exit points are limited and not quick to access.
The high altitude of the trek also makes it challenging as compared to other pass crossing treks like Hampta Pass or Buran Ghati.
Therefore it is essential to keep in mind all things related to keeping yourself safe on a trek.
As India's safest trekking organization, at Indiahikes, we ingrain safety aspects in the people we work with, in the processes that we follow and in the equipment we carry, even the information that we share with the trekking community at large like the article that you are reading right now.
Here are things that'll help you keep yourself safe on the Rupin Pass trek:

Safety on Rupin Pass -- Terrain wise
We classify the Rupin Pass trek as moderate-difficult. This means that the trek requires high fitness levels and ideally, prior Himalayan trek experience. (You can do it as your first trek too, provided you train well and mentally prepare for the trek).
There are quite a few factors contributing to the difficulty of the trek. The biggest are the distance covered everyday, the rugged terrain, the steep gradient of the trails, the time spent at high altitude (3 days above 13,000 ft) and a difficult exit from the trail in case of an emergency.
To dive into further details, there are a few sections that are particularly difficult. These are listed here:
1. Crossing rivers and/or streams: Most of the Rupin Pass trek is along the Rupin river. You go upstream to the source of the Rupin river which is just below the pass. Consequently, river crossings are a big part of the game on the trek. Depending on the season, you get natural snow bridges or temporary log bridges.
In some cases if you are the first ones on the trek, there might be no bridges at all and you have to boulder hop across. This makes the river/stream crossing very challenging.
| Safety advice: Early in summer when there are snow bridges, put on your microspikes and tread carefully. In case you don't have microspikes, use an ice-axe to make steps. In the absence of both, make sure to dig your feet in the snow to get a proper footing on one foot before taking the next step.
On the other hand, in the latter half of summer or in autumn the locals might build temporary bridges. Tread carefully on these.
Usually these bridges are constructed by locals when the trekking season starts. If you happen to be there before the locals start moving, you may need ropes to negotiate through the boulders on the river.
Given the uncertainty of these challenges, we do not recommend anyone trekking across Rupin Pass solo. A team which has some experience and technical knowledge to navigate such sections will make your trek safe.
2. Avalanche and Rockfalls: There are two avalanche and rockfall prone areas. The first being on the section from lower to middle waterfall. The second is when you're climbing up the Rupin gully to the pass.
Some years when there is heavy accumulated snow on the mountains followed by harsh summer heat, chunks of snow or ice or rock that suddenly fall can put you at serious risk of injury.
| Safety advice: Always wear a helmet to keep you head protected from any injury. Also maintaining a safe distance among fellow trekkers. And always be attentive to surroundings and keep your eyes and ears open while trekking.
3. Snow slides: Depending on the time of summer there will be multiple sections of snow slides on the descent from Rupin Pass to Ronti Gad. Though they might seem excitingly fun, they pose quite a risk when not done safely. There might be rocks underneath or the slide might end abruptly.
| Safety advice: Make sure you follow the instructions to slide and brake your slide. If you haven't done a snow slide before, make sure to follow someone who's done it before. Follow a track that has been slid down before rather than making your own.
Finally, have someone at the end of the slide to help you stop at the end of the slide. But make sure that person also takes steps not to injure himself.
Safety on Rupin Pass -- Weather wise
Weather plays a big role in your safety on the trek. Here are some of the weather-related issues that can play an important role in your Rupin Pass trek.
At altitudes above 15,000 ft, snowfall can happen anytime. A spell of rain on the lower slopes, almost usually leads to a light or heavy snow on the upper regions.
During the months of summer, it is not uncommon to have a couple of days or more of iffy weather. Especially after Udaknal.
Abrupt rainfall or snowfall  that lasts more than four hours can change your trek plans. Rain can flood the trails or make them too slushy to walk safely on. Some normal sections can become very slippery.
Having said that, weather conditions are relatively stable in autumn compared to summer.
The Indiahikes technical team along with the Trek Leader takes a call on when to proceed with the trek and when to call it off. A team may have to turn around from the highest camp if the weather turns for worse.
Safety on Rupin Pass -- Altitude wise
Despite going to 15,300 ft, the Rupin Pass trek has a few natural advantages built-in when it comes to the risks of developing AMS.
The trek starts at 5,230 ft and climbs to 15,300 ft making you climb a massive 10,000 ft in altitude! Rupin Pass is also a long trek where you take 5 days to reach your high-altitude campsite, the Upper Waterfall.
This slow rate of ascent along with the days spent gaining altitude go a big way in getting you well acclimatized to the altitude.
At the same time, there is no guarantee of someone not being hit by AMS.
The Dhanderas Thatch or the Lower Waterfall campsite is a good place to turn around if you feel unwell on the trek. Heading up to the upper waterfall and then the pass while feeling unwell has led to many trekkers getting into bad cases of Acute Mountain Sickness, HAPE or HACE.
While on the trek if you experience any symptoms of AMS even in the slightest, start taking steps to treat yourself. Hydrate well and don't exert.
Check if there is a Indiahikes team around and get in touch with Indiahikes Trek Leaders. They'll definitely be able to offer advice and help. Even if you aren't trekking with us.
Indiahikes Trek Leaders are trained and qualified outdoor professionals who are equipped to take care of any medical emergencies. Here are some stories of Indiahikes Trek Leaders saving lives during emergencies in remote mountainous areas.
But even before you get on the trek, it is important to educate yourself about altitude sickness.
Take some time to understand what altitude sickness is, its causes, signs, and symptoms. Go through everything there is to know about Altitude Sickness.
Here's a complete guide to Altitude Sickness:
Exit Points on Rupin Pass
A big factor that makes a trek difficult is the ease of exit on the trek.
Everything is remote on the Rupin Pass trek. The trek starts at the remote road head of Jiskun which connects the villages of  Himachal through mountain trails.
The trek then snakes its way deep inside the mountain valleys of southeastern Himachal Pradesh finally opening up at Sangla. This long mountain-locked trail does not give any opening for easy exits from the trek.
The Rupin Pass trek has two exits. One is just after Sewa village and before Jiskun. This exit takes you over the remote Chainsheel Pass and leads to Shimla via Rohru after a 14-hour drive. The second is from the end of the trek at Sangla. This is an 8-hour drive to Shimla.
If you notice, both are long and difficult drives to reach the nearest city.
If you need an exit from the Rupin Pass trek before the Upper Waterfall campsite, choose the exit between Jiskun and Sewa. If you are at Upper Waterfall, it is faster to cross the pass and exit on to Sangla. Crossing the pass in an emergency involving sickness or injury is easier said than done. So depending on the situation, choose your exit.
Closest Hospitals to Rupin Pass Trek
As mentioned above, the Rupin Pass trek has three exits. Choose your exit depending on where you are on the trek.
If you have not crossed the pass and you need medical attention, the Jiskun exit is your best bet. Get down to Jiskun in 1 or 2 days depending on your health condition. Hire a private car at Jiskun which can take you to Rohru.
Rohru has a government hospital that can give basic medical attention. For advanced treatments, head to Shimla which is 100 km further away.
Here are details of a couple of hospitals:
Rohru
1. Civil Hospital
Rohru, Himachal Pradesh - 171207
2. Rai Hospital and Maternity Centre
Court Road, Rohru, Himachal Pradesh - 171207
If you have crossed the pass or above the Upper Waterfall, head to Sangla. Sangla has basic medical care. Better care can be found at Rampur -- a bigger town 90 km ahead towards Shimla. For advanced care, head to Shimla.
Here is a list of hospitals where medical assistance can be sought:
Rampur Bushahr
1. Government Hospital
Rajpur, Rampur Bushahr, Himachal Pradesh - 172001
2. Dr B K Arora Hospital
Chuha Bag, Shimla NH-22, Jori Road,
Rampur, Rampur Bushahr, Himachal Pradesh - 172022
Here too the facilities are basic. Shimla is the place to head for any advanced treatment. It's 125 km/5 hour drive from Rampur.
Best Time to do the Rupin Pass Trek
Experience the trek in different months to plan accordingly
The Rupin Pass trek climbs beyond 15,000 ft. Like any other classic high-altitude trek, Rupin Pass is open for trekking only for a few months in a year.
---
There are mainly two seasons when you can do the Rupin pass trek - Summer and Autumn. During summer, the trek can be done from mid-May to end of June. While in autumn it can be done from mid-September to mid-October. These are the best times to do the Rupin pass trek.
Season
What you will get to Experience
Rupin Pass trek in Summer (May, June)
- Good amount of snow on the trek
- Snow bridges, endless snow fields, a gully replete with snow
- Unstable weather
- Warm during the day at lower camps, chilly after sun down

Rupin Pass trek in Autumn (September, October)
- No snow
- Crisp views
- Colorful forest and green meadows turning golden in October
- Rugged landscape because snow has melted
- Stable weather with mild rainfall/snowfall towards the end of September
Whether summer or autumn, the forests, the glacial valley, innumerable waterfalls, and the adventure of pass crossing will stay etched in your memories forever.
Rupin Pass in May - June
Summer is traditionally the favorite time to trek to Rupin Pass. It's popular in summer because of the fantastic snow experience the trek offers.
Rupin Pass is one of those rare treks which has lots of snow bridges. Almost every summer, you will find your first snow bridge right after the forest section beyond Jhaka, surprisingly, right below the forests. From here the snow sections start and go on in patches until Dhanderas Thatch.
The famous 3 stage Rupin Waterfall also has a massive snow bridge that you use to climb the waterfall. This snow bridge stays the whole of summer.
Until the last week of May, the section of the trek from Dhanderas Thatch to Ronti Gad is mostly under snow cover. This makes it an exquisite snow experience.
The snow fields of Rata Pheri in May look no less than a white moonscape. The pass climb and the snow slides on the other side are also experiences to cherish during the summer months.
The first half of June is our favorite period to trek Rupin Pass. This is the time when we get a wonderful combination of greenery and snow. The snows have melted till the meadows of Dhanderas thatch.
The meadow is in resplendent green with wildflowers blooming. This along with the snow experience of the upper reaches takes the cake for us!
But do not lose heart if you trek the second half of June. The upper stretches from Rata Pheri to Ronti Gad are still under snow.  The gully climb and the snow slides go on the whole of summer.
This setting changes in the next season of Rupin Pass trek.
Rupin Pass in September - October
The post-monsoon season brings in a whole new set of attractions on the Rupin Pass trek.
The monsoons are just fading and the entire valley from Jiskun has turned green. Hundreds of waterfalls appear out of nowhere all along the trail.
The meadows of Saruwas Thatch and Dhanderas Thatch are blooming with wild flowers.
As we move towards the month of October, you'll see the valley turning golden from the green that it was a few weeks ago.The snows are mostly missing in the Autumn season but the beauty and adventure of the trek don't let you feel the absence of snow.
Somewhere around the middle of October the first snows of the season hit the pass. This makes trekking Rupin pass dangerous and difficult.
At Indiahikes, we wind up the autumn season by the mid of October.
What To Take
A Packing Check-List
Things to get for the Rupin Pass Trek
Rupin Pass is a very high altitude trek. The trekking gear you need to carry for this trek is different from regular treks. So pay careful attention to this entire section.

First,

The Essentials

. You cannot do the trek without these.
1. Trekking Shoes:
Rupin Pass requires trekking shoes that are sturdy, have good grip, have ankle support and can handle snow. Here is a quick video on how to choose your trekking shoes.  
| Buying Tip: The Trek series and MH series are good options by Decathlon. They are tried and tested. There really isn't any necessity to buy the higher priced models. Here is a list of other budget shoes that trekkers are using.
| Rental: We have the Trek series and the MH series by Decathlon available on rent from the Indiahikes store. They are already broken into and in good condition. Rental shoes are not dirty or unhygienic. This is how they are kept clean.
2. Backpack
:
For a trek like Rupin Pass, you need a 50-60 litre backpack. Make sure your backpack has good hip support, shoulder support and quick access pockets. Here is a guide on how to choose a backpack. 
| Buying Tip: Wildcraft, Decathlon and Adventure Worx usually make good backpacks. While Wildcraft has more expensive ones, the other two brands have budget-friendly backpacks to choose from.
| Rental: The 48 litre backpack by Adventure Worx is available on rent from the Indiahikes store. They are custom-made for our Himalayan treks. Rent them if you don't have a backpack.
3. Clothes:

Wearing layers is the mantra in the mountains. Layers give you maximum protection from all elements. And when the weather changes in the mountains (as it happens every few hours), you take take off or put on layers as required. 
Base layer:
3 T-shirts
:
Wear one T-shirt and carry two. Carry full sleeve dry-fit T-shirts (preferably collared). These prevent your arms and neck from getting sunburnt. In the rarified air on the trek, especially at high altitudes, UV rays can burn you in no time.
Dry-fit T-shirts quickly dry your sweat, they are easy to wash and in case of a rainy day, they dry quicker. Round neck T-shirts are ok, but collared ones are better.

| Buying tip: You can get dry-fit T-shirts from Decathlon. Also, stores like Reliance Trends, Max have dry-fit T-shirts. They don't usually cost much.
| Cotton or Synthetic? As Indians, we love cotton. Down in the plains when the heat is a blistering 40°C it makes sense to wear cotton. But it takes a long time to dry when it gets wet. In the mountains, where it is cooler, synthetic is what you wear. They wick sweat rapidly and keep you dry. (But they do tend to smell quickly, so carry a roll-on deodorant with you.)
| Pro Tip: If you are extra susceptible to cold, you could get a set of thermal inners. In our experience, wearing two T-shirts over another works as a better thermal. And they save you weight and space, since you're already carrying them. 
3 insulation layers
:
The highest altitude you reach on this trek is 15, 279 ft. At these altitudes it can get freezing cold even in the middle of summer. You will need at least 3 insulation layers for this trek.
You will need 2 light fleece layers, 1 full-sleeve light sweater. Do not get your grandma stitched sweaters, which can be very heavy. You need sweaters and fleece jackets that can fold into compact rolls.
1 Outer layer
:
A padded jacket serves the purpose here. You don't really need a water resistant material. But you need an outer padded jacket that keeps the wind and cold out. Ensure your padded jacket has a hood as well.
| Do you need a down/feather jacket? Not really. A regular padded/shell jacket will do. This video here will help you to learn more about the difference. 

Note: Down/feather jackets are really not available these days. Many jackets masquerade as down/feather jackets. They are essentially fine polyester-filled jackets. They mimic the function of a down jacket but are usually expensive.  
| Rental: Padded jackets made by Fort Collins are available on rent at the Indiahikes store. They are custom made for Indiahikes and trekkers find them terrific, even in winter.
Two trek pants
:
Twopairs of trek pants should suffice for this trek. Wear one pair and carry two  just in case it rains. Trek pants with zippered cut offs at the thighs are very suitable for treks. Also, choose quick-dry pants over cotton. They dry up soon in case of small stream crossings / rain.

| Buying tip: Go for pants with zippered pockets. They come in handy to keep your phone, handkerchief or pocket snacks.
| Track pants or trek pants? Stretchable track pants make a good backup and can double up as your thermal bottoms. But track pants are not trek pants -- so don't use them as your main outerwear. Keep them only as a backup.
Mandatory Accessories, without these too you won't be able to do the trek. 
These accessories are mandatory. Don't go to Rupin Pass without them. Trekkers generally put off purchasing / borrowing the accessories for the last minute. We suggest the opposite. Start gathering these accessories first. 
1. Sunglasses:
Sunglasses are to prevent snow blindness. Especially in the month of May and October on a trek like Rupin Pass, expect to walk on long stretches of snow from Lower Waterfall almost till Ronti Gad. A small overexposure to direct sunlight on snow can lead to snow blindness (about a half hour's exposure). That's because fallen snow is like thousands of mirrors that reflect direct UV rays. So you need sunglasses with UV protection. 
| Tip: Try getting sunglasses that wrap around instead of those that have openings on the side. Even peripheral UV ray exposure is not a good idea.
Wear sunglasses if the trekking day is bright and sunny (on open sections, meadows). On a snowy section you must absolutely never take off your sunglasses until the section has been fully crossed.
| If you wear spectacles: If you wear spectacles, you can get oversized sunglasses that you wear over your regular glasses (available at Decathlon). If that is cumbersome, photochromic lenses work equally well. Here's a quick guide on managing sunglasses with spectacles.
| Contact lens users: If you use contact lenses, you can use them on the trek too. The lens solution will not freeze. You will also not face any problems in changing your lens in your tent. Just carry enough cleaning solution with you to clean your fingers well. Wear your sunglasses over your contact lens.   
 2. Suncap:

A sun cap is mandatory. Trekking without a sun cap can lead to headaches, sun strokes, quick dehydration and a sharp drop in trekking performance.
| Tip: In the mountains, the general rule is to keep your head covered at all times. During the day a sun cap protects you from the harsh rays of the sun (it is doubly stronger with naked UV rays). A sun cap keeps your body temperature in balance. In the evening/early morning, the reverse is true. Your head loses your body heat quickly. A woolen cap prevents heat from dissipating from your head.
| Pro Tip: Sun caps with flaps are a blessing for trekkers. They cut out almost all UV leaks. They prevent sun burns in every possible way. They are a lot more effective than sunscreen lotion. A wide brimmed sports hat also helps to prevent sunburn in a big way. 
  3. Synthetic hand gloves:

On a trek like Rupin Pass you are going to be handling snow quite a bit especially in the month of May and October You'll need gloves to grip something or to steady yourself in snow. You also want the gloves to keep you warm. Get synthetic hand gloves that have waterproofing on the outside and a padded lining on the inside. If you find the combination difficult to get (not likely), wear a tight fitting fleece hand glove inside a synthetic hand glove. Hand gloves are mandatory on this trek.   
4. Woollen cap
or
Balaclava:
Ensure these cover your ears. In the cold mountains, you lose maximum heat from your head, not from your hands, feet or the rest of your body. Which is why you need to keep your head protected, especially when the sun is down. Early mornings, late evenings, a cold trekking day are when you must use your woollen cap.
Your ears are sensitive too, so a woollen head cap that covers your ears is absolutely essential. A balaclava is a modern version of the woolen cap. It covers your ears, neck and parts of your face as well. Do not get a woollen cap that only covers your head. 
5. Socks (3 pairs):
Apart from two sports socks, take a pair of woollen socks. Sports socks give you cushioning plus warmth. Again the mantra is to wear synthetic socks or at least a synthetic blend. Cotton socks soak in water and sweat. They are very hard to dry. As for woollen socks, they help you to keep warm and snug in the night. If you cannot get woolen socks, wearing two sports socks serves the purpose as well. 
6. Headlamp
:
Trekkers are often confused about whether they need to get a headlamp or a handheld torch. You need to get a headlamp because it leaves your hands free to do other activities. On the Rupin  Pass trek you'll need your hands free to wash dishes, pitch tents and hold your trek poles.
Ensure your headlamp covers a wider area and is not too focused as a single beam. On a trek, your headlamp must help you see around you as much as ahead of you. 
7. Trekking pole (a pair):
Trekking poles give you stability and balance. They reduce your energy consumption by almost 40%. On the Rupin Pass trek there are steep ascents and descents. The trek up the gully to the pass is pretty steep, about 75% incline.  A pair of trekking poles will make the difference between a comfortable and a strenuous trek. In India we tend to use a single trekking pole. However, two trekking poles give you greater stability and balance. They also increase your walking pace.
| Rental: Imported side-locking trekking poles are available on rent on the Indiahikes store.  
8. Rainwear:
On a trek, the weather can change quickly. A bright sunny day can turn into a downpour in a matter of minutes. Carry a poncho or a rain jacket to tackle this. A poncho is a big rain cover with openings for your arms and your head. It is extremely effective because it covers both you and your backpack. It is extremely light and weighs next to nothing.
Rain jackets are more streamlined and less cumbersome but weigh more. Rain pants are really not required. Dry fit trek pants dry quickly even if soaking wet.
| Rental: High grade ponchos are available on rent on the Indiahikes store.
9. Rain cover for your backpack:
Backpacks are your life. You carry all your dry clothes, your warm gear in your backpack. It is important that your backpack stays dry at all times. Modern backpacks usually come with built in rain-covers. If your back pack does not have a rain-cover, ensure you get a rain cover by either (a) buying a rain cover (b) or cutting a large plastic sheet to the size of your backpack. You can roll the plastic sheet around your backpack and keep it in place with a string or elastic. 
| Pro tip: It's good practice to compartmentalise your clothes, accessories and other things in plastic covers inside your backpack. That way, even if it rains and your backpack gets wet, your things are water-proof inside the backpack.
10. Daypack (20-30 ltrs, optional):
Some trekkers opt to offload their bags to a porter on the Rupin  Pass trek. While we do not encourage this practice, in case you opt for offloading, then carrying a daypack is mandatory. In your daypack you carry essentials like water bottles, rainwear, emergency medicines, headlamp, some snacks and a warm layer. Your main backpack that carries most of your equipment is accessible only at the campsites.
A daypack is a smaller backpack that is usually of 20-30 ltr capacity. Laptop bags are not daypacks. Do not get them.
Other mandatory requirement
1. A toilet kit:
Keep your toilet kit light. Carry just the basics -- toothbrush, toothpaste, small soap, toilet tissue roll, a small moisturiser, lip balm, and a roll-on deodorant. You will not be able to have a bath on the trek, so don't overload on soaps and shampoos.
| Pro tip: Carry miniature-sized items. You will not need more than that. If you're travelling in a group, share one toothpaste for all.
Avoid getting large toilet rolls. The smallest size roll is more than enough for a trek like Rupin Pass.
| For women: If you are likely to have your periods on your trek date, don't worry about it. You can use your pads, tampons or menstrual cups on the trek. There will be toilet tents where you can get changed. Make sure you carry ziplock bags to bring back your menstrual waste. Don't leave behind any waste in the mountains. Watch this video to learn how to dispose your sanitary waste.
2. Cutlery:
Carry a lunch box, a mug, and a spoon. Your lunch box must be leakproof. You are expected to wash your own cutlery. Trekkers often expect Indiahikes to wash their cutlery. When you allow Indiahikes to wash your cutlery, your cutlery becomes part of a mass washing system. You immediately invite germs, bacteria to settle on your cutlery. The incidence of stomach disorders rises exponentially.
| Pro tip: Carry stainless steel cutlery. Avoid fancy high grade plastic cutlery. Stainless steel cutlery is infinitely easier to wash in cold water. Grease is easier to remove and hygiene is at the highest. Watch this video on why steel cutlery is better than plastic.
3. Two 1 litre bottles or a 2 litre hydration pack:
Rupin pass has long walking days. You need to carry two one litre water bottles to keep yourself hydrated over the distance. If you are used to a hydration pack, then that is ok too. If one among the two bottles is a lightweight thermos, then that helps you to store warm water on a really cold day or for late evenings and early mornings.

| Rental: You could rent lightweight thermos flasks from the Indiahikes store. 
4. Plastic covers:
Carry 3-4 old plastic covers to keep your used clothes. You could use them even for wet clothes. Re-use old plastic bags for this and do not buy new ones.
Personal Medical Kit
Carry these medicines with you, easily accessible at all times. Do not take any medicine unless you have consulted your trek leader. 
Diamox

(1 Strip): Be on a course of a half tablet Diamox starting from Delhi every 12 hours (125 mg). Carry on the medication until you descend down to Sangla. Being on a preventive course of Diamox greatly reduces the chances of Acute Mountain Sickness on the

Rupin Pass

trek.    

Dolo 650

(5 tablets): This is a paracetamol. It helps to tackle fever, mild pain

Avomine

(4 tablets): Carry this especially if you are prone to motion sickness. Pop one half hour before the start of your road journey.

Combiflam

(5 tablets): Take a combiflam if you get a sudden twist of the leg or a muscle strain. It is a pain reliever. It also contains paracetamol. 

Digene

(4 tablets): Take it if you feel the food that you've taken is undigested. Alert your trek leader immediately. It could be a sign of AMS. 

ORS

(6 packs): Consume a pack of ORS water at least once a day, usually mid day when you are in the middle of your trek. It replenishes essential salts lost while trekking. 

Tip

: It also makes cold water easier to drink.

Knee Brace

(optional)

:

Carry this if you are prone to knee injury or have known issues of knee pain.
Our trek leaders carry a high altitude medical kit with them which also consist of Life Saving Drugs. If there is an emergency our trek leaders know how to tackle it. Meanwhile, contact your trek leader before consuming any of these medicines listed here.
| Pro tip: We find that these medicines by trekkers are rarely used. But you cannot do away with them. At the end of the trek please donate unused medicines to your trek leader. Some of these medicines get distributed to villages on the trek and some are added to the Indiahikes medical kit.   
Mandatory Documents to carry
These are documents required for legal purposes by Indiahikes and the forest department. Without any of these, you will not be allowed to trek.
Original and photocopy of government photo identity card.

Anything such as a driver's license, Aadhar card, passport will do. This is required by the forest department for your identification.  

Disclaimer certificate.

This is a legal requirement. Download the PDF, read carefully and sign it. This must be handed over to your Trek Leader during registration at the base camp -

Download PDF

Medical certificate.

There are two sections in this. The first part must be filled by a practising doctor. The second part must be filled by you. Without the medical certificate the forest department will not issue permissions for your trek. It is also a requirement by Indiahikes -

Download PDF
| Pro tip: Keep important documents in a clear plastic cover and slide them into the inner pocket at the back of your backpack. This keeps them from getting wet.  
How to get Fit for Rupin Pass trek
A Step-by-Step Fitness Guide to Preparing Well for the Trek
Rupin Pass is a moderate - difficult trek. No two ways about it. Every day, you cover around 10 km on an average and gain a good amount of altitude. Over 4 days, you climb from 5,100 ft to a highest point of 15,380 ft. So you gain 10,000 ft over just the first five days of trekking! If you want to do this trek comfortably and enjoy all the surprises it offers, you will need to prepare well.
Cardiovascular endurance – Target 10 km in 60 minutes before the start of the trek
The Rupin Pass trek requires a good amount of endurance and stamina. You can begin by jogging everyday. Start slow and increase your pace everyday. Swimming, cycling and stair climbing without too many breaks in between can help too.
In order to be prepared for a high altitude trek, you should have a combination of distance and speed targets.
Here's a fitness routine that works:

In case you're just starting with a regular fitness routine, phase out your distance targets in the following manner -

-->Target completing 5 km in 40 minutes when you begin.
--> Gradually increase your pace by running 4 times a week and bring it down to 5 km in less than 35 mins.
-->If you are above 45 years and is comfortable with brisk walking, then target covering 10km in 90 minutes.

If you are somebody you prefers cycling over running, then try to cover 25 km in 60 minutes.

How to send us a proof of your fitness routine?

Record your run on an app like Nike Run. Start recording your run when you start running. At the end of your run, hit the stop button.

Take a screenshot of the summary of your run. We will need a detailed split of each kilometre of your run. This is usually integrated in all running apps.

Note: Make sure your GPS is on when you record your run. If the GPS is off, we will not accept the screenshot.

Upload two screenshots 10 days prior to the start of the trek -- one of you covering 5km in less than 35 mins along with your picture and the other with splits of your run.
Strength - Target 4 sets of squats with 20 in each

This is another area you should work on. There is a lot of trekking distance that you will cover in high altitude carrying your backpacks.  You have to walk on uneven terrain during the trek. It could be taxing for your legs. For this, strengthening your legs will help. You can do some squats to strengthen them. Start with 3 sets of squats, with 8 squats in each set and work towards reaching your target in 3 weeks.
Flexibility
Another aspect that will help you trek comfortably is flexibility. For this, you can do some stretching exercises - stretch your hamstrings, quadriceps, hip flexors, lower back muscles and shoulders regularly. On your trek, it is important that you arrive on the slopes with your muscles relaxed. Carrying a backpack, however light, can become a strain after a while. These exercises will help you to be in good shape before the trek.
Here is a chart that you can follow to get fit for your trek.

Working out indoors
If you can't go out and jog because of time and space constraints, here's a video you can use to work out indoors.
Inclusions and Exclusions
What You Need To Know About Your Trek Fee
The trek fee of Rs. 14,950 + 5% GST covers all costs of the trek from Jiskun to Sangla.
Here is what the trek fee
includes

:
Accommodation - Stay is included from Day 1 to Day 6 (Jiskun to Ronti Gad). You will be camping on all days of the trek.
Meals - All meals from dinner at Jiskun on Day 1 to lunch on Day 7 are included. We provide simple, nutritious vegetarian food on all days of the trek.
Camping charges - All trekking permits and forest camping charges are included.
Trekking equipment - You will stay in high quality tents and sleeping bags in all the camps. Our high altitude sleeping bags can withstand temperatures as low as -10 ºC. We provide ice axes, roped, micro spikes, gaiters etc. as required.
Safety equipment - First aid, medical kit, oxygen cylinders, stretchers etc. will be available at all campsites to deal with emergencies.
Services of an expert Trek Leader - All our trek leaders are qualified in basic / advanced mountaineering courses.
Services of an expert Trek Team - The mountain staff on this trek consists of well trained guides, cooks, helpers and porters.
Here is what the trek fee
excludes

:
Transport to and from the base camp – We will arrange shared taxis for trekkers to pick you up from Hotel Crystal Palace and drop you back from Sangla. This will cost

Rs 12,000 per Trax Cruiser and Rs. 15,000 per Tempo Traveller

to reach Jiskun and Rs. 10,000 per Trax Cruiser and Rs. 16,000 per Tempo Traveller from Sangla to Shimla. You will have to share this cost with the other trekkers
Food during transit to and from the base camp – The trek fee does not include meals purchased during the journey to Jiskun and return from Sangla.
Backpack offloading charges – If you wish to offload your backpack, there will be an additional charge of Rs. 300*6 days (1800) + 5% GST. The backpack cannot weigh more than 9 kg. Suitcases/strolleys/duffel bags will not be allowed. Please note that charges will vary for last minute offloading in case you decide to offload your bag after reaching Jiskun (Rs.400 per day inclusive of taxes). Online offloading in advance is possible up to two days prior to the trek start date.
Stay at Sangla/Shimla on the last day 
Personal expenses of any kind
Anything apart from inclusions
Terms & Conditions
1. The trek fee includes all costs of the trek from the start at Jiskun to the end at Sangla.
2. Pick up: Trekkers are picked up from Dehradun Railway Station at 6.30 am. Usually, trekkers are clubbed together with other participants to make a group. The group travels together to Jiskun in shared cabs.
3. Transport:Transport from Dehradun to Jiskun and return from Sangla to Shimla can be arranged by us at an extra cost. Participants are expected to share the cost of the cab (approximate cost of the cab: This will cost Rs 12,000 per Trax Cruiser and Rs. 15,000 per Tempo Traveller to reach Jiskun and Rs. 10,000 per Trax Cruiser and Rs. 16,000 per Tempo Traveller from Sangla to Shimla). The amount is to be paid directly to our transporter. No GST is applicable on transport cost. Indiahikes only arranges the vehicle pick up and is not responsible for any issues during transport.
4. Backpack carrying: Indiahikes expects all trekkers to carry their own backpacks. All common gear will be carried by the support team. If for some reason a trekker is unable to carry his or her backpack, he/she can offload the same by paying an additional charge.
Backpack offloading charge for the entire trek duration is Rs. 300*6 days (1800) plus GST of 5%. Partial offloading is not allowed. Charges will vary for last minute on slope offloading - Rs.400 per day inclusive of tax. The backpack cannot weigh more than 9 kg. No suitcases/strolleys/duffel bags will be allowed.
Online offloading in advance is possible up to two days prior to the trek start date.
5. Emergency during trek: In a trek a medical emergency or any other emergency may arise. If for any reason you are sent down from the trek then Indiahikes will make arrangements for your return to the base camp or nearest road head. A staff will accompany you. He may not be a trained personnel.
Evacuation or dealing with emergencies is extremely difficult in the mountains. It is time consuming as well. A normal trek of 2 hours may take 6 hours in an emergency (a sick person is not easy to evacuate). Doctors do not go along with a team. Doctors are not available at the base camp or nearest road head either. Indiahikes trek leaders are trained to administer first aid and know how to deal with issues related to the mountains. However, they are not doctors.
Registering for this trek is an understanding that you have read up on the difficulties of high altitude trekking and understand the risks. You have also understood what AMS, HAPE and HACE are. You have taken efforts to educate yourself and you are in a position to manage your own altitude related emergency.
6. Fitness: A high altitude trek in the Himalayas requires considerable fitness. Your body needs to train itself to process more work with lower levels of oxygen. Cardiovascular training before a trek is critically important. Training must include strength and flexibility workout. We have laid out the eligibility criteria here. Registering for the trek is an understanding that you will undertake the mandated fitness training. Indiahikes has the right to reject candidates who do not meet our eligibility requirement at the base camp.
7. Non-liability: Indiahikes is not responsible for any loss/damage of your gears/equipment or other belongings on the trek.
8. Payment: Payment for the trek can be done online through credit/debit card or net banking. Cheque/draft or cash is not accepted.
9. Drinking and smoking during the trek is strictly prohibited. If found flouting the rules, your participation on the trek will be cancelled with immediate effect.

10. Route changes, postponement, delay or finishing the trek a day earlier: Under some extraordinary circumstance, your trek may end a day earlier  or start a day later. This may become necessary due to inclement weather, snow and ice conditions, political restrictions or any other cause. In the event of a change, postponement or delay, participants have no right to refund of the trek (in whole or in part) or other compensation for any injury, loss or damage. Trek fee is not charged broken down in terms of days but is a composite fee for the whole trek.
11. Safety Protocol: 
a. While our itineraries are designed to allow for adequate acclimatisation, most treks in Indian Himalayas climb quickly, which is called forced accents. Unavailability of camp sites and the Indian Himalayan terrain are the reason for this. There are chances that you will feel the effects of altitude sickness and oxygen deprivation while on this trek. Please be aware that your trek leader may deem it unsafe for you to continue trekking at any time, and arrange for you to descend to a lower attitude.
b. Our trek leaders will conduct routine health checks at all camps to measure oxygen saturation, pulse and blood pressure. Indiahikes reserves the right to exclude any trekker from climbing higher on the trek without refund if the trekker's vital readings are below accepted norms for that altitude. These norms are available with Indiahikes trek leaders.
c. This is a high altitude trek with rough, rocky and snowy terrain. It is important that you are a fit and confident walker in mountain terrain, able to manage ascents and descents by yourself within a reasonable time. Indiahikes reserves the right to turn around a trekker if in the opinion of our trek leader they are unable to complete the itinerary without requiring exclusive assistance. Please realistically self-assess your fitness and suitability for this trek before registering.
Available dates
Dates not suiting you? Click here to see other similar treks.
What the colours mean

Registration is on.

The group is full, but cancellations are likely to happen. We have 5 waitlist slots for every group. You may register for the group. Waitlist slots confirmation chances are high if booked more than 30 days in advance.

Indicates the number of slots available in a group.

Indicates the group is full. No further slots are likely.
Thoughts On Rupin Pass Trek