Why Trekking During Your Periods Is NOT A Bad Idea
Share this story
Why Trekking During Your Periods Is NOT A Bad Idea
Category General Health
By Latika Payak
2014-05-16
Your trekking dates are coinciding with your periods. Does that make you uncomfortable? Should you even go? Read on to find answers to all questions that raised their crimson heads while you were packing your backpack. And, know why 'those five days' needn't spoil your trek.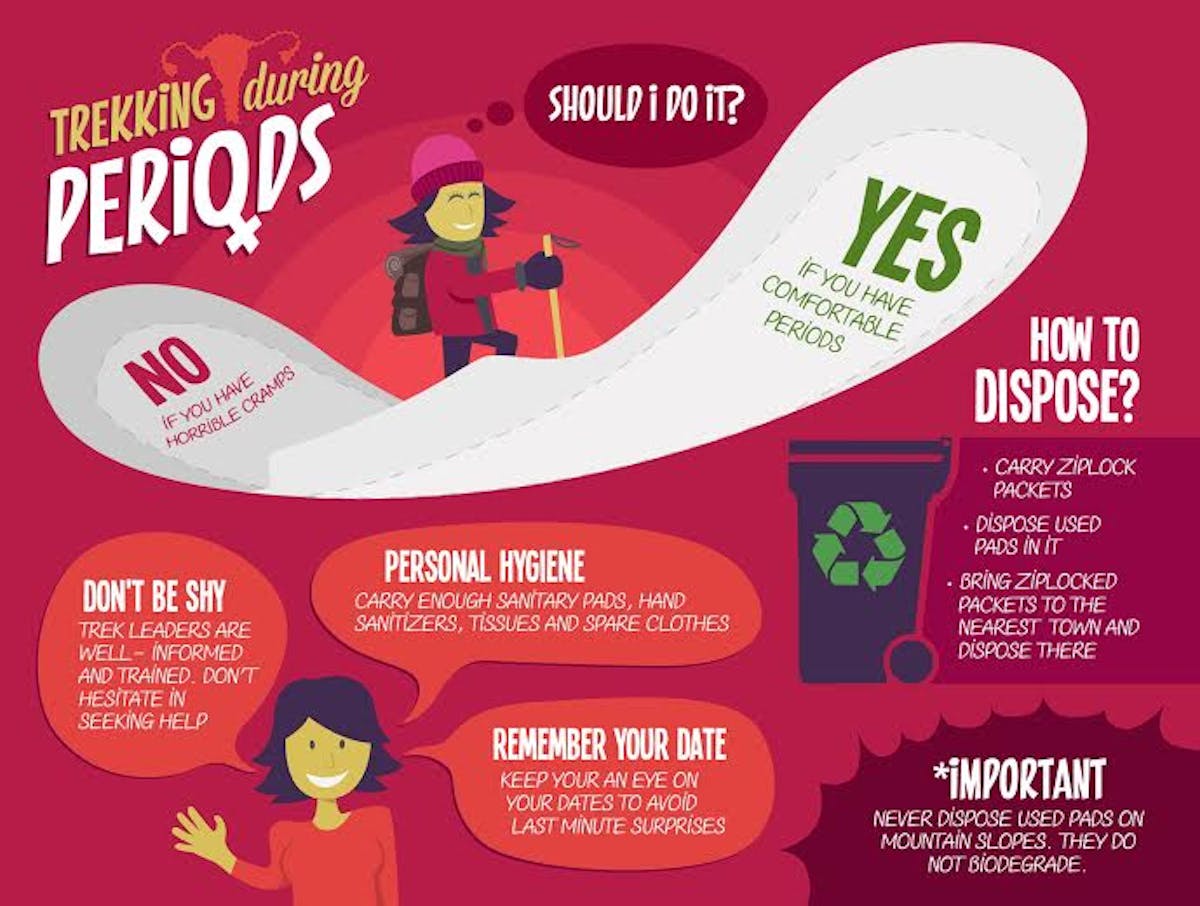 Infographic by John Ravi
It is one of those days. Cramps. Mood swings. Anxiety. Bleeding. Oh, let's not talk about it. Doesn't matter if the idiot box blares with products that promise to keep you happy and dry all day long. Deep in your heart you know that they won't. And you will have to keep checking for stain-freeness every now and then. Tedious, isn't it?
The subject is periods. Menstruation. Chums. A reality that women deal with for five days of every month. Moreover, it's for women only, making it feel like a taboo…even if it isn't. And so care is taken to spend those five days as discreetly as possible. Hush, the men shouldn't know.
But really, should you be so ashamed of something that's natural? Er, no. Moreover, should you let this awkwardness and fear ruin your trek? Definitely not. And we strongly believe in that. So to make things easier, we bring forth questions related to this issue that have been buzzing in your minds for a while.
Should you cancel your trek?
No, really. "It's a big myth that exertion makes your cramps worse during periods," says Dr Madhumati Sanjay. Nivedita Siddharthan who recently trekked to Nag Tibba during her periods says, "I usually have very painful periods. But I realized that the more physically active I am, the lesser cramps I get." So there's even a teeny-weeny chance that long hikes and fresh mountain air will make you feel better. Give up on your trekk only if your cramps are usually unbearable and if you've experienced that physical exertion makes it worse. But all this should be sorted out with your gynaecologist first. Talk it out. Seek advice. Usually, it's not as bad as it seems.
What next?
You've braved your apprehensions and now you're on a trek. Maybe, you aren't feeling your fit-as-a-fiddle self. And you have innumerable questions about the disposal of that thing aka used pad/tampon. You are not sure about hiking on boulders and dusty trails. And chances are that your trek leader is a man. You wouldn't have shied away from raising your concerns about a stomach upset. But this, oh, this! For any woman who has battled this anxiety, read on.
Don't be shy
Men don't go through it. But that doesn't mean they are clueless about it. Moreover, trek leaders have been informed and trained to deal with situations such as these. So if a doubt is niggling on your mind, speak up. Ask, and you shall receive a solution.
Dispose it right – SANITARY PADS ARE NON-BIODEGRADABLE
The pads are made up of non-biodegradable material. So when you're on trek, ample care should be taken that the sanitary pads aren't left around in nature. That's because they will pollute and dirty the environment. "Always carry a ziplock around with you," says trek leader Arjun Majumdar. The used pads should be kept in the ziplock and carried back to the nearest town where they can be properly disposed. Yes, the thought of carrying it around through the trek might invoke a squirm-your-nose reaction. But that's not reason enough to leave it behind on trekking trails that have remained untouched by such pollutants.
Practice proper hygiene
Whether you like it or not, you are more prone to urinary tract infections during your periods. So practice proper hygiene. Carry enough sanitary pads with you and change at regular intervals to prevent proliferation of germs. Carry hand sanitizers, tissues and extra clothes in case of emergencies. Make sure your hygiene isn't compromised under any circumstances.
Keep your dates in mind
"Change in the environment, altitude and physical activities could result in a shift in your dates," Dr Madhumati cautions, "But that's just a probability." And it differs from woman to woman. So be prepared for emergencies and don't forget to keep a track of your dates.
In the end, trash the myth that trekking during periods is a strict no-no. It's not. With the right mind-set and preparation in place, trekking during periods is quite doable. Don't you think so?
LEAVE A REPLY
Your email address will not be published. Required fields are marked
Sign up for our much loved Weekly Mailer
We have terrific trekking tips, trek updates and trek talks to look forward to