Why Goechala is better done in Oct-Nov
Share this story
There are two seasons to do the Goechala trek. April-May and then September end to November. Of the twelve months in a year, the trek to Goechala is possible only in four of those. Which is why timing the trek right is very important.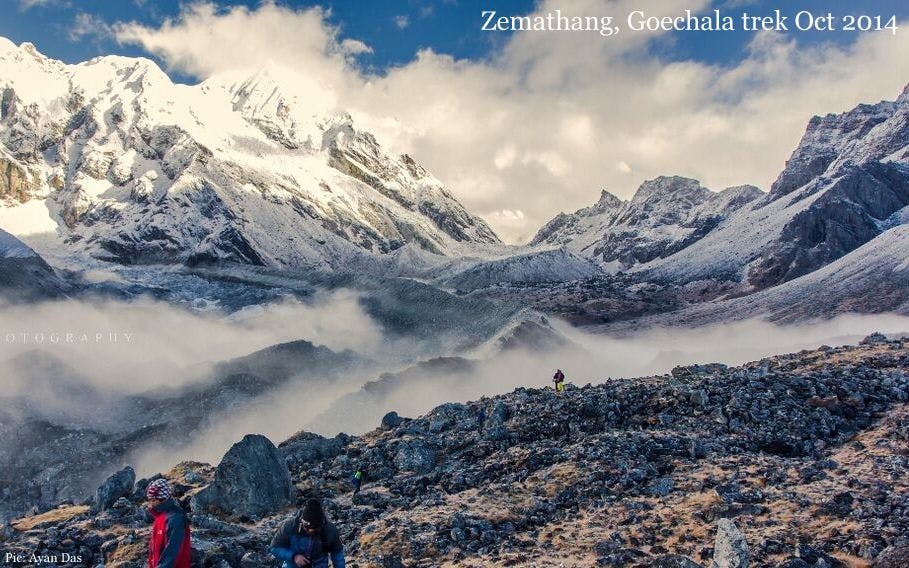 The biggest reason to do the Goechala trek is the grand views of big mountains that you see. You don't just see one summit — the Kanchenjunga. But 14 other big summits. That's a lot for any trek — especially as close to the eyes as on the Goechala trek. It is no wonder trekkers consider Goechala to be the closest to the big mountain treks of Nepal.
Yet, to see the big mountains you need clear views. It is only in Oct-Nov with the haze out of the way that you get the best views. The mountains are razor sharp, the sunrises and sunsets jaw dropping. For photographers it is always Oct-Nov. Like any season, there are flip sides too. Oct-Nov is early winter in India. The air is crisp and cold. Temperatures dip to minus beyond Thansing. Early winter snows could block the final access to Goechala on some days. Yet, with all its flips, Goechala is best done in Oct-Nov.
Choose April-May if you are really bent on trekking in summer. The snows have just melted, the meadows have a touch of green, the Rhododendrons are out in bloom. The flip side: Even though April-May are non rainy months, the trek is often wet. Clouds and bad weather often come in way of the grand views.
LEAVE A REPLY
Your email address will not be published. Required fields are marked
Sign up for our much loved Weekly Mailer
We have terrific trekking tips, trek updates and trek talks to look forward to