Jungle Treks Finally Opened in Chhattisgarh and Madhya Pradesh!
Share this story
We have finally opened two terrific jungle treks our trekkers have been waiting for. One is in Chhattisgarh and another in Madhya Pradesh. 
Both of them are out and out jungle treks. 
"The forests in these regions are untouched and dreamy. I'm not surprised that Rudyard Kipling was inspired by these forests while writing The Jungle Book. They absolutely live up to our imagination of The Jungle Book!" says Arjun Majumdar, the founder of Indiahikes. 
We have dates available only in January. Before I share the dates, I'd like to give you some insight on both the treks today, because if you want to trek here, you need to know why they are special. 
Why the location of these treks makes them special 
To give you an idea, the Chhattisgarh Jungle Trek runs through the heart of Guru Ghasidas National Park. The Madhya Pradesh Tiger Trail runs through the Sanjay Dubri National Park. Both of them are eminent tiger reserves of our country. 
What's interesting is that both of these national parks are extensions of each other, but on either sides of the border. Much like the Bandipur and Mudumalai national parks in Karnataka and Tamil Nadu.
This map will give you an idea.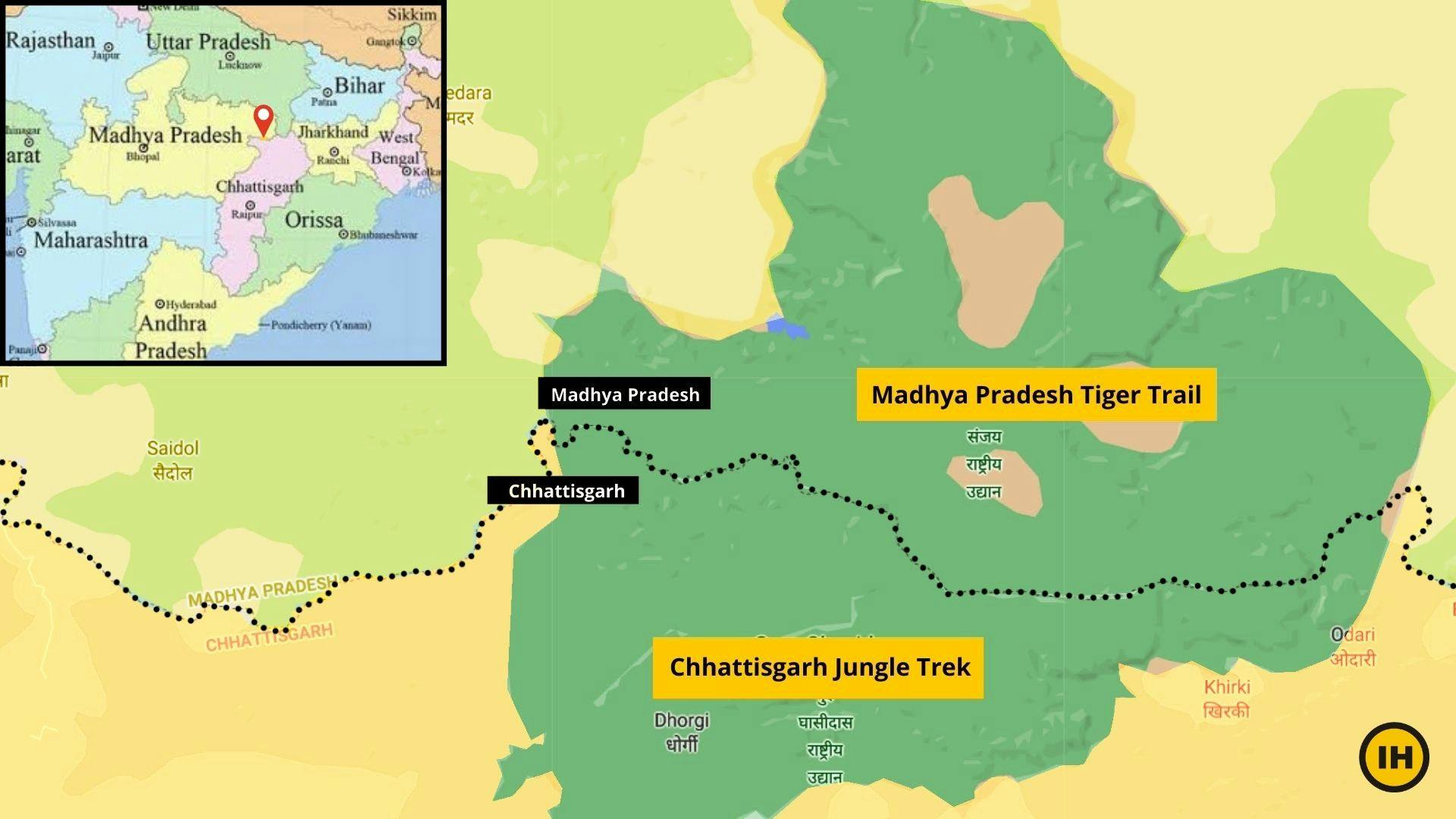 Considering they're in the same regions, the jungle trails and scenery changes are very similar to each other. So you could choose either of these treks and experience some of the best jungles of our country! 
What are some major highlights to watch out for?   
The rare Sal forests of central India 
You trek largely through Sal forests on these treks. These are dense, yet permeable. You can see through the dense thicket of trees for kilometers together, which gives you a deep perspective of the jungle. 
When you walk on the forest floor, you are walking on a cushioned bed of leaves, which crunch softly under your feet. The silence in the forest is broken only by a bird call in the distance. 
The walk stretches for long hours, without too many ascents and descents. The undulating walks through the forests are extremely pleasurable! The cherry on top is that you get to camp in these forests!
Frankly, these are few of the most out of bound forests of our country. You require special permissions from the forest department to even step in. As trekkers, it's a rare privilege to get these near-inaccessible forest reserves.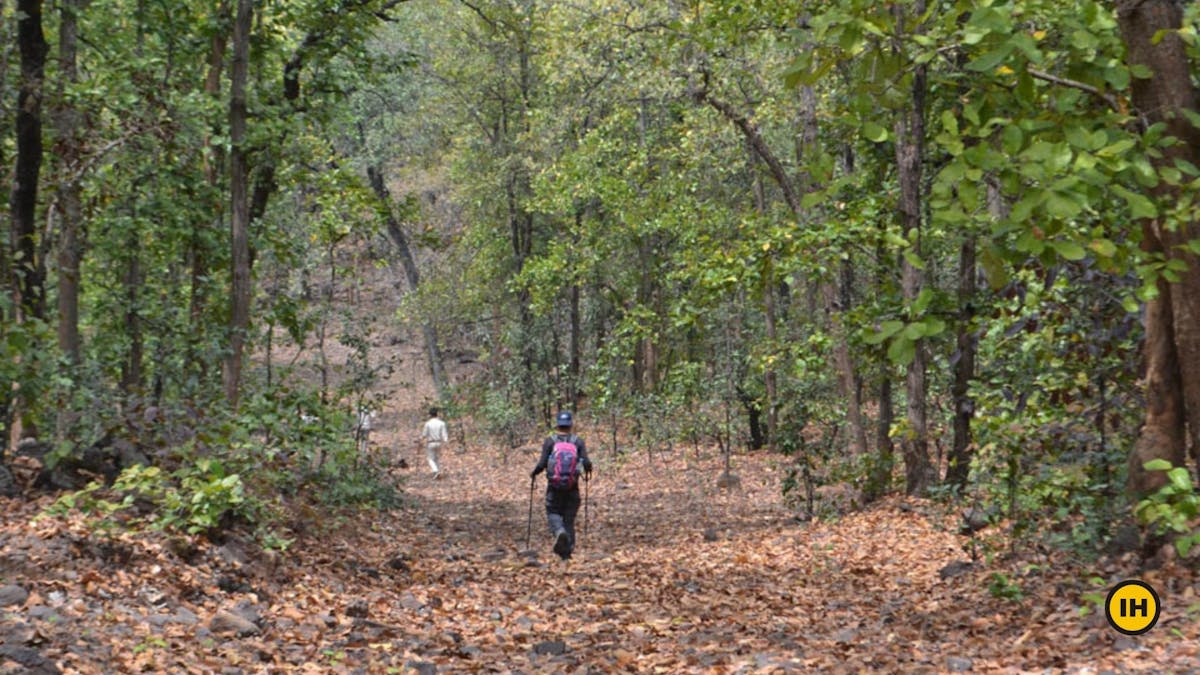 The trail through the forests of Madhya Pradesh. Picture by Saurabh Sawant
A chance to experience wildlife in its true habitat
These forests of Madhya Pradesh and Chhattisgarh are teeming with wildlife. They are home to birds, deer, hyenas, bears, leopards and sometimes tigers. It is not surprising because these are buffer zones of a tiger reserve. This gives you the feeling that you are in one the richest biodiversities of our country.
"Spotting pugmarks is almost like spotting pebbles in these jungles," says Lakshmi Selvakumaran, the Head of our Experience Team, who explored the trail. "In fact, it sends chills down your spine when the forest ranger informs you that a leopard print was probably made only half an hour ago!"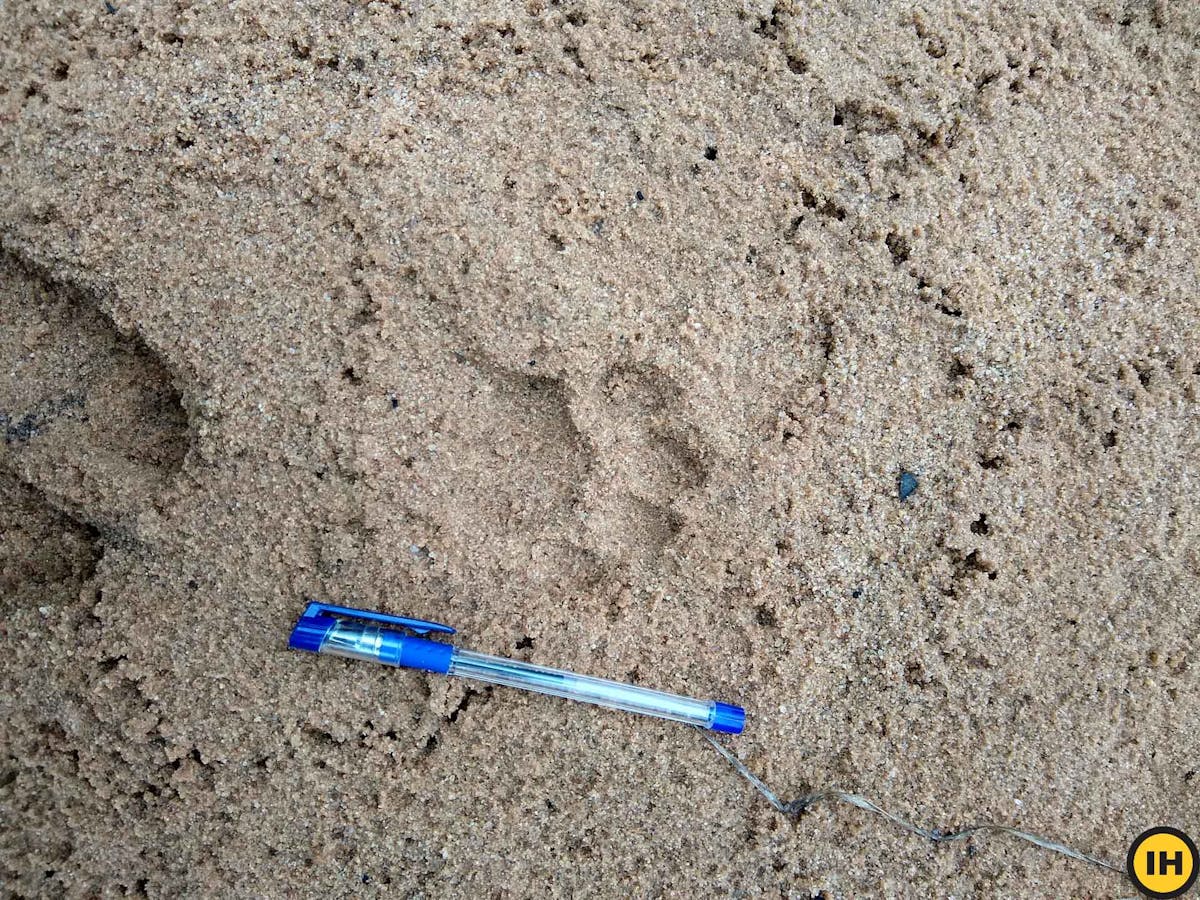 Spotting traces of wildlife is very common on the river bed in Chhattisgarh. Picture by Sandhya UC
What about your safety from wild animals? 
These treks are exclusive collaborations between Indiahikes and the Chhattisgarh and Madhya Pradesh Tourism boards along with the forest departments. Expert forest rangers, who are well-versed with the trails and animal movements accompany the team. They are with us to protect the team.
If the forest team feels the requirement, there will also be a contained fire running through the night to ensure wild animals stay away from our camps. 
Terrific scenery changes throughout the trek
Both the trails in Chhattisgarh and Madhya Pradesh have some terrific scenery changes — the kind you will never see on our Himalayan treks. 
You trek in plateaus, riverside trails and valleys. There are also waterfalls and lakes. You even camp on beachy riverbanks. Trekkers in our country have never done that. 
As a trekker you may have seen lots of lakes in your life, but it is highly unlikely that you would have seen an uninhabited lake inside a forest. Lakes that are pristine and large. What's more adventurous is that these lakes are also shared by wild animals.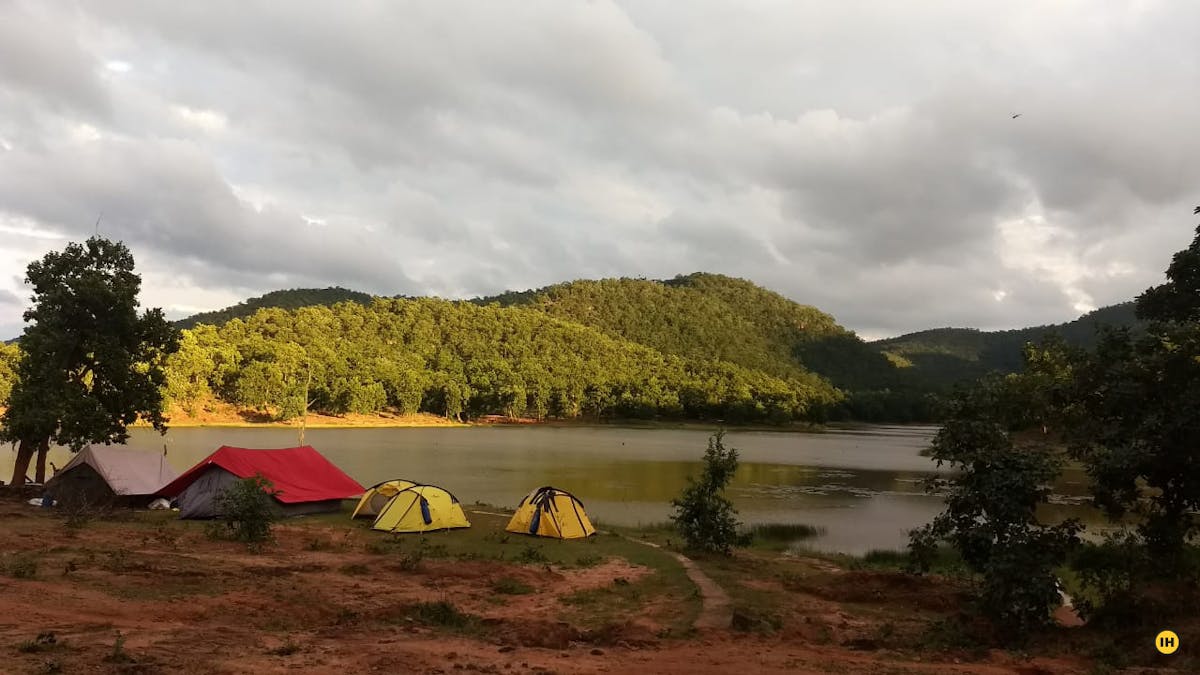 Our lakeside camp on the Chhattisgarh Jungle Trek. Picture by Atul Verma
There are beautiful cave formations in the rocky sections of the trail. There are even meadows on the trail! Birchuli Dol on the Madhya Pradesh Tiger Trail is a meadow you wouldn't imagine finding in a place like a tiger reserve and yet it is there. Secluded from the outside world and protected by forests on all sides, it's a treat to the eyes!
You'll also chance upon rare tribal settlements of our country in Chhattisgarh. These ancient tribes are likely to be extinct very soon.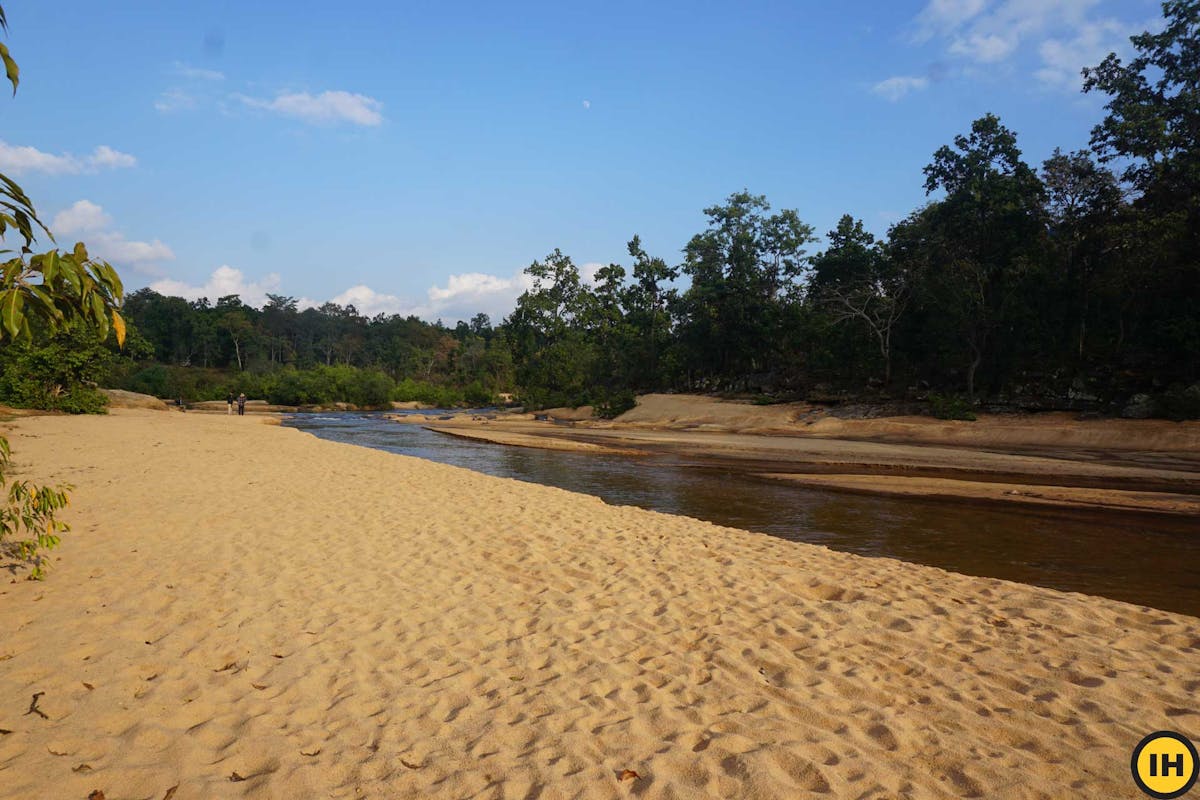 The first campsite by the Pairi river on a wide sandy beach in Chhattisgarh. Picture by Sandhya UC
What to expect on the trek 
This is not like our Himalayan treks. Trekking in the jungles of Chhattisgarh and Madhya Pradesh is a different experience. Just to give you an idea, I did a quick audio interview with Arjun Majumdar, the founder of Indiahikes, who gives you a lovely background of this trek. 
Take a look.
Indiahikes · What to Expect on the Madhya Pradesh Tiger Trail & Chhatisgarh Jungle Trek
A few other pointers you should know:
About the weather: We're doing this trek in January and February — few of the coldest months in central India. The temperature during the day is a balmy 10-15 degrees, where you can comfortably trek with one jacket. The temperature drops to 4-5 degrees at night, and you need at least 2 sweaters, a jacket and a woollen cap. 
About the difficulty: This trek is not really difficult. There are not too many climbs or descents. No altitude gain either. But there are long distances to be covered everyday, which is something you need decent fitness for. 
Finally, let's talk about planning your travel to these regions
For the Chhattisgarh Jungle Trek, here's the travel plan to follow. 
Fly to Raipur 
From Raipur take an overnight train to Baikunthpur Road station (The Durg Ambikapur express is the only train for your travel. It is an overnight journey)
We'll organise pickup from the railway station
Note 1: If you don't want to fly to Raipur, you could also take a train from your city to Raipur / Bilaspur.
Note 2: The current status of the Durg Ambikapur train might be unavailable for January (It's available for December). But they will likely announce train schedules a little later. 
For the Madhya Pradesh Tiger Trail, here's the travel plan to follow. 
Fly to Jabalpur 
From Jabalpur, take a train to Beohari (3.5 hour journey)
We'll organise pickup from the Beohari railway station
There is no mandatory requirement for a COVID test to travel to these cities. But it's something we recommend getting done. It's a good safety precaution.  
What are the dates available? 
We have opened just one date for each of these treks. Lots of trekkers are already vying for a place on them. In fact, even before I sent you this announcement, I don't know how a couple of trekkers have already signed up.
So here are the dates: 
Jan 24th – Jan 27th for the Chhattisgarh Jungle Trek 
Jan 31st – Feb 4th for the Madhya Pradesh Tiger Trail 
Plan your trek soon! 
I don't see the dates being available for more than a day or two. So plan your trek soon.
It's the first time Madhya Pradesh Tourism has opened its forests for trekking, and only to Indiahikes, they are as excited about it as we are! 
As for Chhattisgarh, we have been trying to get the Guru Ghasidas Park to open up for trekking again. They had closed it last year because the government had designated it as a tiger corridor. I'm glad we have been able to reopen the trek. It is one of the best treks we have done.  
Personally, I cannot wait for January! These treks have been on my bucket list for a long time. It's finally time to explore the jungles! 🙂 
Sign up for our much loved Weekly Mailer
We have terrific trekking tips, trek updates and trek talks to look forward to