20 Incredible Photos of Kuari Pass in Winter
Share this story
I'm back with another photo story :) This time it's about the only trekable pass in winter — the Kuari Pass. 
So why is doing a 'pass' trek in winter such a big deal? For those who are wondeirng, a pass is a high point on a trail from where you crossover to another mountain range.
And a pass trek is a terrific experience as it always takes you into the deepest folds of the mountains. On any pass trek you get to see more astounding mountain sceneries than on other treks. 
You get to see ridges, valleys, folds, glaciers, grasslands, and big mountains towering over the trail. To get to the pass you almost always have excellent forests to traverse in the lower hills.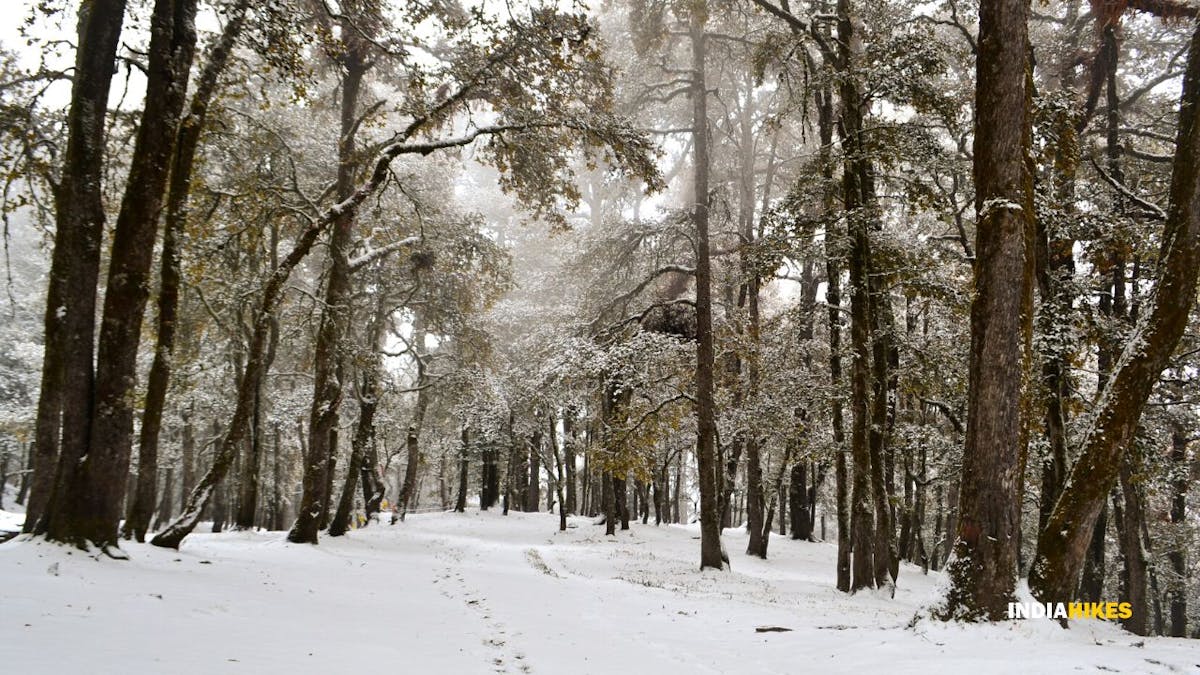 The well-placed oak forest after you get down from Gorson Bugyal. Photo by Sandhya UC
But most mountain passes are impossible to cross in winters due to the amount of snow that accumulates before we get to the pass. 
Which is why the Kuari Pass in winter is so special. 
Somehow, through quirks of geology, it is possible to reach the Kuari Pass in winter. You climb through the forests to a ridge and then meander through astounding folds of the mountains to reach the Kuari Pass. The whole experience is unforgettable. 
This photo story will give you a visual idea of how it looks like. Let's begin with the forest.
The Most Beautiful Forest Section of Uttarakhand
Kuari Pass trek boasts of one of the most beautiful forest sections in Uttarakhand. 
"These oak forests are typical in the Uttarakhand region, but you find them only in certain treks like Roopkund, Brahmatal, and Dayara Bugyal. Compared to the rest, I like the oak forest of Kuari Pass the best. This is simply because oak forests on this trek are placed so beautifully. These oak forests come in a section where the climb is not very steep. So, you have an easy walk through the oak forest," says Sandha UC, co-founder of Indiahikes.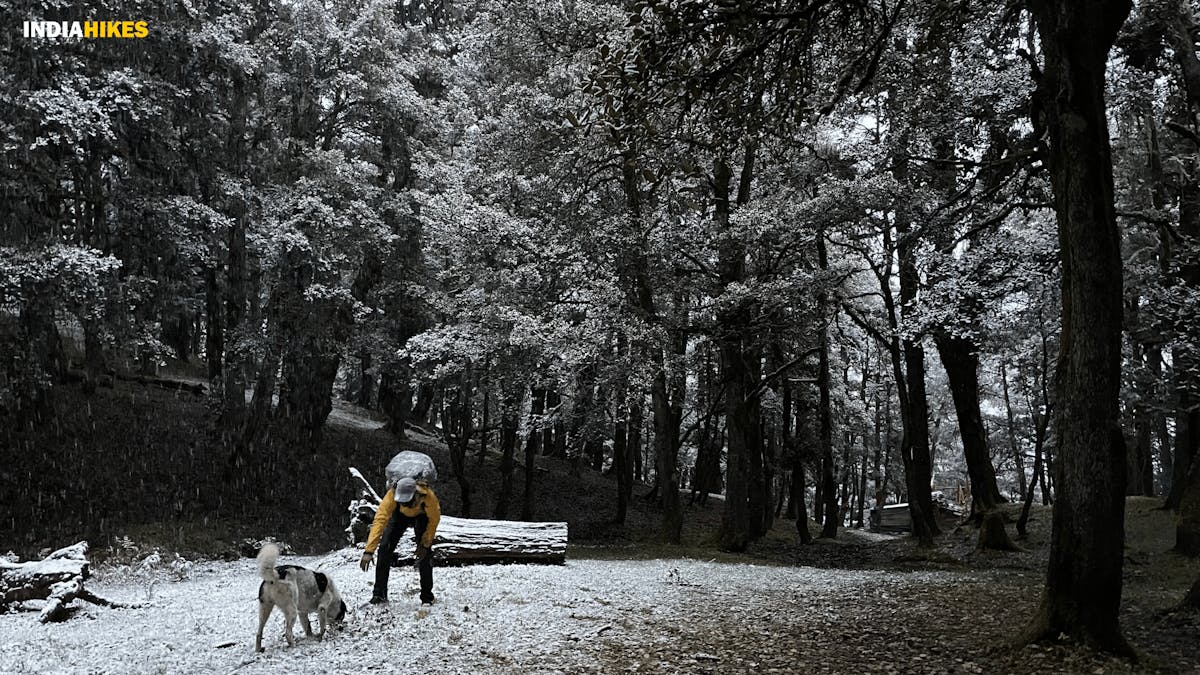 Notice how consistent and gradual these dark oak forests are. Photo by Priyamvada Kamath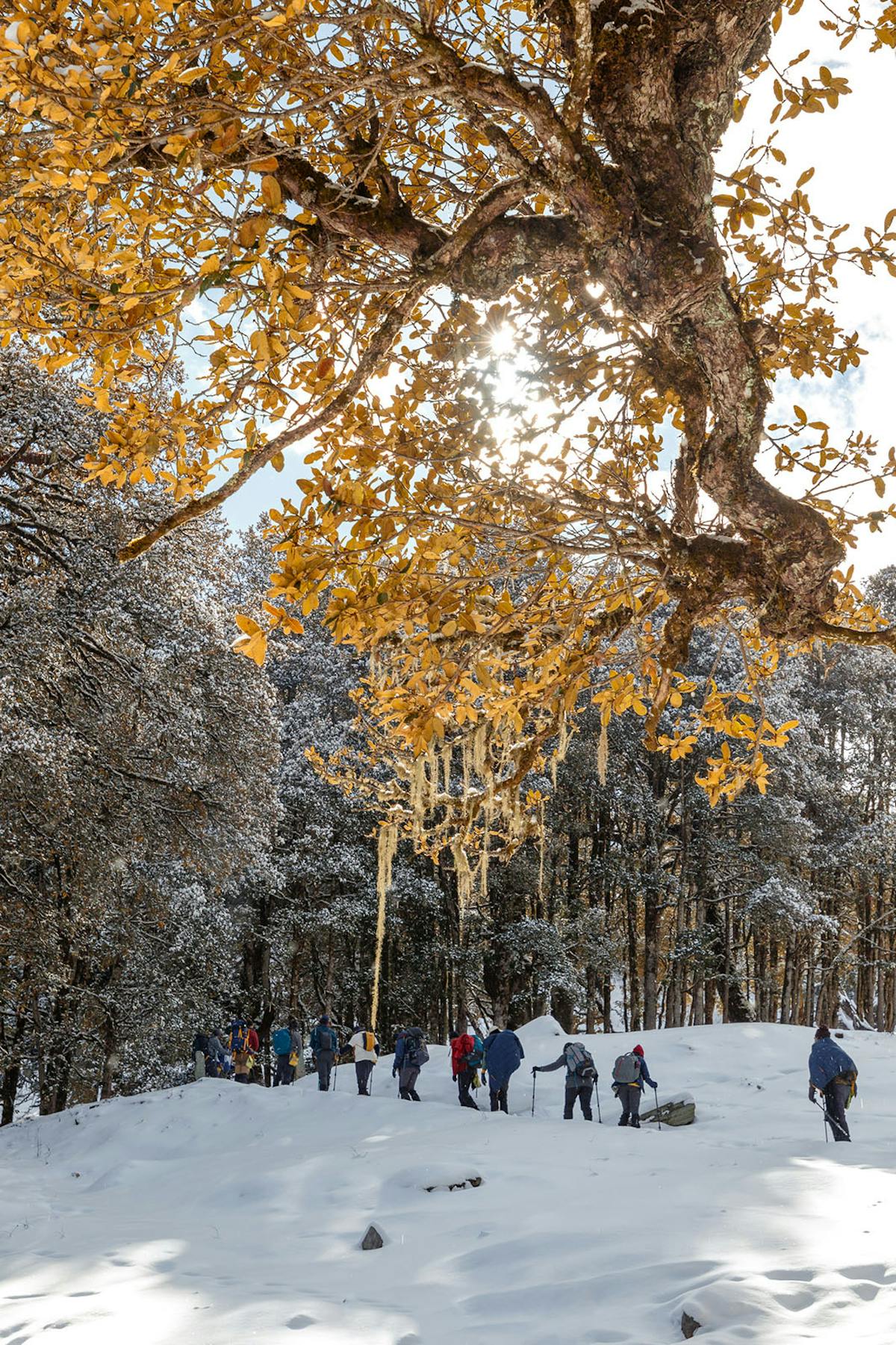 A glimmering golden oak tree in the white, winter setting as trekkers pass through the Chitrakantha forest. Photo by Ramesha N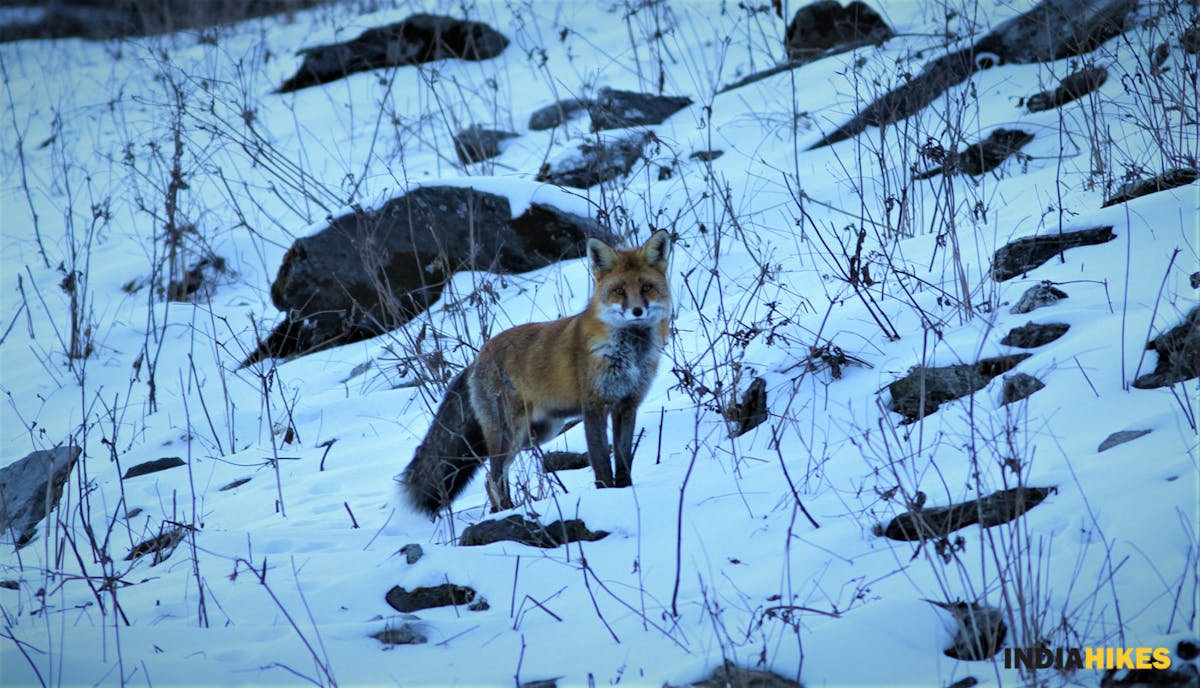 Sometimes you also spot a lone Red Fox passing through the forest. Photo by Patrick Cullen.
Grand, Isolated Mountain Views from Gorson Bugyal
From the Kuari Pass trek you get astounding views of other tall (7000+m) mountains. These big mountains form the Nanda Devi Sanctuary Wall — a ring that surrounds Mt. Nanda Devi. 
There are two other unique features that make Kuari Pass — for us — the top trek to do in winter. 
First, trekking through the undulating snow cover on Gorson Bugyal with some of the greatest mountains on show right next to you: Mt Chaukhamba, Mt Neelkant, Mt Haati Ghoda, Mt Kamet, Mt Dronagiri. 
If these summits were not enough, the second reason is the icing on the cake. From Gorson Bugyal trekkers also get to see the entire south face of Mt Nanda Devi, India's highest mountain. The south face is a sheer wall of over 7,000 feet. 
To the north-west corner of the ring is Mt. Dronagiri (7,066 m/23,182 ft). This is the first isolated mountain which comes into view as you start trekking from Karchhi.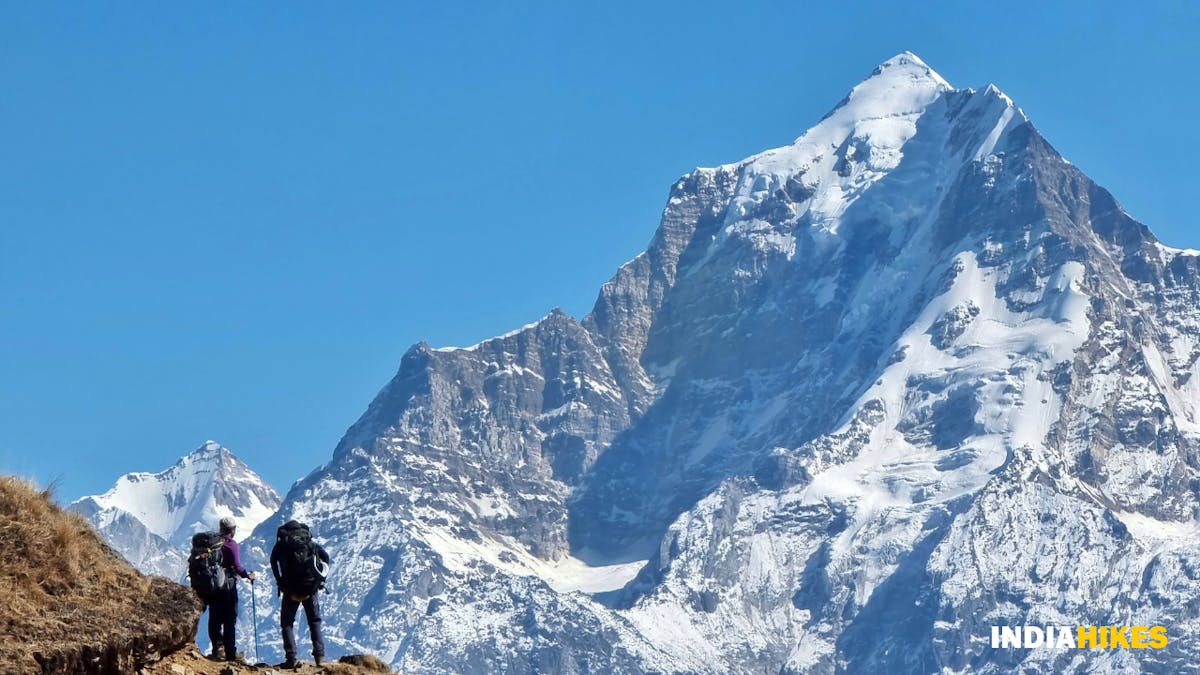 The commanding view of Mt. Dronagiri from the edges of Gorson Bugyal. Photo by Dhaval Jajal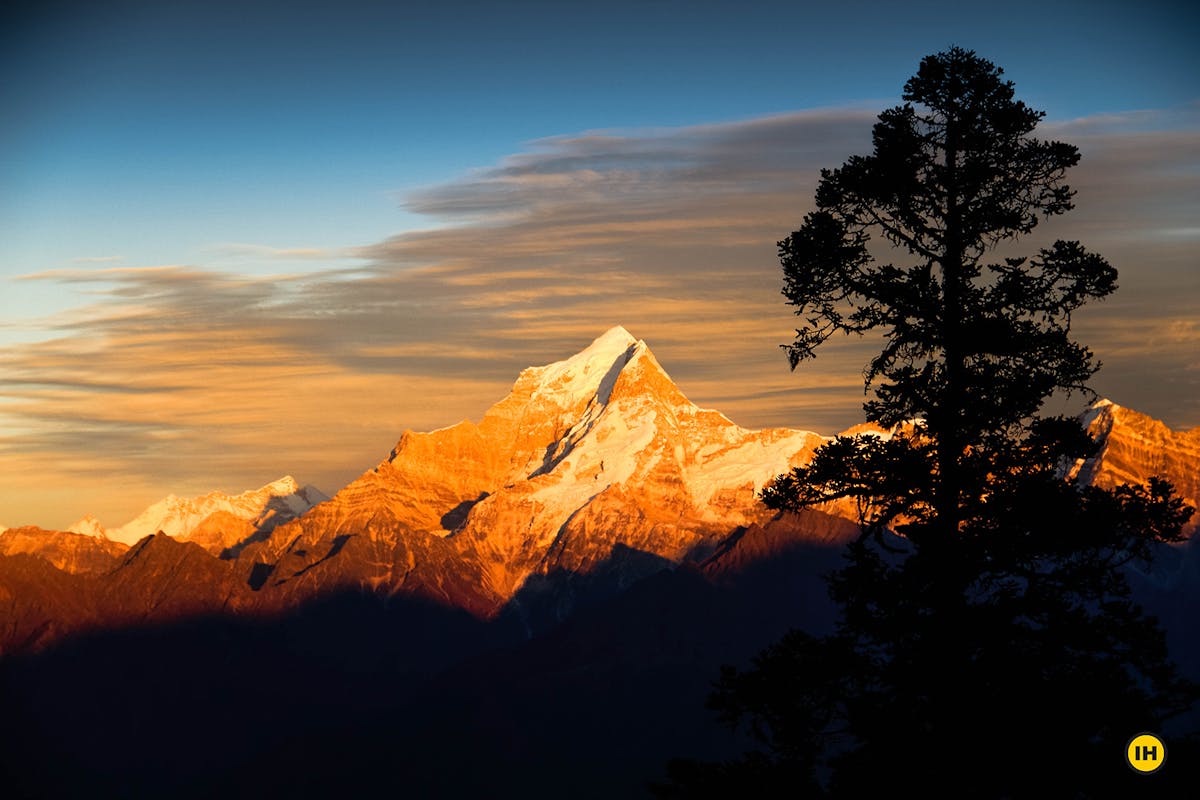 Another spectacular picture of Mt. Dronagiri from Gorson Bugyal. Notice how evening rays light up the entire mountain! Photo by Pradeep Sonavane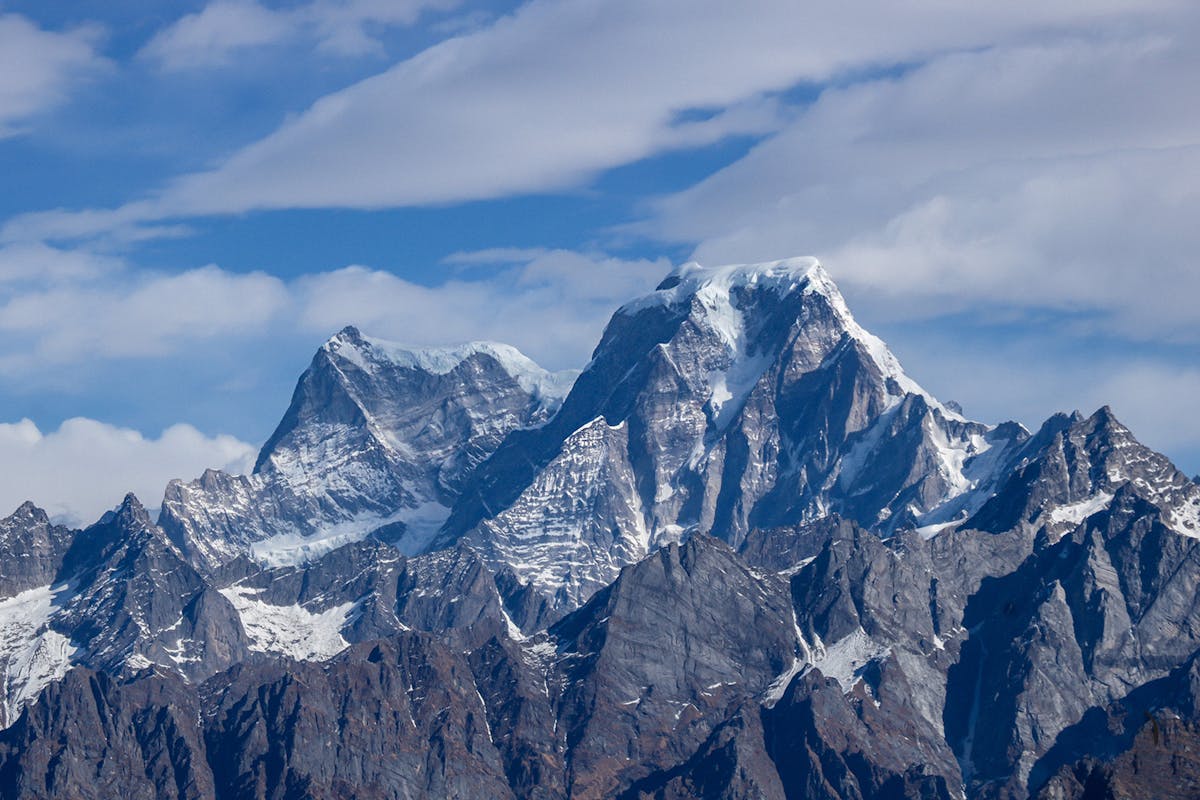 This is the most prominent peak you see from Gorson Bugyal. It is the Hathi Ghoda or Elephant peak. Photo by Leo Saldhana.
You catch glimpses of these mountains as you trek through the forest section. But the view gets astounding when you climb out of the tree line after crossing Khulara campsite.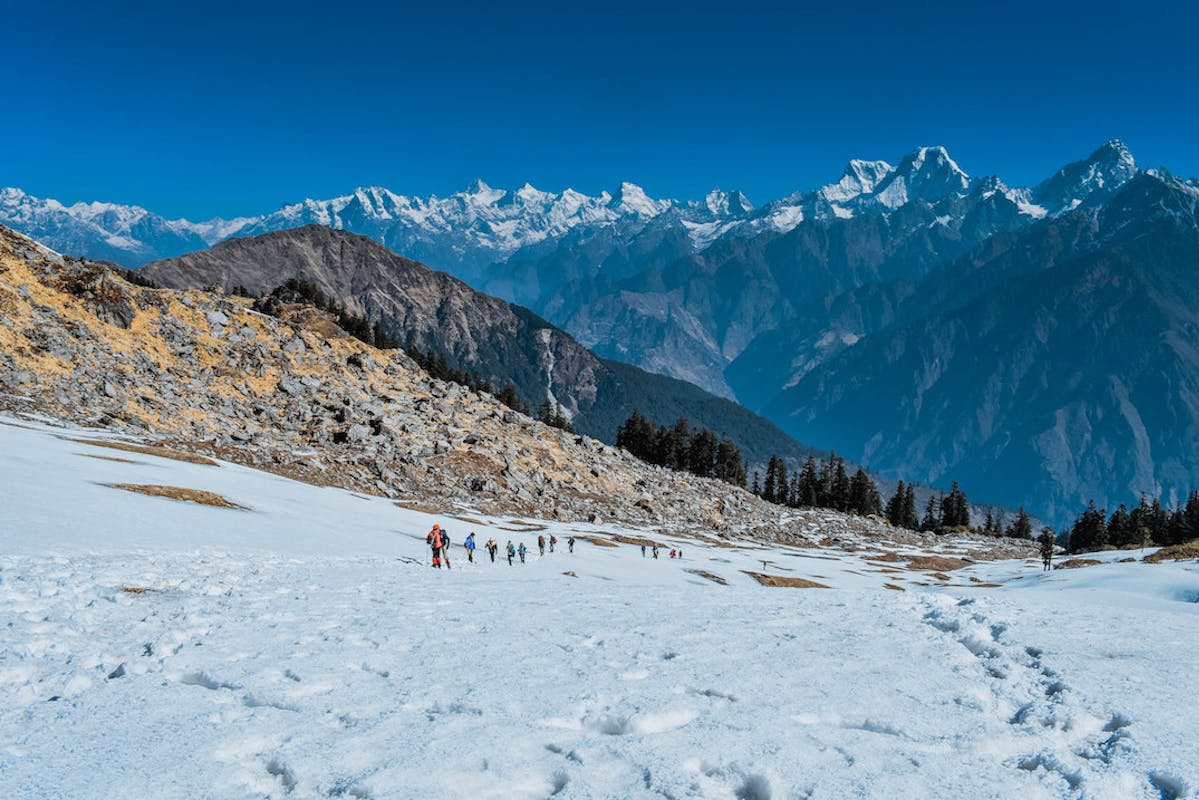 The Garhwal Himalayas rise behind you as you are climbing out of the tree line, onto the Khulara meadows. Photo by Valay Bhatt
Witnessing South Face of Mt. Nanda Devi
There's a reason why trekkers go gaga over the view of Mt. Nanda Devi from Kuari Pass. You see, Mt. Nanda Devi is an elusive peak. You get very far off views of this mountain from most treks. But that's not the case from Kuari Pass trek. 
On this trek, from Gorson Bugyal, you see the south face of Mt. Nanda Devi standing tall right in front of you. This view is the reason why many trekkers put Kuari Pass trek on their bucket list.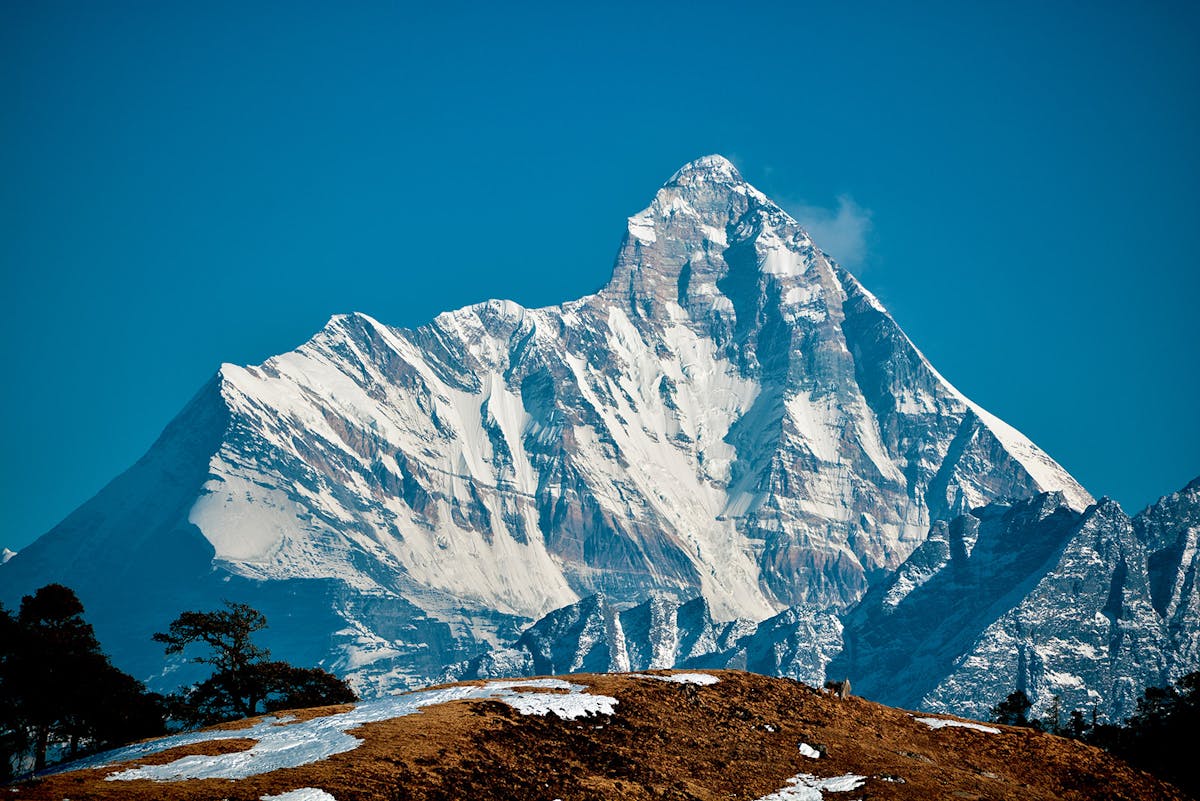 The South Face of Nanda Devi as seen from Gorson Bugyal. Photo by Saikat Adak.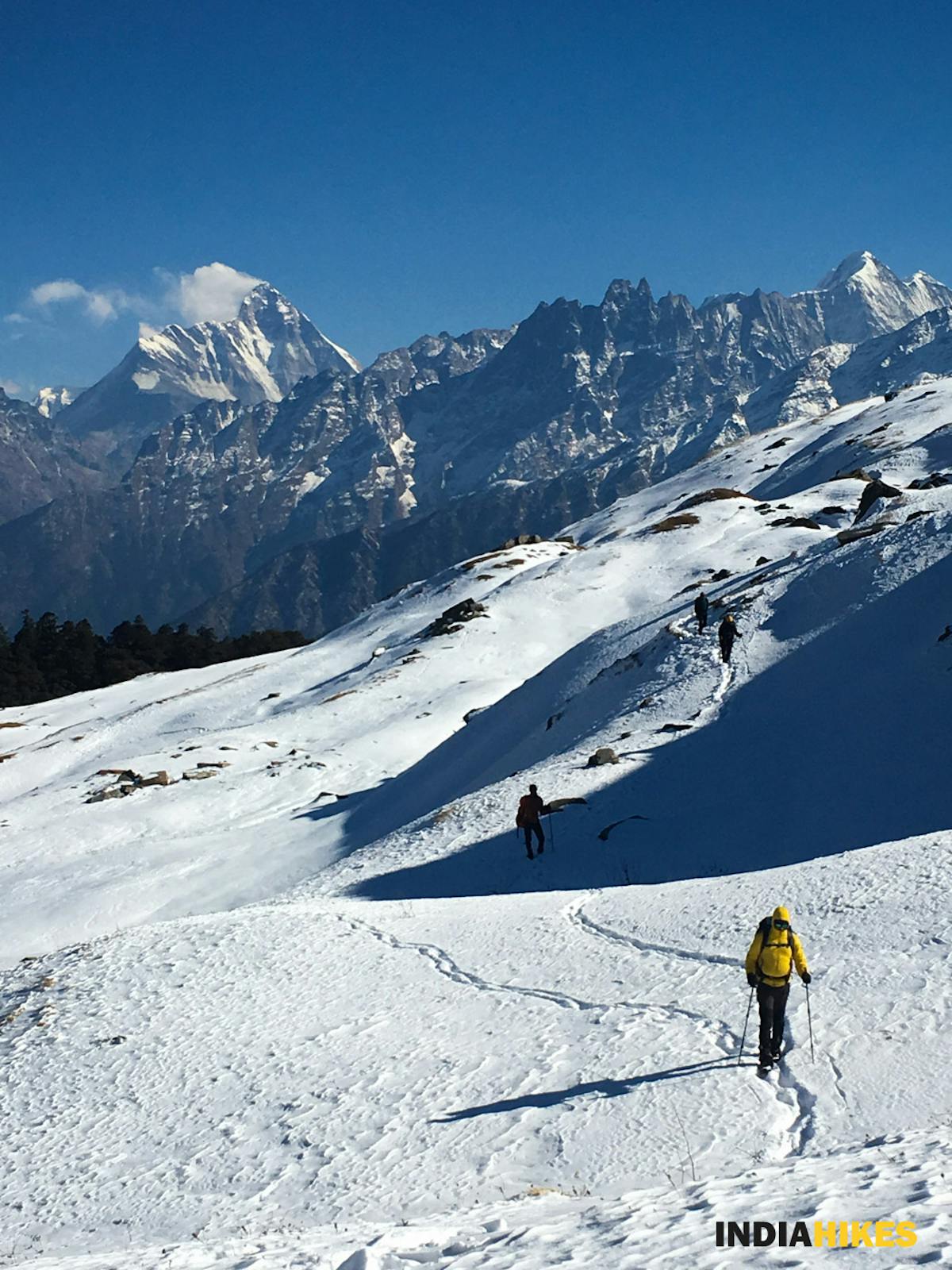 Mt. Nanda Devi looms over trekkers as they descend from Gorson Bugyal. Photo by Dushyant Sharma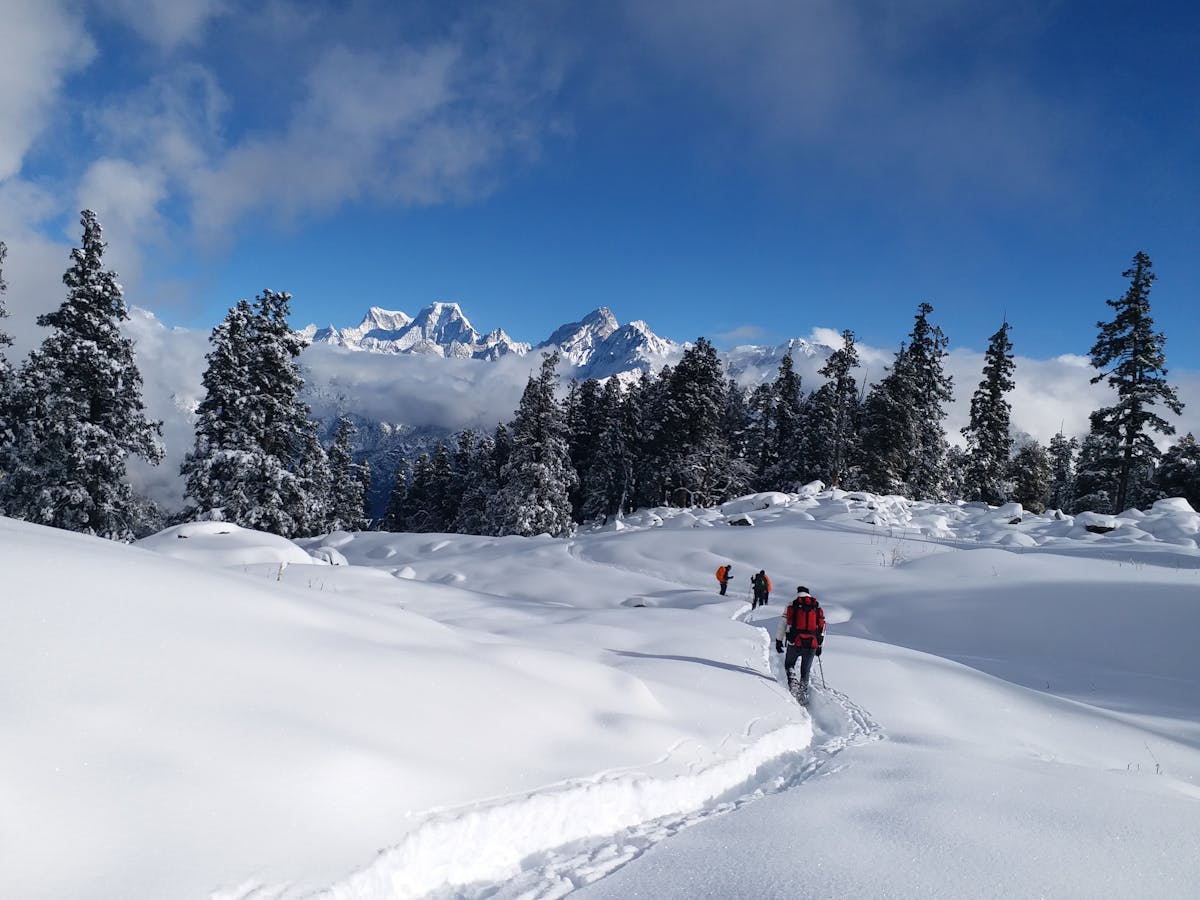 The mountains don a pristine, yet rugged look in winters. Notice how the foreground of fresh snow changes the entire setting! Photo by Anil Singh Bisht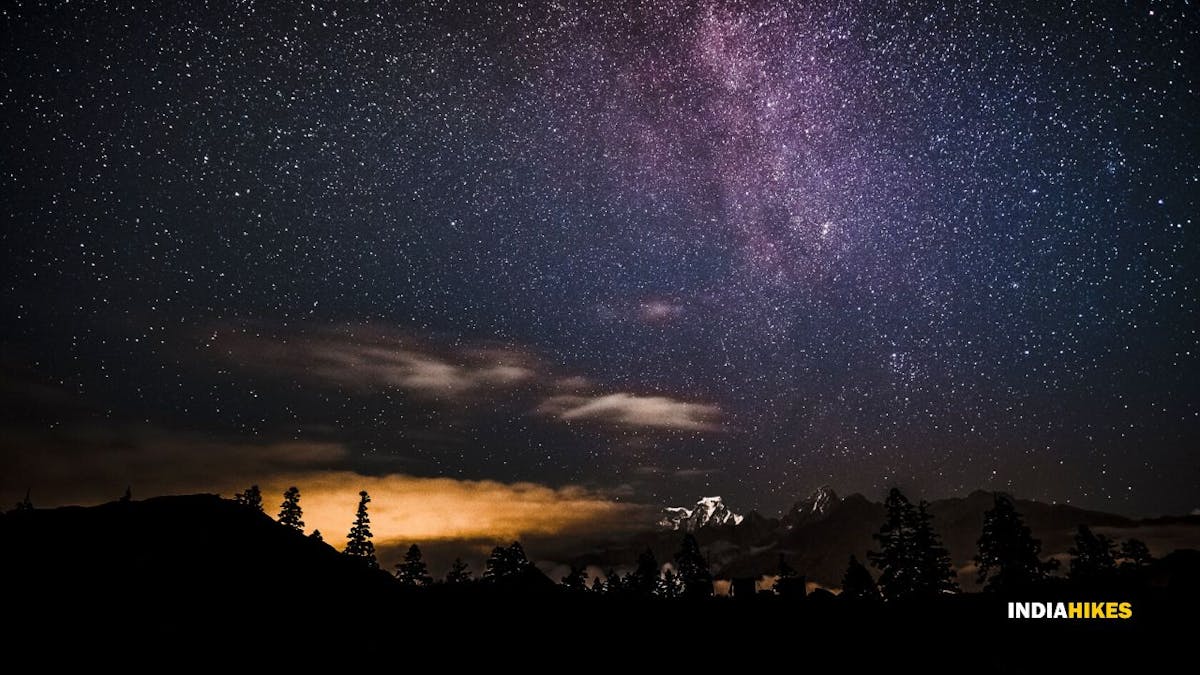 Kuari Pass is also a great trek for stargazing. The open landscape, views of the big mountains are very conducive for it. For example, here you have a photo of Hathi Ghoda gleaming under the Milky Way. Photo by Mallikarjun Mylapur.
An Adventurous Climb in Knee-Deep Snow
The climb to Kuari Pass is at its most adventurous during peak winters. Often you are trekking through knee-deep snow. That adds to the difficulty and thrill of the trek.
On the pass day, you start by 6 am and ascend for close to 3 hours to reach the Kuari Pass.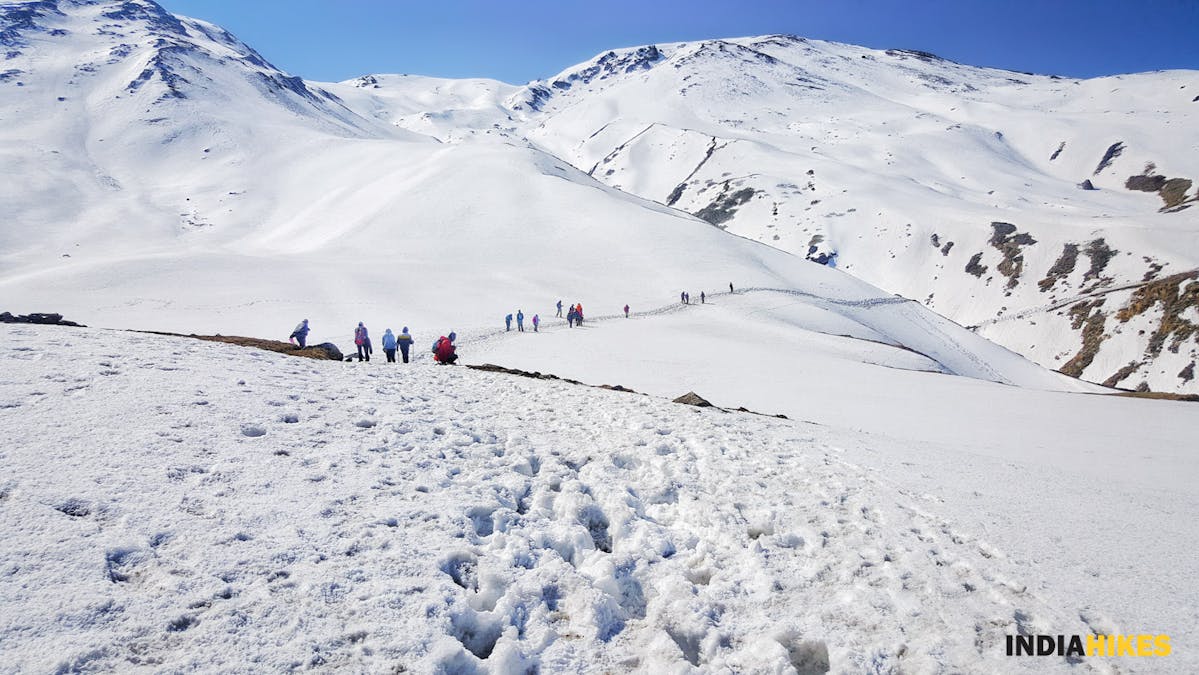 In this picture trekkers are almost at an hour's distance from the Kuari Pass. Trekking through such stunning snowscapes is an experience you don't forget.  Photo by Supriya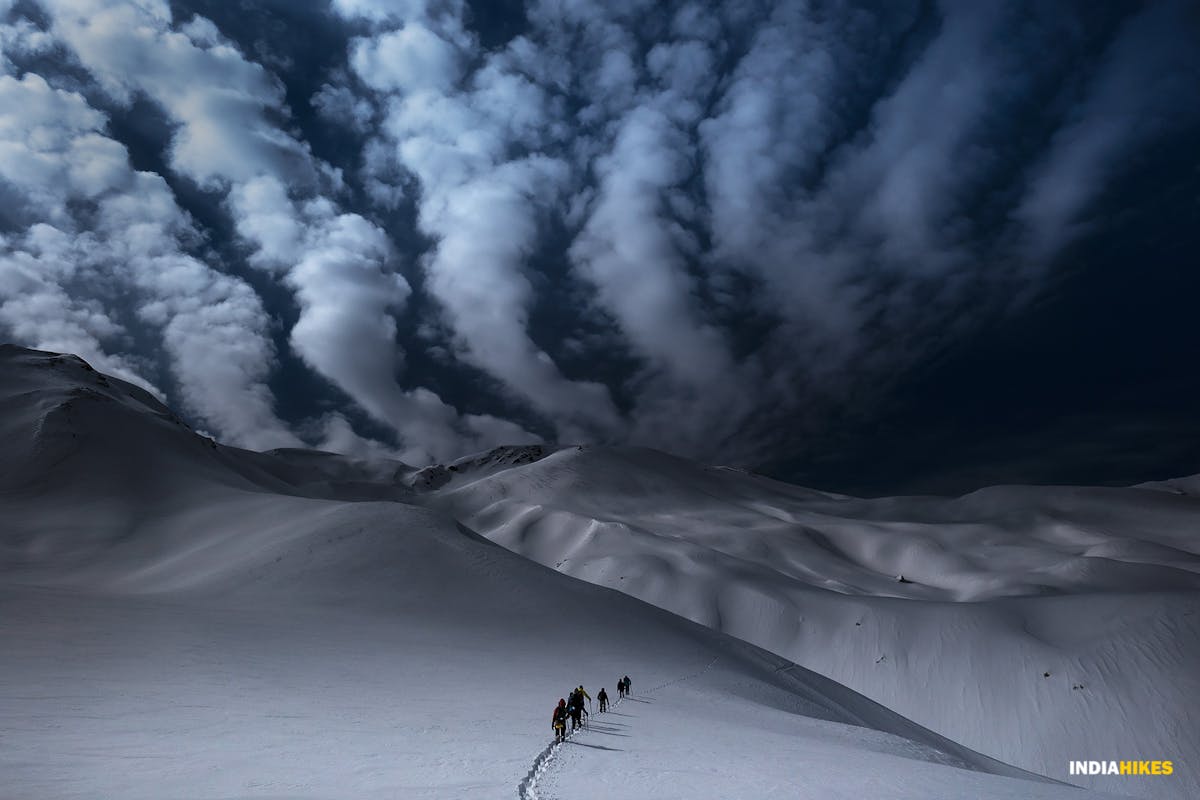 Here's another photo that shows how dramatic it can get to trek through the expansive snowscapes. In this, trekkers are attempting to reach the pass under overcast skies. Photo by Anshuman Kumar.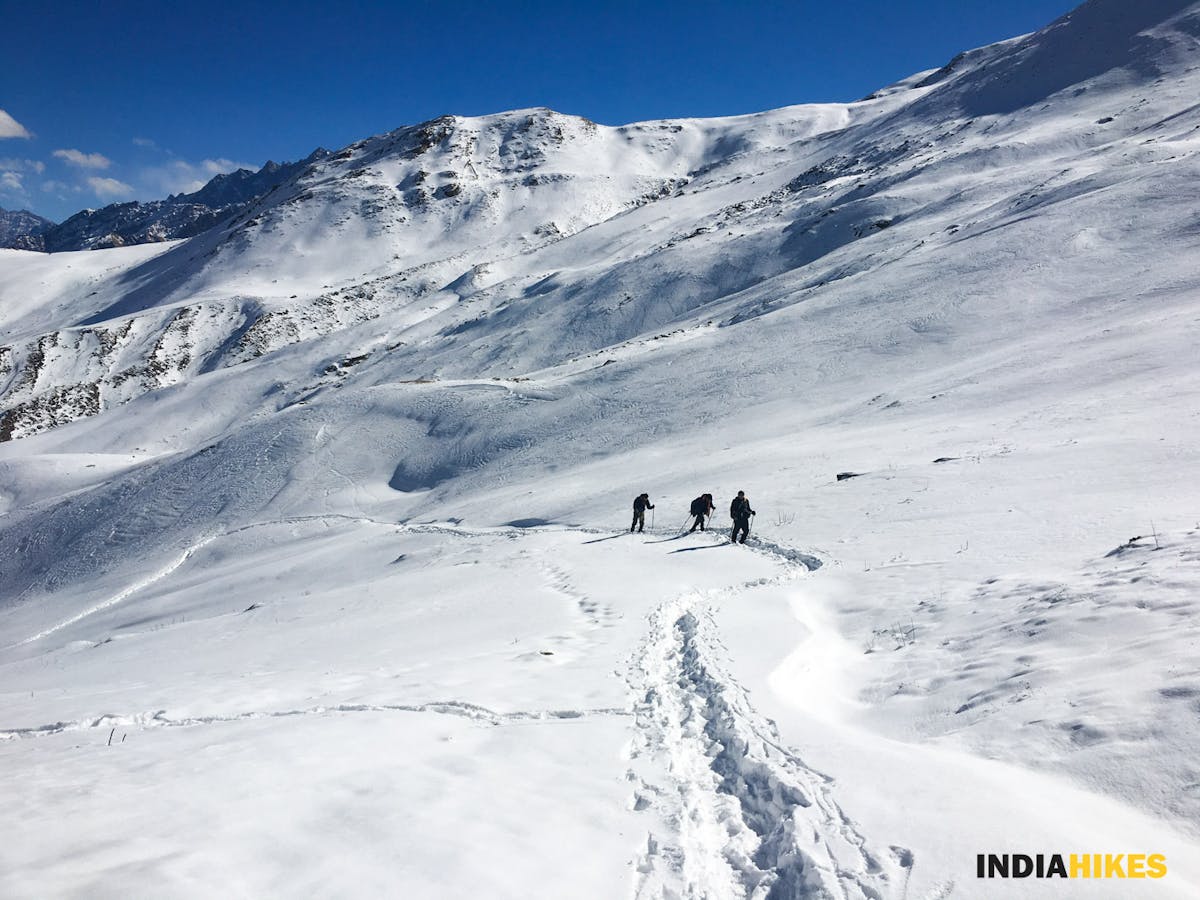 The climb to Kuari Pass is gruelling, especially if you are doing it in knee-deep snow. In this photo you see trekkers in the final leg of the climb. Photo by Dushyant Sharma
The descend from Kuari Pass is as exciting as the ascend because you trek through the vast Gorson Bugyal.
Campsites
You camp at outstanding locations on this trek. Whether it is the forests of Chitrakantha or the Khulara meadow in the shadow of Mt Dronagiri, each campsite leaves you in awe of your surroundings.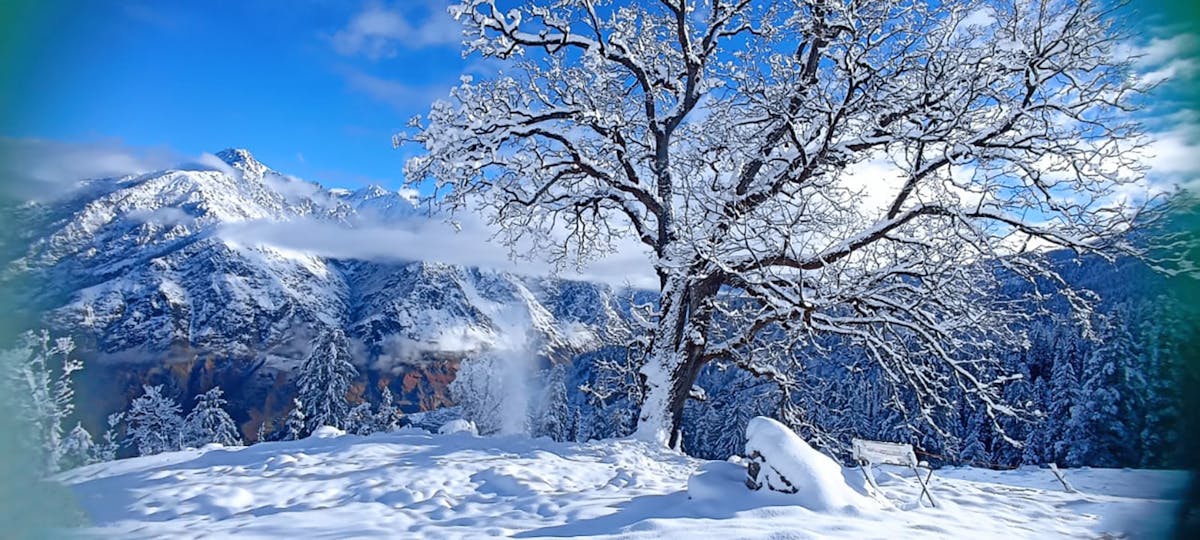 A frozen Akhrotgetta campsite. This campsite is set in a clearing, surrounded by a dense forest. But in this clearing you have one walnut (akhrot) tree. That's how this campsite gets its name.  Photo by Naveen Chandra.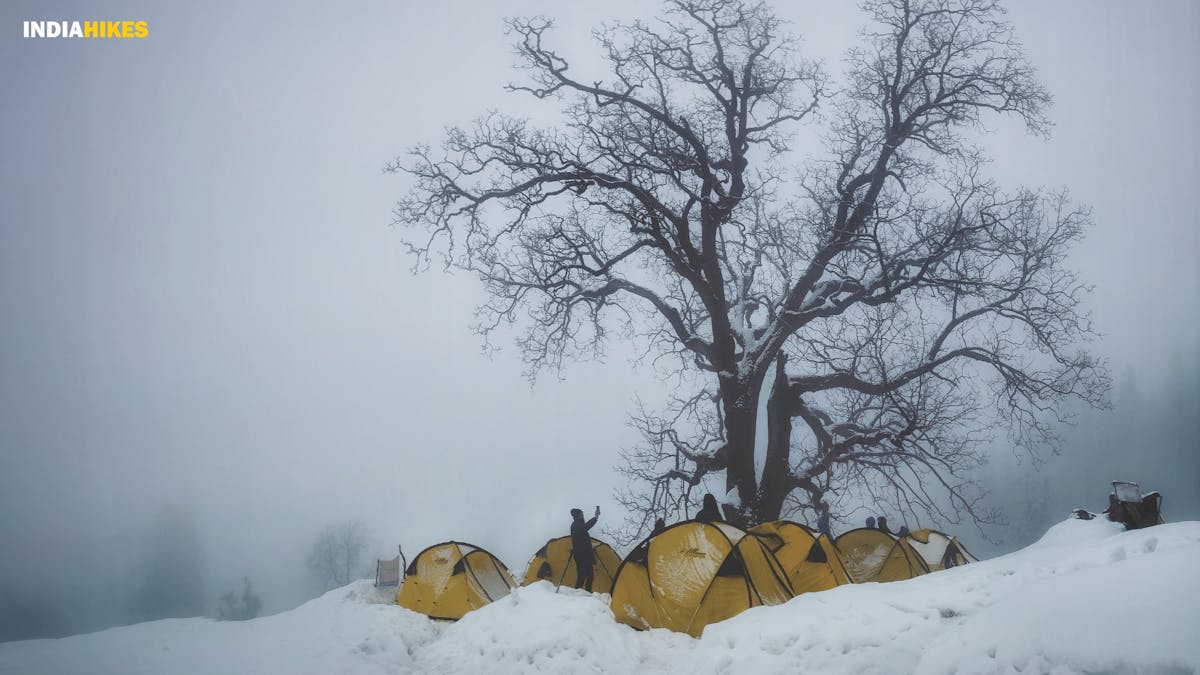 The Walnut Tree at Akhrotgetta Campsite. Photo by Megh Naik.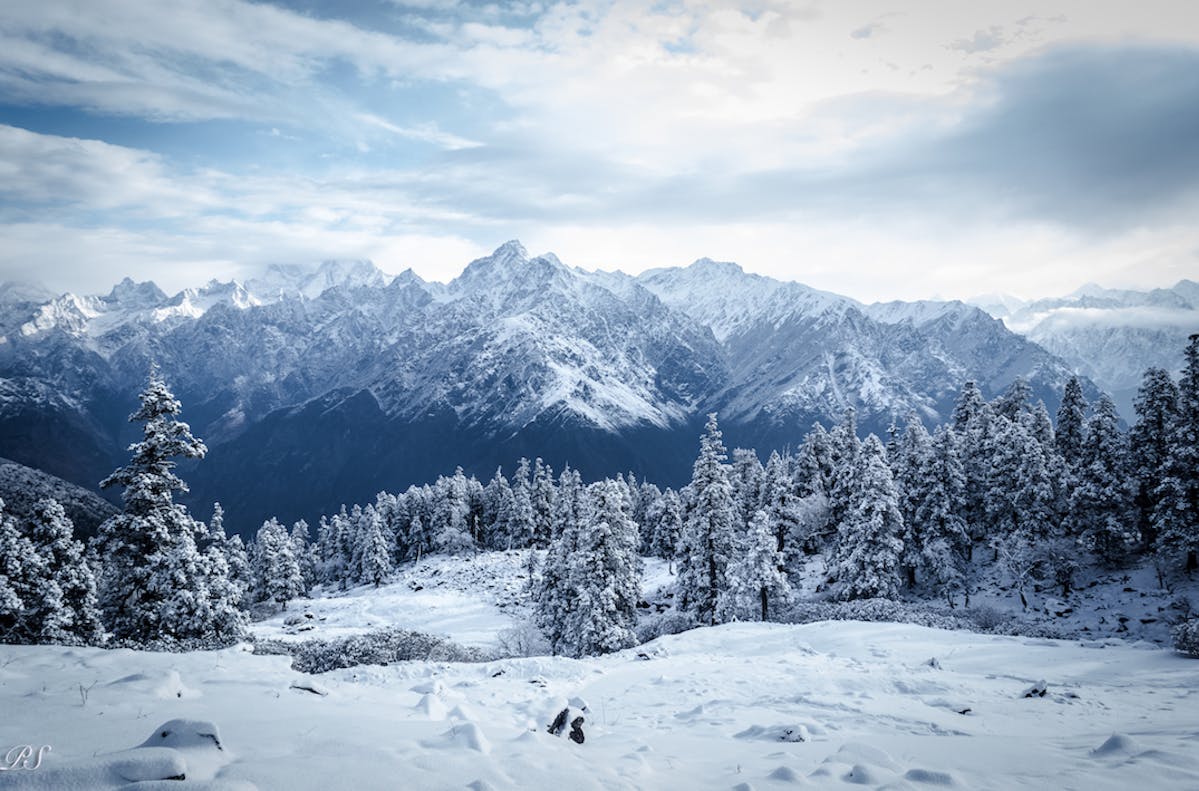 Next is one of the prettiest campsites of the trek — Khulara. The treeline ends at this campsite. After which you start ascending onto the Khulara meadows. At the juncture of forest and meadows, winter is exceptionally charming at the Khulara campsite. Photo by Poonam Saini.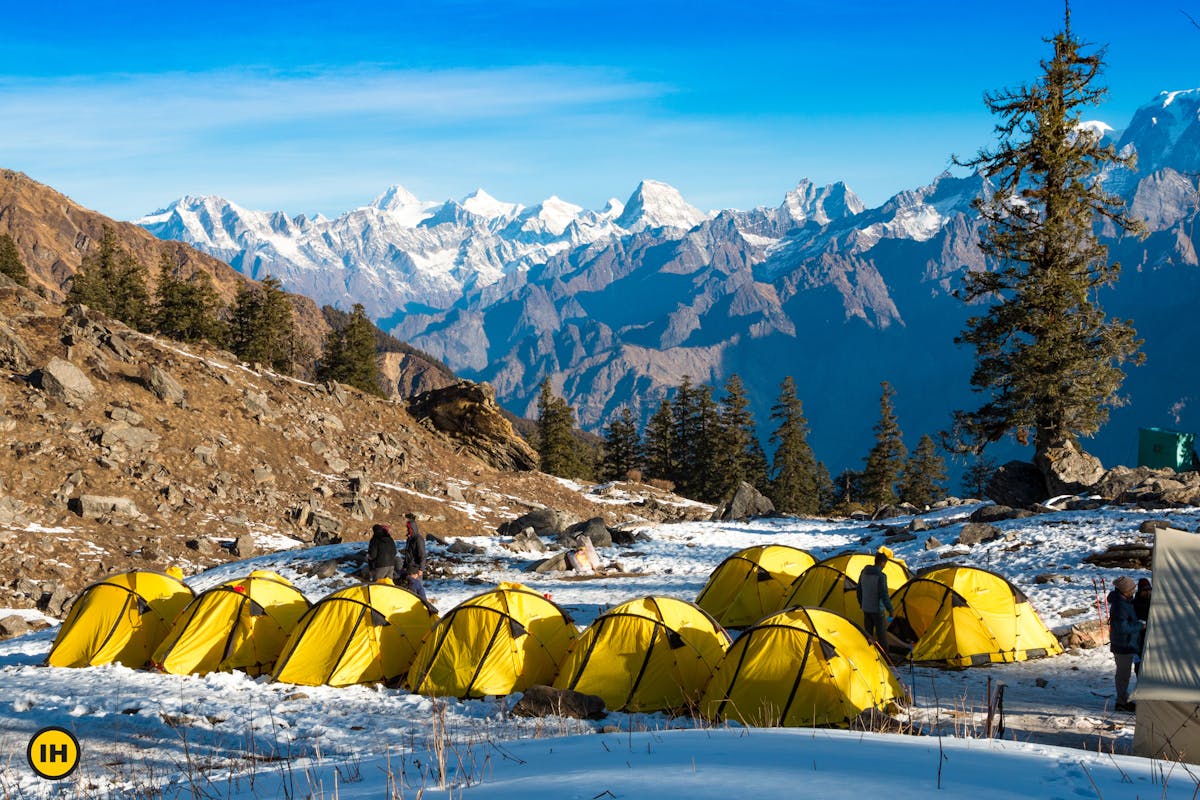 Khulara is also a favourite because you get some stunning mountain views from here. Photo by Soumyaattava Kar.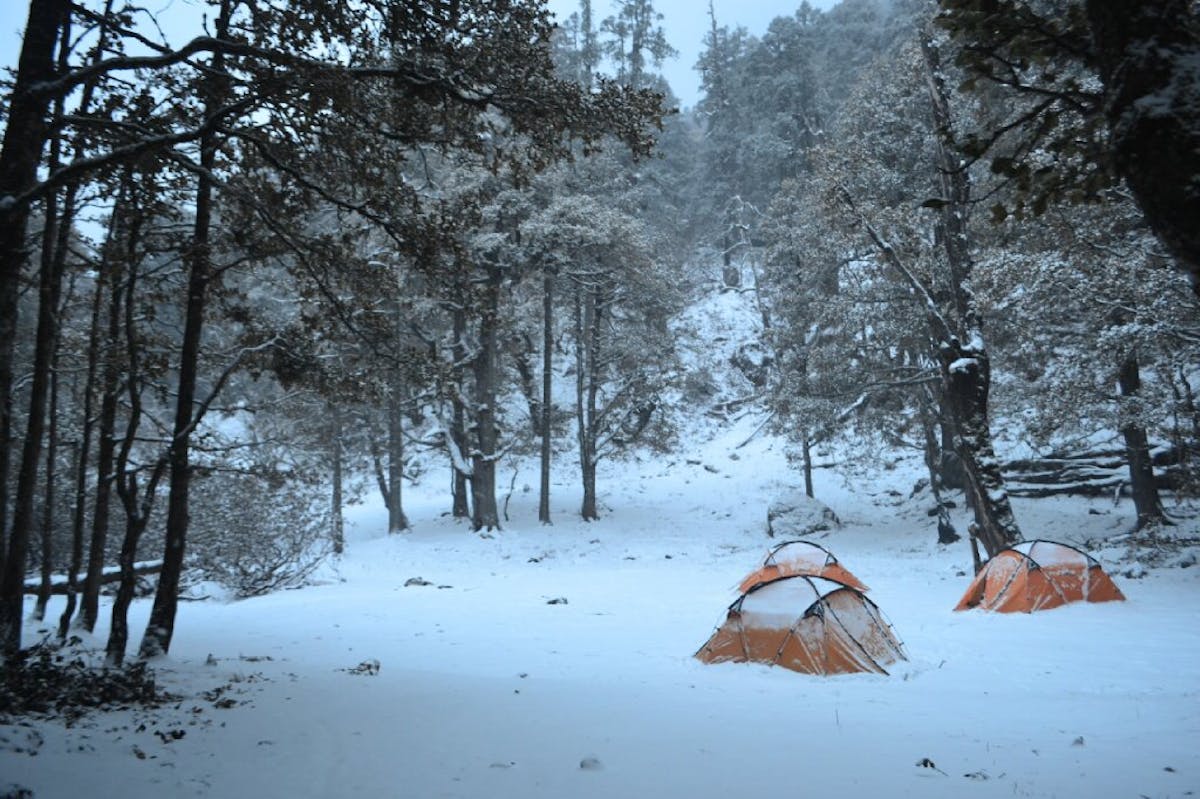 The final camp — Tali campsite — is in a tight clearing in the silent forest. Here you are surrounded by oaks, pines, and dwarf rhododendrons. The winter setting of this campsite lingers in your mind for a long time. Photo by Sandhya UC.
Everything on this trek — the mountain views, forest sections, campsites — seem to be thoughtfully carved and placed on the trail. Especially in the winters. And that makes Kuari Pass one of the most good-looking winter treks in the Big Snow Season.  
Do you have your own special moments of the Kuari Pass trek? Share your photo with the story with us. We will publish them! (no self portrait please). Email latika@indiahikes.com
Sign up for our much loved Weekly Mailer
We have terrific trekking tips, trek updates and trek talks to look forward to