Why Trekking in Jan and Feb is Better than December (Stats and Top 7 T...
Share this story
Why Trekking in Jan and Feb is Better than December (Stats and Top 7 Treks Inside)
Category Month-wise Guides
By Swathi Chatrapathy
2020-11-12
Of late, we've been receiving lots of calls, requesting extra slots in our winter treks. When I say winter, most trekkers are requesting slots in December, stating that they want to trek in snow. 
This is where I'd like to remove a misconception in Indian trekking.  
For most trekkers, the month of December is synonymous with winter. Christmas and New Year are synonymous with winter. And I don't blame them. Ever since we opened up Kedarkantha as the first winter trek in India in December 2011, trekkers have always thronged to the mountains in December. 
But here's the reality. Trekking in January and February can give you a better winter experience than trekking in December. 
Many trekkers raise their eyebrows when I tell them this. 
They tell me that this is when they have Christmas and New Year holidays and I understand that. Yet, if you can negotiate your holidays by just a week or two, you'll experience a fabulous winter trek like no other time.
So I want to share some statistics with you here, which will show you what truly happens in December.
A study that we did last year revealed that more trekkers go to the mountains in December than in the classic May and June months! 
Here are some stats to give you an idea. 
This graph shows you how many trekkers trek in the months between October and March (going by Indiahikes data as of Oct 14th, 2021). You'll see a big peak in December every year, dropping down dramatically in January and February.
And that's the biggest tragedy! 
Here's why. 
December is the mere beginning of winter. It's when the first winter snow comes in and by mid December, leaves behind a trail of snow on most trails. However, this is still just the beginning. 
Real winter sets in only in January and February in our country, forming a luxuriant blanket of snow on all Himalayan treks.
I must tell you, not all treks are accessible in Jan and Feb. Many trails are buried under snow and inaccessible. On many other trails, water sources freeze up. So only a handful of special treks are open in Jan and Feb.
January and February are what we term as "Peak winter" at Indiahikes.
I recollect speaking to a meteorologist, Akshay Deoras, who has been a forecaster for the past 11 years. "What we consider summer (March-May) in India, is officially pre-monsoon, and what we consider early winter (Oct-Dec) is officially post-monsoon. Only January and February are considered winter," he had said. You can read my entire interview with him on snowfall in India here. 
Here's where I want to reiterate my advice to you. 
Most of us go to the mountains in winter for one of these three reasons. 
To isolate ourselves from the clutter and noise of the city
To trek in a fairytale snow setting
To usher in a new year on a big high 
And there's no better time than peak winter to experience these. This small infographic will tell you why.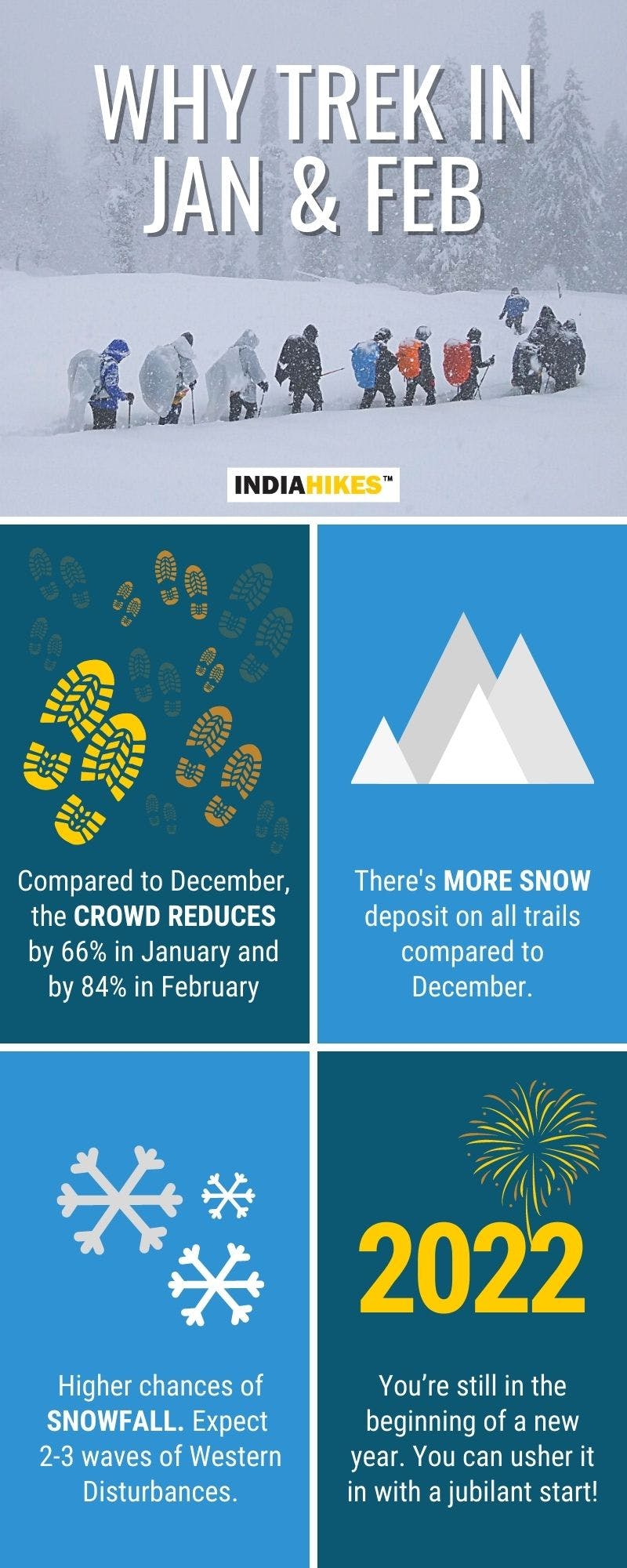 Before I give you the best treks to choose in peak winter, I want to address a big concern you may have.
Trekkers worry that the presence of high snow in Jan and Feb might stop them from completing their trek. I must admit, peak winter is a difficult time to summit treks. But with our expert technical teams, 90% of our trekkers complete their treks successfully. Only when teams are hit with big safety hazards like snow storms, or extremely heavy snow, they don't complete their treks.
Note: If you do not complete the trek, you are welcome to come back and repeat the trek. We will not charge you for it. This has always been our philosophy.
Having cleared these doubts, I'm sharing with you the best treks you can do in January and February. 
Consider this a reminder because now is the right time to start planning. Our December dates for all winter treks have thoroughly run out. And we now have January and February dates available. 
If you plan now, you'll have the luxury of choosing dates that suit you. Very soon, you'll have to adjust your schedule to the leftover dates.
I hope you make use of this reminder.
Top 7 Himalayan Treks to do in January and February:
1. Dayara Bugyal trek
Dayara Bugyal is not a difficult trek, but even the most experienced trekkers fall in love with this trek. It's one of the most elegant treks of Uttarakhand — the way the forest trails are laid out, the mildly undulating meadows, big Himalayan peaks standing majestically at the edge of the meadows. In peak winter, the entire trail is covered in snow, making for a grand snowy experience. 
My tip for you: Close your eyes and choose this if you're a beginner. Winter treks tend to get a bit difficult, and this is the least difficult of them all. And perhaps the most rewarding trek for the small amount of effort you put in.
Duration: 6 days
Gathering point:
Dehradun
Suitable for:
Beginners with no prior experience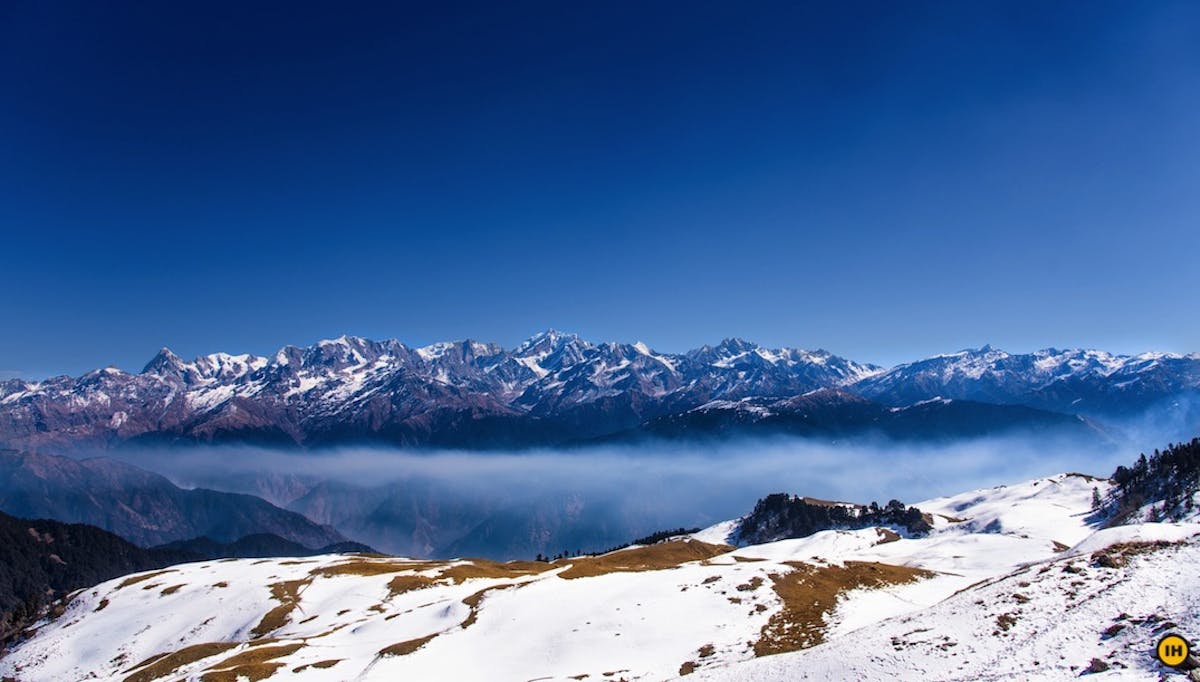 Looking back just after entering the meadows of Dayara Bugyal. This picture was taken in January. Picture by Sudheer Hegde
2. Brahmatal trek
Brahmatal as a winter trek has become almost as popular as Kedarkantha. And I'm not surprised. It's a stunner in winter with the snowscapes, frozen lakes and the snowy forests. This video made by a trekker will give you an idea. The best experience on this trek is getting to see Mt Trishul and Mt Nanda Ghunti at close quarters. No other trek gives you that privilege. 
My tip for you: If you've done the Roopkund trek, you'll doubly love this trek — you can see the entire Roopkund trail laid out in front of you while you're trekking to Brahmatal.  
Duration: 6 days
Gathering point:
Suitable for:
Fit beginners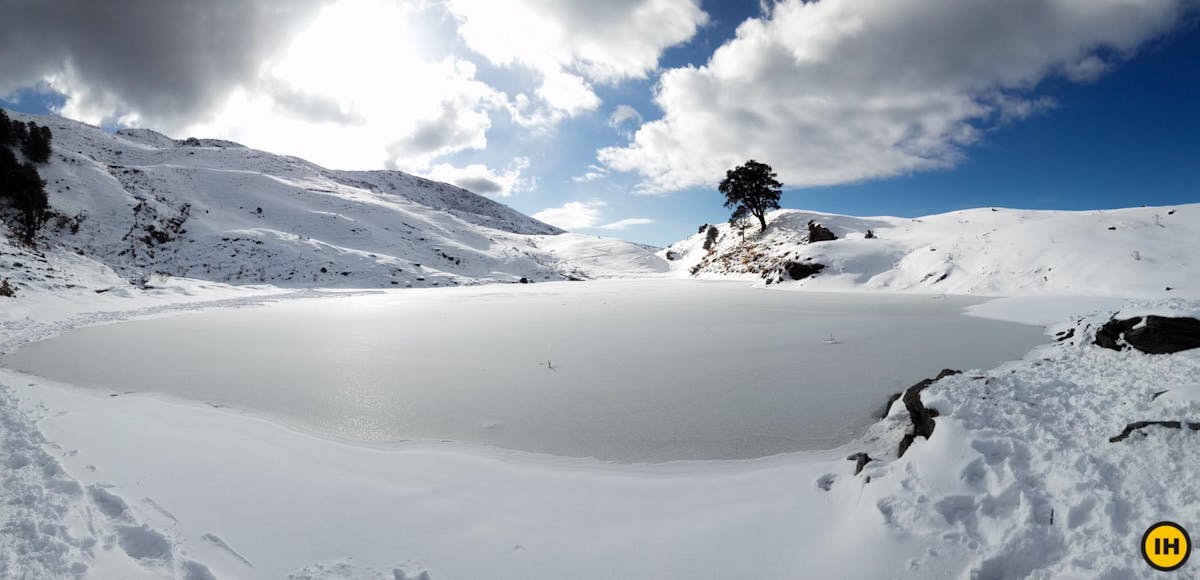 The frozen Brahmatal Lake in peak winter. Picture by Devang Thapliyal
3. Sandakphu-Phalut trek
Sandakphu is one of the few treks that has been done as a peak winter trek for a very long time. It's a trail that dates back to the 40's with a lot of historical and cultural significance. It's different from ALL our other treks, because it's on the border of India and Nepal. You find the same trekking culture as on the Everest Base Camp and Annapurna Base Camp treks at Sandakphu. 
My tip for you: If you don't like high snow / extreme cold weather, this is a good trek to do in Jan and Feb. This region does not get as much snow as Uttarakhand. Additionally, you stay in tea houses on most days, where you have the warmth of a solid roof over your head. 
Duration: 7 days
Gathering point:
New Jalpaiguri Railway station / Bagdogra Airport
Suitable for:
Fit beginners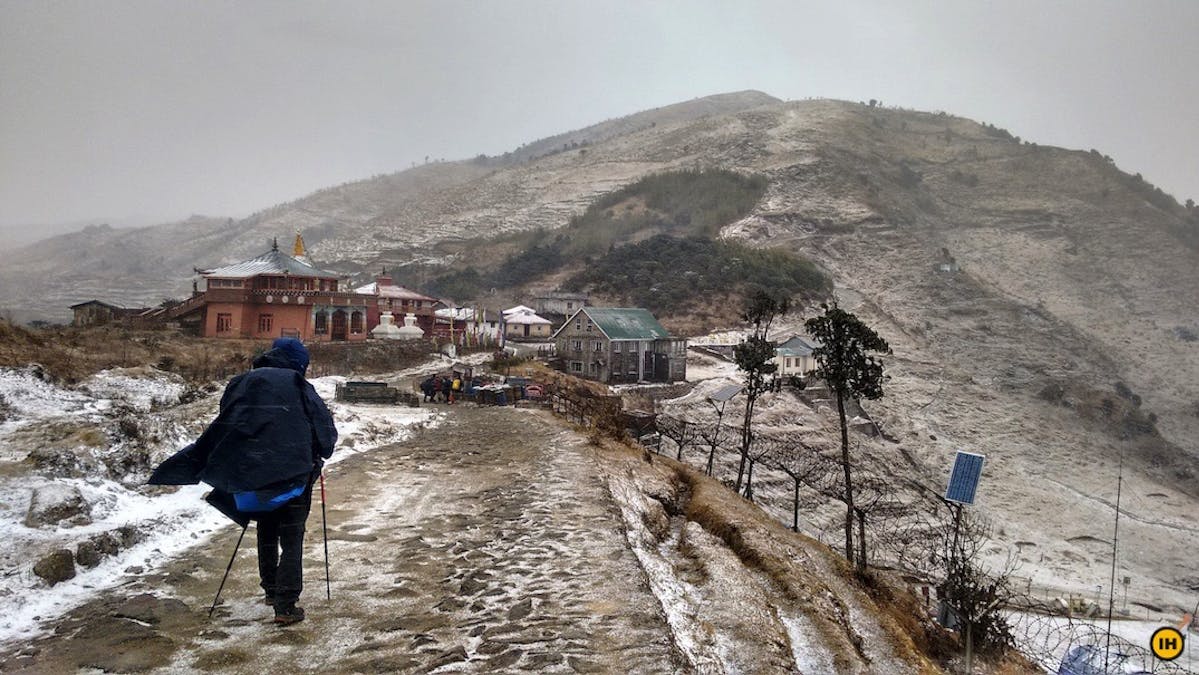 Sandakphu is one of those few trails where you have the luxury of staying in a warm tea house despite the chilly weather outside. This picture was taken in January. Picture by Mark Rodrigues
4. Kedarkantha trek
Many trekkers flock to Kedarkantha in December. This crowd completely dies down by January. And in February, there are almost no signs that this is a popular trek at all. I admit, the trail gets a bit too snowy, but if you have the right fitness for it, it is a thrilling summit climb in peak winter. 
My tip for you: If you want to trek to Kedarkantha, trek with Indiahikes. This is because we take a different, less crowded, much prettier route to the summit. We start the trek from Gaichwan Gaon, which approaches the summit from a different angle.  
Duration: 6 days
Gathering point:
Dehradun
Suitable for:
Fit beginners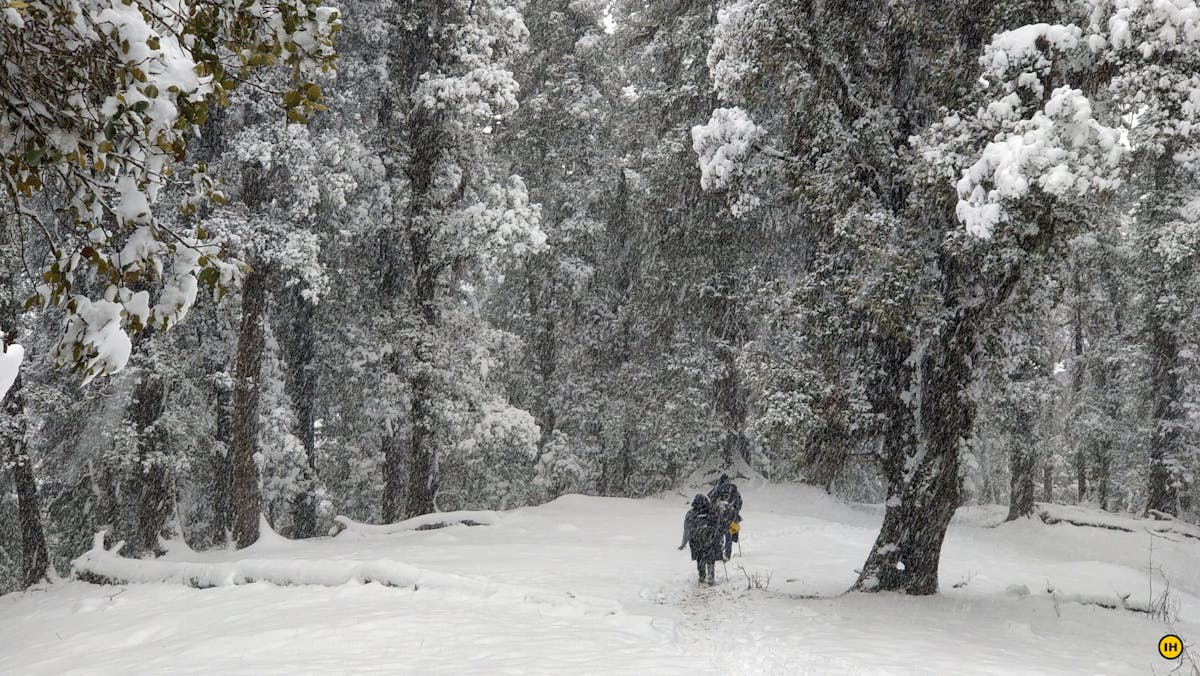 Peak winter in Kedarkantha is a challenging experience. But every bit of effort rewards you manifold. This picture was taken in late December. Picture by Dhaval Jajal
5. Deoriatal-Chandrashila 
For the first time, we are running the Deoriatal-Chandrashila trek in peak winter months of January and February. This is a trek that tends to get heavily snowy towards the summit. But with the expertise of our technical team, we will be able to do the trek in Jan and Feb too.
My tip for you: Compared to all other treks, this is perhaps one of the easier treks you can do in winter, along with Dayara Bugyal. Choose this if you're trekking for the first time, or if you have children below 16 whom you'd like to expose to a snow trek. 
Duration: 6 days
Gathering point:
Rishikesh
Suitable for:
Beginners with no prior experience in trekking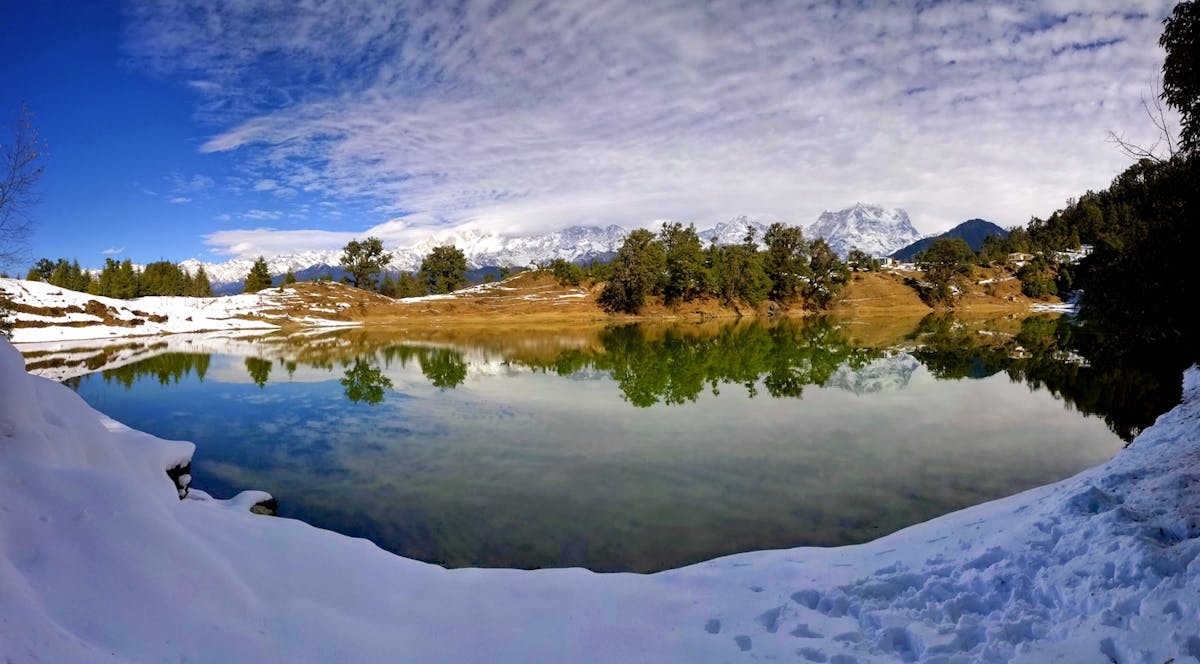 The Deoriatal Lake in winter, surrounded by snow.
6. Kuari Pass
Kuari Pass is one of those rare treks that has exceptional forests that turn into paradise in winter. Gentle oak trees with snow weighing them down, the forest floor covered in a white blanket, a camp right in the middle of it. If that's not enough, this is the only trekkable pass in winter, when most other mountain passes of the Himalayas become inaccessible.
My tip for you: If you want to see the tallest mountains of the Indian Himalayas, Mt Nanda Devi, and one of the most aesthetic peaks, Mt Dronagiri, choose this trek. It is one of those treks that spoils you with incredible views right from the first day of the trek.
Duration: 6 days
Gathering point:
Rishikesh
Suitable for:
Fit beginners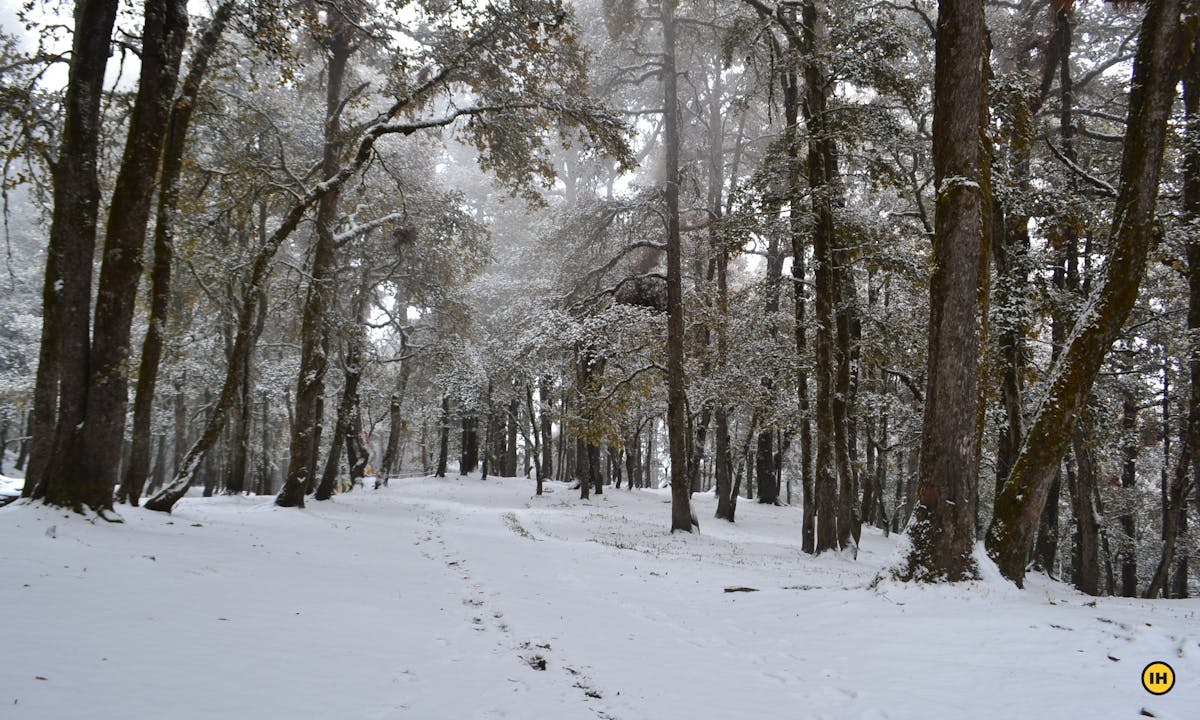 Kuari Pass trek – A trail amidst the magical oak forests covered in snow. Picture by Sandhya UC
7. Ali Bedni Bugyal Trek 
For the first time, we have opened up the Ali Bedni Bugyal trek in peak winter. If you don't know about this trek, it is a part of the legendary Roopkund route, and has almost all the best parts of the Roopkund trek, minus the lake. In winter, the setting of this trek, through the forests of Ghairoli and then through the clearings at Tolpani will stun any trekker. Added to that, the meadows, with a thick blanket of snow take on a totally new form, like a sea of white.
My tip for you: This trek has few of the most stunning views of Mt Trishul and Mt Nanda Ghunti. Sitting in Ali Bugyal as the sun sets, trekkers are often moved to tears at this sight. Just for that view, this trek is worth doing. 
Duration: 6 days
Gathering point:
Kathgodam
Suitable for: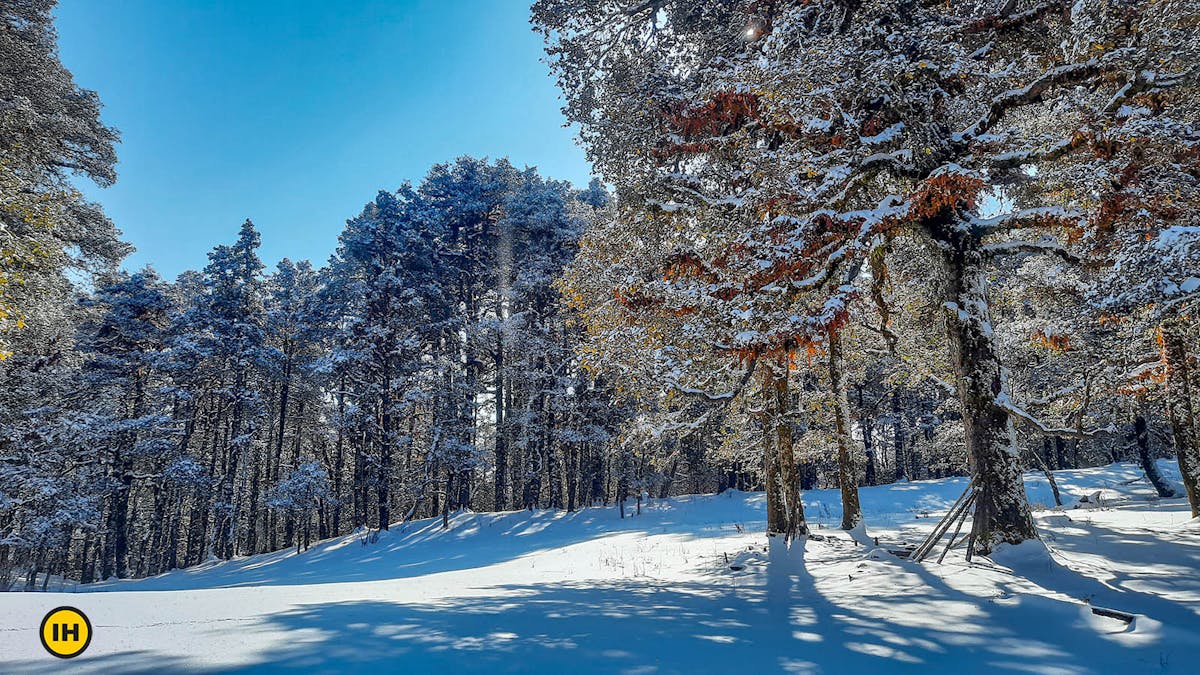 The magical clearings in the forests of Tolpani in winter. Picture shot in Jan 2021 by Indiahikes Team Member Ravi Ranjan
That sums up our thoughts on why January and Febuary are better than December for a winter trek experience. They're the months with the least crowd, most snow and a terrific winter experience.
Given that it's a small list of treks we are running in these peak winter months, the slots are likely to run out soon. 
If you need any help planning your trek, just drop in a comment on the article. We'll help you out. 
LEAVE A REPLY
Your email address will not be published. Required fields are marked
Sign up for our much loved Weekly Mailer
We have terrific trekking tips, trek updates and trek talks to look forward to