Latest updates from Kashmir: Batches running as per schedule
Share this story
Latest updates from Kashmir: Batches running as per schedule
Category News
By Aswati Anand
2016-07-25
The batches for Kashmir Great Lakes and Tarsar Marsar are going to run as per schedule. While the situation in Kashmir is showing marked improvement from last week, normalcy will take time. The trek routes by themselves are safe. We were able to successfully organise three batches of Kashmir Great Lakes trek and the batches for the week of 25th July are still on.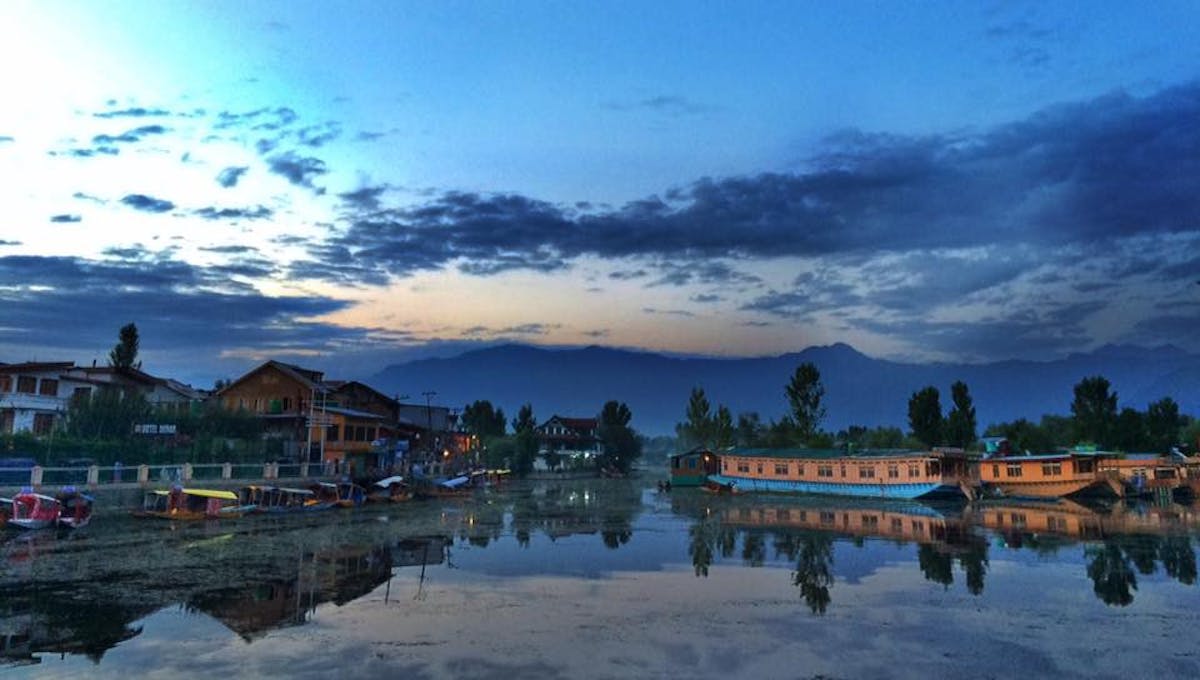 Dal lake on a beautiful evening in July. Photo credit: Vyshakh Nair
Our July 8th and 9th batch of Kashmir Great Lakes – who were in Kashmir when the unrest first exploded into open – are back safely and are bowled over by the beauty of the trek.
Maulik Shah from 9th July batch believes that this is hands down, the most beautiful trek in India! "Once we were on the trek we were in complete wilderness. The way Indiahikes managed this during a time where circumstances were beyond control is commendable. We were moved to base camp at 3 am in the morning and Vyshakh, our trek leader, actually came to the airport to drop us off after the trek was over!" he says.
Another trekker, Nishant Gupta from the July 8th batch says, "Once you are in the mountains, you are completely safe. I am pretty happy with the IH staff – Dushyant who came down from Gagangir to give us updates, Dashod, our guides Saddam and Shakeel and Naina Ji for the awesome food. We were moved back to Srinagar around 11 pm after the trek. The team dropped some of us to a hotel recommended by them and others to the airport."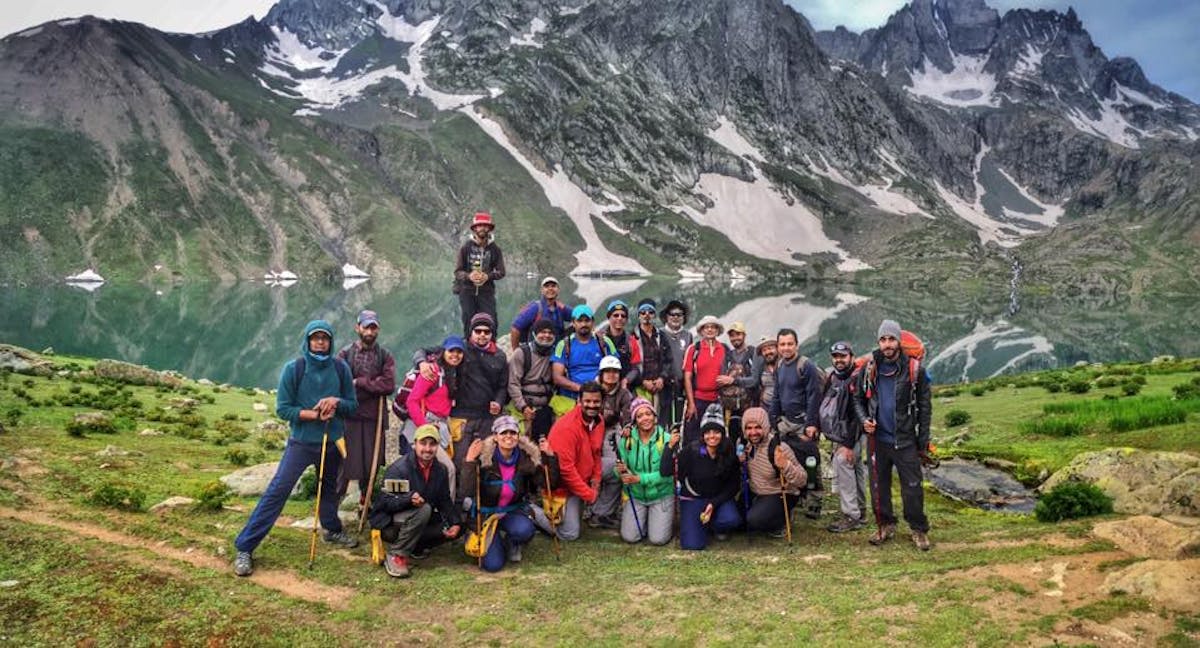 The July 9th batch of Kashmir Great Lakes. Photo credit: Trek Leader Vyshakh Nair
"Prathima, the Ground Coordinator, even reached out to our families while we were on the trek- to assure them of our safety" says Raghavendra from 8th July batch. "It is a little thing but it matters. No other organisation would do this."
"I really loved how our team went down to the last mile to help trekkers. This is something I've always visualized is the core strength of Indiahikes." says Arjun Majumdar, founder of Indiahikes.
How are we managing this in Kashmir?
Our team has been working tirelessly to get recent updates.  "All movements are happening in the night- as advised by the Army," says Manish Pasad, Head of Operations. "The trekkers of our early batches this season were moved to and from base camp between 11 pm and 3 am. Tourists, trekkers and Amarnath yatris also move late in the night. In fact, the 8th July batch were moving along with 50 odd vehicles – army convoys, tourists and yatris."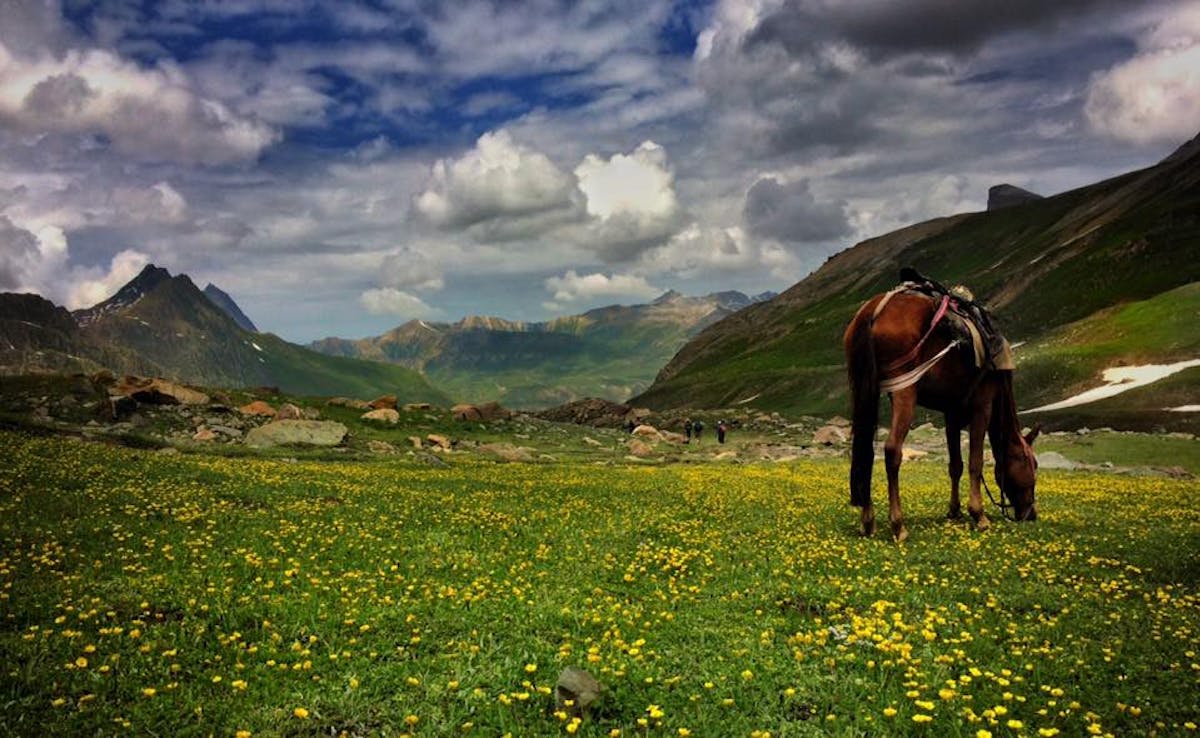 The Kashmir Great Lakes trek, as shot in July 2016. Photo credit: Vyshakh Nair
"Since the Amarnath Yatra is happening, movement at night is completely safe" says Dushyant Sharma, Trek leader and base manager for Kashmir Great Lakes. "Yatris are going towards Baltal and Pahalgam- which is on the route to our base camps. The J& K police, CRPF and the Army are there to see that everything goes smoothly. "
"Once the trekkers reach Gagangir (the base for Kashmir Great Lakes), they are with us. The entire Sonamarg area is controlled by the Army, so the route is secure." Dushyant adds. "Once the trek is over, we make sure members of our team are in each vehicle with trekkers. We make sure trekkers are dropped off to safe zones – their hotel or the airport."
Despite the situation, pilgrims have been flocking to Kashmir in thousands for the famous Amarnath Yatra. "At least 7-8 buses from Jammu come to Pahalgam every night for Amarnath Yatra. Since Pahalgam is a tourist destination, it is under Army protection. There are tourists still coming in to Pahalgam. Aru is about 12 km from Pahalgam and it is untouched." says Ankit Naithani, Trek Leader and base manager for Tarsar Marsar.
The curfew, however, is still in place till 29th July. Only mobile phones with postpaid BSNL connections are working at the moment.
With hourly updates and several precautions, we are running the upcoming batches of Kashmir Great Lakes and Tarsar Marsar. The staff stationed at the base camps – Sonamarg and Aru – are waiting to welcome you with a trek that would justify the title of "jannat" bestowed on Kashmir.
Sign up for our much loved Weekly Mailer
We have terrific trekking tips, trek updates and trek talks to look forward to