QUICK INFORMATION ON BRAMMAH VALLEY
TREK DURATION
7 days (Suid village, Jammu to Suid village)
TRAIL LENGTH
Approx 46.8 km (Suid to Suid)
TREK STARTS FROM
Suid village, Kisthwar region, Jammu
FITNESS REQUIRED
You should comfortably and consistently be able to run 5 km in under 35 mins before your trek. More details
WHAT TO CARRY
Up to 8-9 kg backpack which contains .
CLOAKROOM
A cloakroom is available to keep one bag (No valuables must be kept)
TREK DURATION
7 days (Suid village, Jammu to Suid village)
TRAIL LENGTH
Approx 46.8 km (Suid to Suid)
Brammah Valley Trek
Jammu and Kashmir's new trek discovery
While some of our treks in Jammu & Kashmir are very popular, only a few know that other treks in Jammu & Kashmir are equally exciting, yet the adventure is different.
The new Brammah Valley trek in the Kishtwar National Park blends the beauty of Kashmir with the kind of landscape we have not usually seen on treks.  
First, the Brammah Valley trek offers stunning views of the four prominent peaks of Kishtwar, all above 6,000 m. Getting so close to such big summits on a trek is rare. It's not just the summit; you see these big mountains from the base to the summit! To compare, at Gaumukh Tapovan, trekkers see the full height of Mt. Shivling and are in complete awe. They get to see around 2,500 metres of the mountain. On the Brammah Valley trek, you see almost 4,000 metres of the big mountains in one go! The impact is nearly two times as much. 
You also camp next to these mountains at Kiddar Maidan, the trek's unique river delta campsite. 
From the Kiddar Maidan campsite, on your left are the Eiger and Tarparan summits. On your right lies Mt. Brammah I, the second-highest peak in Jammu. Right next to it is the prominent Mt. Brammah Wife (surprisingly, that is the name!)
On this trek, you are trekking through the heart of the Kishtwar National Park. Kishtwar is known for its dense forest. You trek through the forests every day of your trek. The gradient of these forests is gently ascending with short steep sections, making it a very pleasant trek. 
These are primarily coniferous, with a heady scent wafting through the woods as you trek along. In between are maples, except for a small patch of beautiful silver birch trees just before Kiddar Maidan. The variety of coniferous trees you find on this trek is unmatched. There are Chir pines, Deodars, Abies pin-drow, and spruces. The trees are sometimes so tall that they almost touch the sky. 
What trekkers will love about these forests is how they are laid out. Every moment in the forest is mesmerising. Now and then, lovely clearings pop out of the forests. At other times, sunlight streams in through the trees in wonderful layers. 
At every turn, there are exciting views. It becomes like a game to see what new surprises the forests have in store for us. 
The Nath river accompanies you throughout the trek. Even while trekking in the deep forests, you constantly hear the river. The river starts to calm down as you trek deeper into the valley and becomes completely silent when you reach Kiddar Maidan. In the extensive grasslands of Kiddar Maidan, beside the silently gliding Nath river, is where we camp. If there were awards for the most beautiful campsites on our treks — this would be one of the top contenders.
Kishtwar is surrounded by high mountains, making it a natural fortress. The steep mountains provide a natural barrier to the outside world. This may be why Kistwar has always been so isolated from the rest of the country. 
The Kistwar valley is also known for its alpine meadows and high-altitude wetlands. Our Brammah Valley trek takes us through each of these wonders. 
Kishtwaris comprise most of the valley's population and are well-known for their distinctive culture, practises, and language. Unlike the rest of Kashmir, we see temples and mosques coexisting. A part of our trek falls on the trek to the Hudh Mata temple. 
Even the architecture of the houses is distinctive. On the trek, we pass through tiny villages hanging on hillsides. Yet, from their precarious perches, the homes display an architecture from a world we rarely see. 
In the Brammah valley, trekkers will find a new world of discovery waiting to be made. Trekkers must take advantage of the few spots we have available on the trek this year. 
Videos to Prepare for Brammah Valley
Watch these videos to prepare for your Brammah Valley trek.
Quick Itinerary
A route map of the Brammah Valley trek
Drive from Jammu to Suid Village via Kishtwar
Drive: 268 km  | Duration: 9-10 hours | Pick up point: Indira Chowk, Jammu
Transport will be organised at 5 am from Indira Chowk, Jammu. However the cost of travel has to be paid by the trekkers. It will cost Rs 10,000 for 6-7 seater vehicle.
Trek from Suid village to Gogut campsite
Trek distance: 9.1 km        | Duration: 7 hours     | Altitude: 5,600 ft to 7,890 ft
Trek from Gogut to Kaikut campsite
Trek distance: 8.2 km        | Duration: 6 hours     | Altitude: 7,890 ft to 9,577 ft
Trek from Kaikut campsite to Kiddar Maidan; Trek to the Brammah ridge and back
Trek distance: 6.1 km       | Duration: 3 hours      | Altitude: 9,577 ft to 10,960 ft; to 11,600 ft and back to 10,960 ft
 Trek from Kiddar Maidan to Hawal campsite
Trek distance: 10.1 km      | Duration: 6 hours     | Altitude: 10,960 ft to 8,745 ft
Trek from Hawal to Suid village
Trek distance: 13.3 km      | Duration: 7 hours    | Altitude: 8,745 ft to 5,600 ft
Drive from Suid to Jammu via Kishtwar
Drive Distance: 268 km                     | Duration: 9-10 hours
Please note: The distance between campsites may vary by 100 meters depending on weather conditions and your route. The altitude may also vary by 100 feet for similar reasons.
IMPORTANT POINTS
➤Documents required: It is mandatory for trekkers to carry a copy of their photo id along with the mandatory documents of the Medical Certificate and Disclaimer form. These documents will be part of the Safety Check-in done by the trek leader when you arrive at the base camp.
➤Stay facility: You will stay at Suid on Day 1 and Day 6. The rest of the days you will stay in tents. Do not bring any packaged food, tags from your new clothes or any waste with you. We follow a Dustbin Free Zone and No Wet Wipes Policy at our base camps in line with our spirit of Green Trails. On the trek, you will be staying 2 in a tent.
➤Cloakroom facility for excess luggage: We have a Cloak Room facility at the base camp for excess luggage. Do not leave behind any valuables in the cloakroom.
A route map of the Brammah Valley trek
PRO-TIPS
Onward Travel
You'll love the drive to Suid, especially Kishtwar onwards. It's a scenic drive along the Chenab river. You get to see the remote villages of Jammu including a hanging village!
Return Travel
The return journey takes you through the same places which you had taken during your Onward journey to reach Suid.
Why I Believe Everyone Must Trek: A Note from the Founder
Trekking transforms lives. It has completely changed my life. When I see my colleagues at Indiahikes, all of them have been significantly impacted. The transformations have been profound and irreversible. 
I see it in our trekkers too. I have seen them change professions, careers or start a new life. I have seen them get in and out of relationships and start new projects. These are life-changing experiences. 
I have seen children building resilience. I have seen families come together. When I see those above 55, I see them rediscover passion and a sense of purpose. These are not small gains.
In the mountains, new professions, economies and businesses have opened up. Our staff no longer go to cities to earn their living. Their income has increased. Above all, they are happiest working in this world. Trekking has been truly transformative.  
Everyone must trek. It transforms lives far more than you imagine. 
What I Like About the Brammah Valley Trek
What I Like About the Brammah Valley Trek
Brammah Valley is Best Discovered Through Photos
This picturesque wooden bridge is an entrance to the Suid village - basecamp of the Brammah Valley Trek.
Picture by: Nitesh Kumar
Entering the Suid village
Know Your Trek
We have always wanted trekkers to be well-informed before they go on a Himalayan trek. Knowledge is the difference between a safe trek and a dangerous one. It's also the difference between a wholesome experience and a superficial experience.
Use this section to learn about the Brammah Valley Trek. It has in-depth information about each trekking day, what to expect, and how you need to prepare for it. Many years of expertise have gone into this content. Trekkers find that extremely useful.
We recommend jogging as the best routine to get fit for a trek. It works on the same muscles that you use while trekking — your calves, glutes and hamstrings. It helps increase your stamina day by day. It is also an easy routine that does not require any equipment or tools.
Fitness target: 
To do this trek comfortably, you must be able to cover 5 km in under 35 minutes. This is the minimum fitness required for this trek.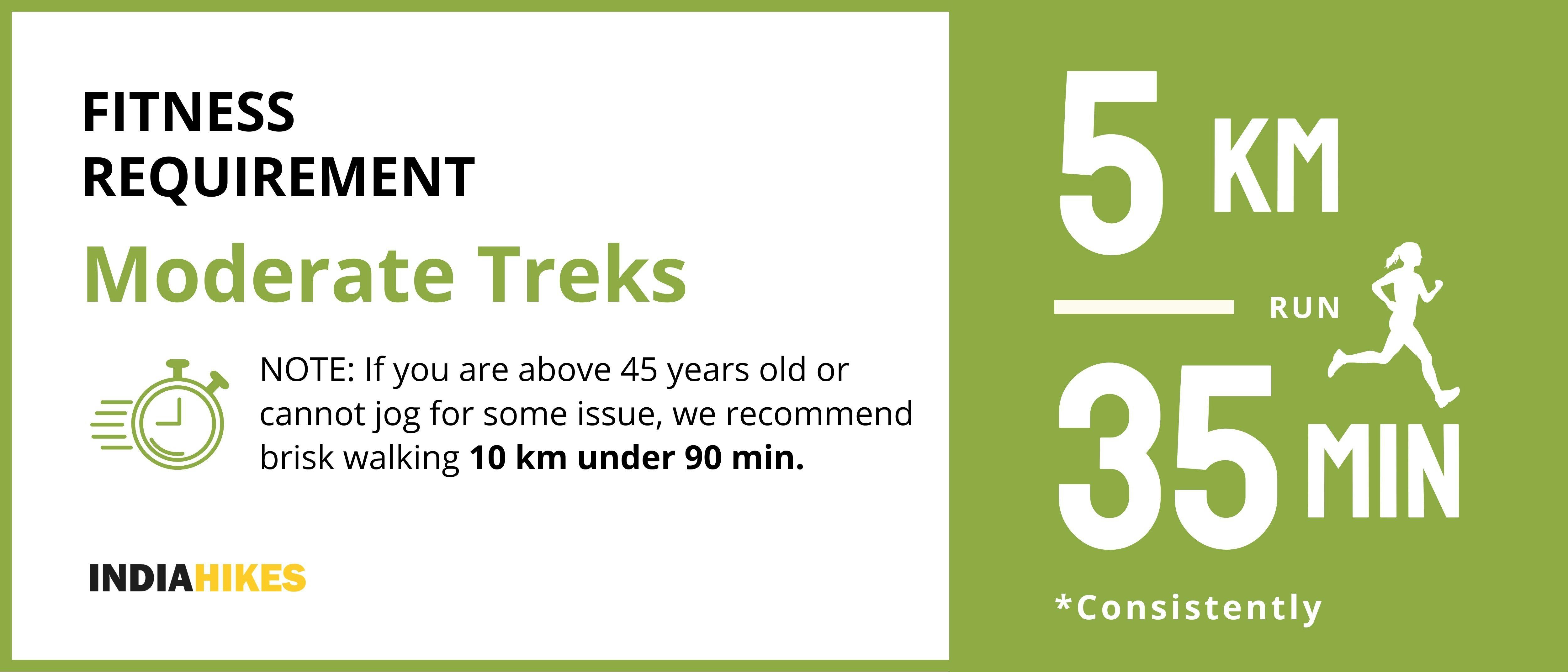 How to achieve this fitness? 
Start jogging at least 4 days a week 
If you cannot run 5 km immediately, start with 2 km and increase to 5 km over 2-3 weeks.
Once you're able to run 5 km, increase your pace day by day. 
Gradually increase your pace and bring it down to 5 km in less than 35 mins.
You must be able to run 5 km in 35 mins consistently for at least 2 weeks before the trek. 
This trek requires at least 6-8 weeks of preparation. The longer, the better. So plan your trek soon and start preparing. 
Here's a complete guide to get you trek fit.
Strength training tips:
How to get Fitness Approval from the Indiahikes team:
Every trekker needs fitness approval from the Indiahikes team 20 days before the trek date. Without this, you will not be allowed on the trek. 
What to upload? 
A minimum of 3 screenshots of your runs/jogs/walks/cycling 
Monthly summary of your routine
Why fitness matters: 
Every high-altitude trek comes with a set of challenges. Steep ascents and descents, uneven terrain, snow walks, stream crossings, pass crossings, and summit climb. Even the easiest of treks have some of these challenges if not all of them. Without fitness, trekkers struggle, get injured easily, lag behind, or simply fail to complete the trek. 
At Indiahikes, we take pride in the fact that our trekkers are among the fittest in the country. Those who do not meet the fitness requirements are often sent back. Our philosophy is that trekking and fitness go hand in hand. Without fitness, there's no trekking.
Other Treks Like the Brammah Valley Trek
Moderate-Difficult | Level 2
Bodpathri Lakes Trek
The new discovery that could be one of the greatest treks in Kashmir
Moderate - Difficult | Level 1
Nafran Valley
The New Classic Trek In Kashmir
Gurez Valley Trek
An unusually spectacular trek in the northernmost part of Kashmir
Sign up for our much loved Weekly Mailer
We have terrific trekking tips, trek updates and trek talks to look forward to