How We Clean And Maintain Our Rental Shoes At Indiahikes
Share this story
How We Clean And Maintain Our Rental Shoes At Indiahikes
Category Shoes Gear Related Tips
By Tamanna Tamang
2019-08-17
Early in 2019, Indiahikes started renting trekking gear. We started this to bring down the cost of trekking. We wanted trekkers to have a good experience with high quality gear, without burning a hole in their pockets.
But we notice that there's a certain stigma attached to renting any gear. Trekkers have a lot of questions about trekking gear.
Is it hygienic? 
Has it been cleaned after the last trekker used it? 
Is it still good enough for a Himalayan trek after it has been used so many times? 
We have put this post together to share with you the process we follow to keep our trekking shoes clean. 
Here's how we clean the shoes
After every use, we follow a six-step cleaning regimen for our rental shoes. Our slope managers at every slope make sure that each pair is clean and hygienic before it is handed over to the next trekker.
Naman, our slope manager from Dehradun, explains the process they follow to clean the shoes.
1. Remove loose mud and dust
The first step in cleaning the shoes is scraping the mud off the surface. First, we bang the soles of the shoes against each other to get rid of loose mud and dust. Whatever is left is scraped off thoroughly with a brush.
Since most shoes get caked with mud and dirt while walking through trails, especially the soles, we take ample time to completely scrape off the mud before the next step.

2. Wash insole
The next step is to remove the insole and clean it with soapy water and a brush. It is kept separately.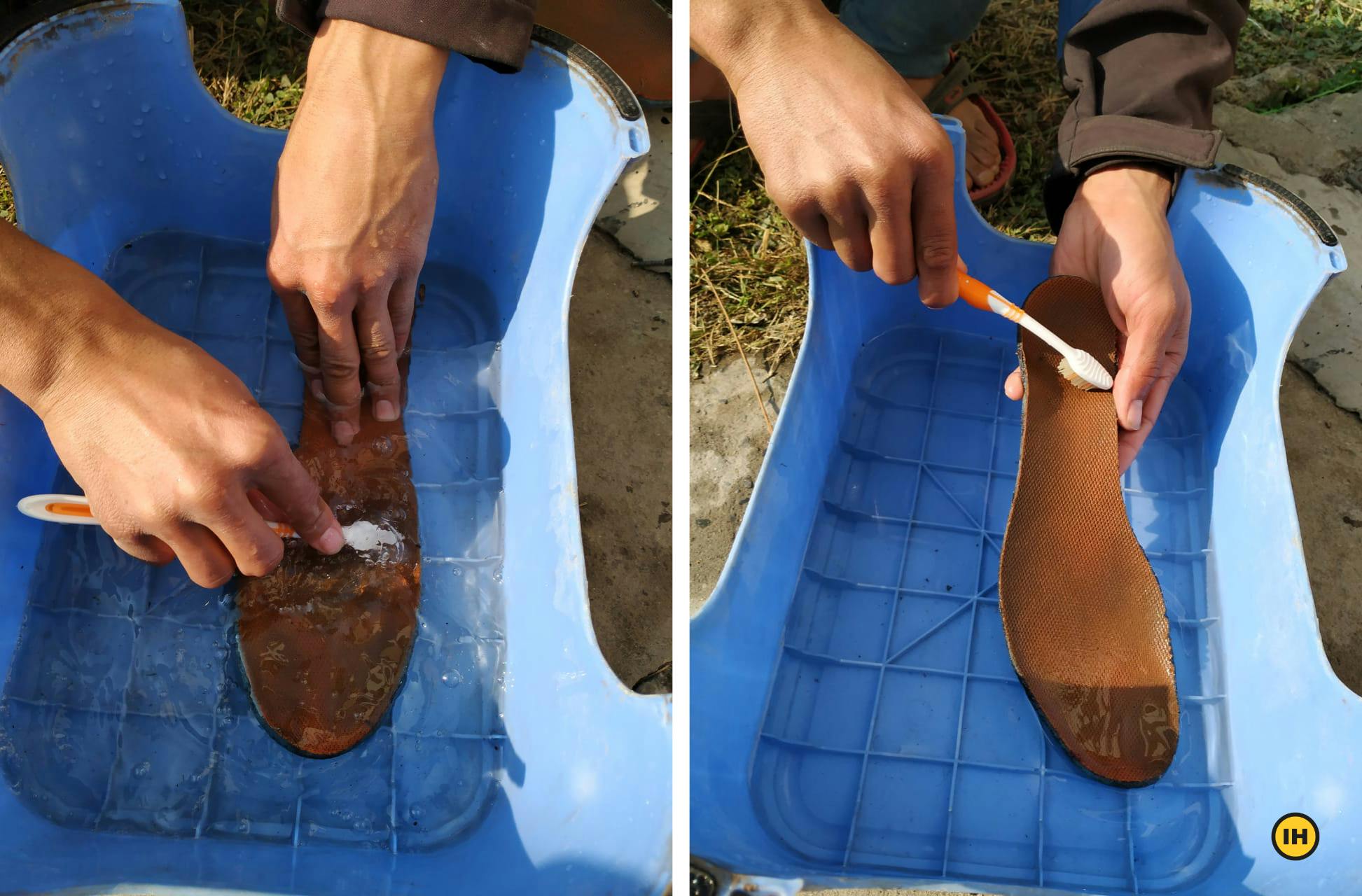 3. Washing the sole
The shoe is then immersed in a soapy water, only up to the sole. This loosens the mud and dirt on the edge of the shoes, making it easier to clean. Once it's wet, a brush and soapy water is used to clean the dirt from under and the edges of the sole.
The entire shoe is not immersed because exposure to water degrades its waterproofing coat. It also lowers the flexes.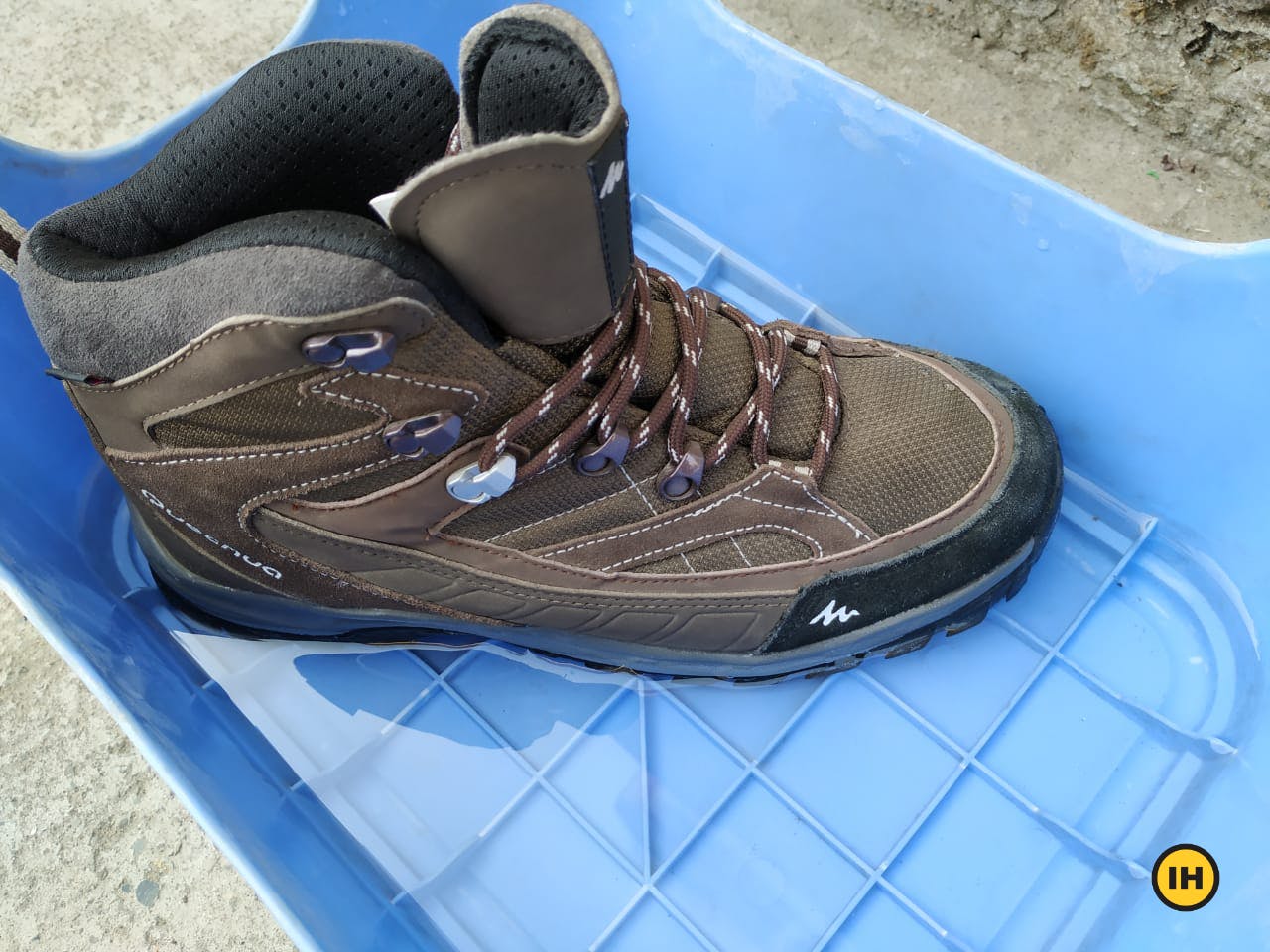 4. Cleaning the laces and flaps
After this, the remaining parts of the shoe are checked and cleaned meticulously – the lace and tongue. These are cleaned with a dry brush.
5. Drying at room temperature
Once all parts of the shoe are completely cleaned, it has to be dried thoroughly. The shoes and insoles are dried separately at room temperature. We avoid drying in direct heat or sunlight as this can cause cracks, or damage the water proofing and lead to discoloration.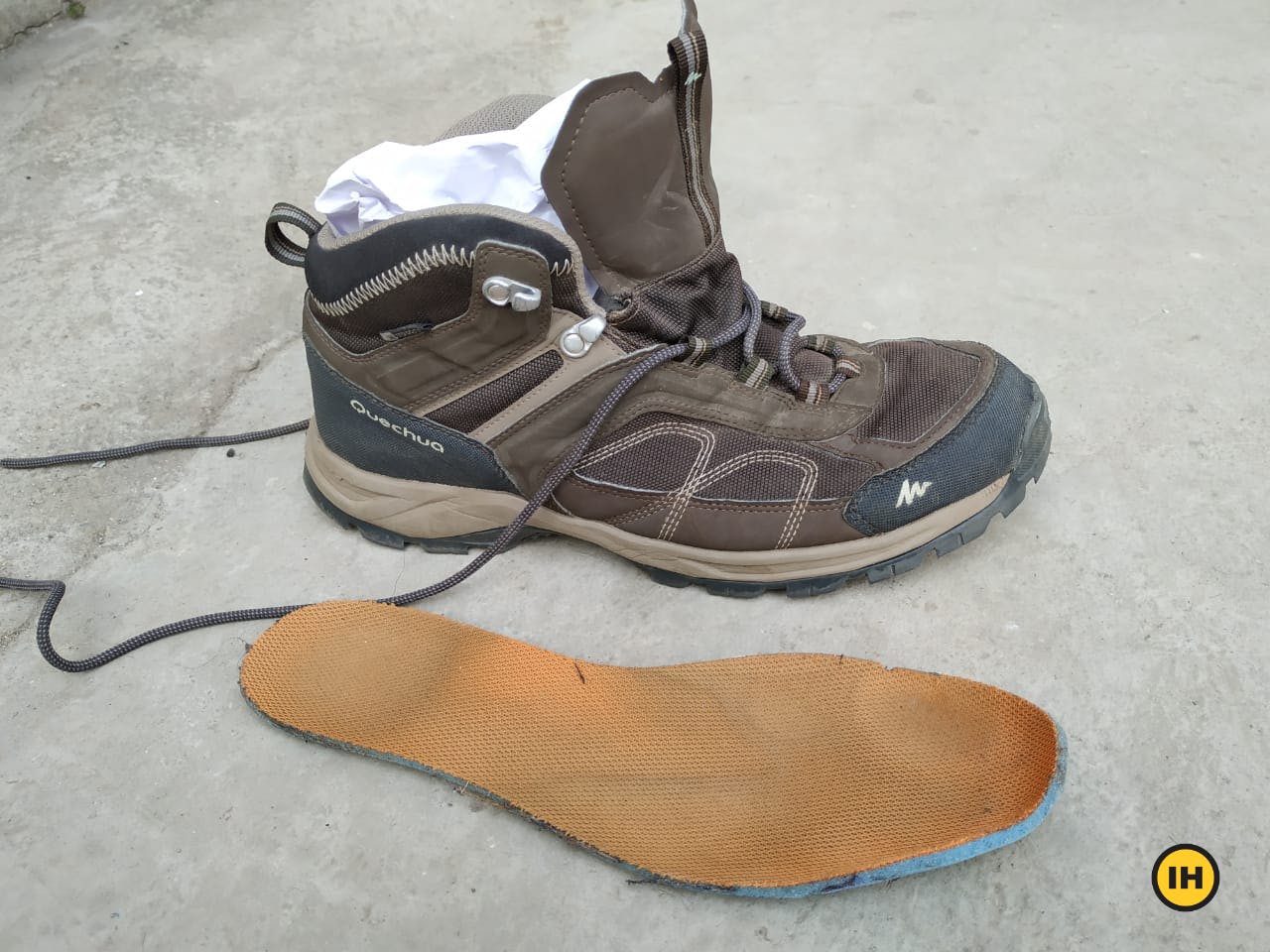 6. Sprinkling powder
Once they are perfectly dry, we sprinkle antifungal powder and anti-odour powder on the insoles before inserting it back into the shoe. After this, newspaper is stuffed inside the shoes. The shoes are stored in a dry and well ventilated area away from direct sunlight.
We take adequate care to clean the shoes after every use so that you can have a clean, odourless and comfortable wear.
Before renting a pair, we also do a quality check – intact soles, strong stitches, intact lugs for grip, general wear and tear.  We do not rent shoes which do not pass the quality test.
Why we began gear rental
We believe that trekking is a simple sport. You just need two legs. We think you should not spend a lot of money on trekking gear. Especially if you are not a regular trekker.
While we don't want you to compromise on good gear, we don't want you to burn a hole in your pocket ether.
"A majority of our trekkers are one-time trekkers. Which means they trek only once a year. A good pair of trekking shoes costs between Rs.3,000 – Rs. 3,500. So, for someone who is going to use these shoes just one time, spending such a huge amount is futile. You can rent a pair for Rs. 690 for a seven-day trek," he says.
That's really affordable for shoes that are as good as new!
What are the pros of renting gear
Renting shoes has many other advantages too, besides being cost effective.
From January till July 2019, Indiahikes has rented out 1,487 pairs of shoes from different slopes. We notice that a rising number of trekkers choose to rent shoes rather than buying new ones.
These are the common reasons why trekkers say they prefer to rent shoes.
Renting is a way of sustainable living. You are consuming less by not buying new products. You are making a positive impact on the environment.
You collect the rented items at the basecamp. This means, you wouldn't have to carry space-consuming gear from your home. You can travel light. This is a comfort while travelling long distances.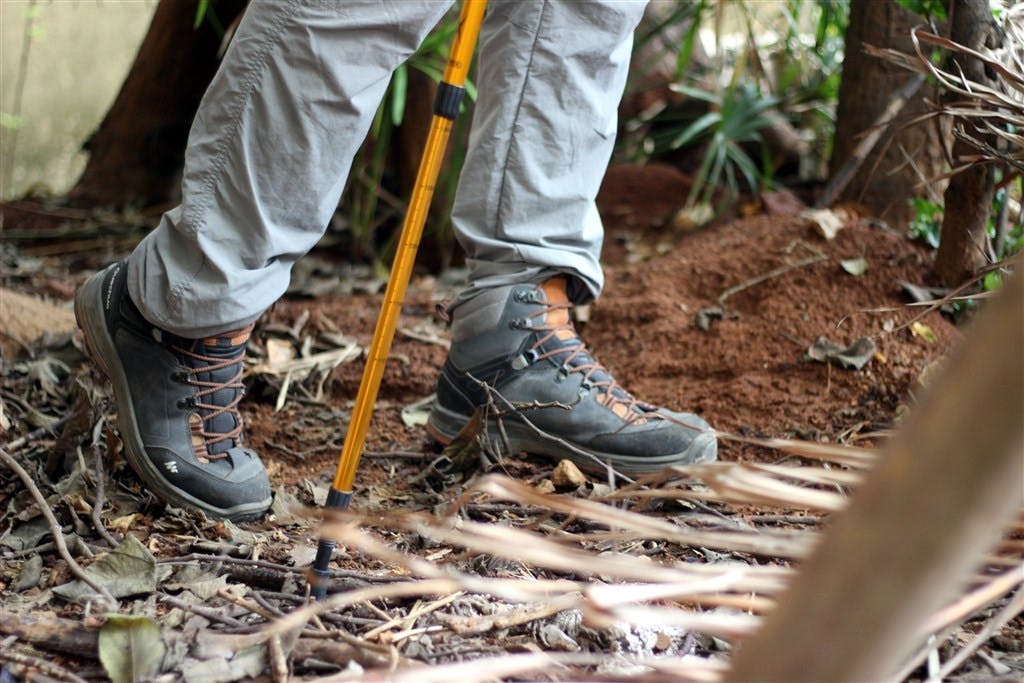 Don't I need to break into the shoes before I use them?
Many trekkers as us whether it is advisable to get trekking shoes at the basecamp and directly begin trekking, without breaking into them. This is a common misunderstanding about the concept of "breaking in".
Our founder Arjun explains, "'Breaking into shoes' simple means that with regular use, the shoes are not stiff and inflexible, as they usually are when they are brand new. It has nothing to do with the compatibility between your feet and the shoes. If you are renting our shoes, they have already been used before – so they are already broken into."
Just remember to choose the right size to have a comfortable trek!
How you can rent our shoes
If you are planning a trek and want to rent shoes, you can rent shoes and other gear from our rental website.
You can also book trekking shoes from the Indiahikes dashboard by clicking on the buy/rent icon next to your trek. This will lead to our store page.
Click on the rent gear icon to see all the products that we have available for your trek.
Select the size of your shoes and proceed to check out.
Note:
We recommend you place your order online for guaranteed rentals. Direct rentals at basecamp are subject to availability.
Online rental bookings close 3 days prior to trek date.
At basecamp, you have to pay a refundable security deposit. Which you will have to pay your trek leader at the start of the trek. Please make sure you carry enough cash for your trek.
Though it's an individual choice to spend money, renting shoes is a smart move.
If you have any further questions about renting gear, drop in a comment below!
Sign up for our much loved Weekly Mailer
We have terrific trekking tips, trek updates and trek talks to look forward to