Can You Help Us With Photographs Of This Trek?
We are looking to enrich this documentation with more photos. Pictures go a long way in explaining the trail, more than words ever can. If you have done this trek, can you share your photos with us? We will include them on this page, with due credit to you. Click here to contribute.
The Complete Guide to Halu Chilume Gange Trek
Halu Chilume Gange Trek, or the Thorn Trek as we call it at Indiahikes, is an adventurous trail located in Doddaballapur, just 60 kilometres outside Bangalore.
Thick vegetation fills the trail which diffuses the scent of lemongrass post monsoon and the lush greenery turns golden during winters and summers.
At the clearings which offer panoramic views of the farms and nearby villages, one can spot another hill trek Doddaballapur is famous for, the Makalidurga Hill.
The trail is frequented by nearby locals as there is a small temple made of rocks and the idol is also carved out on a rock.
It is believed that your wishes come true once you pray at the temple and therefore this belief draws people from the nearby villages, especially women.
A special Pooja happens every Monday here. An interesting fact is that the temple priest comes from the village of Ujjani everyday. This is about 3.5 kilometres from the base of the trek.
This trail brings out the explorer in you because of the vast unexplored landscape, which makes it a perfect weekend getaway for anyone looking to have an adventurous trek.
Table of Contents:
What To Watch Out For
Forest-like geography of the place
The entire hill is surrounded with thick vegetation, overgrown bushes and trees. This gives a sense of trekking in a forest. This is quite unlikely for a trek near Bangalore.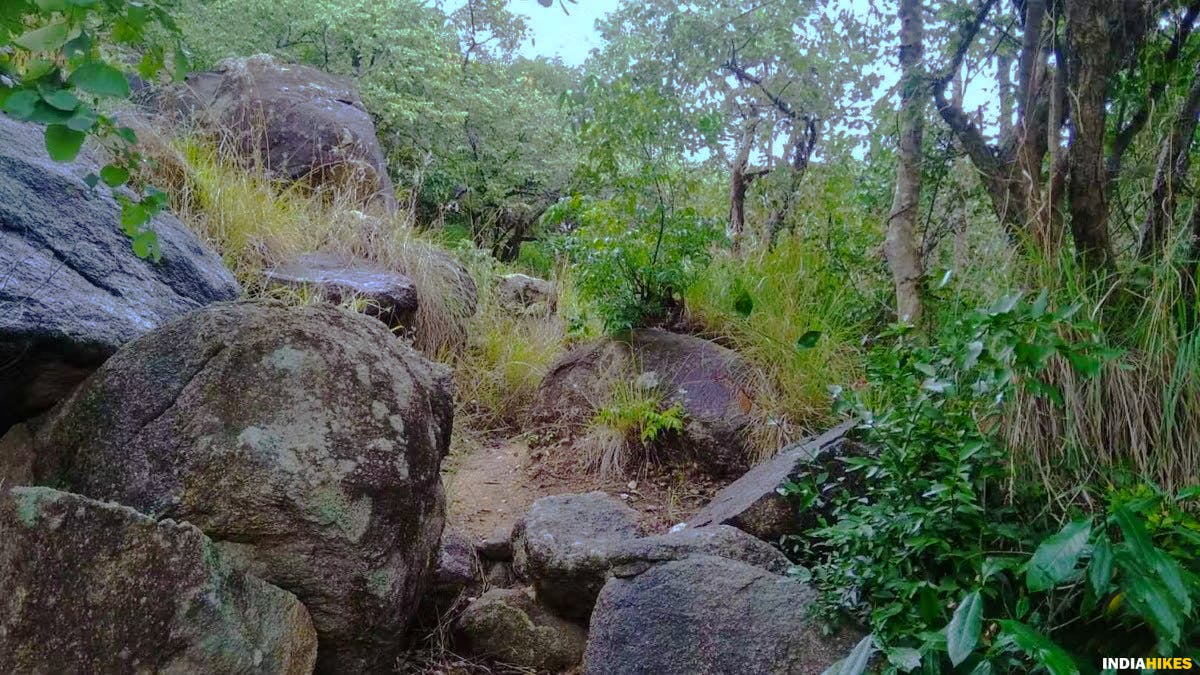 The trek is a mix of forests, well-marked trail and boulders till the temple. Picture by Suhas Saya
Interesting placement of Bells, which are attached to rocks around the temple
It remains a mystery as to why the bells are attached to rocks in bunches all around the place of worship. This is a highlight that you won't get to see on any other trek in this region.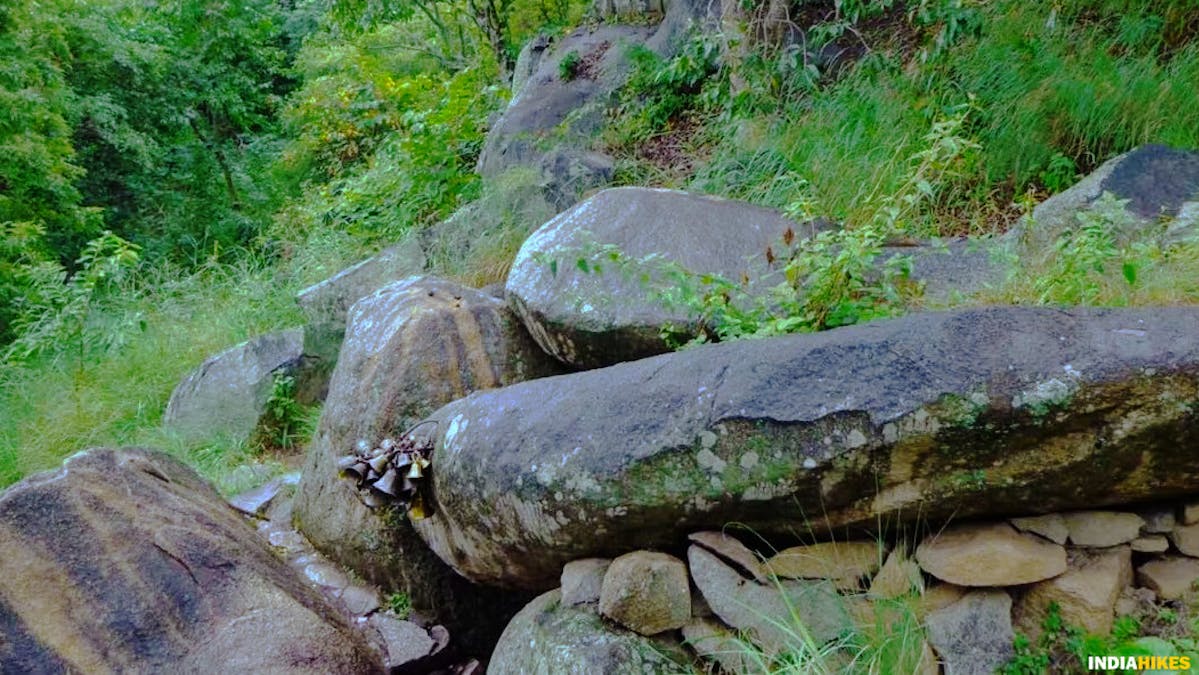 Bells are attached to rocks and boulders all around the temple. Picture by Suhas Saya
Stunning views of Doddaballapur forests, surrounding villages and Gundamagere lake
Just like the Makalidurga trek, Gundamagere lake is visible from Halu Chilume Gange as well. You can also see the Makalidurga hill from the view point at the top.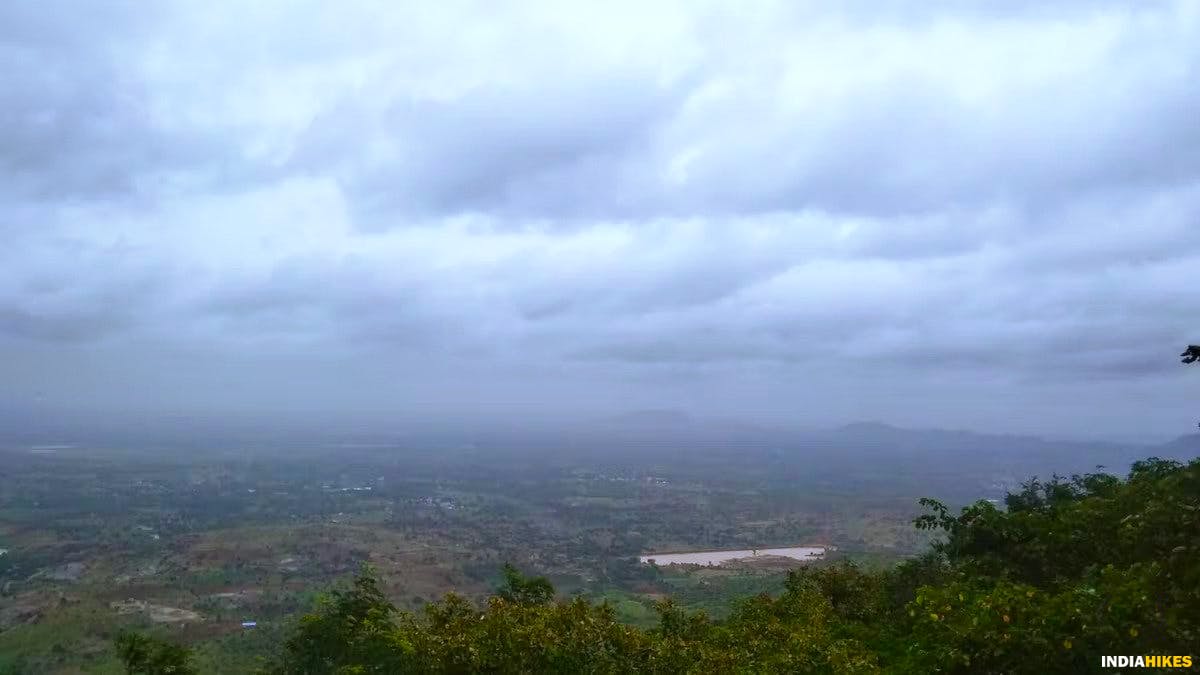 Lush green panoramic views of the forests and villages. You can spot Gundamagere lake too. Picture by Suhas Saya
Trail Information
Halu Chilume Gange Trek starts on a dirt trail until you reach the base. From the base, the correct trail is very well marked up till the Gange temple.
The tricky part is finding that correct trail to the temple from the base. There are multiple trails which lead up the hill, but not all trails lead you to the temple. (The documentation team explored the trail thrice before finding the mail trail to the temple).
Another tricky section is after the temple where you have to make your own trail through thick jungle and hop boulders to reach the top.
| Note: Documentation and Route Map is updated only till the section our Documentation Team Head, Suhas Saya was able to make his way through.
Halu Chilume Gange trek can be further explored all the way till the top. We recommend carrying necessary equipment.  
The trail can be divided into three sections: 
The route till the base is a flat and easy walk on a dirt track. It can become slushy in monsoons.
From the base, you start the ascent on a well-marked trail till the temple. The ascent is gentle to moderate.
The trail from the temple starts with way markers on the boulders, but soon the markings fade away and you have to make your way till the View Point through steep ascent, boulders and thick jungle.
Trek Distance: 1.8 Kilometres
Trek Duration: 30 minutes
GPS Coordinates of Mallasandra Road: 13°25'33.85″N 77°26'7.69″E
GPS Coordinates of Starting Point: 13°25'33.9″N 77°26'07.7″E
Follow the dirt trail on your left from Mallasandra Road for approximately 2 kilometres. You may easily miss this trail, therefore keep an eye out for the electricity pole with a small board hanging from it, which says "Way To Halu Chilume Gangamma Temple" in Kannada. (Note: This board has been removed in 2022 and you might not find it hanging)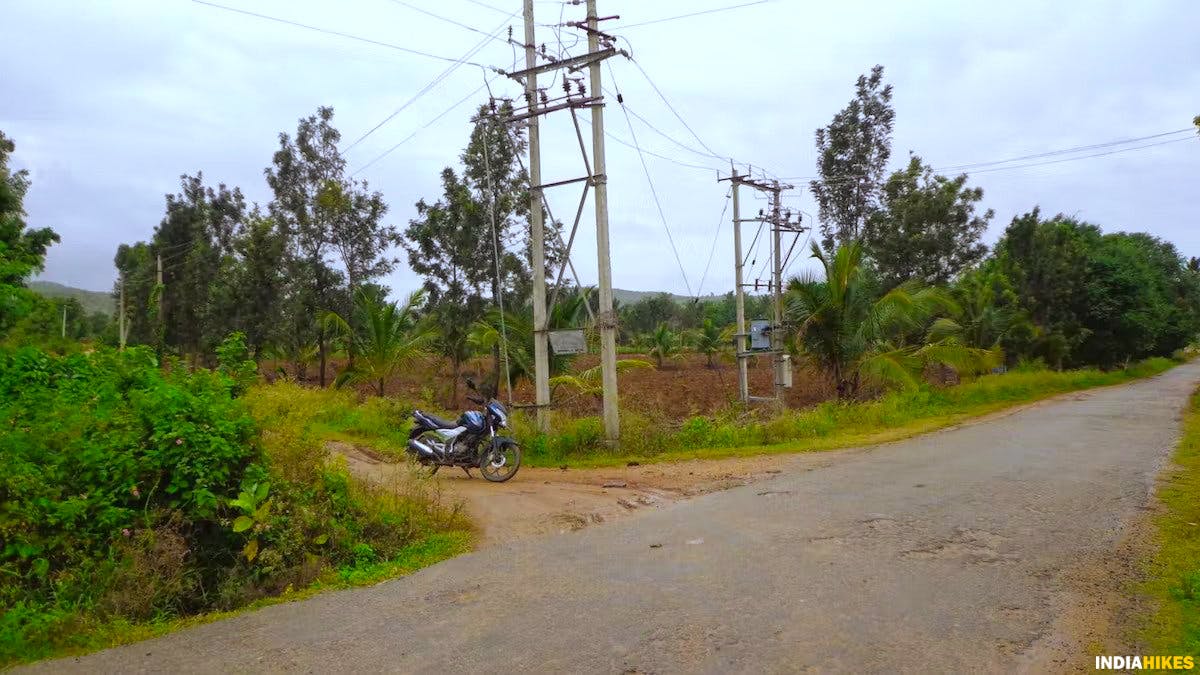 Take the left from Mallasandra Road at this junction. Picture by Suhas Saya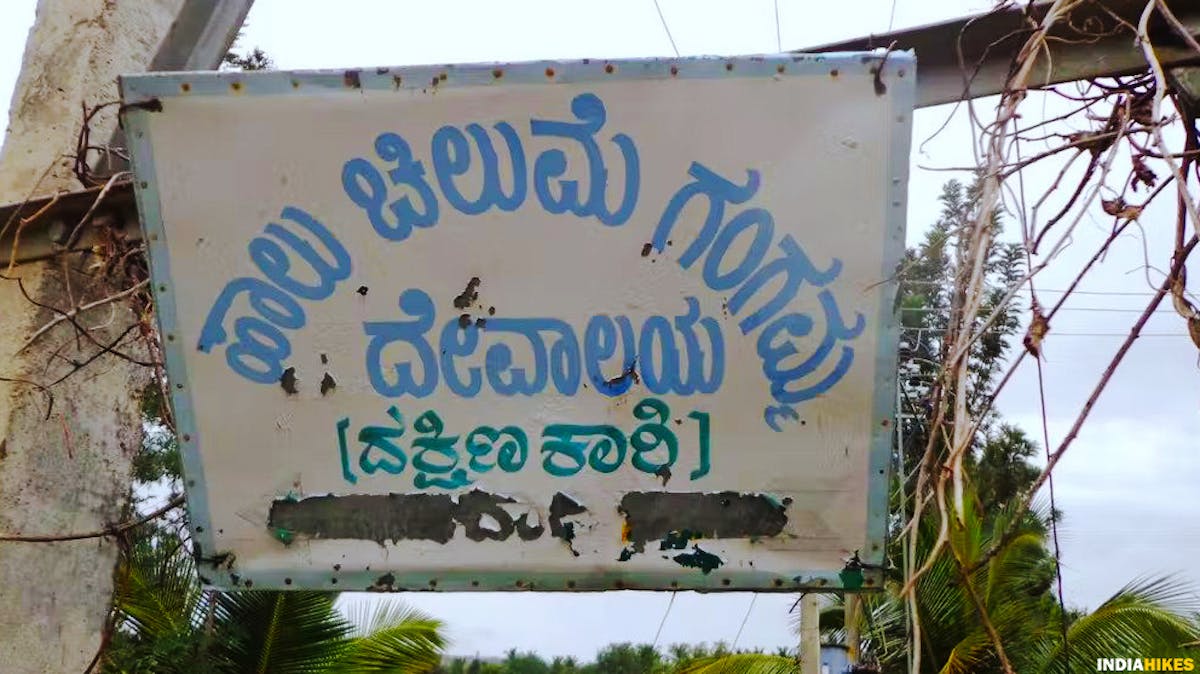 There was a board that acted as a way marker to take the left turn until 2021. Recently in 2022, this has been removed. Picture by Suhas Saya
The trail winds through pretty farms and grasslands. You see Coconut trees, paddy fields and grape vines which are common in the region where you are trekking.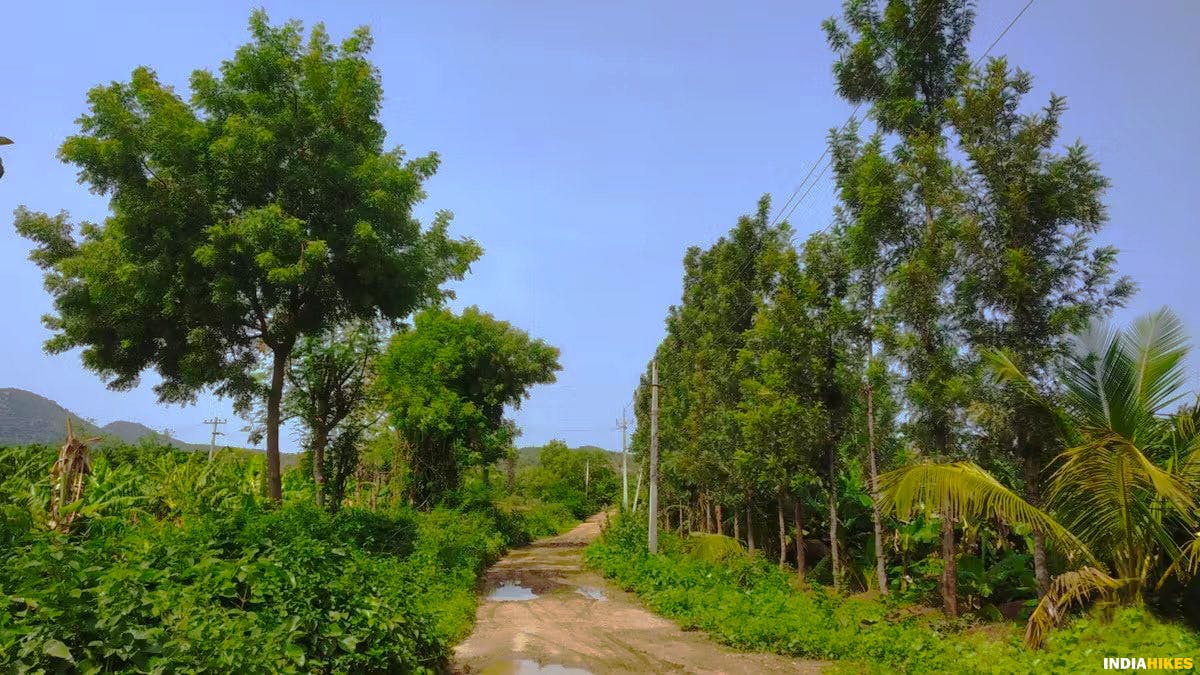 The trail is lined up with Plantain farms on both the sides. Picture by Saurabh Sawant
Keep walking on the trail until you see the hill on your left. You will see a deviation on your left. At this junction, turn left and follow the trail through farms.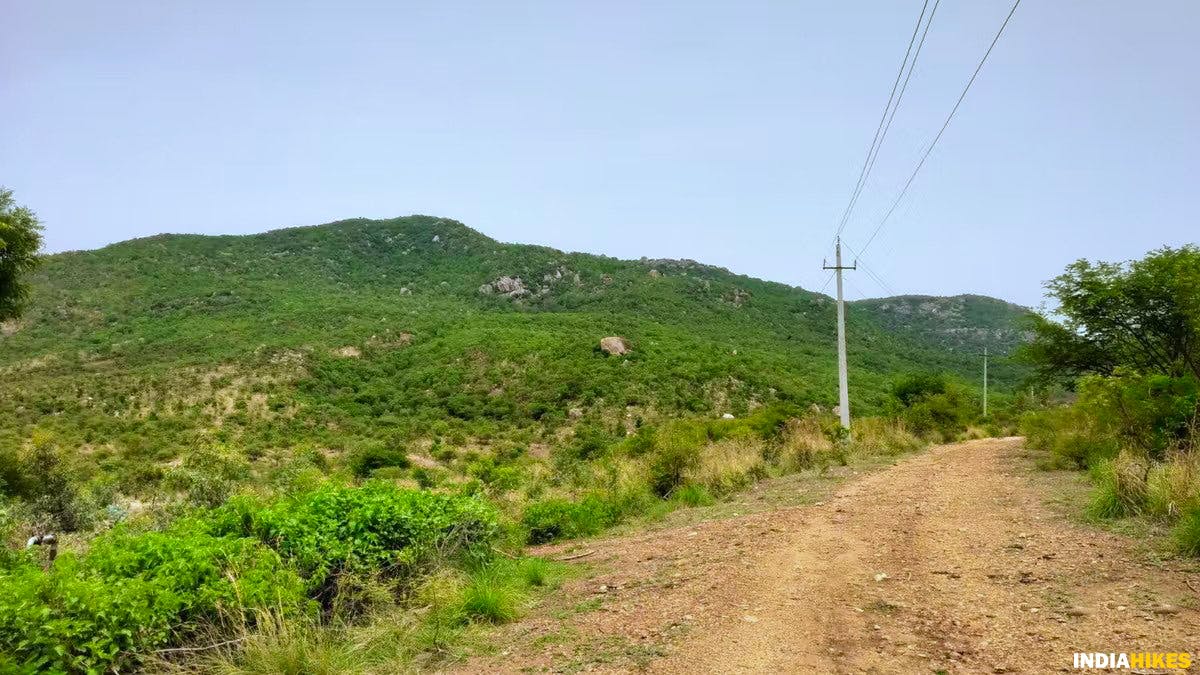 Turn left at the sight of the hill on your left. Picture by Saurabh Sawant
After a few minutes you will see a small stream flowing between rocks. This is evident during monsoons. Hop over these rocks. Be careful not to sprain your ankle or slip in the stream while rock hopping.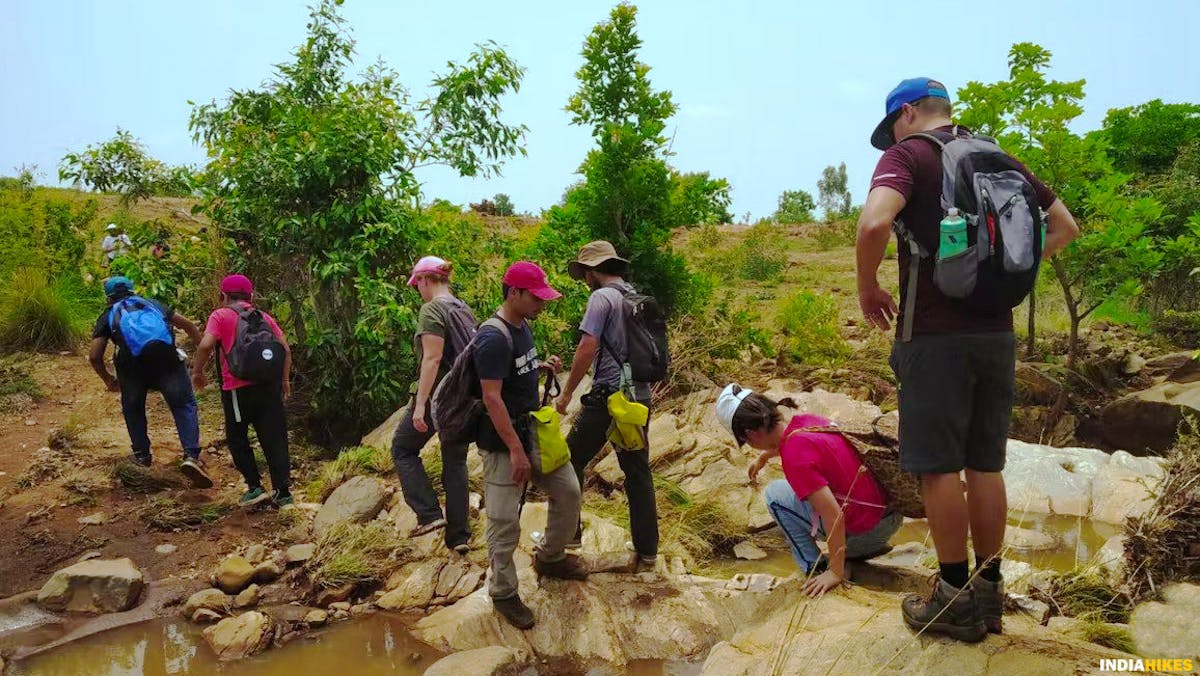 Trekkers cautiously cross a small stream. Picture by Saurabh Sawant
Follow the trail till the base of the hill.
Sometimes, the trail might become too slushy and walking on it becomes impossible. In such cases, look for alternate routes which cut through farms, by keeping the hill in front of you.
One of the alternate routes involves climbing on a mound of mud to reach a farm and trace the route to the base.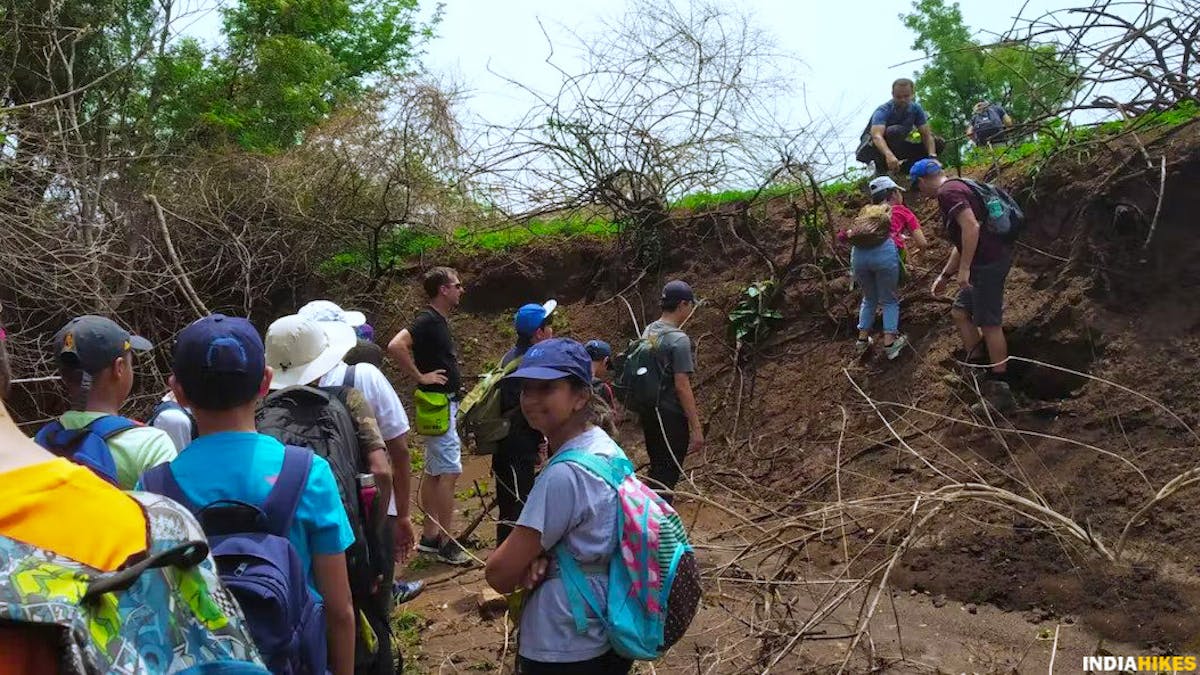 Trekkers find an alternate route to reach the base. Picture by Saurabh Sawant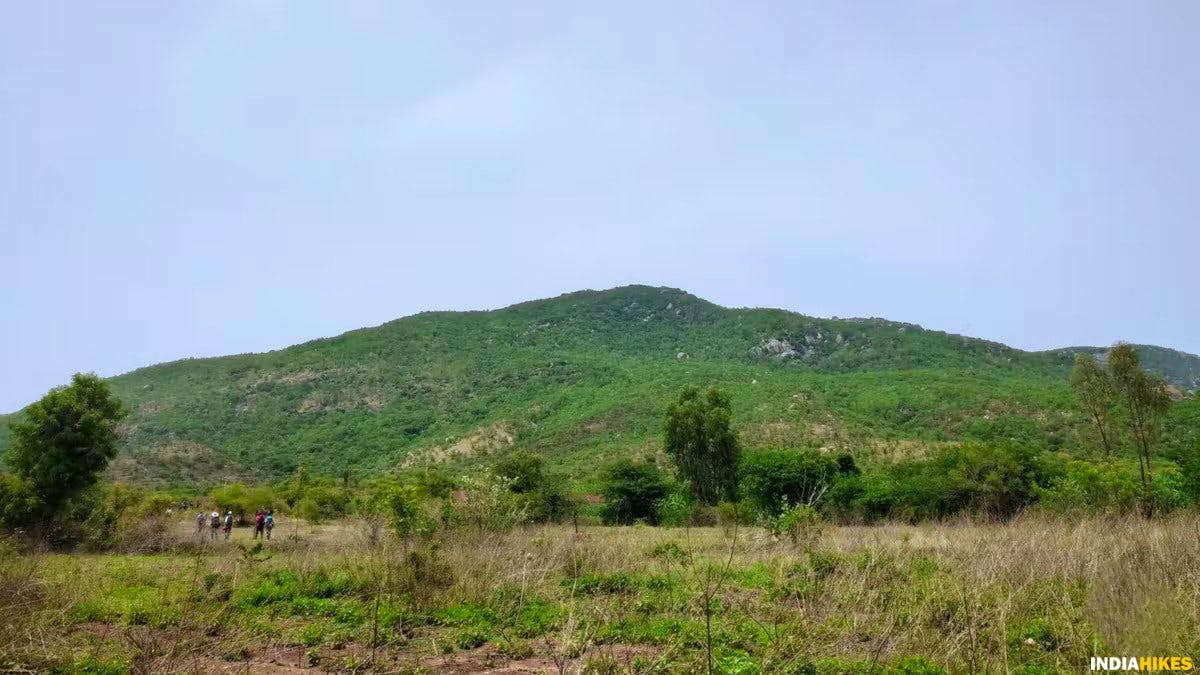 With the hill in your sight, make your way towards the hill to reach the base. Picture by Saurabh Sawant
After a bit of searching around and going through alternate trails you have reached the base of the trek at the foothills, with a prominent trail leading to the temple in your sight.
| Tip: Use the GPX (KML) File included here to spot the base easily without losing your way.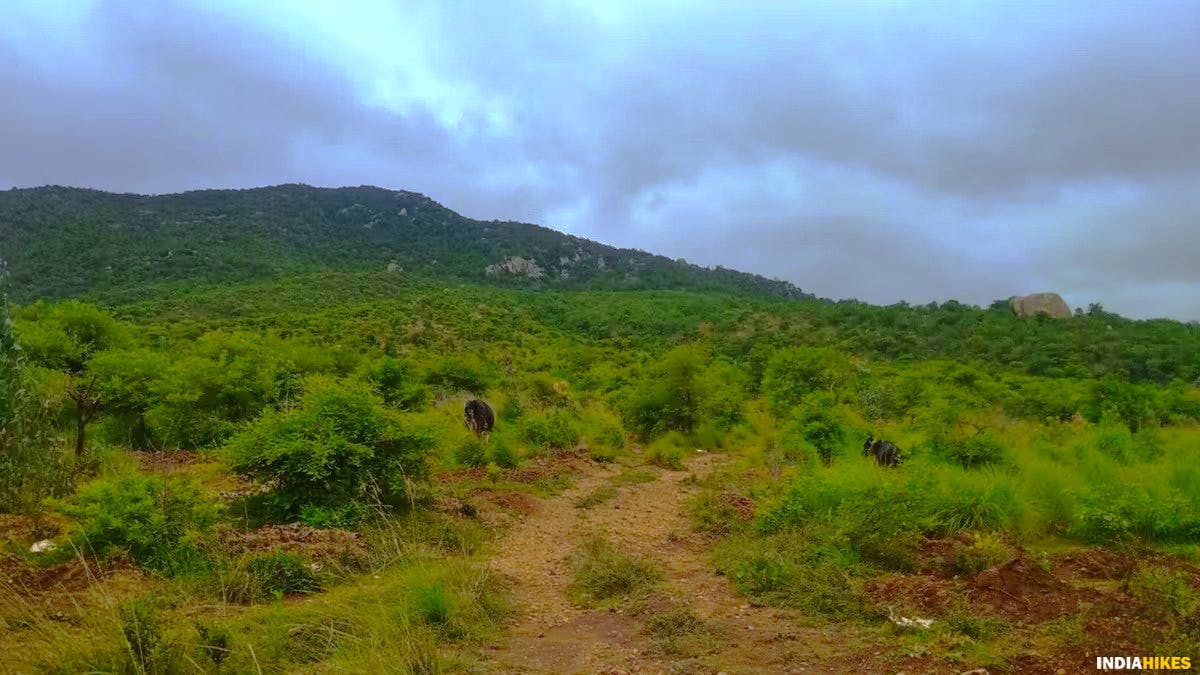 Base of the trek. Finding this can be really tricky. Picture by Suhas Saya
Trek Distance: 1.05 Kilometres
Trek Duration: 30 minutes
GPS Coordinates of Starting Point: 13°25'33.9″N 77°26'07.7″E
GPS Coordinates of Halu Chilume Gange Temple: 13°24'21.09″N  77°26'21.63″E
From the base, continue on the well marked trail. The ascent is moderately steep in the beginning and gets steeper as you approach the temple.
The trail gives a feeling of trekking through a forest. The views get extremely pretty from this point.
You will spot a variety of flora, insects and creatures of different kinds. Do not forget to keep and eye out. If you are lucky, you might even spot a few snakes too!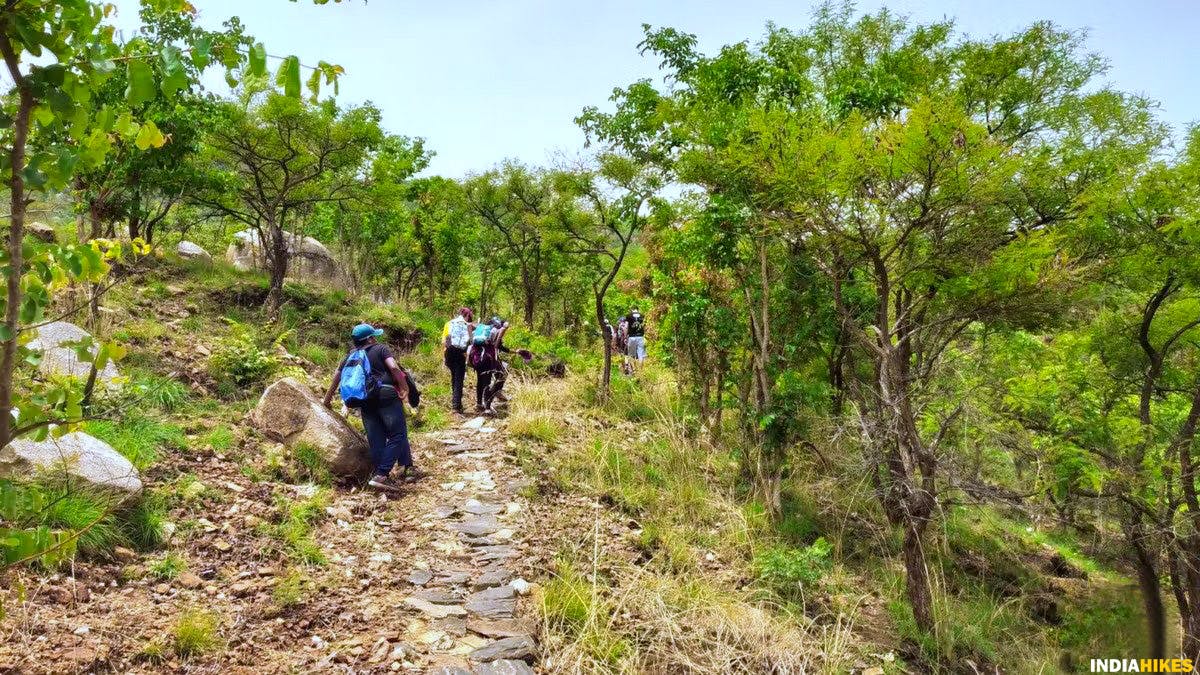 The prominent trail till the temple. Picture by Saurabh Sawant
In about 20 minutes, you will spot an abandoned stone shelter on your right.
In the olden days, devotees took part in rituals at the temple which lasted multiple days. They used this place to rest overnight.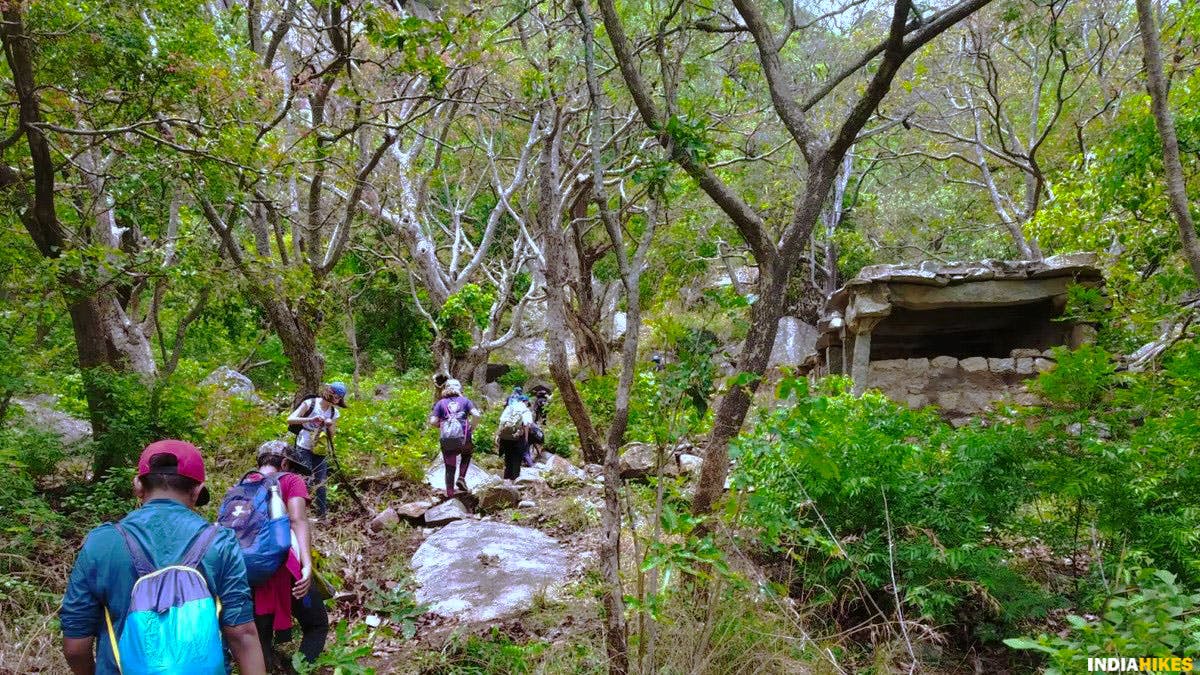 Abandoned stone shelter amidst thick forest. Picture by Saurabh Sawant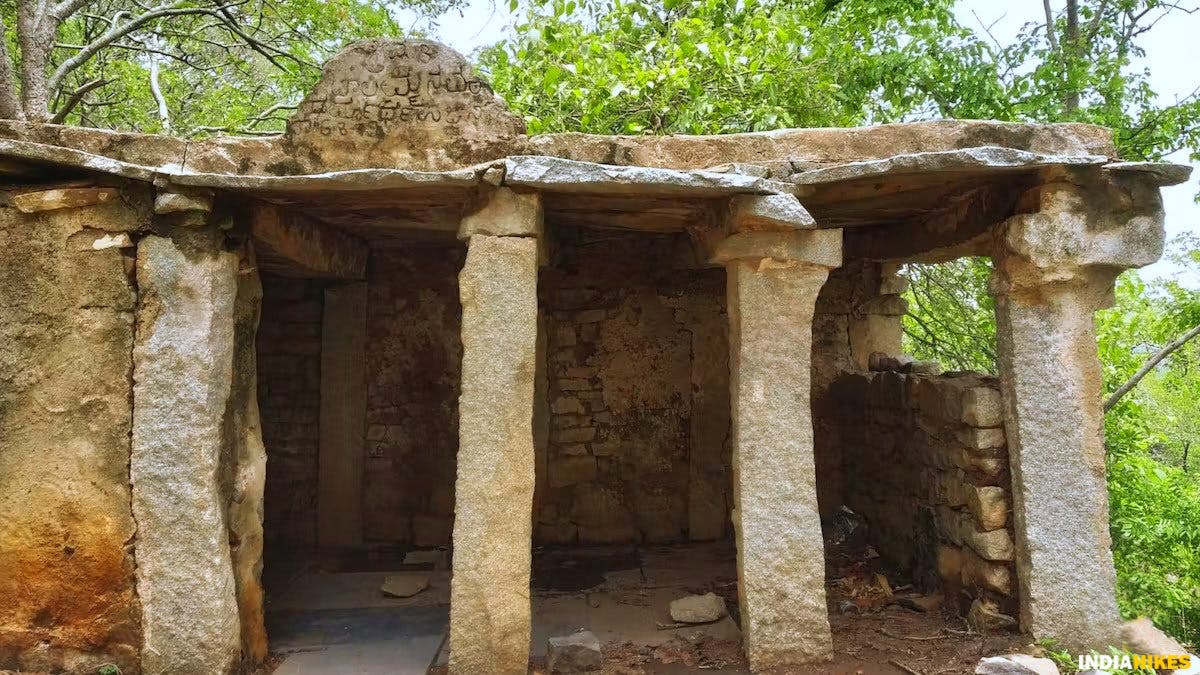 Stone shelter, now in ruins. Picture by Saurabh Sawant
Closer to the temple, you will also find grater blades made out of iron and fixed to the rocks.
The devotees prepare a feast for their wishes to get fulfilled and make an offering to Halu Chilume Gange, the deity the locals believe in.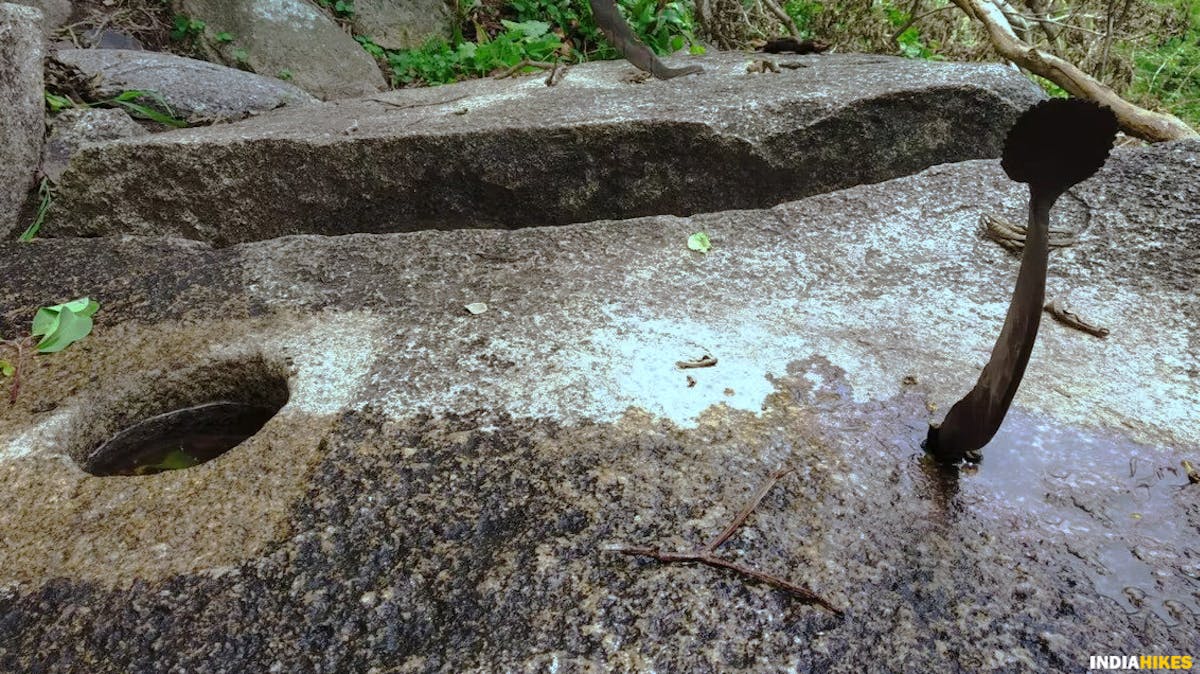 Stone grater fixed to rocks. Picture by Saurabh Sawant
Continue for about 100 metres to reach Halu Chilume Gange temple.
It is a unique temple with bells hanging from a rock and a stone idol at the base of the rock.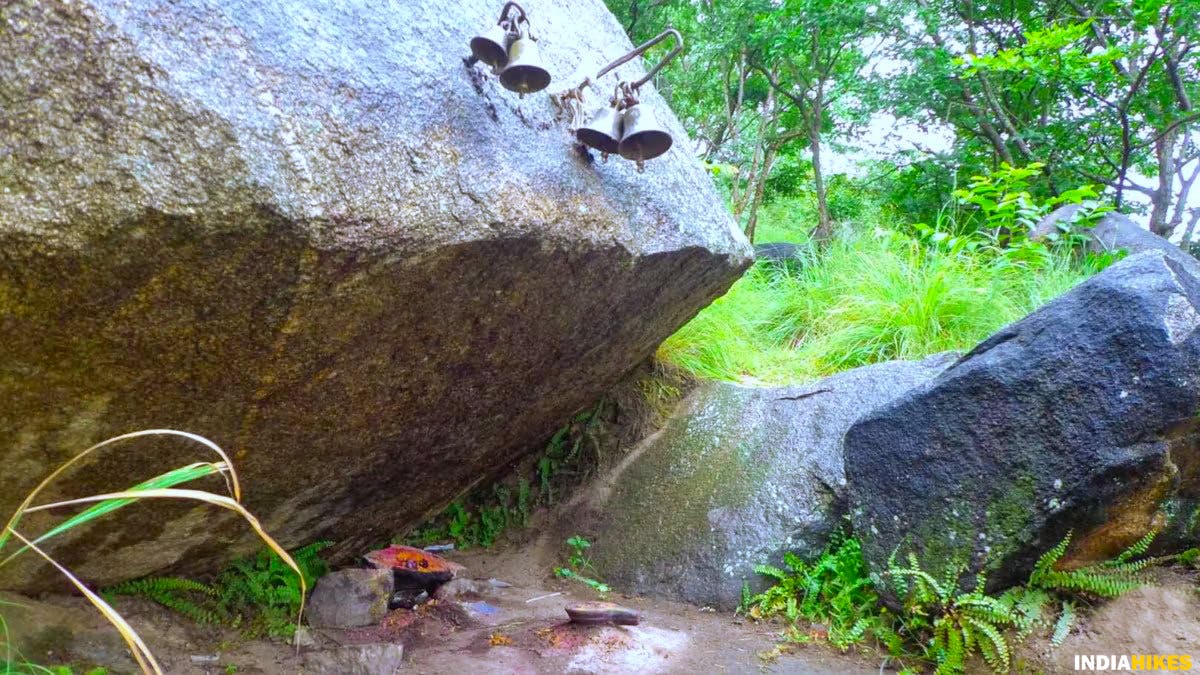 Uniqueness of Halu Chilume Gange Temple. Picture by Suhas Saya
Trek Distance: 500 Metres
Trek Duration: 20 minutes
GPS Coordinates of Halu Chilume Gange Temple: 13°24'21.09″N 77°26'21.63″E
GPS Coordinates of View Point: 13°24'14.09″N 77°26'30.63″E
From this point, the trail which was very clear begins to fade.
After a few boulders with way markers on them, the trail vanishes under thick vegetation and you traverse in a dense jungle.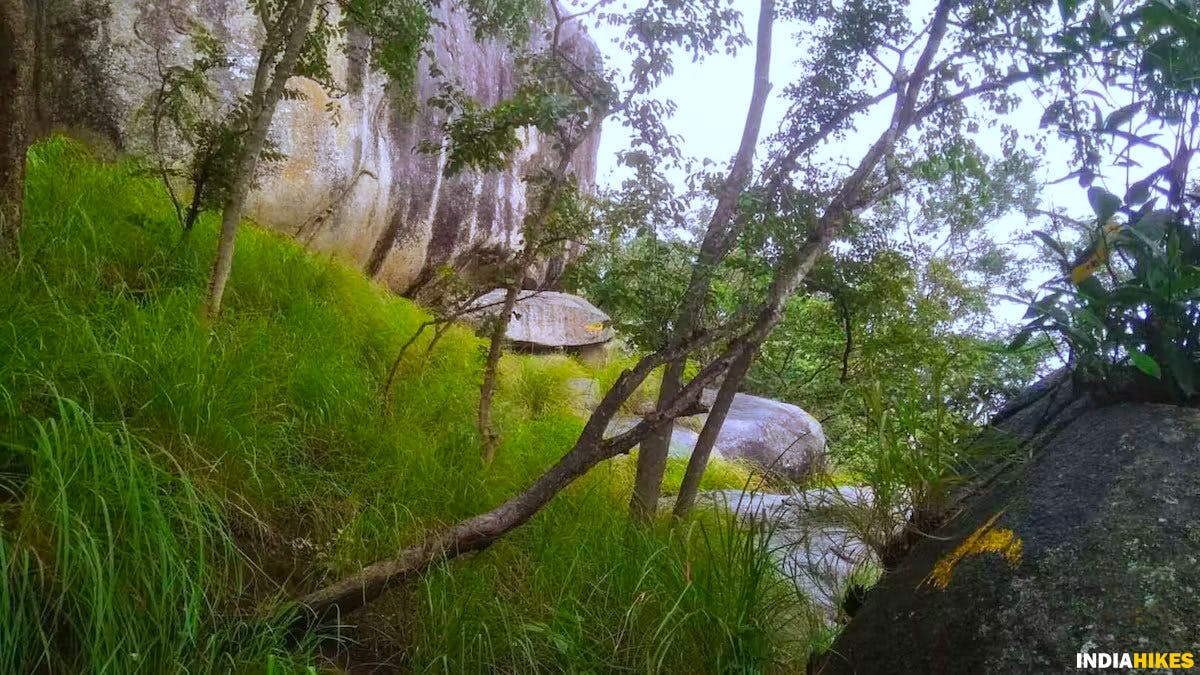 Way markers painted in yellow on the rocks. Picture by Suhas Saya
While you are busy making your way to the View Point, do not forget to look back and enjoy the panoramic view of the surroundings.
Continue to make your way through the jungle until you find a clear opening to the views behind you. This is the View Point.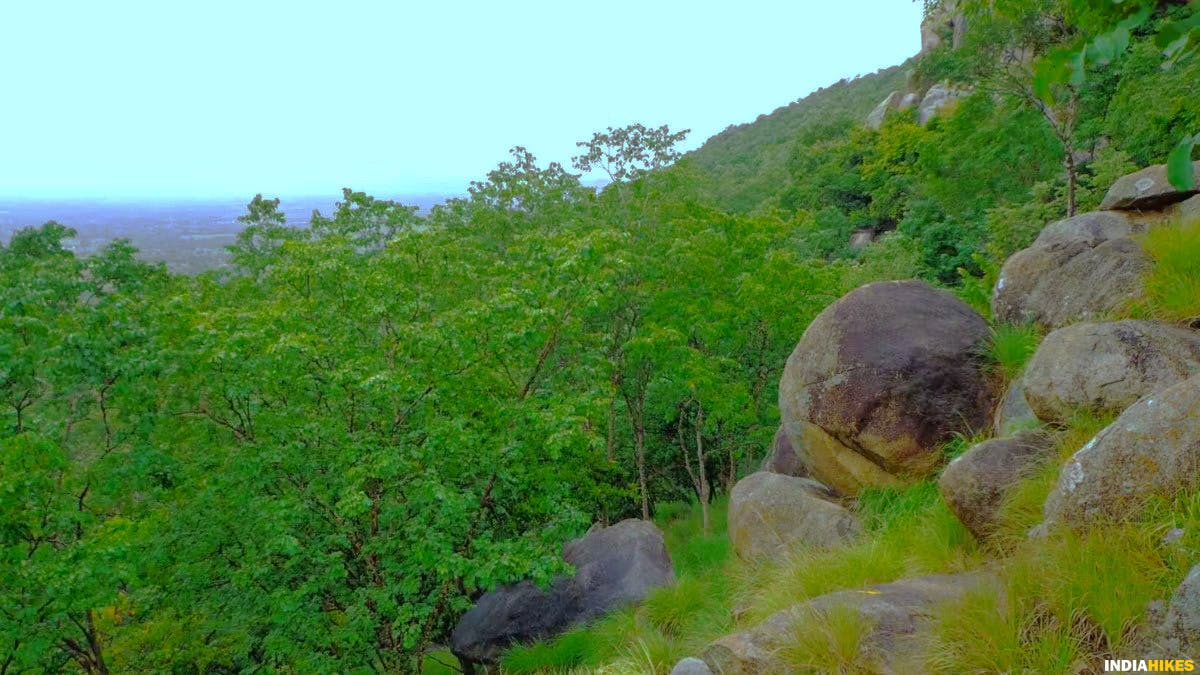 View opens up to the surrounding forests. Picture by Suhas Saya
As we said before, we had to stop at the View Point as there is no clear path from here that we could take to move ahead.
Exploring is possible but risky as there are chances that you might lose your way.
| Tip: Carry a GPS tracker to find your way back in case you lose track while exploring the region. Read how a GPS Tracker can be a life saver from the experience of our Documentation Team Head, Suhas Saya.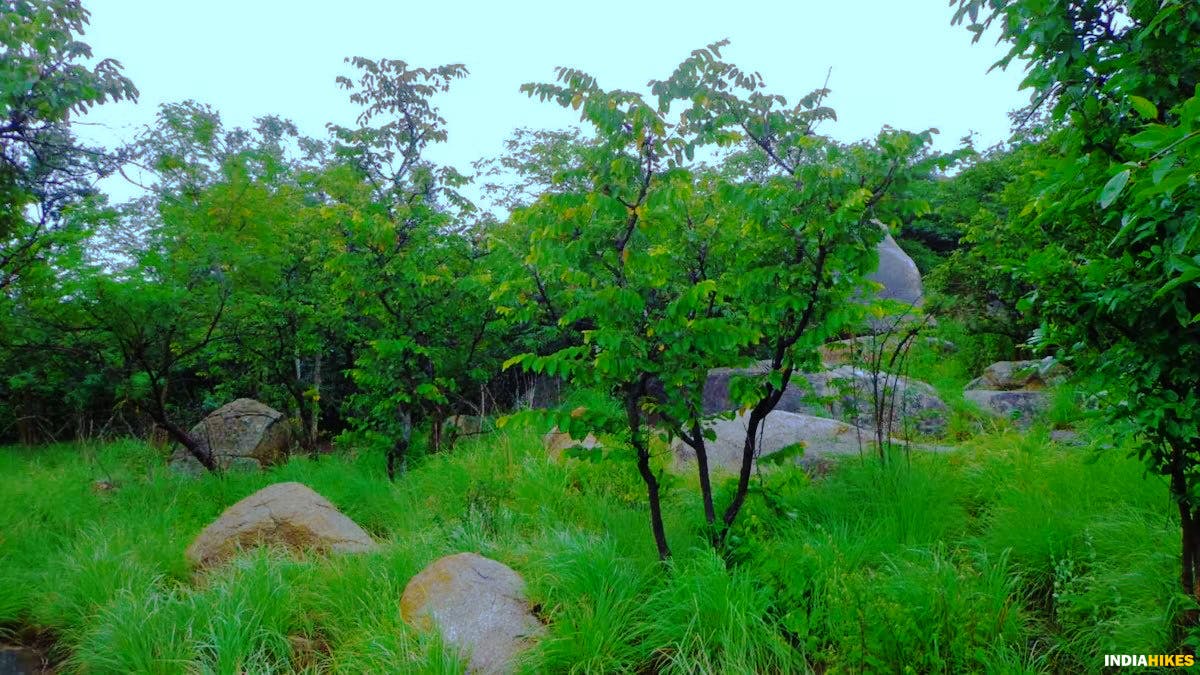 Dense forest with no trail in sight. Picture by Suhas Saya
Having said that, the trek offers all that it has to offer till the View Point and there is no necessity to explore beyond this point.
Spend your time generously here, taking in the scenery and enjoying the atmosphere.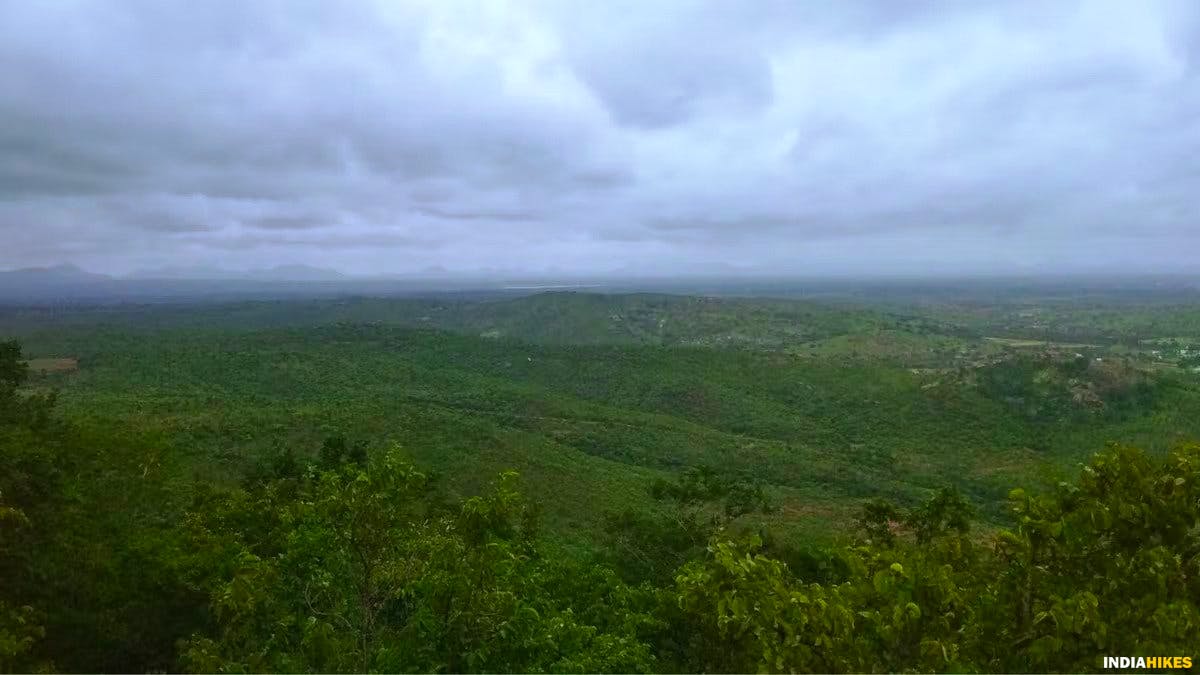 Amazing view of the surrounding forests of Doddaballapur. Picture by Suhas Saya
Close your eyes and reflect on your journey till the top. Meanwhile, notice the silence and the sounds of nature. Relax your over-worked muscles before you start your journey back to base.
Because you take the same route to descend, you must be cautious on the tricky sections and move slow and steady here. A slip may cause you to fall and injure yourself.
Trail Map of Halu Chilume Gange Trek. Screenshot taken from Google Earth Pro
Best Time To Do Halu Chilume Gange Trek
Halu Chilume Gange trek is an all-season trek. The trail is filled with thick vegetation to keep you cool during summers and to provide you shelter during monsoons.
Although we recommend carrying a poncho or a raincoat along with a rain cover for your backpack if you are doing this trek in monsoons. The rocks and boulders become very slippery during monsoons and you must exercise caution while traversing through the boulder sections.
How To Reach Halu Chilume Gange Trek
• Reaching Halu Chilume Gange by your vehicle from Bangalore
Halu Chilume Gange is in the hill town of Doddaballapur. If you are planning to reach Halu Chilume Gange using your own vehicle, use this link to help set up navigation in Google maps.
If you do not have access to Google maps, here is how to reach Halu Chilume Gange:
Take the National Highway 44 and head left towards Yelahanka New Town. Enter Yelahanka New Town and continue straight towards Doddaballapur on State Highway 9.
In about 34 kilometres, turn left at Gundamagere Cross. You'll see an Indian Oil Petrol Pump at this junction on the right. This is your last place to fill fuel and is the closest to the trek. If you are running low, fill up your tank here.  
In about 4.5 kilometres, take a slight right to stay on the same road which goes towards Green Valley Resort and continue for 6.5 kilometres.   
At the junction, take a left turn while Hosahalli Bus Stand is on your right.
Continue straight for 3 kilometres until you spot a dirt trail on your left from Mallasandra Road.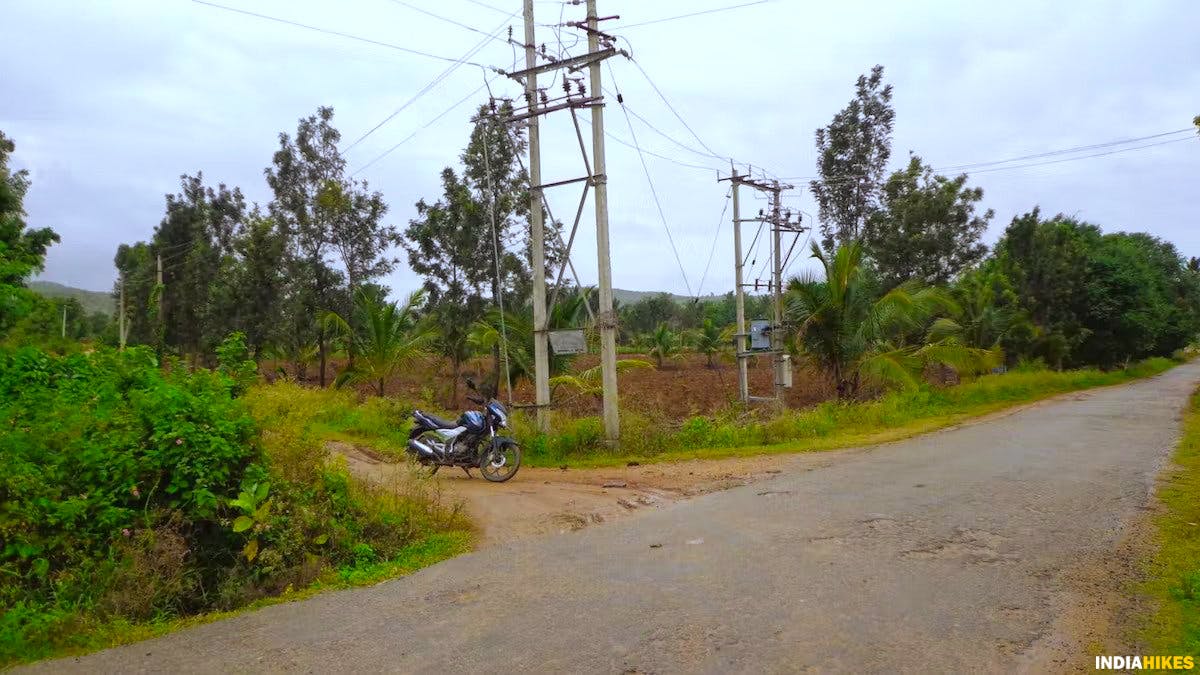 Take this left on the Mallasandra road. Picture by Suhas Saya
• Reaching Halu Chilume Gange by Public Transport System
From Majestic Bus Station —> Doddaballapur Bus Station —> Take a private bus which is headed to Goravanahalli or a shared auto which goes to the village of Hosahalli —> Get down at Hosahalli and walk for 3 kilometres till Mallasandra Road
Bus Timings to reach Doddaballapur and back
There are BMTC buses every 15 minutes to Doddaballapur from Majestic Bus Station, Bangalore. The buses which go to Doddaballapura are 285M, 285MA, 285MC, 285MF, 285MG, 285MK, 285MP, Volvo-285M, JPV-285M.
The same applies to buses from Doddaballapur to Bangalore as well.
Difficult Sections On The Halu Chilume Gange Trek
There are no sections on the Halu Chilume Gange trek that can be classified as difficult as such. However, a trekker must always anticipate and prepare for every eventuality.
Here are a few things you should keep an eye out for while ascending and descending:
• Slippery trail (Monsoon specific): The trail becomes more tricky during monsoons as the mud and rocks become very slippery and great caution must be taken while traversing. If trekking in the monsoons, trekkers should be very careful with their choice of footwear and should check weather charts so as to avoid days with anticipated heavy rains.
• Rocks and Stones: There are multiple parts of the trek where trekkers will be required to scale small rocks or climb over boulders. While this is an extremely enjoyable part of the trek, one needs to be careful. Slipping or falling from a boulder can lead to serious injury and trekkers must exercise caution while navigating these sections.
How To Get Fit For Halu Chilume Gange Trek
The Halu Chilume Gange trek is classified as an Easy grade trek. From the base, you will gain approximately 850 feet in altitude. Though the altitude gain is not much, the continuous ascent can be quite demanding for people who lead a sedentary lifestyle.
Training yourself for a low-altitude Easy-grade trek:
Here's a guide to help you get fit for the trek in 4 weeks.
➤ Cardiovascular Endurance
In case you're just starting with a fitness routine, start slow and increase your pace everyday in the following manner –
Target completing a brisk walk of 5 km in 45 minutes when you begin.
Gradually increase your pace by walking 5 km, 4 times a week.
As you become more comfortable, introduce jogging in your routine. 
Progressively increase the distance you jog in a workout until you can complete 5 km in 40 mins.
If you prefer cycling over running, target covering 15 km in 60 minutes when you begin.
Progressively increase your pace to cover 18 km in one hour.
➤ Strength Training
This is an important area you need to work on. 
Strength training is equally important to trek comfortably. Work on your glutes, calves and knees. Additionally, work on strengthening your core.
You must strengthen your core muscles. For strengthening your core muscles, holding a plank and it's variations (elbow, side planks) are the best exercises to go about doing it.
Also try these exercises for strength-
Target 4 sets of squats with 20 in each set
– Squats (Mix it up with sumo squats)
– Lunges (Forward, backward and lateral lunges)
– Planks
➤ Flexibility
Flexibility determines the amount of movement your bones can make in any direction around joints such as shoulders, elbows, hips and knees. 
It is an aspect that will help you trek comfortably. Carrying a backpack, however light, can become a strain. Stretching your hamstrings, quadriceps, hip flexors and lower back muscles regularly, promotes relaxation in the tissues reducing the strain on your back.
If you can't go out and jog because of time and space constraints, here's a video you can use to work out indoors.
Things To Take On Halu Chilume Gange Trek
Basic First Aid kit*
Identity Card
Cap/ Scarf/ Bandana & Sunglasses
Water (Minimum two litres)
Lemon and salt OR Electrolyte Powder/Drink (Electral/Gatorade/Glucon D, etc.)
High-calorie snacks (Nuts & dry fruits, home-baked cake, etc.)
Safety Pins, Rubber bands & Whistle (Useful in emergencies.)
Quick Dry T-shirts are preferable over cotton tees.
Poncho, only during monsoons
Plastic sheet to wrap electronic devices, only during monsoons
Sunscreen (SPF 50+)
Optional: Trekking Poles
*First aid kit:
Scissor
Band aids (Regular & Waterproof)
Analgesic spray (Relispray, Volini, etc.)
Antiseptic Liquid (Savlon, Dettol etc.)
Antiseptic powder (Povidone-Iodine based powders like Cipladine, Savlon, etc.)
Cotton roll & Bandage
Crepe Bandage
1 inch wide medical tape (paper or cloth.)
Micropore tape
Tablet for motion sickness (Avomine), Acidity (Gelusil, Digene, etc.).
Mild pain relief tablet (Crocin)
| Note: Always consult a doctor before taking any medicine.
Frequently Asked Questions
❖ Can I do this trek if I have never been on a trek before?
Yes. A person who follows an active lifestyle, can consider Halu Chilume Gange for their first trek. For people who lead a relatively sedentary lifestyle, we recommend a bit of preparation before attempting to trek.
❖ Do I need to obtain permission for trekking to Halu Chilume Gange?
No. You need not obtain permission before attempting to trek. Since it is a route pilgrims take very often, the trail is open to the public.
❖ Where can I get food and water during the trek?
There are no restaurants at the base of the trek or in the nearby village. You have to pack your food from Bangalore if you plan to have a proper meal during the trek.
There are no water sources near the base. We recommend carrying a minimum of 2 litres of water from home.
❖ Whom do I contact in case of an emergency?
• Hospital: The closest hospital is Doddaballapur District Hospital which is 23 kms away from the base. You can reach them on 080 2762 2420 for assistance.
• Police Station: The police station closest to Halu Chilume Gange is the Hosahalli Police Station (Contact: +91 80762 56009).
• ERSS: For any kind of emergency help, you can contact the Pan-India Emergency Response Support System (ERSS) number- 112.
❖ What about mobile network and connectivity on Halu Chilume Gange trek?
Mobile NetworkYou will get mobile network for almost all major operators like Airtel, Vodafone and Jio throughout the trek, except for some sections where the network is weak.Nearest ATMDoddaballapur town is where you will get an ATM, which is roughly 22 kilometres away from the base of the trek. So ensure you carry enough cash with you before starting for the trek.
❖ Do I need a guide to trek Halu Chilume Gange?
Although the trail is not very clear till the base and after the temple, the path till the temple is well trodden by locals and is very easy to follow. We do not recommend a guide for this trek.
Nearby Places To Visit After Halu Chilume Gange Trek
Ghati Subrahmanya Temple: This Dravidian-style temple to the god of snakes and a site of an annual snake festival, is just 25 kilometres away from the base of the trek. It is a popular destination among devotees and tourists alike.
Makalidurga Trek: Another lesser known trek in Doddaballapur offers an exciting journey along the railway lines and goes all the way up to an ancient and historic fort.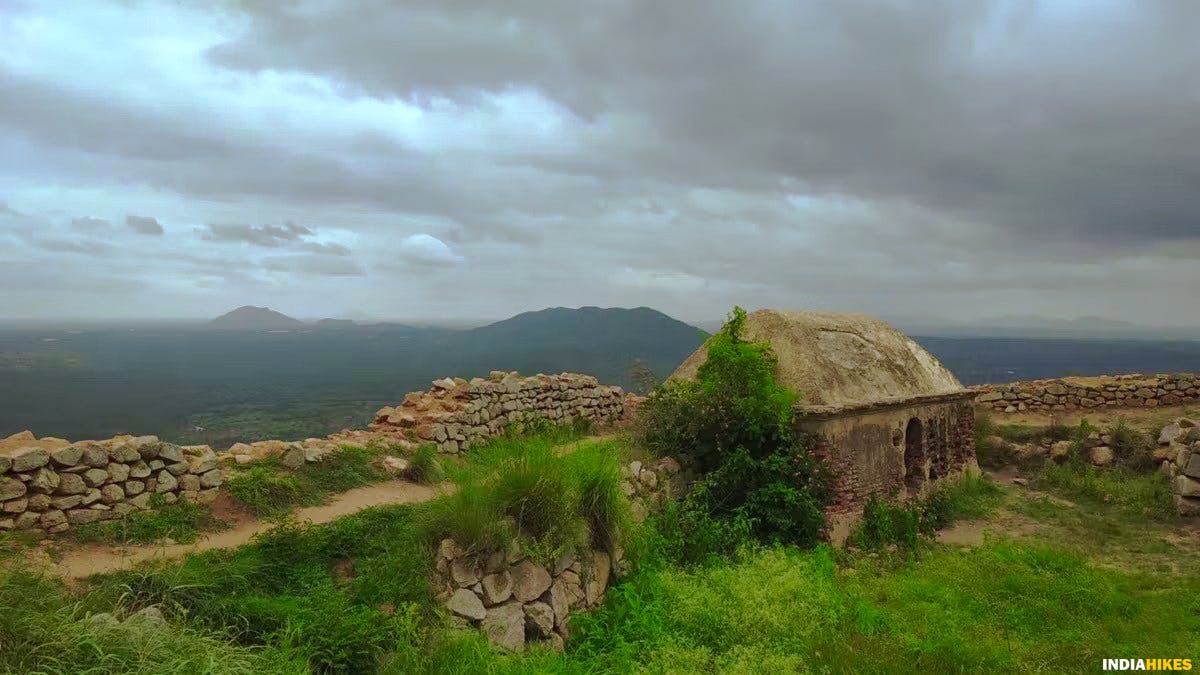 Makalidurga Fort. Picture by Saurabh Sawant
GPX File Opt in
We go to great lengths to ensure you have a safe trek. So here's a GPX file of the trail to help you navigate without getting lost.