Can You Help Us With Photographs Of This Trek?
We are looking to enrich this documentation with more photos. Pictures go a long way in explaining the trail, more than words ever can. If you have done this trek, can you share your photos with us? We will include them on this page, with due credit to you. Click here to contribute.
The Complete Guide to Letten Peak Trek
Kashmir is one of the most popular tourist destinations in our country and across the world. It is rightly called 'Heaven on Earth'. The capital of Kashmir, Srinagar is known for many tourist attractions like lakes, Mughal gardens and stunning views of mountain peaks. However, unknown to many, Srinagar has much more to offer than these famous tourist places. It has many one-day and two-days trekkable summits that give you a bird's eye view of this beautiful city. These trails not just offer you the pretty views of the city but also help you explore the place in its truest form.
Letten Peak Trek is one such trail located just 21 km away from Srinagar. It's a mountain peak in the vicinity of Dara Harwan. Standing at an altitude of 11,385 ft, Letten belongs to the Zabarwan mountain range. It's visible from most parts of Srinagar. Less known and not preferred by many, this trek is perfect for those seeking solitude and something off the beaten path.
Letten Peak Trek is a mixture of pine forest walks, river crossings and lush green meadows. Most of the trek is through the valley and is alongside the Dara river. If you are an adventure geek, the summit push here is rightly made for you.
Once you're at Letten's summit, to the east of you, lies the famous Tarsar and Marsar lakes and Mt Kolahoi. To the North, lies Mt Harmukh. Mt Mahadev, the highest peak of Srinagar stands tall right in front of you. To your South, lies Dachigam National Park.
Letten Peak Trek is of moderate difficulty and is suitable for experienced trekkers. It is a two day trek and the total distance you cover is 16 km. The best time to trek is from mid-June to September.
Just like you, we love trekking! And this is a trek we've documented in great detail to help you do it on your own. Drop in comments at the end of the page if you need any help. 
Table of Contents
Highlights
Quick Itinerary
GPX File and Route Map of The Trek
Know Your Trek
How Difficult is the Letten Peak Trek?
Is the Letten Peak Trek Safe?
Best Time to do the Letten Peak Trek
Weather And Temperature on the Trek
How to Plan Your Travel
Frequently Asked Questions
What to Take on Your Trek
How to Get Fit for the Trek
Nearby Places to Visit after the Trek
Highlights
1. Mesmerizing Views from the Summit
Standing at 11,385 ft above sea level, Letten peak offers you breathtaking views of the surrounding mountains. It is indeed one of the best highlights of this trek. From here, you get to see Mt Nun, Mt Kun, Mt Mahadev, Mt Kolahoi and Mt Harmukh pretty close.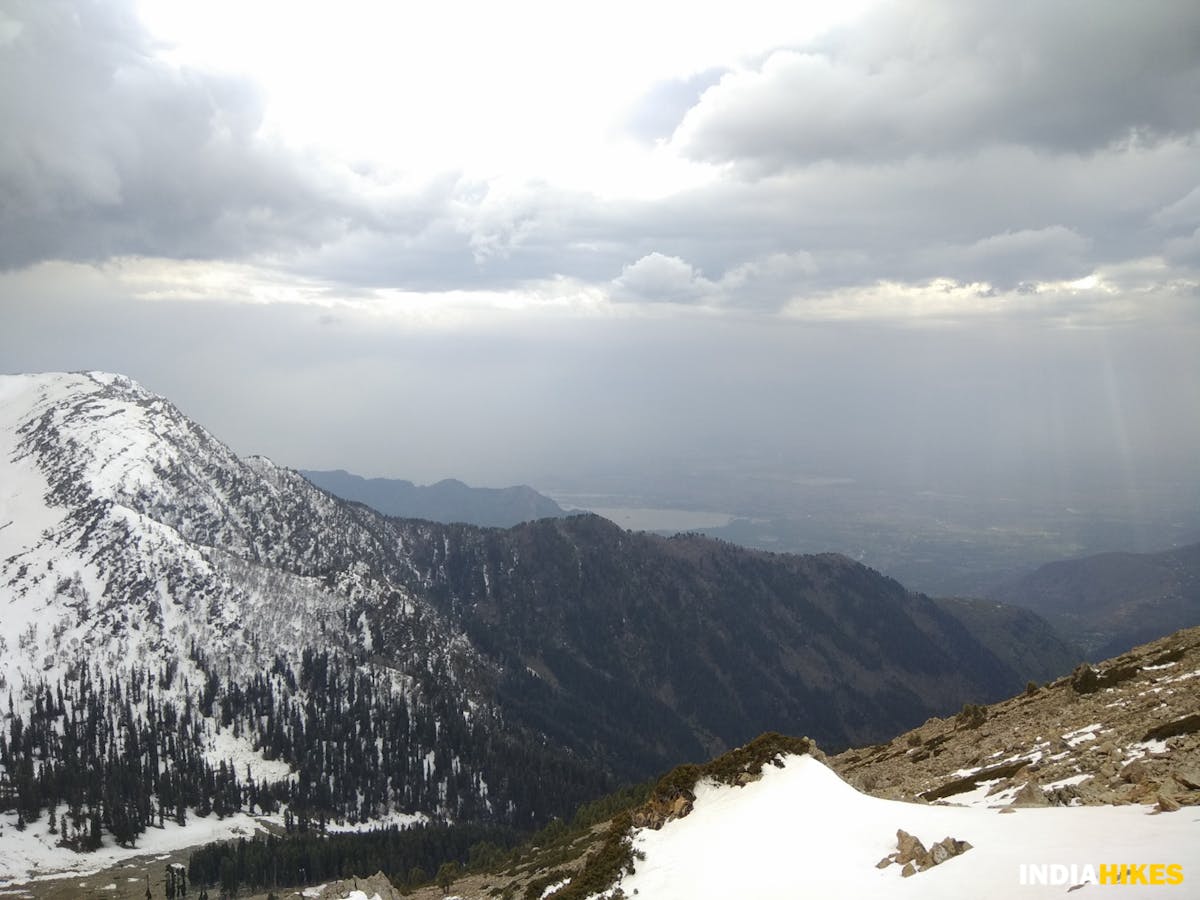 View of pine forests, Mamneth top and meadows of Lidwas. Dal lake of Srinagar can be spotted in distance. Picture by Saliyah Ahmad
Standing at the summit of Letten peak, you get far-reaching views of Srinagar city, Ganderbal district and some areas of north Kashmir as well. The views are spellbinding, particularly aerial views of Dal Lake and Mamneth Top. 
Panoramic views of snow-laden pine forests of Yachi-Hama Kangan and Faqir Gujri are something to watch out for. Views of the beautiful flower-laden meadows of Lidwas and Kangan are something that's hard to miss.
2. River crossings that add an adventurous feel to the trek
The trail from Dara village follows the Dara river till you reach the campsite. Throughout the trek, you've to cross the river six times. Some crossings are through log bridges made by nomads and some through the boulders. These river crossings are one of the many adventures that this trek offers.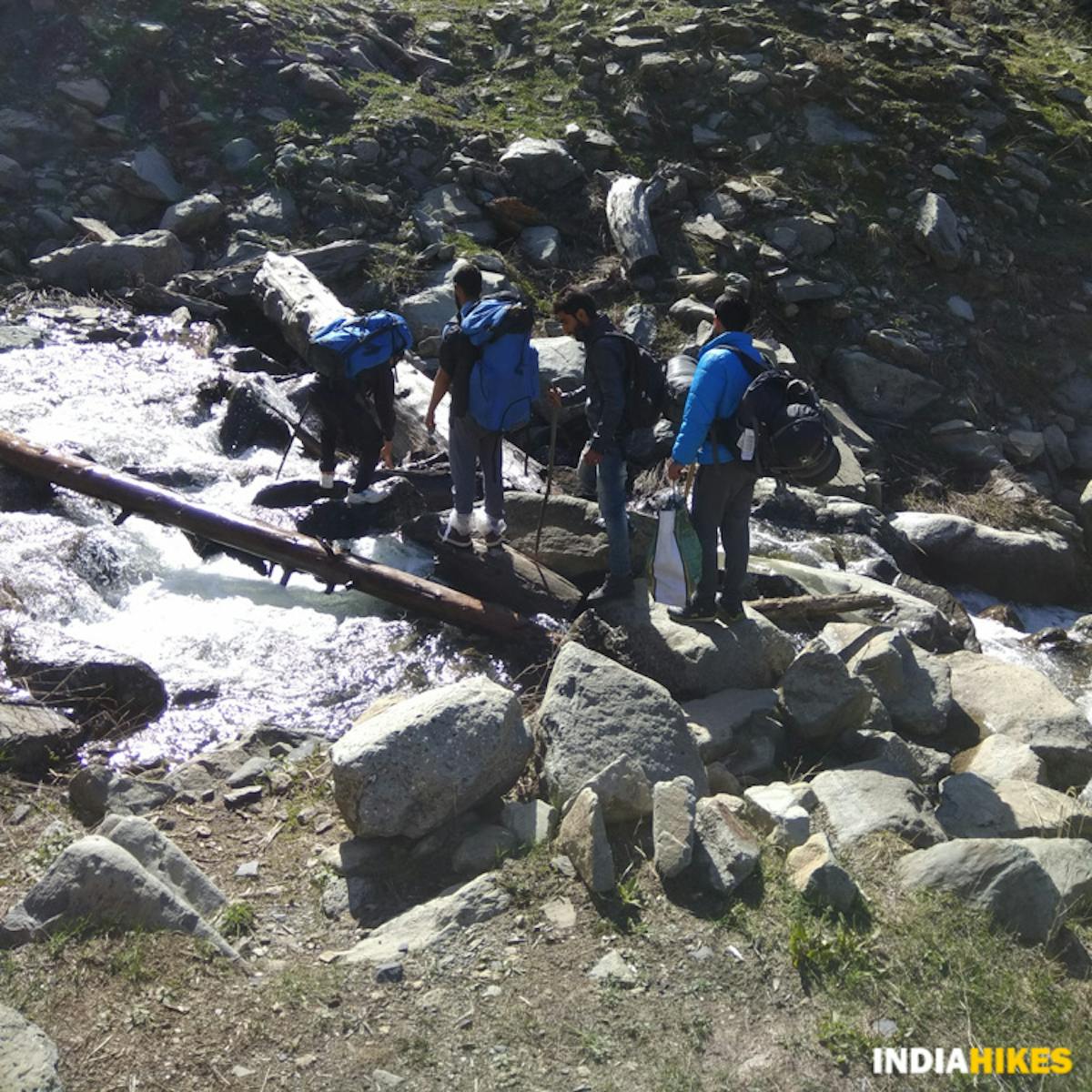 One of the many river crossings that you come across on the trek. Picture by Saliyah Ahmad
3. Trekking through the Lidwas Trail
The Letten Peak Trek starts on the Lidwas trail made by nomads. The trail is through Lidwas valley. It is populated by pine and fir trees on both sides. A hike on this trail is a pleasant experience for your senses. Fragrance of trees, chirping of birds and the gushing Dara river soothe your soul.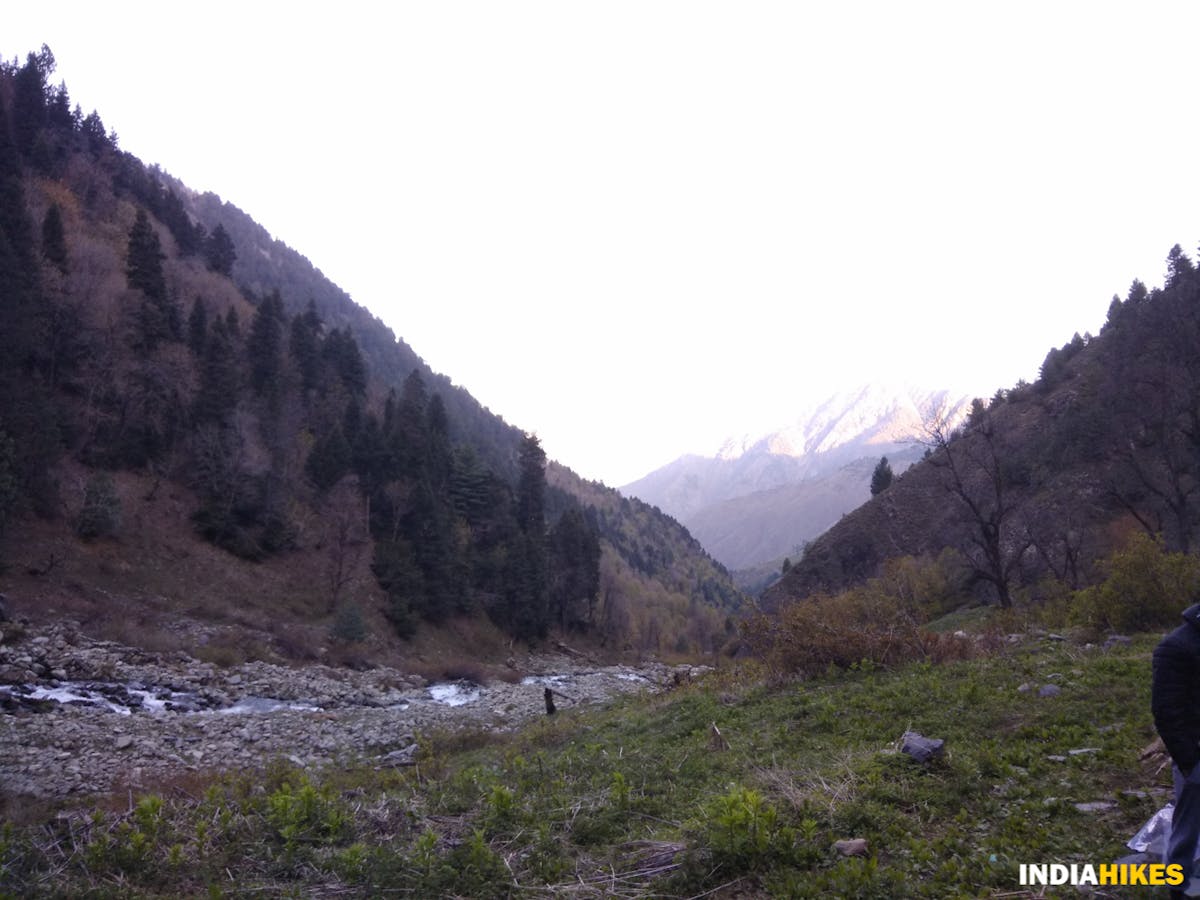 Trekking in the Lidwas trail. It follows the Dara river. Picture by Saliyah Ahmad
4. Rich Diversity of Birdlife
Letten Peak Trek is a birdwatcher's paradise. The trek is next to Dachigam National Park. You can spot a variety of bird species during your trek. Himalayan bird species like Koklass Pheasant, Bearded Vulture, Golden Eagle, and Crimson Tragopan are some of them. Apart from this, the trail has rich butterfly species such as Pelopidas Mathias, Aricia Agestis, Lampides Boeticus, Lycaena Phlaeas, and Argynnis Hyperbius. If you want to watch them up close, carrying a set of binoculars would come in handy.
Quick Itinerary: 
Day 1: Drive from Srinagar to Dara Harwan and Trek from Dara Harwan to Mahadev Campsite
Drive Distance: 23 km | Duration: 1 hour
Trek Distance: 5.6 km | Duration: 4 hours
Altitude Gain: 5,800 ft to 8,800 ft
Trek Type: Easy-Moderate. Tricky river crossings. 
Reach Dara Harwan from Srinagar either by own vehicle or public transport. Trek from Dara Harwan to Mahadev Campsite. Camp and stay for the night here. A major part of the trek is through Lidwas valley and is easy. However, four tricky river crossing sections make it a little difficult.
Day 2: Trek from Mahadev Campsite to Letten Peak Summit and descend back Dara village
Trek Distance: 11.5 km | Duration: 9-10 hours
Altitude Gain and Loss: 8,800 ft to 11,385 ft, and back from 11,385 ft to 5,800 ft
Trek Type: Moderate. Steep ascent and descent to and from the summit and easy descent from Mahadev Campsite to Dara.
Trek from Mahadev Campsite to Letten peak summit. Summit push is steep and tricky. Once you reach the peak, spend some time indulging in the beautiful views you get from here. Descend back to Dara through the same terrain.
GPX File and Route Map of The Trek
Route Map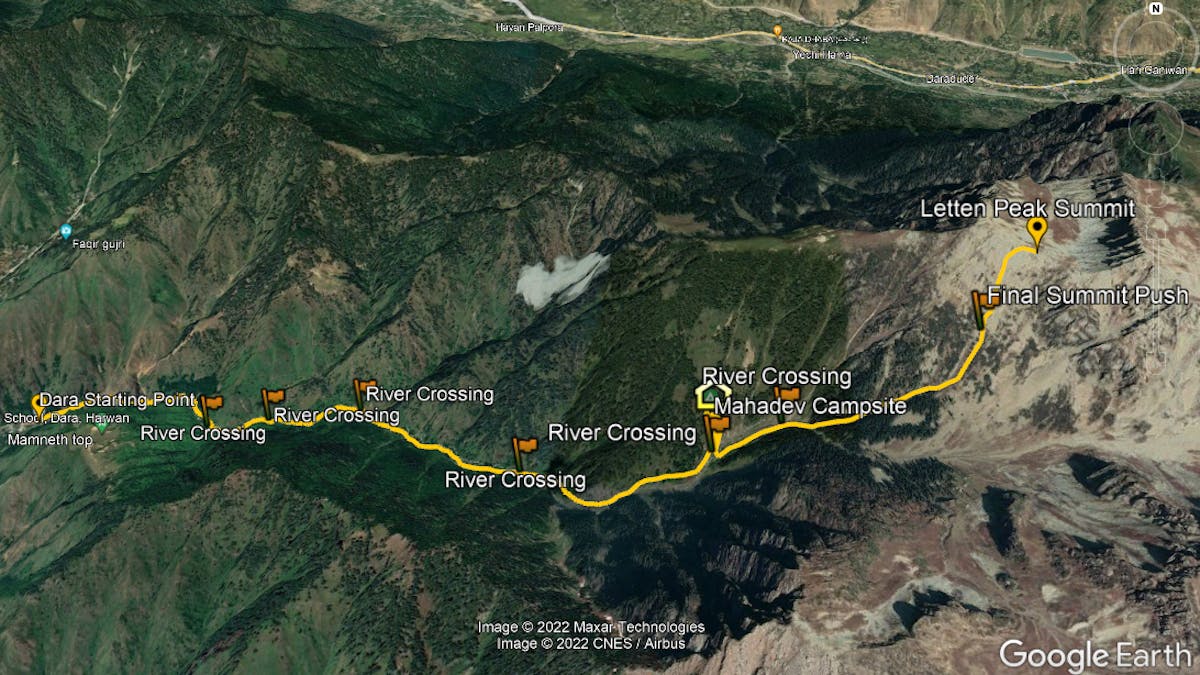 Route Map of Letten Peak Trek. Screenshot on Google Earth Pro
Know Your Trek

We have always wanted trekkers to be well-informed before they go on a trek. Knowledge is the difference between a safe trek and a dangerous one. It's also the difference between a wholesome experience and a superficial experience.
Use this section to learn about Letten Peak Trek. It has in-depth information about each day of the trek, what to expect, and how you need to prepare for it. Many years of expertise have gone into this content. Don't miss the 'Frequently Asked Questions' section. Trekkers find that extremely useful.
How Does Each Day Look Like
Day 1: Reach Dara Village and Trek to Mahadev Campsite.

Drive Distance: 23 km | Duration: 1 hour
Trek Distance: 5.6 km  | Duration: 4 hours
Water Source: Trail is followed by the Dara river till you reach the campsite.
Trek Gradient: Easy. A gradual ascent through a mud trail followed by the river till the campsite. However, there are multiple points where you need to cross the river.
From Srinagar, Dara is just 23 km away. Dara village is the base of Letten Peak Trek.
Either drive to Dara or take a shared taxi. It takes about an hour to reach Dara. A shared taxi costs you Rs 60 and a private taxi costs between Rs 800 and Rs 1200. You can also take a bus from SRTC terminal, Srinagar. It costs you Rs 30.
Once you reach Dara Village, start your trek from Scholars' School. Take the trail that leads to Lidwas valley.
Lidwas trail follows the Dara river till you reach Mahadev campsite. Trekking through Lidwas trail is a beautiful experience. The whole trail is in the valley. You will have big mountains rising on both sides. The trail also has a lot of pine and fir trees. 
After about a 30 minutes hike, you will reach the log bridge. This is your first river crossing. Walking on the log is tricky and slippery, especially so when the water flow is high. Carefully navigate through this section.
After crossing the river, continue walking parallel to the river again. 20 minutes later, you will reach the second river crossing. Unlike the first one, here no log is put out. The adventure is about hopping across the boulders and crossing the river.
This river crossing leads to the trail through thick bushes. Finding the way through bushes is hard. Follow the one that goes adjacent to the river.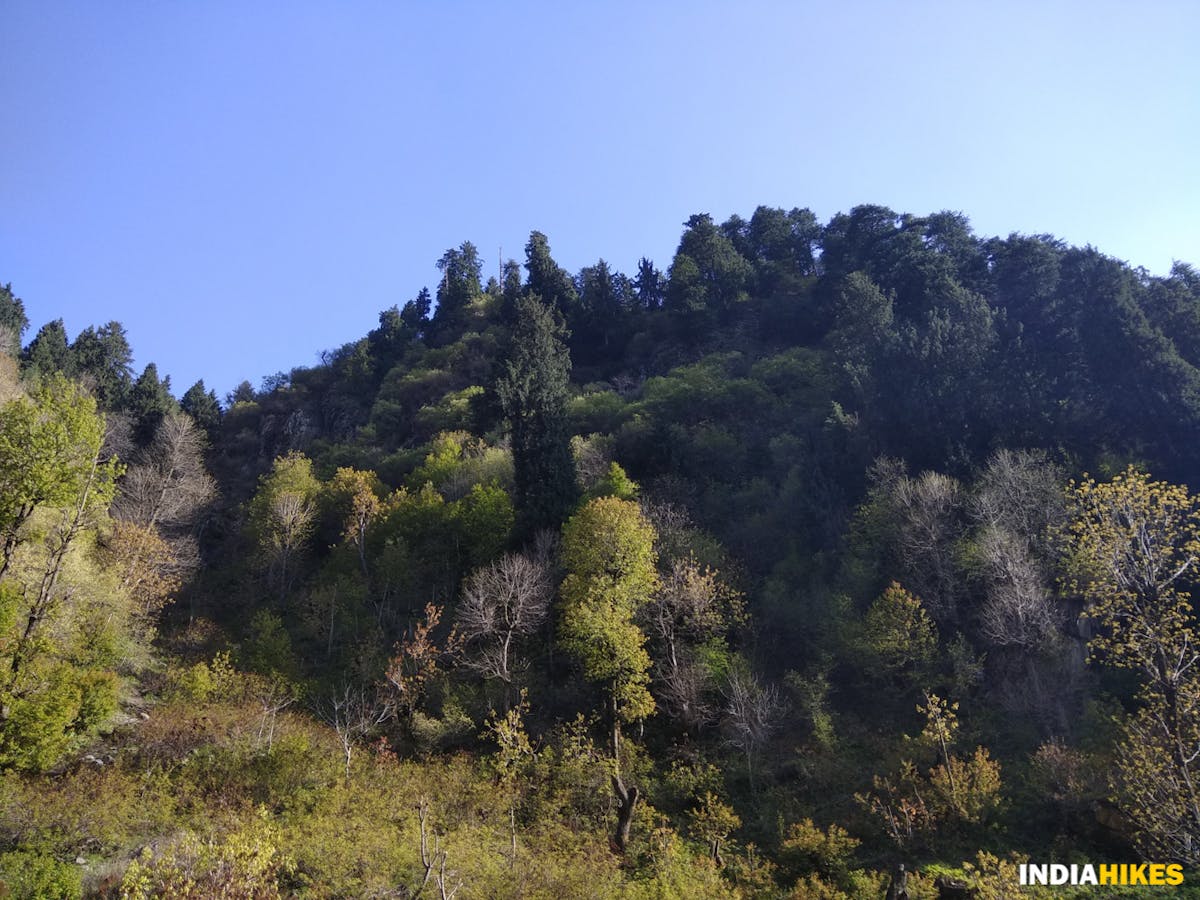 Trail through the dense bushes. It's hard to make out the trail on your own. Stick to the trail that goes parallel to the river. Picture by Saliyah Ahmad
About 700 m in this trail, you come across another river crossing. This is also through boulders.
The trail is again through the valley. Continue walking alongside the river for about another 1.5 km. You'll come across the fourth and the last river crossing for the day. The kid in you comes out alive when you jump on the boulders and cross this stretch.
1.3 km later,  you'll come across another log bridge. Do not take this route. Take the one that goes to your left and deviates from the river. This leads to your campsite.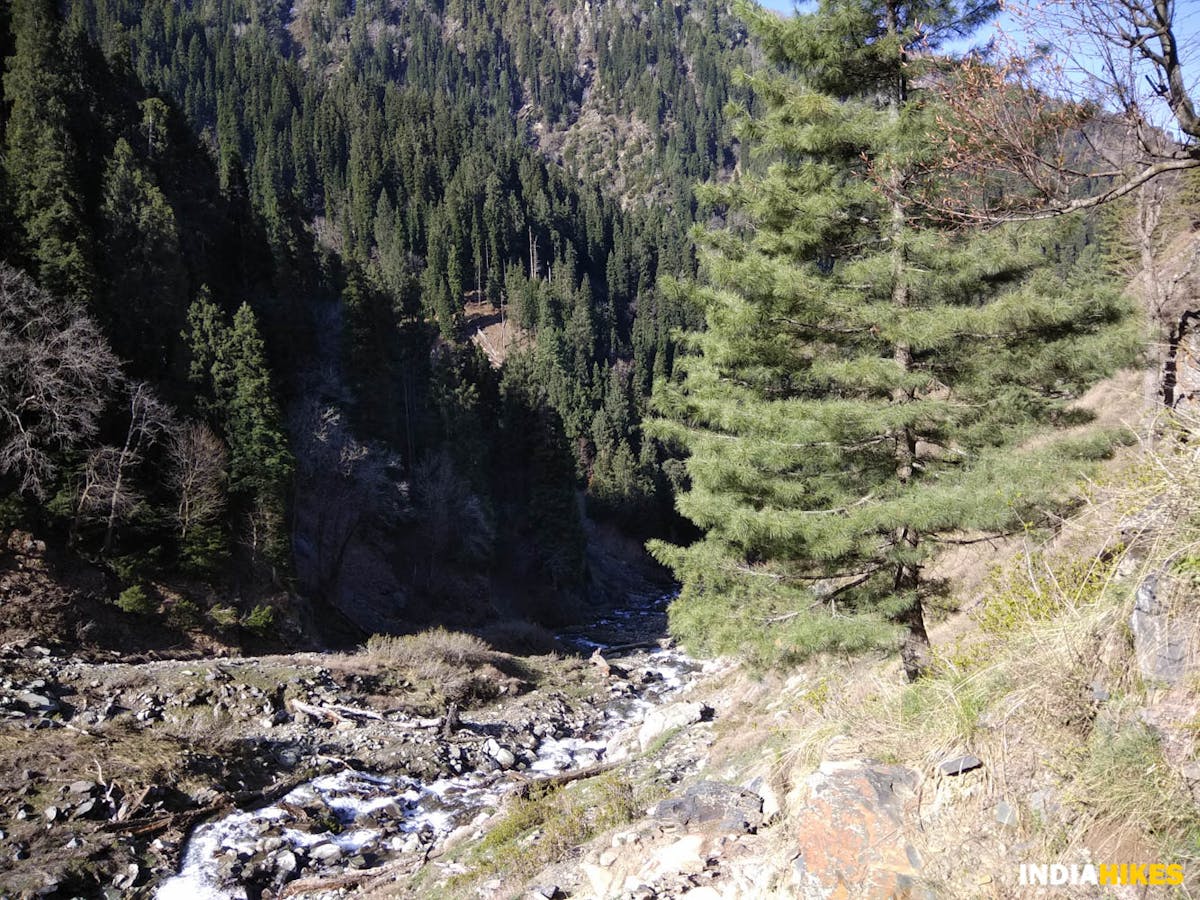 Trail deviates from the Dara river and gradually ascends towards the campsite. Picture by Saliyah Ahmad.
Continue trekking for about 300 m in the same trail. You'll reach a clearing on your left. This is the Mahadev base campsite.
Trek from Dara Harwan to Mahadev campsite takes easily around 4 hours. 
Once you're at the campsite, pitch your tents, explore around a bit and have your dinner before calling it a day. Rest well and prepare for the next day.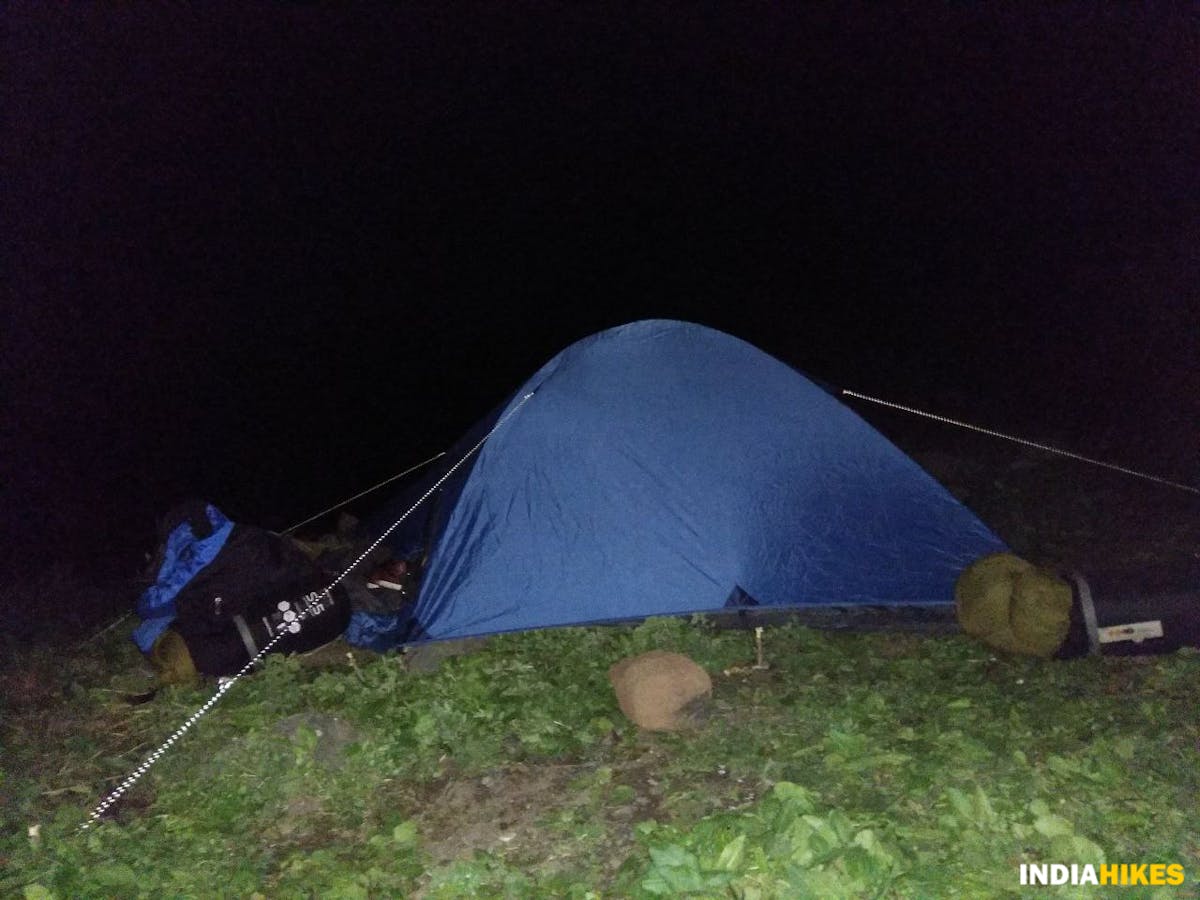 Pitch your tents at Mahadev Campsite and stay here for the night. Picture by Saliyah Ahmad
Day 2: Trek from Mahadev Campsite to Summit and Back to Dara Harwan
Trek Distance: 11.5 km | Duration: 9-10 hours
Altitude Gain and Loss: 8,800 ft to 11,385 ft, and back to 5,800 ft
Water Sources: There is only one water source on the way from Campsite to Summit.
Trek Gradient: A moderately steep ascent through the boulder section and loose rocks from campsite to Summit and back. 
After spending the night at Mahadev campsite, start your trek in the morning as early as possible. It is best to start by 7 am post your breakfast. You can keep the timings of 5 am as Wake up, 6 am to have breakfast and 7 am to move. 
Descend towards a log bridge. Once you reach this point, cross the river through a log bridge.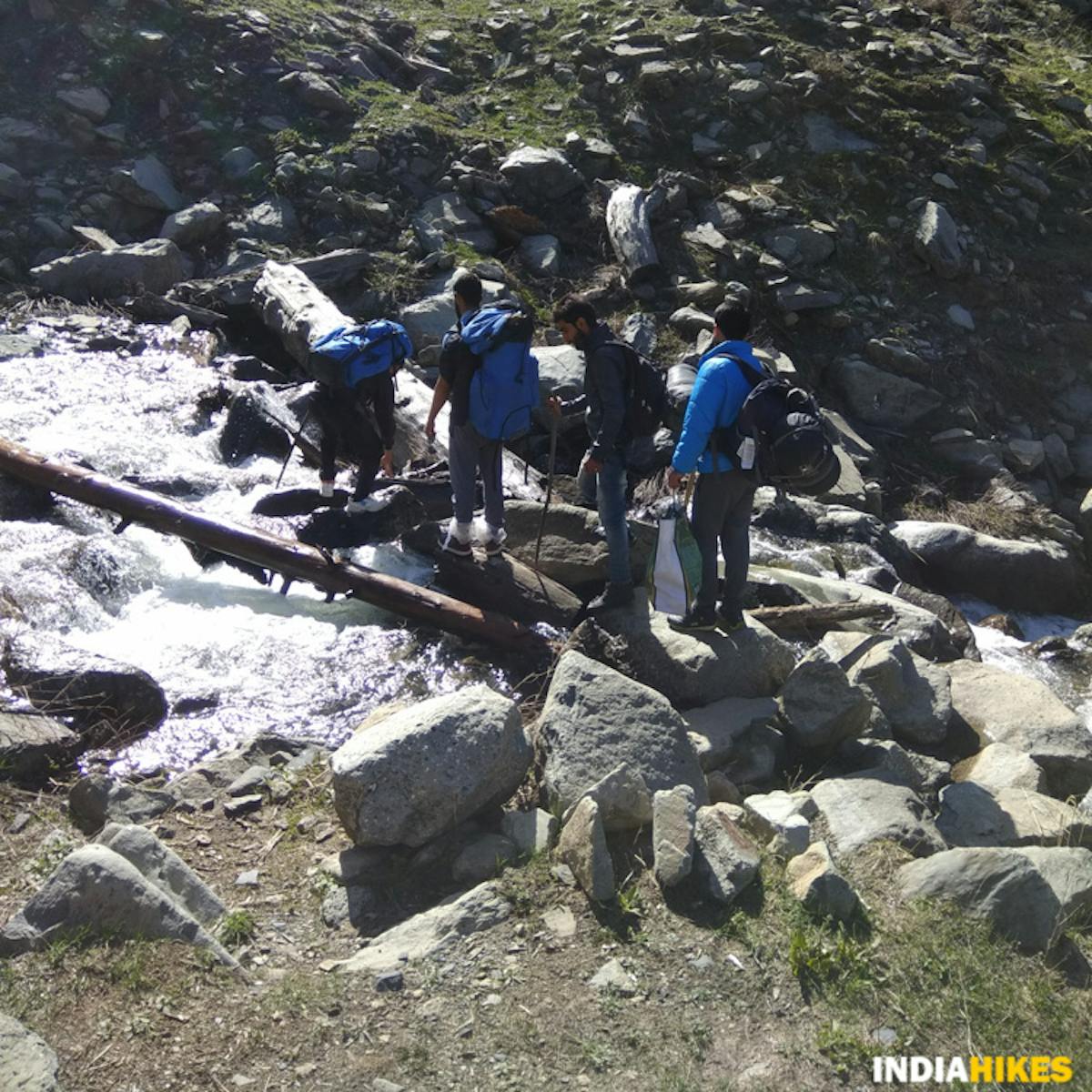 River crossing through a log bridge. Picture by Saliyah Ahmad
Continue trekking in the same trail for another 10 minutes to reach the sixth and final river crossing of this trek. The boulder crossings on this trek seem to be endless. Carefully navigate through this section.
Immediately after this, you'll encounter two routes. One follows the river and goes to your right. Do not take this route. This leads to Mahadev peak through the Lidwas meadow. Another route ascends from your left through a gully. Take this route to reach Letten Peak.
Tip: There are no water sources going forward till you come back to this point. So make sure to refill your water bottles here.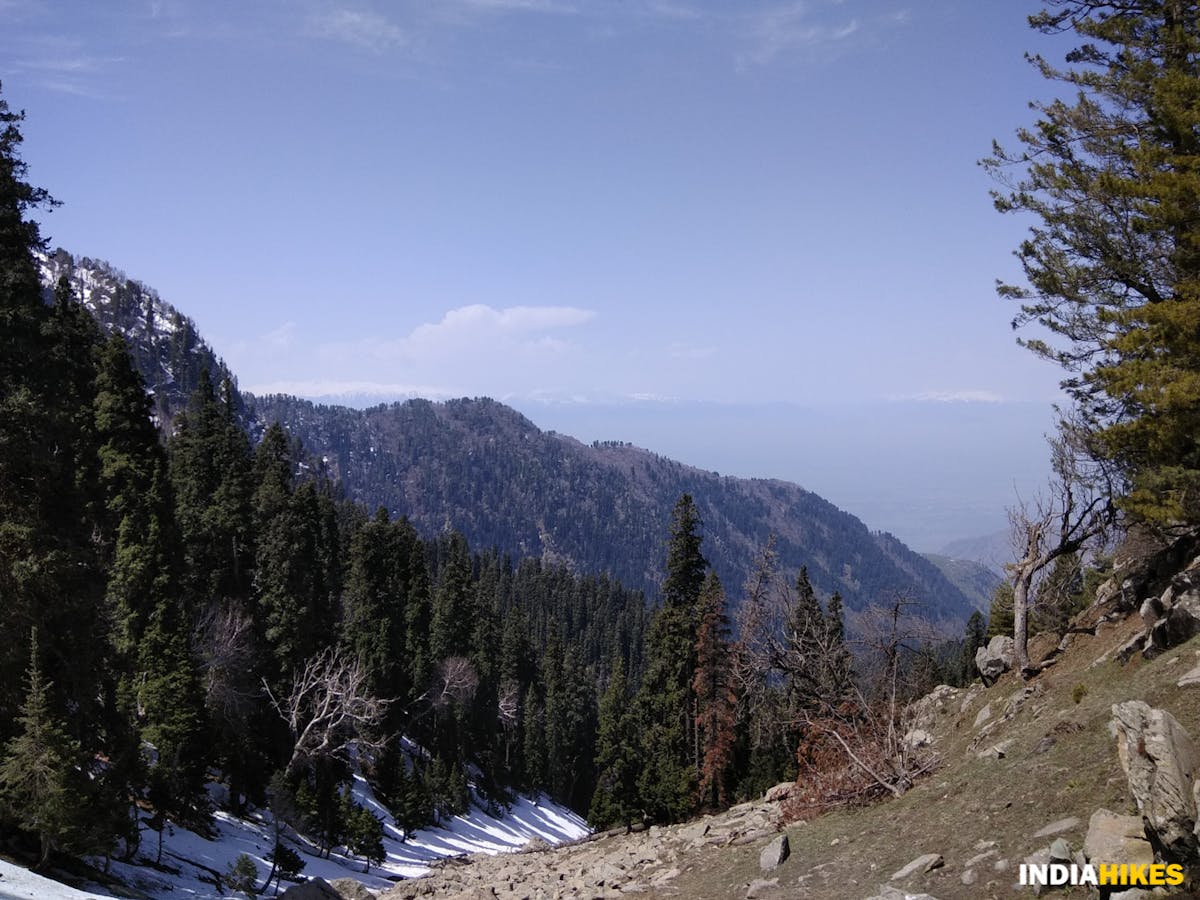 Glimpse of a trek through the gully till you reach the Lidwas meadows. Picture by Saliyah Ahmad
The gully is full of rocks, and boulders and there is no defined trail. Be extra cautious while navigating through this section. They are very slippery.
After 1.5 km you will reach the Lidwas meadow. Letten Peak summit is just another kilometer away from the Lidwas. You also get a distant view of the summit from Lidwas on your left. Spend some time here and enjoy the beautiful views of mountains and pine forests that you get from here.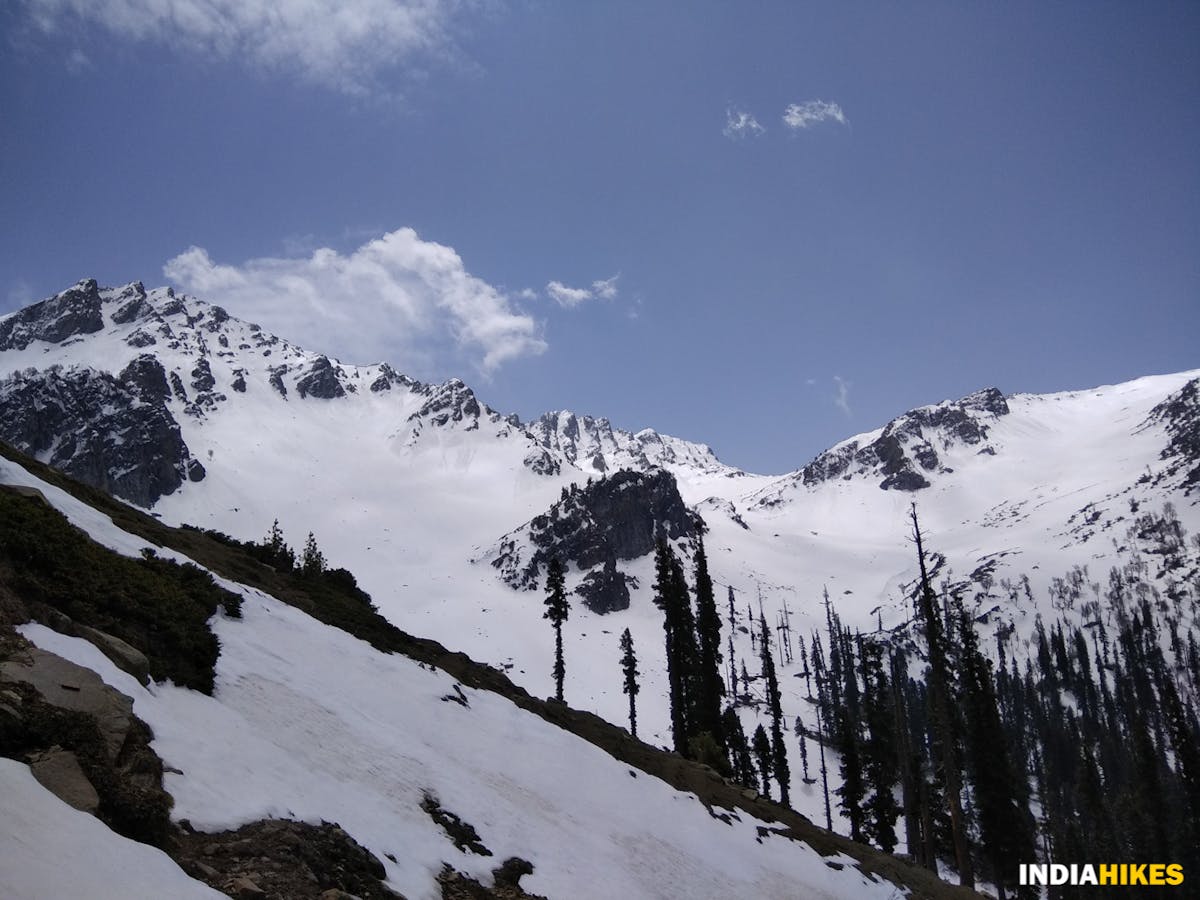 Trekking through Lidwas trail. Some parts remain snow covered till early June. Picture by Saliyah Ahmad
After spending some time at Lidwas, start your summit push. The trail here is steep and tricky. You'll have to climb through the rocky section. Go easy and slow in this section.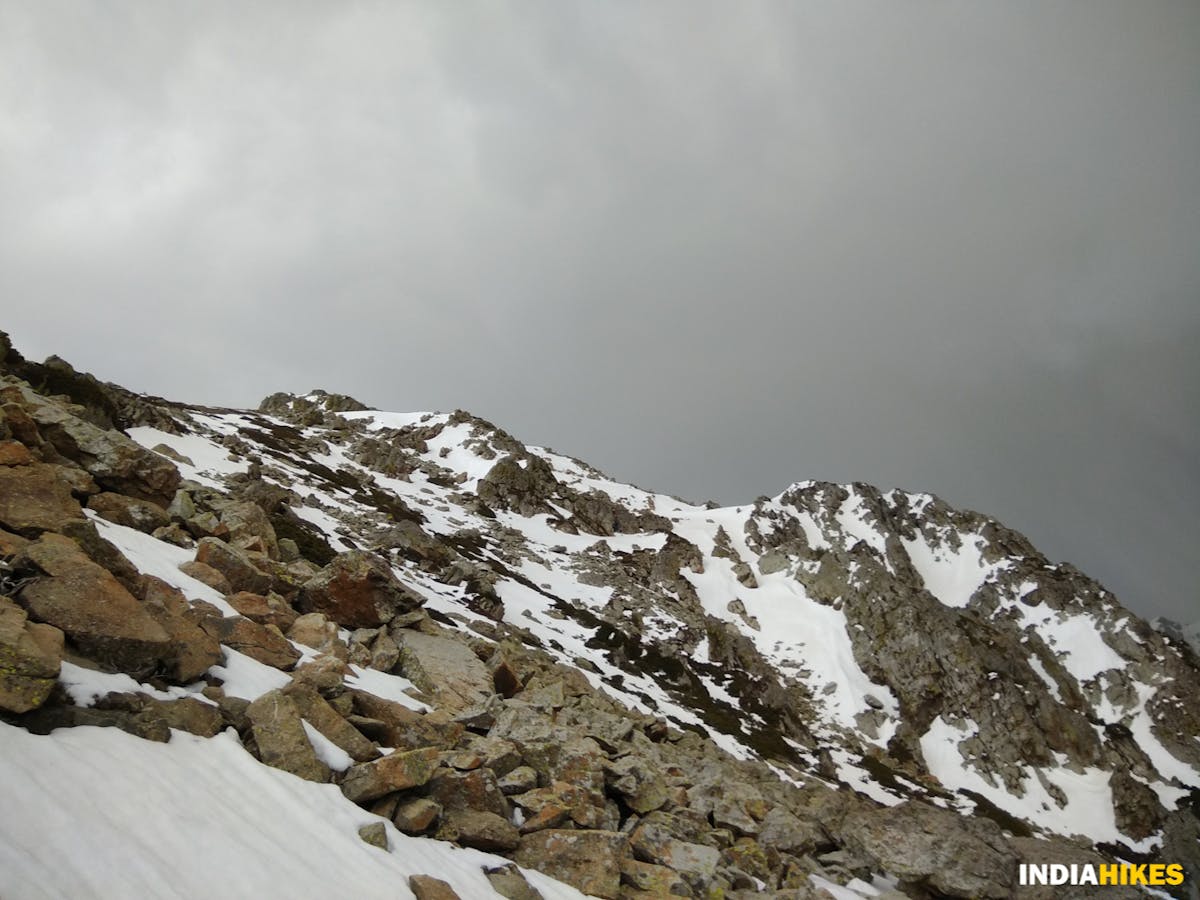 Final summit push - tricky, steep ascent through slippery boulders. Picture by Saliyah Ahmad
After an hour and 30 minutes of climb, you are now at the summit of Letten Peak.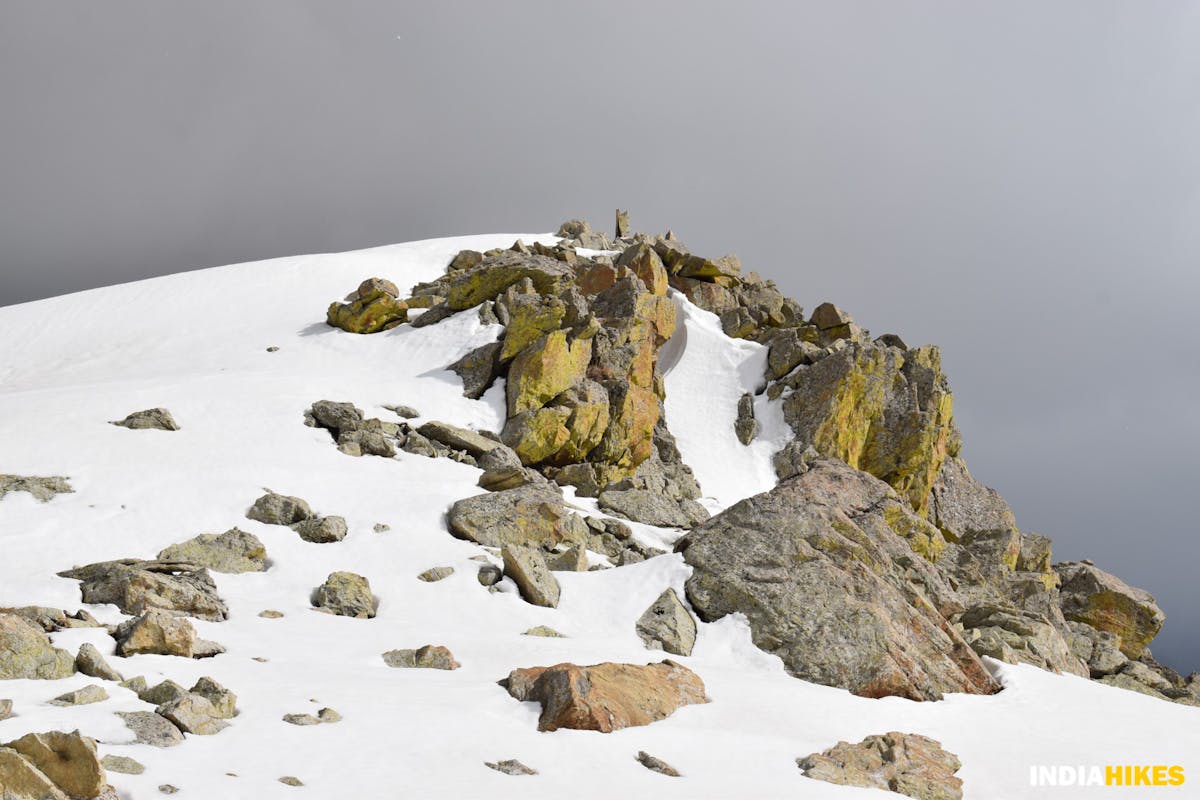 Up close view of Letten Peak's summit. Picture by Saliyah Ahmad
The views from Letten Peak's summit are stunning. From here, you'll get to see mighty mountains like Mt Harmukh, Mt Kolahoi and Mt Mahadev. You'll also get to witness an aerial view of Srinagar, Dal lake and some parts of north Kashmir. Lush green meadows of Lidwas on one side and snow-covered pine forests on the other give you both winter and monsoon feels.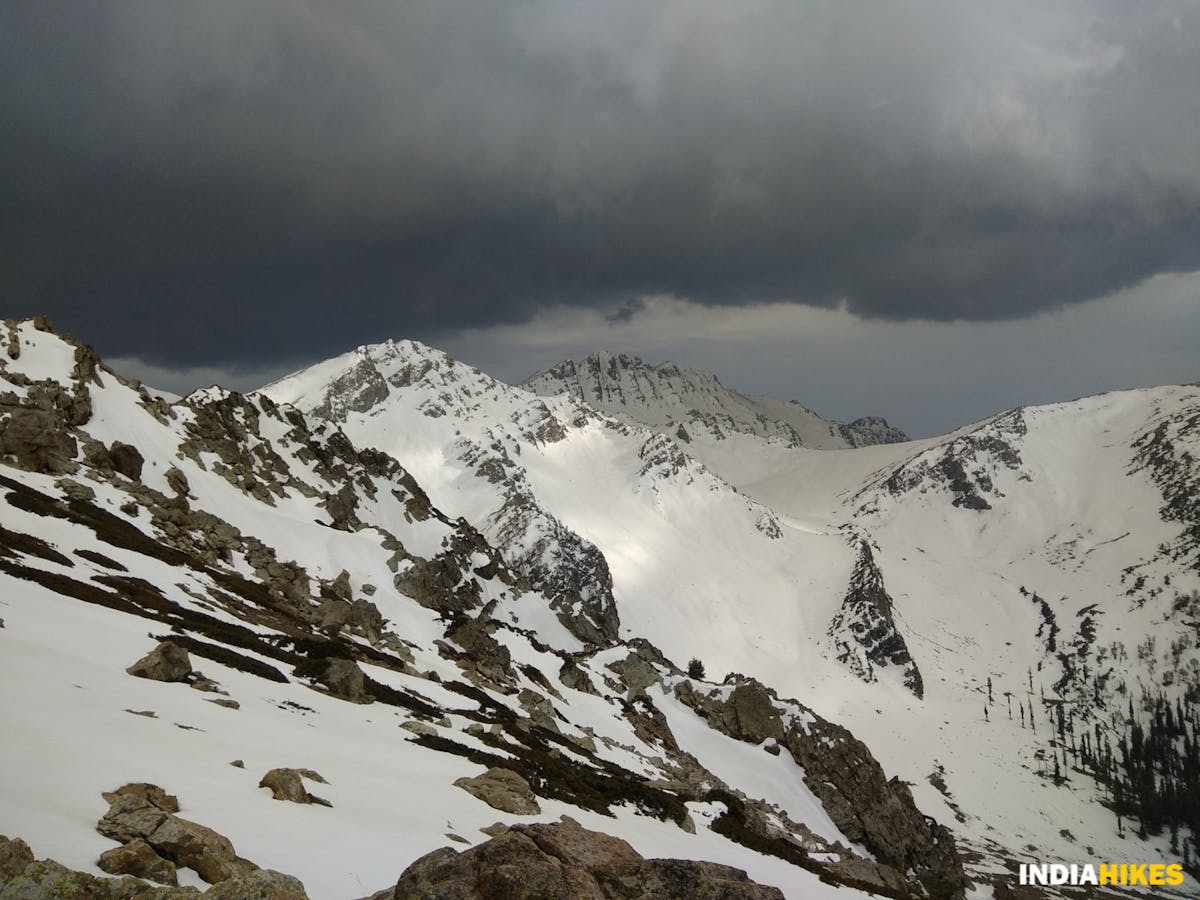 Mount Mahadev Peak as seen from the summit of Letten Peak. Picture by Saliyah Ahmad
Spend some time at the peak and descend back on the same route to Dara Harwan. It takes around 4 to 5 hours to descend from the summit to Dara. So keep your Turn Around Time (TAT) as 1.30 pm from wherever you are on the slope. 
Tip: Descent from summit to the campsite is as tricky as the ascent. Carrying a pair of trekking poles comes in handy here.
How Difficult is the Letten Peak Trek
Letten Peak Trek is rated as 'moderate' in difficulty level.
It has many steep or tricky sections. To deep dive further into these sections, there are two major touchpoints to keep in mind: 
The section where trekkers need to be mindful is when trekking from the campsite to the summit.

This section consists of boulders and loose rocks that are slippery. Even so, when it rains. There are chances of rockfall as well. You need to be very careful during the summit push. Wearing proper trekking shoes and carrying trekking poles come in handy here.

River crossings are another difficult section of this trek.

You've to cross the river six times back and forth, during the whole duration of the trek. The river water is chilly and crossing it through boulders is very slippery. Being nimble on your feet is extremely important during river crossings. It will test your endurance for sure.
Is the Letten Peak Trek Safe
Yes, trekking to Letten Peak is safe though it lies adjacent to Dachigam National Park. However, you have to be vigilant because nomads have often spotted wildlife, particularly Himalayan black bears, leopards, and jackals in the region. 
The presence of friendly local shepherds and nomads who are always ready to lend a helping hand makes the trek even safer. 
Note: The Gujjar tribes and local shepherds have very aggressive dogs. It is best to trek in groups of at least 3 to 4 people. If you are not in a group, avoid approaching Gujjar huts without their permission.
Best Time to do the Letten Peak Trek
You can do Letten Peak Trek from the end of June to the end of September. The best months to trek are July and August. This is when the temperature remains moderate and the weather remains mostly stable. The skies are mostly clear and thus pave the way to crystal clear views of all the surrounding mountains.
There's life blooming all around, with birds chirping, trees growing fresh leaves, and the lush green carpet of grass getting filled with wildflowers of different colours. Water sources are replenished and streams start flowing at multiple places.
Post-September, temperatures start to drop and the chances of rainfall and snowfall increase at higher altitudes. During winters, the entire trail remains under snow cover.
Weather and Temperature on the Trek
On the Letten Peak trek, the weather or temperature fluctuates much due to its altitude. There is a considerable change between daytime and nighttime temperatures.
During the night, sometimes the temperature falls to a sub-zero level. However, during the day, the temperature remains above 15 degrees Celsius on average.
The rain showers especially in July and August make trekking to Letten Peak a pleasant experience.
It is advisable to be prepared with appropriate clothing so as to have a comfortable trekking experience. 
Temperatures from June end to September end
Daytime - 15°C - 30°C
Nighttime - 0°C - 10°C
How to Plan Your Travel
The Letten Peak trek starts from Dara Harwan which is 21 km from Lal Chowk in Srinagar.
For ease of understanding, we have broken down the journey based on the transport and the route you take.
Reaching Dara Village by your own vehicle
 If you want to reach Dara Village on your own, use this link to help set up navigation on Google Maps.
 From Lal Chowk, head towards Dalgate via Maulana Azad Road. The distance from Lal Chowk to Dalgate bridge is 3 km. It takes about 15 minutes to get there.
Once you reach Dalgate bridge, take right through Boulevard Road towards Dal Lake. Follow the same road till you reach New Theed taxi stand. You will be passing through Nishat, Shalimar, and Harwan Mughal gardens which are famous tourist attractions. The distance from Dalgate bridge to the New Theed taxi stand is 16 km. It takes about 40 minutes to reach this point.
Once you reach New Theed taxi stand, take the route straight in front of you towards Faqir Gujri. Follow the same route till you reach Dara Village. The distance from New Theed to Dara Village is 2 km.
The same route will end at Scholars school. This is the base for Letten Peak Trek.
Tip: Remember, the route is hilly with blind curves. So keep your attention on the road and drive carefully if you are driving to the base village.
Reaching Dara Village by Public Transport System
Reaching Dara Village by public transport is slightly more difficult than using a private vehicle.
If you plan for public transport, start your journey as early in the morning as possible. You have two options for public transport - taxi or bus.
Taxi :
You can take a shared taxi from the State Road Transport Corporation, Srinagar or from the taxi stand at Lal Chowk. It will cost you Rs 60. It takes about 50 minutes to reach New Theed.
The taxi will pass through Dal Lake via the Mughal gardens. From New Theed, you have to take another shared taxi for Dara Village. It takes about 20 minutes to get to Dara Village base and costs Rs 20.
Bus :
Bus option is also available at the SRTC terminal. Take a bus that is headed towards New Theed via Boulevard Road. Bus takes an hour and 10 minutes to reach New Theed and costs Rs 30. 
Once you reach the New Theed Bus stand, take a taxi to Dara Village. It will take 20 minutes to get to Dara Village base and costs Rs 20. 
Note: Direct bus service till Dara Village is not available, and you will have to travel by bus and taxi both to reach the base. 
Note: Public transport is not available as per timings. Instead, it is based on the availability of seats. When the seats get full, buses leave for their intended destination. There may be a variation in timing due to traffic jams and the availability of seats.
Nearest Airport and Railway Stations
Srinagar International Airport is 30 km away from Dara Harwan
Srinagar Railway Station is 26 km away from Dara Harwan
Frequently Asked Questions About the Letten Peak Trek
Stay Options Near Dara Village
There are some private hotels such as the Cherry Tree Resort, Nadis, Urban Den, and Harwan Heights who provide accommodation for tourists.
However, the other option is to stay closer to Srinagar. You can also opt for a houseboat at Dal Lake. Living in the houseboat gives you a perfect opportunity to experience slow-paced life surrounded by the picturesque beauty of Kashmir. 
You can also pitch your own tents near the stream at Dara Harwan.
Food and Water source on the Letten Peak Trek
Food Sources:
Many restaurants in and around Dara Village provide both vegetarian and non-vegetarian food for visitors. The Mahnoor Dine Inn, a highly rated restaurant in the area, is a multi cuisine one and is preferred by many.
Water Sources:
The river till Campsite and many other springs and small streams serve as the primary source of water throughout the trail. 
Tip: If you are not comfortable with having water from the stream or the waterfalls, carry purification tablets or a Paany Bottle to purify water.
Exit points on the Letten Peak Trek
Medical Emergencies can strike on any trek. The key to dealing with them lies in knowing your exit points. Know how to get out and reach the nearest hospital quickly. 
You will have to retrace your steps and come down to Dara Village if you want to exit the trail due to any emergency.
How long is the Letten Peak trek?
The Letten Peak Trek is 16 km long. It starts and ends at Dara Village.
The safest way to do this trek is to cover this distance in 2 days so that your body gets enough time to acclimatize to the high altitude. This way, you'll also get to enjoy the whole experience.
Emergency Contacts on the Letten Peak Trek
Hospitals:
Primary Health Centre Faqir Gujri - This hospital is just 1.5 km away from Dara village.
Health Centre Hazratbal Srinagar - This hospital is 10 km away from Dara village.
SKIMS - Sher I Kashmir Institute of Medical Sciences, Soura - This hospital is 13 km away from Dara village .
Police Station:
Police Station Harwan, Srinagar (0194-2461801) is the nearest police station on the Letten Peak Trek.
Forest Department:
In case of any emergency, Contact: 0194-2455027
ATM and Networks on the Trek
ATMs: Dara Harwan and Harwan have the closest ATM services to Letten Peak Trek.
Mobile Networks: Letten Peak Trek is a no network zone. However, there are a few spots on the trek where you will find some connectivity on Airtel and BSNL networks.
Note: Only post paid sim cards work in Kashmir.
What to Take on Your Trek
Things to get for the Letten Peak Trek
Letten Peak Trek is a high altitude trek through the Pir Panjal range in Kashmir. The trekking gear you need to carry for this trek is a bit similar to our high altitude treks. So pay careful attention to this entire section.
– A list of everything you need for the trek
– A list of medicines for your trek
First, The Essentials. You cannot do the trek without these.
1. Trekking Shoes:
Danizab Meadow Trek requires trekking shoes that are sturdy, have good grip, have ankle support and can handle uneven terrain.
Buying Tip: The Trek series and MH series are good options by Decathlon. They are tried and tested. There really isn't any necessity to buy the higher-priced models. Here is a list of other budget shoes that trekkers are using.
2. Backpack:
For a trek like Danizab Meadow Trek, you need a 30-40 litre backpack. Make sure your backpack has good hip support, shoulder support and quick access pockets. 
Buying Tip: Wildcraft, Decathlon and Adventure Worx usually make good backpacks. While Wildcraft has more expensive ones, the other two brands have budget-friendly backpacks to choose from.
3. Clothes:
Wearing layers is the mantra in the jungles. Layers give you maximum protection from all elements. And when the weather changes, you take off or put on layers as required. 
Base Layer:
2 T-Shirts:
Wear one T-shirt and carry one. Carry full sleeve dry-fit T-shirts (preferably collared). These prevent your arms and neck from getting sunburnt or bitten by insects.
Dry-fit T-shirts quickly dry your sweat, they are easy to wash and in case of a rainy day, they dry quicker. Round neck T-shirts are ok, but collared ones are better.
Buying Tip: You can get dry-fit T-shirts from Decathlon. Also, stores like Reliance Trends, Max have dry-fit T-shirts. They don't usually cost much.
Protip If you are extra susceptible to cold, you could get a set of thermal inners. In our experience, wearing two T-shirts over another works as a better thermal. And they save you weight and space since you're already carrying them. 
1 Outer Layer:
A padded jacket serves the purpose here. You don't really need a water-resistant material. But you need an outer padded jacket that keeps the wind and cold out. Ensure your padded jacket has a hood as well.
Do you need a down/feather jacket? Not really. A regular padded/shell jacket 
will do.
Note: Down/feather jackets are really not available these days. Many jackets masquerade as down/feather jackets. They are essentially fine polyester-filled jackets. They mimic the function of a down jacket but are usually expensive.
One Trek Pant:
One pair of trek pants should suffice for this trek. Trek pants with zippered cut-offs at the thighs are very suitable for treks. Also, choose quick-dry pants over cotton. They dry up soon in case of small stream crossings/rain.
Buying Tip: Go for pants with zippered pockets. They come in handy to keep your phone, handkerchief or pocket snacks.
Track pants or trek pants? Stretchable track pants make a good backup and can double up as your thermal bottoms. But track pants are not trekking pants — so don't use them as your main outerwear. Keep them only as a backup.
Mandatory Accessories, without these too you won't be able to do the trek. 
These accessories are mandatory. Don't go to Danizab Meadow Trek without them. Trekkers generally put off purchasing / borrowing the accessories for the last minute. We suggest the opposite. Start gathering these accessories first.
 1. Sun Cap:
A sun cap is mandatory. Trekking without a sun cap can lead to headaches, sunstrokes, quick dehydration and a sharp drop in trekking performance.
Protip Sun caps with flaps are a blessing for trekkers. They cut out almost all UV leaks, and prevent sunburns in every possible way. Also, they are a lot more effective than sunscreen lotion. A wide-brimmed sports hat also helps to prevent sunburn in a big way.  
2. Socks (2 Pairs):
Carry 2 pairs of sports socks to give you cushioning plus warmth. Again the mantra is to wear synthetic socks or at least a synthetic blend. Cotton socks soak in water and sweat. They are very hard to dry. As for woollen socks, they help you to keep warm and snug at the night. If you cannot get woollen socks, wearing two sports socks serves the purpose as well. 
3. Headlamp:
Trekkers are often confused about whether they need to get a headlamp or a handheld torch. You need to get a headlamp because it leaves your hands free to do other activities. On the Letten Peak Trek, you'll need your hands free to wash dishes, pitch tents and hold your trek poles.
Buying Tip: Ensure your headlamp covers a wider area and is not too focused as a single beam. On a trek, your headlamp must help you see around you as much as ahead of you. 
4. Trekking Pole (A Pair):
Trekking poles give you stability and balance. They reduce your energy consumption by almost 40%. On the Letten Peak Trek, there are a few steep ascents and descents. A pair of trekking poles will make the difference between a comfortable and a strenuous trek. In India, we tend to use a single trekking pole. However, two trekking poles give you greater stability and balance. They also increase your walking pace.
5. Rainwear:
On a trek, the weather can change quickly. A bright sunny day can turn into a downpour in a matter of minutes. Carry a poncho or a rain jacket to tackle this. A poncho is a big rain cover with openings for your arms and your head. It is extremely effective because it covers both you and your backpack. It is extremely light and weighs next to nothing.
Rain jackets are more streamlined and less cumbersome but weigh more. Rain pants are really not required. Dry fit trek pants dry quickly even if soaking wet.
6. Rain Cover for your Backpack:
Backpacks are your life. You carry all your dry clothes and your warm gear in your backpack. It is important that your backpack stays dry at all times. Modern backpacks usually come with built-in rain covers. If your backpack does not have a rain cover, ensure you get a rain cover by either (a) buying a rain cover or (b) or cutting a large plastic sheet to the size of your backpack. You can roll the plastic sheet around your backpack and keep it in place with a string or elastic. 
Protip It's good practice to compartmentalise your clothes, accessories and other things in plastic covers inside your backpack. That way, even if it rains and your backpack gets wet, your things are water-proof inside the backpack.
Other Mandatory Requirements:
1. A Toilet Kit:
Keep your toilet kit light. Carry just the basics - toothbrush, toothpaste, small soap, toilet tissue roll, a small moisturizer, lip balm, and a roll-on deodorant. You will not be able to have a bath on the trek, so don't overload on soaps and shampoos.
Protip: Carry miniature-sized items. You will not need more than that. If you're travelling in a group, share one toothpaste for all.
Avoid getting large toilet rolls. The smallest size roll is more than enough for a trek like Letten Peak.
2. Cutlery:
Carry a lunch box, a mug and a spoon. Your lunch box must be leakproof. You are expected to wash your own cutlery. 
Protip: Carry stainless steel cutlery. Avoid fancy high-grade plastic cutlery. Stainless steel cutlery is infinitely easier to wash in cold water. Grease is easier to remove and hygiene is at its highest. Watch this video on why steel cutlery is better than plastic.
3. Two 1-Litre Bottles or a 2-Litre Hydration Pack:
Letten Peak Trek has long walking days. You need to carry two one-litre water bottles to keep yourself hydrated over the distance. If you are used to a hydration pack, then that is ok too. If one among the two bottles is a lightweight thermos, then that helps you to store warm water on a really cold day or for late evenings and early mornings.
4. Plastic Covers:
Carry 3-4 old plastic covers to keep your used clothes. You could use them even for wet clothes. Re-use old plastic bags for this and do not buy new ones.
Personal Medical Kit
Carry these medicines with you, easily accessible at all times.  
1. Dolo 650 (5 tablets): This is a paracetamol. It helps to tackle fever, mild pain
2. Avomine (4 tablets): Carry this especially if you are prone to motion sickness. Pop one-half hour before the start of your road journey.
3. Combiflam (5 tablets): Take a Combiflam if you get a sudden twist of the leg or a muscle strain. It is a pain reliever. It also contains paracetamol.
4. Digene (4 tablets): Take it if you feel the food that you've taken is undigested. Take it seriously. It could be a sign of AMS.
5. ORS (6 packs): Consume a pack of ORS water at least once a day, usually mid-day when you are in the middle of your trek. It replenishes essential salts lost while trekking.  Tip: It also makes cold water easier to drink.
6. Knee Brace (optional): Carry this if you are prone to knee injury or have known issues of knee pain.
How to get Fit for Your Trek
Cardiovascular Endurance
This trek requires a good amount of cardiovascular endurance. You can begin by jogging every day. Start jogging at a slow pace and then keep increasing your pace day by day. In order to be prepared for a strenuous trek, you should have a combination of distance and speed targets.
Here's a fitness routine that works
–> Target completing 5 km in 40 minutes when you begin.
–> Gradually increase your pace by running 4 times a week and bring it down to 5 km in less than 35 mins.
–> If you are 45 years old and above and are more comfortable with long-distance walking than jogging, then before you go on the trek, you should be able to walk at least 10 km at a stretch. Target completing this in 90 minutes.
If jogging is fine for you, your target should be completing 5 km in 45 minutes initially, and 5 km in less than 40 minutes before you go on the trek.
–> If you are somebody who prefers cycling over running, your target must be to cover 22 km in 60 minutes.
Working out indoors
If you can't go out and jog because of time and space constraints, here's a video you can use to work out indoors.
Places to Visit After the Letten Peak Trek
It is a famous national park in Kashmir valley. It is popular for its population of rare and critically endangered Hangul / Kashmir stag
It is a beautiful tourist destination and is also the base camp of Pamsar Lake Trek. 
Yousmarg is a hill station located in the Budgam district. Yousmarg is also the basecamp for many popular treks in Kashmir such as the Danizab Meadow Trek, Trusar Lake Trek. 
These are a UNESCO World Heritage Site located in the heart of Srinagar and around the shores of Dal Lake. The Mughal gardens are famous for their exquisite Mughal architecture.
This is arguably India's most famous ski destination. It offers adventure activities such as heli-skiing, snowboarding etc during winter. Gulmarg is generally crowded during winter.
Pahalgam is a popular hill station located in the Anantnag district of Kashmir. Pahalgam also serves as the base for many treks like the famous Tarsar Marsar, Kolahoi Glacier and Tulian Lake Trek.
Trek Contribution
Trek explored and documented by Saliyah Ahmad
Trek edited by Manasa N L
GPX File Opt in
We go to great lengths to ensure you have a safe trek. So here's a GPX file of the trail to help you navigate without getting lost.