Can You Help Us With Photographs Of This Trek?
We are looking to enrich this documentation with more photos. Pictures go a long way in explaining the trail, more than words ever can. If you have done this trek, can you share your photos with us? We will include them on this page, with due credit to you.Click here to contribute.
The Complete Guide to Makalidurga Trek
Unlike any other day treks around Bangalore, Makalidurga is a special trek which has a Railway Station as its base. Although the temple devoted to Muthurayaswamy is the actual starting point, it is a thrilling walk from the Railway Station to the temple for two kilometres.
Makalidurga has got its name from two sources, according to legend. Firstly, Makalidurga is named after a woody climber called "Makali Beru" or Makali Root, the juice of which is used to prepare a health drink. Some medicines also include juice because it purifies the blood. 
Secondly, the 'Palegar' or ruler named Makaliraya used the fort as his granary during the late 1800's and that is how Makalidurga got its name.
Makalidurga is full of legend and history, because it is believed that Markandeya Rishi performed penance here.
Makalidurga has seen a lot of change of hands. In the beginning, rulers of the Vijayanagara Empire held the fort. But, as a result of their decline, the Nayakas ruled the fort. Later, Shahaji Bhosle, the father of Chhatrapati Shivaji, controlled the fort when he was ruling the Doddaballapur region during the 1600's.
Makalidurga is about 60 kilometres from Bangalore, and just 15 kilometres from Doddaballapur and is easily accessible by road and railways. It is an all-season trek for beginners as well as experienced trekkers and for people looking for a quick weekend getaway.
Table of Contents
What To Watch Out For
Trail Information
GPX File And Route Map Of The Trek
Best Time To Do Makalidurga Trek
How To Reach Makalidurga
Is Makalidurga Trek Difficult
How To Get Fit For The Makalidurga Trek
Things To Take On Makalidurga Trek
Frequently Asked Questions About Makalidurga Trek
Nearby Places To Visit After The Makalidurga Trek
What To Watch Out For
1. A unique experience walking alongside railway tracks
Rarely does a trek start along a railway track, and Makalidurga ticks the box here. You walk along the railway lines to reach the base of the trek, which is quite an experience.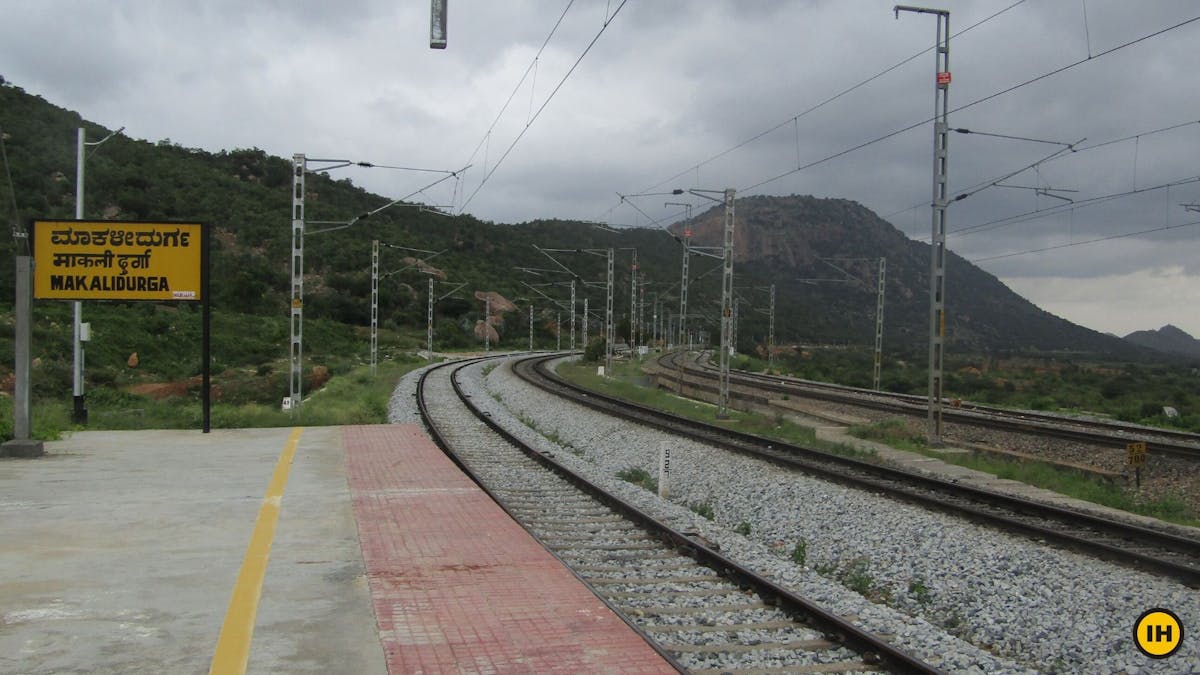 Makalidurga is the only trek which starts next to the railway lines. Picture by Saurabh Sawant
2. View of Gundamagere Lake, the shape of which resembles the continent of South America
The Gundamagere lake is almost in the shape of South American continent. The view of the lake as you make your way to the summit is definitely a highlight of this trek.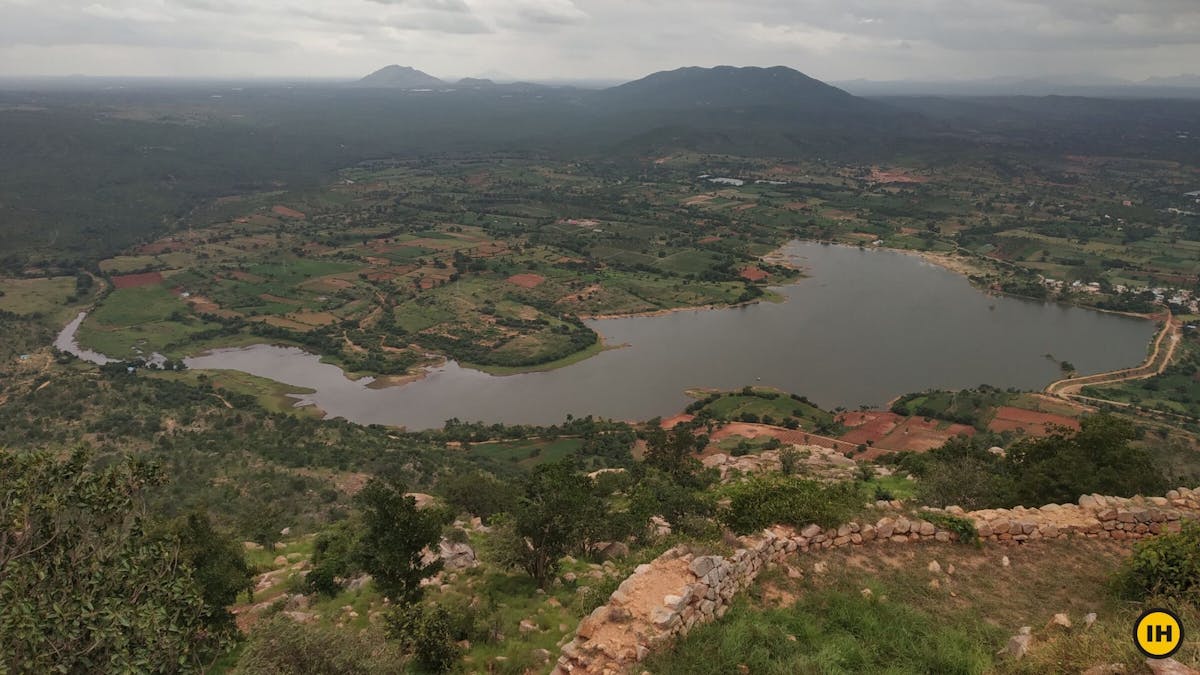 Scenic Gundamagere Lake, as seen from Makalidurga Top. Picture by Saurabh Sawant
3. Ancient ruined fort on the top of the hill
The fort at the summit takes you back to the time when the fort was full of life and imagine its grandeur in the ancient times.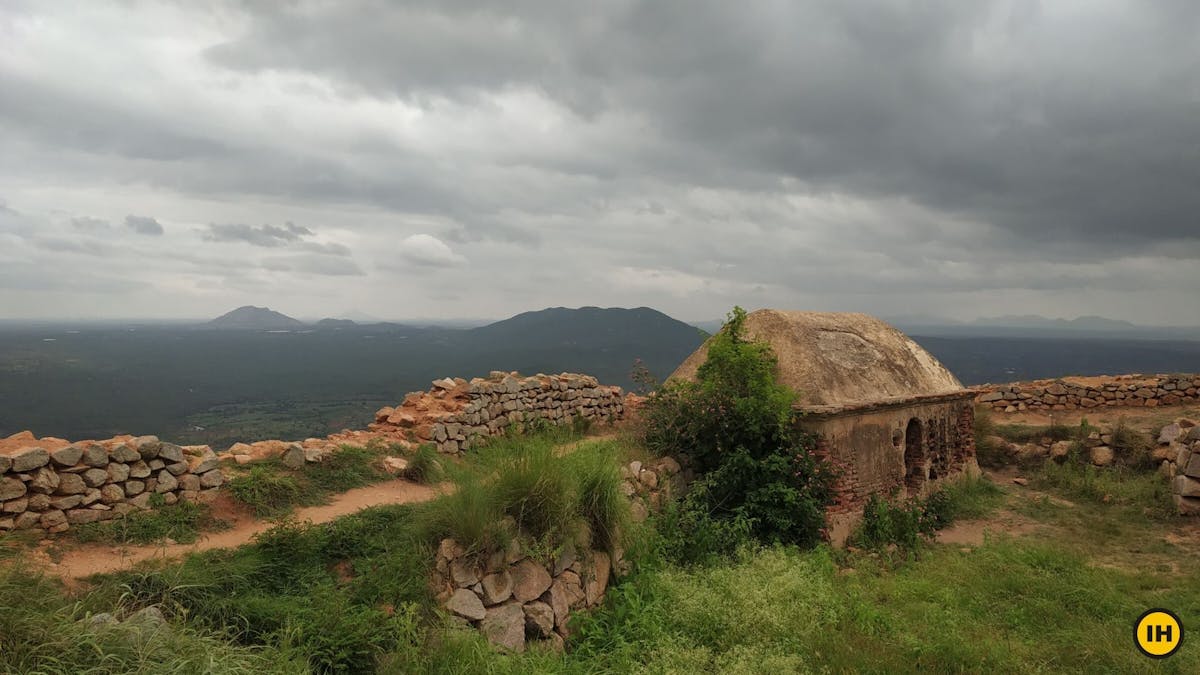 Razed fort walls facing the mounds of the region. Picture by Saurabh Sawant
4. The temple of Makali Malleshwara is surrounded by the fort walls
At the summit, the temple dedicated to Makali Malleshwara is still worshipped by devotees who climb up all the way to get a glimpse of the idol. This is a rare sight for a fort which is in ruins.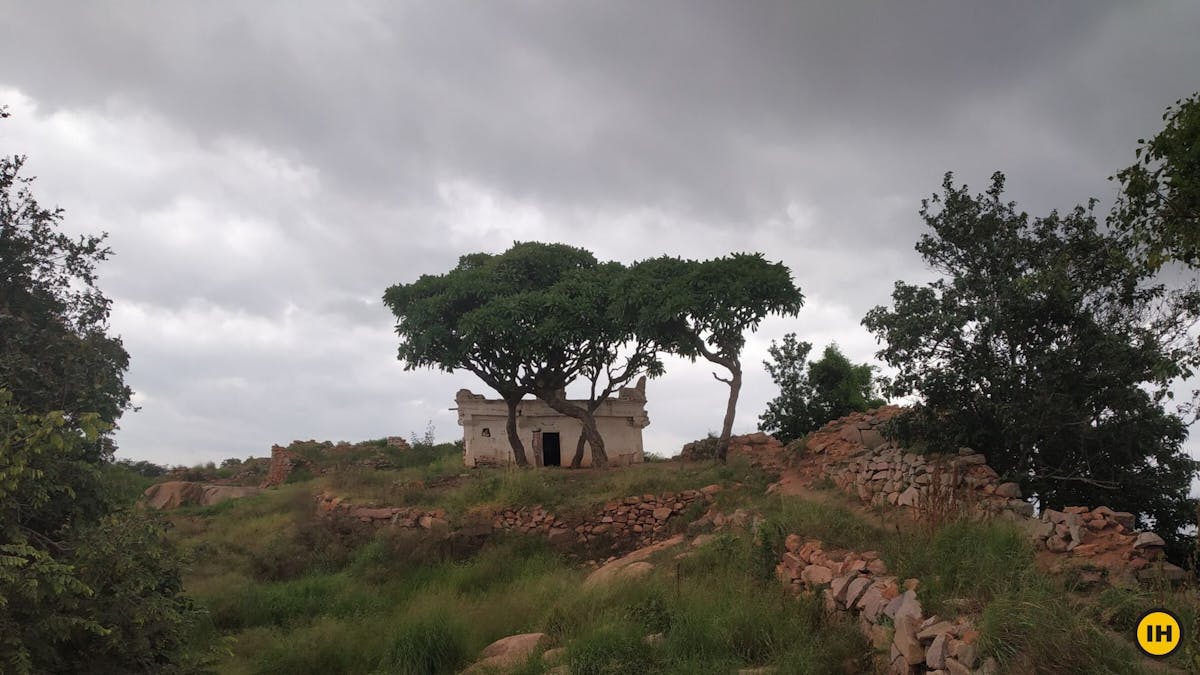 The ancient temple of Lord Shiva is both historical and mythological. Picture by Saurabh Sawant
Trail Information
There are two ways to approach Makalidurga. One is by walking from the Makalidurga Railway Station and the other is by reaching till the parking lot by vehicle and crossing the railway lines to start from Muthurayaswamy temple.
The trail itself can be divided into three sections, if you are walking from the Railway Station and two sections if you are starting from the temple.
For the first option, the stretch begins with a flat walk alongside the railway lines till you reach Muthurayaswamy temple. The second stretch is from the temple to Rest Point I, which starts with a gentle ascent over muddy and rocky terrain and gets very steep closer to Rest Point I.
This is the first stretch if you are exercising the second option. The final stretch is a moderately steep ascent on granite rock to the summit.
Trek Distance: 2.2 kilometres
Trek Duration: 30 minutes
GPS Coordinates of Makalidurga Railway Station: 13°24'35.32"N 77°30'35.07"E
GPS Coordinates of Muthurayaswamy Temple: 13°25'33.51"N 77°30'15.79" E
Start walking by taking a right turn inside the railway station with Makalidurga hill in your sight. It is a flat 2.2 kilometre enjoyable walk. Watch out for the trains passing by and always stick to the trail. Do not walk on the rails.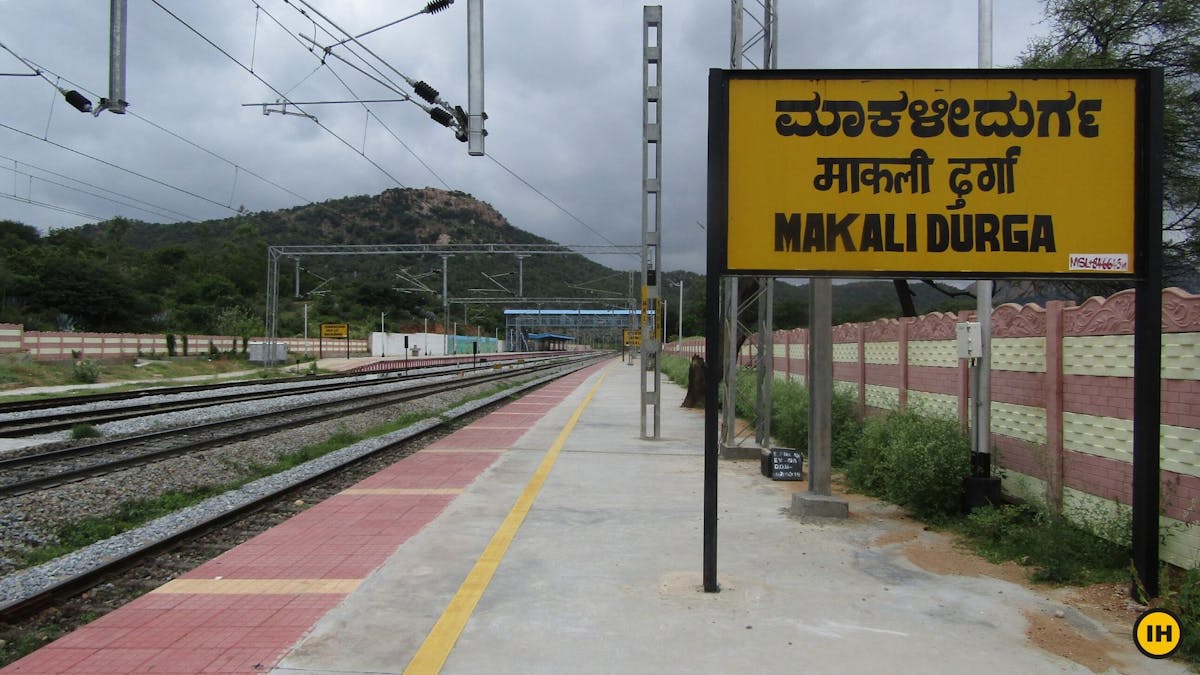 Makalidurga Railway Station with Makalidurga Hill in the background. Picture by Saurabh Sawant
The walk, although long, is picturesque and never boring.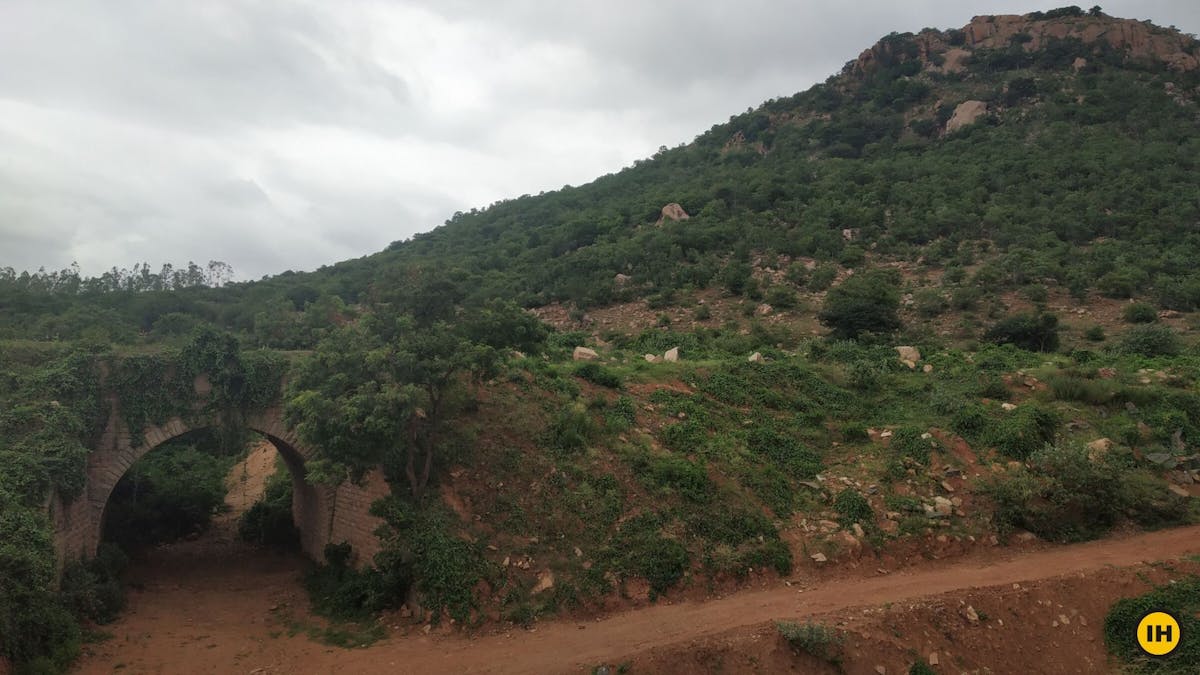 One of the entrances to Makali village, probably built in the ancient times. Picture by Saurabh Sawant
You will see stretches of green and rocky boulders all around you, while stones and iron are at the center. This is such a contrast while you move closer to Makalidurga.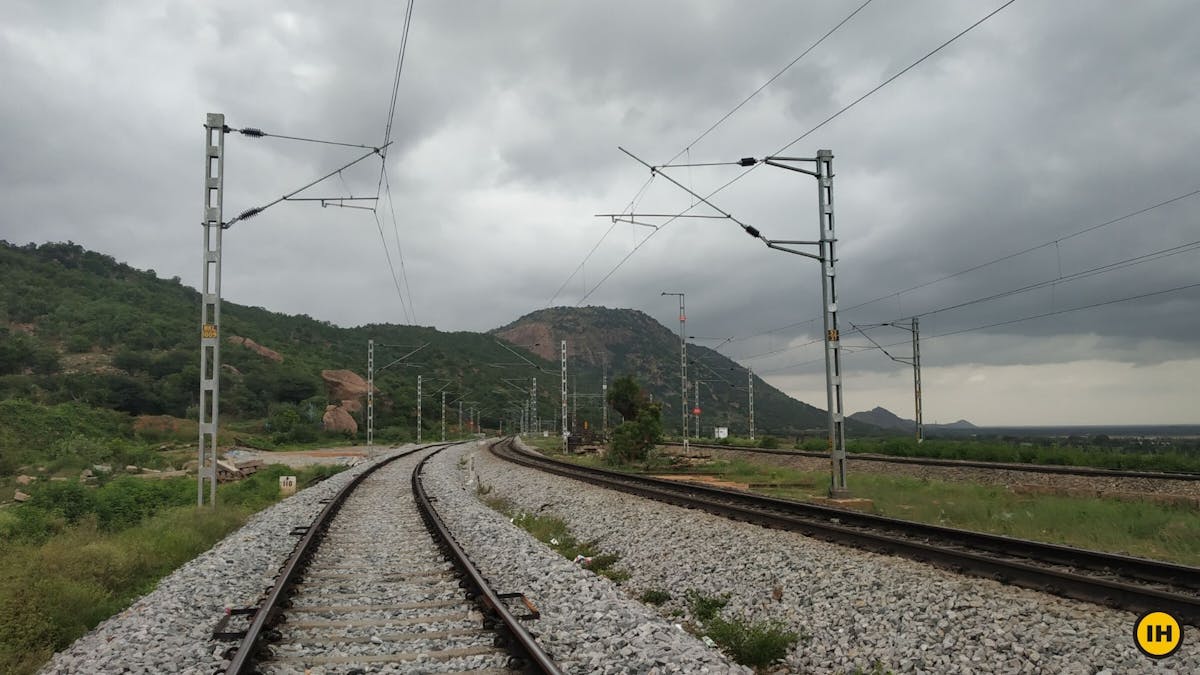 The rails with Makalidurga in the background. Picture by Saurabh Sawant
Look for the marking which says '54/300′. This marks the end of walking along the railway lines. Keep to your left and in less than a 100 metres look for a sign board from the Forest Department on the left and cross over to the trail.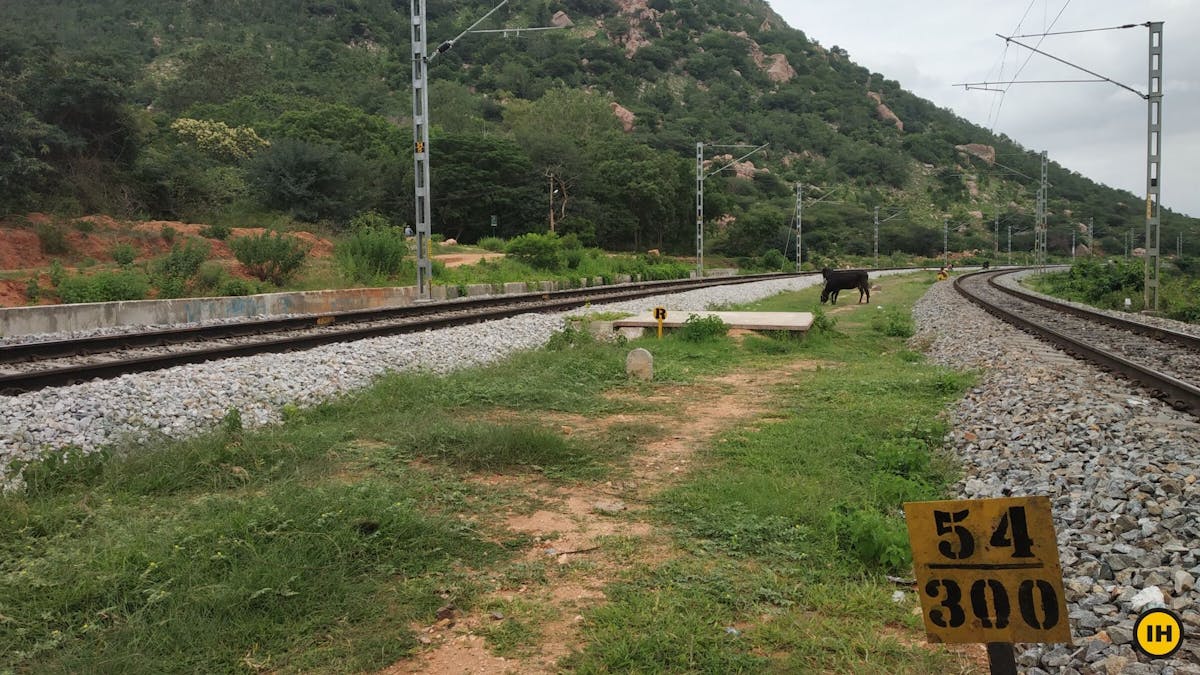 Keep an eye out for this marking. The trail and the sign board are seen to the far left from this point. Picture by Saurabh Sawant
Trek Distance: 1 Kilometre
Trek Duration: 40 minutes
GPS Coordinates of Muthurayaswamy Temple: 13°25'33.51"N 77°30'15.79" E
GPS Coordinates of Rest Point I: 13°25'47.01"N 77°30'03.91"E
If you are approaching by road till the parking space, look for a big sign board by the Karnataka Forest Department on your left from State Highway 9 and at the board turn left on the dirt track.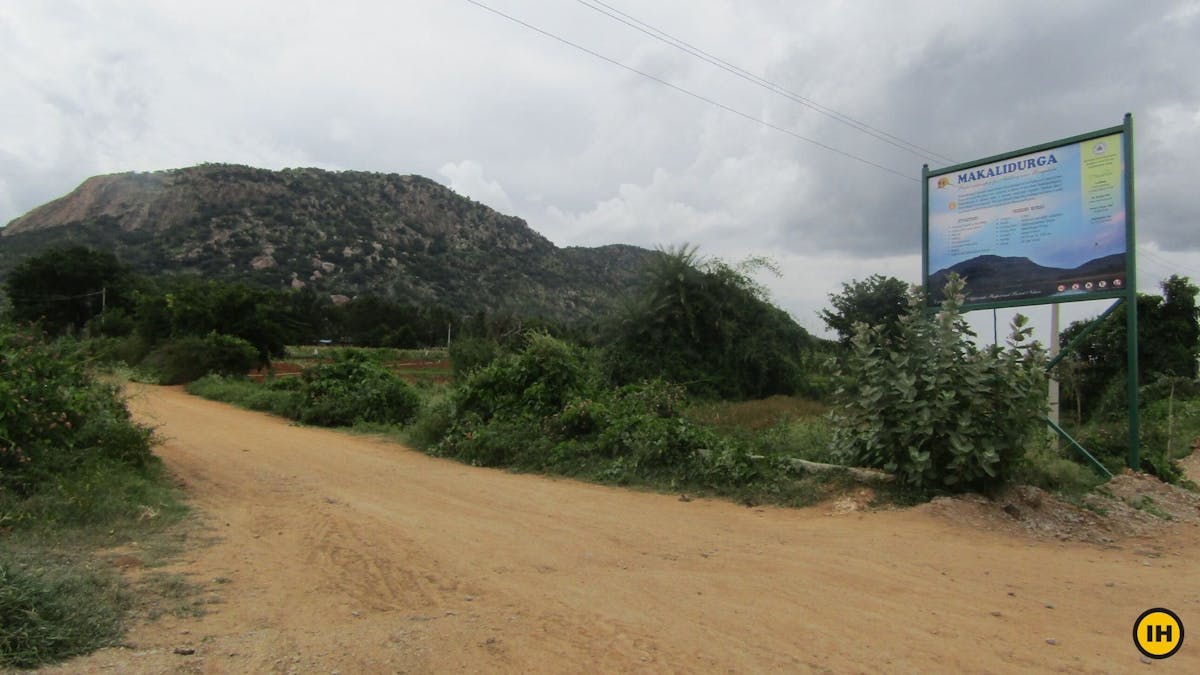 The big sign board cannot be missed from State Highway 9. Picture by Saurabh Sawant
Drive for about 900 metres where you see an open space. This is the parking lot. Park your vehicles here and hop over the railways lines to the other side of the trail which has a sign board from the Karnataka Forest Department.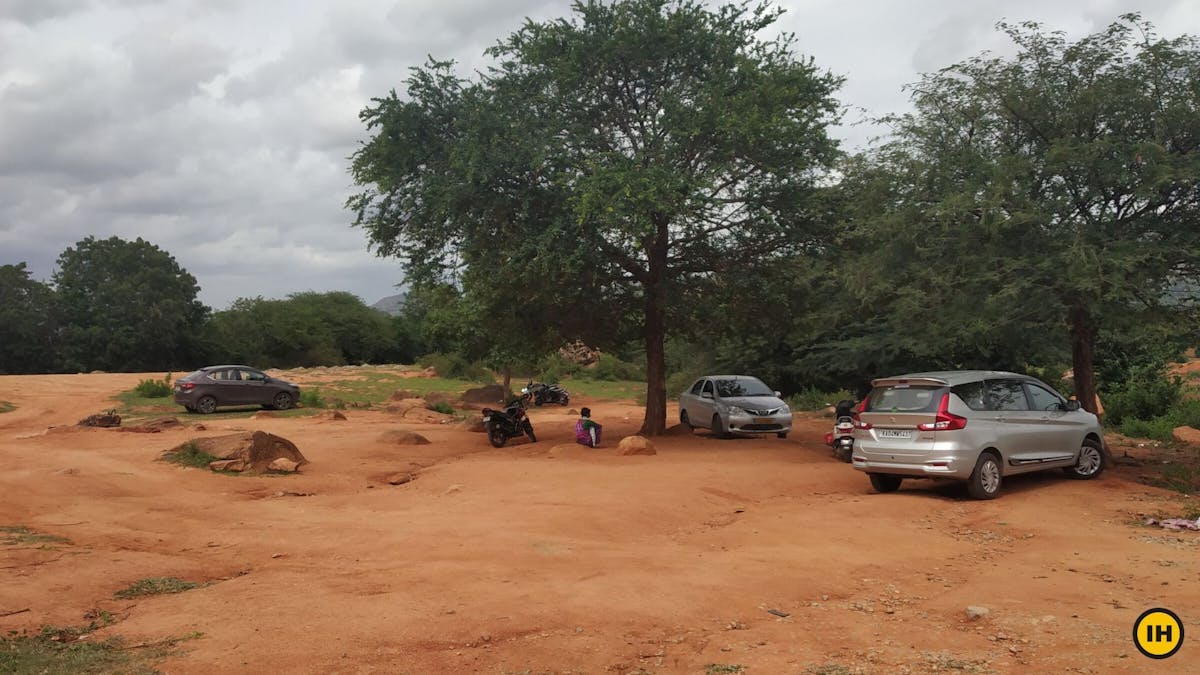 Parking space before starting the Makalidurga trek. Picture by Saurabh Sawant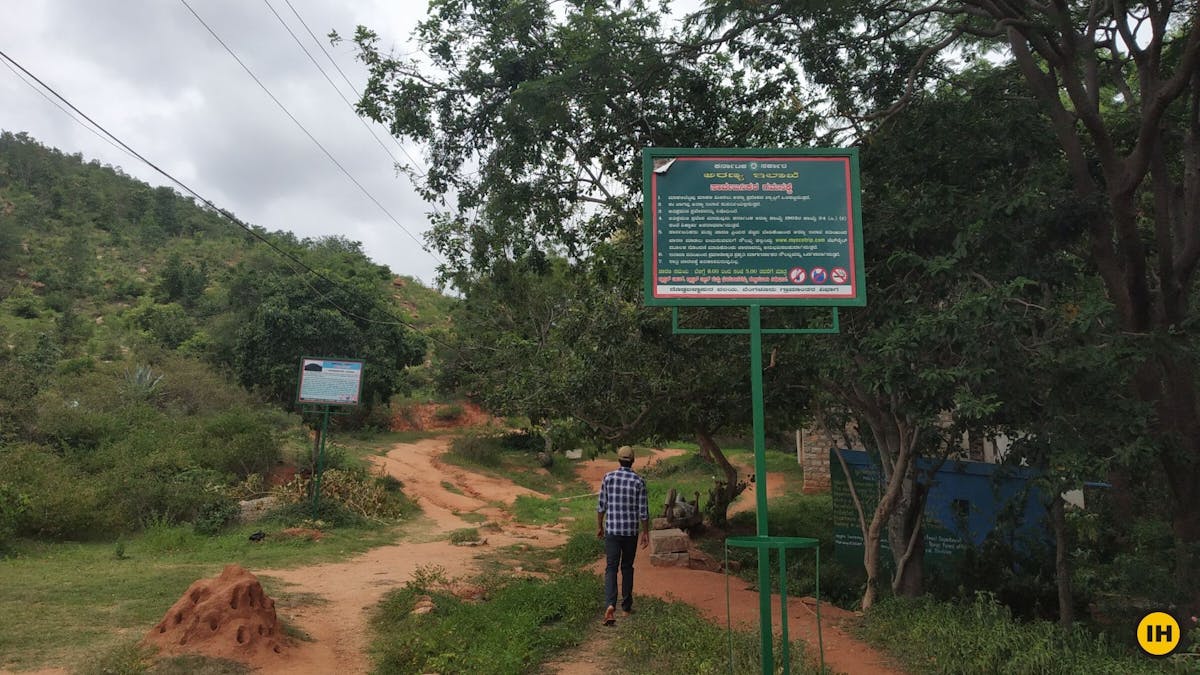 The sign board marks the start of the Makalidurga trail. Picture by Saurabh Sawant
In about 100 metres you will find Muthurayaswamy temple on your right. Follow the trail straight ahead until you reach a deviation, with the trail to your left leading to Gundamagere lake and a slightly elevated trail to your right leading to Makalidurga. Take the trail on your right.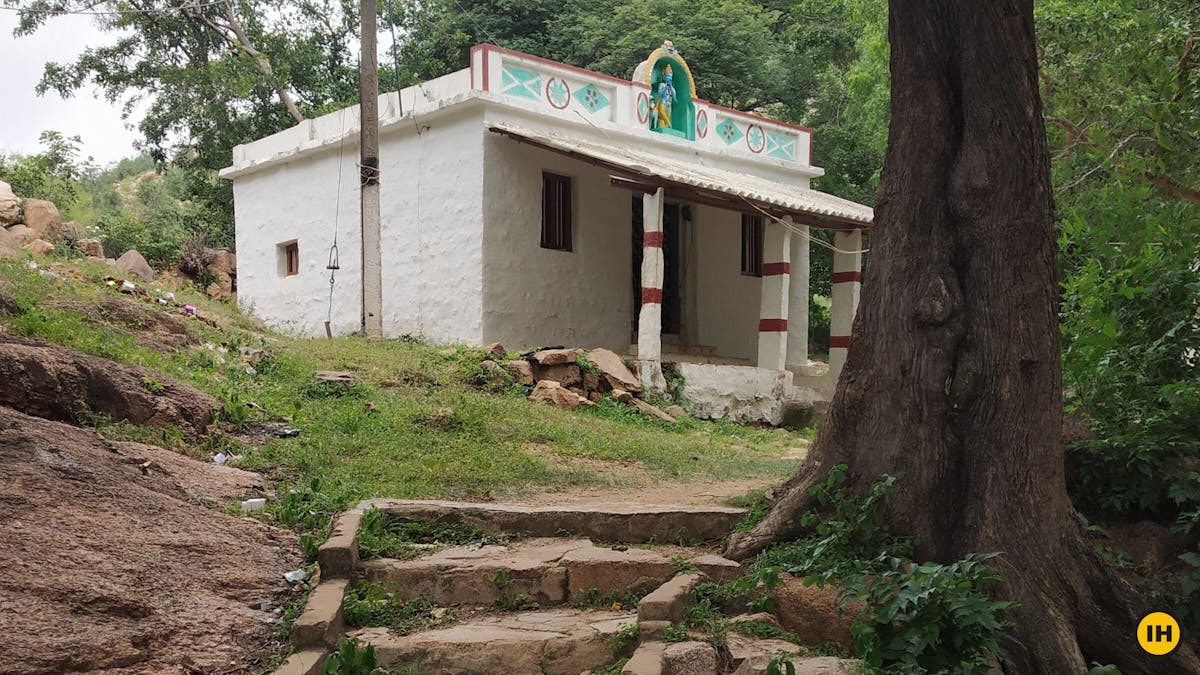 Muthurayaswamy Temple is accessible by going off the main trail to your right. Picture by Saurabh Sawant
The deviated trail marked by another sign board by the Forest Department. Picture by Saurabh Sawant
The trail to the top of the hill is well marked by arrows on the rocks. Follow them to be on the right track.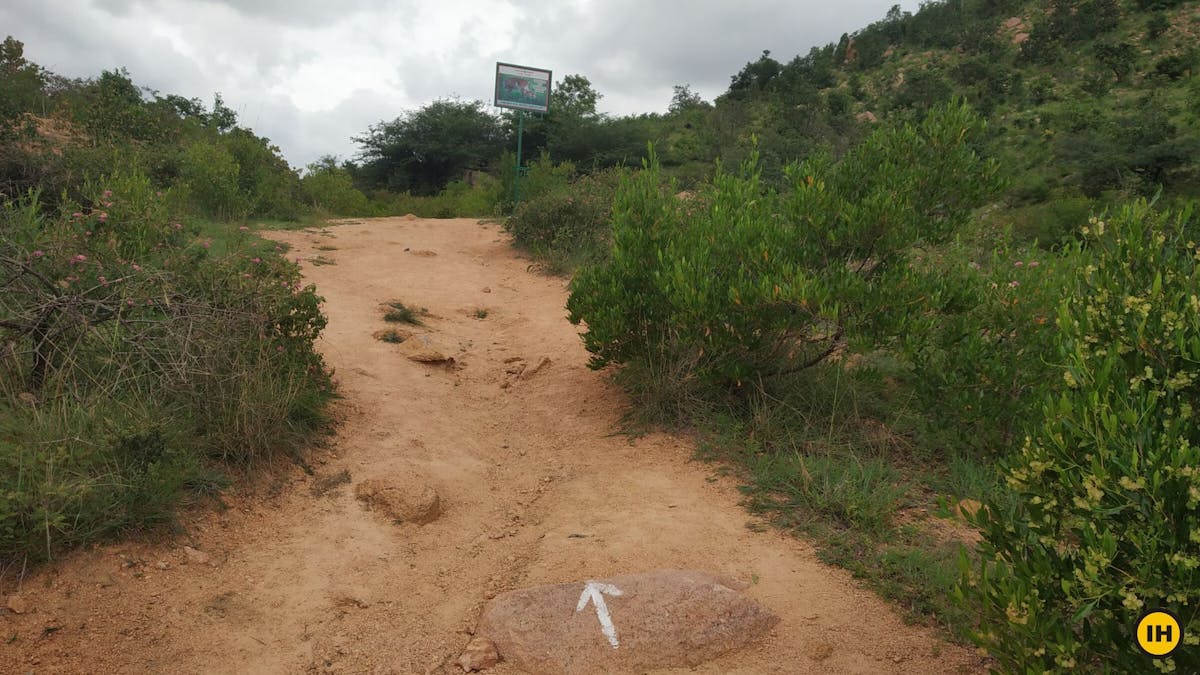 A way-point painted on a rock. Picture by Saurabh Sawant
Follow the trail as it leads you towards the top.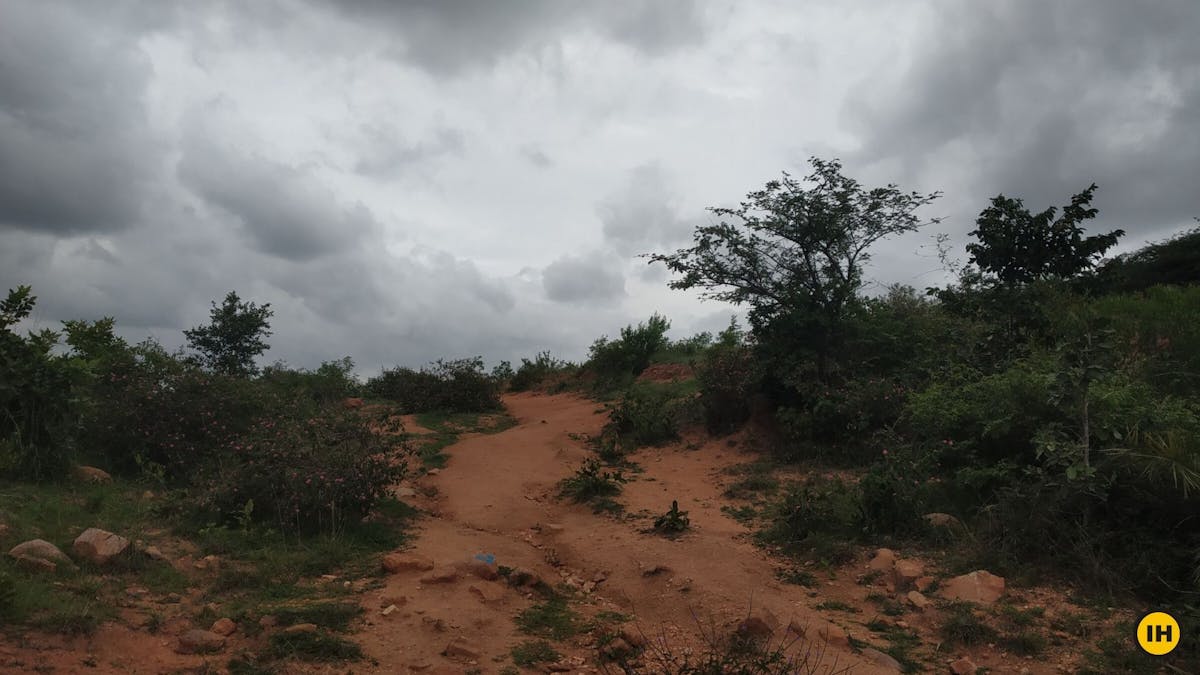 The muddy trail until the rocky section is easy on the legs. Picture by Saurabh Sawant
Do not forget to enjoy the scenery around as you walk up the trail. The surrounding is filled with lush greenery, especially during monsoons.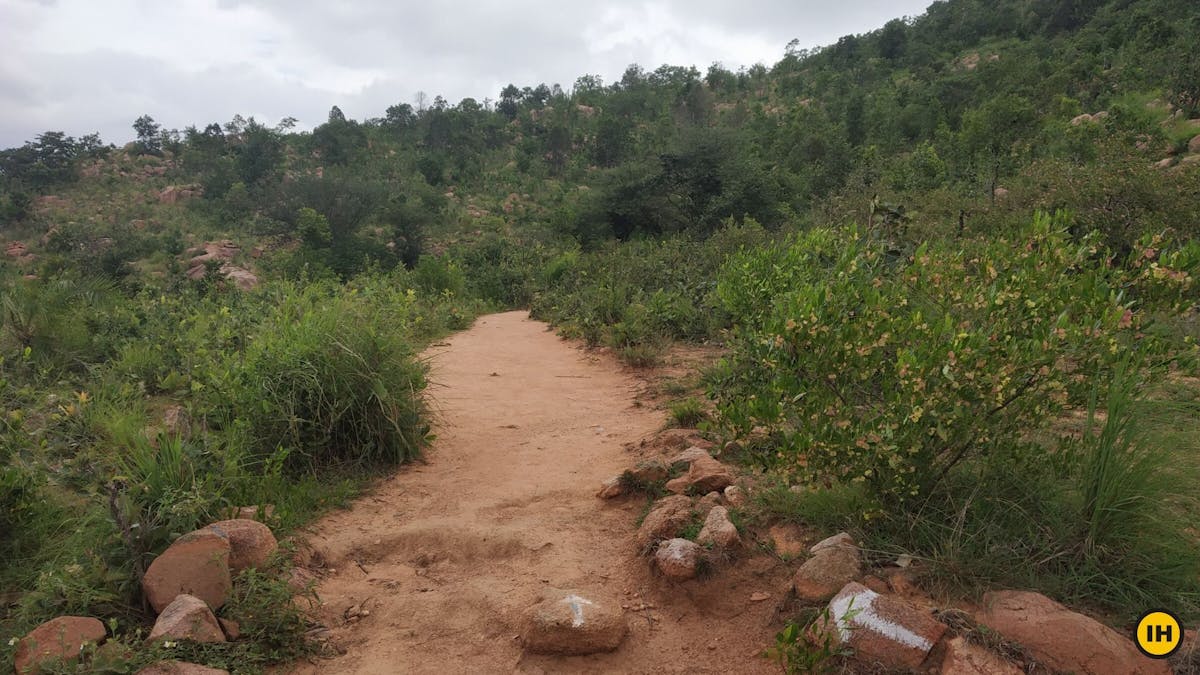 Trail surrounded by vegetation with way markers pointing the right direction. Picture by Saurabh Sawant
The trail starts to get tricky as the ascent becomes steeper. Make your way up through rocks and boulders with loose gravel. Chances of slipping are more in this section.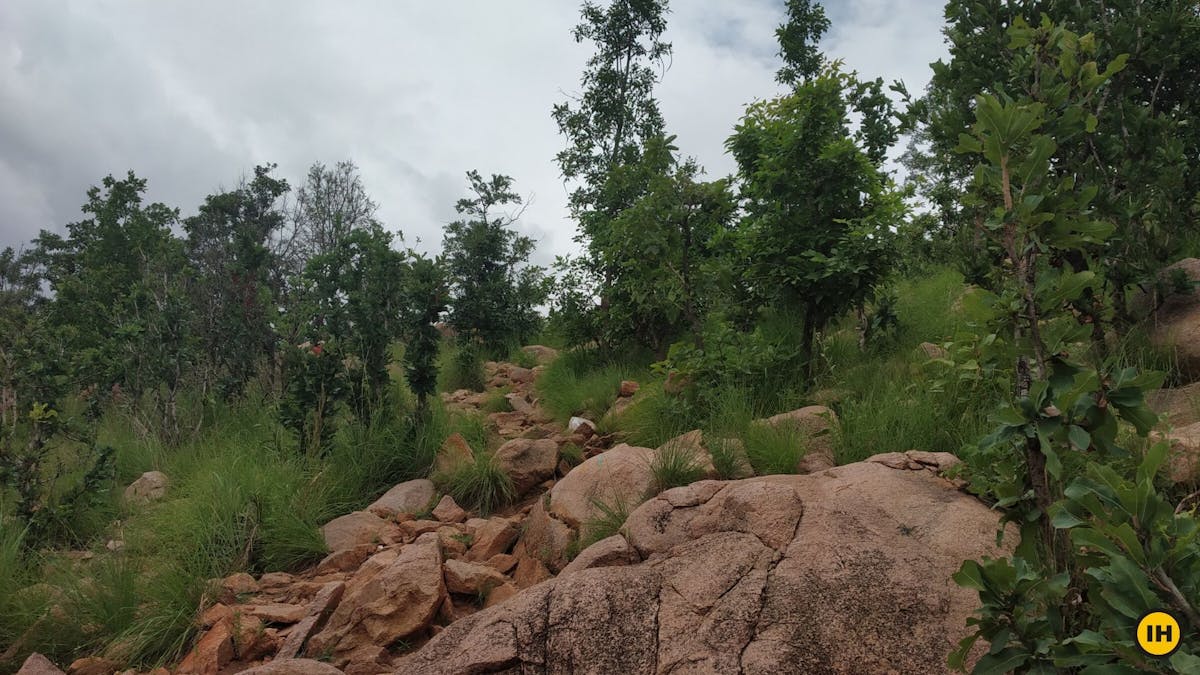 Trail filled with boulders and rocks. Picture by Saurabh Sawant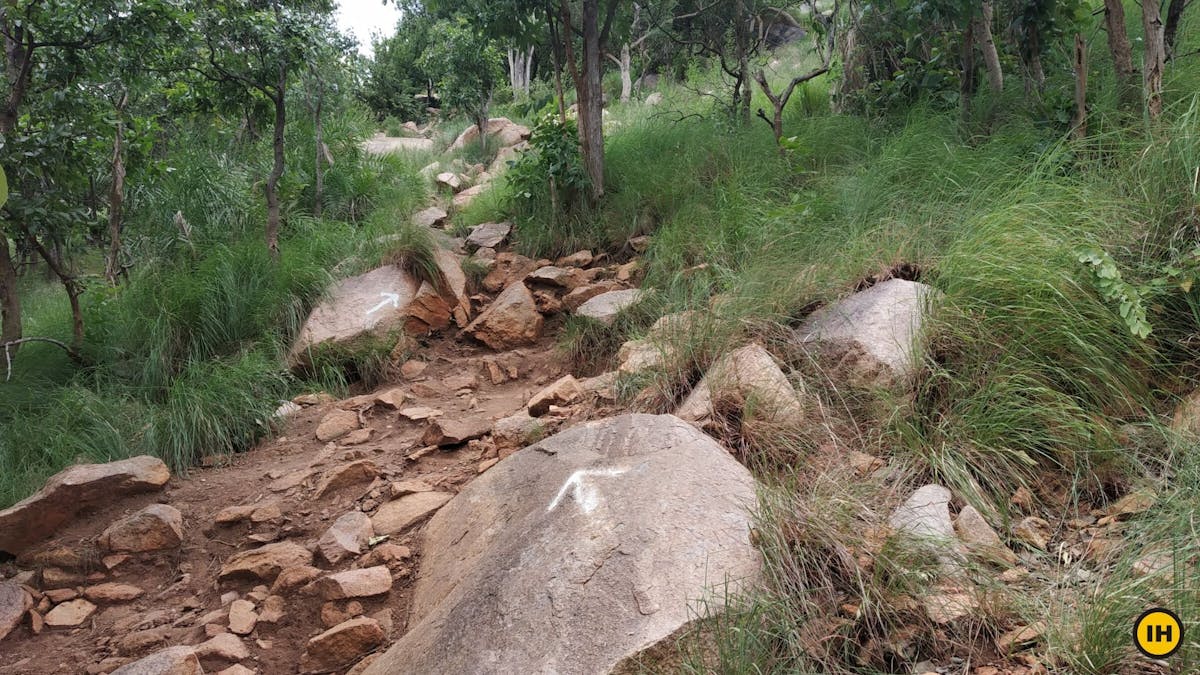 There are way markers to ensure you are not lost. Picture by Saurabh Sawant
Once the tricky section is done, the trail opens up to a panoramic view of Gundamagere lake. Stop for a moment and take in the scenery.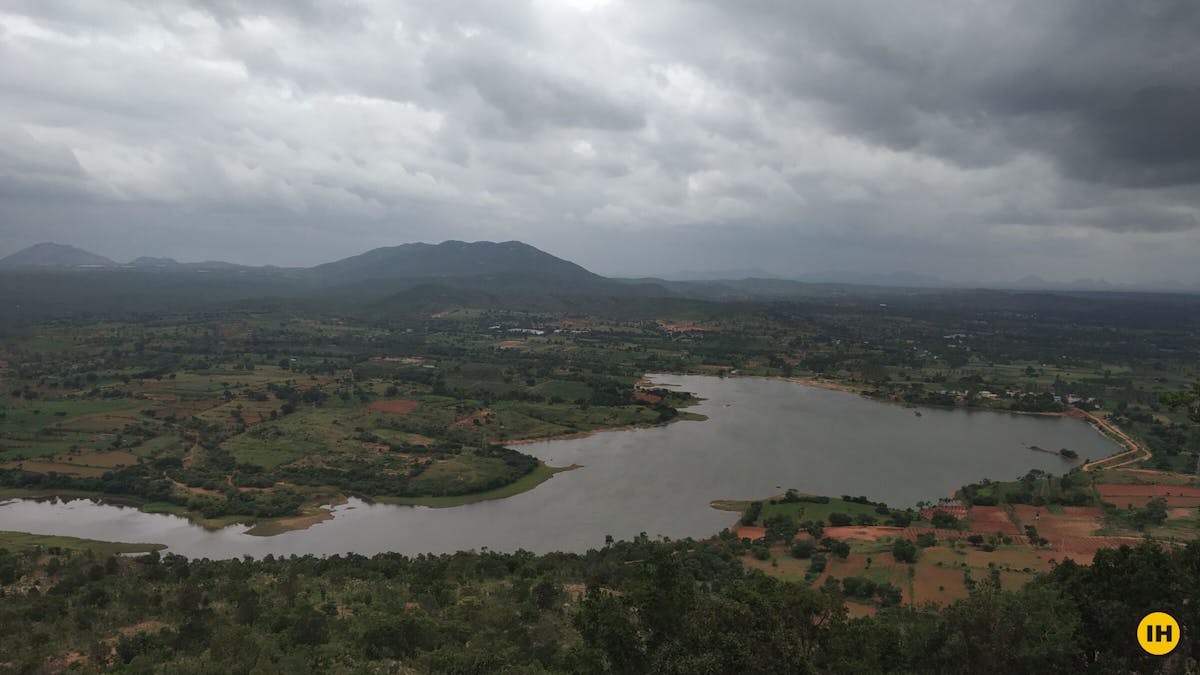 Gundamagere lake, as seen from the trail. Picture by Saurabh Sawant
A short while from here, you will climb the final steep granite rock to reach Rest Point I. Take the support of boulders as you climb up. This ensures there is enough grip for you to safely reach the top.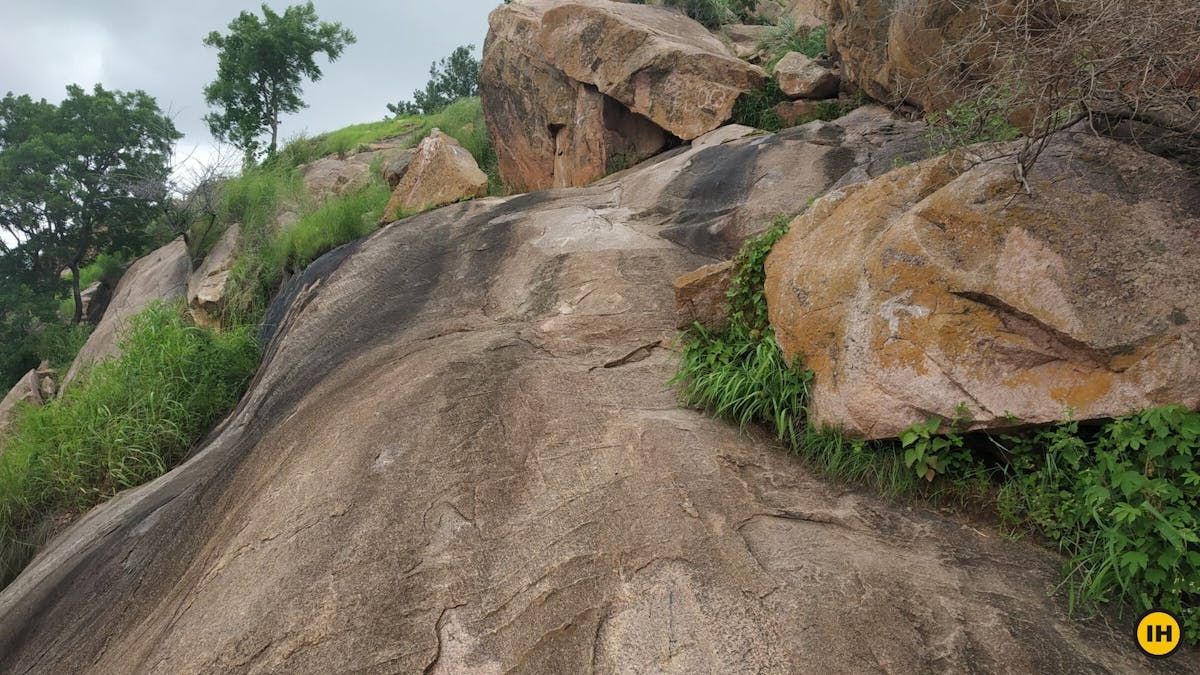 Trickiest section of the trail. Picture by Saurabh Sawant
Rest here for a few minutes and have your snacks while enjoying the beautiful scenery. The fort at the top of the hill is visible from Rest Point I.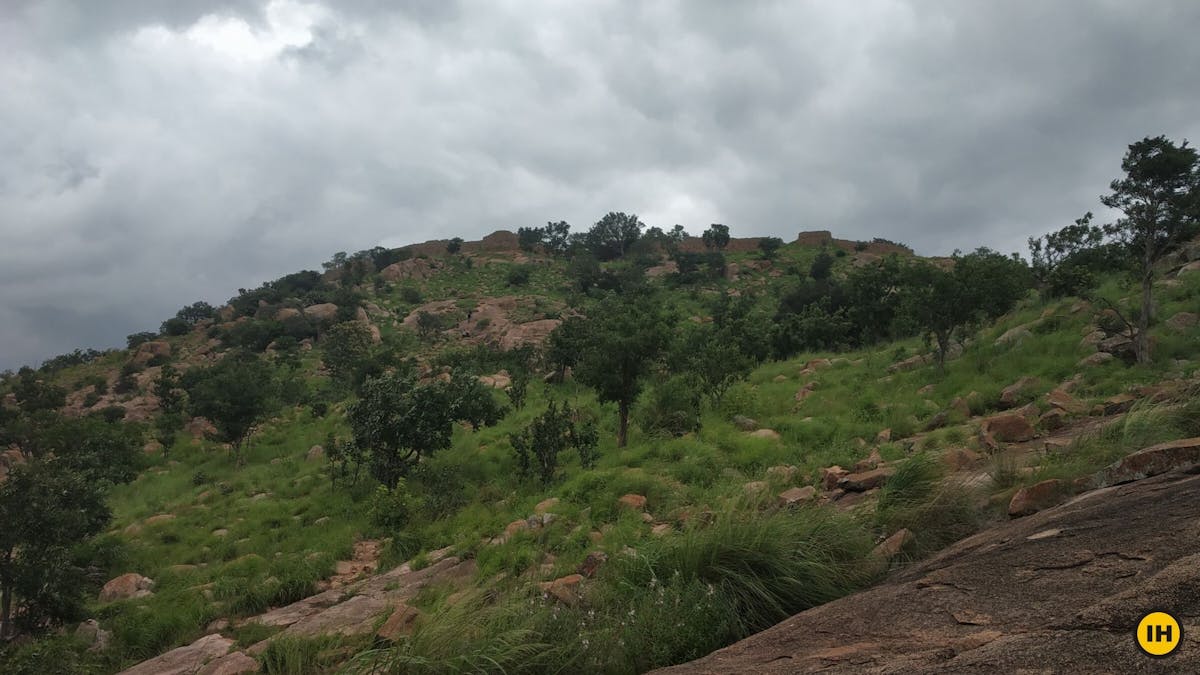 Rest Point I with Makalidurga fort on the top. Picture by Saurabh Sawant
Trek Distance: 600 metres
Trek Duration: 20 minutes
GPS Coordinates of Rest Point I: 13°25'47.01"N 77°30'03.91"E
GPS Coordinates of Makalidurga Summit: 13°25'58.24"N 77°30'05.38"E
Proceed towards the fort on a slightly steep trail and in about 20 minutes you will reach the fort at the top, which marks the end of the ascent.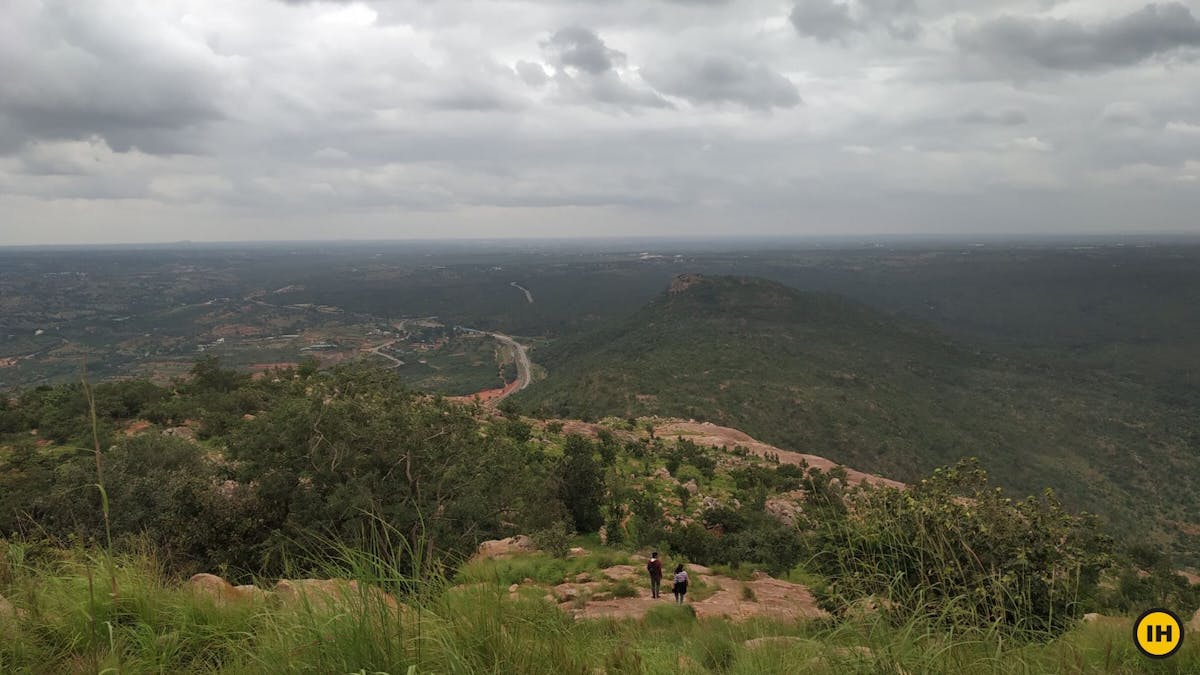 Look back to enjoy the view on the way to the fort. Picture by Saurabh Sawant
You will be greeted by the ancient fort walls which remind us of their history.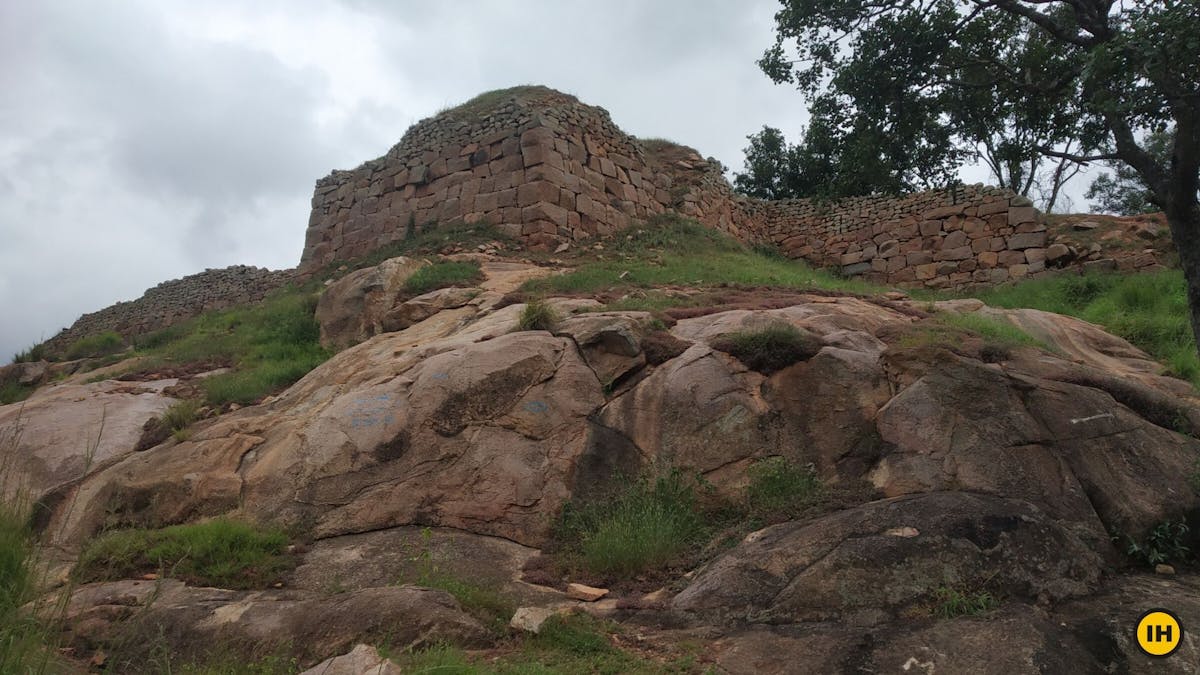 The ancient fort walls. Picture by Saurabh Sawant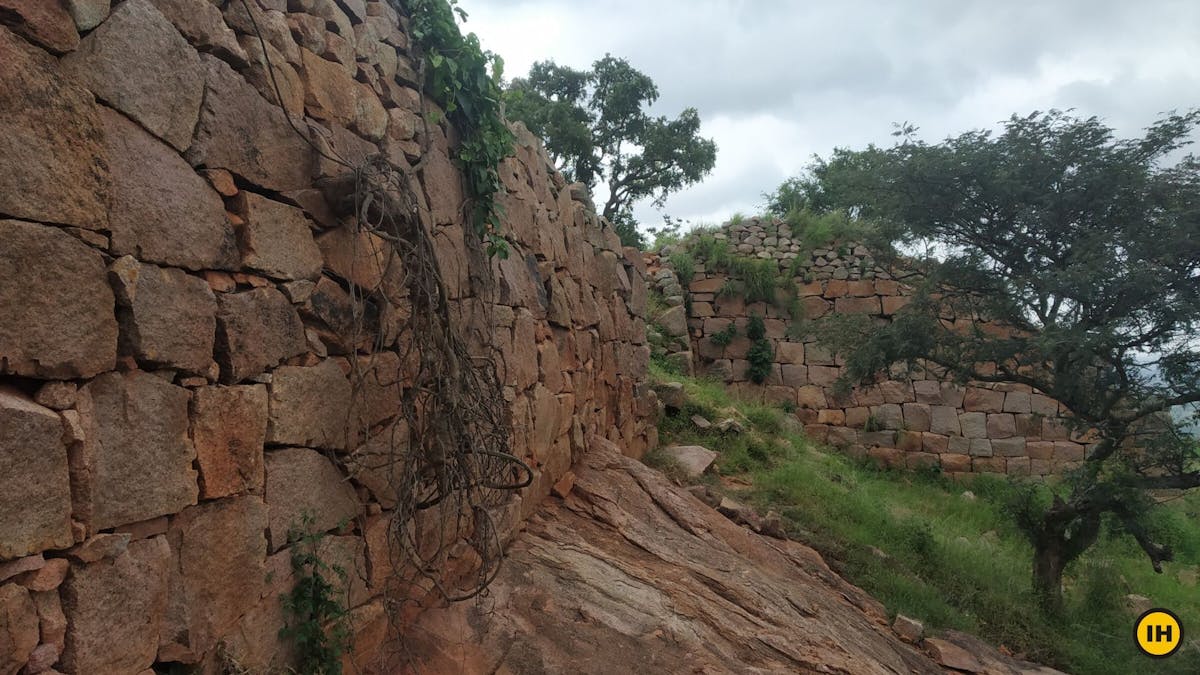 Age old fort walls, as seen from inside the fort. Picture by Saurabh Sawant
Standing on these walls will give a panoramic view of the surroundings. Two lakes are spotted from the top, Gundamagere lake to the West and Gunjur lake to the East.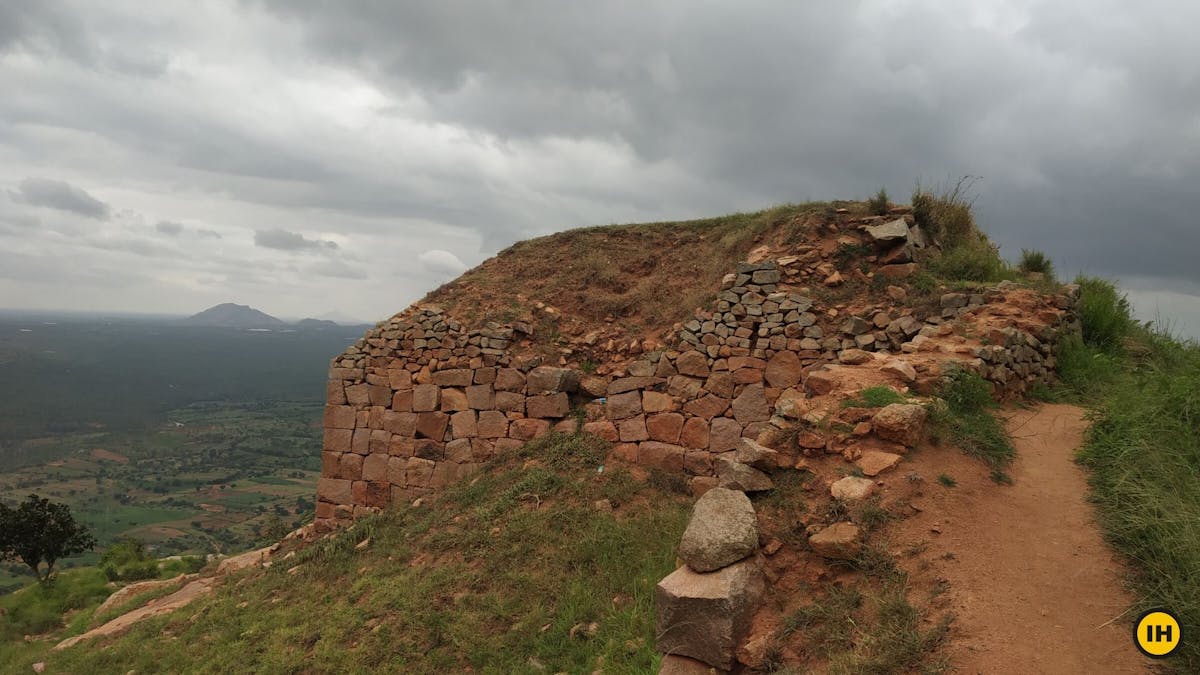 Trail leading up to the top of the fort walls. Picture by Saurabh Sawant
The main highlight of the trek is Makali Malleshwara temple at the top, surrounded by fort walls. The ancient temple has idols of Lord Shiva and Nandi and still attracts devotees from nearby villages.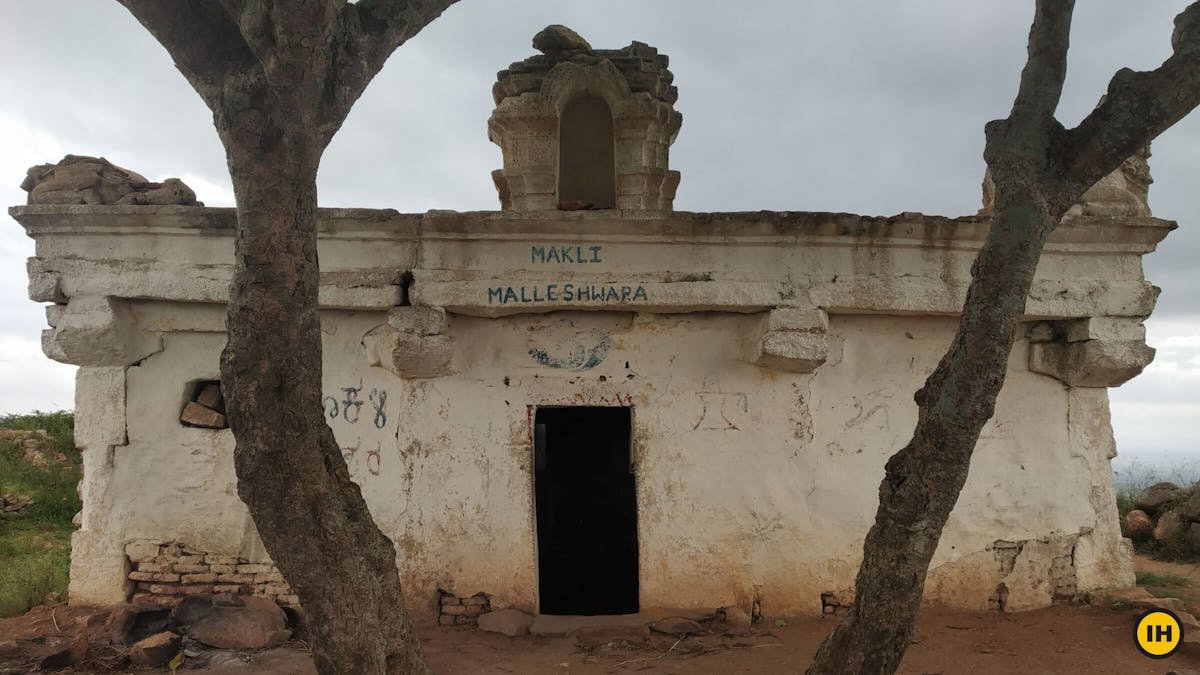 Makali Malleshwara temple. Picture by Saurabh Sawant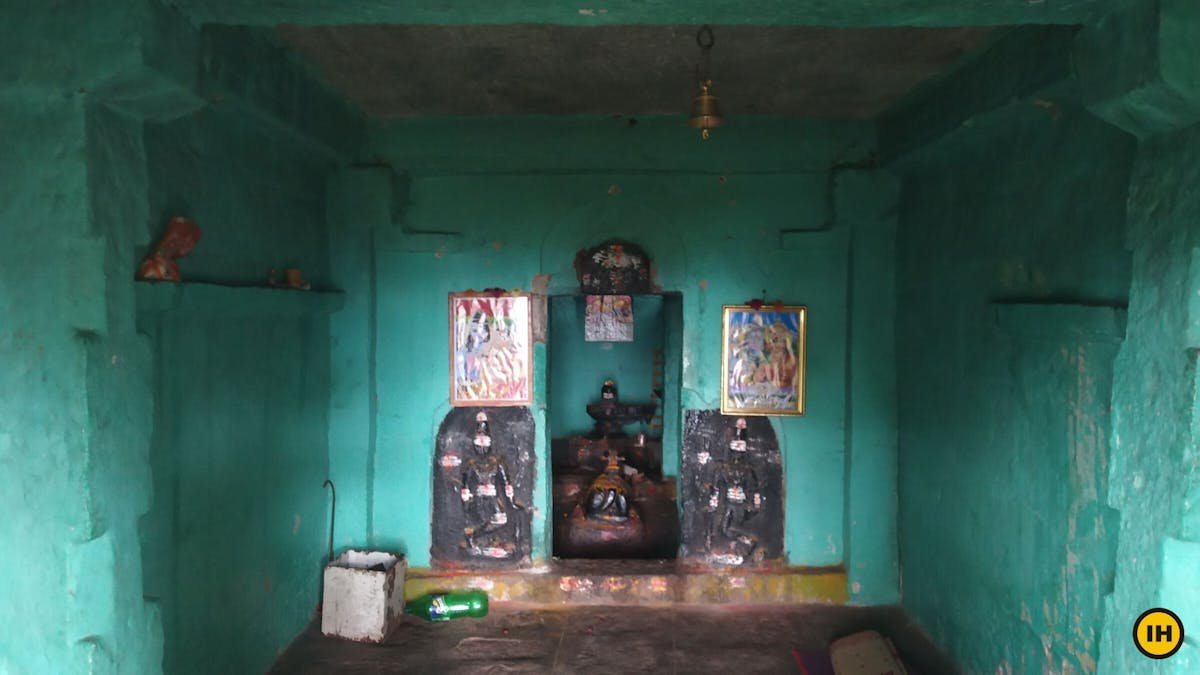 Idols of Lord Shiva and Nandi inside the temple. Picture by Saurabh Sawant
Roam around and explore the fort. You might find a variety of ancient objects like rocks containing ancient writings on them, dilapidated idols on the roof of the temple to name a few.
Close your eyes and spend some time to reflect on your journey till the top. Notice the silence and the sounds of nature. Relax your over-worked muscles before you start your journey back to base.
Because you will take the same route to descend, you must be extra cautious on the tricky and steep sections and move slow and steady here. A slip may cause you to fall and injure yourself badly.
Follow the way markers painted on the rocks to reach the base without getting lost.
GPX File And Route Map Of The Trek
Route Map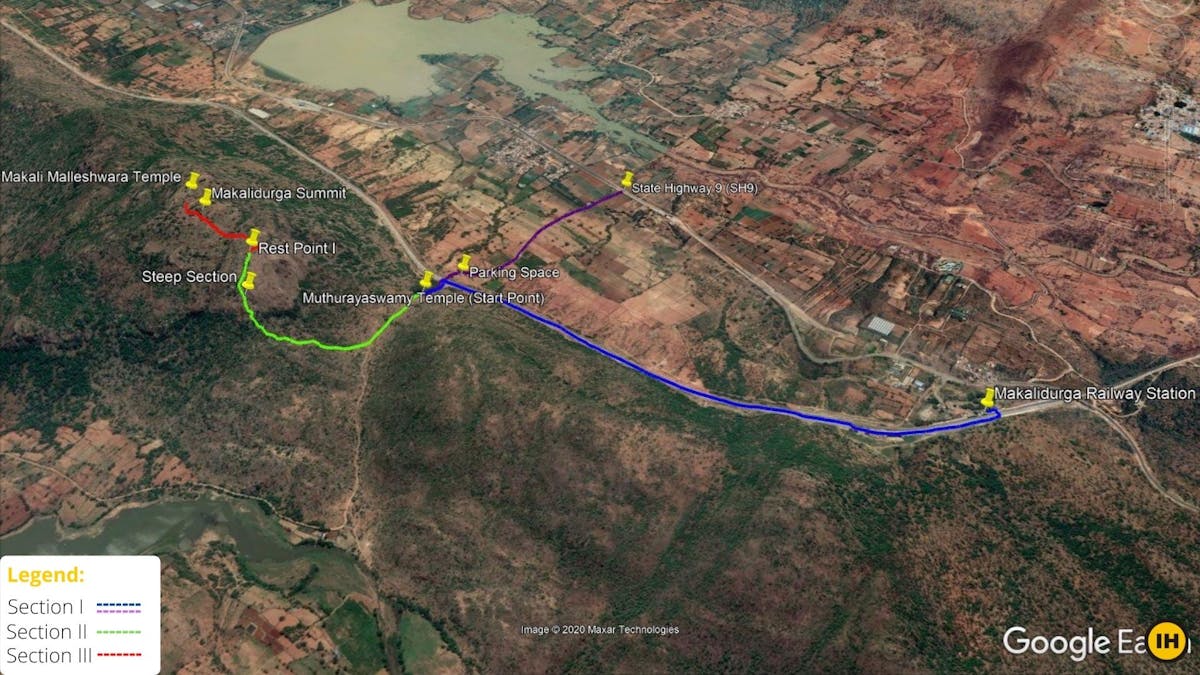 Route Map of Makalidurga Trek. Screenshot on Google Earth Pro
GPX File
In case you want to read more on how to use this gpx file, go through our detailed guide here.
Best Time To Do Makalidurga Trek
Makalidurga is one of those treks that can be done all year round.
However, due to very little tree cover on the trail, we recommend you wear a cap during summers to avoid exposure to the sun. Not wearing a cap or a hat will tire you quickly due to dehydration caused by extreme heat.
During monsoons, carry a poncho or a raincoat along with a rain cover for your backpack to keep yourselves dry on your hike to Makalidurga.
But, we advice not to trek during heavy rain as the trail becomes slippery due to loose rocks and mud. This will hamper your experience of the trek.
How to Reach Makalidurga
• Reaching Makalidurga By Your Vehicle From Bangalore
If you are planning to reach Makalidurga using your own vehicle, use this link to help set up navigation in Google maps.
If you do not have access to Google Maps, follow the instructions below to reach the base of the trek:
It is a pretty straightforward route to Makalidurga. Take the National Highway 44 (Bellary Road) and proceed towards Bengaluru International Airport.
At Yelahanka, take the Service Road and turn left to take a U-Turn and connect to State Highway 9.
Continue of State Highway 9 for approximately 41 kilometres and take the left turn on to dirt trail when you see a big bill board about Makalidurga and continue till you reach the Parking Space.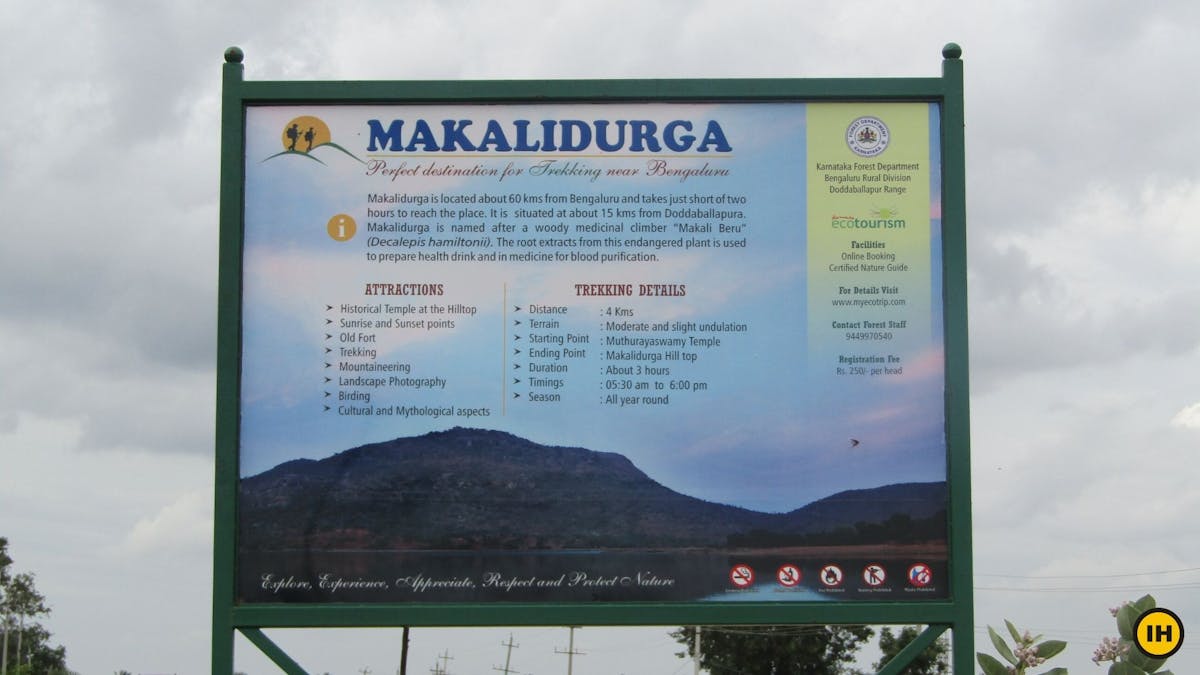 An up close view of the sign board. Picture by Saurabh Sawant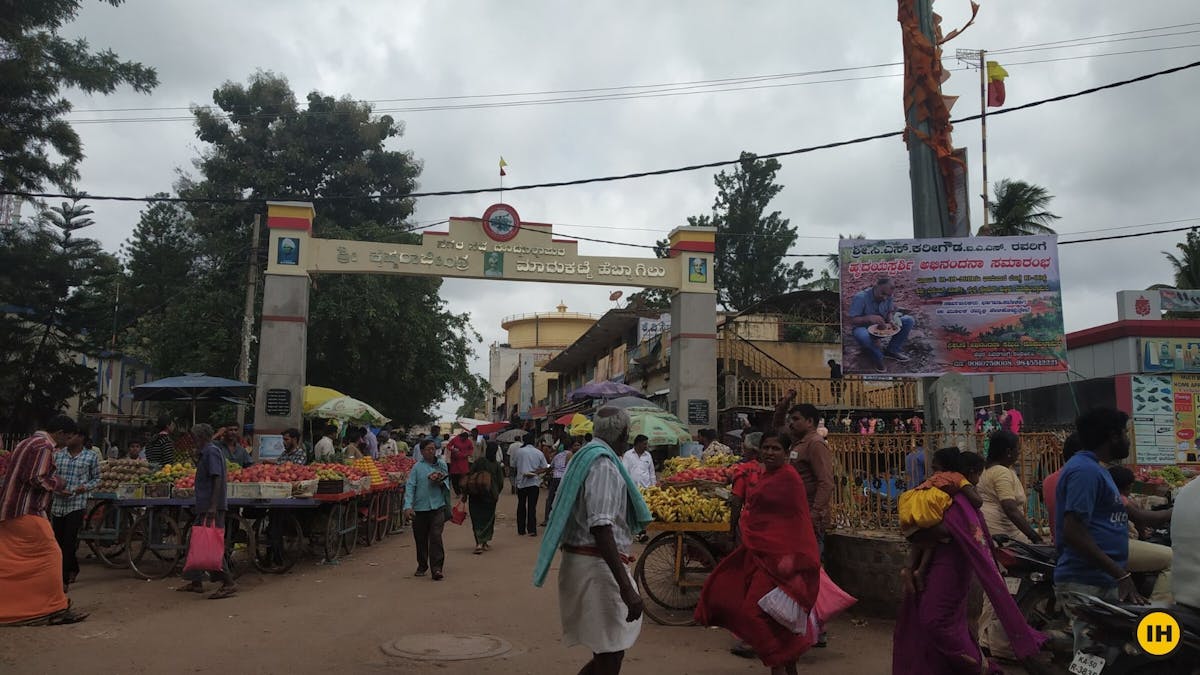 Doddaballapur Market which is right opposite the Bus Station. Picture by Saurabh Sawant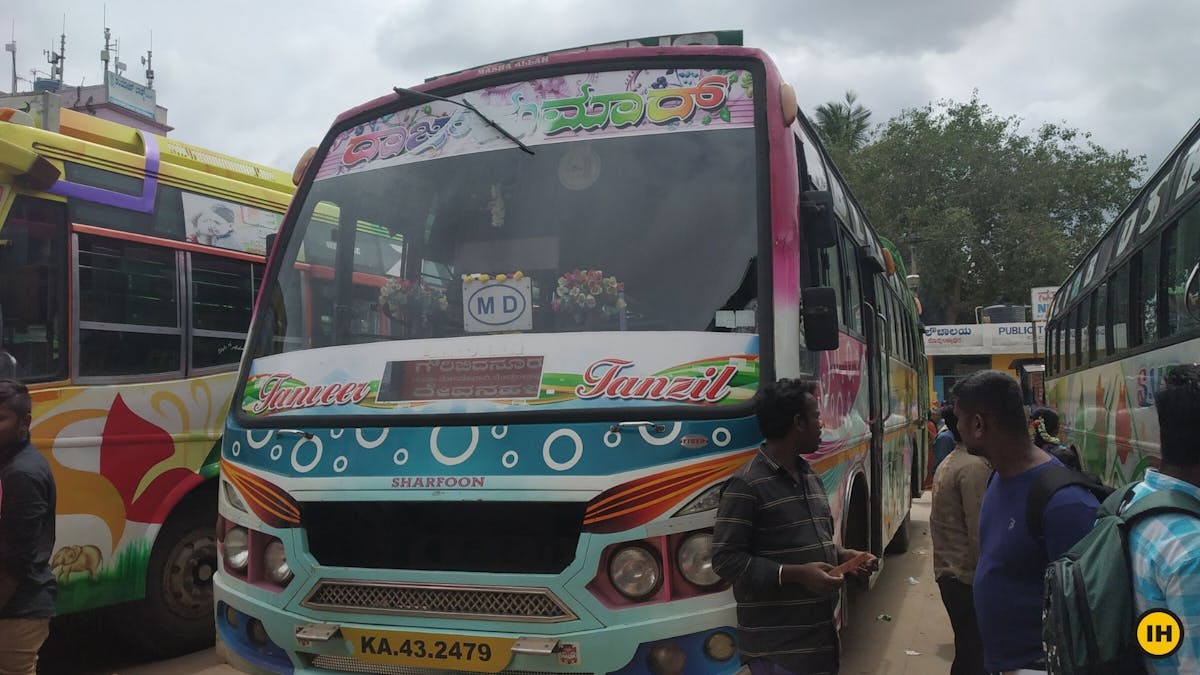 A private bus which has Gauribidanur as its destination. Picture by Saurabh Sawant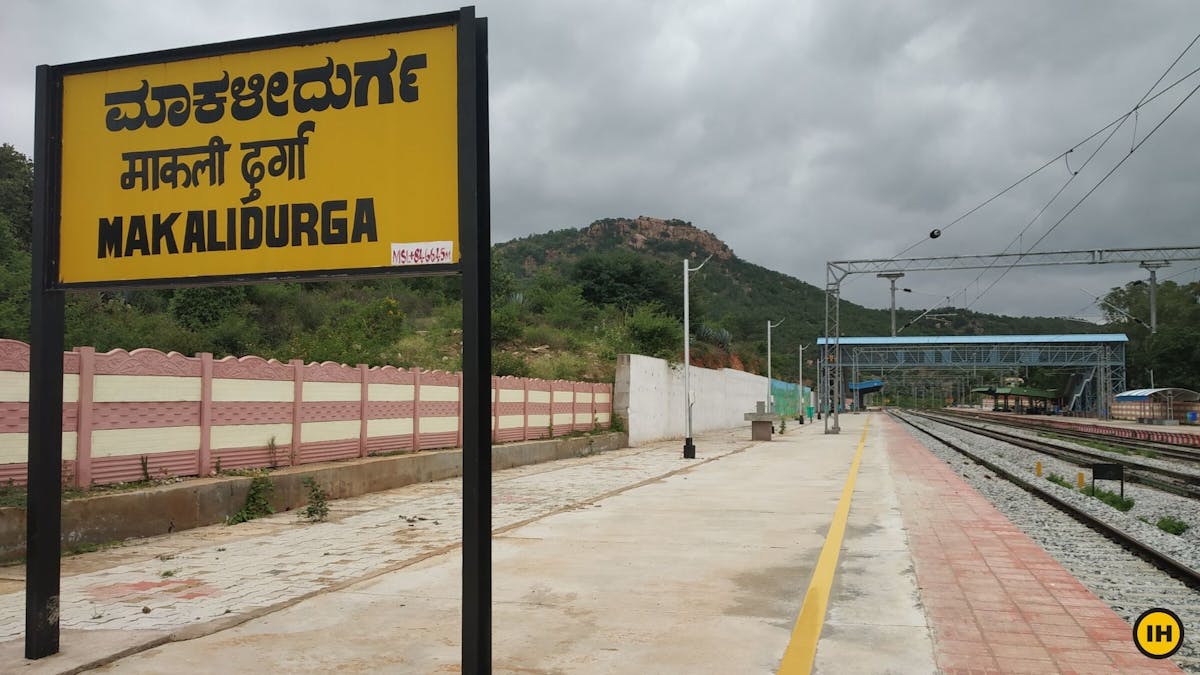 Makalidurga Railway Station, which is also the starting point of the trek. Picture by Saurabh Sawant
Train Timings to reach Doddaballapur and back:
Bangalore to Makalidurga
Train No. 06565 at 09:30 AM
Train No. 66523 at 05:45 PM
Train No. 56503 at 07:20 AM
Train No. 06521 at 07:20 AM (Except on Sundays)
Makalidurga to Bangalore
Train No. 66524 at 07:30 AM
Train No. 06566 at 01:51 PM
Train No. 56504 at 02:06 PM
Train No. 06522 at 03:08 PM (Except on Sundays)
Bus Timings to reach Doddaballapur and back:
There are BMTC buses every 15 minutes to Doddaballapur from Majestic Bus Station, Bangalore. The buses which go to Doddaballapura are 285M, 285MA, 285MC, 285MF, 285MG, 285MK, 285MP, Volvo-285M, JPV-285M.
The same applies to buses from Doddaballapur to Bangalore as well.
Is Makalidurga Trek Difficult
There are no sections on the Makalidurga trek that can be classified as difficult as such. However, a trekker must always anticipate and prepare for every eventuality.
Here are a few things you should keep an eye out for while ascending and descending:
• Slippery trail (Monsoon specific):
The trail becomes more tricky during monsoons as the mud and rocks become very slippery and great caution must be taken while traversing.
If trekking in the monsoons, trekkers should be very careful with their choice of footwear and should check weather charts so as to avoid days with anticipated heavy rains.
• Rocks and Stones:
There are multiple parts of the trek where trekkers will be required to scale small rocks or hop over boulders. While this is an extremely enjoyable part of the trek, one needs to be careful.
Slipping or falling from a boulder can lead to serious injury and trekkers must exercise caution while navigating these sections.
• Muddy sections:
Since this trail is a mix of rocks, boulders and mud, there are some sections of predominantly mud trail which is very slippery even if it has not rained. Chances of slipping and sliding down for a few metres are high. Hence, firm footing is advised in these sections.
How To Get Fit For Makalidurga Trek
The Makalidurga trek is classified as an Easy grade trek. From Makalidurga Railway Station, you will gain approximately 990 feet in altitude. Though the altitude gain is not much, the continuous ascent can be quite demanding for people who lead a sedentary lifestyle.
Training yourself for a low altitude easy grade trek
Here's a guide to help you get fit for the trek in 4 weeks:
➤  Cardiovascular Endurance
In case you're just starting with a fitness routine, start slow and increase your pace everyday in the following manner –
Target completing a jog of 5 km in 45 minutes when you begin.
Gradually increase your pace by running 5 km, 4 times a week.
As you become more comfortable, introduce another day of running in your routine. 
Progressively increase the distance you run in a workout until you can complete 5 km in 40 mins.
If you prefer cycling over running, target covering 15 km in 60 minutes when you begin.
Progressively increase your pace to cover 18 km in one hour.
➤ Strength Training
This is an important area you need to work on.
Strength training is equally important to trek comfortably. Work on your glutes, calves and knees. Additionally, work on strengthening your core.
You must strengthen your core muscles. For strengthening your core muscles, holding a plank and it's variations (elbow, side planks) are the best exercises to go about doing it.
Also, try these exercises for strength:
Target 4 sets of squats with 20 in each set.
– Squats (Mix it up with sumo squats)
– Lunges (Forward, backward and lateral lunges)
– Planks
➤ Flexibility
Flexibility determines the amount of movement your bones can make in any direction around joints such as shoulders, elbows, hips and knees.
It is an aspect that will help you trek comfortably. Carrying a backpack, however light, can become a strain. Stretching your hamstrings, quadriceps, hip flexors and lower back muscles regularly, promotes relaxation in the tissues reducing the strain on your back.
If you can't go out and jog because of time and space constraints, here's a video you can use to work out indoors.
Things To Take On Makalidurga Trek
Basic First Aid kit*
Identity Card
Cap/ Scarf/ Bandana & Sunglasses
Water (Minimum two litres)
Lemon and salt OR Electrolyte Powder/Drink (Electral/ Gatorade/ Glucon D, etc.)
High-calorie snacks (Nuts & dry fruits, home-baked cake, etc.)
Safety Pins, Rubber bands & Whistle (Useful in emergencies.)
Quick Dry T-shirts are preferable over cotton tees.
Poncho, only during monsoons
Plastic sheet to wrap electronic devices, only during monsoons
Sunscreen (SPF 50+)
Optional: Trekking poles
*First aid kit:
Scissor
Band aids (Regular & Waterproof)
Analgesic spray (Relispray, Volini, etc.)
Antiseptic Liquid (Savlon, Dettol etc.)
Antiseptic powder (Povidone-Iodine based powders like Cipladine, Savlon, etc.)
Cotton roll & Bandage
Crepe Bandage
1 inch wide medical tape (paper or cloth.)
Micropore tape
Tablet for motion sickness (Avomine), Acidity (Gelusil, Digene, etc.).
Mild pain relief tablet (Crocin)
| Note: Always consult a doctor before taking any medicine.
Frequently Asked Questions
1. Can I do Makalidurga trek if I have never done a trek before?
Yes. A person who follows an active lifestyle, can consider Makalidurga as their first time trek.
For people who lead a relatively sedentary lifestyle, we recommend a bit of preparation before attempting to trek.
2. Can we go to Makalidurga without booking? 
No. You need to register yourself online prior to starting your journey for the trek. A ticket costs Rs 250 per head. Here is the website for registration: https://myecotrip.com/trailDetail/1/makalidurga
3. Where can I get food and water during the Makalidurga trek?
There are decent restaurants on the highway that take care of your food requirements before and after your trek. We recommend you carry some light snacks to replenish yourselves at the summit.
It is also strongly recommended to carry at least two litres of water and sufficient food to last for 4 hours of activity.
There is no source of food or water at the base of the trek.
4. Whom do I contact in case of an emergency?
• Hospital: The closest hospital is Doddaballapur District Hospital which is 16 kms away from the parking lot. You can reach them on 080 2762 2420 for assistance.
• Police Station: The police station closest to Makalidurga is the Doddaballapur Town Police Station (Contact: 080 2762 2015).
• ERSS: For any kind of emergency help, you can contact the Pan-India Emergency Response Support System (ERSS) number- 112.
5. What about mobile network and connectivity on Makalidurga trek?
Mobile Network: You will get mobile network for almost all major operators like Airtel, Vodafone & Jio throughout the trek, except for some sections where the network is weak.
Nearest ATM: Doddaballapur town is where you will get an ATM, which is roughly 15 kilometres away from the base of the trek. So ensure you carry enough cash with you before starting for the trek.

6. Where can I get a guide for the Makalidurga trek?
The trail to the fort is probably as straightforward as it can get. We do not recommend a guide for this trek. Download the gpx file from our website to make sure you do not get lost on the trek.
7. Where can I park my vehicle?
Vehicles can reach till the base of the trek with ease. The base is well connected by road.
There is parking space right at the base. So, you can park your vehicle and start the trek right from the campsite!
8. How long is Makalidurga trek?
The Makalidurga trek is 3.8 km long one way. It takes about 2.5 hours to reach the summit from the start point. And takes about an hour and half to two hours to descend.
Nearby Places To Visit After Makalidurga Trek
➤ Ghati Subrahmanya Temple – This Dravidian-style temple to the god of snakes and a site of an annual snake festival, is just 5 kilometres away from the base of the trek. It is a popular destination among devotees and tourists alike.
➤ Halu Chilume Gange Trek – Halu Chilume Gange is another offbeat trek very close to Makalidurga.
If you have time left after your trek to Makalidurga, you can drive down to the base of Halu Chilume Gange and hike up till the temple. It won't take you more than 3 hours to complete this trek.
Trek Contribution:
Trek documented by: Saurabh Sawant
Banner image photo credit: Saurabh Sawant
Author: Gautam Singh
GPX File Opt in
We go to great lengths to ensure you have a safe trek. So here's a GPX file of the trail to help you navigate without getting lost.