Must-have Waterproof Socks For Trekking in Snow And Rain
Share this story
Must-have Waterproof Socks For Trekking in Snow And Rain
Category Gear-related
By Latika Payak
2020-02-06
This article is about a pair of waterproof socks that will change the way you look at trekking in snow. 
The great news is that we now have them available on our online storeavailable on our online store. Unfortunately, we have just 60 pairs left.
│Why these waterproof socks are miraculous
We all know that trekking in snow is fun. The not-so-fun part is when snow gets into your shoes. And this happens in less than two hours, even with water-resistant shoes. The water seeps in through the fabric of the shoe to its inner layer, wetting your socks and eventually your feet. That's when the misery starts. 
Your feet get painfully cold and numb. What's worse, thanks to your cold feet, even without your realisation, your core body temperature drops. All through the night, cocooned in a warm sleeping bag you shiver. You wonder why. But this is the reality of trekking in snow. A hiccup that sucks the fun out of your trek. 
Enter these magical socks.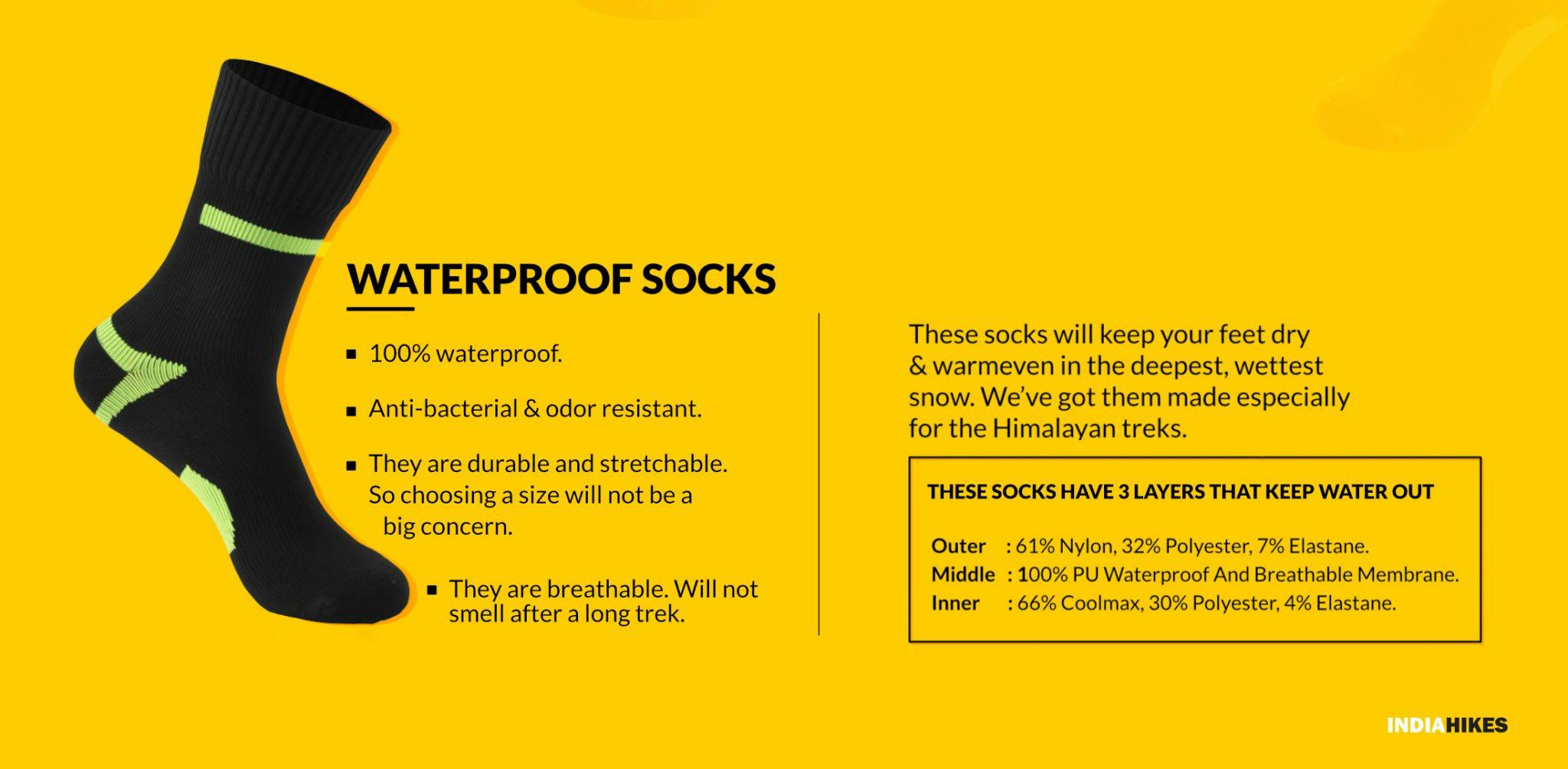 With no exaggeration, these socks are revolutionary. They keep your feet totally dry. You can wear these socks and walk around in a tub of water. You can walk around in wet snow without shoes. They will still remain dry. Your feet won't feel a thing.
Yet, these socks are breathable. They feel as good as regular socks, they don't stink and what's more, they keep you warm as well.
│How do these socks work?
These waterproof socks are made of a 3-membrane fabric. The outer shell is 61% Nylon, 32% polyester and 7% Elastane. It is the nylon that gives it a rich smooth texture. 
But the miracle is in the inbetween layer. It is a 100% polyurethane waterproof and breathable membrane that keeps the wetness out. 
In addition, the inner lining layer is 66% coolmax, 30% polyester and 4% Elastane. Coolmax is a modern miracle fabric that is known for its moisture wicking and breathability qualities.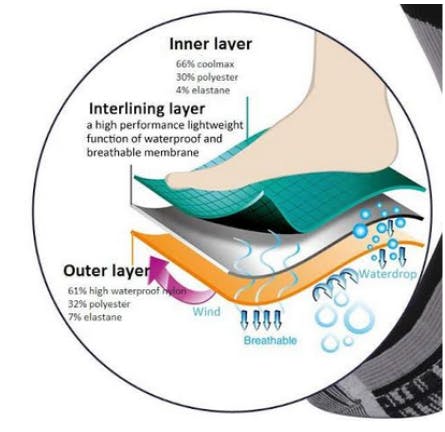 │How to use them on a trek
Put on these socks the day you touch the snow line. Keep them on until you leave the snowline. It can take anywhere from one to three days. Wear these socks whenever you are on snow.
The socks will keep your feet from getting damp. This dramatically changes the way you trek. Even if your shoes are soaked, your feet will stay dry (and that's why remain warmer).
Effectively, these socks remove most chances of chilblains, frostnip or frostbite. 
"Having said that, on an extremely cold morning or day, I would strongly recommend you to wear a pair of regular inner socks, over which you can wear these waterproof socks. This will keep your feet warm and cosy," says Arjun Majumdar, the founder of Indiahikes.
│Maintenance of the waterproof socks
Trekkers ask us if these socks require any special maintenance. They also ask us if the inner waterproof membrane will lose its potency over time. The answer to both is no. 
These socks are like any regular socks. Wash them just like you wash any of your other socks. The waterproof membrane stays until the life of the socks, which, if you are using only on treks, will last you a lifetime. 
│An interesting backstory – How we stumbled upon waterproof socks
"All these years, we have been trying to buy better shoes, get better gaiters to keep our feet dry, when we should have seen the problem in a different way," says Arjun Majumdar, the founder of Indiahikes.
In late November 2019, when we were on the verge of ordering new gaiters, our Co-Founder Sandhya UC had an epiphany. She asked, "Why are we looking at gaiters to prevent water/snow from getting into our shoes or socks? Why can\t we look at a different way to prevent our feet from getting wet? Like socks, perhaps?"
"The question hit me like a light bulb," says Arjun. It changed the entire course of action. "The solution lay in preventing our feet from getting wet. We had to find a way to keep them warm and dry. It didn't matter if our shoes got wet."
And these waterproof socks are what our trekkers and Trek Leaders have been using throughout this snowy winter. They absolutely vouch for it.
So for the first time we have put these socks up for sale in our store. 
You can use these in snow treks all the way to June. They'll be especially useful for your summit climb days, or pass-crossing days. They are great during monsoon treks as well as in your city. They keep your feet clean and dry even with water sloshing about everywhere.
They're slightly on the expensive side at Rs 1,600 (inclusive of shipping). But they're infinitely cheaper and more effective than water-resistant shoes.
Click here to place an order – https://store.indiahikes.com/product/waterproof-socks/
As mentioned earlier, we have just 60 pairs left. We will be ordering another lot only after May. 
So I hope you get your pair soon!
LEAVE A REPLY
Your email address will not be published. Required fields are marked
Sign up for our much loved Weekly Mailer
We have terrific trekking tips, trek updates and trek talks to look forward to