Difficulty
?
Moderate treks may have steep ascents and descents. These can go upto 14,000 ft or higher and trekking hours can go upto 6 hours everyday. Easy exits are possible from a few campsites.
Moderate
Maximum Altitude
11686 ft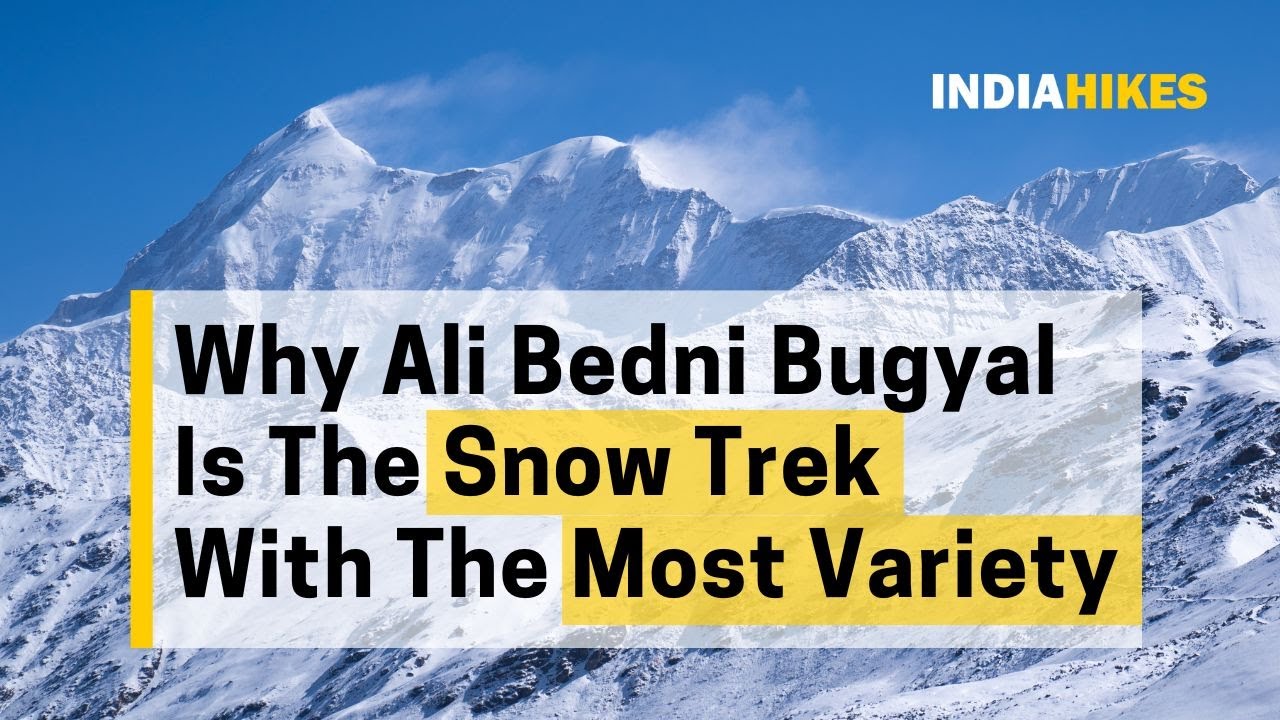 The Winter Trek With The Most Beautiful Snow Cover
We have 7 winter treks — and all of them are great. But the Ali Bedni winter trek is the one with the most beautiful snow covers. 
In the forests the snow settles softly under the boughs of the oaks and rhododendrons. What makes it more special on the Ali Bedni trek is that the slope faces the west. Early in the morning when you are trekking up the slope, the sun slants through the trees hitting the snow at magical angles. 
Trekking closer to Ali we get into lovely clearings where the snow sits in vast playing fields. The snow creates a landscape that resembles a land from the story books. There are quite a few clearings on the entire trek, and each of them are unique. On this trek, trekkers look forward to seeing the next clearing, just to see how the snow settles on them. 
On the meadows it is like the show's crescendo. Ali Bedni are two of the largest alpine meadows of our country. Under the snow cover, their beauty is magnified many times. But what really makes every trekker stop in their tracks is the sight of Mt Trishul and Mt Nandaghunti looming over the meadows like protective deities. 
From our camp at Abin Kharak, climbing to the ridge of Ali Bugyal and catching the sunset on Mt Trishul is perhaps one of the best trekking moments that you will have. 
Yet, for us it is the way snow settles on the twin meadows of Ali and Bedni Bugyal that makes us come back to the trek again and again. 
The Ali Bedni Bugyal trail in winter is fairly virgin. Make the most of it while it stays this way.
Expert Speak
There are not too many meadow treks in our country. In fact, I can count them on my finger tips. Among them, the Ali Bedni meadow trek stands out for the grandest mountain views.
If you have been a trekker with Indiahikes for a long time, or have talked to any of us from Indiahikes, you would know that the Roopkund trek has been central to who we are. It is the trek that Indiahikes started with and remains closest to our hearts. So much so, one of our founders enjoyed another trek in the Lohajung region even more, because of the view of the Roopkund trail!
With the ban on camping in bugyals, the trek to Roopkund is effectively impossible. While the decision was welcome, losing out on the Roopkund trail stung us. Not because of the adventure the trail offers. Not even for the mysterious lake itself. The loss we felt the keenest from this trail was for the twin meadows of Ali and Bedni Bugyal. It's a loss that we collectively rued. With this trek, we hope to bring to trekking community the experience of Ali and Bedni Bugyal.
Here's What I Like About The Trek
Grand Mountain Views From The Most Beautiful Meadows Of Our Country
You see Mt Trishul and Mt Nanda Ghunti in their grandest of views. They are jutting out. By jutting out I mean you see their full face, like the entire 6,000-7,000 feet of Mt Trishul right in front of you. Imagine the grandiosity with the sun setting on it. 
You haven't seen such grand views on any trek. Forget on any meadow trek. 
To add to it, you are at around 11,500 feet with the evening rays on Mt Trishul, especially from Bedni Bugyal. It is a powerful sight. I have seen trekkers standing in these meadows with tears in their eyes. 
And I really want you to watch this. 
Unforgettable sunrises and sunsets while camping at Abin Kharak
You may not know this, but we have an extra camp near Ali Bugyal called Abin Kharak. This is just off the meadows. You can get in and out of the meadows really quickly from here. 
Watch out for this campsite. You won't get a more rewarding experience on a trek. Now you have the opportunity to not just see the sunsets but also the sunrise from these meadows. 
A unique experience of trekking through ancient and dense forests
The oak and rhododendron forest on the Ali-Bedni Bugyal trek are the densest I have trekked in. Perhaps, they are also the rarest because most of these trees are easily a thousand years old. 
They are so grand and so old. And you are meandering through these trees with their roots all over the ground. It's not something you will experience on most treks. 
Especially if you do it early in the morning, as we are going to be doing it. 
In many places, you see sunlight falling in spectacular angles. It's a photographer's delight to catch these sun rays falling through the leaves at charming angles. It creates a lovely lighting. 
---
How to Stay Safe on the Ali-Bedni Bugyal Trek
Even though there there are no risky/technical sections and the trek climbs till 11,686 feet, we still rate it as a moderate trek. This is because of the steep ascents and descends on the Ali-Bedni Bugyal trek.
•

How difficult is Ali-Bedni Bugyal Trek?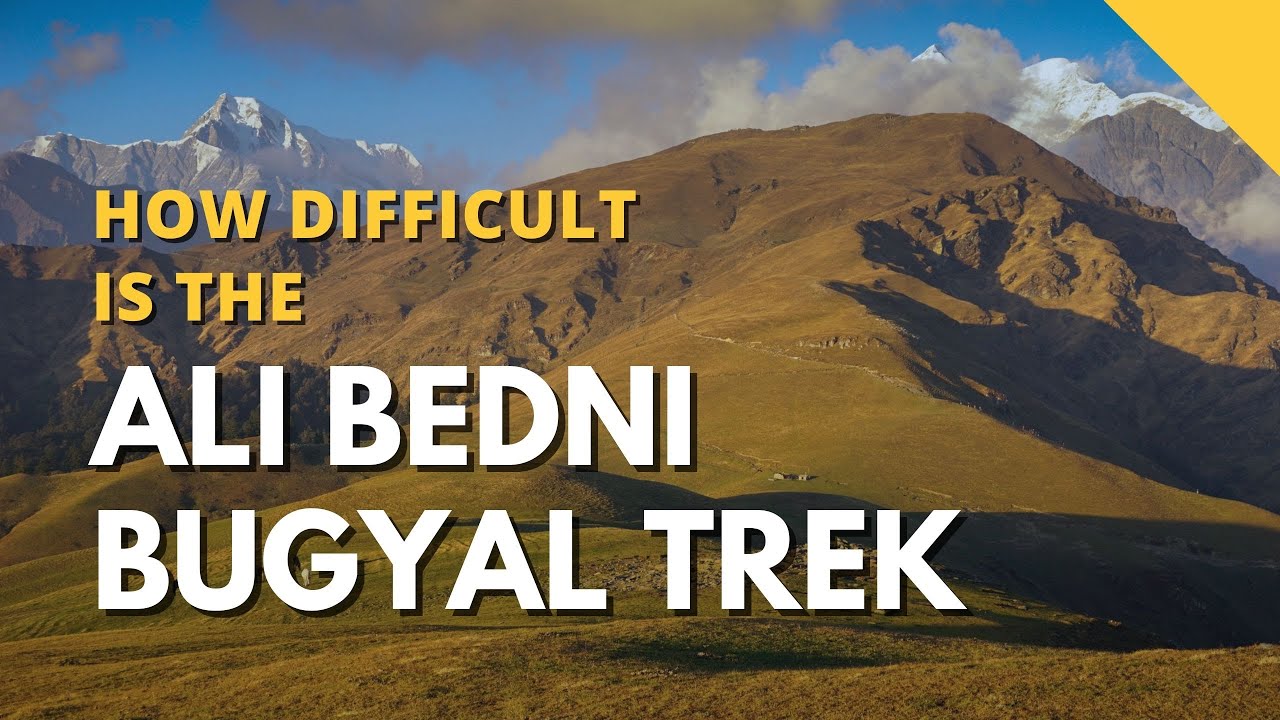 Ali-Bedni Bugyal trek is perfect for beginners. You may even treat it as a pre-trek to get used to rigours of high-altitude trekking. Almost like an appetizer. It does not have tricky or technical sections, but a couple of sections on the trek can get challenging. 
There are three sections that will test your endurance. And for these sections you need to train and have basic endurance and stamina.
To know how to get fit for the Ali-Bedni Bugyal trek, click here.
1. From Lohajung to Didina: On the first day of the trek, from the basecamp to Didina there is a steep climb. Many people struggle during this section because their legs are still not warmed up as it's just the beginning. This is where your preparation and endurance comes in.
2. Climb to Bedni Bugyal: From Abin Kharak to Bedni Bugyal, there is a shot and steep climb. This is not as steep as the previous day but it still tests your stamina and endurance because now you have crossed the 10,000 feet mark and your body starts registering the strain of being in the high altitude.
3. A robust descent to the basecamp: From 11,500 feet you descend down to 7,800 feet. It's almost a descend of 4000 feet with just one campsite in between. So towards the tail-end of the trek, you cover 9-10 km. Again, many trekkers struggle here as your knees are under tremendous stress and your strength training comes into play here.
| Trekking with Indiahikes? Read how Indiahikes keeps you safe on high-altitude treks
---
Here are the important safety tips for Ali Bedni Bugyal trek:
• While climbing the steep sections in snow wear your microspikes. Hard snow is extremely prone to slips. A small slip can result in injuries like a ligament tear, a sprained ankle or even a fracture. Always put your foot on footholds made by earlier trekkers. Look out for deep footholds. Do not try to make new paths of your own.
| Note: If you are trekking with Indiahikes, your Trek Leader will tell you when to wear the microspikes. Indiahikes technical team will lead in this section to make the footholds required for trekkers to step on.
Unlike other moderate treks of Uttarakhand, Ali-Bedni Bugyal trek doesn't climb quickly. You do not gain altitude swiftly. So you start from 7800 ft at Lohajung. Over the next couple of days you are climbing some 3500 feet. That is quite gradual and easy on your body as well. So by the time you reach the meadows which are at 11,500 feet you are not feeling the extreme exertion because you've had this gradual gain of altitude.
• AMS: At altitudes above 10,000 ft the chances of being hit by Acute Mountain Sickness are real. Altitude sickness does not distinguish between a first timer and an experienced trekker. Even experienced trekkers can get affected. Fitness helps in making your trek easier. But do not forget that even a fit person climbing too high too soon runs equal risk of developing AMS.
Some symptoms to watch out for: (a) Persistent headache (b) Feeling fatigue or weak (c) Feel nauseous or vomit (d) Feeling dizzy or lightheaded, often while sitting up or standing suddenly (e) You don't feel like eating, you have a loss of appetite (f) You don't sleep very well at night.
The itinerary of Ali-Bedni Bugyal trek allows you to acclimatise well. And yet, you must stay alert for any signs of AMS.
Here's a complete guide to know about Altitude Sickness:
• Exit Points: There are easy exits on the Ali-Bedni Bugyal trek. In case of an AMS emergency, you will need to return to Wan that has the closest motorable road. There is also an option of descending to Didina village to rest and recuperate there. But you will have to trek back to Lohajung from Didina. 
• Closest Hospital: In case of a medical emergency, your closest hospital is at Tharalil. It is 45 km from Lohajung.
Trekkers often ask us these questions about the Ali Bedni Bugyal trek:
These questions have been answered by Swathi Chatrapathy, the Chief Editor at Indiahikes, who has been to Ali and Bedni Bugyal. 
❖

How do I get to Bedni Bugyal?

To get to Ali Bedni Bugyal, you first need to reach Lohajung. The Ali Bedni Bugyal trek begins from Lohajung, 260 km from Rishikesh. The route to Lohajung is via Devprayag — Srinagar — Karnaprayag— Deval — Mundoli — Lohajung.

Reaching Rishikesh:

Option 1: Reach Dehradun and take a shared auto rickshaws called Vikrams. You may also take a shared taxi or even a bus to reach Rishikesh. It is almost 40 minutes away from Dehradun.

Option 2: If you are travelling from Delhi to Rishikesh, take a bus directly to Rishikesh or take a train to Haridwar and then Rishikesh. To learn how to take a bus or train, click here.
❖

Where is Bedni Bugyal?

Bedni Bugyal is an alpine meadow in the state of Uttarakhand. It lies directly North of popular hill stations like Nainital, Kausani, Almora and Gwaldam. You'll see these meadows at an elevation range of around 10,000 ft – 11,000 ft. These meadows are famous for being beautiful landmarks on the Roopkund trail.

It takes two days of climbing to reach Ali and Bedni Bugyal from Lohajung. If you're approaching Ali and Bedni Bugyal from Didna, it takes slightly longer (rough distance of 15 km). Being just south of the Nanda Devi Sanctuary, these meadows have striking views of the peaks within the sanctuary — Mt Nanda Ghunti, Mt Trishul, Maiktoli and Mrigthuni. You also see the Chaukhamba massif from these meadows.
❖

What does Bugyal mean?

Bugyal (pronounced boog-yaal) is a Hindi word that refers to alpine pasture lands or alpine meadows that grow above around 10,500 ft and below 13,000 ft. These alpine meadows are always found above the treeline, so they're vast open lands, usually with great scenic views of the mountains and valleys around them. 

Ali Bugyal and Bedni Bugyal are two of the most famous bugyals of our country. Dayara Bugyal and Gidara Bugyal are other examples of bugyals in India.
❖

What is the best time to do the Ali Bedni Bugyal trek?

The best time to do the Ali Bedni Bugyal trek would be in summer, for lush greenery in the meadows and wildflowers growing in abundance. You see the best of this in June. 

Another good time to do the Ali Bedni Bugyal trek is in the post-monsoon season. After the monsoon clouds are washed away, the skies are squeaky clean and you get the best views of mountains only in these months. If you're one for photographs of big mountains in the region, choose the post-monsoon season.
❖

Has the Roopkund trek reopened?

Many trekkers ask us if the Roopkund trek has reopened. Unfortunately, the Roopkund trek is still out of bounds, still Bedni Bugyal and Pathar Nachuni are unavailable for camping. Camping in alpine meadows of Uttarakhand is banned by a High Court order effective since August 2018. These alpine meadows form crucial campsites on the Roopkund trek, by providing time and space for acclimatisation. Without them, doing the Roopkund trek safely would be nearly impossible. 

<!–- -–>
Short Itinerary
Day 1: Drive from Rishikesh to Lohajung (December onwards)
Reach Lohajung; 10-11 hours drive from Rishikesh. Transport will be arranged from Live Free Hostel, Rishikesh at 5.00 am. Cost of cab – Rs 7,000/- per vehicle and the cost of a Tempo Traveller is Rs 10,500.
Day 2: Lohajung to Didna
Trek distance: 8 km | Duration: 5 hours
Altitude gain: 7,624 ft to 8,045 ft
Day 3: Didna to Abin Kharak via Ali Bugyal
Trek distance: 9.30 km | Duration: 6-7 hours
Altitude gain: 8,045 ft to 11,417 ft via 11,640 ft

Day 4: Abin Kharak  to Bedni Top via Bedni Bugyal. Camp At Gehroli Patal
Trek distance: 5.60 km | Duration: 4 hours
Altitude gain: 11,417 ft to 12,550 ft via 11,860 ft, and to 10,479 ft
Day 5: Gehroli Patal to Wan. Drive from Wan to Lohajung
Trek distance: 6.30 km | Duration: 5 hours
Altitude gain: 10,479 ft to 8,412 ft

Day 6: Drive from Lohajung to Rishikesh
Fare for 5-7 seater cab will be Rs.7,000 per vehicle and the cost of a 12 seater Tempo Traveller is Rs.10,500. This amount will be shared by the trekkers and paid directly to the driver.
You will reach Rishikesh between 6.00 and 7.00 PM.

Important notes:

1. You will be staying at a guest house in Lohajung. The stay on all other days is in tents.

2. It is mandatory for trekkers to carry a copy of their photo id for entry at forest check posts on the trek.
Here's the detailed itinerary for Ali Bedni Bugyal trek:
Day 1 (Pick-up Day): Reach Lohajung
Altitude:

7,600 ft (2,316 m)

Drive time: 10-11 hours drive from Rishikesh
Lohajung is the base camp for the Ali Bedni Bugyal trek. The best way to reach here is from Rishikesh. The route is beautiful. You drive along mountain roads, through forests. You also get glimpses of the Garhwal mountains in the distance on a clear day.
Once you reach Lohajung, you find yourself face to face with the beautiful Nanda Ghunti peak. If you reach before sunset, the colours of the peak will enthral you.
Lohajung is at the centre of 12-15 nearby villages. There are a couple of local stores where you can buy jackets, hand gloves, caps, shoes etc. if need be. However, it is advised that you carry all the required things for trek beforehand and not rely on these shops. You will have a mobile network in most parts of Lohajung.
Lohajung, as the locals say, is the place where Goddess Parvati had a war (jung) with the demon, Lohasur. Hence, the name, which translates to 'War with Lohasur'.
Day 2:  Lohajung to Didna
Altitude:

7,600 ft (2334 m) to 8,045 ft (2452 m)

Distance: 8 km | Duration: 5 hours
From Lohajung, just behind the bus stand is a trail that takes you to Raun Bagad, an iron bridge, just below Didna village. This is a well-marked trail descending through mixed forests.
All along your walk to Raun Bagad you hear the whistles of the thrushes, the soft chirps of the swallows among the rhododendrons. Below, the Wan river tumbles about as it rushes to meet the Bedni Ganga and seemingly out of the depths of the river, you'll spot Lammergeiers, their massive wings stretched out catching the eddies.
If you have taken the route on the road, Kulling village springs out on you at a bend. Kulling is a cluster of 20-odd houses set against the emerald green of stepped hills.
From the Kulling village, it is quite a descent to the Wan river. You lose elevation and you don't like it, knowing in a while you'll have to climb all the height lost on the other bank.
If you have taken the trail through the mixed forest, then it is a gradual descent to the river and you don't feel it. Two hours out of Lohajung, you reach an iron bridge over the river. This is Raun Bagad, a grassy bank on the river – a good place to camp. Think about this if you reach Lohajung early and are looking for a campsite that gives you a head start.
The trail starts to climb right after you cross the river. It is a zig-zag climb to Didna. The climb is moderate but your legs tire easily. Breathing hard, you'll reach Didna in about an hour and half's time. Stretch it to two if your conditioning isn't great. Didna village can be a bit confusing with many trails running into it. Stick to the trails that go around the village on the outer periphery — they lead directly to the Didna camp site, a clearing 200 ft above the village.
Day 3: Didna to Abin Kharak via Ali Bugyal
Altitude:

8,045 ft (2452 m) to 11,417 ft (3,480 m) via 11,640 ft (3,548 m)

Distance: 9.30 km | Duration: 6-7 hours
Didna is an ideal campsite with a clear stream running down to its right. The campsite gazes across the valley. Lohajung, Kulling and Wan span left to right in a sweep. Behind you through the Oak forest, high above is your highlight for the next part of the trek – the twin meadows of Ali and Bedni Bugyal.
Start your day by walking towards Tolpani,  a cluster of shepherd huts 3 km away and 1,000 ft higher. The trail to Tolpani moves away from the general direction of Ali Bugyal. The climb, however, is a good one through some of the densest oak you'll see.  Under you is a never ending brown carpet of leaves.
After Tolpani, you'll reach an opening from where you turn towards Ali and Bedni Bugyal. Once you are on the ridge leading to the twin meadows, turn around and start walking towards them. The forest continues to flaunt the trail on either side.
Walk for about two kilometers and on your left you'll see Mt.Chaukhambha. Though far away, you can clearly identify the peak.
About 1.5 km later, the landscape suddenly opens up. Soak in the mesmerising sight of the undulating meadows of Ali Bugyal. You are on the top of a ridge that spreads in every direction. Acres and acres of green meadow scooped out of the mountainside.
Abin Kharak campsite is a series of climbs right out of the forest, in a depression in the bugyal. Stay the night here.
Day 4: Abin Kharak to Gehroli Patal via Bedni Bugyal
Altitude:

11,417 ft (3,480 m) to 10,479 ft (3,194 m) via 11,860 ft (3,615 m)

Distance: 5.60 km | Duration: 6-7 hours
Clouds drift in from below, glide over the ridge and slide down the either side, all in a slow, swift motion. You watch countless horses grazing on the bounty of nature. Foals tearing themselves across the turf in an uninhibited abandon, just being themselves. The climb over, leisurely walk your way to Bedni Bugyal, 5 km away and more or less at the same level. If you are tempted to take off your shoes and allow the feel of the carpet on your toes, just go ahead and do it!
The weather fluctuates in these parts and you can have moments of wild sunshine followed by anxious cloud cover. Keep your raincoat handy. Sometimes it rains for a few minutes leaving you frustrated, at times it could rain for a few hours.
An "L" in the folds of the mountain, and the Bedni Bugyal unfolds below you, a heavenly strip of green overlooking the western valley.
From here, just 800 metres away is the highest point on the trek, the Bedni Top at 12,550 ft. You get the best views from the top. Mt Trishul and Mt Nanda Ghunti appear right in front of you. And far ahead, hundreds of metres below is Bedni Kund.
Once you are back on Bedni Bugyal, take the trail heading to the right and below. 20 minutes later, you get to the tree line and a sharp descent that signals the end of the meadows. Watch for the descending trail on your left.
Run down into the oak and rhododendron forest. An hour into the descent, you get to a clearing. The green trekkers' hut signals Gehroli Patal. On a clear day, you get astounding views of Mt Trishul commandeering over the area. Set up camp here.
Day 5: Gehroli Patal to Wan. Drive from Wan to Lohajung
Altitude:

10,479 ft (3,194 m) to 8,412 ft (2,564 m)

Distance: 6.30 km | Duration: 5 hours
From Gehroli Patal, it is a steep ridge descent to the Neel Ganga river. Faster trekkers reach the river in one and a half hours. The slower ones take two. Take your time because you will rarely see a more wondrous stretch of forest cover. The bridge on the Neel Ganga is an idyllic location to wash the dirt and grime of the long trek. Trees overhang the river, and the water trips and falls over boulders in the shade. The water is cool and refreshing. From the river it is a short one hour climb to the ridge above Wan village.
There are many routes to the bottom of the Wan village, and all roads eventually lead down to the road junction (Kasar Bagad) near the hydel project. It takes about an hour and a half to get down to Kasar Bagad. It is a steep descent.
There is an alternative longer route to get down to Wan. From the ridge top of Wan, take the main trail that runs to the right. Follow the trail until it reaches the Cyprus trees at the lower Wan village. Spend time looking at the Cyprus trees because they are centuries old!
You'll take a jeep from Wan to Lohajung. It's a drive of about 45 mins.
Day 6 (Drive-back Day): Drive from Lohajung to Rishikesh
You'll leave for Rishikesh early in the day. You will reach Rishikesh by 7.00 PM.
If you have an additional day in Lohajung before or after your trek, visit Ajan Top, an easy trek that you can do on your own.
Plan Your Travel for the Ali Bedni Bugyal trek
It is great to see you going on the Ali Bedni Bugyal Trek, a grand buffet of our greatest treks. While it is a great trek to do, you need to get your travel plan worked out perfectly.
Here is a step-by-step guide on what to do next. Use this guide and nothing else to plan your travel.  
1. Here's a quick view on how to plan your travel
Day 0: Book your air ticket to Dehradun. Drive from Rishikesh to Lohajung. Reach Lohajung; 10-11 hours drive from Rishikesh. Transport will be arranged from Live Free Hostel, Rishikesh at 5.00 am. Cost of cab – Rs.7,000/- per vehicle and the cost of a Tempo Traveller is Rs.10,500.
Day 2 to Day 5: Trek days
Day 6: Depart from Lohajung. You will reach Rishikesh between 6.00 pm and 7.00 pm. The cab costs Rs.7,000 for an SUV and Rs.10,500 for a Tempo Traveler.
| Important points to note:
Buffer Day: Keep a buffer day for emergencies. Your trek is 6 days long, but keep an extra 7th day as your buffer day. This is outside the itinerary. You cannot predict bad rain, landslides or a political situation on a trek. 

Always book your return flight/train tickets after including the buffer day in your itinerary. 
---
2. Planning your onward flight/train booking  
If you are travelling from Bengaluru, Chennai, Pune, Mumbai or any other city, book your air tickets for Day Zero, which is the day before Day 1 on the itinerary. If your trek start day is 25 August, book your air tickets for 24 August to either Delhi/Dehradun. 
There are two options for your flight booking.
1. Fly directly to Dehradun: We recommend taking a flight to Dehradun. It gives you an added rest day at Rishikesh. Most metros are directly connected to Dehradun. From Dehradun it takes one hour by bus to Rishikesh.
2. Fly to Delhi: Reach Delhi before 09.00 PM, one day prior to your pick-up date, and take a bus from there.
Here are the options for your train booking.
1. Take the Dehradun Shatabdi (Train no: 12017): From New Delhi Railway Station at 6:45 am and reach Haridwar at 11:30 am. From Haridwar take a bus to reach Rishikesh. There are buses which ply at frequent 10-15 minute intervals to Rishikesh. It takes about 1 hour to get there. Note: Do not take a train to Dehradun, its longer to reach Rishikesh from Dehradun railway station. Take the train only up to Haridwar.
2. Take the Dehradun Jan Shatabdi (Train no: 12055): From Hazrath Nizamuddin station, which leaves at 3.20 pm and reaches Haridwar at 7:33 pm. Stay overnight in a hotel at Rishikesh and join the team vehicle the next morning. Note: Live Free Hostel is a good place to halt for the night. The place is decent and clean.
If you don't get the train, there are regular overnight Volvo AC buses from Delhi.
1. Take an overnight bus from Delhi's ISBT Kashmiri Gate to Rishikesh. Buses are frequent and not usually crowded. You can get a bus almost every half hour. It take 8-9 hours to get to Rishikesh from Delhi. AC bus tickets cost about Rs.900. Take a bus that reaches at 5:30 AM.
Note: Whichever mode of transport you choose make sure you reach Rishikesh a day earlier, Day 0.
---
3. Planning your return flight/train booking
Booking your return tickets require some thought. First, always book your return ticket keeping in mind the buffer day. The buffer day must be included in your itinerary. If your trek ends on day 6, do not book your flight/train tickets for day 7. Instead book for day 8. Day 7 is your buffer day.
Next, if your onward flight departs from Delhi, then book flight tickets for Day 9. 
Sometimes trekkers worry if they can book an early morning flight out of Delhi on Day 9. Yes, you can. But book flights that depart only after 8 am. Do not book any flight between 6.00 and 8 am. You may not reach Delhi in time.
---
4. Planning your hotel/stay
While booking hotels on your return, always book your rooms assuming the buffer day is not being used. Assume the trek is going to run without any hiccups. So what happens if you use your buffer day on the trek? Unfortunately, then you'll probably lose your hotel booking. So book hotels where you may not have to transfer money in advance. Even if you do, consider it better than missing out on the trek. 
---
5. What if you miss the Indiahikes pickup? Getting to Lohajung on your own
If you miss the Indiahikes pick up from Kathgodam. Here is how you can get to Lohajung base camp on your own.

Option 1: Delhi → Lohajung (24 hours)
There is a direct bus from Delhi to Mundoli/Lohajung. It leaves Delhi Anand Vihar terminal at 9.15 pm. You will reach Kathgodam at 4.00 am and Lohajung at 5.30 pm.

Note: This is an extremely long and tiring journey.

Option 2: Delhi → Rishikesh → Lohajung (cab)
From Delhi, get to Rishikesh/Haridwar and hire a Sumo to Lohajung. The route: Devprayag – Srinagar – Rudraprayag – Karanprayag – turn right to Tharali – Debal – Mundoli – Lohajung

Note: Most taxi operators may not have heard of Lohajung. So, you'll have to show them the direction as given above.

Option 3: Delhi → Rishikesh → Karanprayag → Lohajung (bus)
From Rishikesh Bus Stand., take any bus on the Joshimath/Badrinath route and buy a ticket to Karanprayag. It is a 6-7 hour journey from Rishikesh to Karanprayag. Take a bus that leaves as early in the morning as possible, preferably around 6.00 am. From Karanprayag Bus Stand, take a shared Jeep to Tharali (47 km). The road to Tharali runs along the Pindar river.

From Tharali, take a shared taxi to Debal (14 km). Once you reach Debal, you can arrange onward transport to Lohajung (24 km).
How to get fit for the Ali Bedni bugyal trek
The Ali Bedni Bugyal trek is classified as a trek of moderate difficulty. You start from an altitude of 7,600 ft at Lohajung and reach a highest point of 11,686 ft at Bedni Kund. You gain around 4,000 ft over two days of trekking. While this isn't much altitude gain, it's a trek of moderate difficulty. 
Cardiovascular endurance
This trek requires a good amount of cardiovascular endurance. You can begin by jogging everyday. Start jogging at a slow pace and then keep increasing your pace day by day. In order to be prepared for high altitude trek, you should have a combination of distance and speed targets.
Here's a fitness routine that works:

–>Target completing 5 km in 45 minutes when you begin.
–>Gradually increase your pace by running 4 times a week and bring it down to 5 km in less than 35 mins.
–>If you are 45 years old and above and are comfortable with long distance walking than jogging, then before you go on the trek, you should be able to walk at least 10 km at a stretch. Target completing this in 90 minutes.
If jogging is fine for you, your target should be completing 5 km in 50 minutes initially, and 5 km in less than 45 minutes before you go on the trek.
–>If you are somebody who prefers cycling over running, your target must be to cover 22 km in 60 minutes.

Strength – Target 3 sets of squats with 15 in each set

This is another area you should work on. Carrying your backpack and ascending will require core body strength and also strong legs. For this, add squats to your routine. Start with 3 sets of squats, with 8 squats in each set and work towards reaching your target in 3 weeks.

Flexibility
Another aspect that will help you trek comfortably is flexibility. For this, you can do some stretching exercises – stretch your hamstrings, quadriceps, hip flexors, lower back muscles and shoulders regularly. These exercises will help you to be in good shape before the trek.

Here's a guide to help you get fit for the trek.

Working out indoors
If you can't go out and jog because of time and space constraints, here's a video you can use to work out indoors.
Things to get for the Ali Bedni Bugyal Trek
Ali Bedni Bugyal is a high altitude trek with snow. In winter, the temperatures drop to negative temperatures. You'll need enough warm layers and accessories to keep you warm and help you trek comfortably. So pay careful attention to this entire section. 
First,

The Essentials

. You cannot do the trek without these.
1. Trekking Shoes
Ali Bedni Bugyal trek requires trekking shoes that are sturdy, have good grip, have ankle support and can handle snow. Here is a quick video on how to choose your trekking shoes.

| Buying Tip: The Trek series and MH series are good options by Decathlon. They are tried and tested. There really isn't any necessity to buy the higher priced models. Here is a list of other budget shoes that trekkers are using.
| Rental: We have the Trek series and the MH series by Decathlon available on rent from the Indiahikes store. They are already broken into and in good condition. Rental shoes are not dirty or unhygienic. This is how they are kept clean. Rent here.
2. Backpack
For a trek like Ali Bedni Bugyal, you need a 50-60 litre backpack. Make sure your backpack has good hip support, shoulder support and quick access pockets. Here is a guide on how to choose a backpack.
| Buying Tip: Wildcraft, Decathlon and Adventure Worx usually make good backpacks. While Wildcraft has more expensive ones, the other two brands have budget-friendly backpacks to choose from. 
| Rental: The 48 litre backpack by Adventure Worx is available on rent from the Indiahikes store. They are custom-made for our Himalayan treks. Rent them if you don't have a backpack. Rent here.
3. Clothes
Wearing layers is the mantra in the mountains. Layers give you maximum protection from all elements. And when the weather changes in the mountains (as it happens every few hours), you take take off or put on layers as required. 
Base layer: 3 T-shirts
Wear one T-shirt and carry two. Carry full sleeve dry-fit T-shirts (preferably collared). These prevent your arms and neck from getting sunburnt. In the rarified air on the trek, especially at high altitudes, UV rays can burn you in no time.
Dry-fit T-shirts quickly dry your sweat, they are easy to wash and in case of a rainy day, they dry quicker. Round neck T-shirts are ok, but collared ones are better.
| Cotton or Synthetic? As Indians, we love cotton. Down in the plains when the heat is a blistering 40°C it makes sense to wear cotton. But it takes a long time to dry when it gets wet. In the mountains, where it is cooler, synthetic is what you wear. They wick sweat rapidly and keep you dry. (But they do tend to smell quickly, so carry a roll-on deodorant with you.)
| Buying tip: You can get dry-fit T-shirts from Decathlon. Also, stores like Reliance Trends, Max have dry-fit T-shirts. They don't usually cost much.
| Pro Tip: If you are extra susceptible to cold, you could get a set of thermal inners. In our experience, wearing two T-shirts over another works as a better thermal. And they save you weight and space, since you're already carrying them. 
5 insulation layers in winter
The Ali Bedni Bugyal trek is primarily a winter trek. If you're going any time between December and March, you will need at least 5 warm layers.
You will need 1 pair of inner thermals, 2 light fleece layers, 1  light sweater and 1  padded jacket. Do not get your grandma stitched sweaters, which can be very heavy. You need sweaters and fleece jackets that can fold into compact rolls.
For your outer later, a padded jacket serves the purpose here. You don't really need a water resistant material. But you need an outer padded jacket that keeps the wind and cold out. Ensure your padded jacket has a hood as well.
| Do you need a down/feather jacket? Not really. A regular padded/shell jacket will do. This video here will help you to learn more about the difference.
| Note: Down/feather jackets are really not available these days. Many jackets masquerade as down/feather jackets. They are essentially fine polyester-filled jackets. They mimic the function of a down jacket but are usually expensive.  
| Rental: Padded jackets made by Fort Collins are available on rent at the Indiahikes store. They are custom made for Indiahikes and trekkers find them terrific, even in winter. Rent here.
Two trek pants
Two pairs of trek pants should suffice for this trek. Wear one pair and carry one just in case it rains. Trek pants with zippered cut offs at the thighs are very suitable for treks. Also, choose quick-dry pants over cotton. They dry up soon in case of small stream crossings / rain.
| Buying tip: Go for pants with zippered pockets. They come in handy to keep your phone, handkerchief or pocket snacks.
| Track pants or trek pants? Stretchable track pants make a good backup and can double up as your thermal bottoms. But track pants are not trek pants — so don't use them as your main outerwear. Keep them only as a backup. 
Mandatory Accessories, without these too you won't be able to do the trek.
These accessories are mandatory. Don't go to Ali Bedni Bugyal without them. Trekkers generally put off purchasing / borrowing the accessories for the last minute. We suggest the opposite. Start gathering these accessories first. 
1. Sunglasses
Sunglasses are to prevent snow blindness. On a trek like Ali Bedni Bugyal, expect to walk on long stretches of snow. A small overexposure to direct sunlight on snow can lead to snow blindness (about a half hour's exposure). That's because fallen snow is like thousands of mirrors that reflect direct UV rays. So you need sunglasses with UV protection. 
| Wearing tip: Wear sunglasses if the trekking day is bright and sunny (on open sections, meadows). On a snowy section you must absolutely never take off your sunglasses until the section has been fully crossed.
| Buying Tip: Try getting sunglasses that wrap around instead of those that have openings on the side. Even peripheral UV ray exposure is not a good idea.  
| If you wear spectacles: If you wear spectacles, you can get oversized sunglasses that you wear over your regular glasses (available at Decathlon). If that is cumbersome, photochromic lenses work equally well. Here's a quick guide on managing sunglasses with spectacles.
| Contact lens users: If you use contact lenses, you can use them on the trek too. The lens solution will not freeze. You will also not face any problems in changing your lens in your tent. Just carry enough cleaning solution with you to clean your fingers well. Wear your sunglasses over your contact lens. Read this article for more guidance on managing contact lenses on treks.
 2. Suncap
A sun cap is mandatory. Trekking without a sun cap can lead to headaches, sun strokes, quick dehydration and a sharp drop in trekking performance. 
| Tip: In the mountains, the general rule is to keep your head covered at all times. During the day a sun cap protects you from the harsh rays of the sun (it is doubly stronger with naked UV rays). A sun cap keeps your body temperature in balance. In the evening/early morning, the reverse is true. Your head loses your body heat quickly. A woolen cap prevents heat from dissipating from your head.
| Pro Tip: Sun caps with flaps are a blessing for trekkers. They cut out almost all UV leaks. They prevent sun burns in every possible way. They are a lot more effective than sunscreen lotion. A wide brimmed sports hat also helps to prevent sunburn in a big way. 
3. Synthetic hand gloves
On a trek like Ali Bedni Bugyal you are going to be handling snow quite a bit. You'll need gloves to grip something or to steady yourself in snow. You also want the gloves to keep you warm. Get synthetic hand gloves that have waterproofing on the outside and a padded lining on the inside. If you find the combination difficult to get (not likely), wear a tight fitting fleece hand glove inside a synthetic hand glove. Hand gloves are mandatory on this trek.   
4. Woollen cap or Balaclava
Ensure these cover your ears. In the cold mountains, you lose maximum heat from your head, not from your hands, feet or the rest of your body. Which is why you need to keep your head protected, especially when the sun is down. Early mornings, late evenings, a cold trekking day are when you must use your woollen cap.
Your ears are sensitive too, so a woollen head cap that covers your ears is absolutely essential. A balaclava is a modern version of the woolen cap. It covers your ears, neck and parts of your face as well. Do not get a woollen cap that only covers your head. 
5. Socks (3 pairs)
Apart from two sports socks, take a pair of woollen socks. Sports socks give you cushioning plus warmth. Again the mantra is to wear synthetic socks or at least a synthetic blend. Cotton socks soak in water and sweat. They are very hard to dry.
As for woollen socks, they help you to keep warm and snug in the night. If you cannot get woolen socks, wearing two sports socks serves the purpose as well. 
6. Headlamp
Trekkers are often confused about whether they need to get a headlamp or a handheld torch. You need to get a headlamp because it leaves your hands free to do other activities. On the Ali Bedni Bugyal trek you'll need your hands free to wash dishes, pitch tents and hold your trek poles. 
| Buying tip: Ensure your headlamp covers a wider area and is not too focused as a single beam. On a trek, your headlamp must help you see around you as much as ahead of you.
7. Trekking pole (a pair)
Trekking poles give you stability and balance. They reduce your energy consumption by almost 40%. On the Ali Bedni Bugyal trek there are steep ascents and descents. A pair of trekking poles will make the difference between a comfortable and a strenuous trek. In India we tend to use a single trekking pole. However, two trekking poles give you greater stability and balance. They also increase your walking pace.
| Rental: Imported side-locking trekking poles are available on rent on the Indiahikes store. Rent here.
8. Rainwear
On a trek, the weather can change quickly. A bright sunny day can turn into a downpour in a matter of minutes. Carry a poncho or a rain jacket to tackle this. A poncho is a big rain cover with openings for your arms and your head. It is extremely effective because it covers both you and your backpack. It is extremely light and weighs next to nothing. 
| Pro tip: Rain jackets are more streamlined and less cumbersome but weigh more. Rain pants are really not required. Dry fit trek pants dry quickly even if soaking wet.  
| Rental: High grade ponchos are available on rent on the Indiahikes store. Rent here.
9. Rain cover for your backpack
Backpacks are your life. You carry all your dry clothes, your warm gear in your backpack. It is important that your backpack stays dry at all times. Modern backpacks usually come with built in rain-covers. If your back pack does not have a rain-cover, ensure you get a rain cover by either (a) buying a rain cover (b) or cutting a large plastic sheet to the size of your backpack. You can roll the plastic sheet around your backpack and keep it in place with a string or elastic.  
| Pro tip: It's good practice to compartmentalise your clothes, accessories and other things in plastic covers inside your backpack. That way, even if it rains and your backpack gets wet, your things are water-proof inside the backpack.
10. Daypack (20-30 ltrs, optional)
Some trekkers opt to offload their bags to a mule on the Ali Bedni Bugyal trek. While we do not encourage this practice, in case you opt for offloading, then carrying a daypack is mandatory. In your daypack you carry essentials like water bottles, rainwear, emergency medicines, headlamp, some snacks and a warm layer. Your main backpack that carries most of your equipment is accessible only at the campsites. 
A daypack is a smaller backpack that is usually of 20-30 ltr capacity. Laptop bags are not daypacks. Do not get them. 
Other mandatory requirements
1. A toilet kit
Keep your toilet kit light. Carry just the basics — toothbrush, toothpaste, small soap, toilet tissue roll, a small moisturiser, lip balm, and a roll-on deodorant. You will not be able to have a bath on the trek, so don't overload on soaps and shampoos.
| Pro tip: Carry miniature-sized items. You will not need more than that. If you're travelling in a group, share one toothpaste for all.
| Pro tip: Avoid getting large toilet rolls. The smallest size roll is more than enough for a trek like Ali Bedni Bugyal. 
| For women: If you are likely to have your periods on your trek date, don't worry about it. You can use your pads, tampons or menstrual cups on the trek. There will be toilet tents where you can get changed. Make sure you carry ziplock bags to bring back your menstrual waste. Don't leave behind any waste in the mountains. Watch this video to learn how to dispose your sanitary waste.
2. Cutlery
Carry a lunch box, a mug and a spoon. Your lunch box must be leak proof. You are expected to wash your own cutlery. Trekkers often expect Indiahikes to wash their cutlery. When you allow Indiahikes to wash your cutlery, your cutlery becomes part of a mass washing system. You immediately invite germs, bacteria to settle on your cutlery. Incidence of stomach disorders rises exponentially.  
| Pro tip: Carry stainless steel cutlery. Avoid fancy high grade plastic cutlery. Stainless steel cutlery is infinitely easier to wash in cold water. Grease is easier to remove and hygiene is at the highest. 
| Two 1 litre bottles or a 2 litre hydration pack: Ali Bedni Bugyal has many hours of trekking everyday (approximately 6 hours). You need to carry two one litre water bottles to keep yourself hydrated over the distance. If you are used to a hydration pack, then that is ok too. If one among the two bottles is a lightweight thermos, then that helps you to store warm water on a really cold day or for late evenings and early mornings.   
| Rental: You could rent lightweight thermos flasks from the Indiahikes store. Rent here.
3. Plastic covers
Carry 3-4 old plastic covers to keep your used clothes. You could use them even for wet clothes. Re-use old plastic bags for this and do not buy new ones.
Useful videos to help you with your gear:
Personal medical kit
Carry these medicines with you, easily accessible at all times. Do not take any medicine unless you have consulted your trek leader. 
Diamox

(1 Strip): Be on a course of a half tablet Diamox starting from Delhi every 12 hours (125 mg). Carry on the medication until you descend down to Yamunotri. Being on a preventive course of Diamox greatly reduces the chances of Acute Mountain Sickness on the Ali Bedni Bugyal

 trek.    

Dolo 650

(5 tablets): This is a paracetamol. It helps to tackle fever, mild pain

Avomine

(4 tablets): Carry this especially if you are prone to motion sickness. Pop one half hour before the start of your road journey.

Combiflam

(5 tablets): Take a combiflam if you get a sudden twist of the leg or a muscle strain. It is a pain reliever. It also contains paracetamol. 

Digene

(4 tablets): Take it if you feel the food that you've taken is undigested. Alert your trek leader immediately. It could be a sign of AMS. 

ORS

(6 packs): Consume a pack of ORS water at least once a day, usually mid day when you are in the middle of your trek. It replenishes essential salts lost while trekking. 

Tip

: It also makes cold water easier to drink.

Knee Brace

(optional)

:

Carry this if you are prone to knee injury or have known issues of knee pain.
Our trek leaders carry a high altitude medical kit with them which also consist of Life Saving Drugs. If there is an emergency our trek leaders know how to tackle it. Meanwhile, contact your trek leader before consuming any of these medicines listed here.
| Pro tip: We find that these medicines by trekkers are rarely used. But you cannot do away with them. At the end of the trek please donate unused medicines to your trek leader. Some of these medicines get distributed to villages on the trek and some are added to the Indiahikes medical kit.   
Mandatory Documents to carry
These are documents required for legal purposes by Indiahikes and the forest department. Without any of these, you will not be allowed to trek.
Original and photocopy of government photo identity card.

Anything such as a driver's license, Aadhar card, passport will do. This is required by the forest department for your identification.  

Disclaimer certificate.

This is a legal requirement. Download the PDF, read carefully and sign it. This must be handed over to your Trek Leader during registration at the base camp –

Download PDF

Medical certificate.

There are two sections in this. The first part must be filled by a practising doctor. The second part must be filled by you. Without the medical certificate the forest department will not issue permissions for your trek. It is also a requirement by Indiahikes –

Download PDF
| Pro tip: Keep important documents in a clear plastic cover and slide them into the inner pocket at the back of your backpack. This keeps them from getting wet. 
What Indiahikes does to ensure your safety
Our philosophy is simple. We ingrain safety aspects in the people we work with, in the processes that we follow, and in the equipment we carry. All our trek leaders are trained repeatedly on safety issues and protocols. Most issues are resolved with their intervention.
Right from the time you decide to register for the trek till the last day of the trek, these safety procedures will be running in the background. We have listed a few of them below:
1. Fitness criteria before registration
Over years of organising high altitude treks, we have found that safety issues thrive amongst those who are unfit and unprepared for the trek. So we have introduced an eligibility criteria for the Rupin Pass trek. Anyone who wants to register for the Rupin Pass trek has to meet the fitness requirements, with the ideal BMI. The BMI and fitness regime will require proof. A high altitude trek is not to be taken casually.
2. Monitoring health on a trek
Any abnormal reading will be paid special attention to and action will be taken immediately.
On the Rupin Pass trek, your Trek Leader will be monitoring two aspects thrice a day.
Your Blood Pressure levels will be checked once a day.
This will help us ensure that your body is acclimatising as required.
Every trekker will be given a Health Card at the beginning of the trek. The Health Card is issued to monitor the trekker's daily health, wherein they will be entering details about their health everyday. It also contains details of what symptoms one should look out for and what action should be taken during emergencies. These Health Cards will be collected back at the end of the trek.
3. High Altitude Medical Kit
Your trek leader will be carrying a full-fledged high altitude medical kit. This will include basic medicines and specific medicines catering to altitude sickness – Diamox, Dexamethasone (tablets and injections) and Nifedipine. Your Trek Leader will also be carrying a portable oxygen cylinder throughout the trek. In addition to that, there are oxygen cylinders installed at all high altitude campsites for any emergency situations.
4. High Altitude Trek Equipment
To ensure safe trekking on snowy terrain, Indiahikes will provide you with micro-spikes to attach to your shoes. This will give you good traction on hard snow. To avoid snow from entering your shoes, Indiahikes will provide you with gaiters that you can put on over your shoes. You will have qualified technical guides with you, who will lead the way on difficult terrain.
All our sleeping bags and tents are custom-made for high altitude. If it is cold outside, it will be around 10 degrees warmer inside the tent. The sleeping bags can withstand temperatures up to -10 degree Celsius.
5. Being hydrated and well nourished on the trek
You need to drink a minimum of 4 litres of water every day during the trek to ensure that you're well hydrated. De-hydration on a trek can make you lose energy very quickly and intensify the effects of AMS. Your trek leader will brief you about the amount of water that you need to carry with you at the start of each day as well as water sources on the trail.
We provide trekkers with nutritious meals to ensure that they are energized to complete the trail each day. Apart from this, snacks or packed lunch is provided wherever the trail before a meal break is likely to be long. Make sure that you do not skip any meal as this can lead to serious health emergencies on high altitudes.
With all these processes and equipment in place, you can be rest assured that you will have a safe trek with Indiahikes.
Nevertheless, you will need to be cautious and report the slightest of symptoms to your trek leader as soon as you feel them.
What you compulsorily need to know if you're going on the Ali Bedni Bugyal trek
Acute Mountain Sickness:
On the Ali Bedni Bugyal trek, the trail is designed such that your body has enough time to acclimatise to the surroundings. So probabilities of Acute Mountain Sickness are low, even though you hit a maximum altitude of almost 12,000 ft.
However, it is imperative that you take necessary precautions.
At any campsite, inform your trek leader about your condition immediately if you identify any symptom of AMS. If the symptoms don't alleviate it is best to head down to a lower campsite.
This risk can be avoided by going on a course of Diamox. Even while on Diamox, the risk of AMS still prevails. While AMS can be treated with rest and medicines for the most part, the symptoms must be recognised before it can go to advanced stages – High Altitude Pulmonary Edema (HAPE) and High Altitude Cerebral Edema (HACE).
HAPE and HACE are critical conditions that can be fatal within hours.And they can occur without AMS preceding them. So it's doubly important to recognise any symptoms and nip them in the bud.
Take this specific precaution – Go on a preventive course of Diamox
We strongly advise you to go on a preventive course of Diamox. Diamox is a blood thinner and helps you acclimatise much faster and reduces the chance of AMS by around 80%. Take half a tablet twice a day from one day before your trek.
What to do if you have symptoms of AMS?
If you feel any symptoms of AMS on the trek, you must report to the Trek Leader immediately. Do not wait till the end of the day's trek. Do not try to handle it yourself either. Our Trek Leaders are well-trained and experienced to handle any cases and they will be the decision makers in any such cases.
Watch the below video to understand the symptoms of Acute Mountain Sickness. In this video, Arjun Majumdar, the founder of Indiahikes will also tell you the protocol to follow when you see someone showing symptoms of AMS.
Exit points on the Rupin Pass trek
The closest exit on this trek is at Wan, where there is a road head. Evacuation can take time, even 1-2 days, especially from high camps. Medical expenses, if required, at the medical centre are to be borne by the participant.
Why you should personally know about the risks and precautions of high altitude treks
If ever you find yourself alone at high altitude, either while trekking independently or with another organisation, there are some life -saving steps you can take. Firstly, you should be able to recognise symptoms of altitude sickness. So acquaint yourself with the symptoms.
Secondly, there might be instances when you have to administer medicines to yourself or to a fellow trekker. There are three life-saving medicines that we suggest you always carry on you – Diamox, Dexamethasone and Nifedipine.
If you are trekking with Indiahikes, do not administer these to anyone without consulting your Trek Leader. If you are trekking independently then you need to know when exactly to administer these medicines and in what dosage.
Also ensure that you are well hydrated throughout the trek and do not skip any meal.
You can watch the video below to learn about HAPE and HACE and how to tackle them. In the video, Sandhya UC, partner at Indiahikes, explains in detail about High Altitude Pulmonary and Cerebral Edema, what the symptoms are and how to tackle them.
We cannot stress enough on how important it is for you to communicate any symptom to your Trek Leader. Only then your trek leader will be able to take steps at the right time.
Acute Mountain Sickness
If you're of the opinion that fit people don't get AMS, please get rid of that notion right away. AMS can affect anyone without paying heed to their fitness and prior experience at high altitude! Altitude sickness does not distinguish between a first timer and an experienced trekker.
For more detailed information about Acute Mountain Sickness, you can download and study the manual below.
Your trek includes –
Accommodation – Stay from Day 1 to Day 5 (Lohajung to Lohajung). Lohajung has a guest house accommodation. You will camp on  the trek.
Meals – All meals from dinner at Lohajung on Day 1 to breakfast at Lohajung on Day 6 are included. We provide simple, nutritious vegetarian food on all days of the trek.
Camping charges – All trekking permits and forest camping charges are included.
Trekking equipment – High quality tents, sleeping bags, ice axes, roped, micro spikes, gaiters etc. as required.
Safety equipment – First aid, medical kit, oxygen cylinders, stretchers etc. will be available at all campsites to deal with emergencies.
Your trek does not include –
Transport to and from the base camp – We arrange shared taxis for trekkers from Rishikesh to Lohajung and vice versa. This will cost approx. Rs. 6000 one way per 5-6 seater vehicle. You will have to share this cost with the other trekkers
Food during transit to and from the base camp
Backpack offloading charges – Rs. 1000 + 5% GST for the full trek. The backpack cannot weigh more than 9 kgs. Offline offloading charges are Rs. 350 per day. Suitcases/strolleys/duffel bags will not be allowed.
Anything apart from inclusions
Fitness Policy
A high altitude trek in the Himalayas requires considerable fitness. Your body needs to train itself to process more work with lower levels of oxygen. Therefore, on treks, cardiovascular training is critically important.The trek has long climbs and steep descents on a daily basis. As a measure of your fitness, we require you to be able to run at least 5 km in 35 minutes by the time your trek starts. If you are 45 years or above, try to cover 5 km in 47 minutes. This is a minimum, mandatory requirement.
If you prefer cycling over running, then try to cover 22 km in 60 minutes.
Unable to do so can make your trek difficult.
In addition, preparation of trek needs to include strength and flexibility training. Registering for the trek is an understanding that you will undertake the mandated fitness training and upload the fitness screenshots on your dashboard. Trekkers who have not adequately prepared may be asked to discontinue the trek at any point.
Indiahikes has the right to reject trekkers who do not meet our eligibility requirement at the base camp.
Backpack Offloading
Indiahikes expects all trekkers to carry their own backpacks. All common gear will be carried by the support team. If for some reason a trekker is unable to carry his or her backpack, he/she can offload the same by paying an additional charge.
Backpack offloading charges – Rs 1,000 plus GST of 5%. Charges for last minute offloading during the trek will be Rs. 375 per day inclusive of tax. You can opt for offloading directly your dashboard after your payment is done for the trek.
Partial offloading is not allowed. The backpack cannot weigh more than 9 kg. No suitcases/strolleys/duffel bags will be allowed.
Online offloading in advance is possible up to three days prior to the trek start date.
Discount Policy
Discount for a group of 10 and above
If there is a group size of 10 trekkers and above, then we will waive off the trek fee charges for one person.
Note - There is no discount available if the group size is 9 or less than that.
You can register the entire group and send us an email. If the group is registering individually, then the primary participant needs to send an email to the Trek Coordinator with the list of trekkers from the same group.
If you want to make the payment individually, then individual registrations have to be done.
This will be the case for a group of 10 trekkers. So if you have a group of 20 trekkers, then we will waive off the charges for 2 trekkers.
Repeat Trekker Policy
At Indiahikes, we believe that the mountains hold all the aces. The weather could play spoilsport, the altitude could mess with a trekker, the unpredictability of nature itself could turn against him. Whatever the reason might be, it is never nice to turn away from a trek midway.
In the event that a trekker has to come down without completing your trek, they can always head back to the mountain and do the same trek again. If this happens, trekkers don't have to pay the trek fee. They have to just make the optional payment for the insurance amount.
On another note, it could also happen that you love a trek so much that you want to go back time and again. Trekkers don't have to pay the trek fee for repeating a trek.
Note – The Repeat Trekker Policy holds good only for Indian Treks.
It is not valid for international treks.
Is there an option to offload my backpack on this trek?
Yes, there is an option to offload your backpack (have a porter/mule carry it for you). This will cost Rs 1000 + 5% GST if you inform us in advance. If you decide to offload once you reach Lohajung, the amount will be Rs 350 per day inclusive of tax. The offloaded bag should not weigh more than 9 kg. Strolleys, duffel bags, suitcases etc. are not allowed. Online offloading in advance is possible up to five days prior to the trek start date. You can opt for this from your dashboard directly.
Is there a mobile network on this trek? Are there any electricity charging points on this trek?
You will get mobile signal at Lohajung for most networks. Signal will be intermittent in the mountains. So finish all your important calls at Lohajung and inform anxious family members about limited phone connectivity.
Where is the pickup point?
Will I get snow on this trek?
You find snow during the early summer season, till the end of April. Post this, you won't have snow on this trek.
What are washroom/toilet facilities like on the trek?
The guest house at Lohajung will have concrete toilets. On the other days, toilet tents will be set up along each campsite. A toilet tent will have a deep pit, where one can answer nature's call. There will be a mound of soil and a shovel to cover it up. These are dry toilets, where you'll have to use toilet paper. There will be a room freshener as well. It's the most hygienic and convenient way to answer nature's call in the wild. Please use plain toilet paper and do not use wet wipes since these are not bio-degradable.
Summer Camping Trek for Teens
In our years of experience as a trekking organisation, we have observed that adults imbibe lessons from the outdoors on a daily basis. Children are much more receptive to the world in their growing years. The window period of 12 – 16 years is a  perfect time to inculcate valuable lessons from trekking which will stay with them throughout their lives.
Our Summer Camping Trek Program is exclusively for those between the ages of 12 and 16. It is specially designed to learn wilderness survival skills and in the process develop a stronger feeling of self-confidence, the ability to communicate and work in teams, and become more resilient. 
They form special bonds of meaningful friendship with each other. They also develop a strong relationship with nature and become more responsible as human beings.
Ali-Bedni Bugyal Trek is perhaps our most ideal trek for teens. Every campsite is unique and located at just the right distance from the other making the trek a perfect balance of trekking as well as camping. Mountain views and alpine meadows like these are hard to find elsewhere at such ease.
This initiative is under the Experiential Learning Programme.
How Is It Different From A Regular Trek?
Summer Camping treks are exclusively for children between the ages of 12-16.

Apart from the experience of the trek they also have activities that lead to learning experientially. These are activities that are specially designed and facilitated on the trail as well as the campsites.
On the first day, we organise the teens into teams. They will be responsible for all camp-related activities and switch roles every day.
Here's a peek into what the teams do:
The

Green Trails team

ensures that everyone are engaged with keeping the trails and campsites clean. They oversee waste segregation. They see to it that the toilets and washing areas are set up and clean.

The

Cooking team

assists the cook and helps in serving all meals. They ensure that all eat well and there is no wastage.

The

Trek Leader Assistants team

assists the Trek Leader. They aid those who are struggling or need any help on the trail as well as at the campsites.
Apart from team responsibilities are the activities that have been designed for the program.
Reflections at the end of each day will allow children to contemplate their learnings and experiences of the day. It's a time of introspection and gratitude.
Here's a quick itinerary of the summer camping trek:
Day 1: Drive from Rishikesh to Lohajung
Day 2: Trek to Didina
Day 3: Camping at Didina
Day4: Trek to Abin Kharak
Day 5: Camping at Abin Kharak
Day 6: Trek to  Bedni Bugyal and down to Gherauli
Day 7: Return to Lohajung
Day 8: Drive back to Rishikesh
Will My Child Be Safe on the trek?
We understand that trekking with your child may cause you to worry about their safety. All our past family trekkers however have always found our treks to be safe.
Here are some of the commonly asked questions we receive from parents.
  – Who will ensure safety on the trek?
Our Trek Leaders are certified Wilderness First Responders.  They have been trained in wilderness survival and emergency medical aid. They are capable of taking care of any emergency on a trek. Our staff is constantly in touch with each other through radio communication to ensure that all the children and safe and sound.
  – What safety gear do you carry? 
We carry fully stocked high-altitude first aid kits, oxygen cylinders, ropes, and stretchers. In addition to this, these treks have easily accessible exit routes for any emergency evacuation.   Click on this link to watch a video about what equipment we use.
– How do I prepare my children for a Himalayan Trek?
Active preparation is important for any trek, especially for children. Watch this video on how to get children trek fit. 
Also, remember to pack the right things for the trek.
In 2018 alone, we have taken 943 children below 18 years of age on our Himalayan treks. This is not counting the 1000+ school students we have taken on local and Himalayan treks.
There is no doubt that children naturally learn more in the outdoors. The joyful memories created and the natural learning experienced can last a lifetime!
Available dates
What the colours mean

Registration is on.

The group is full, but cancellations are likely to happen. We have 5 waitlist slots for every group. You may register for the group. Waitlist slots confirmation chances are high if booked more than 30 days in advance.

Indicates the number of slots available in a group.

FULL:

Indicates the group is full. No further slots are likely.

We are not accepting fresh registrations for these groups because of Omicron.
Dates not suiting you? Click here to see other similar treks.