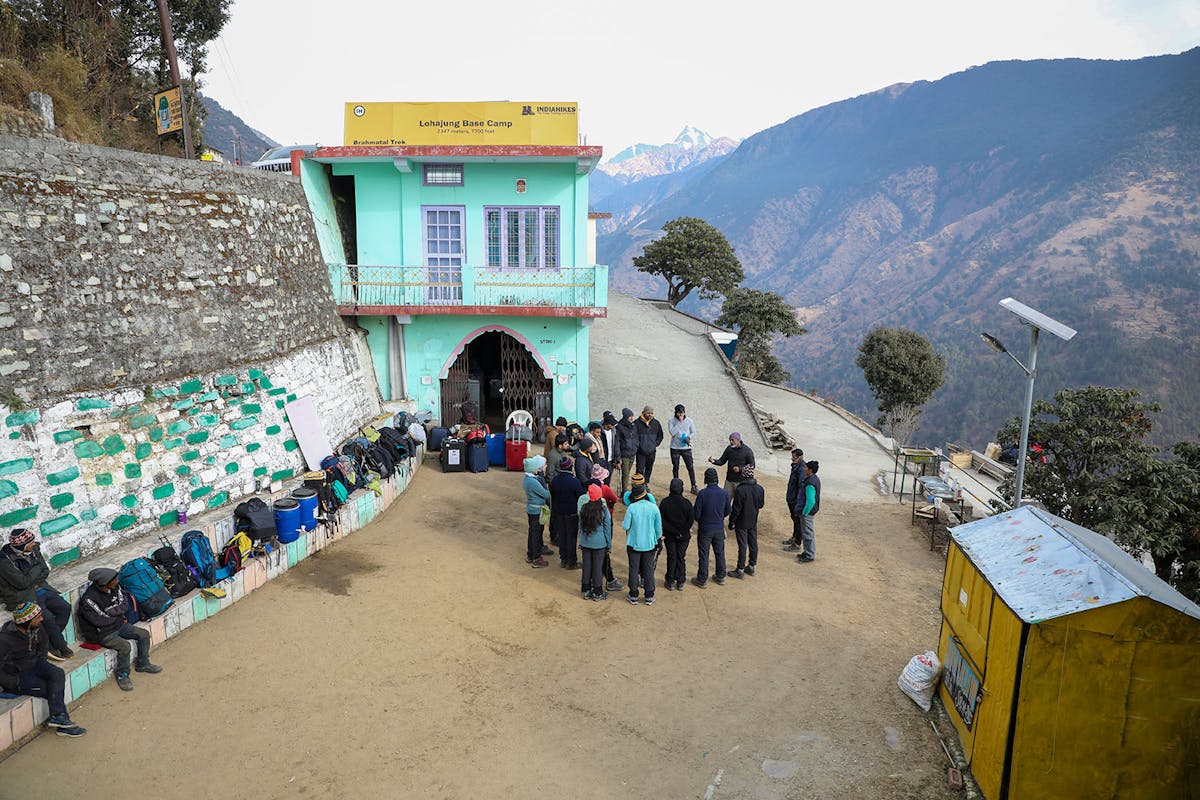 The Indiahikes Basecamp at Lohajung
A brief introduction to Lohajung
The Lohajung basecamp is very close to our hearts. The first trek organised by Indiahikes - to Roopkund - started from Lohajung.
Now, due to the ban on camping on meadows, trekking to Roopkund is no longer feasible. But Lohajung continues to be one of our key basecamps of two other treks - Brahmatal and Ali-Bedni Bugyal (part of the Roopkund trail).
What many don't know is that logically, Lohajung isn't a basecamp. 
In this case, the road ends at Wan. That's why initially treks began from Wan. But when Arjun trekked to Roopkund, he decided to do it from Lohajung.
 There were two reasons why Arjun chose to start trekking from Lohajung:
1. It has a better market place.
2. There are select buses that ply from Rishikesh/Kathgodam to Lohajung. But not to Wan. So it is easier to reach Lohajung.
 But it wasn't only the starting point that changed. Starting the trek from Lohajung brought about a change in the route too. 
 "From Lohajung, you start by trekking on the Curzon Trail till a place called Raunbagad," says Arjun.
The change of basecamp did not just change the starting point, it even changed the trek route. 
How it Changed the Trekking Route
Earlier, the trek to Roopkund or Ali-Bedni Bugyal started from Wan. That's where the ended and one naturally would start trekking from there. Treks would even end there. 
Lohajung was not in the scene. 
In the map, notice the placement of Lohajung and Wan.
From Wan, the route went to Gehroli Patal and then to Bedni. But from Lohajung, the trek first descended into Neel Ganga and then is a stiff climb of 47 switchbacks to a village called Didina.
The change in route put Didina on the map. This is a quaint village with barely 50 houses. 
Homestays mushroomed in Didina as trekkers started using the route from Lohajung. This brought in economic growth.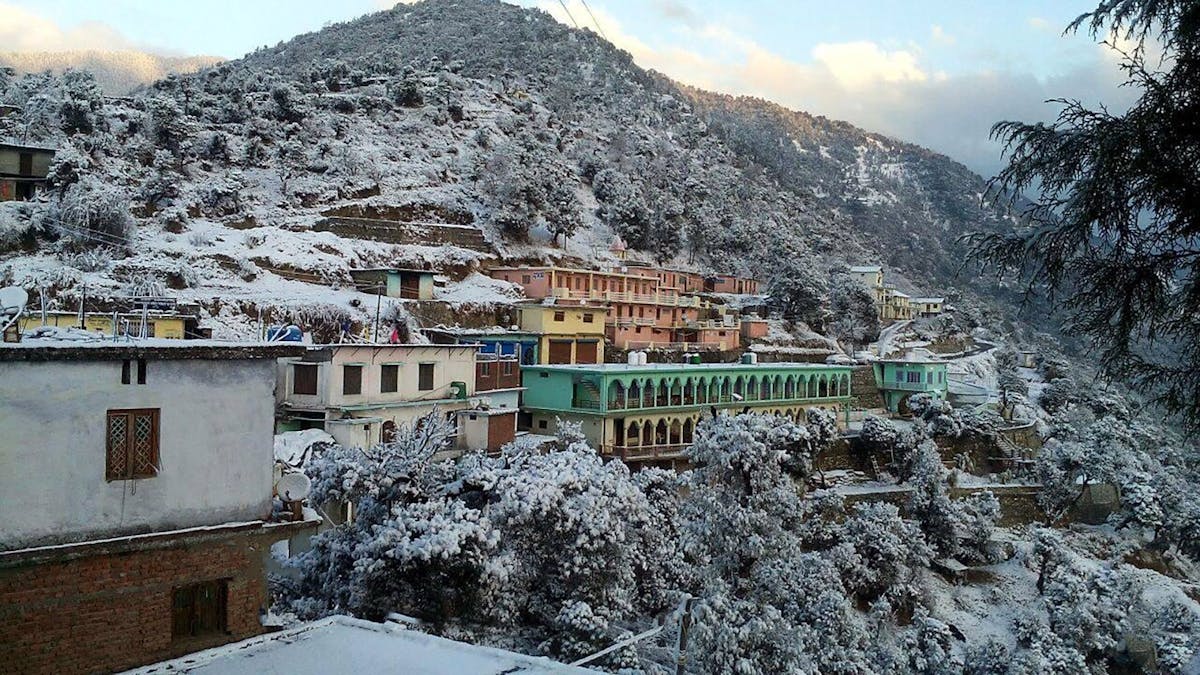 Option 1: Delhi → Lohajung (24 hours)
There is a direct bus from Delhi to Mundoli/Lohajung. It leaves Delhi Anand Vihar terminal at 9.15 pm. You will reach Kathgodam at 4.00 am and Lohajung at 5.30 pm.
Note: This is an extremely long and tiring journey and the buses are not too comfortable. We recommend Options 2 and 3.
Option 2: Delhi → Rishikesh → Lohajung (cab)
From Delhi, get to Rishikesh/Haridwar and hire a Sumo to Lohajung. The route: Devprayag – Srinagar – Rudraprayag – Karanprayag – turn right to Tharali – Debal – Mundoli – Lohajung
Option 3: Delhi → Rishikesh → Karanprayag → Lohajung (bus)
From Rishikesh Bus Stand., take any bus on the Joshimath/Badrinath route and buy a ticket to Karanprayag. It is a 6-7 hour journey from Rishikesh to Karanprayag. Take a bus that leaves as early in the morning as possible, preferably around 6.00 am. From Karanprayag Bus Stand, take a shared Jeep to Tharali (47 km). The road to Tharali runs along the Pindar river.
From Tharali, take a shared taxi to Debal (14 km). Once you reach Debal, you can arrange onward transport to Lohajung (24 km).
Another option is to travel via Kathgodam
Kathgodam is the nearest railhead. If you are travel via Kathgodam and the route to follow is Almora — Gwaldam — Tharali — Debal — Mundoli — Lohajung.
Reaching Kathgoadam
Take the Ranikhet Express from Delhi. It leaves at 10.40 pm from Old Delhi Railway Station and reaches Kathgodam at 5.05 am.
What happens if you don't get tickets on the Ranikhet Express? 
Ranikhet express is a crowded train and often gets booked many days in advance. Firstly, don't look for an AC ticket. It is an overnight journey and even sleeper berths are comfortable. Book a Tatkal ticket. Your chance of getting a sleeper ticket in Tatkal is very high. If, for some reason, you still don't get a ticket on the Ranikhet express, here's what you can do:
Take the earlier day's Sampark Kranti from Old Delhi, which leaves at 4.00 pm. Tickets on the Sampark Kranti are usually easy to get as it is a day seating train. Stay overnight in a hotel at Kathgodam and join the team vehicle the next morning. KMVN Tourist Guest Home at Kathgodam is a good place to halt for the night. KMVN is Kumaon Mandal Vikas Nigam, a government tourist guest home, 500 metres from the railway station. The place is decent and clean. You can contact them on 05942-231436, +91 7055715251 or book online at http://www.kmvn.gov.in/
Sign up for our much loved Weekly Mailer
We have terrific trekking tips, trek updates and trek talks to look forward to