125 Kgs Of Waste Segregated As Trekkers And Locals Come Together At Ro...
Share this story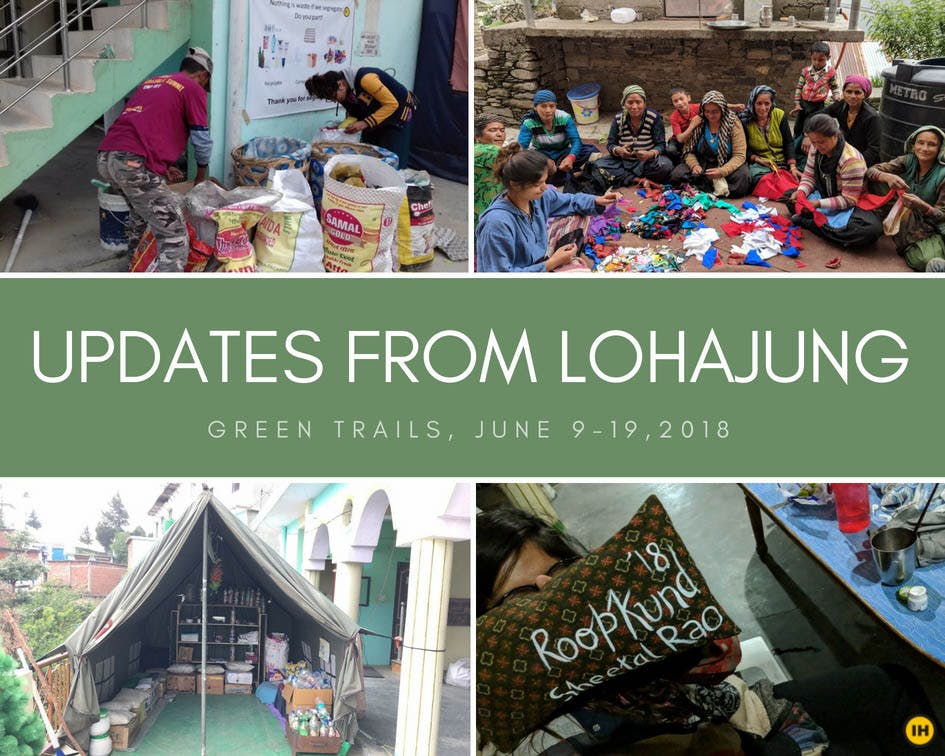 It is very gratifying when we see our sustained efforts to engage with people pay off. This is evident in Lohajung, our base camp for the Roopkund & Brahmatal treks. Last week we saw active participation from the local villagers and our trekkers.
Getting serious about segregation
The first step of upcycling is to segregate your waste properly.
Our Green Trails intern Krish went on the Roopkund trek up till Pathar Nachauni to support dhabawalas in segregating their waste and composting their organic waste.
Dhabhawalas set up their stall during the trekking season to cater to the trekkers on the trail. They sell biscuits, Maggi and other snacks. However, little thought is given to the waste generated and its management.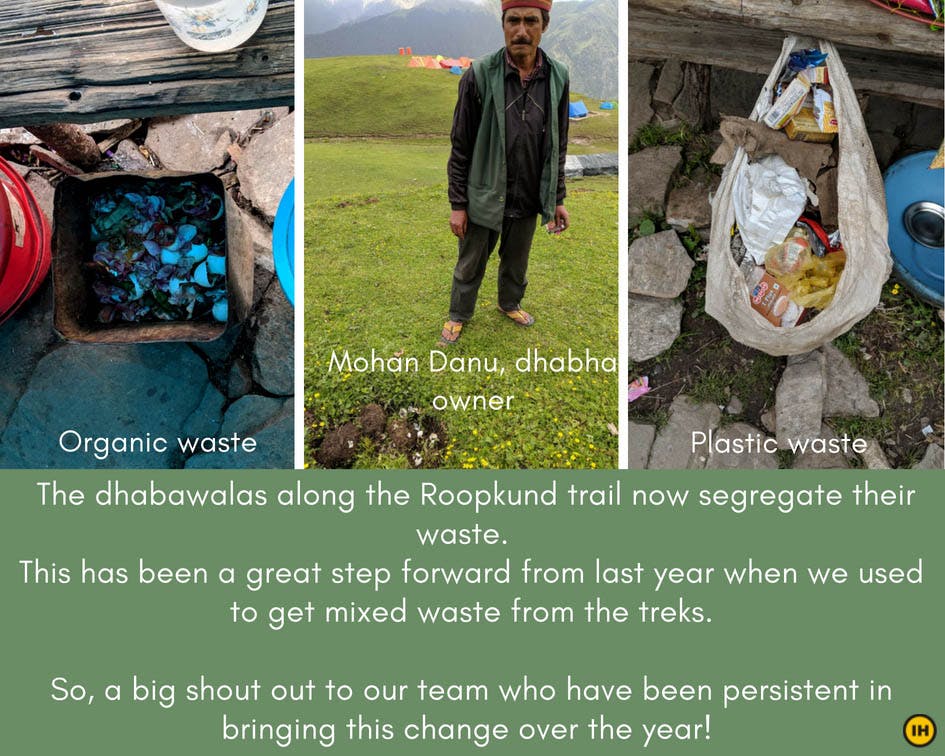 On that note, we noticed that waste segregation down at the base camp village was going a little haywire. There was wet and dry waste mixed up in the dustbins we had installed around the village market.
The culprits? The local dhabhas.
So we got the folks at the Lohajung Market to pull up their socks.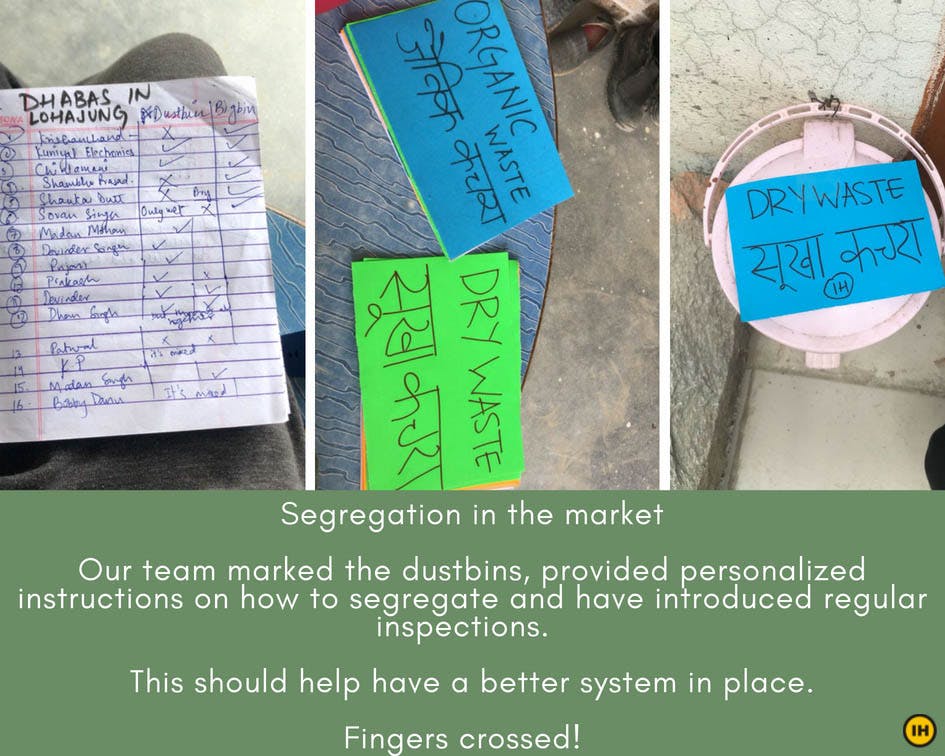 While we are happy to help put the system in place, it is important that locals continue to sustain it. Our Green Trails team aims to enable this through reiteration of safe waste management practices.
With eco-pillows, no more plastic everywhere
We had 2 pillow making workshops at Kurali village last week. This was very well received by the women participants who sat together with our team to make these eco-pillows.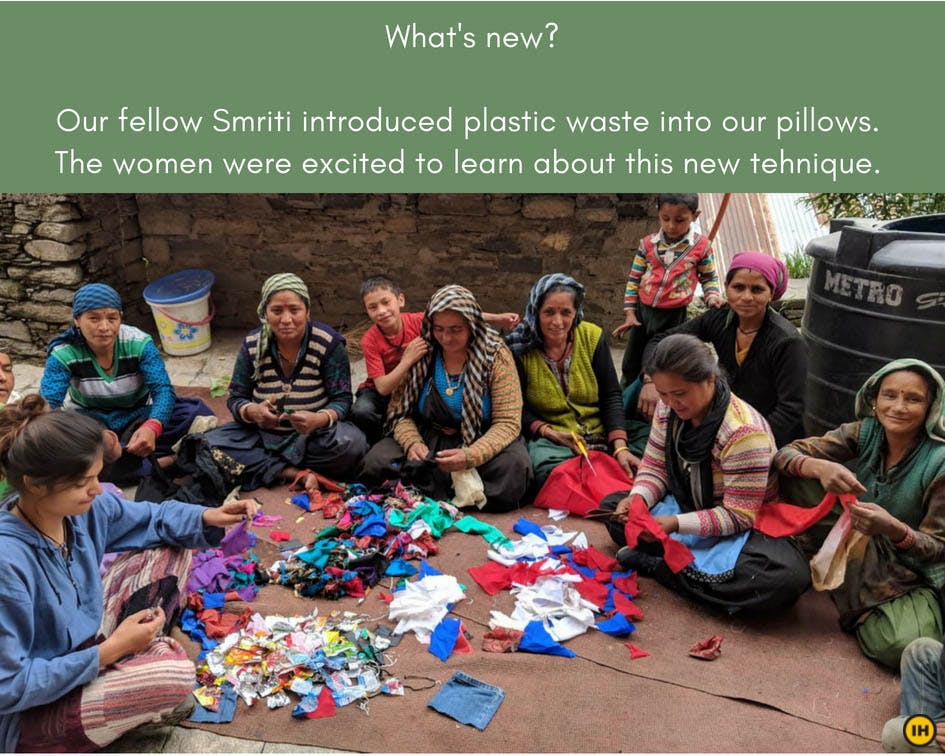 We are teaching the women how to wash the plastic clean, dry and cut it. The addition of plastic along with cut cloth is yet another exit for the plastic waste generated.
We are also getting our trekkers to customise the eco-pillows they would like to buy. Give them funky eco-pillows, get some fabric paint – and you have happy painter trekkers.
It is not just pillows, trekkers are always curious about our Green Trails station.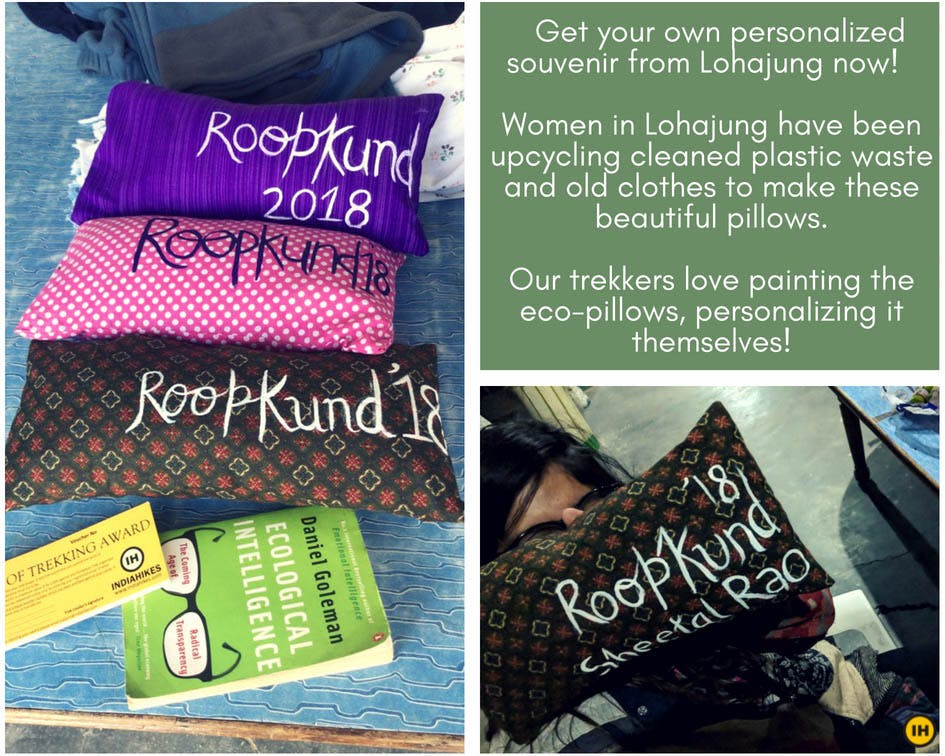 It is not just pillows, trekkers are always curious about our Green Trails station.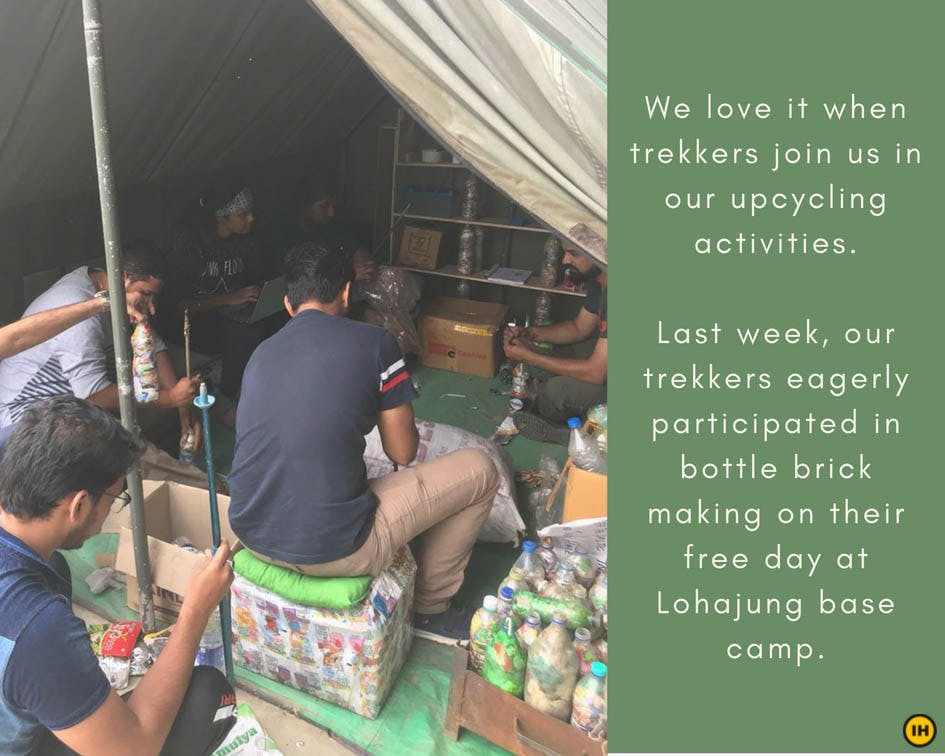 We are constantly working to make the Green Trails station cozier with new bottle brick stools and eco-pillows; and some rearranging to accommodate the growing number of upcycling activities!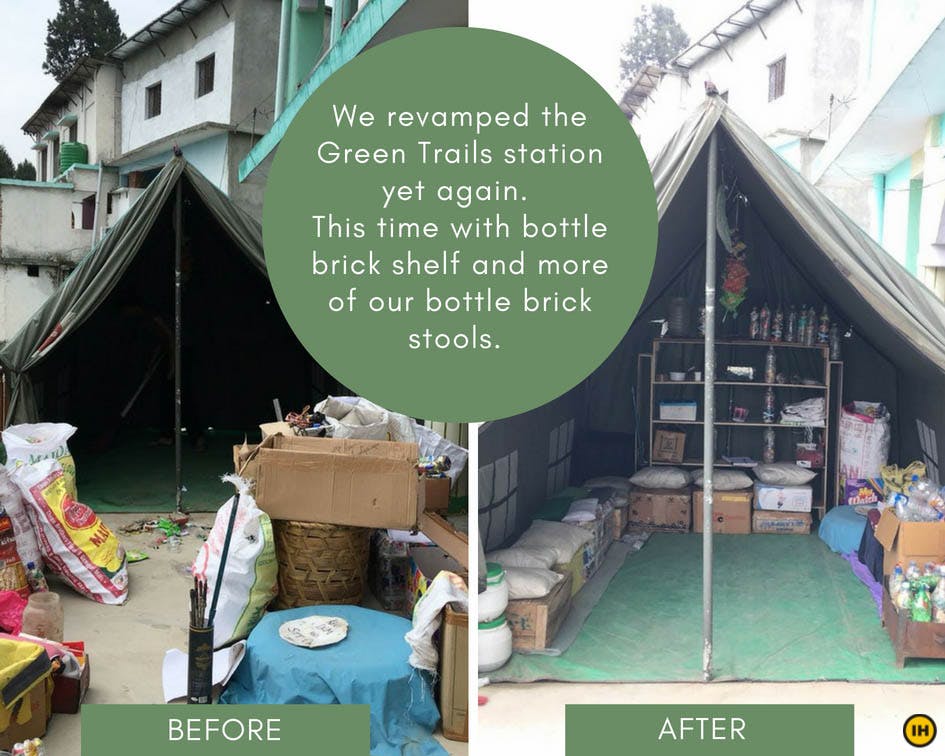 Last week our Green Trails fellows made a bottle brick shelf to store the upcycled products.
To upcycle you need to segregate first!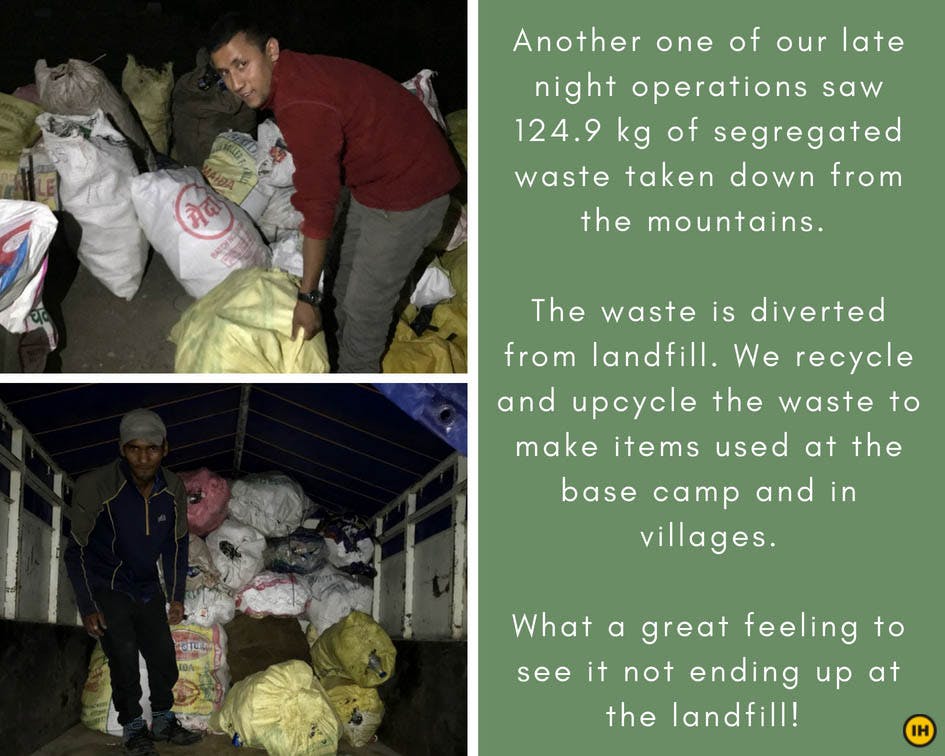 Let us know if you have a green idea which we could employ in the mountains. We would love to hear from you in the comments section below. Click the picture below to follow us on Instagram for further updates!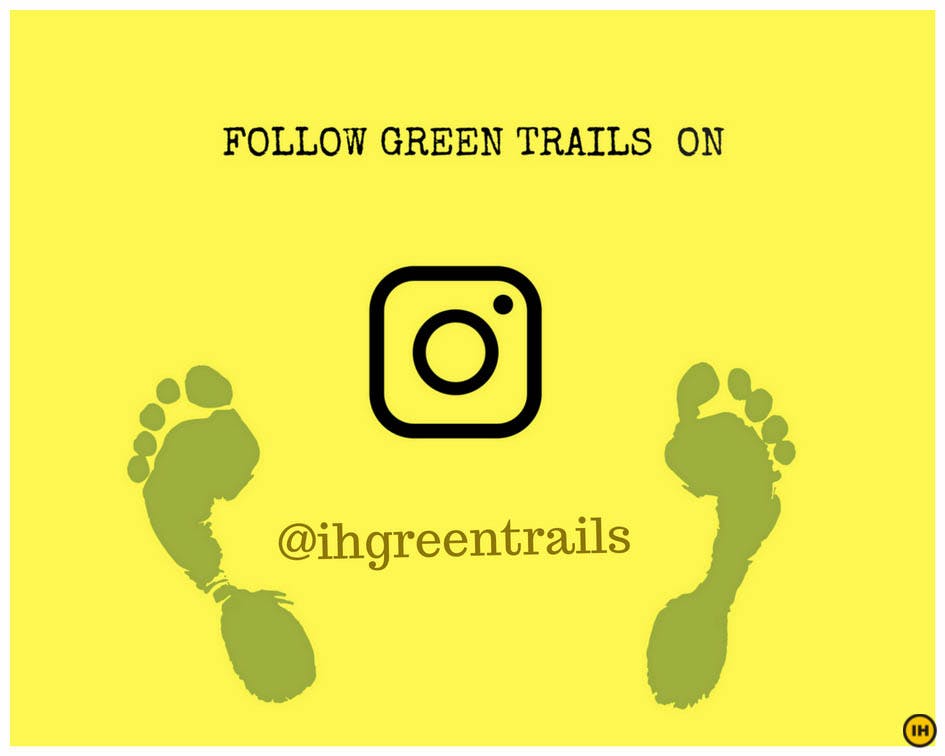 What you should do now
1. If you want to work as a Green Trails Fellow: Read this article to learn more about it.
2. If you want to work with us: Head over to our careers page. We have lots of positions open. We also have lots of applications coming in. So the sooner you apply, the better.
3. If you ended up here by chance and were actually looking for treks to do: Then head over to our upcoming treks page. You'll find all our Himalayan treks there.
4. If you want to see the 13 best treks of India: Then get our guide here.
Sign up for our much loved Weekly Mailer
We have terrific trekking tips, trek updates and trek talks to look forward to