21 Stunning Photos of Winter Treks in the Himalayas
Share this story
Today, I'm here to whisk you away to the mountains! I'm taking you through some of the best winter treks in the Himalayas. Not just one or two treks, but seven different treks — each one of them more stunning than the other.
I'm doing this with a few of the rarest photographs of our winter treks. Our photography team helped me dig them out, going through over a thousand photos from our archives.
Frankly, I was weak in the knees with every photo! It's not easy to capture the raw magnificence of the Himalayas, especially in winter, while trekking in snow and negative temperatures. Yet, our trekkers are incredibly talented to take photos like these.
Some of them tell wonderful stories about what trekkers go through. Some of them capture the astounding mountain views that you see. Some of them are simply brilliant landscapes.
I'll let you see it for yourself.
I've laid out the photos trek by trek. I've mentioned the month they have been shot in, so that you get an idea of when the trek looked that way.
Most of these treks are accessible 10 months a year. But winter brings out a different kind of magic in them!
The Ali Bedni Bugyal Trek in Winter
1. Stunning clearings in the forests of Tolpani on the Ali Bedni Bugyal trek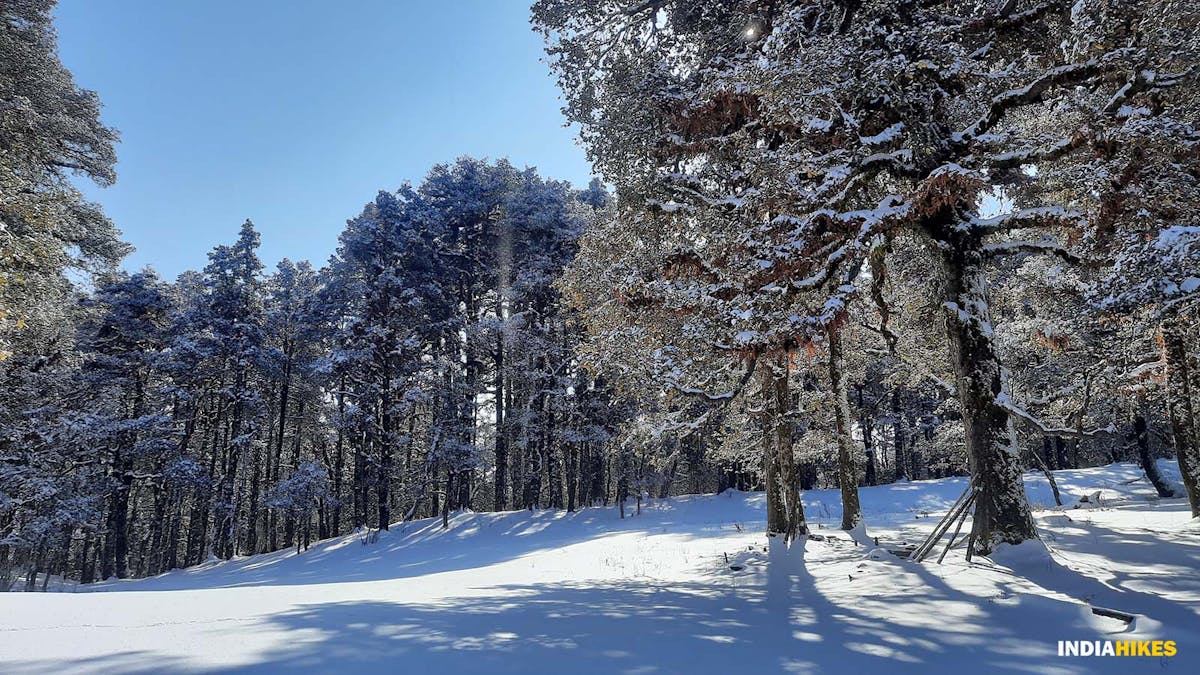 Anyone who treks here will wish they could camp in the clearings above Tolpani. Unfortunately, there are no water sources nearby, making camping impossible. But look at the picture and imagine yourself walking in these settings! Picture by Ravi Ranjan shot in January 2020
From Didina, there are two ways to reach Ali Bugyal. Most take the direct route to Ali, climbing above Didina in quick switchbacks to break out of the forest just below the main Ali hump.
Then there's a second trail, that most trekkers miss out on. This goes via a clearing to the right of Didina, at Tolpani. This trail takes trekkers through some of the most stunning oak and rhododendron forests they will ever see. Even better are the clearings in the forest. This trail is something that every trekker must stop and take notice of. 
"These are few of the densest oak forests I've trekked in," says Arjun. "Under you is a never ending carpet of brown leaves. You see intertwined roots, criss-crossing over each other. You see moss-laden trunks, soft as a carpet to touch. I think the trees in the forests are over a 1,000 years old," he says.
"Out of nowhere, in the middle of these forests, you see lovely clearings. In winter, these clearings are covered in snow. Later in spring, they will be green and lush. It's one of the most endearing sights our trekkers will see. It's straight out of a fairy tale," says Arjun.
2. A View of Mt Trishul from Ali Bedni Bugyal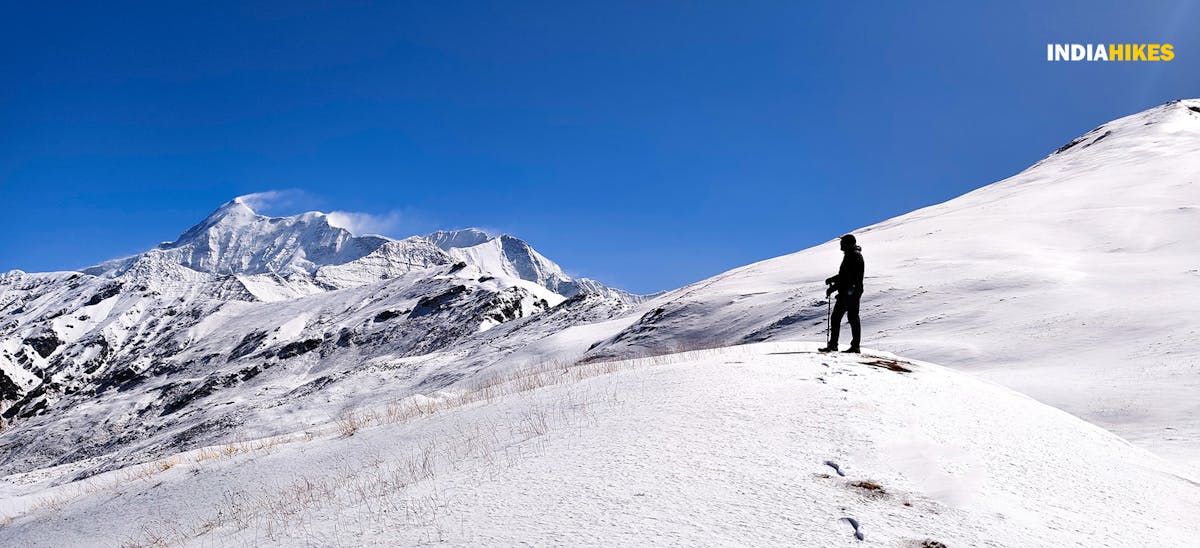 Most trekkers are moved to tears by the sight of Mt Trishul and Mt Nanda Ghunti from Ali Bugyal. Picture by Dhaval Jajal shot in March 2020.
It's not every day that you get to see 6,000 and 7,000 metre summits. Yet, on the Ali Bedni Bugyal trek, you have Mt Trishul and Mt Nanda Ghunti as your constant companions, first through the forests of Ghairoli and then once you hit the meadows. The meadows of Ali and Bedni give you a few of the most stunning views of Mt Nanda Ghunti and Mt Trishul.
3. Trekking the legendary Roopkund trail through Bedni Bugyal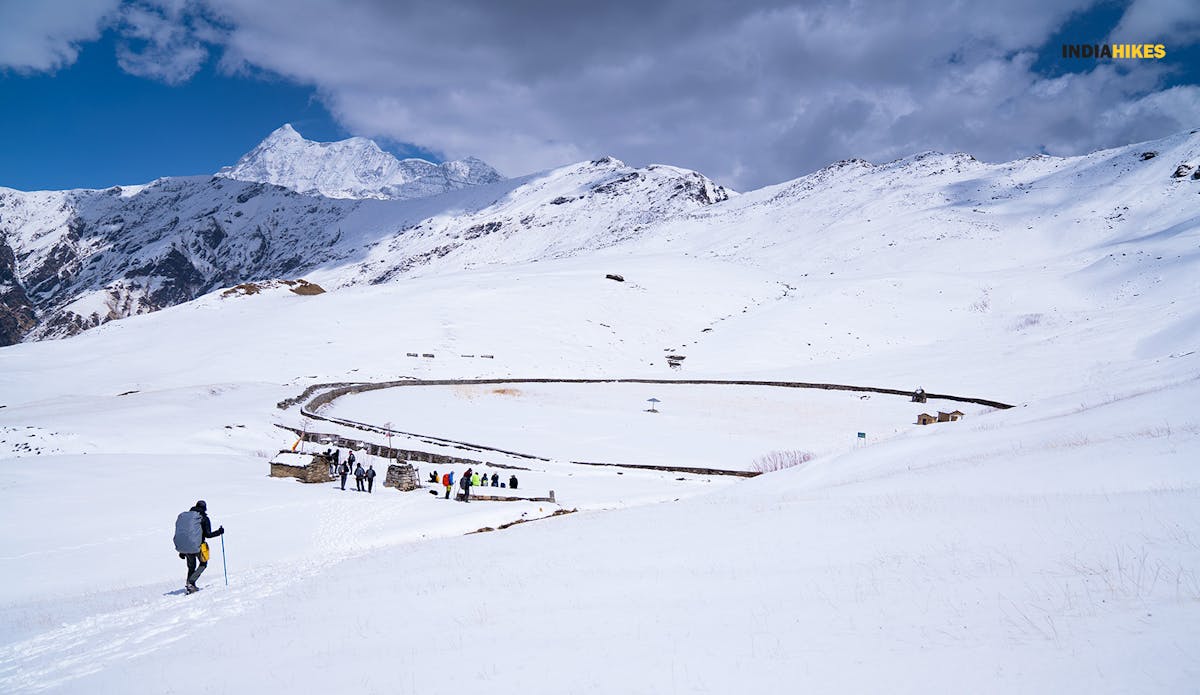 Trekkers revel in the fact that they are trekking the legendary Roopkund trail while trekking through Bedni Bugyal. The frozen Bedni Kund that you see in this image is one of the biggest highlights on the Roopkund trail. Picture by Yash Trivedi, shot in January 2020.
Not many know that Ali and Bedni Bugyal are part of the legendary Roopkund trail. Unfortunately, we cannot trek to Roopkund anymore, since camping in these meadows is banned. The meadows are at a crucial altitude and help acclimatize before climbing to higher camps.
But on this trek, you trek through these famous meadows and spend the day there, all the way until the sun sets. "You witness few of the most magical sunrises and sunsets from the meadows," says Dhaval Jajal, who was awestruck by the colours of the sunset.
The Dayara Bugyal Trek in Winter
4. Forest trails to Dayara Bugyal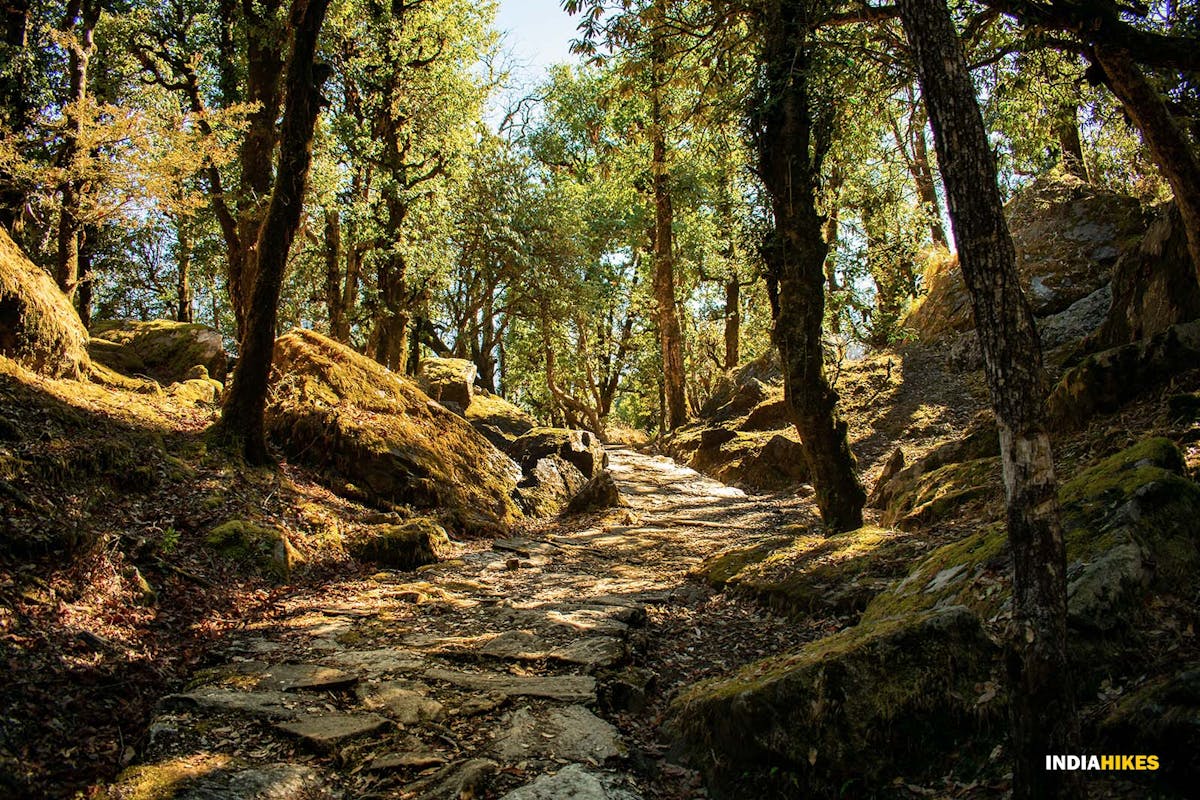 The trail to Dayara is entirely through shady oak forests, no matter which base camp you approach it from. These are few of the most untouched forests of the region. Most trekkers don't have the heart to exit the forests! Picture by Anubhav Bhatt shot in December 2020
"I have trekked to Dayara Bugyal from multiple routes — what strikes me is how shady the trail is. Right from the base camp until you breakout of the forests into the meadows, the trail is in good shade with lovely forest cover," says Sandhya UC, the co-founder of Indiahikes.
"The biodiversity is high. Which is why you'll hear a lot of bird calls. While we talk about the meadows, don't miss out on the forest. Dayara Bugyal is one of the Best Himalayan treks for Bird Watching," she adds.
5. Snow-covered meadows of Dayara Bugyal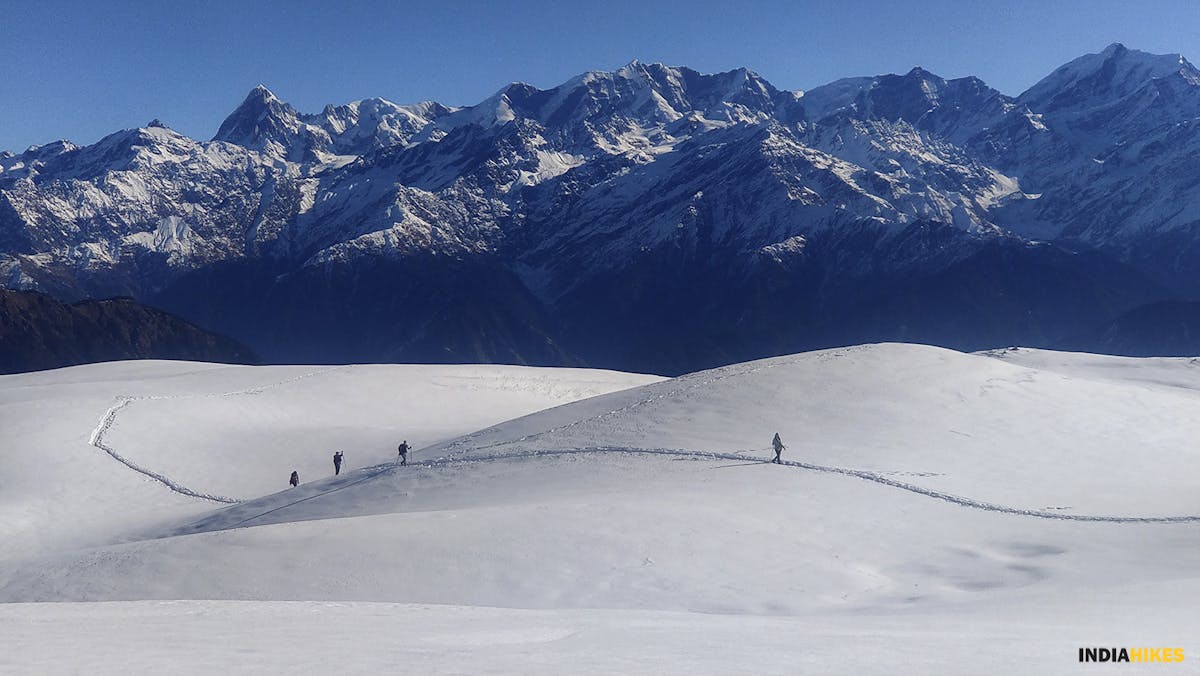 One of our favourite aspects of the Dayara Bugyal trek is that the mountain views start right from the base camp, and they stay with you through the trek. Picture shot by Dhaval Jajal in January 2020
Dayara Bugyal is our only winter trek with the widest expanse of snow. You could walk for kilometres together and the snowy meadows will continue to unfold around you.
What takes the experience several notches up is the constant company of the Gangotri mountain range behind you. Mt Srikanth, the Gangotri massif, Draupadi Ka Danda and Mt Jaunli — you'll see sunsets, sunrises, afternoon glory, all of it on these mountain peaks.
6. What camping in heaven looks like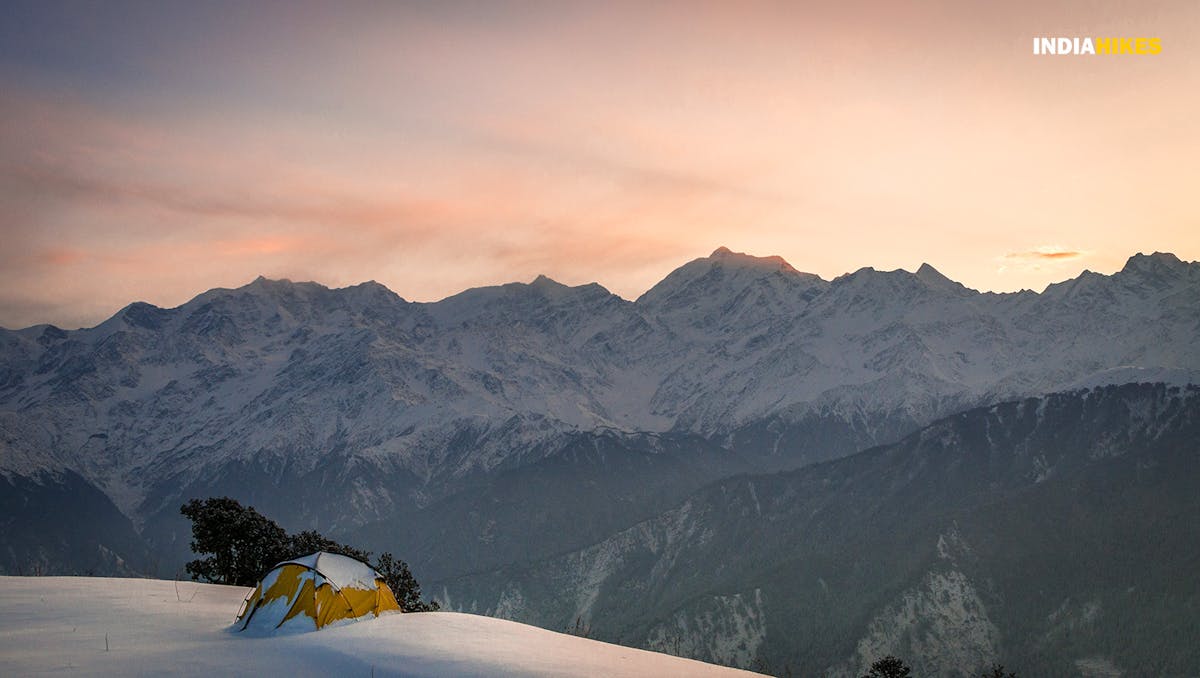 This picture not only "shows us a slice of life from a winter trek" but in its solitude it also reflects how unexplored the trek is. Moreover, don't miss out on small details such as the front of tent covered in snow, the sun rising from behind the mountains and the smoothness of the landscape with absolutely no footsteps. Picture shot in January 2018 by Ashish Manchanda
Dayara Bugyal is a largely unexplored trek, especially in winter. While most people flock to Kedarkantha and Brahmatal, this trek quietly steals the hearts of the few trekkers who choose to tread its trails. Silent forests, virgin snow, untouching meadows, they all make camping and trekking this trail a beautifully charming experience.
The Deoriatal-Chandrashila Trek in Winter
7. The coveted view from the Chandrashila summit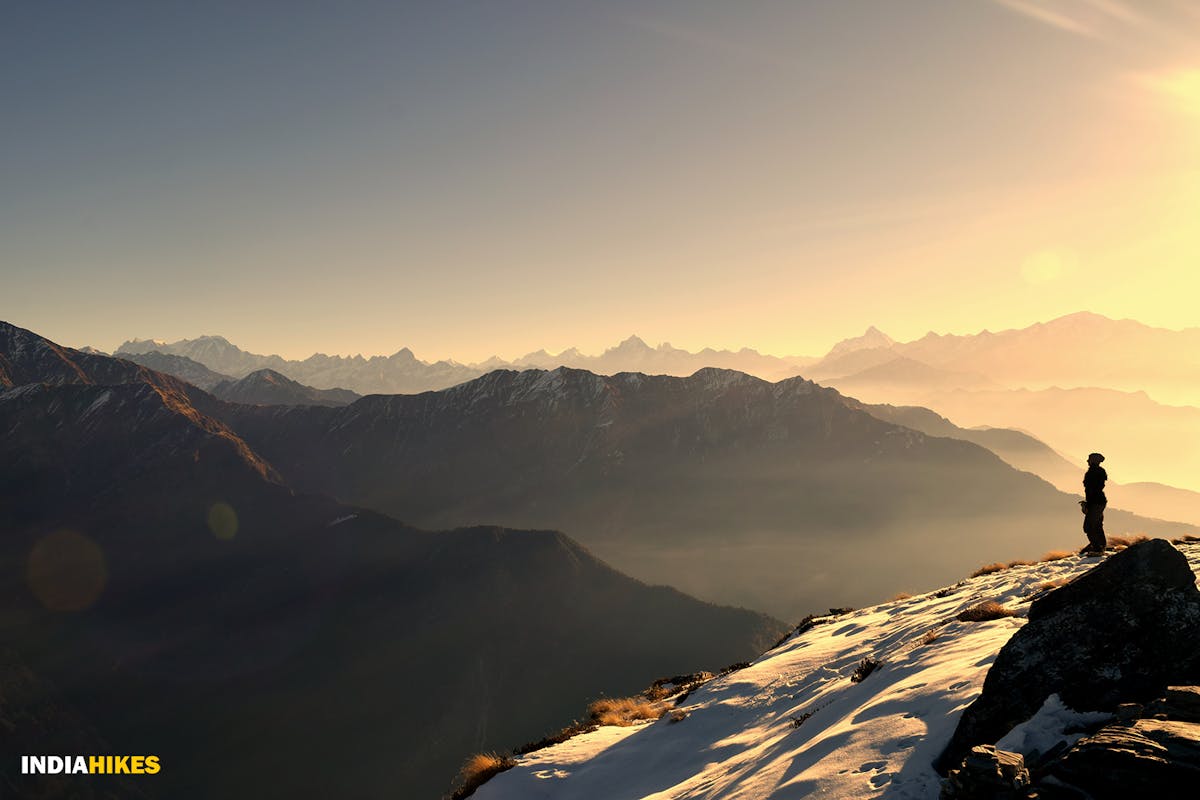 If you study this image, you'll easily spot Mt Nanda Devi and Mt Dronagiri. Study this page and you'll spot Mt Trishul, Nanda Ghunti, Hathi Ghoda, and several other peaks. The astonishing part is that this is just half of the view from the summit. Picture shot in December 2017 by Rajat Shanker
"Seeing great mountain views on a winter trek is not easy. You have to get to a high vantage point to catch such a view. In winter, most such vantage points are rare and even if accessible, they are usually buried under deep snow," says Arjun Majumdar, founder of Indiahikes.
"Which is why at Indiahikes we treasure the Deoriatal Chandrashila trek so much.
The Chandrashila summit is a vantage point that stands unparalleled among our treks. From the top of the summit, you see perhaps the greatest mountain views of our Indian Himalayas. It is like a grand feast — there is so much to take in that you cannot take all of it in. It is an experience many trekkers cannot forget," he adds.
8.Snow-laden forests on the Deoriatal-Chandrashila trek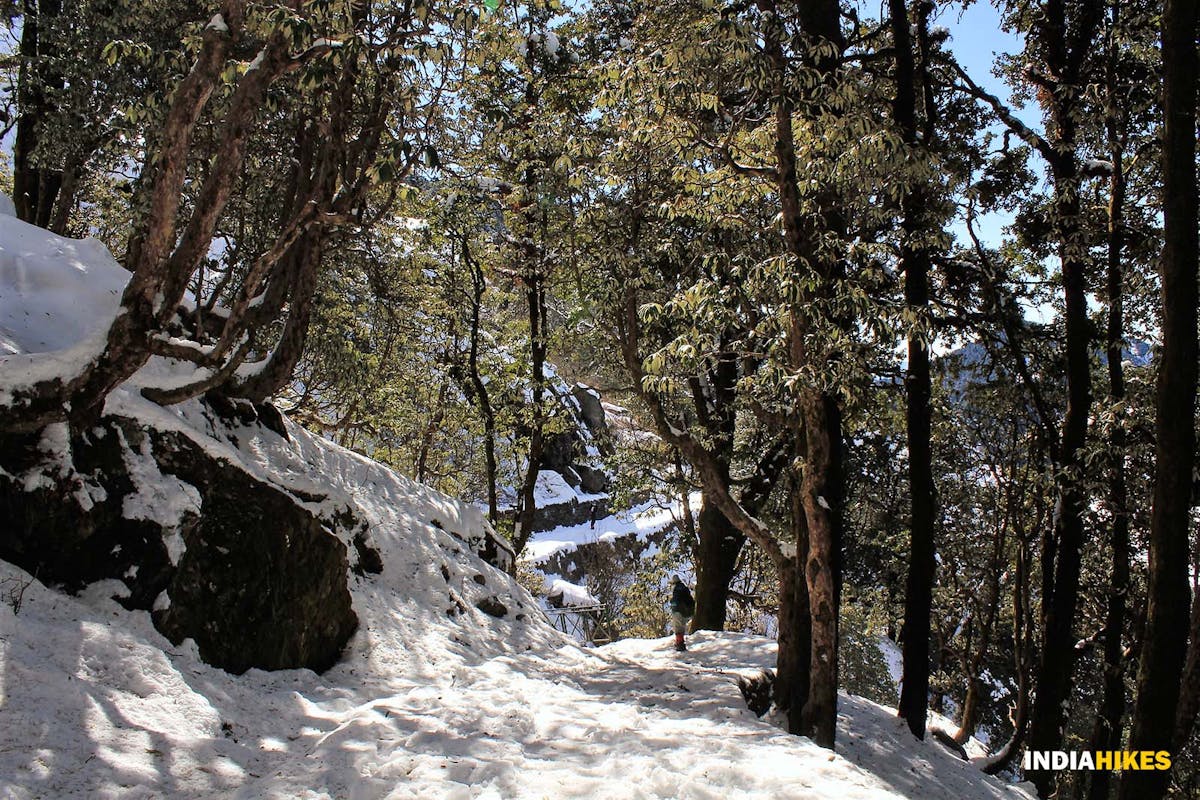 It's an utter delight walking through snow-laden forests on the Deoriatal trek. Right from Sari, all the way to Baniya Kund, you are in these lovely forests with snow crunching under your feet. Picture by Shobana Chandrasekar shot in December 2017
The forests on the Deoriatal-Chandrashila trek have always been celebrated. And rightly so, because this trail runs through the heart of the Kedarnath Musk Deer Sanctuary. It is known for its bird life and wild life, and of course, its rhododendeon trees.
"We all talk about rhododendrons when they're in full bloom. Of course, there's a different glamour to that. But even without flowers, rhododendrons are very beautiful trees. Especially when there's snow and you're walking under a drooping canopy in winter. It's a terrific setting!" says Arjun.
9. An adventurous summit climb to Chandrashila
The Chandrashila summit is one of the most adventurous summit climbs possible in winter. It gives you a terrific sense of achievement and the view from the top is massively rewarding too. Picture shot in March 2019 by Himanshu Singla
There are very few summit climbs that are accessible in winter, and Chandrashila is one of those rare few. One of the best things about climbing the Chandrashila summit in winter is the sense of adventure it gives you. Trekkers feel a huge sense of achievement and elation when they reach the top!
It does become a notch tougher, since there's a deep snow in winter. You need good fitness levels to be able to do this trek in winter.
The Sandakphu Trek in Winter
10. A sunrise on the Sleeping Buddha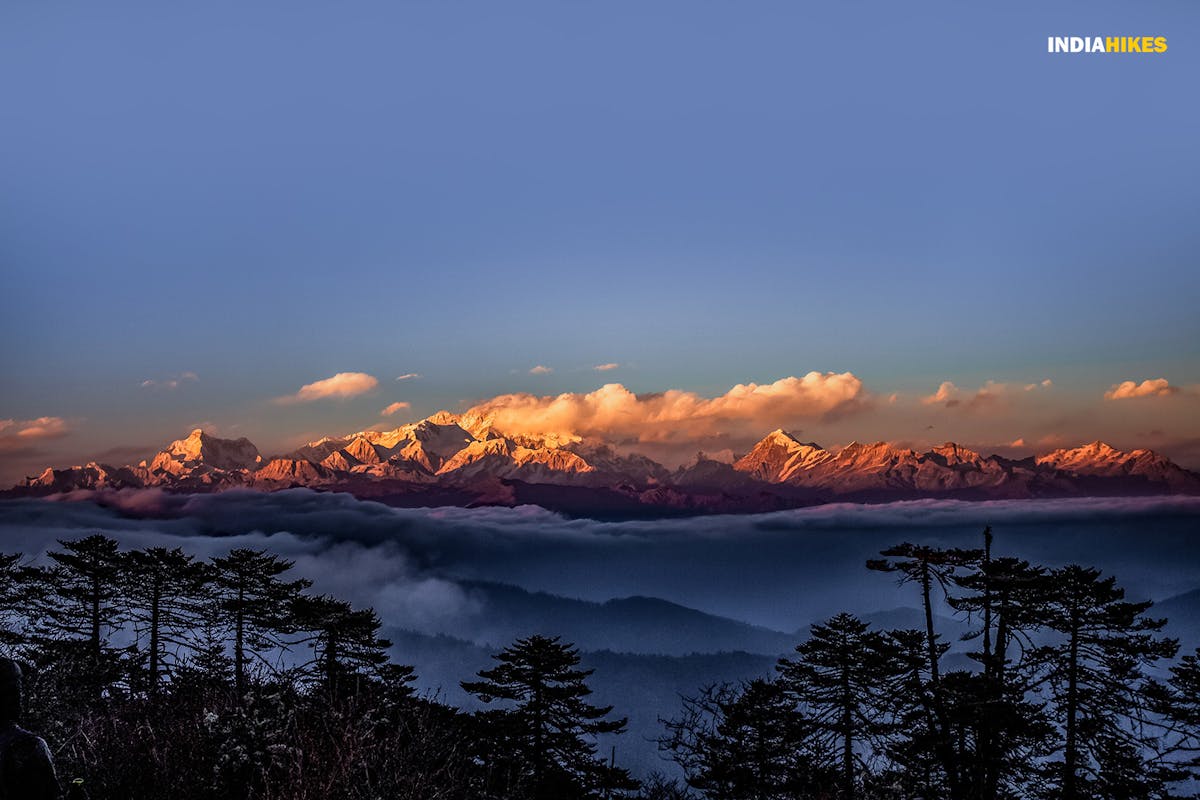 Notice the rivulets of white between the lower mountains. They are rivers of clouds that often float below you on the Sandakphu trek. While many trekkers visit Sandakphu for the famous view of the Sleeping Buddha, which you see in the picture, most of them fall in love with the bed of clouds. Picture shot in December 2020 by Puneet Garg
One of the most sought-after views on the Sandakphu trek is that of the Sleeping Buddha — formed by the Kanchenjunga range, Mt Kumbhakarna, Mt Pandim and the whole family of peaks. Trekkers are spoiled by this view not for one or two days, but for four days on the trek.
Not just this. Turn left and you will see the whole Everest cluster of peaks, including Lhotse and Makalu.
Very few spots in the world can give you views of eight thousander peaks like this. Even fewer of them would be accessible via a moderate trek. Just for these views, Sandakphu is a must do.
11. Snowflakes after a fresh snowfall
The Sandakphu trail is a heavily forested one. The entire forest begins to glow when it snows, making it one of the rarest experiences for trekkers. Picture by Puneet Garg, shot in December 2020
Sandakphu is one of those rare Himalayan treks in our country that don't get too much snowfall. Even in peak winter, you're not likely to trek through much snow here.
Yet, when it snows, it leaves behind a lovely trail of snow all around you. This is not snow that lasts very long, but is a beautiful experience for any trekker.
12. A sea of clouds, one of the best experiences on the Sandakphu trek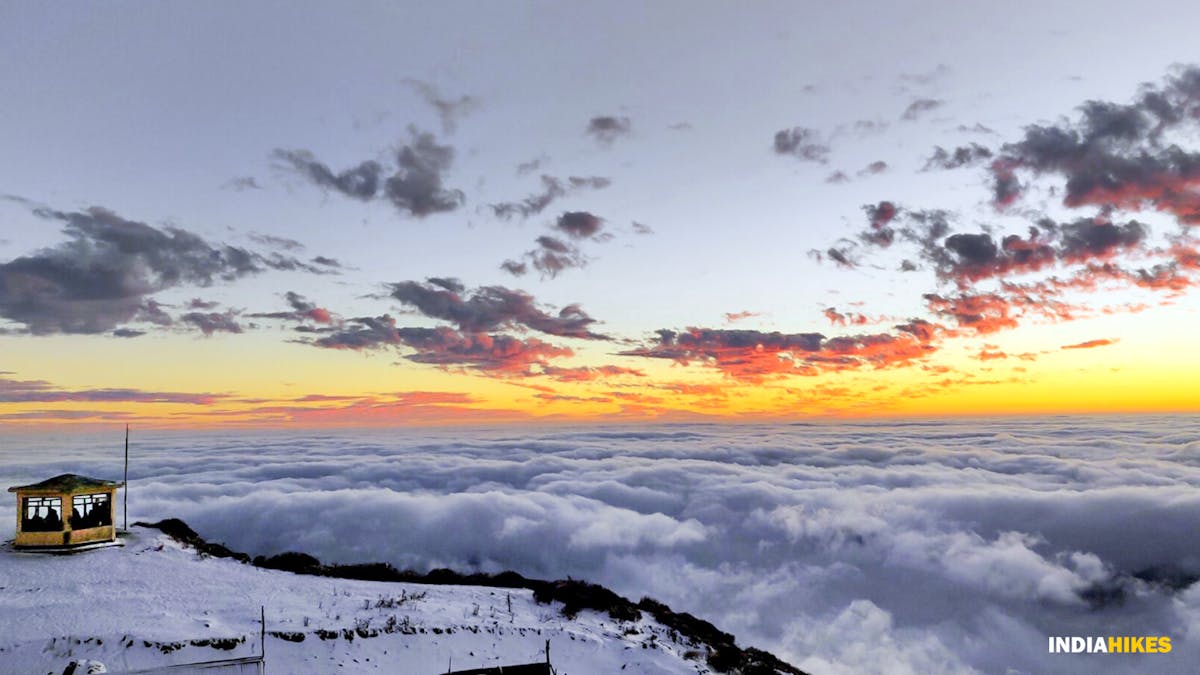 Because of the long distance views on the trek, and from a height, you often get to see massive cloud beds, and the sun setting behind it. It's a magical view. Picture by Aakash G Ratkal in December 2018
While many trekkers visit Sandakphu for the famous view of the Sleeping Buddha, which you see in the picture, most of them fall in love with the bed of clouds. There is always a bank of clouds below you on either side. The sun rises and sets on these banks of clouds. It is one of the most spectacular moments you will see on any trek, leave alone Sandakphu.
The Kuari Pass Trek in Winter
13. One of the most photographed spots on the Kuari Pass trek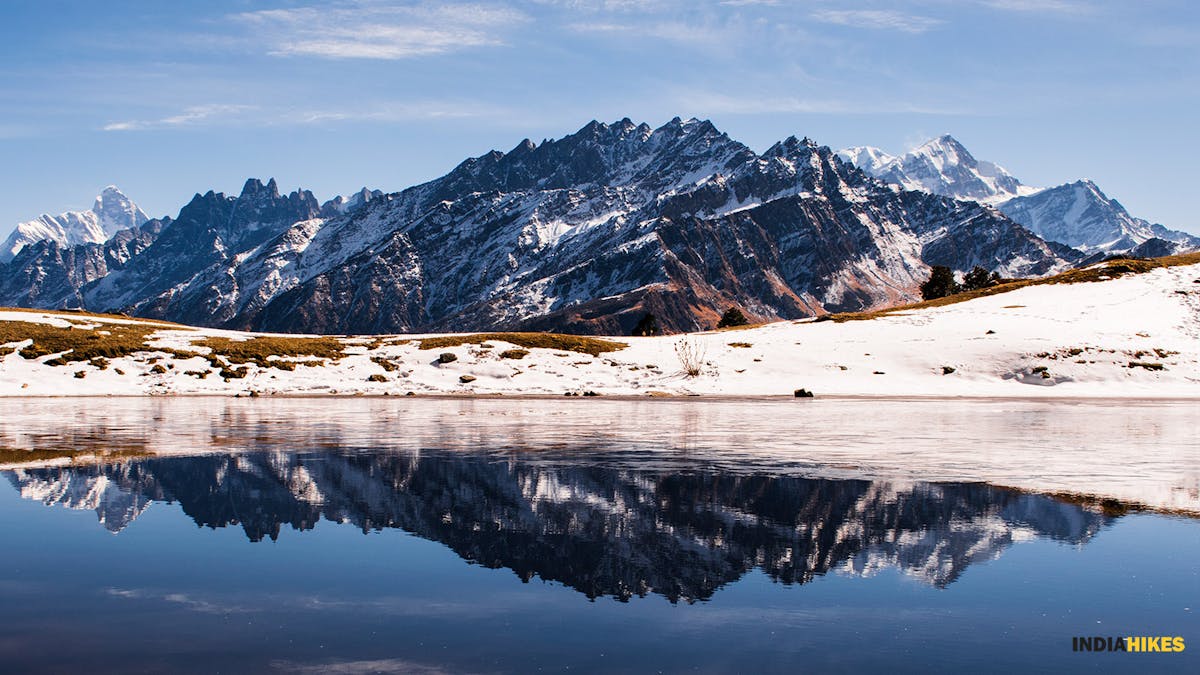 The Tali Lake on the Kuari Pass trek. Early mornings will give you the best shots on this lake. Picture shot in December 2018 by Surya Avinashilingam
This is perhaps one of the most photographed spots on the Kuari Pass trek. Just above the treeline after you cross the Chitrakantha forest, it promises you views of big mountains as the backdrop. Notice Mt Nanda Devi on the left, with its reflection in the still waters of the lake. Finding snow around this lake is rare, and happens just in winter months of December, January, February and early March.
14. Oak forests of Chitrakantha on the Kuari Pass trek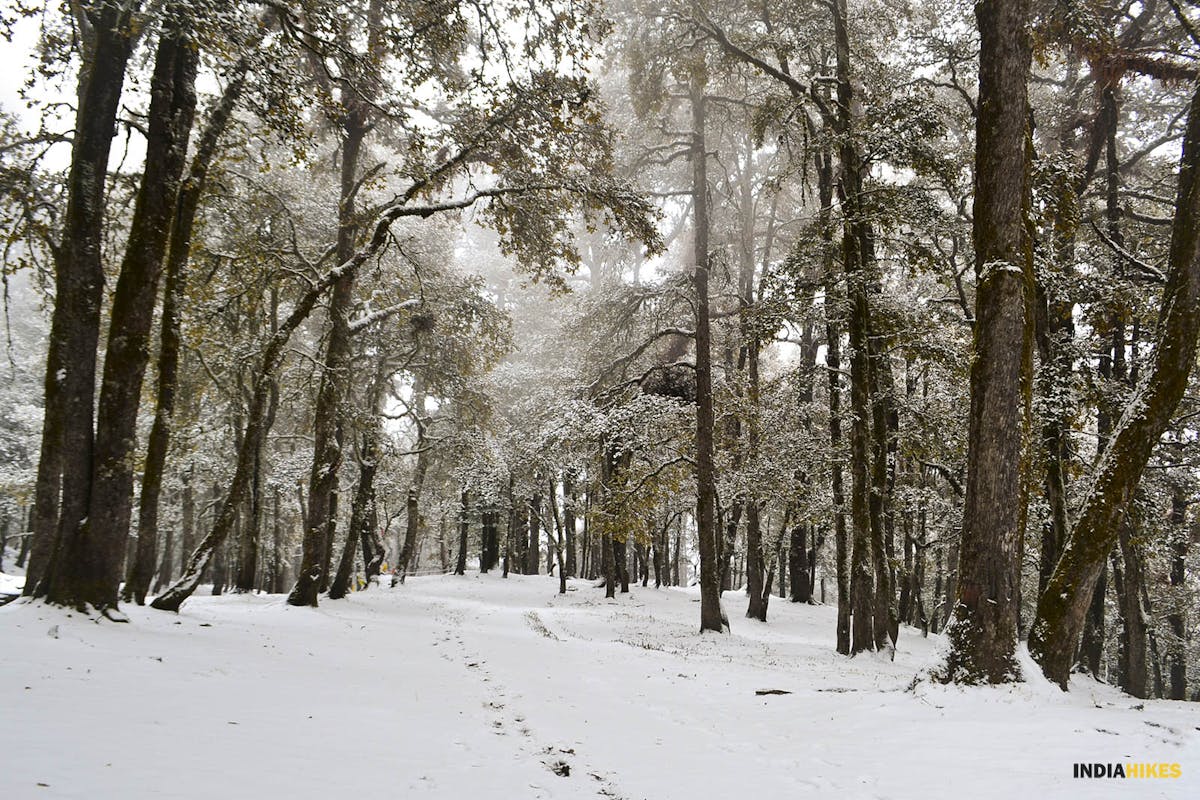 This is one of our favourite winter setting photographs at Indiahikes, for how magical the oak forests look after a fresh snowfall. Picture shot in December 2018 by Sandhya UC.
The forests of Kuari Pass are typical in the Uttarakhand region, but you find them only in certain treks like Roopkund, Brahmatal, and Dayara Bugyal.
"Compared to the rest, I like the oak forest of Kuari Pass the best," says Sandhya. "This is simply because oak forests on this trek are placed so beautifully. These oak forests come in a section where the climb is not very steep. So, you have an easy walk through the oak forest.
"It's magical to see oak forests in snowfall. Usually, our mind conjures up images of pine forest in snowfall. But here, the experience is different. As snow falls on the branches of the oaks, it's almost like the forest is bowing down gracefully, greeting your presence there," she recollects.
15. Trekking alongside the highest mountain in India, Mt Nanda Devi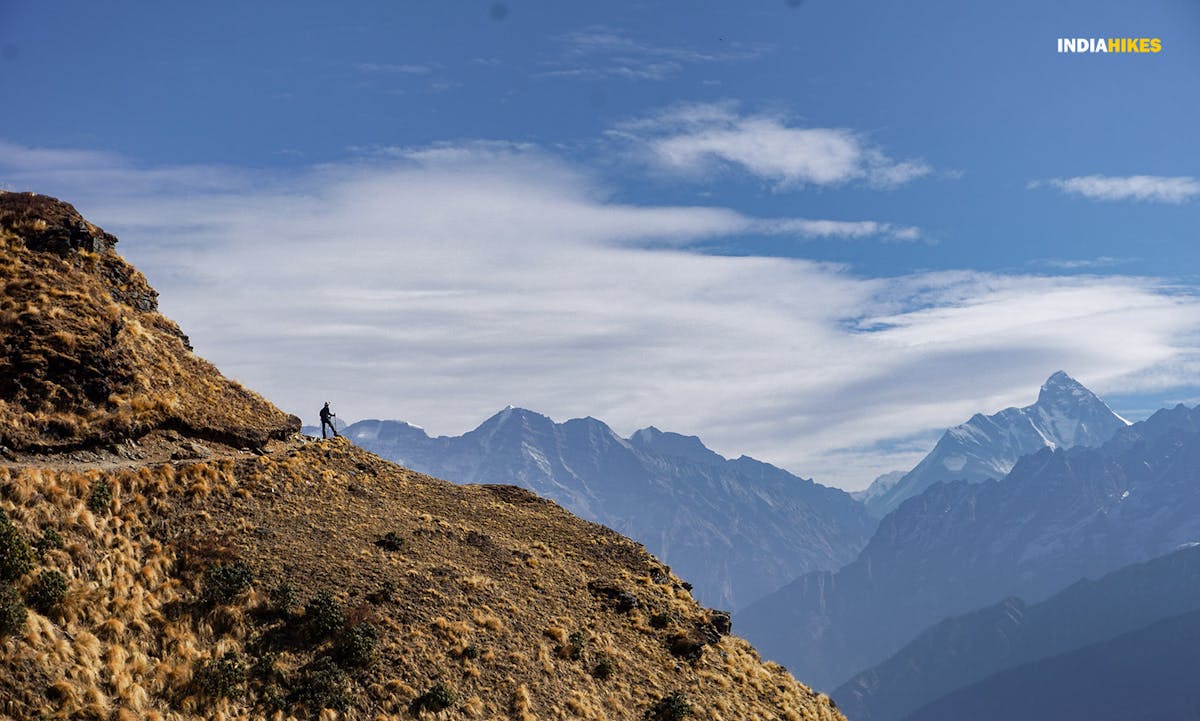 You see the best views of Mt Nanda Devi on your trek from Gorson Bugyal to Auli. "I never wanted to look ahead at the trail. I didn't want to look away from the mountain," recollects Suhas Saya, who shot this picture in December 2020
"What I really like about Kuari Pass trek is that it offers easy access to this spectacular view. You see Mt. Nanda Devi all the way from Gorson Bugyal to Auli," says Sandhya. "Not only Nanda Devi, you see other big mountains too, Dronagiri, Neelkanth, Chaukhamba, Hathi Ghoda, and all of them at close proximity. Just for this view, I don't mind doing the Kuari Pass trek again and again," she says.
The Brahmatal Trek in Winter
16. A reminder that winter isn't all about snow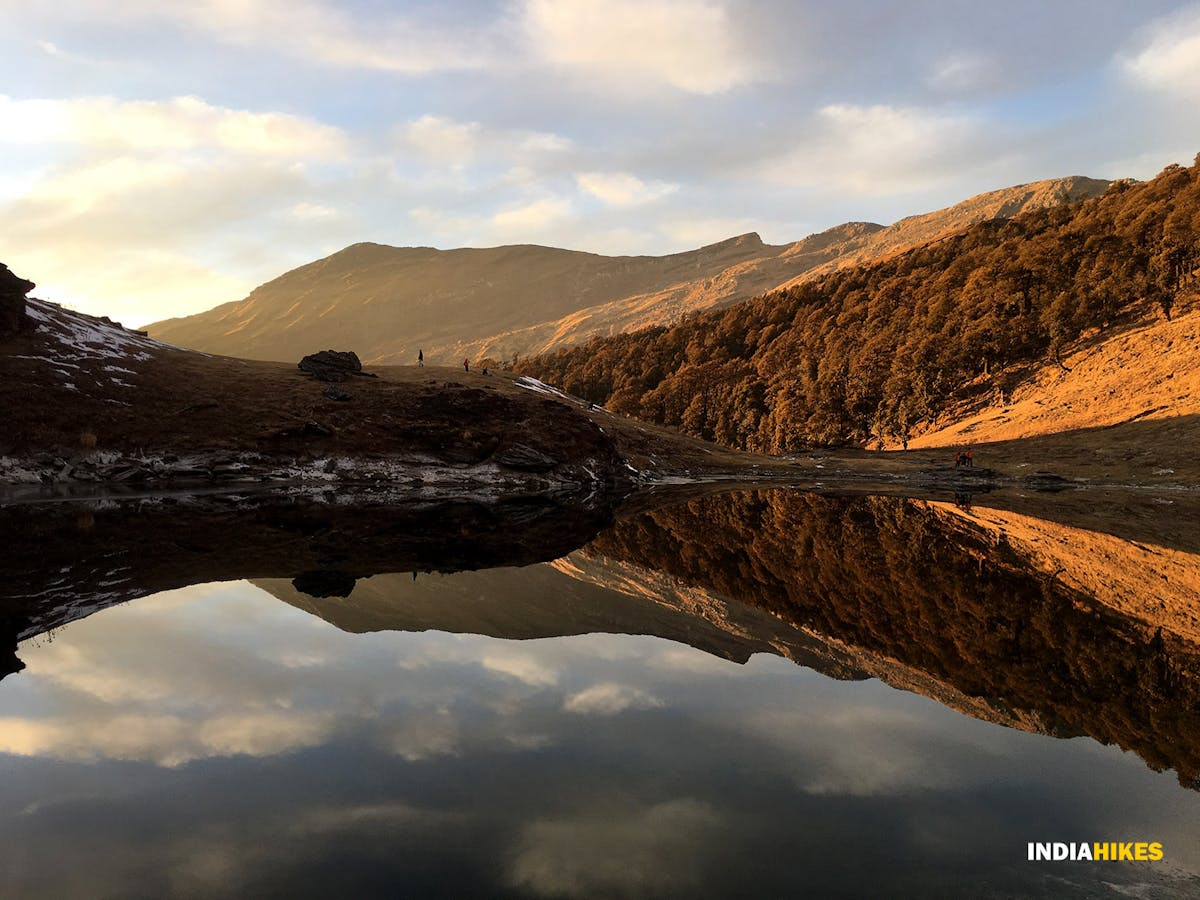 One of the rarest shots of the Brahmatal lake, taken in December 2017 by Vikalp Gupta. Unlike its counter part, Bekaltal, another lake at a lower altitude on this trail, this is a clear-water lake, frozen in most winters, glassy in some.
A few years ago, when Indian winter was affected by El Nino, trekkers saw very little snowfall. It either came very late on most trails, or did not come at all. Before trekkers reached their trails, they were disappointed that they wouldn't see snow.
But once they hit the trekking trails, all the disappointment got washed off. The landscape showed them that a winter without snow is as gorgeous as a snowy winter. Especially on the Brahmatal trek, where the forests, the mountain views, the lakes, make up for any lack of snow any year.
17. Approaching the celebrated Brahmatal ridge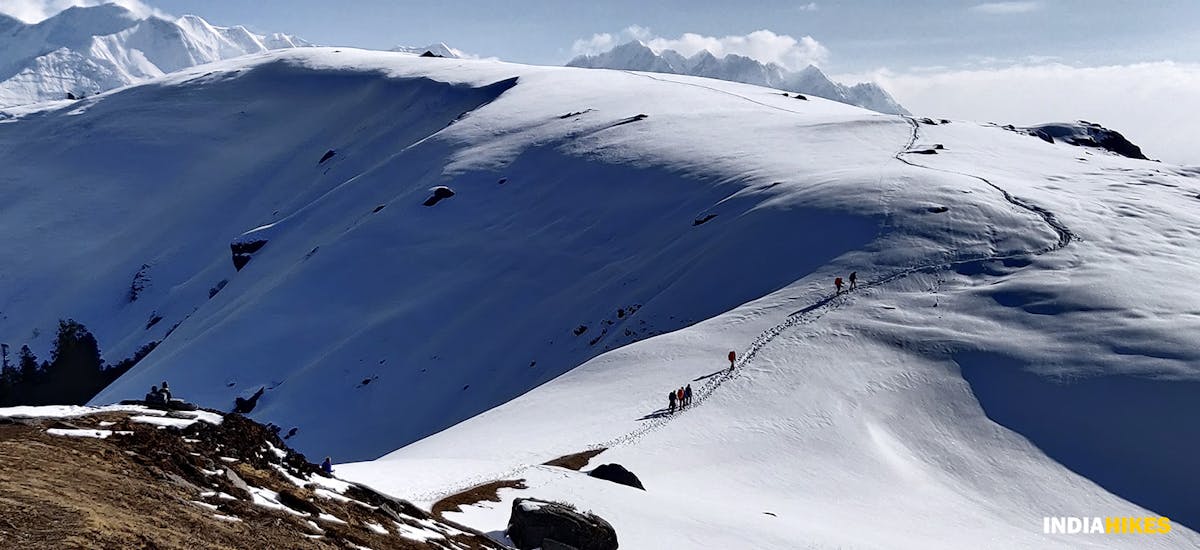 One thing that people do now know about the ridge walk on the Brahmatal trek is that you can see the entire Roopkund trail from beginning to end from the ridge. Next time you're on the ridge, ask your Trek Leader to point it out to you. Picture shot by Deep Thakkar in February 2020
"On the Brahmatal trek, you have one of the best ridge walks you will do in our mountains," says Sandhya. "On one side you have the mighty Trishul range fanning out and on the other side opens up to layers and layers of mountain ranges arranging themselves in height order going down all the way to Deval and Tharali.
"These are the villages that you drove through to reach the base camp. To your right below the Trishul range spreads out the entire Roopkund trek. Every landmark, every campsite, every climb on the Roopkund trek is seen from the Brahmatal ridge. I have never stood on one trek and gone through another trek, that too perhaps the most iconic trek in its entirety like this," she adds.
18. The endearing forests of Brahmatal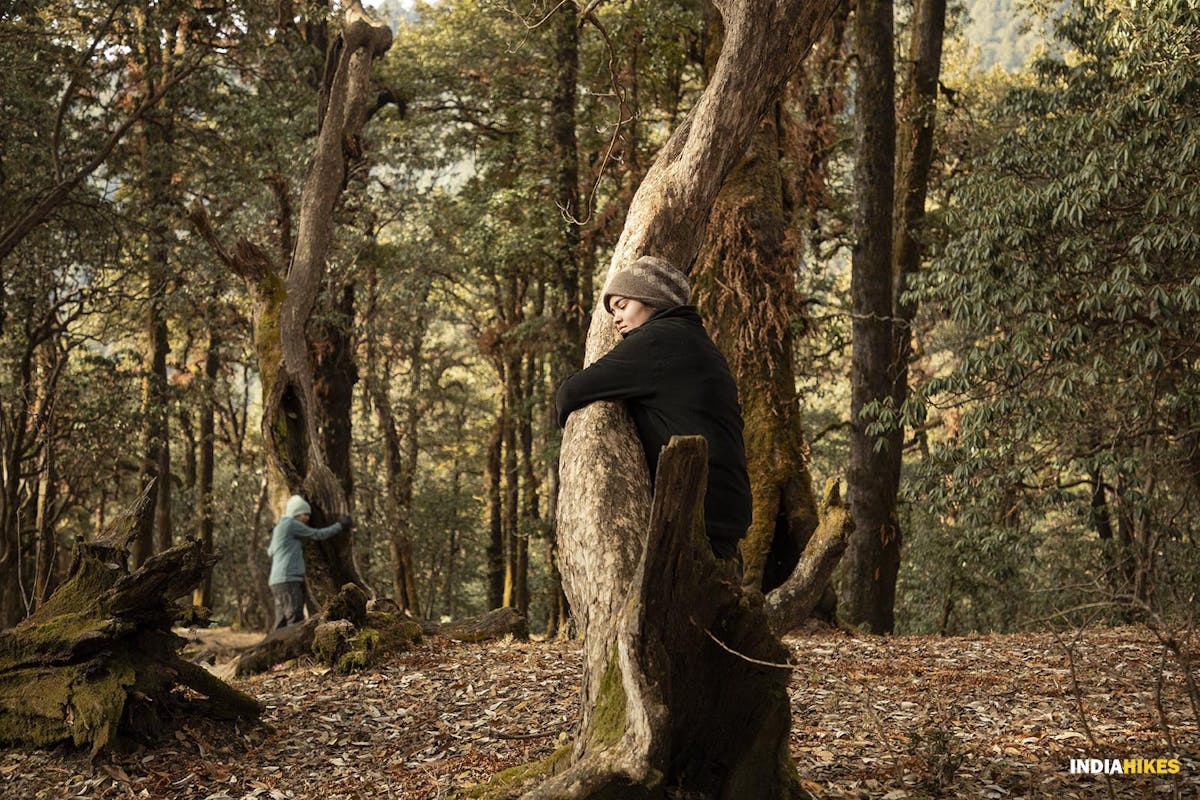 The Hidden Life of Trees is a book that has inspired several of us at Indiahikes to understand trees better and interact with them so much more than we do. We see this feeling extending even into city lives among our trekkers. Picture by Indiahikes Photographer Jothiranjan shot in January 2020
Brahmatal has mesmerising forest walks. You get to walk through centuries old forests of Oaks and Rhododendrons. The gnarled roots of trunks stick out of the forest floor. The trunks twist and turn, forming a nice canopy at the top. They are close enough to form a perfect green roof over your head.
The most delightful feeling is when you learn that you are camping in the heart of these forests, on a floor of leaves crunching under your feet.
The Kedarkantha Trek in Winter
19. Slanting rays of the sun on the Kedarkantha trail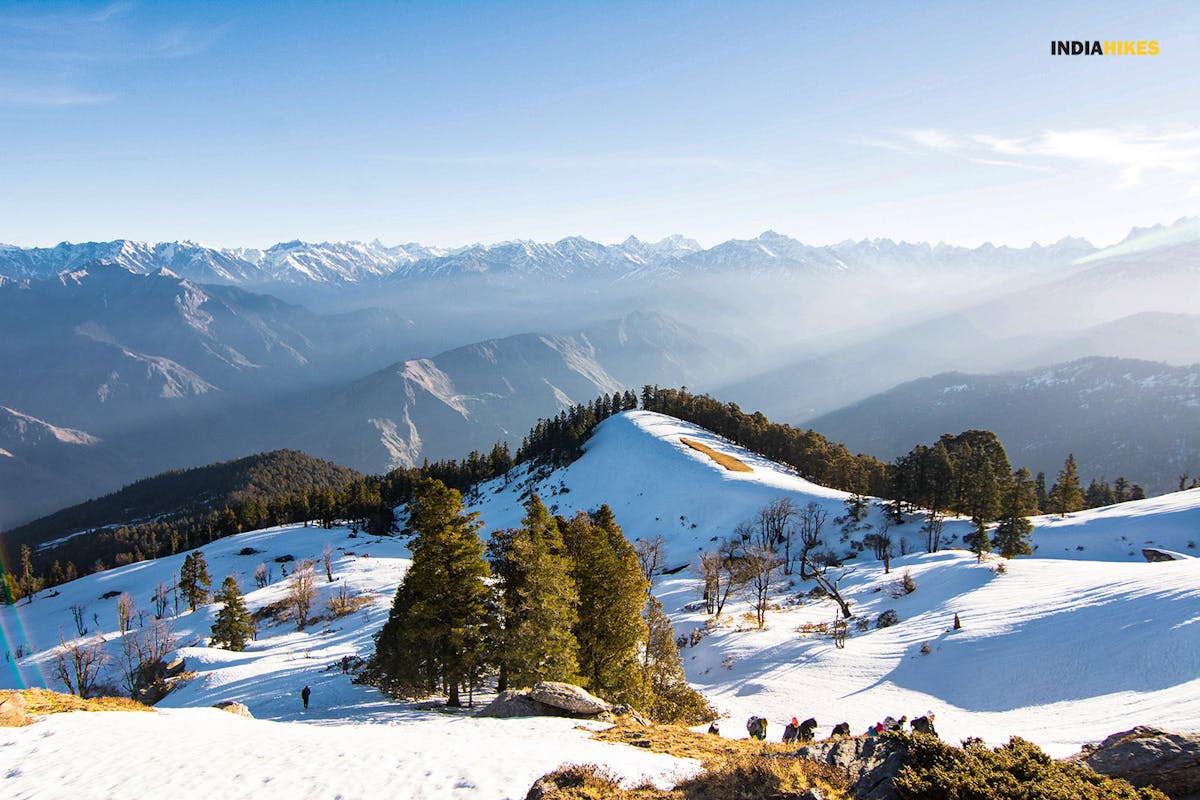 The view while descending from the Kedarkantha summit. The play of light and shadow is one of the most delightful things to observe on the Kedarkantha trail. Picture by Abhik Das shot in December 2018.
The Kedarkantha trek is one of those few trails where slanting light falls on the trail in magical ways. You can trek either early in the morning, just in time to see the snow ablaze with golden light, or in the evening, when the sun is setting casting an orange glow on the entire landscape. No matter when you go, the trail is beautifully lit.
20. The forests of Kedarkantha under heavy snow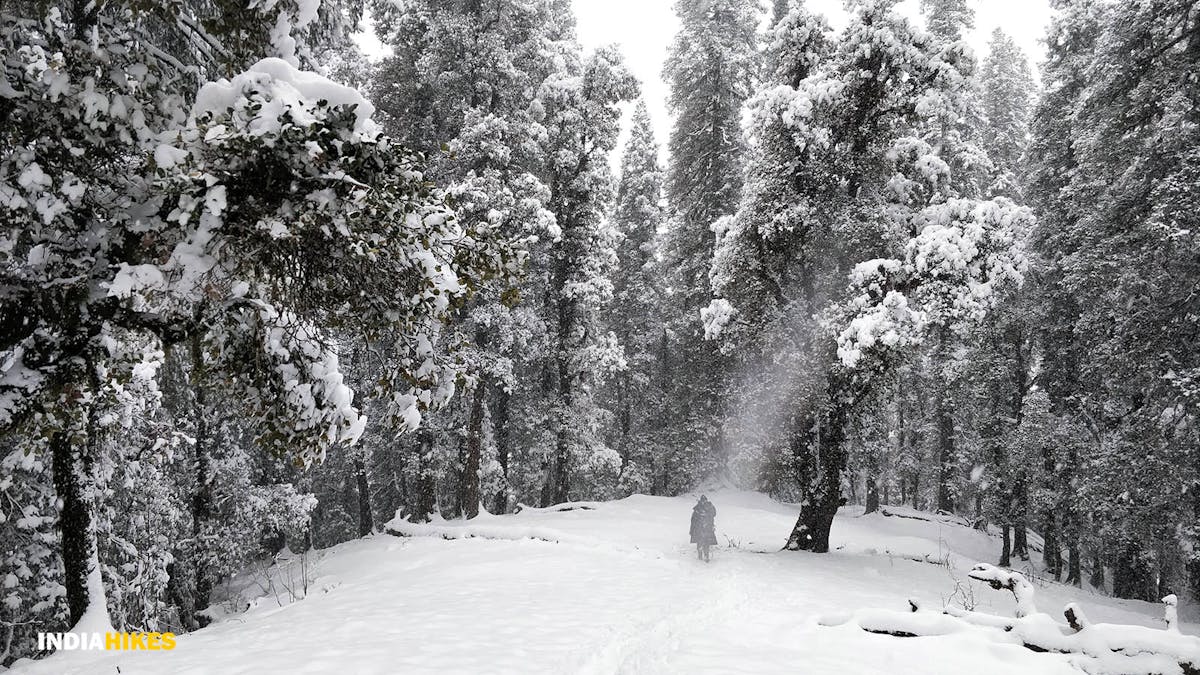 The forests on the Kedarkantha trail just after a heavy snowfall. Picture by Dhaval Jajal shot in January.
The forests of Kedarkantha are few of the most underestimated forests in our opinion. Most trekkers celebrate the summit climb, the campsites, yet the terrific coniferous forests go ignored.
Yet, it's rare to find such ancient and beautifully landscaped coniferous forests on our trails. The fact that you get to camp amidst these forests in a winter setting is a cherry on top. Interestingly, this trek did not exist until 2010, until Indiahikes explored it, discovered campsites and opened it up as a winter trek. Read about the Kedarkantha trek exploration here.
21. A most magical descent from a summit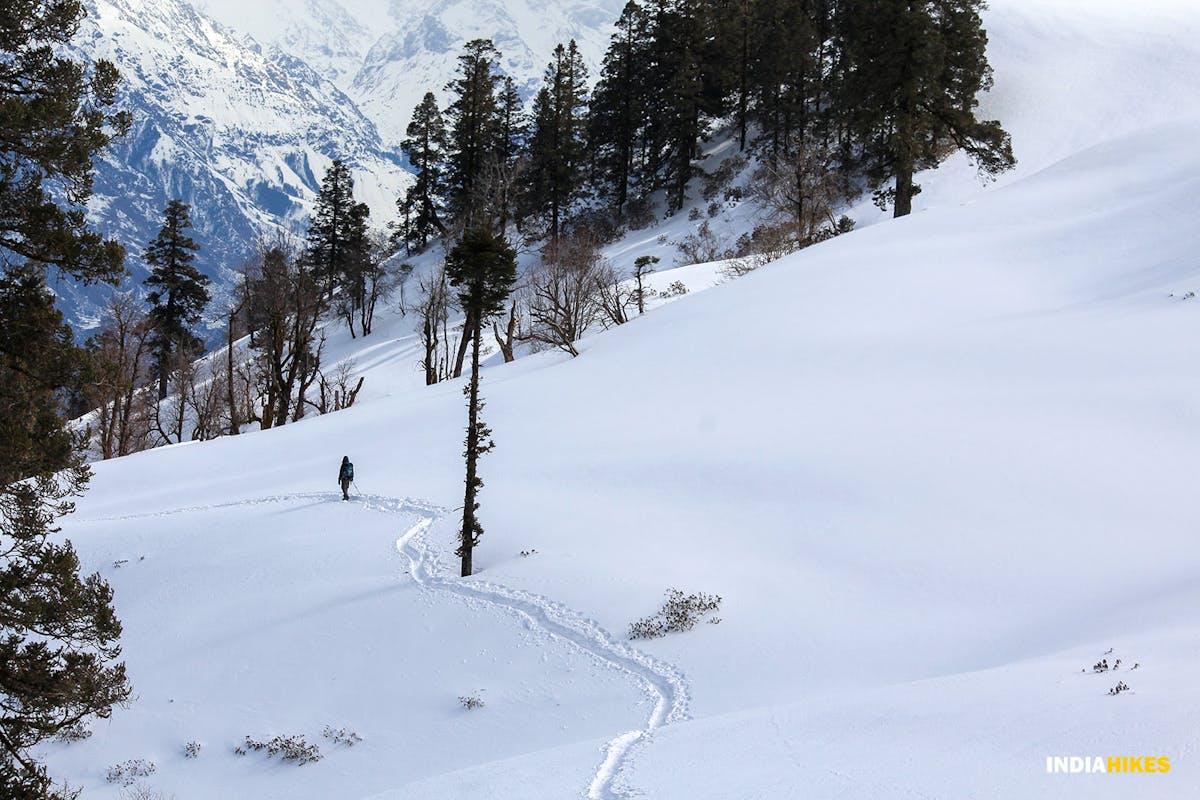 One of the reasons for the popularity of the Kedarkantha trek is perhaps how photogenic it is. Not all treks photograph so well, with just the right amount of light, the right density of trees and such lovely layouts. Picture shot by Anish Pillai.
On most treks, when you're done with the summit climb and returning down, it seems like nothing can match up to the high of the view from the top. But not on the Kedarkantha trek. Even while descending from the summit, the views are so mesmerising that you really want to capture every moment. It's no wonder that trekkers never fail to fall in love with this trail.
That brings us to the end of our photo story. 
I would love to know your thoughts after you saw the photo story. What went through you mind? Drop in a comment and let us know.
If you would like to submit any of your photographs to be featured in future photo stories, fill out this form and share your photographs with us. We would love to feature such terrific photos.
On another note, we're sure you'd like to see more details about our winter treks. Head over to this page to see a list of all winter treks and their details.
Sign up for our much loved Weekly Mailer
We have terrific trekking tips, trek updates and trek talks to look forward to