4 Schools, 12 workshops and 1,370 kgs of waste collected: Updates from...
Share this story
Our Green Trails team from Sandakphu sends us lot of positive vibes this week. Every week is about managing your waste, upcycling it and safely disposing the non-recyclable. But this week has seen some tremendous energy on the upcycling front.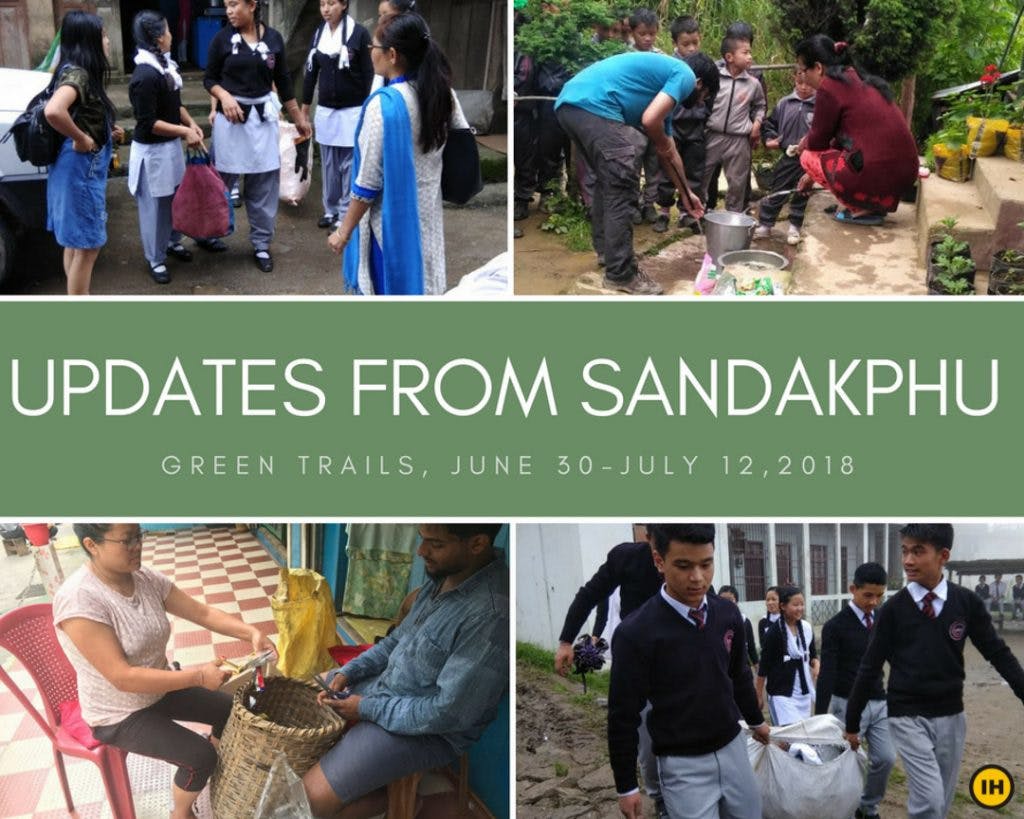 Read on to find out why we are happy.
We have been rigorous and regular with our waste management and upcycling workshops. Last two weeks alone saw the Green Trails team at Sandakphu take a lead on organising 12 workshops!
Our main work focus on community development in the villages in and around Jaubhari, our base camp for Sandakphu. Our team has been conducting workshops for Self Help Groups and schools.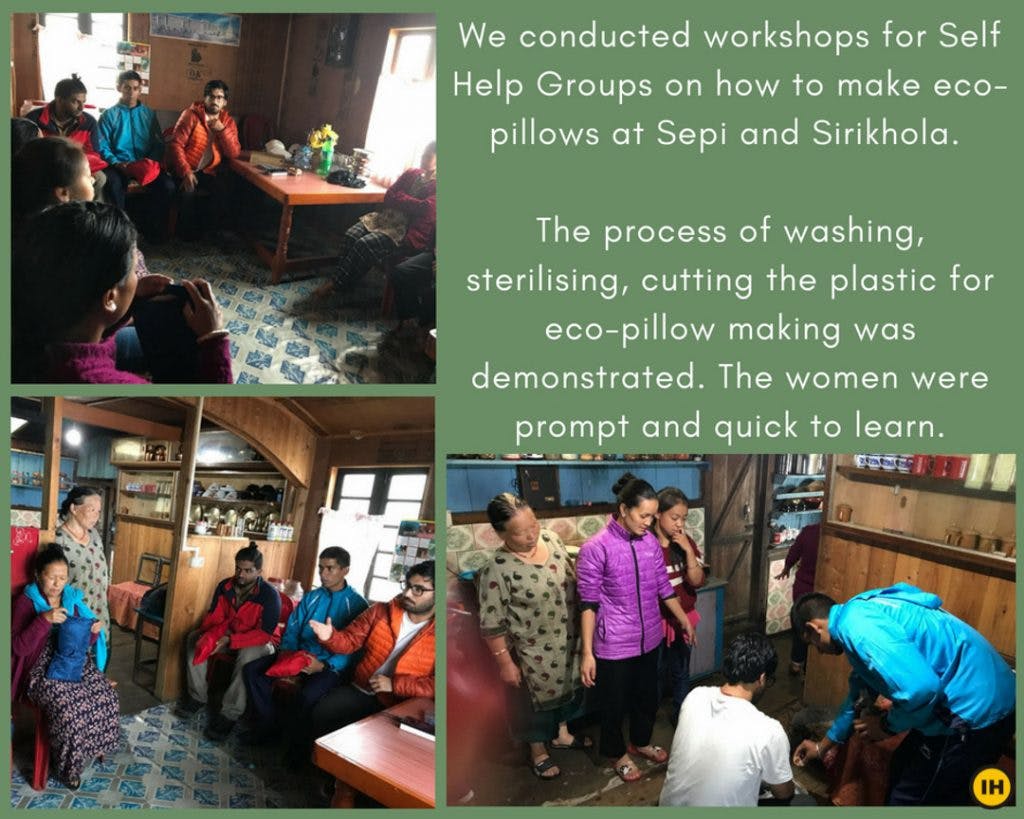 Green Trails Fellow Himanshu has been working largely in Sepi village. Last week, he and Intern Ritesh an eventful two days at Rimbick Higher Secondary School. Check out what wonders a lot of people, with a little effort and a dash of goodwill can do!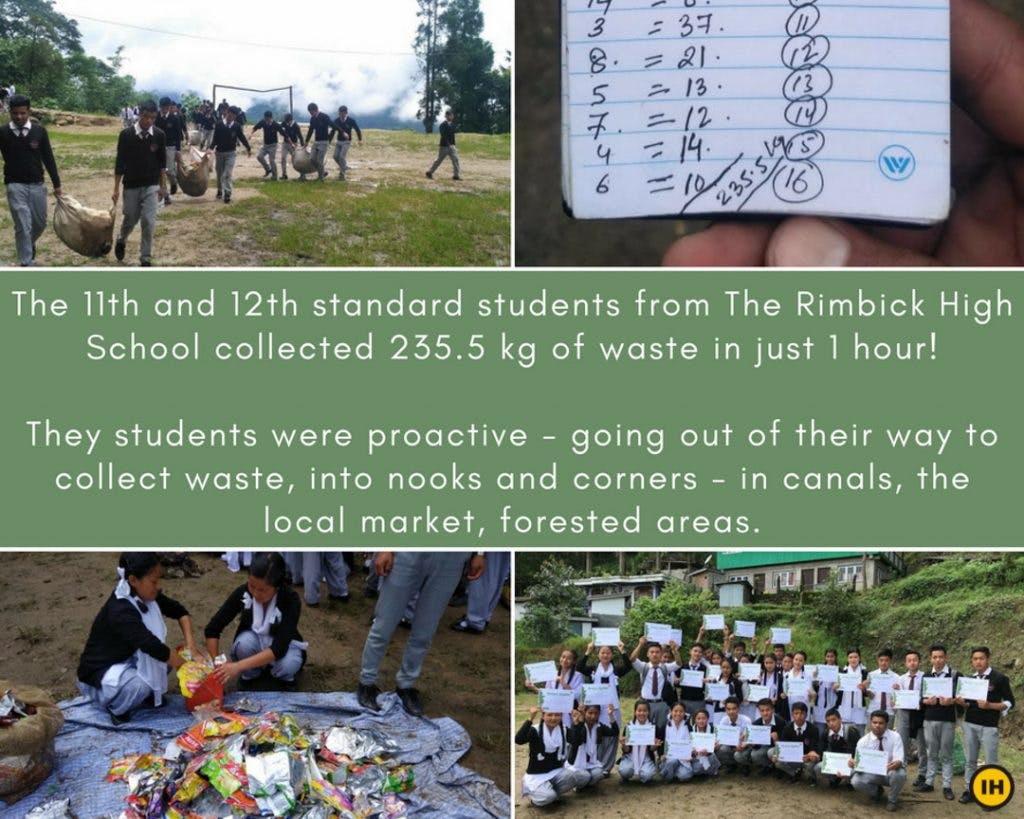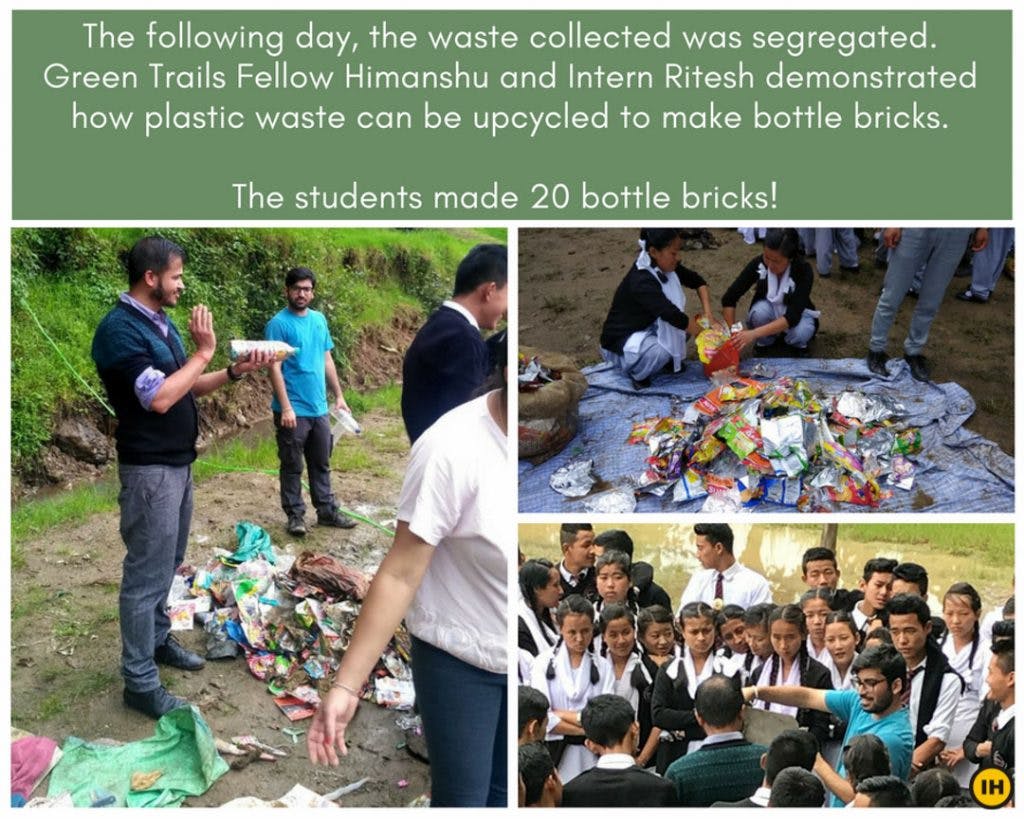 The teacher at the Rimbick school, Arun Pradhan had helped the Green Trails team organise the event. He divided the students into groups, provided sacks to collect waste and gloves to collect it. He was happy about how the competition turned out.
The active participation of the school and locals has created an action-oriented atmosphere – people want to do more. Himanshu plans to enable that through more village meetings and workshop sessions. He noted that locals welcomed new ideas. They liked working together, even it was just a few folks gathering. Here, we have Local Hero Anjala and her cousin Jeevan helping our team make bottle bricks and eco-pillows.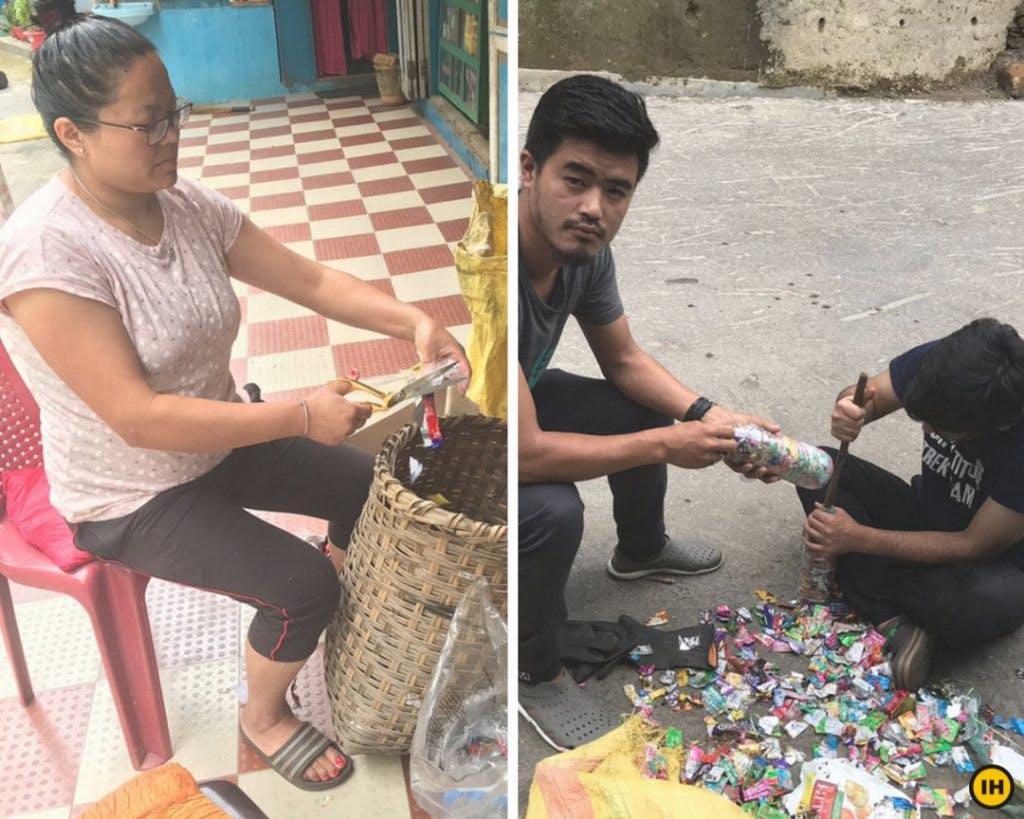 Such spontaneous sessions also give the Green Trails team to get to know the locals more personally. We are now thinking of more upcycling ideas.
For starters, the team worked on a process improvement of our eco-pillow project. We made a prototype for a different eco-pillow design.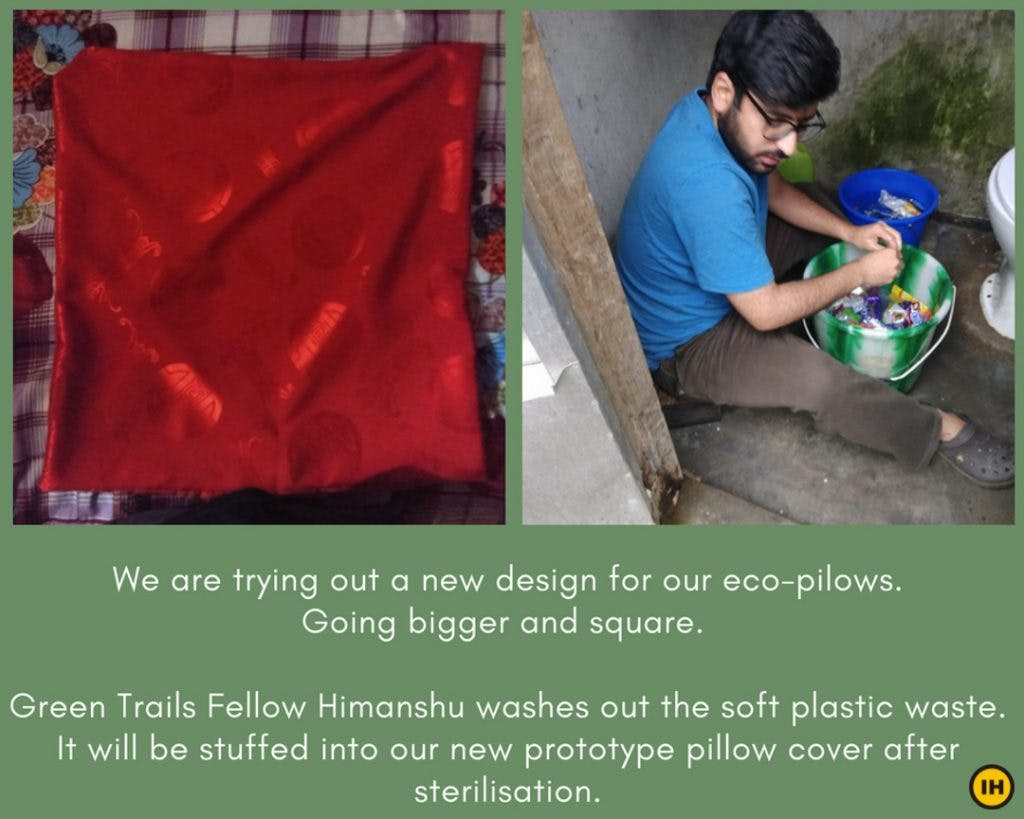 Our travel size eco-pillows are great as souvenirs for trekkers. We hope that these cushion like pillows will come in handy at Anjala's homestay shop and within the local communities.
With that, we are signing off for now. Watch out for our updates regarding our recent collaborations with the Forest Office and local NGOs.
Until the next update, stay tuned on our instagram page.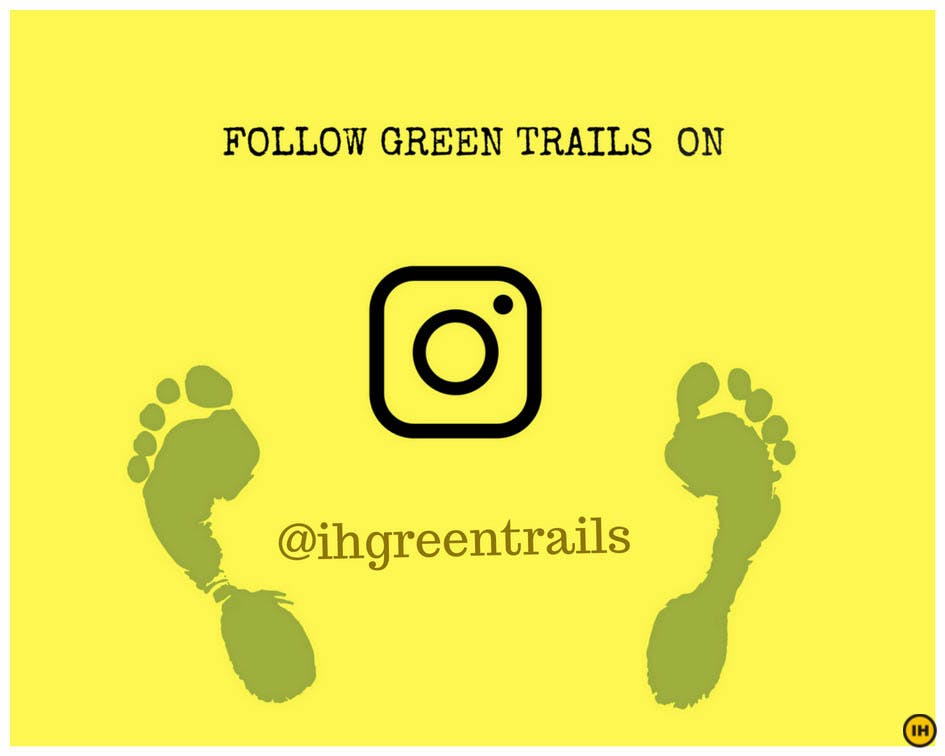 Have a green idea in your mind that could help the environment out? Comment below or write to our Green Trails Lead – Lakshmi at Lakshmi@indiahikes.com.
What you should do now
1. If you want to serve as a Green Trails Intern: Read this article by our Green Trails Head – Lakshmi.
2. If you want to work with us: Head over to our careers page. We have lots of positions open. We also have lots of applications coming in. So the sooner you apply, the better.
3. If you ended up here by chance and were actually looking for treks to do: Then head over to our upcoming treks page. You'll find all our Himalayan treks there.
4. If you want to see the 13 best treks of India: Then get our guide.
Sign up for our much loved Weekly Mailer
We have terrific trekking tips, trek updates and trek talks to look forward to