6 Rare Himalayan Treks To Do In 2023 (Includes Our Newest Trek in Kashmir!)
Share this story
6 Rare Himalayan Treks To Do In 2023 (Includes Our Newest Trek in Kashmir!)
Category Thursday Trek Talk
By Swathi Chatrapathy
2022-03-03
Today, we're sharing with you some of the rarest treks you can do in 2023. These are all less popular treks because very few people have been on these treks.
And there's a surprise too. One of these treks is our newest trek in Kashmir! On the other hand, there are some spectacular treks in Lahaul & Spiti too. 
All six treks are in a league of their own. But ensure you study the difficulty level before you opt for them.
1. Gidara Bugyal Trek
– One Of The Remotest and Prettiest Meadow Treks Of Our Country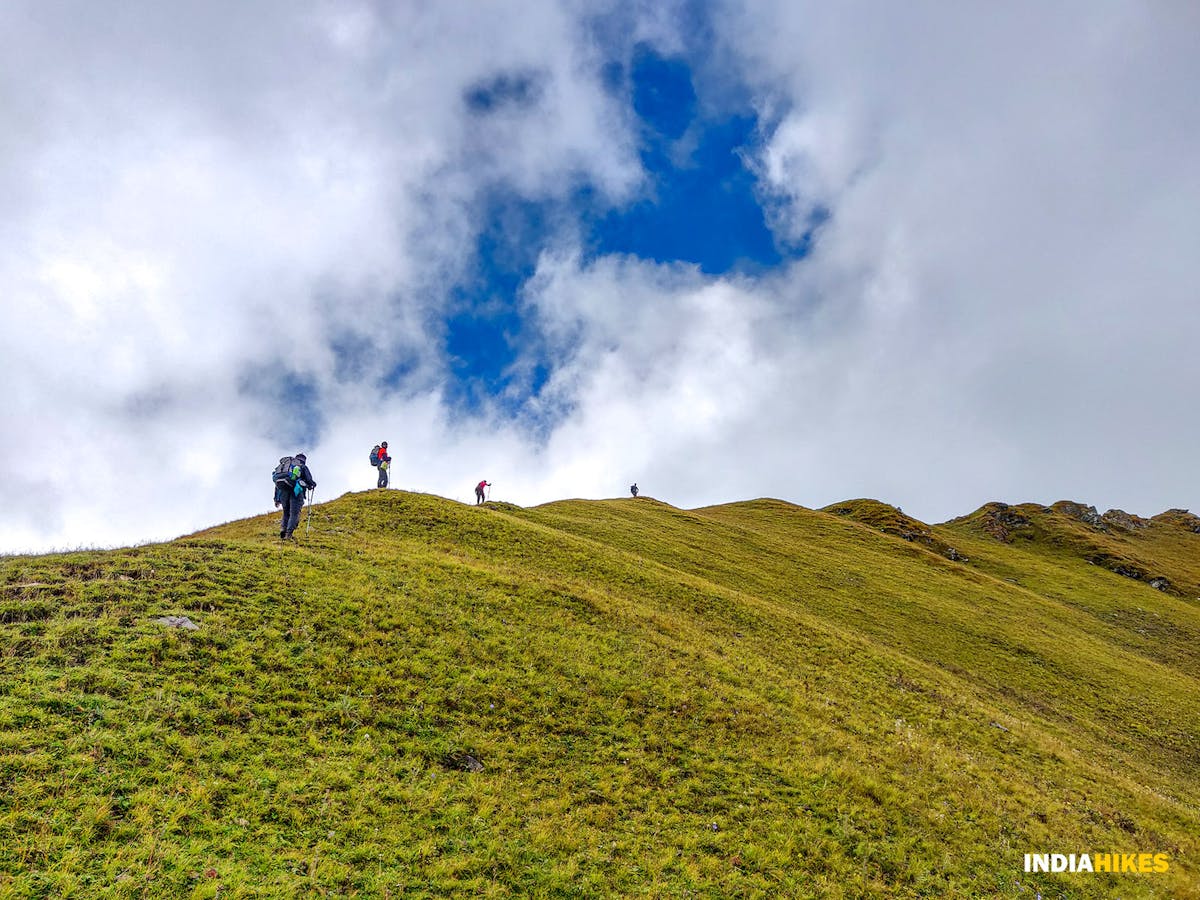 The unique ridgewalk on the Gidara Bugyal trek. Picture by Nitesh Kumar
Gidara Bugyal is an ancient, pristine meadow that is known only in select trekking circles. It is definitely one of the prettiest, but not many know one of the largest high altitude meadows you will set foot on. It is larger than its twin Dayara Bugyal. Possibly larger than the twin meadows of Ali and Bedni Bugyal as well. 
Even though it is known in the trekking circles, Gidara is extremely secluded. There are very few people that actually trek in these meadows. The only signs of civilization you are likely to spot are the shepherds and their settlements around your first campsite, Rikoda. You may see a mountain dog or two. But you are likely to be the only group trekking and camping at the base of these meadows!
Duration: 7 days
Difficulty: Moderate-Difficult
Maximum Altitude: 13,900 ft
Available in: May and June
2. Miyar Valley Trek
– An Untouched Valley In The Heart Of Lahaul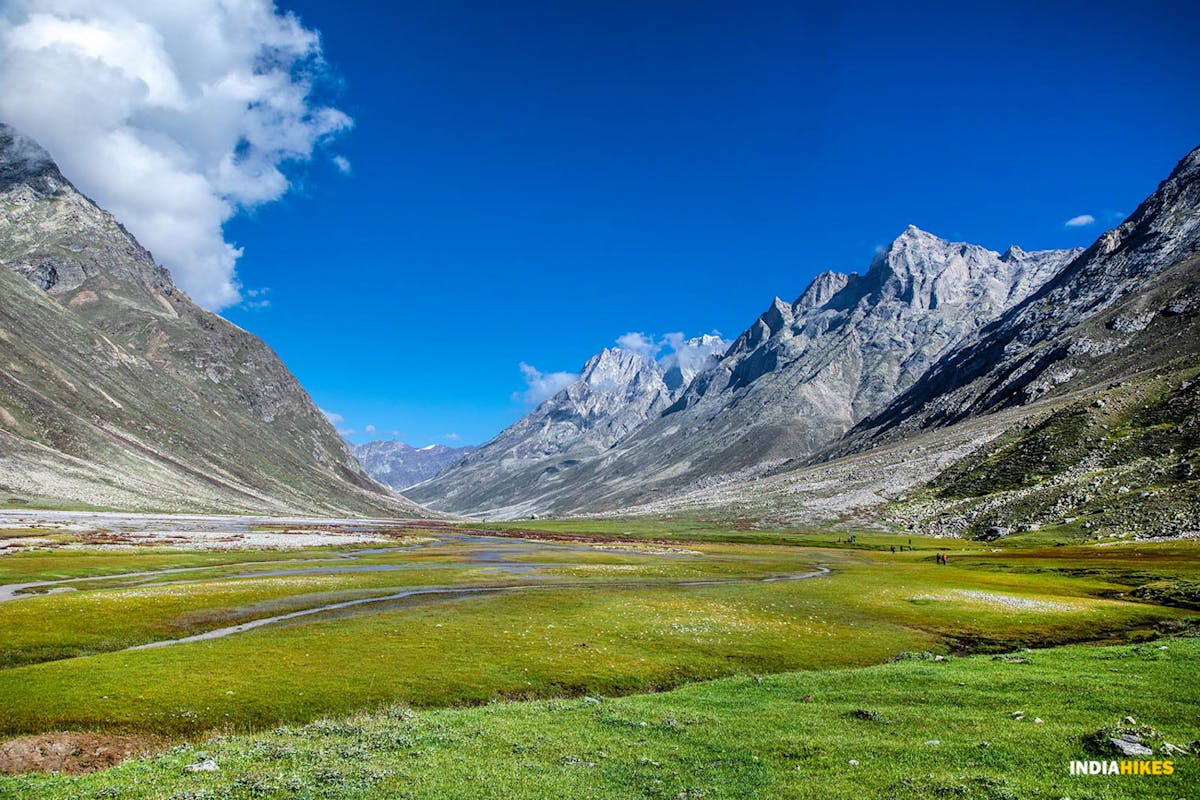 The vast grasslands of Miyar Valley. Picture by Jothiranjan R
In the remote region of Lahaul, a valley filled with flowers hangs quietly, escaping the attention of trekkers. The route to this valley alternates between remote mountain valleys, quaint villages, and flower beds dominated by the overwhelming presence of Himalayan orchids. This valley is the Miyar Valley.
"As a young boy, I was mesmerised by Lahaul. I couldn't believe barren mountains could have snow-capped summits. I could not imagine that in a land where no trees grow, there can exist a lush oasis teeming with life and colour. That image stayed with me as I grew up," shares Arjun Majumdar, founder and CEO of Indiahikes. Miyar Valley is a grand experience of the unique side of Lahaul, which no other region in the country will give you. 
Duration: 8 days
Difficulty: Moderate
Maximum Altitude: 14,600 ft
Available in: July and August
3. Pin Bhaba Pass Trek
– The Grandest Crossover Trek In Our Country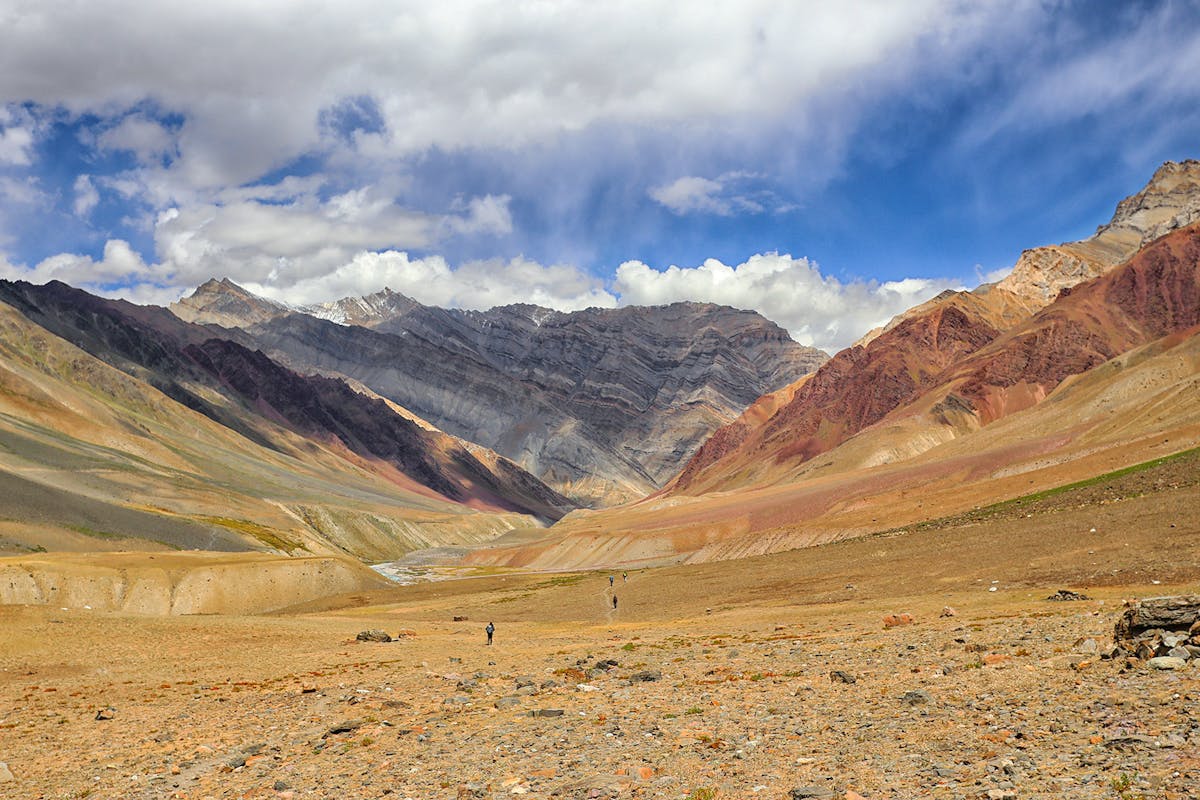 The colours of Spiti seen after crossing the Pin Bhaba Pass. Picture by Satyen Dasgupta
Pin Bhaba Pass is hands down the most dramatic pass crossing trek in our country. That is a bold statement to make. Especially when we have so many pass crossing treks in our country.
But what you see when you stand at the pass is a testament to this bold statement we make.
Once at the pass you see Pin valley below you, in various shades of pink, set amidst the stark and deserted mountains of Spiti. While behind you is the lush green Bhaba valley. That is when you realise how remarkable the changes in the landscape are.
Duration: 9 days
Difficulty: Moderate-Difficult
Maximum Altitude: 16,105 ft
Available in: July and August
4. Nafran Valley Trek
– Our Newest Trek In Kashmir!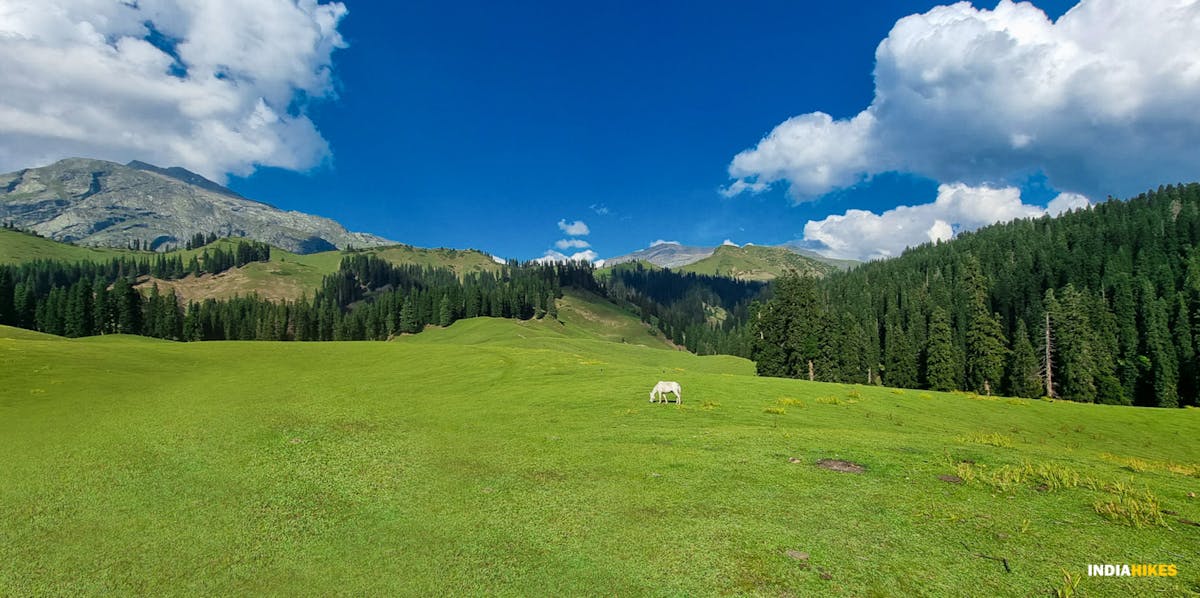 The lush grasslands of the Nafran Valley in Kashmir. Picture by Dhaval Jajal
Say hello to our latest trek in Kashmir, the Nafran Valley trek! This is a trek that our team members explored in 2021. 
"Finding treks that would compare to Kashmir Great Lakes or Tarsar Marsar is no game. We explored quite a few routes, but none of them could match up to these treks. After a lot of failed explorations, we landed on gold — the Nafran Valley trek," shares Vivek Saini, who was then the Slope Manager on the Tarsar Marsar trek. 
"In terms of terrain, it is very similar to Tarsar Marsar. It has vast grasslands, river-side trails and camps, glaciers tumbling down beside you and gorgeous blue alpine lakes. The best part is that it is a completely isolated trail," says Vivek.
On another note, this trek is tougher than the Tarsar Marsar trek. It is a moderate-difficult trek and requires a good fitness regime before getting on the trek.
Duration: 7 days
Difficulty: Moderate-Difficult
Maximum Altitude: 14,127 ft
Available in: July and August
5. Warwan Valley Trek
– The Most Adventurous Trek in Kashmir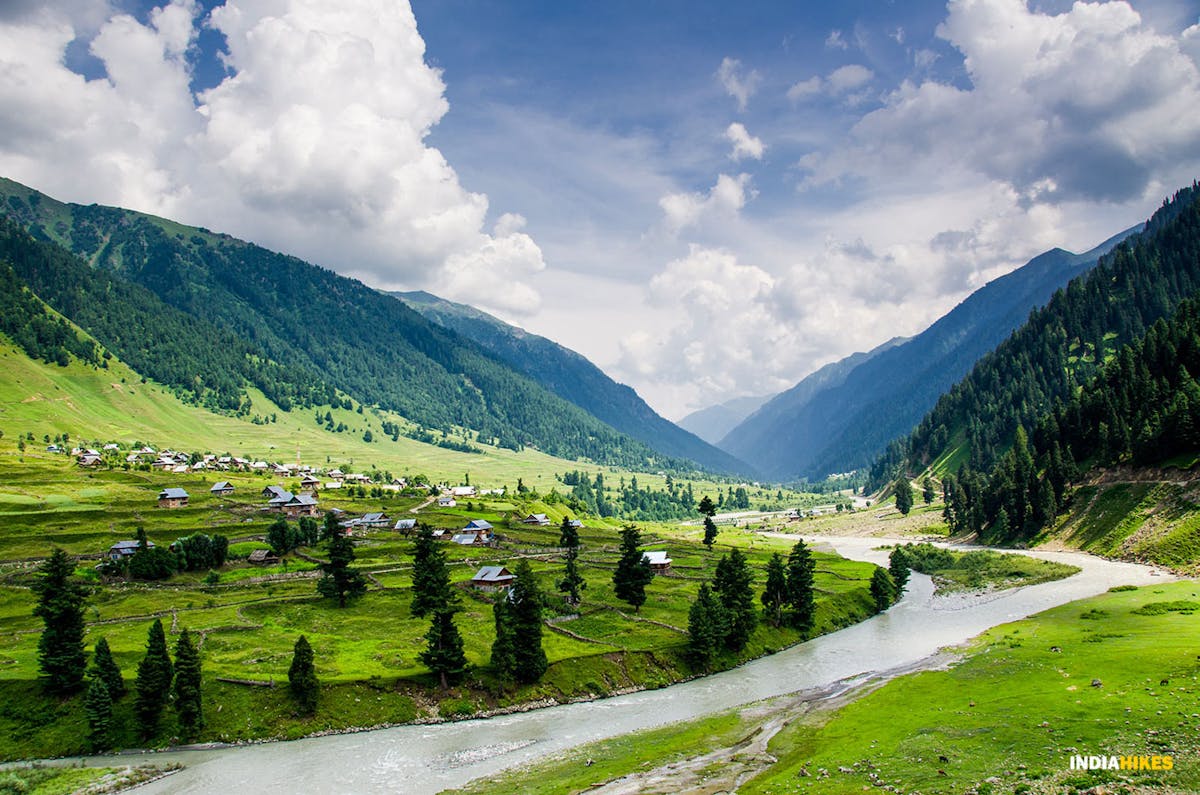 The grand Warwan Valley. Picture by Sandhya UC
The Warwan Valley trek is the most exquisite trek of our country. There is no trek you would have done before this one that can match the experience of this trek. And there will be no trek you do after this that comes close. This might sound like a strong statement to make. However, our founders, who explored this trek in 2015, still stand by it. Even our trekkers who went here last year were of the same opinion.
After all, Warwan Valley is exceptionally stunning – even for Kashmir. Even if you have travelled to Kashmir before, seen Sonamarg, Gulmarg, Pahalgam and other places the valley offers – you are still going to be bowled over by the settings of Warwan Valley. This beauty is compounded by the valley's remoteness and isolation.  This is a side of Kashmir that even most Kashmiris haven't seen. 
Duration: 10 days
Difficulty: Difficult
Maximum Altitude: 14,550 ft
Available in: July and August
6. Kedartal Trek
– A Rare Adventure Among Big Mountains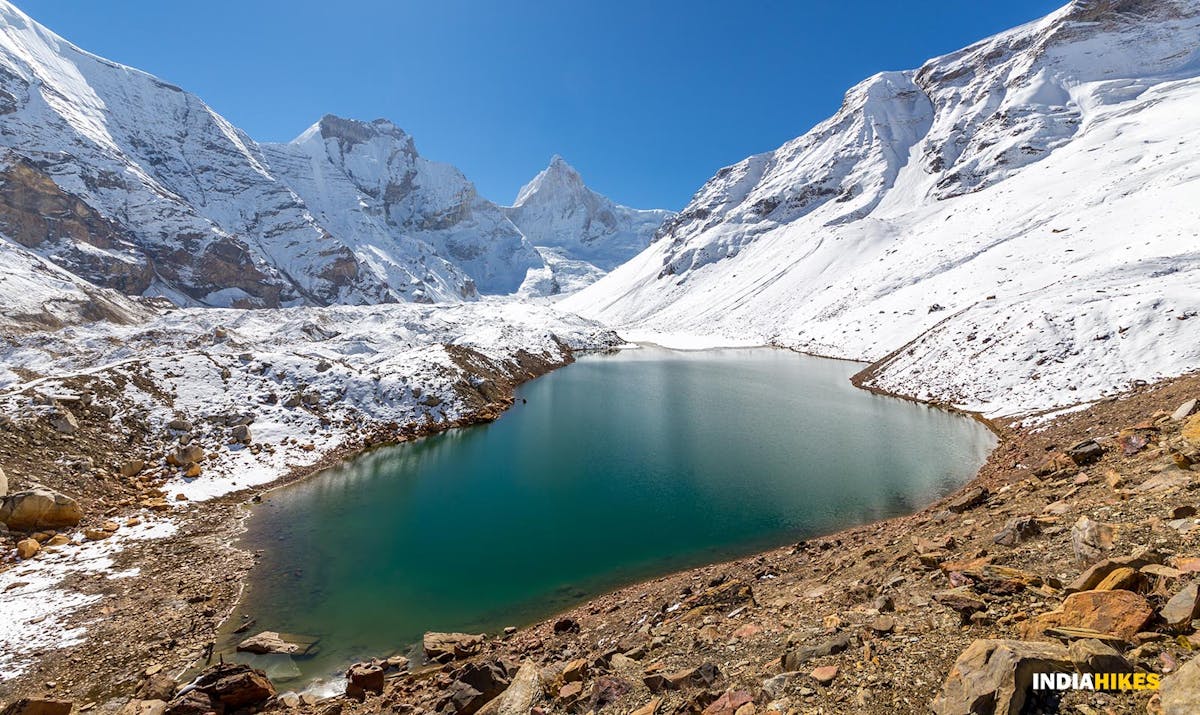 The alpine lake of Kedartal, with Mt Bhrigupanth and Mt Thalaysagar in the background. Picture by Ashwin Srinivasa
The Kedartal trek is for lovers of adventure. It is for those trekkers who have done a considerable amount of Himalayan treks and now want to push themselves. It is a difficult trek, with a truly magical experience to give in return for all the effort. 
The trek climbs to the glacial Kedartal lake, sitting amid a cauldron of big mountains. Famous mountains of our country rise in front of you right out of the lake – Mt Thalaysagar, Mt Bhrigupanth, Manda Parvat, Mt Jogin, Mt Gangotri. Very few treks bring you so close to such big mountains. And fewer still allow you to spend so much time in their proximity.
Duration: 7 days
Difficulty: Difficult
Maximum Altitude: 15,485 ft
Available in: May and June
That brings us to the end of this list of rare Himalayan treks you can do in 2022. 
As you would have seen, all of them are high altitude treks climbing to 14,000 ft and higher. They are not easy on the legs and must be attempted only with good fitness training. It's even better if you have prior Himalayan trek experience. 
If you have any doubts on how to choose out of these, or how to prepare for them, drop in a comment below. We'll help you out.
Sign up for our much loved Weekly Mailer
We have terrific trekking tips, trek updates and trek talks to look forward to