An adventure camera for trekkers, that edits footage on the go!
Share this story
When I came across something called Frodocam on my Facebook wall, I got curious. A new adventure camera, in the league of the Gopros, and made by two young Indians? I have to admit, I was impressed. When I brought it up with my colleagues, I was pleasantly surprised to learn that the makers of the camera had gotten in touch with Indiahikes to review it.
So I caught up with Rahul Vats and Amardeep Singh, the duo behind Frodocam – a tiny camera that can be worn on the wrist, or strapped onto a helmet. It shoots videos in HD and the best part – it auto-edits all the footage immediately after shooting!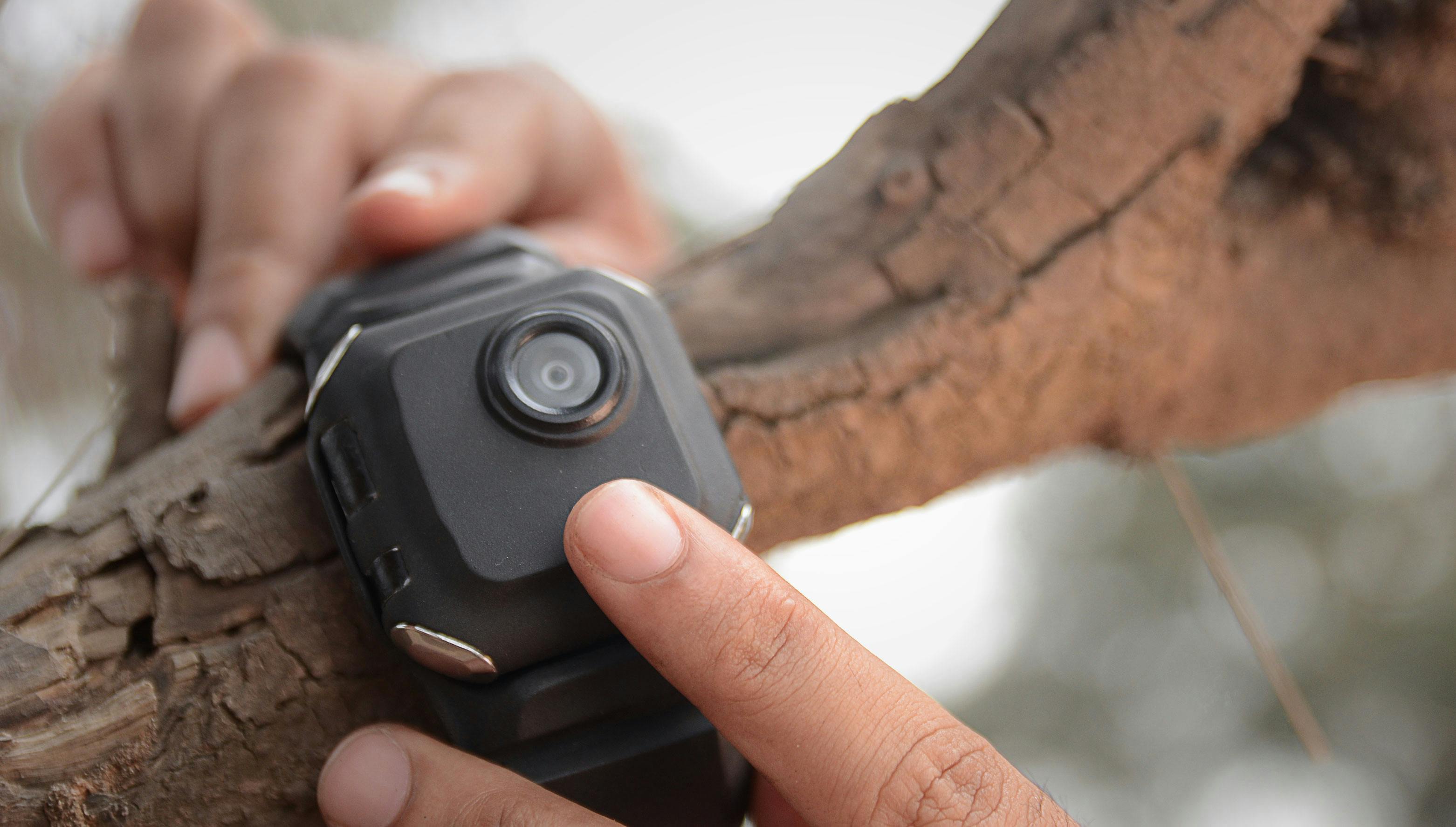 A lot of us like to trek and shoot videos. I've shot several videos myself, but all those videos just sit untouched on some long-lost hard disk. This is exactly why Frodocam was made. "We see that people capture so much data on their cameras, offload it onto a laptop and almost always forget about it! So we designed Frodocam such that it auto edits your raw footage and lets you share everything immediately," says Rahul Vats, who is an avid trekker himself.
Frodocam comes with a strap-on design. It can strap onto your wrist, your trekking pole, your backpack, a tree, anything. It edits videos and gives you the best of it, absolutely upload-worthy, all this, just minutes after shooting the video. The idea is attractively simple – strap, shoot, share.
The auto-edit feature
"The camera basically detects motion in the video. When there is a lot of motion, it recognises it as an action video. If there isn't much movement, it considers it a calm video. Also, over time, the camera tailors itself to your taste. So it evolves with you," explains Rahul. After seeing some raw footage and edited footage, I was fully convinced that this camera was worth a buy.
Frodocam is user-friendly; it lets you add and remove bits of the video with a simple drag and drop option. Most video editors I know are complicated and it takes days just to figure them out. In this day and age where people have lesser and lesser time to spare for anything, this quick and simple camera seems enticing. It's not for a professional, it's for a common man, though I don't see why a professional wouldn't use it as well — the picture quality is high definition and first class.
Here are a few tech specs:
Video Resolution: Full HD, 1080p 30fps
Field of View (FOV): Wide, 120 degree
Video Format: H.264, MP4 format
Photo resolution: 8 MP, 3264×2448 pixels
Boot-to-Shoot time: 0.7 sec
F-stop: f/2.6
Gyro based Video Stabilization
Frodocam claims to be shockproof, waterproof and dustproof. So you can dunk it in a river or use it on a bike ride and get clear footage. Considering the temperatures might be very low on a trek, the battery might drain out a little quicker, but the low temperatures will not hamper the functionality of the camera.
Here's an auto-edited bike ride footage shot on Frodocam:
What makes it trekker friendly?
The camera can record an impressive 90 minutes continuously in HD. It can also be attached to an external battery pack. But my favourite part is that Frodocam comes with a neat USB Type-A charger, which means it can even be charged on a power bank! On a trek where I have to last 8 days without electricity, this charger is a welcome change!
How can you get it?
Rahul and Amardeep are currently running a crowdfunding campaign for the camera.They started with a goal of $50,000, but have already hit a whopping $53843. "We will be going in for production in June, and the camera will be ready for shipping in November," says Rahul. With more plans to enable live-streaming from the camera onto social networks, these guys are teeming with ideas to make the camera ideal for the Digital Era.
If you're the kind that likes to shoot good quality videos and share them with the world, perhaps you might want to add this to your gear!
To pre-order your Frodocam, you can click here.
If you have any queries, you can write to adventures@frodocam.com.
Sign up for our much loved Weekly Mailer
We have terrific trekking tips, trek updates and trek talks to look forward to