13 Things You Must Have Easily Accessible While Trekking
Share this story
Recently on my trek in Georgia, I noticed that there were a few things I was constantly accessing — my rain cover, my headlamp, my gloves, my woollen cap…  Doing a count, I found that there are 13 such items that I always wanted to be accessible on the trek. 
And thinking back, this is the case on any high altitude trek — I always need these 13 things easily accessible.
When I say "easily accessible," I mean any of these should be available to me by opening just one flap, or unzipping just one zip. 
So today, I'm going to run you through these 13 things and where you can keep them. If you are quick with these 13 items, you'll find that you trek a lot more efficiently! 
You could also watch a video of the same topic here.
 At the end of this post, I'll also give you some tips on how you can make things more accessible when you're trekking. 
Let's get started.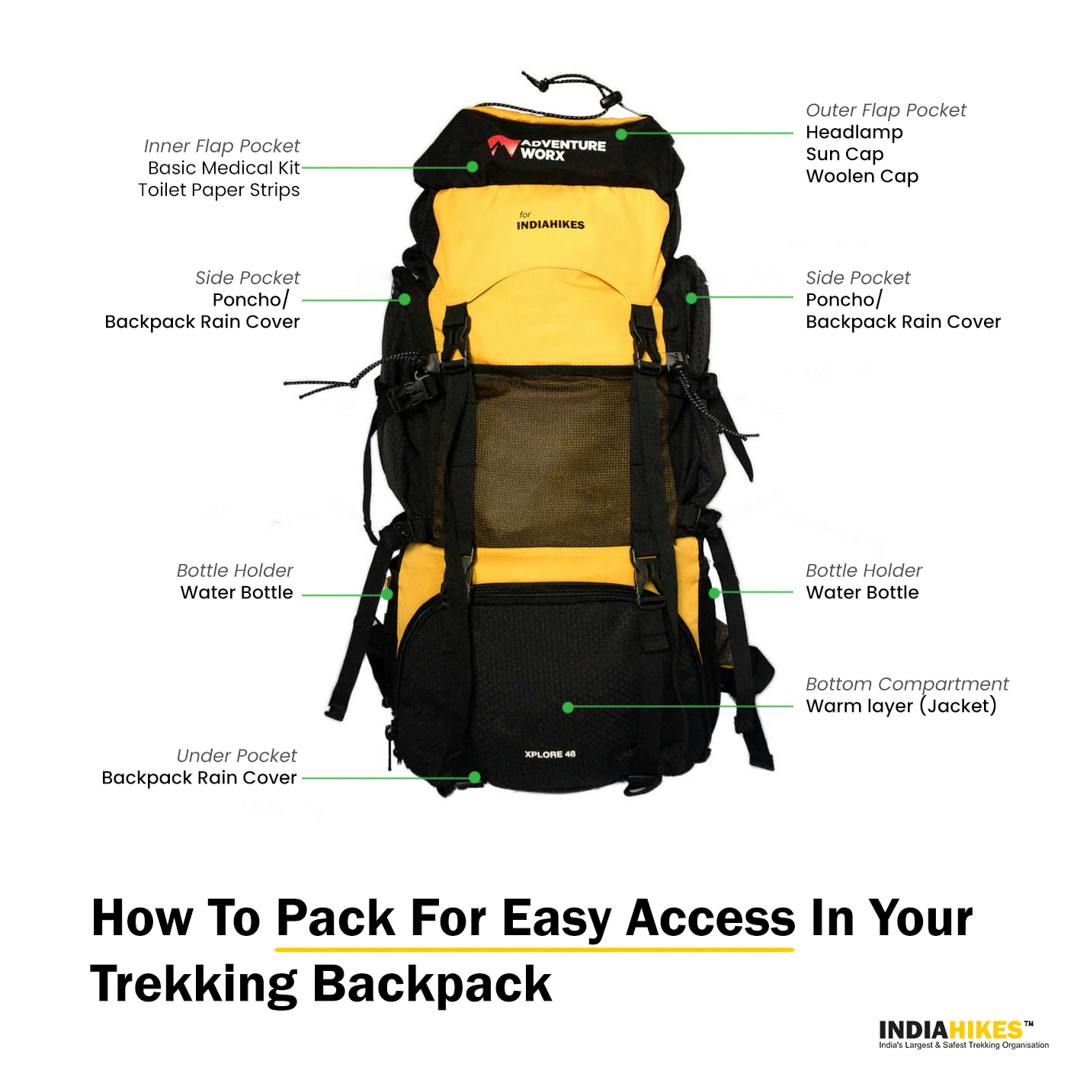 1. Your Rainwear / Poncho
This was perhaps the most used item from my backpack on my last trek. It rained everyday around 12 noon. Still on the trail, we had no choice but to quickly fish out our rain wear, cover ourselve and carry on.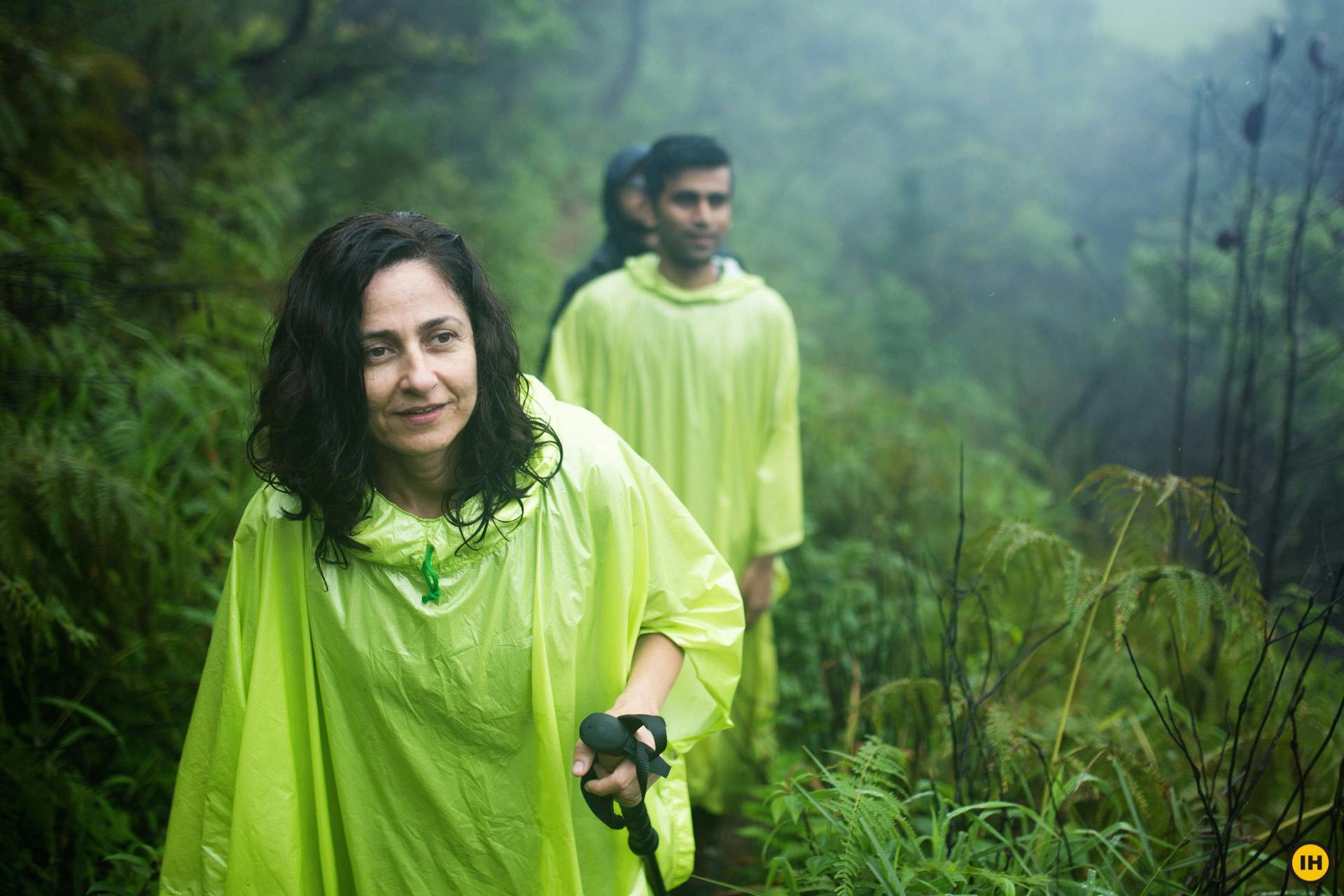 Where to keep it: I usually keep my poncho in the side pocket of my backpack. It's easy to take out and put back in. Even if it is slightly wet, this pocket is quite separate from the rest of the backpack, so other things don't get wet.
2. Rain Cover for your Backpack
If you're going on a high altitude trek, don't think of going without a raincover for your backpack. You never know when it rains or snows, and the things inside your backpack always need protection.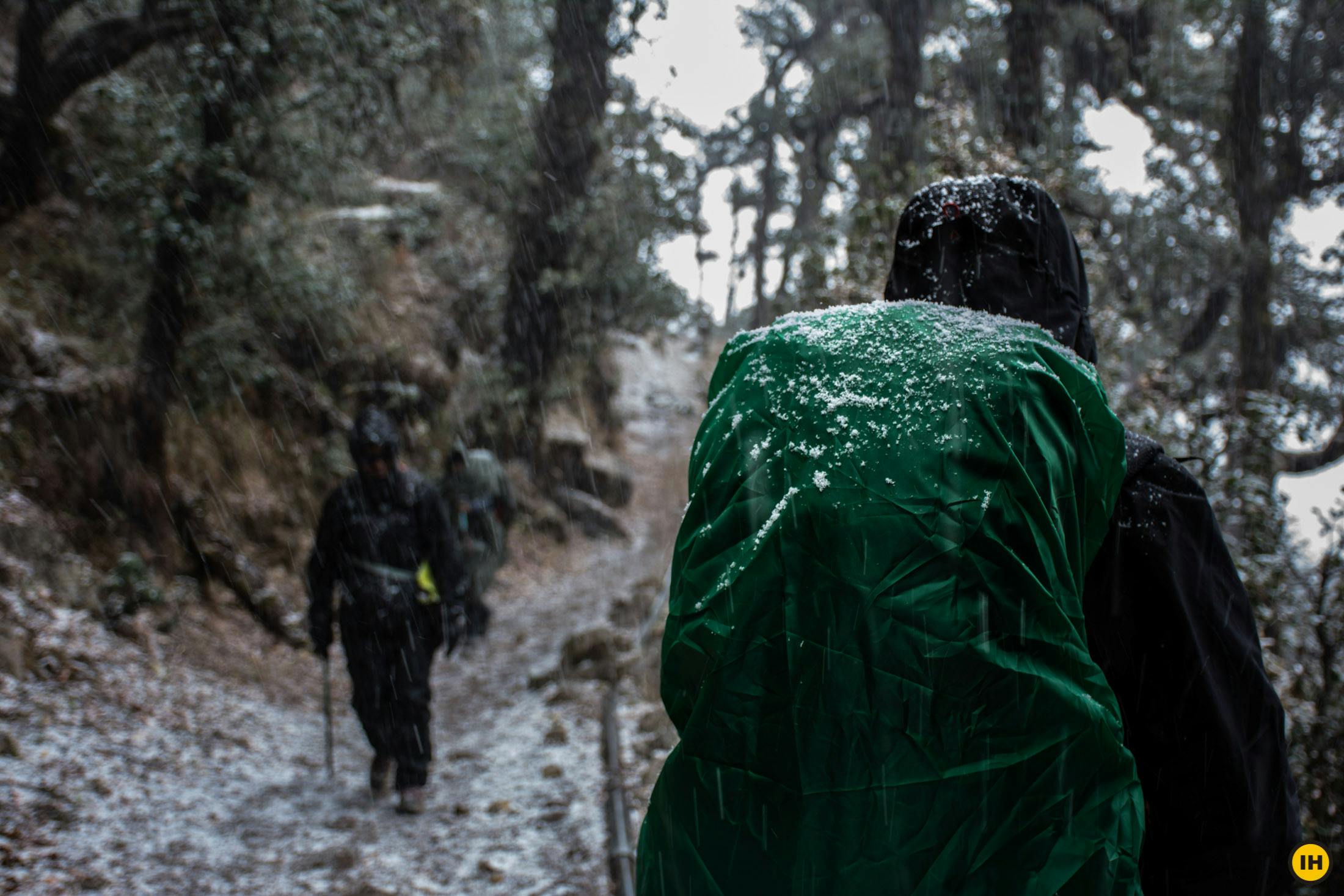 Where to keep it: Rain covers usually come along with backpacks, with pouches on the underside of the backpacks. If you don't have a rain cover pouch, you could use the same side pouch in which you're keeping your poncho. These are usually extremely compressible and will fit into very tiny spaces.
3. A Warm Layer
Most of us trek wearing just one layer — a t-shirt. But it's good to have a warm layer easily accessible for your slightly longer rest stops. When you're sweaty, you don't want cold winds hitting your body. It can make you fall sick. You'll even notice footballers putting on a warm jacket as soon as they get off the pitch. Same reason.
Where to keep it:I usually keep a warm layer as the top-most thing in the main compartment of my backpack. You could also keep it at the opening of the bottom loader / front loader of your backpack. That way, it's just one zip away.
4. Water Bottle
This is a no brainer, but I'm including it for good measure. I've noticed that when trekkers don't have their water bottles easily accessible, their water intake is automatically reduced. That's not good at high altitude. In fact, I would even say it's good to have a hydration bladder instead of a water bottle. Even though it's high maintenance, it will make you sip more water.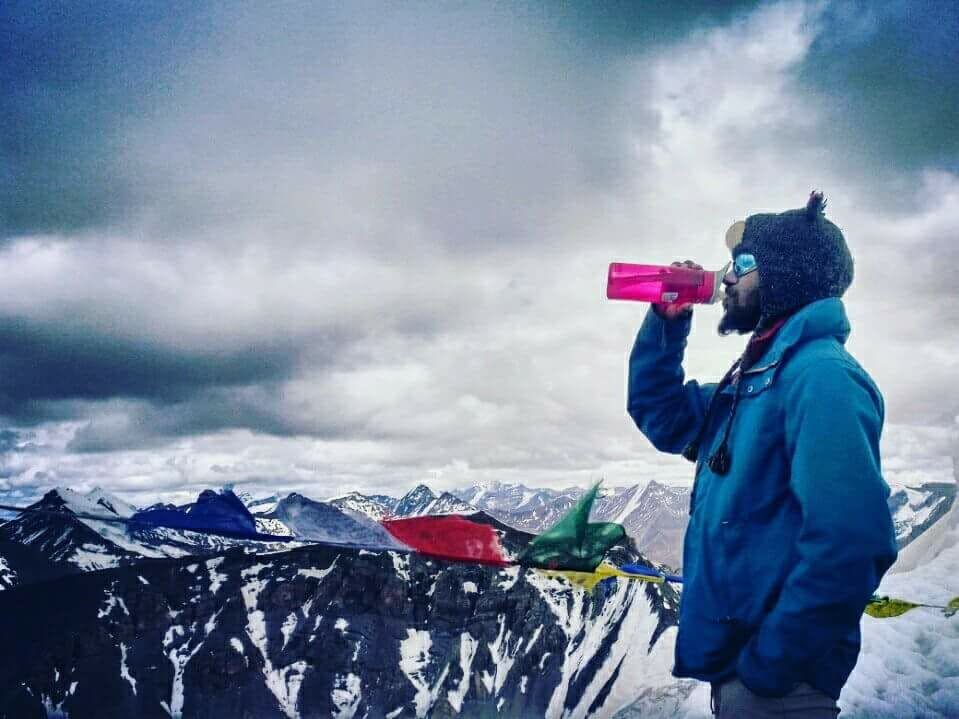 Where to keep it: In the side pouches meant for bottles. The bottles with loops are usually better. You can keep them from falling by looping in a strap from your backpack through it.
5. A Head Lamp
This especially comes to use at the campsite, more than on the trail. Most trekkers realise the need for light only after it's dark. And you don't want to be fishing for light in the dark, especially in an emergency.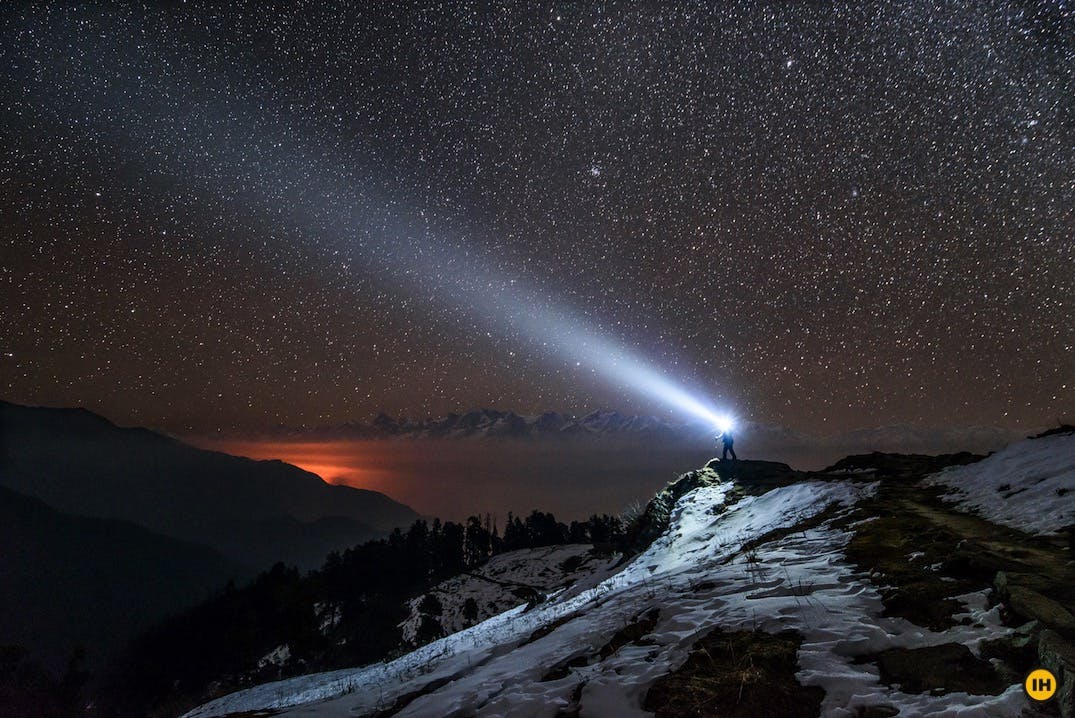 Where to keep it: I keep this in the top flap of my backpack, just a zip away. The moment I put my hand in there, I find my headlamp. I would recommend a similar pouch to you too.
6. Basic Medical Kit
This is not something you'll use often. In fact, you may not use it at all. But for emergency purposes, if someone has a fall, or twists their ankle, it's best to have it easily accessible. Most importantly, you must always know where your medical kit is.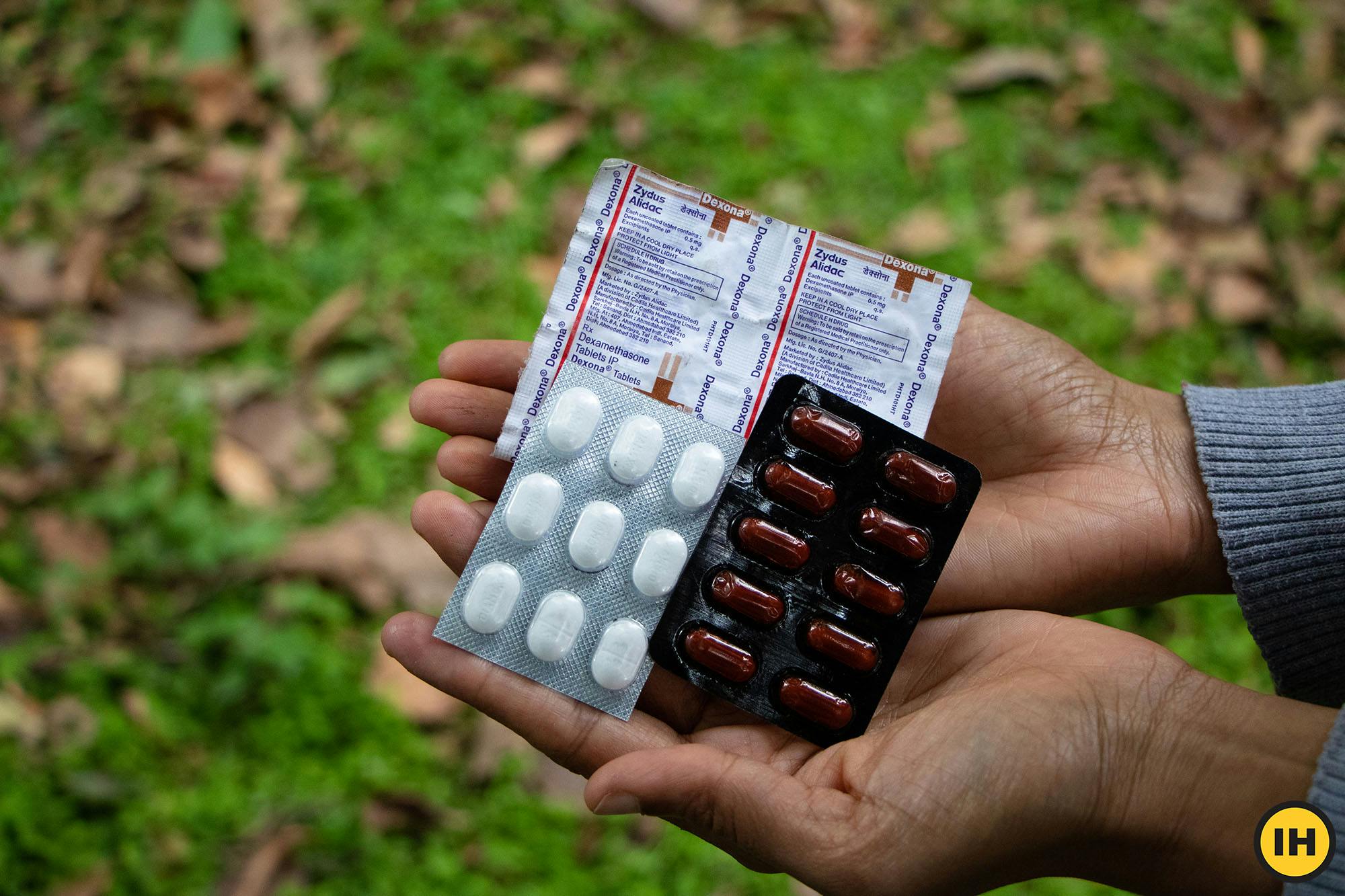 Where to keep it: Most backpacks come with a zip on the inside flap. That's a good place for a medical kit. You could also keep it at one of the many openings of the backpack, if it has a front / bottom loader.
7. Sun Cap and Woolen Cap
I don't know if it is the same case with you, but when I'm on a long trek, there's almost no moment when my head is cap-free. During the day, I always have my sun cap on. During the evenings, I have my woollen cap on. And it's best to have these easily accessible to save time.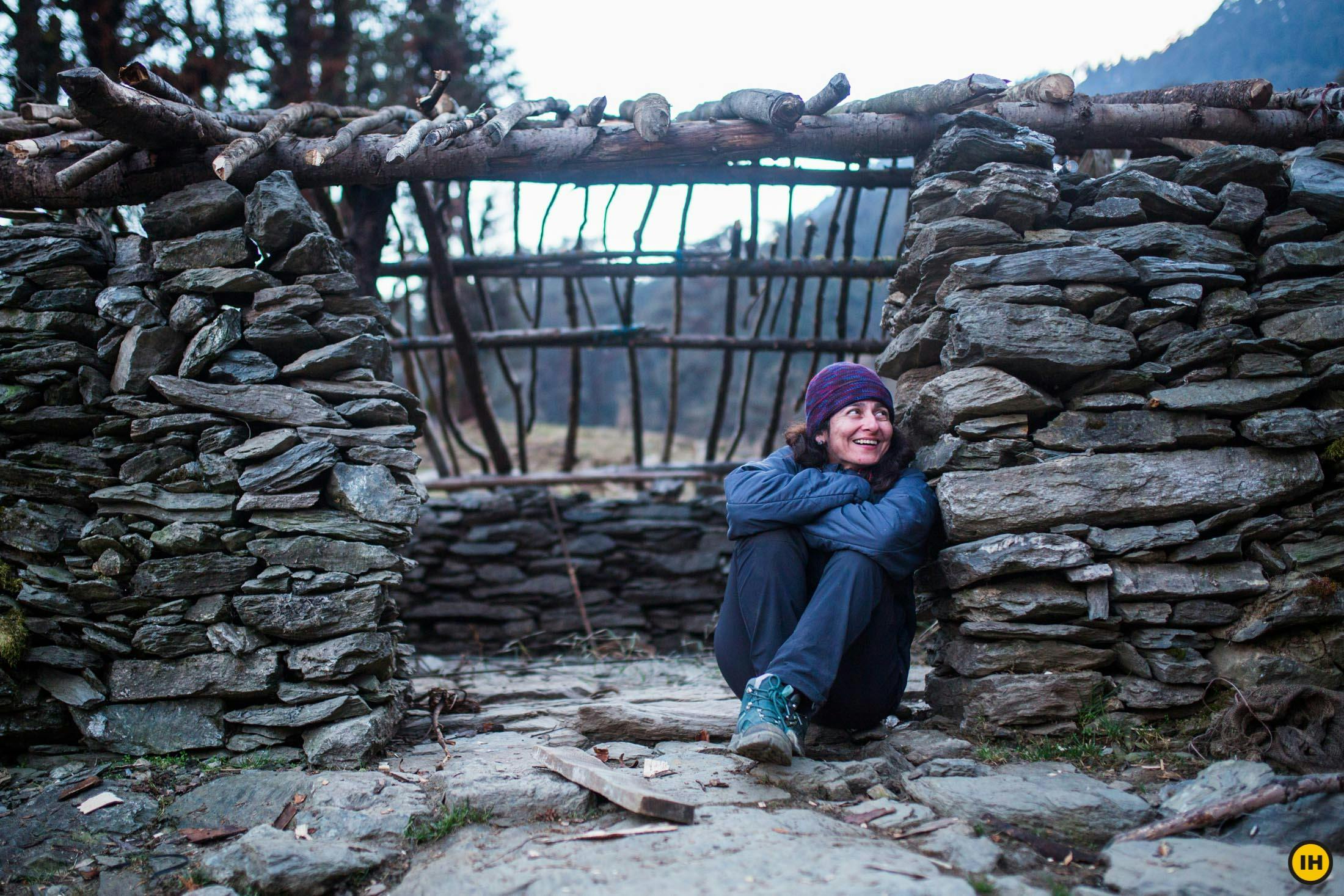 Where to keep it: It makes sense to keep these in the top flap along with your headlamp. If your backpack has other outer compartments, you could use those too.
8. A Pair of Gloves
I usually carry two pairs of gloves because I'm more susceptible to cold weather. I carry a light pair of fleece gloves for evenings. And a heavier synthetic pair for the night. The lights gloves are always accessible to me along with my caps and head lamp.
It's something I would recommend putting on just before sundown. It keeps you from getting cold and gives you the flexibility to do things with your hands.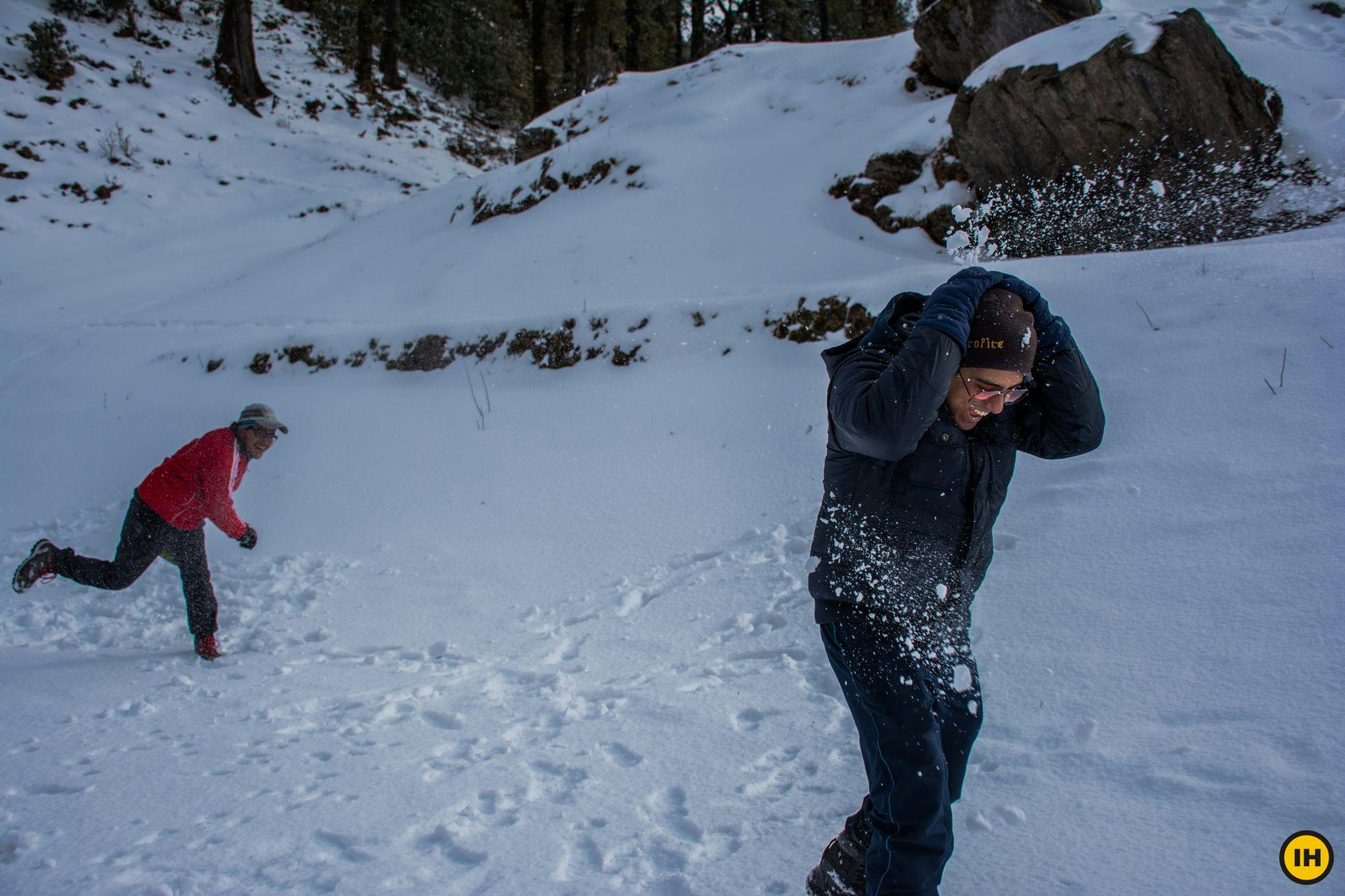 Where to keep it: Again, the top flap is a good place for these gloves, along with the caps and headlamp.
9. Toilet Roll
I notice trekkers packing their toilet rolls with their toilet kits and shoving it deep in their bags. But even though they seem to go hand in hand, keep the toilet roll separately. It's something you use a lot more often than your toilet kit.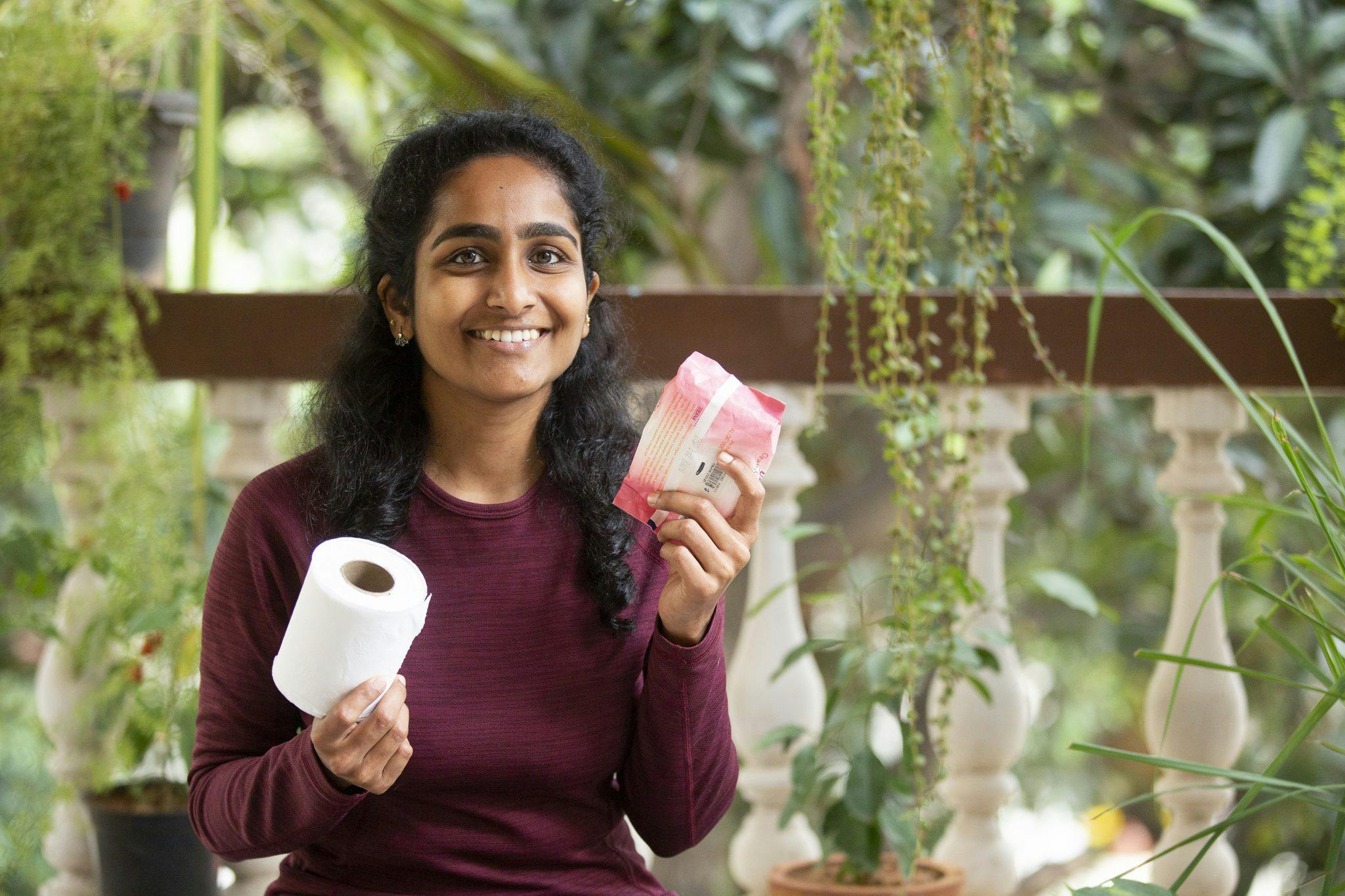 Where to keep it: I keep this in a side pouch in my backpack. One of my trek mates suggested keeping cut strips of toilet paper for better use of space. That is also a great idea.
10. Phone / Camera
I needn't mention this, because most trekkers trek with one of these in their hands. And why not! It's not everyday that we find ourselves amidst big mountains! But trekking with a phone in your hand is not a great idea, even if you are using it to follow a GPS track.
I just had a friend drop his brand new phone while trekking. Instead, just have it easily accessible so you can fish it out any time.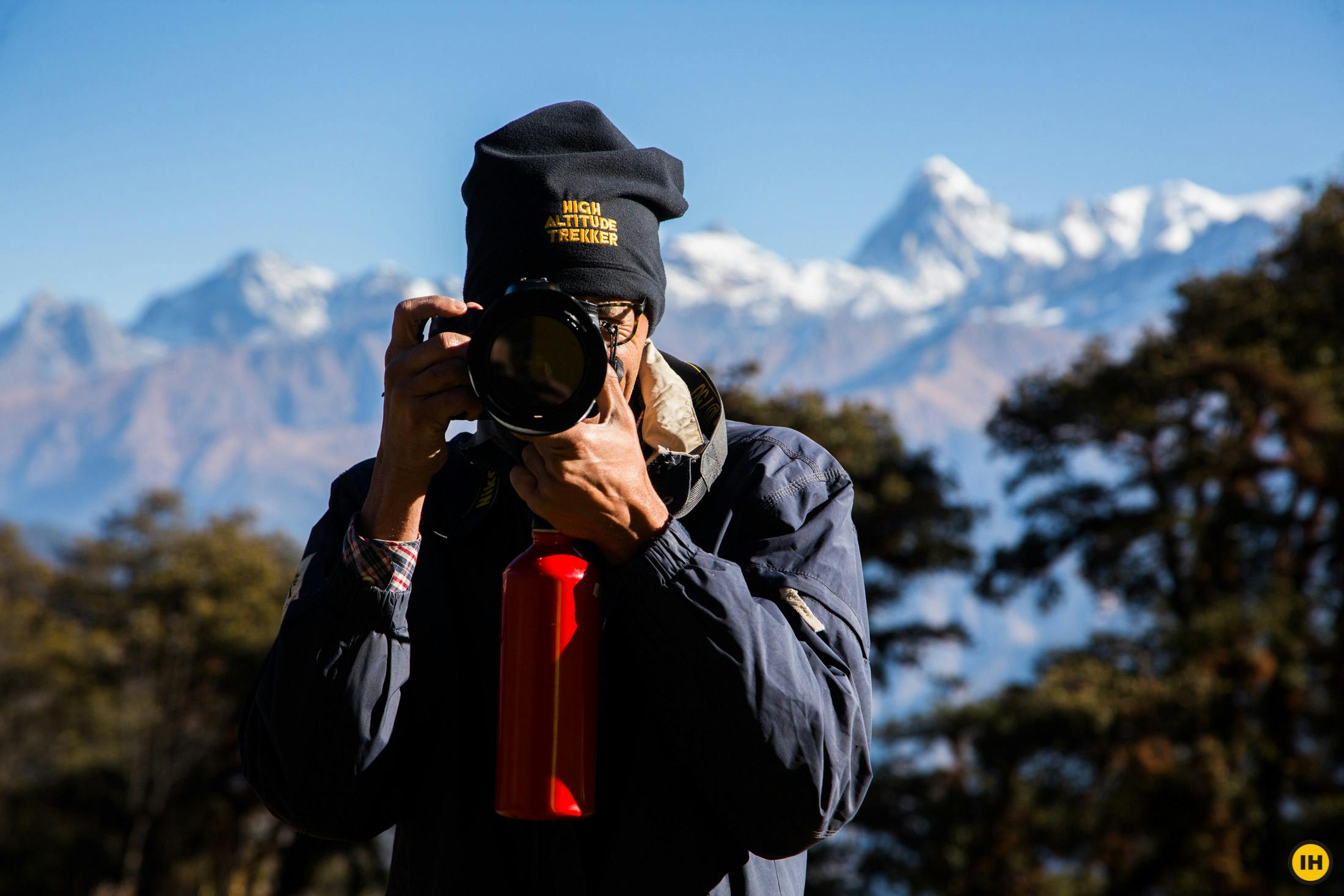 Where to keep it: I would say zippered pockets are the best for this. But you could also use a small camera bag if you have one. Or the pouch on your backpack's hip belt, if it has one.
11. Pocket Snacks
For many years, I would carry dry fruits on my treks and bring them right back to Bangalore. Why? They were not easily accessible, and I would completely forget about them.
Then we started giving out something called "pocket snacks" at Indiahikes — usually chana, pea nuts, dry fruits — suggesting to trekkers to keep it directly in their pockets. And what an idea! I do this now on all my treks.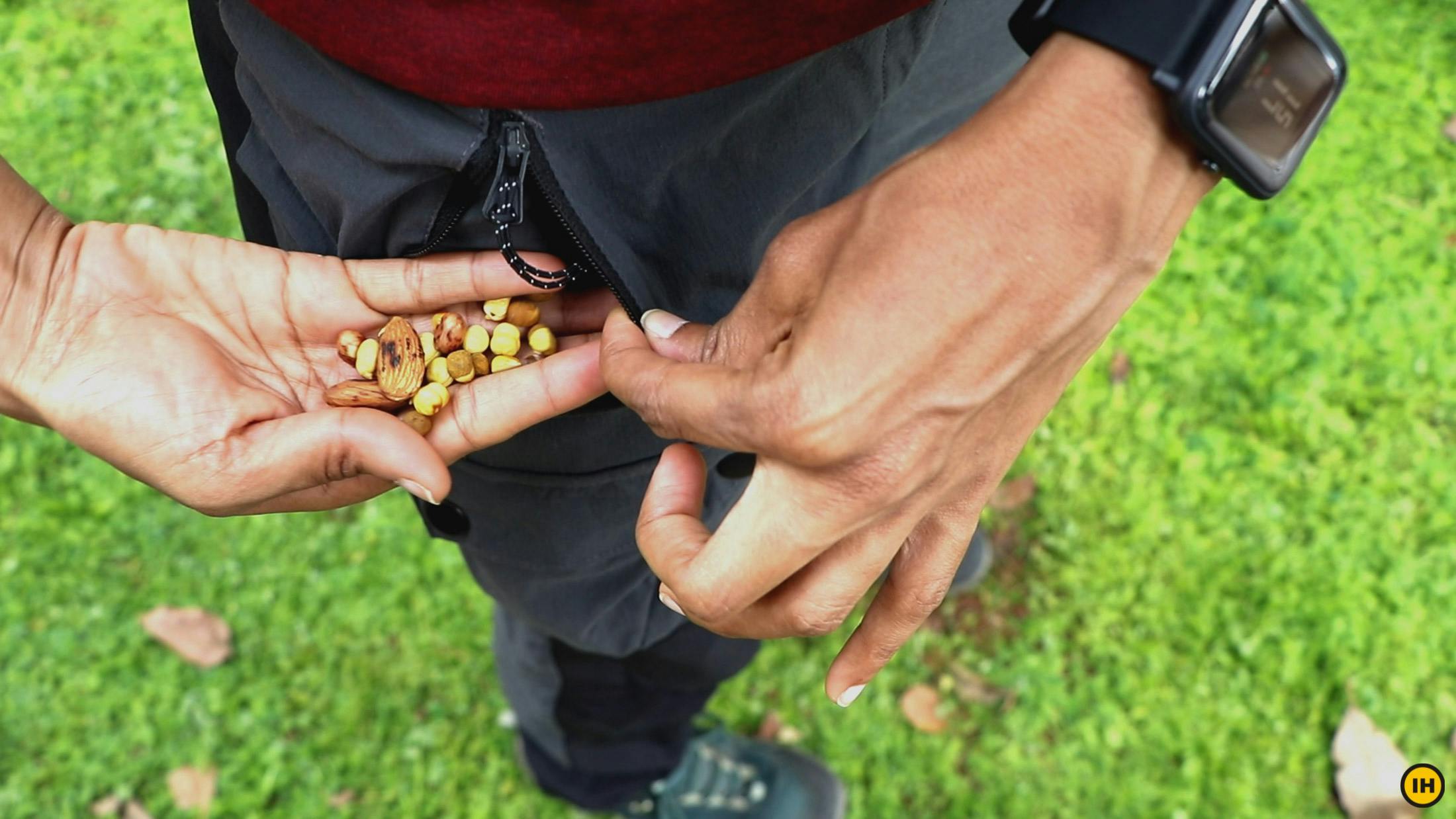 Where to keep it: Your pant pocket, perhaps one with a flap. Use your most-easily accessible pocket for this. Eat one every now and then while trekking, you'll feel re-energised. 🙂
12. A Handkerchief / Buff
In the mountains, your nose tends to run a lot. The cold dry air that goes into your nose makes your nasal lining produce more mucus to keep your sensitive lung tissues moist and healthy. The excess mucus usually drips out of your nose. A handkerchief really helps here. You could also use a buff to cover your nose, it keeps your nose from dripping altogether.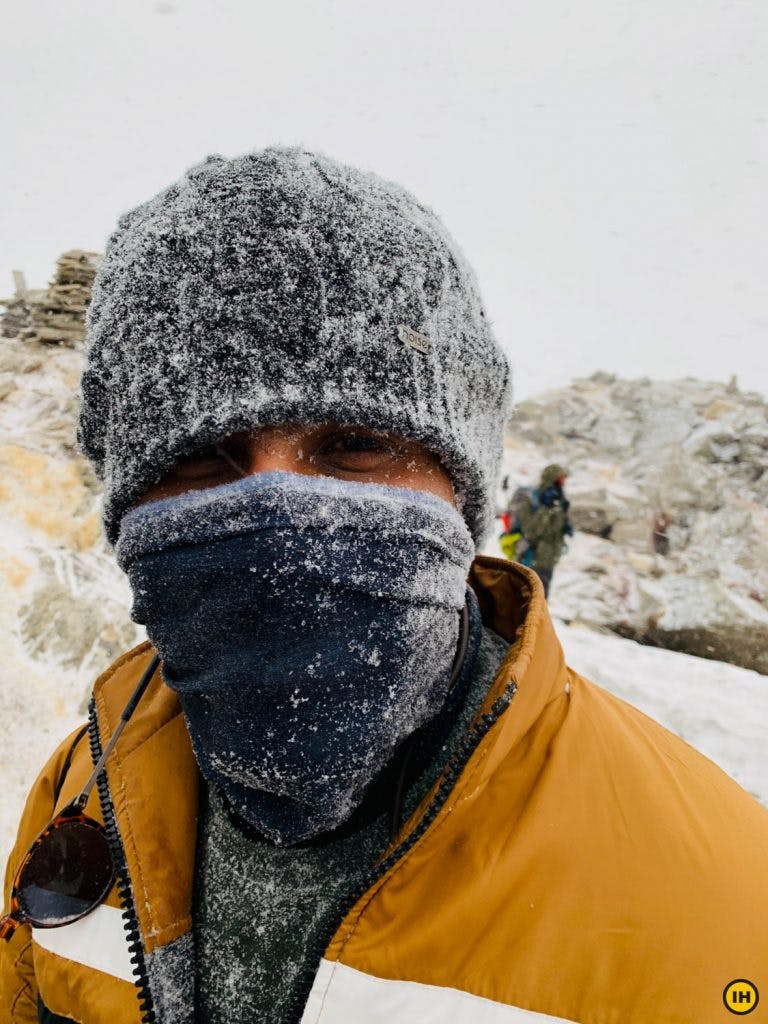 Where to keep it: In your jacket pocket or your pant pocket, whatever works for you. Just remember not to wipe your nose too many times or too harshly. You'll be doing more damage than good!
13. Vaseline
 This is for your lips and those more susceptible to dry skin. In such cold weather, your body is usually stripped off its moisture. You tend to notice this more towards the end of your trek than the beginning. Petroleum jelly works best here. You can use it on your lips, face, hands, feet, anywhere.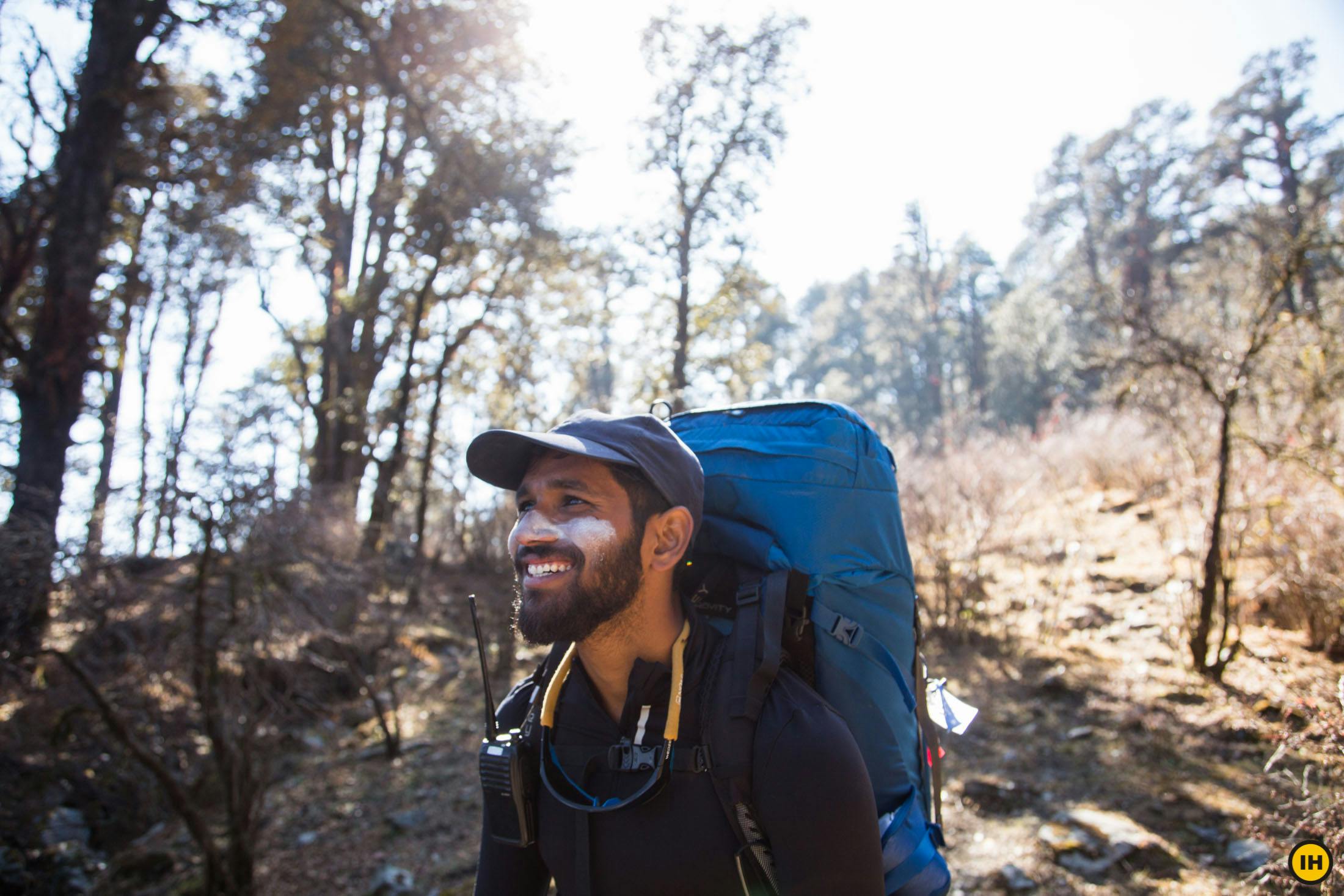 Where to keep it: Again, in your pocket, perhaps your pant pocket. Buy the smallest available box of vaseline / petroleum jelly. It will fit into any pocket and will last you many treks.
Additional tips to make things more easily accessible while trekking:
Buy pants and jackets with zipped pockets. I cannot tell you how important these zippers are on a trek! Most jackets now come with zippered pockets, but not all pants. So look out for these. On a similar note, buy pants with at least 3-4 pockets. They are supremely useful.
If you're using a camera, carry a small camera bag with you. At first, it may seem like a painful addition, but it's very useful to keep everything you need easily accessible — whether it's your phone, camera or powerbank.
Invest in a good waist pouch. If you're not taking a camera with you, you could buy a waist pouch. I've seen some trekkers use this, and keep all their basic needs in it — phone, lip balm, headlamp, basic medicines, handkerchief, pocket snacks. It might be a bit cumbersome to wear your backpack's hip belt. So make sure you buy one that allows you to wear the hip belt.
Conclusion
Phew! That was a long list! But if you have these things easily accessible, you will never have to dig into your backpack for anything on the trail. 
You don't need your wallet, your toilet kit, your woollen socks, or other layers on the trail. Just these items and you're a good, efficient trekker.
If you think I have missed any items, drop in a comment below.
I'll be happy to add it to the list.
Sign up for our much loved Weekly Mailer
We have terrific trekking tips, trek updates and trek talks to look forward to