How Diamox Deals With Acute Mountain Sickness (AMS)
Share this story
Sometimes an unnecessary debate is on between purists and non-purists about acclimatization on a high altitude trek.
The purists feel that using drugs like Diamox to accelerate acclimatization goes against the spirit of trekking. They feel it is better to acclimatize naturally and ascend slowly with breaks – giving the body sufficient time to get used to the higher altitude.
On the other hand the non purists think it is better to be safe than suffer from high altitude sickness. They feel being on a course of Acetazolamide (Diamox) would give them maximum chance of success on a high altitude trek. So they start on a course of Diamox even before they begin their trek.
Now what is the right thing to do? Before I answer this question, a quick background on Acute Mountain Sickness (AMS) would help.
As one climbs above 8,000 feet, the atmospheric pressure starts to fall noticeably. As a result with every breath you take less oxygen reaches your blood. You must work harder to get the oxygen. Your body copes by breathing harder and longer. When you are climbing uphill, this is more acute. Persistent increased breathing builds up carbon dioxide in the blood.
The good news is as you climb higher your body acclimatizes naturally to the decreasing oxygen. Your body builds up a 'zone of tolerance' – where it can function normally even with the decreased oxygen. This zone of tolerance moves up as your body acclimatizes to the higher altitudes. However, when the build up of carbon dioxide is beyond your zone of tolerance your body reacts and you fall sick. This is AMS. You get high altitude sickness.
AMS is when along with headache you display the following symptoms: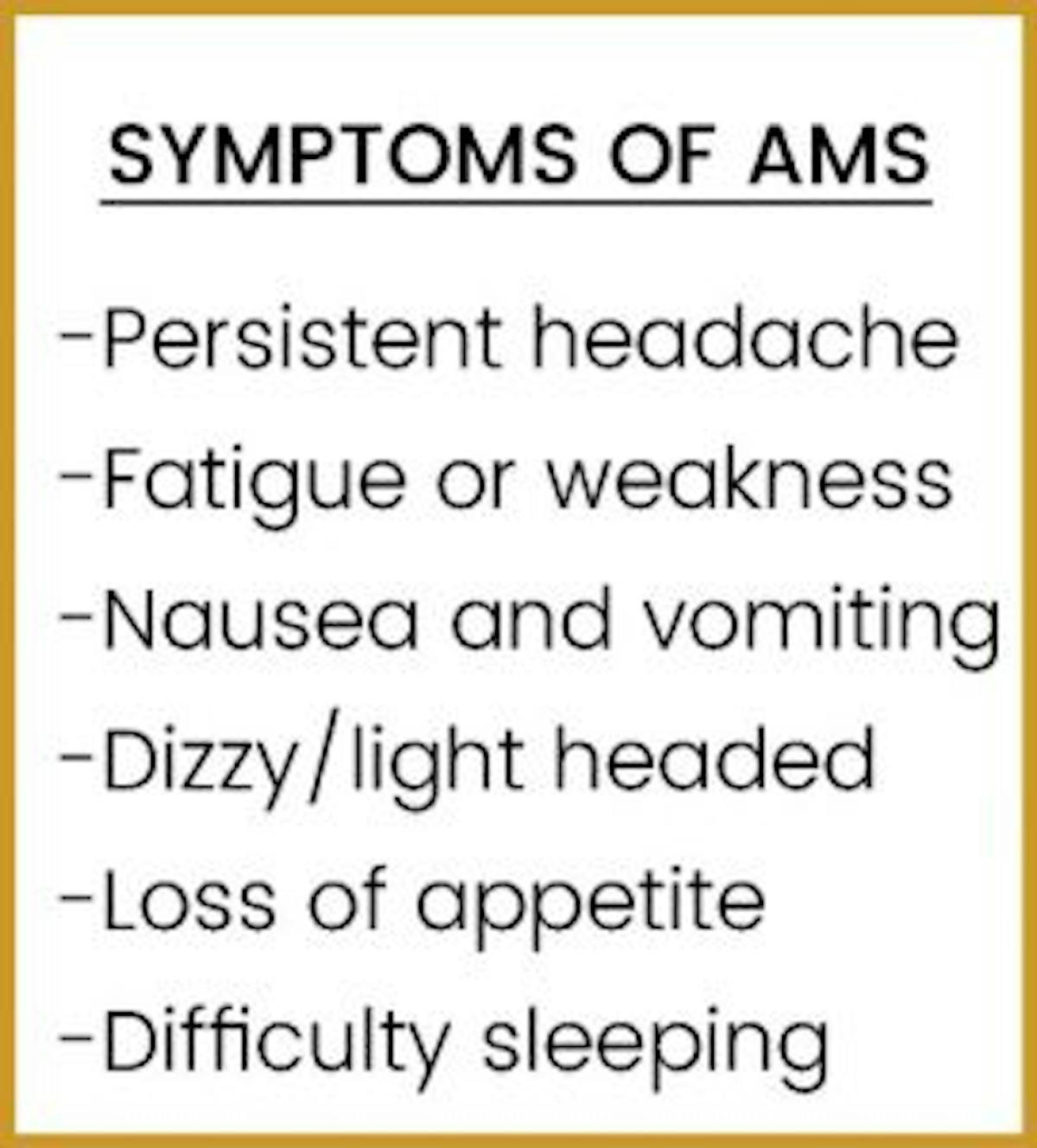 I find it strange when at 11,000 feet trekkers complain of headache, and others around him say this is normal. It is not. A headache at an altitude is not normal. When you get a headache, drink one liter of water, pop a Disprin and watch for an hour (dehydration is a very common cause of headache). If your headache hasn't totally disappeared within an hour then you are suffering from AMS. Do not stay at this altitude and begin your descent to the altitude where you last felt comfortable.
This brings me around to the use of Acetazolamide (Diamox) to assist acclimatization and prevent high altitude sickness.
The question is really not whether to use Diamox or not. The deciding factor to guide a trekker should always be the duration and the altitude gain of the trek. If you are doing a 6 day trek and going to high altitude (above 14,000 feet) then your body does not have enough time to acclimatize – even though you may have factored in a rest/acclimatization day. It is best to start on a course of Diamox before you start the trek. If on the other hand you are on a 12-14 days trek, then you have sufficient time to allow your body to acclimatize to the altitude. You don't need Diamox to help acclimatization.
Generally, you need to allow your body to acclimatize 24-48 hours at an altitude (above 10,000 feet) before going higher. Modern day trekking, unfortunately, does not allow us this time. We usually arrive at a camp at around 2 pm and then have to move to the next higher camp early next morning, giving us less than 16-18 hours to acclimatize. This is usually not enough. Trekkers are prone to AMS under such conditions.
Follow this guide on your trek: if your trek schedule is short and does not allow you more than 24 hours at an altitude, then you are better off being on a course of Diamox.
I often get calls from trekkers telling me that they have been on several high altitude treks and that they have never had to use Diamox. I find this logic baffling. Anyone can get AMS. There is no significant effect of age, gender, physical fitness, or previous altitude experience on AMS. You may get AMS on any trek and it would be terrible if you have to give up on a trek because you did not take this elementary precaution.
What does Acetazolamide (Diamox) do?
90% of the blood's carbon dioxide exists in a chemical called bicarbonate. This carbon dioxide after travelling through your blood is exhaled by your lungs. Diamox forces the kidneys to excrete bicarbonate from your body (when you urinate).
Your body doesn't like that. It needs the bicarbonate to exhale carbon dioxide through your lungs.
When Diamox forces you to excrete biocarbonates, your blood, which is used to a certain level of acidity, becomes more acidic. When the blood gets acidic it believes that it has more carbon dioxide in it. So the body gets rid of this excess carbon dioxide in a simple way. It starts to breathe deeper and faster, getting rid of the carbon dioxide, and also taking in more oxygen.
In effect, the increased oxygen speeds up the acclimatisation process. It also greatly reduces you of any symptoms of altitude sickness. Which is why Diamox works best when you start on it a day or two before you get to high altitudes. 
In a recent conversation with Dr Venkatesh Thuppil, the leading expert in India on high altitude hypoxia and the co-inventor of the HAPO bag, he told me that the best step that a trekker could take to prevent any high altitude sickness was to be on a course of Diamox prior to the start of the trek. He said more lives could be saved and more treks successful if the trekkers were on a course of Diamox than without.
Remember, Diamox accelerates acclimatization. It does not cure anything. If you have headache with any of the above symptoms, even after taking Diamox, it means your acclimatization is not complete and you must descend. Under no circumstances should you climb higher if your symptoms still persists.
Diamox dosage
Start on a dosage of 125 mg every 12 hours 2 days prior to your trek (or when you arrive at Delhi). Increase it to 250 mg every 12 hours from the day you get to the base camp and continue until you complete the trek.
Side effects of Diamox
While Diamox is harmless for most people, please check with your doctor whether you are allergic to sulphides. Also check with your doctor if you have high/low blood pressure or diabetes.
Diamox is a sulfa-based drug. So if you're allergic to sulphides, avoid Diamox.
At Indiahikes, earlier, we used Diamox only in emergencies – however, now we have reviewed our stand and we suggest participants start on Diamox two days before they start the trek. The chances of a successful and stress free trek is much higher if participants start on a course of Diamox on arrival at Delhi.
Altitude training
While Diamox reduces your chances of getting any high altitude sickness, it is important to prepare your lungs to be ready to work with less oxygen. The best way to do that is to prepare for a trek. A good altitude training program must include cardio-vascular, strength and flexibility training. I would recommend a run of half an hour and covering a distance of 4.5 km as good preparatory altitude training.
Related Videos
What is Acute Mountain Sickness (AMS)?
How to treat and prevent Acute Mountain Sickness | AMS, HAPE, HACE | Indiahikes
5 Signs You May NOT Recognise As Acute Mountain Sickness (AMS)
Sign up for our much loved Weekly Mailer
We have terrific trekking tips, trek updates and trek talks to look forward to