Best Time To Do Kedarkantha Trek
Share this story
Best Time To Do Kedarkantha Trek
Category
By Swathi Chatrapathy
2022-08-19
There is a huge misconception that Kedarkantha is purely a winter trek. We want to break that myth. 
Kedarkantha is accessible for almost 9-9.5 months in a year. In monsoon the trails get very slippery and wet. Apart from this time you can do Kedarkantha throughout the year and you'll see something different in every season on this trek. 
What to expect in each of these seasons
Winter
Kedarkantha is very popular as a winter trek. This is because Indiahikes explored the trek way back in 2011 and put it out as one of the first winter treks to do in our country. So ever since this trek has had a legacy of being a winter trek. And it is indeed one of the most beautiful winter treks. 
If you want a beautiful snow experience, where the forest trails are full of snow. The summit climb has deep snow which makes for a nice adventure. Choose winter to go on your trek. 
But keep in mind that winter means that the temperatures will be extremely low. Especially at night it could drop to minus 8. So it becomes a notch more difficult than other seasons. This is why you need to work on your fitness and carry at least five warm layers.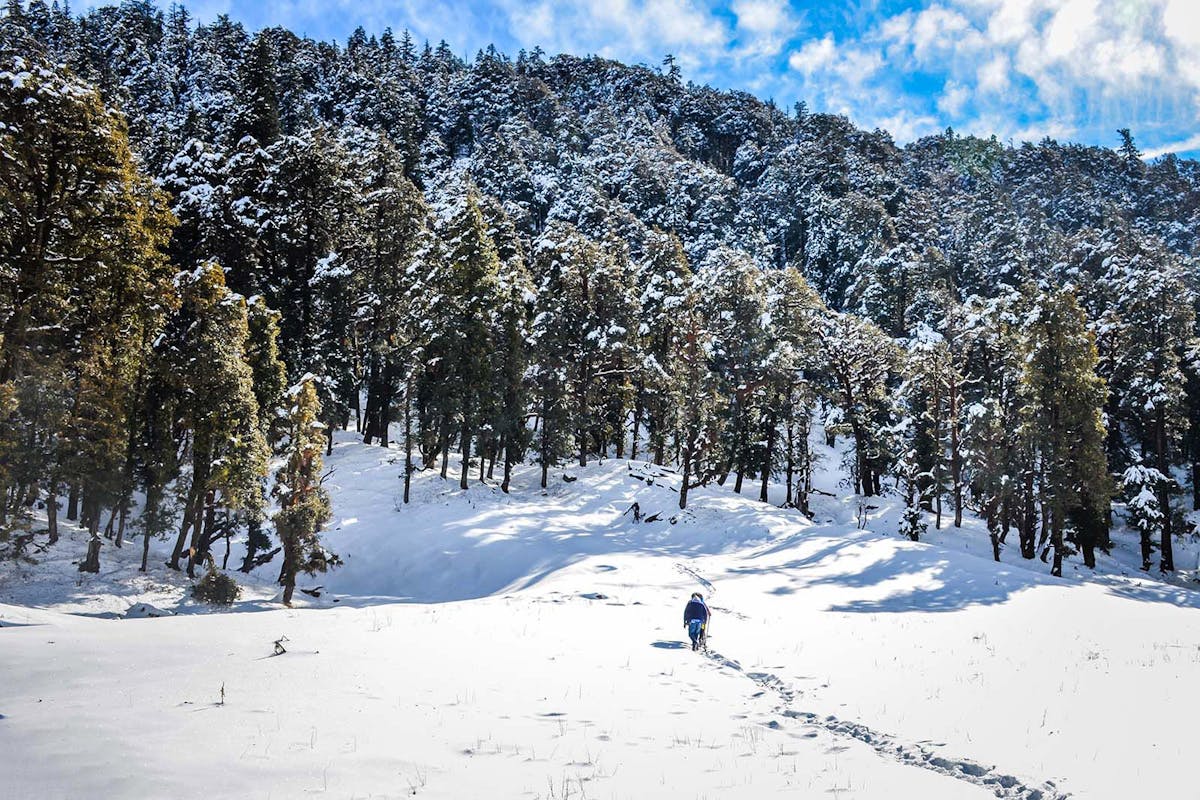 Trekking through the oak and pine forests of Kedarkantha in the thick of winter. Photo by Bappaditya Chandra
Spring
Many trekkers go to Kedarkantha in winter to experience snow. But even in March and April you get to see almost as much snow as in winter. This is because lot of snow accumataes over the winter month and you get to see it on your climb to Kedarkantha. 
There is a big bonus here. When you are trekking in march and April, it is spring time. So when you are going through the forest, grassland and to the summit, there is a lot of greenery around you. You'll hear a lot of birds chirping, you'll probably see them too. And you'll see a nice touch of snow, especially in the clearings. 
It's a really nice time to trek to Kedarkantha. You get to experience snow at slightly warmer temperatures. 
If you want to see the best of both worlds, time your trek in March and April.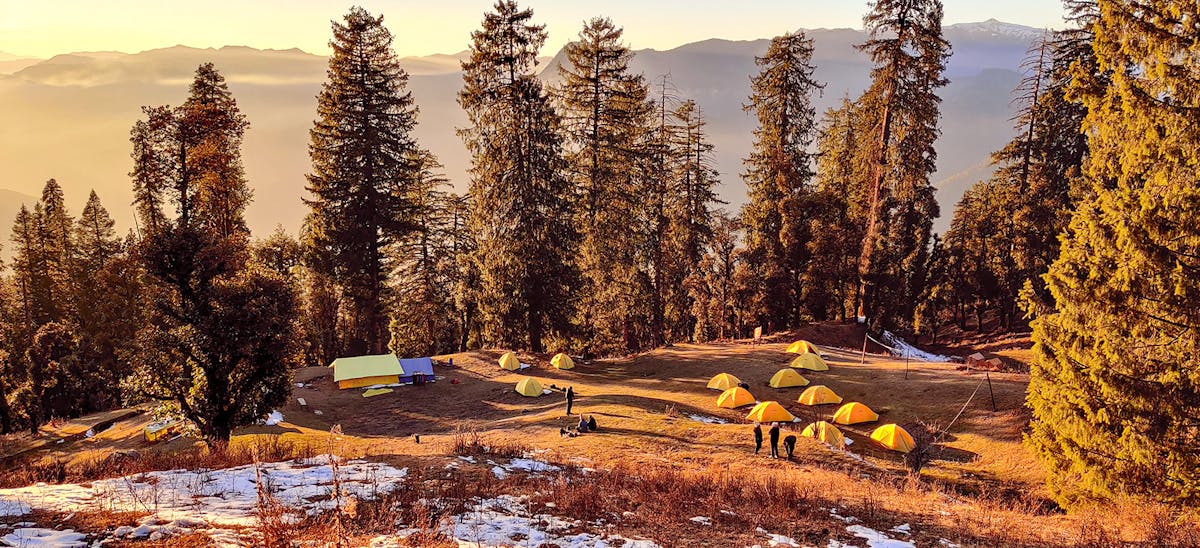 Notice the receding snow in spring at the Julota Campsite. Photo by Vasudev Sharma
Summer
This is when Kedarkantha is at its greenest best. This is also a good time to take your family and children on the trek as the trek is easier, nice and warm during this time. 
The summit climb is still thrilling, although with not much snow. 
We usually have exclusive family dates on ur website during this time. So look out for them.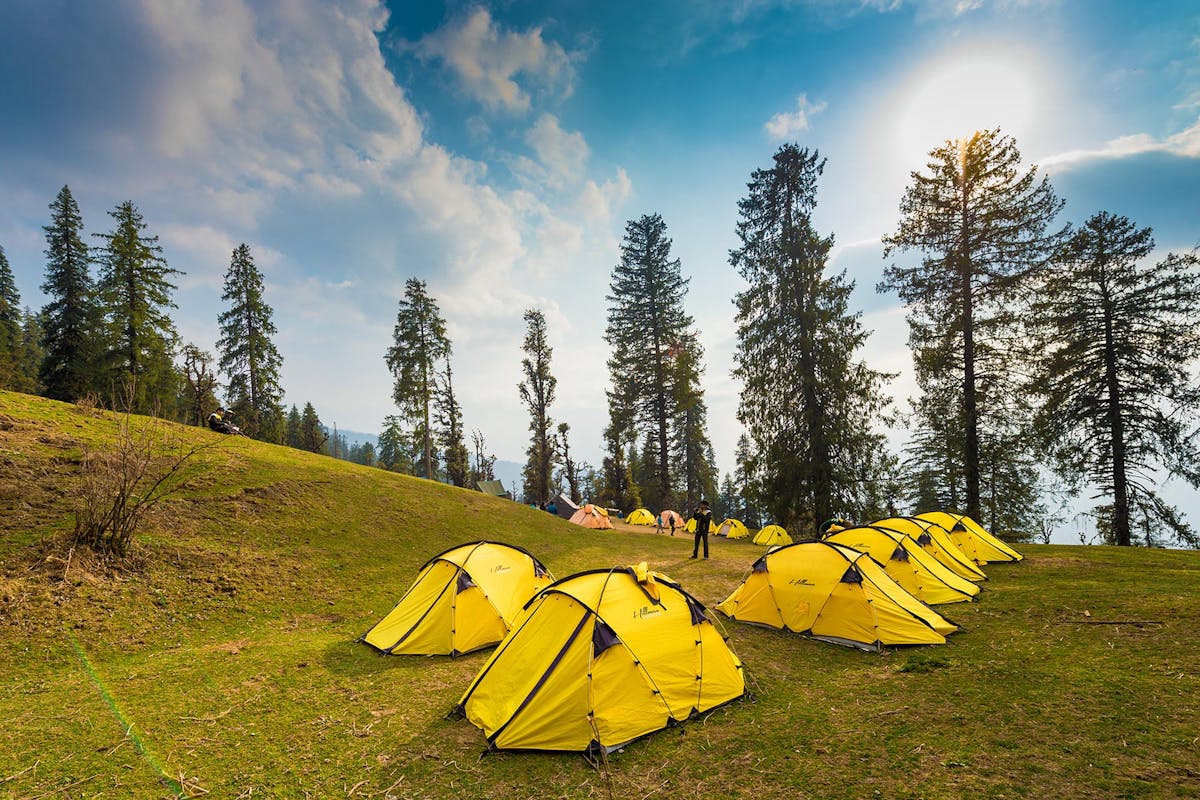 Look how different and green the Julota campsite looks in summer! Photo by Harish NN
Autumn
In September, the Kedarkantha trek is extremely lush. Monsoon has just passed. And with almost every passing day you'll see the landscape changing colour on this trek. 
The forest leaves start turning golden yellow and start to shed. The entire trail is fully of such crunchy fallen leaves. 
The grasslands are also slowly turning from green to yellow to orange. Every day you will see a change in colour. And the summit climb is the best in this season. Once the monsoon passes, the sky is brilliantly blue. You get crisp mountain views of the Garhwal Himalayas. 
So autumn is a really nice time especially if you are a photographer and are looking for an extremely clear weather.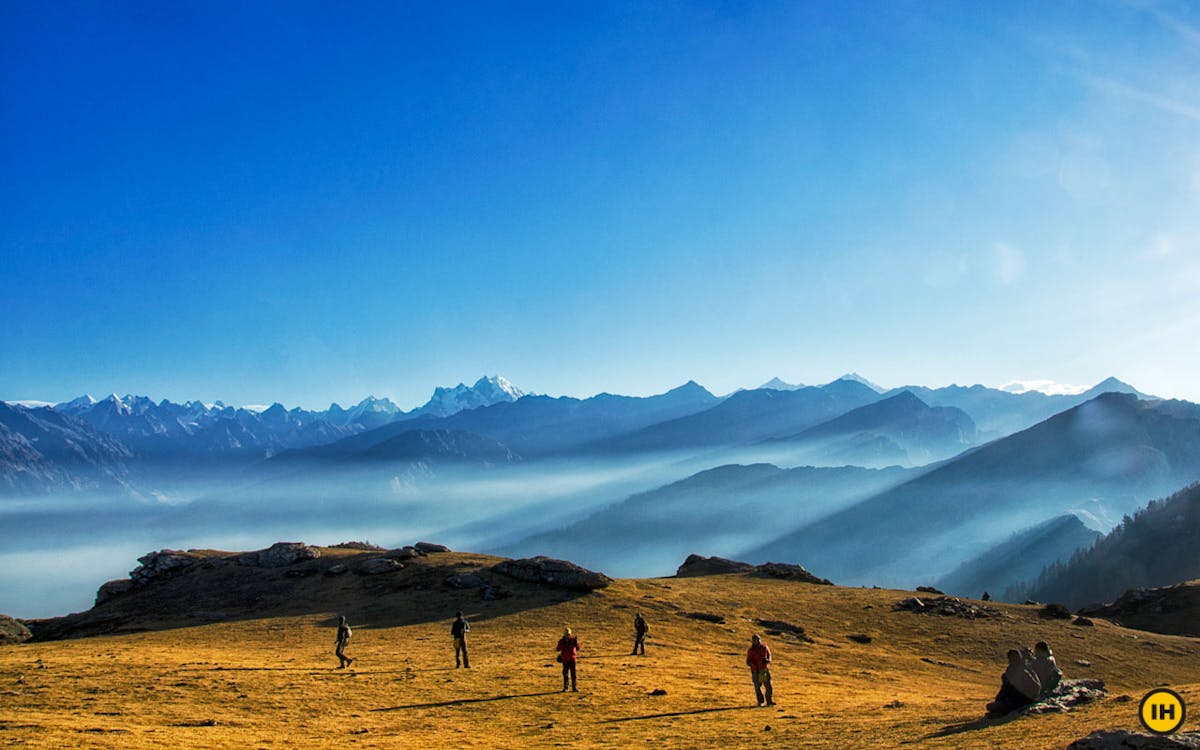 Autumn brings out the colours of Kedarkantha trek. The skies are clear, mountain views are sharp in the backdrop of the golden autumn landscape. Photo by Arghya Biswas
After autumn you are back to winter. 
Frankly speaking, you must experience this trek in all seasons. It's almost like doing many different treks.
Sign up for our much loved Weekly Mailer
We have terrific trekking tips, trek updates and trek talks to look forward to