100 Students of BITS Pilani take back strong lessons on team-building ...
Share this story
100 Students of BITS Pilani take back strong lessons on team-building from the Kedarkantha trek
Category News
Last week, we took the students of BITS Pilani on a trek to Kedarkantha. It was a mixed group of students from the first to fourth year and some MBA students.
Our objective was to bring the students together as a team. We also wanted to help them become better decision-makers.
Nithyam Nachappa, a trek leader with Indiahikes led one of the two teams.
Here's what he had to say:
"It was my second time leading the BITS Pilani students. This time I wanted them to have fun and learn, together as a team.
I wanted them to understand that it's okay to ask for help, nudged them to be more curious, and created space to think and find solutions on their own.
The trek posed a lot of challenges for the whole team in terms of the weather being harsh."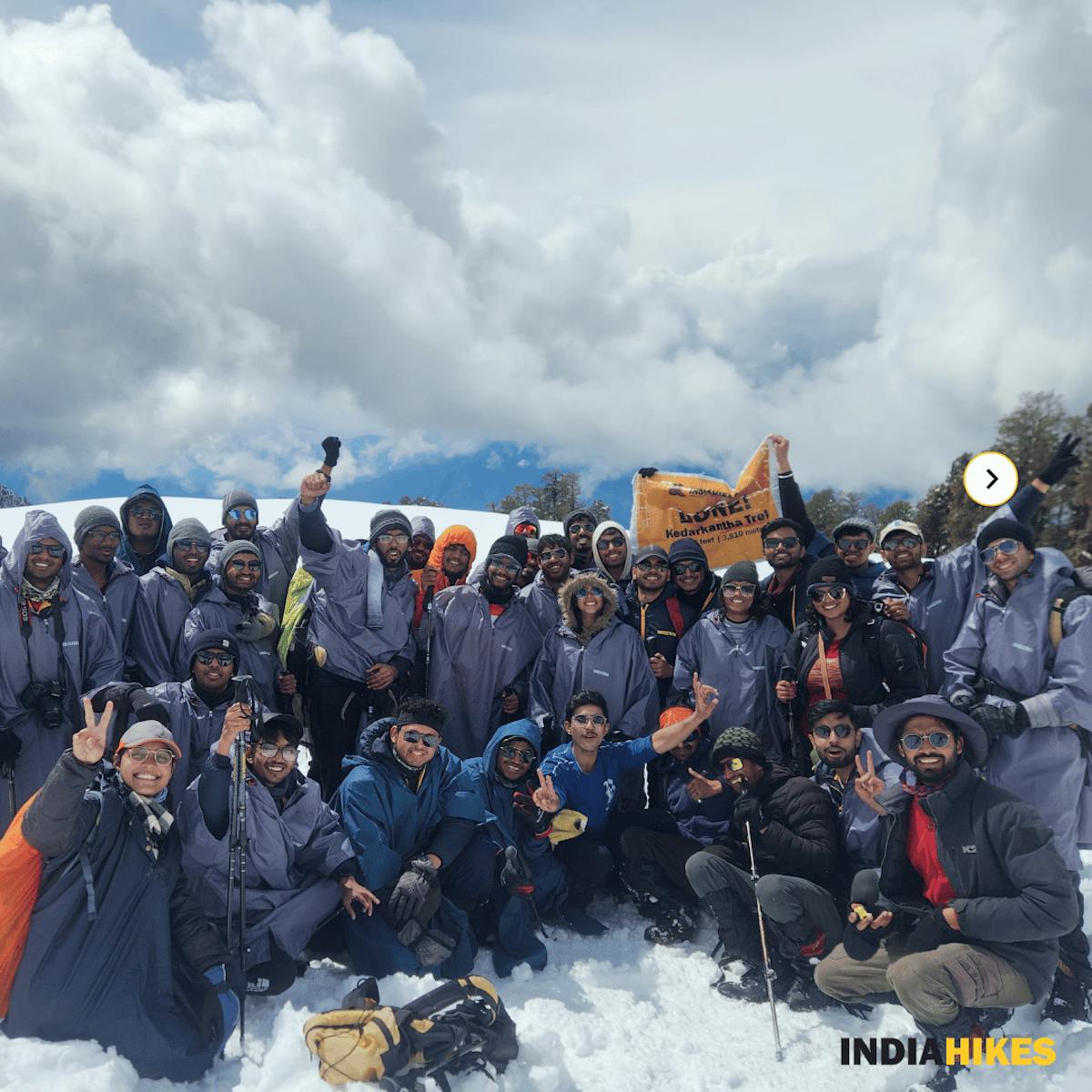 "A lot of students wanted to go down because of this. I looked at this situation in a positive light and used this as an opportunity to make them understand the importance of communication and planning.
After discussing with my team at the base, I decided to take a call of going ahead with the summit push. I told about this plan to all the team coordinators and asked them to discuss the challenges among themselves. I gave them the responsibility to decide who want to go ahead on the trek and who want to go down.
All the students regrouped, discussed and planned. Finally, the leaders came back to me with a final number.
By this time, we had come together as a team very strongly. Because we listened and acknowledged the reasons for the group which wanted to go down and also the group which wanted to go ahead on the trek.
Despite the weather being a challenge, we did not compromise on the fun part. We did the local naati dance, built a snowman, and had many story sessions and mandatory ghost story sessions as well."
"I'm really happy that the trek brought out valuable life lessons for the team on understanding the importance of a team, asking for help and at the same time having fun together even during unpredictable weather conditions." adds Nithyam. (@nithyam_nachappa)
The trek was also an enriching experience for the volunteers. Kalpesh, who had signed up as a volunteer for this one shares, "This has easily been one of the most rewarding high altitude treks I've ever done. Attributing to the amazing IH team, my fellow volunteer counterparts and certainly the students. For the first time, a trek was not about the visuals for me; ended up being more about people. :)"
That's precisely why we feel a trek is a transformative experience for the mind, body and spirit.
View Experiential Learning Programs for Colleges
Sign up for our much loved Weekly Mailer
We have terrific trekking tips, trek updates and trek talks to look forward to