A 12-year-old girl's experience of Deoriatal Chandrashila Trek
Share this story
A 12-year-old girl's experience of Deoriatal Chandrashila Trek
Category Trekker Space
As I, Stuthi Aithal, poise my pencil over the paper, I recollect the memories of this beautiful trekking summer camp to the Deorital-Chandrashila Trek which gave me the feeling of pleasure, adventure, and independence I had been craving for months.
I remember my heart thumping with excitement as I waved my parents goodbye at the Live Free Hostel to go on another trek just five to six months after completing the mesmerizing Chhattisgarh Jungle Trek, that too, this time all alone! Seeing the hills roll past, an odd tree or two peeping out during the enjoyable drive to the base camp, Sari. I felt like a bird who had set sail on its life's most eventful journey.
View Deoriatal Chandrashila Trek
On reaching Sari, we met Mowgli, a lively young dog who accompanied us throughout the trek along with two other canines. After a brief introductory session where we were told about our trek leader– Tina ma'am, our guides– Bijju bhaiya and Anup bhaiya, and last but not least, our interns– Srushti, Panchami, Sri bhaiya, Aritra sir, and Abhishek sir. We then packed our backpacks for the next day's trek and slept with great expectations for the first day of trekking scuttling in our minds.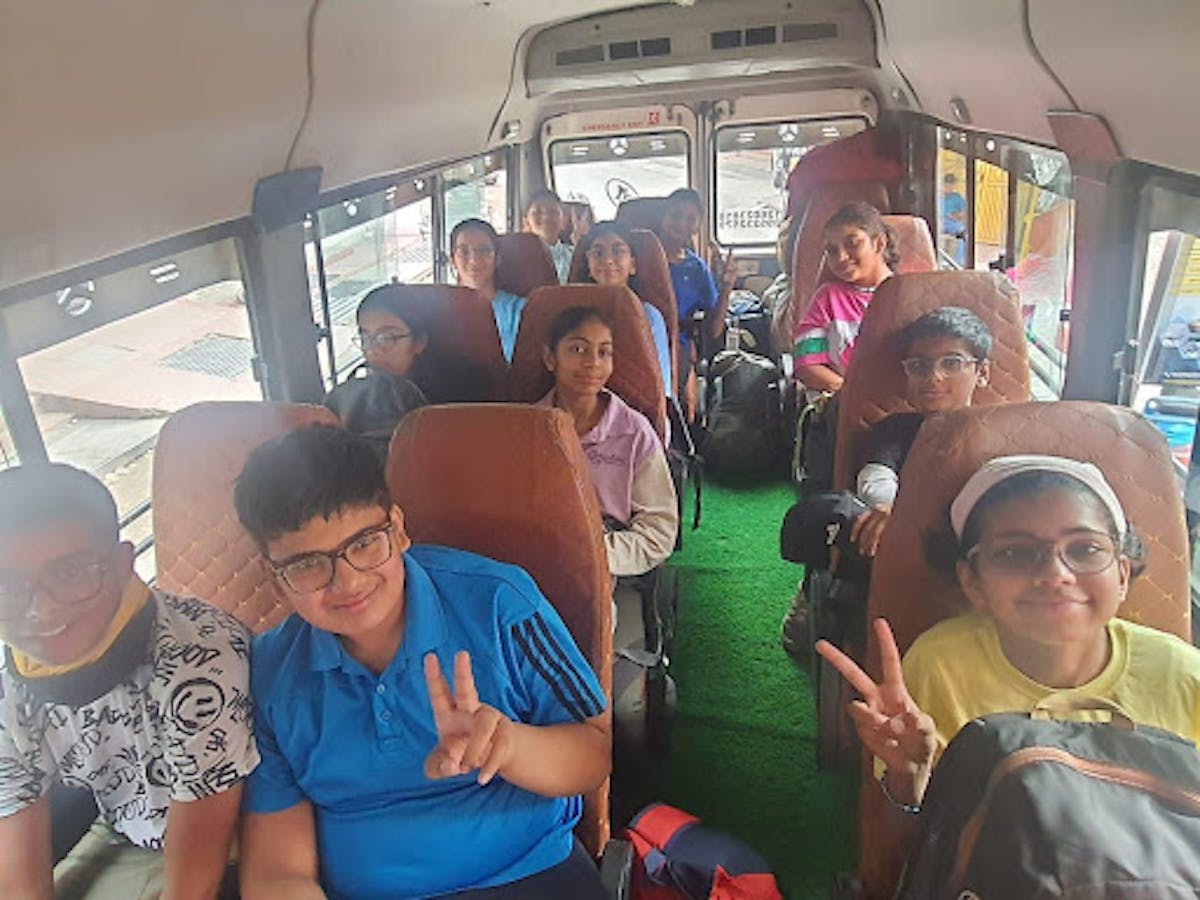 Stuthi with her team on the way to Deoriatal Chandrashila Trek
The following morning saw me trekking up stony paths where grassy clearings seemed a relief. As we relaxed near the Deoriatal Lake I gazed at the pink algae-like things floating around, happy tadpoles skirting the edges of the lake, dense forests on three sides and an effortlessly rolling bugyal in front made me realize that I had become more resilient and even bolder. We soon reached our stunning campsite– Deoriatal.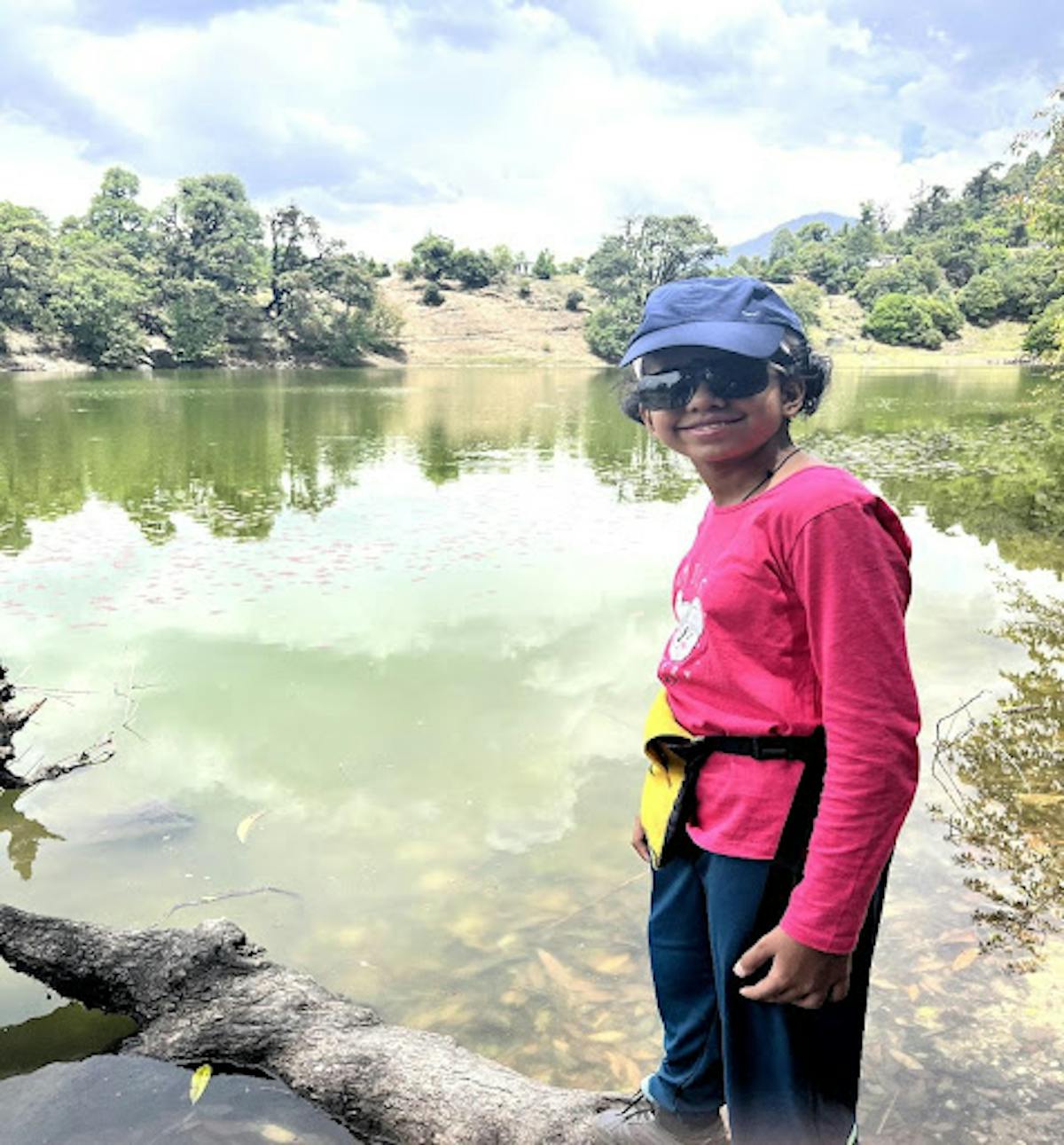 Stuthi takes in the charming beauty of Deoriatal Lake.
That evening while we played fun games in the dining tent a strong gale began blowing and the tents were on the verge of flying off. We enjoyed ourselves thoroughly at the campsite marveling at the beauty of the mesmerizing Deoriatal lake from the viewpoint. 
The next day we were laughing and smiling as we made our way through beautiful rhododendron forests where we even ate its tangy red flowers, to the most extensive campsite I have ever seen– Syalmi. My eyes were attracted to the greenery around Syalmi and I liked it at once. I was amazed to see that I had withstood the test of strength and willpower as I climbed the Jhandi Top and Rohini Bugyal. That night as we stargazed, I spotted a group of foxes staring at us with their nocturnal eyes shining. 
The following morning, I woke up early to see the first rays of the sun hit the snow-capped peaks and they turned a faint lilac pink, my favorite color. The entire day was spent completing adventurous tasks and learning survival skills with our team led by Aritra sir. All the activities were successfully completed under our team's pilots, Tarush bhaiya and Swapnil bhaiya.
That day we also celebrated the birthday of our new friend– Vaidehi, right after Sri Bhaiya's epic snakebite act.
That night as I slept snugly in my sleeping bag, I went over my experiences which included how to remain calm in times of crisis as well as some new survival skills like pitching a tent out of only a groundsheet and trek poles.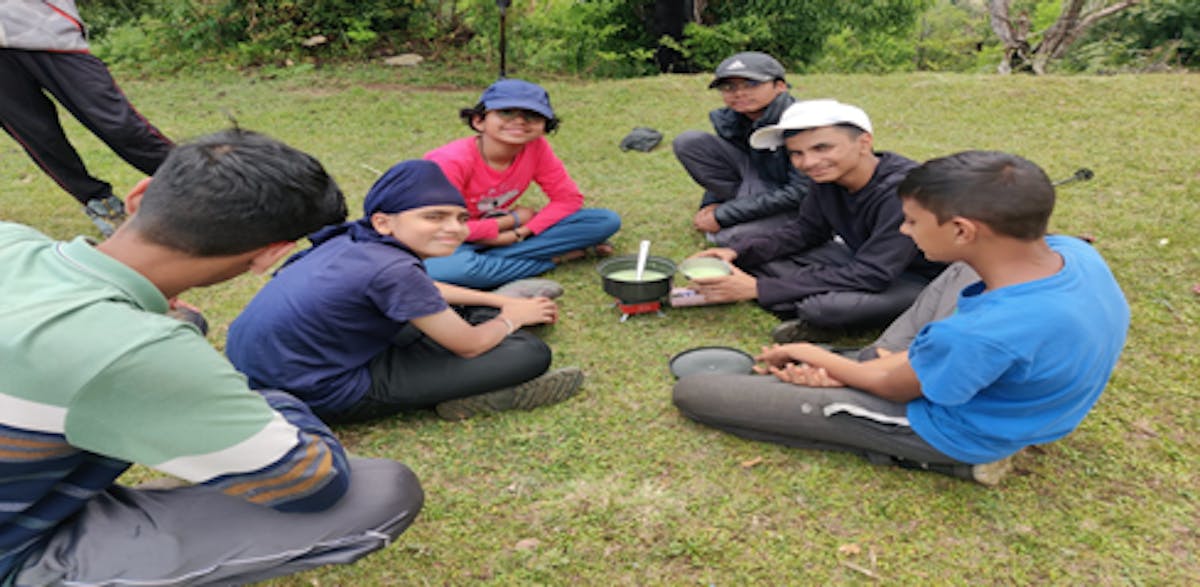 What's a better dining table than a glorious green grassland?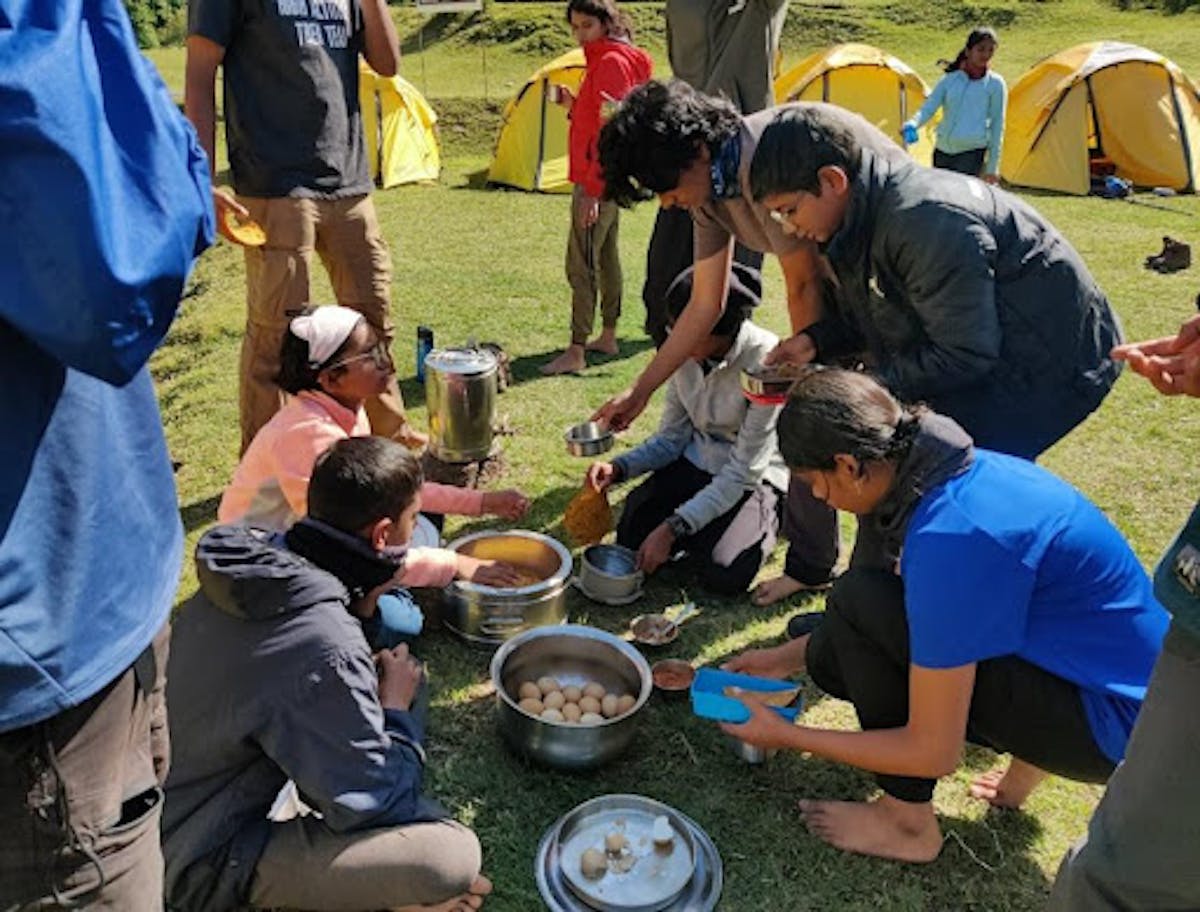 Serving food to fellow team members and building a connection at personnel level.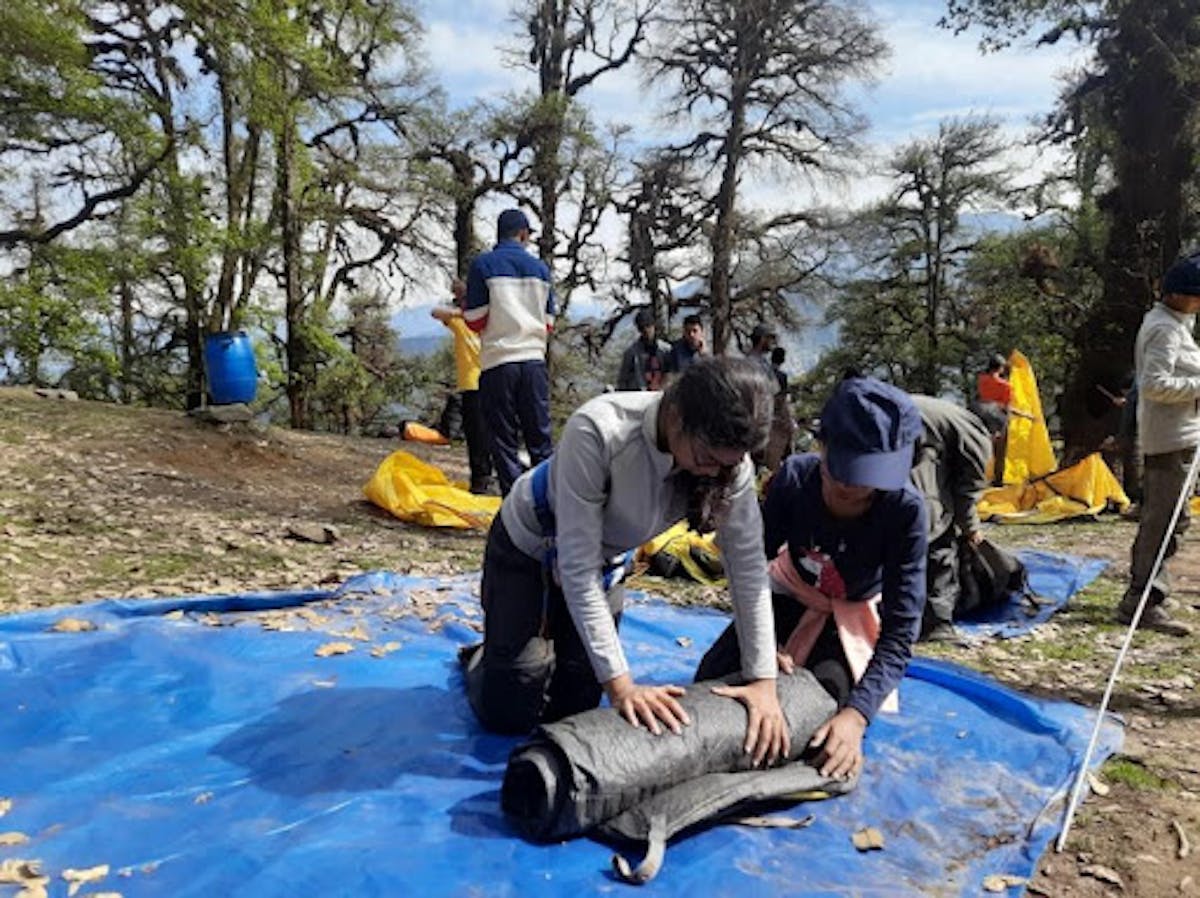 The team engaged in a very crucial activity of learning to pitch a tent. A must-know thing while trekking on mountains!
The following day, before leaving, we unpitched our tents and drew hilarious portraits of each other where I added an extremely funny element to my best friend– Soha's portrait. I trekked energetically and went to the Akashkamini River where I felt utter calm on feeling the current of the cold water hitting my legs.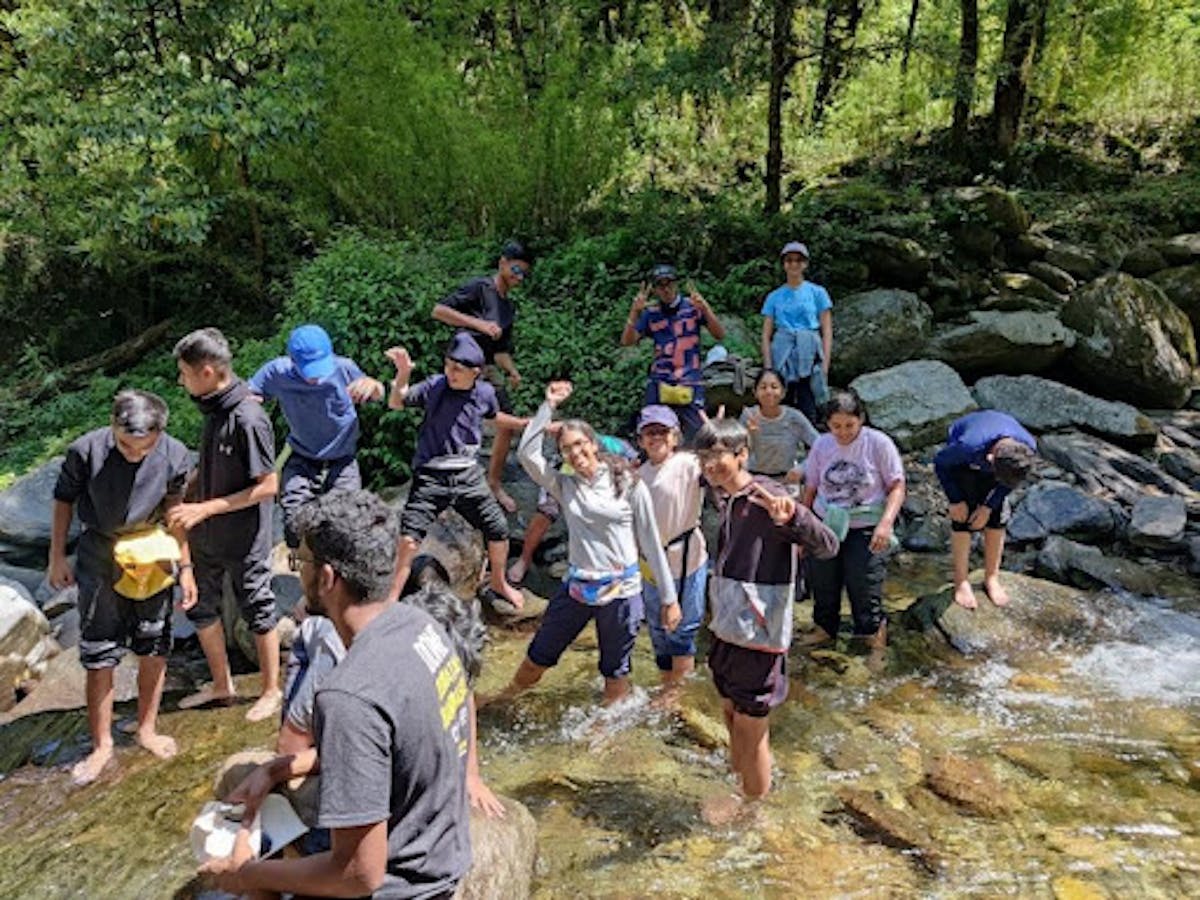 Time for some freezing foot massage as you cross the chilled river bear foot.
I comprehended that I had bonded better with nature by now and walked on to reach our campsite, Baniya Kund. After lunch, we were asked to pitch our tents on our own which was an exciting experience altogether as we pushed in the rods and made our tent perfectly. Then we had the summit briefing. My tentmate - Soha and I, packed our daypacks for the grand day as we chatted about it endlessly. We even made a checklist of items to ensure that we didn't leave anything out. That night we set off for the Chandrashila summit at 1 a.m! We trekked excitedly, flashing headlights that few of our friends mistook to be the eyes of wolves. We pulled up our socks and bucked up for the final summit push! As I pushed myself on, Sri bhaiya kept encouraging me to climb on. I felt a sense of great achievement when I finally triumphed at the Summit in time.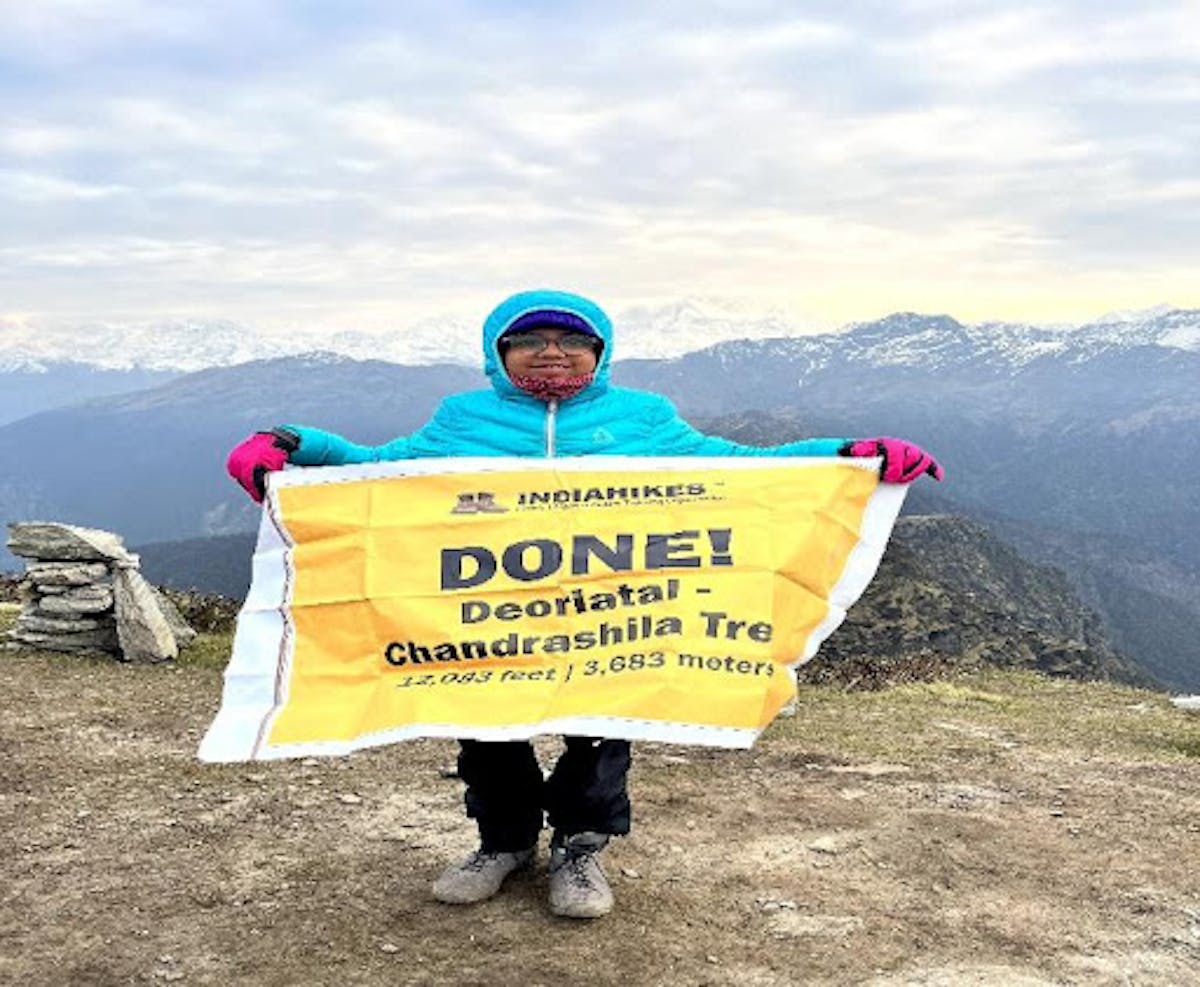 A moment to remember for life, as Stuthi makes it to the summit of Deoriatal Chandrashila Trek.
We danced around celebrating our victory and witnessing a cloudy sunrise. As we all sat down on the rocks, I gazed at the mighty snowy Mount Chaukhamba rising high into the clouds. It seemed a hand's length away and seeing a seven-thousand-meter mountain up close was an incredible experience for me. It instilled an aspiration in me to touch new heights and reach my goal.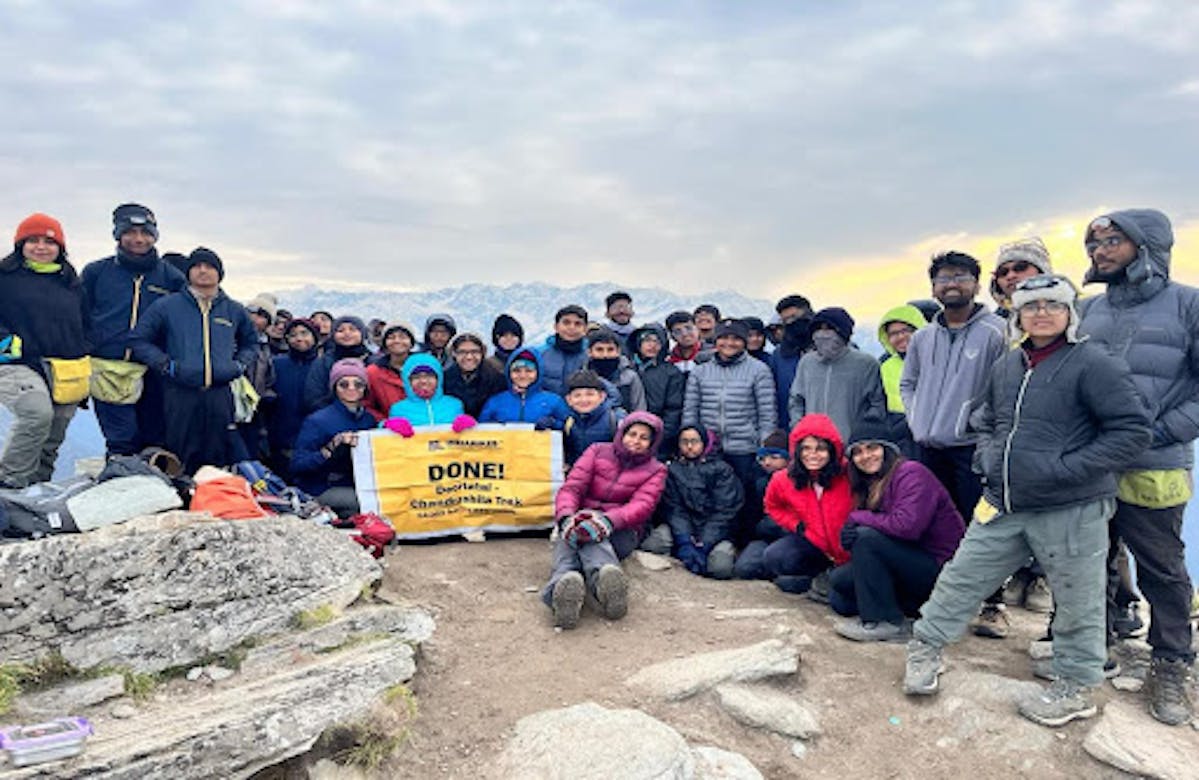 It's not just a personal win, but when you achieve it together with group, it feels more like a 'We Win' thing.
As we descended, we stopped at the beautiful Tungnath Temple for darshan. As I stood in front of the deity, praying I hoped that my mother was with me as she would love the experience. I also remembered my grandfather and wished to tell him that I had visited one of the highest Shiva temples in the world. Later we took a break at a dhaba for a second round of breakfast of scrumptious aloo paratha. 
On the way down, I was cracking jokes with Ayam and Shachi, the Slope Manager of the trek. On returning to Baniya Kund most of us rested because we were tired. In the evening we celebrated our friend Arundhati's birthday. Later we exchanged our summit experiences as we sat in a group. I completed my Trek Memory Booklet where everyone wrote a couple of qualities of mine. The one which delighted me the most was Tina Ma'am's expression of me being independent. 
The next morning before leaving for Sari, Tina Ma'am took our debriefing session where everyone expressed their unique reflections and takeaways from the entire trek. I shared my own learnings as I had a wonderful experience. I would try to reduce waste generation at home and take home a lot of values I had picked up from everyone. Then we journeyed in the Tempo Traveller to Sari.
 Once everyone got their smartphones back at Sari, they contacted their family but I was a bit sad. Seeing my sad face Tina ma'am let me talk to my parents with her mobile phone. I was overjoyed and thanked her profusely. I had missed my mother a lot as I was so far away from her for so long for the first time but it also made me realize how dependent I was on her. 
As we drove back to Rishikesh through the winding roads and enchanting scenery I reflected on my learnings from the trek. I realized that now I knew to handle myself better and adapt easily to the environment around me. Now I am a more independent girl who knows how to make her friends. I was joyous to meet my parents in Rishikesh but also sad to say goodbye to my new friends. As our train ambled onto my dear Lucknow, I recollected the experiences of my four treks and how I had grown into a confident and experienced trekker. This trek will always occupy a special place in my heart as it was my very first trek without my parents and I want to have more treks as feathers in my hat. And now here I am, penning my experience to share it with the world.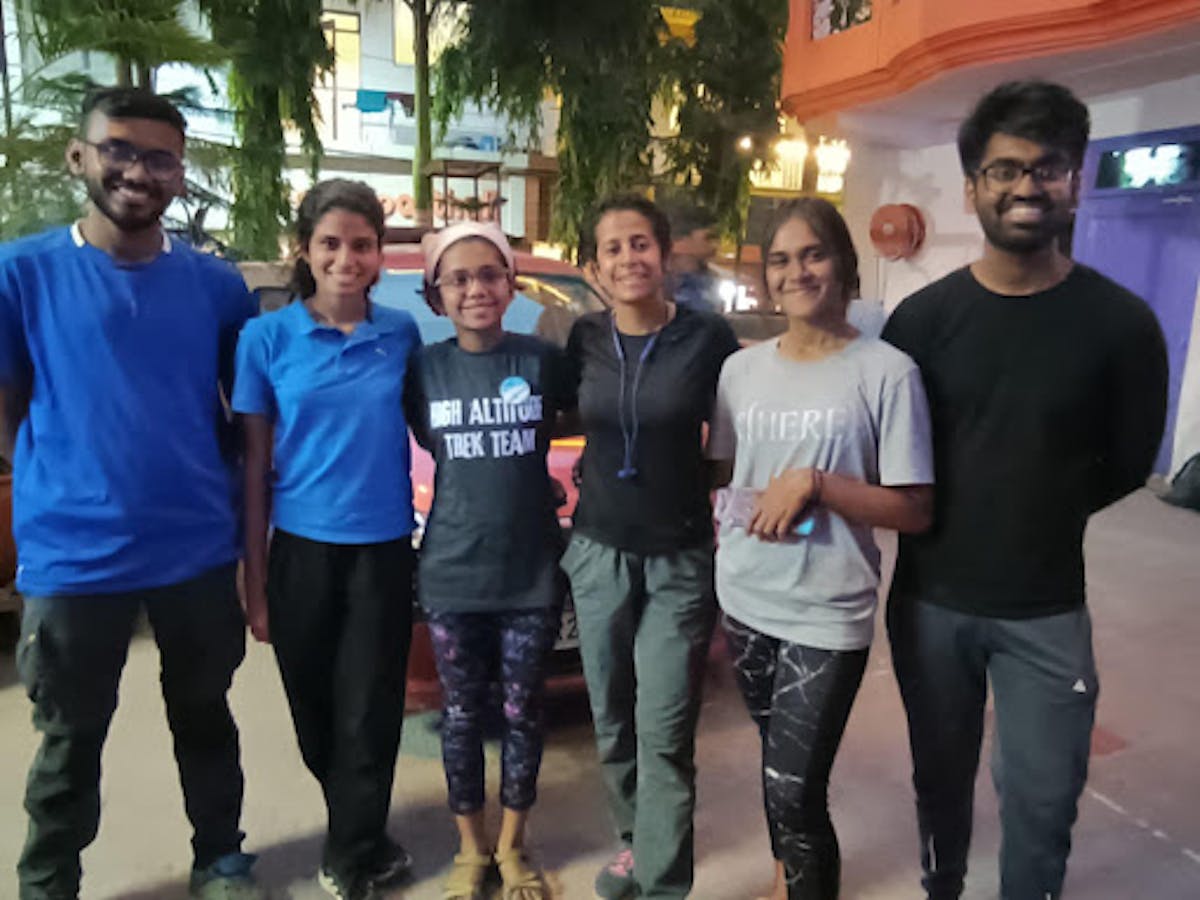 The Stuthi who returned from this trekking summer camp to the Deorital- Chandrashila trek is different from the nervous girl who was miserable to leave her parents as she bid them adieu.
View Deoriatal Chandrashila Summer Camp Trek
Sign up for our much loved Weekly Mailer
We have terrific trekking tips, trek updates and trek talks to look forward to