Can trekking help you get over the death of a loved one?
Share this story
26-year-old Manu Yadav's death came as a rude shock to his family on August 8, 2008. And unanswered questions about his death made mother Swaraj Yadav take to trekking. But did these journeys help?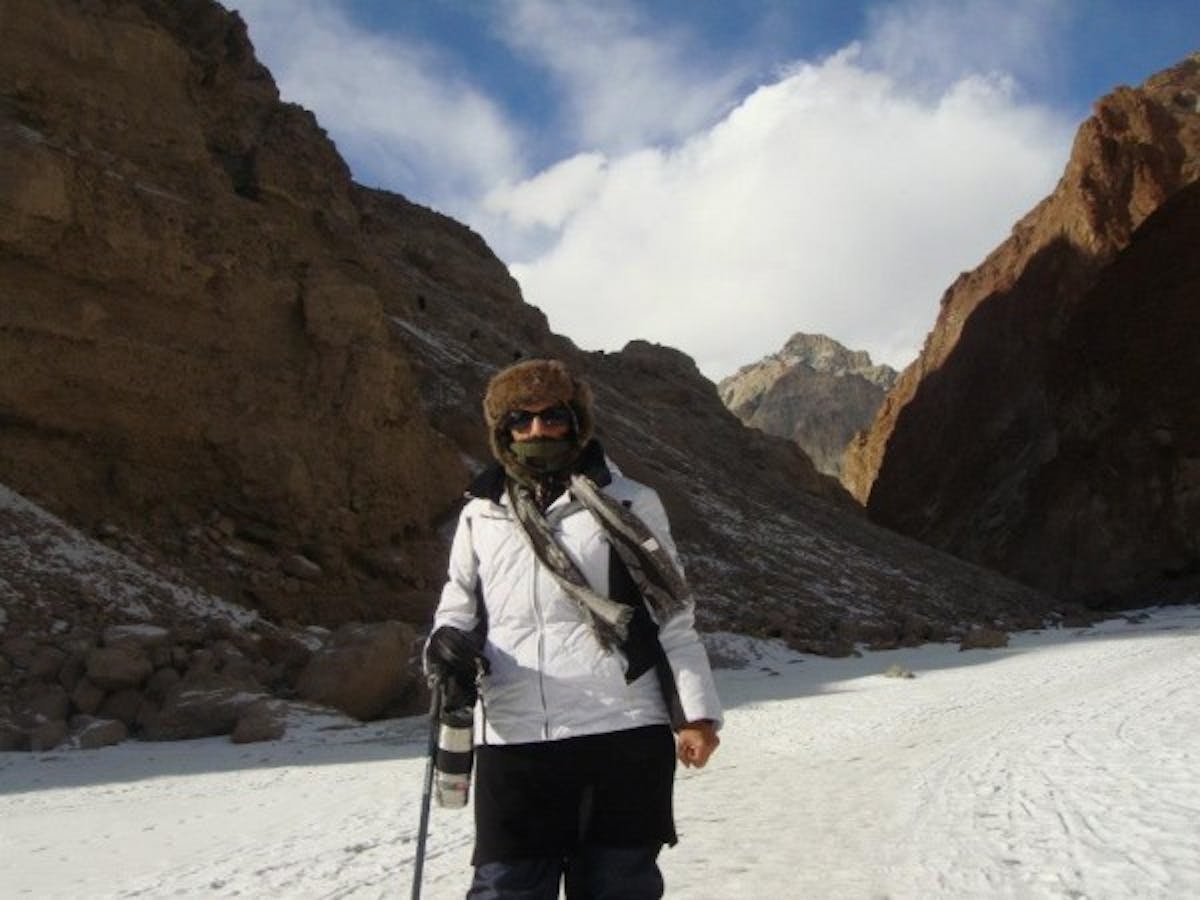 Swaraj Yadav on the Chadar trek in Feb 2013
Swaraj Yadav, a university professor in Haryana, was attending a function at the college. Her colleagues had requested her to sing. After the performance, when Swaraj stepped down the stage she found her husband's friend waiting to take her home. Something was wrong.
"Is Doctor alright?" she enquired about her husband, Dr. Hari Ram Yadav, who is an ex civil surgeon.
"Yes. But you have to come home right away," the friend said.
Swaraj returned to a house filled with people. She turned to her husband for an explanation. After a bit of deliberation Dr Yadav said, "Manu is no more," and broke down. Dr. Manu Yadav, 26, was a Captain in Army Medical Corps (AMC) posted in Goa. He was their son. And he had passed away early morning on August 8, 2008. His death was reported as a suicide.
On reaching the quarters where Dr. Manu lived with a room mate, the grieved parents found it hard to believe that their son could commit suicide. Their son was cheerful and keen to get home when they spoke to him last. Also, they found gaping loopholes in the investigation army had carried out. Their minds were crowded with questions that officials failed to answer satisfactorily. All their attempts to get to the bottom of their son's death were thwarted when the police refused to file an FIR. The case was closed. And it left Swaraj tangled in the haze of questions surrounding her son's death.
The days passed in a blur. Grief, helplessness and anguish engulfed Swaraj everyday.
A month later Swaraj received a call from her friend, "Did Manu come in your dreams?" Swaraj replied in the negative. It was then that her friend confessed, "He came in my dream. He came into the operation theatre, took my hand and led me out of the OT. He told me that on a mountain top is a Shiv temple. 'Tell my mother to go and pray there, then I will definitely come in her dream.' That Shiv temple is at a great height, has a white flag and has a patch of cemented road in front of it."
Swaraj saw a faint ray of hope. Maybe here was the key to questions in her mind, she thought.  After researching a little, when Swaraj showed the picture of Tungnath to her friend she exclaimed, "This is the temple!"
Swaraj decided to visit the temple. On December 31, 2008, the journey to Tungnath began. The trek was difficult. But an invisible voice kept coaxing Swaraj to move on. Chalogi nahin toh pahunchogi kaise? (If you don't walk, how will you reach?)
The journey to Tungnath didn't reveal any answers. But when Swaraj reached the summit, a strong gust of wind embraced her. That instant, Swaraj felt very close to her son. She found a rare peace in the temples. And it hooked her to trekking. Swaraj Yadav became a regular trekker in the Himalayas.
Now the question is — does it really help? Well, most of Swaraj Yadav's recovery could be credited to her inner strength. But the serenity of Himalayas can't be discounted. After all, being close to nature is a known stress-buster. So when Swaraj Yadav confessed that she found peace in the lap of the Himalayas, it wasn't hard to believe.
But five years later, Swaraj's heart continues to ache. She concludes that the pain of being unable to gauge the sudden turn of events in Dr. Manu's life still remains. Even so, trekking does offer momentary respite. The light-hearted banter of fellow trekkers, childish games and other banalities of hiking distract her… for a few moments.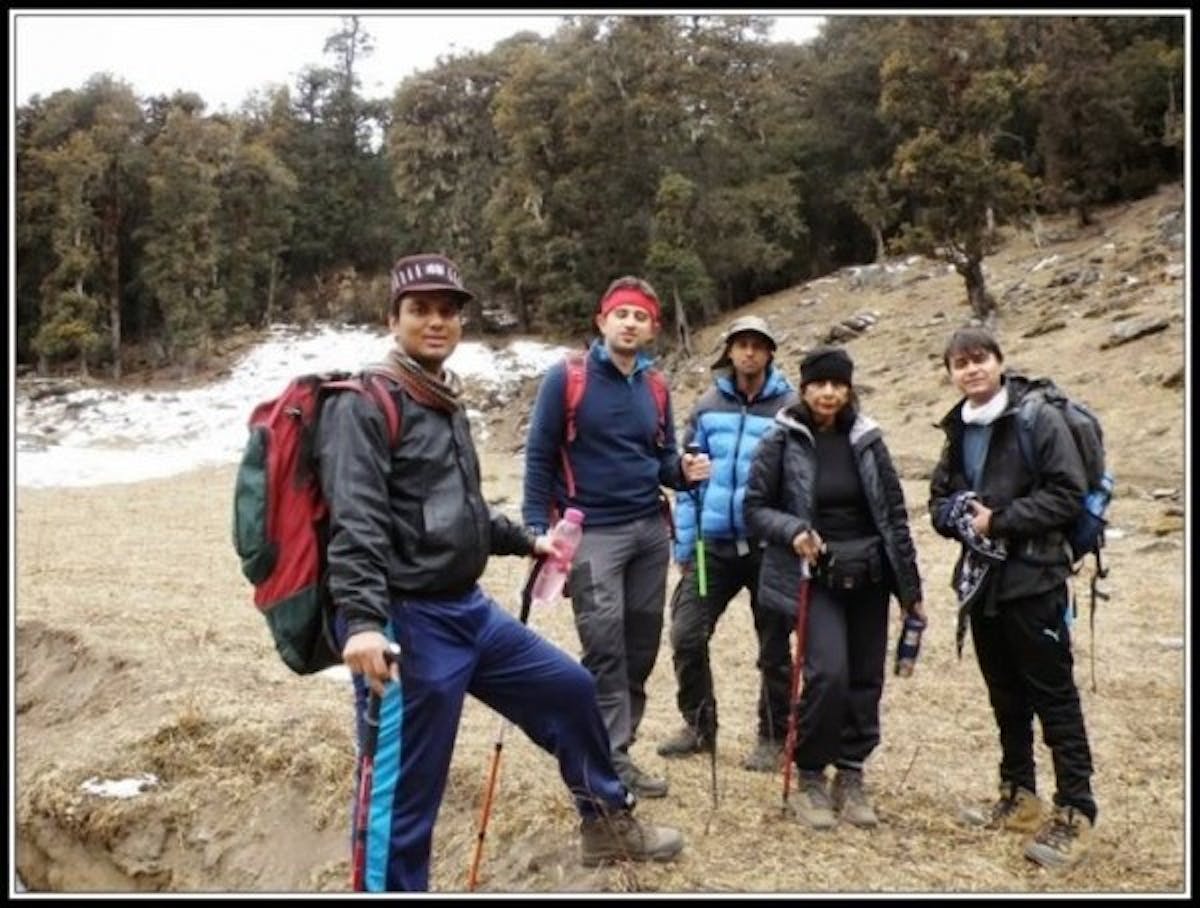 Swaraj Yadav with her team on trek to Kuari Pass January 2014
About Swaraj Yadav
Swaraj Yadav has trekked to Chaar Dhaam, Paanch Kedar, Madhmaheshwar, Kailash-Mansarovar, Deviria Taal and Kalishila. With Indiahikes, she has been to Chadar (February 2013), Kedarkantha (March 2013), Rupin pass (October 2013), Kedarnath (November 2013) and Kuari pass (January 2014).
How 61-year-old Swaraj Yadav stays fit 
1. Swaraj has been a disciple of Gurukul.  So she wakes up at 4 am every morning and walks to a Shiv temple with her husband. This temple is situated six kilometres away from her house.
2. Swaraj keeps her diet simple. And believes in filling only 80 per cent of the stomach.
Sign up for our much loved Weekly Mailer
We have terrific trekking tips, trek updates and trek talks to look forward to