How Passion And Perseverance Brought This Trek Leader To The Himalayas
Share this story
A few years ago, Dushyant Sharma led a very different life. Seated in a cubicle at an office in Delhi, he would sift through applications, shortlisting candidates for joining the IT firm. Little did he know then, that a few years later, he would be travelling from one mountain slope to the other, training Trek Leaders.
Dushyant completed his BBA from Indraprastha University in 2010, and joined Sapient the same year. But he always felt out of place, wanting to do something else, something more. After working  at Sapient for a year, he took a break and tried his hand in various fields – attempting to get a seat in a fashion design course, and appearing for the law entrance exam. He wasn't able to crack either of those exams. Dejected, he joined his previous office in 2013.
However, he didn't stop searching. Within the next two years, after several challenges, setbacks and lessons, he finally realised what he was meant to do. He found his calling  – Trek Leading at Indiahikes.
Now he looks back at his life and smiles. "Thank God! I did not crack any of those exams!" he laughs.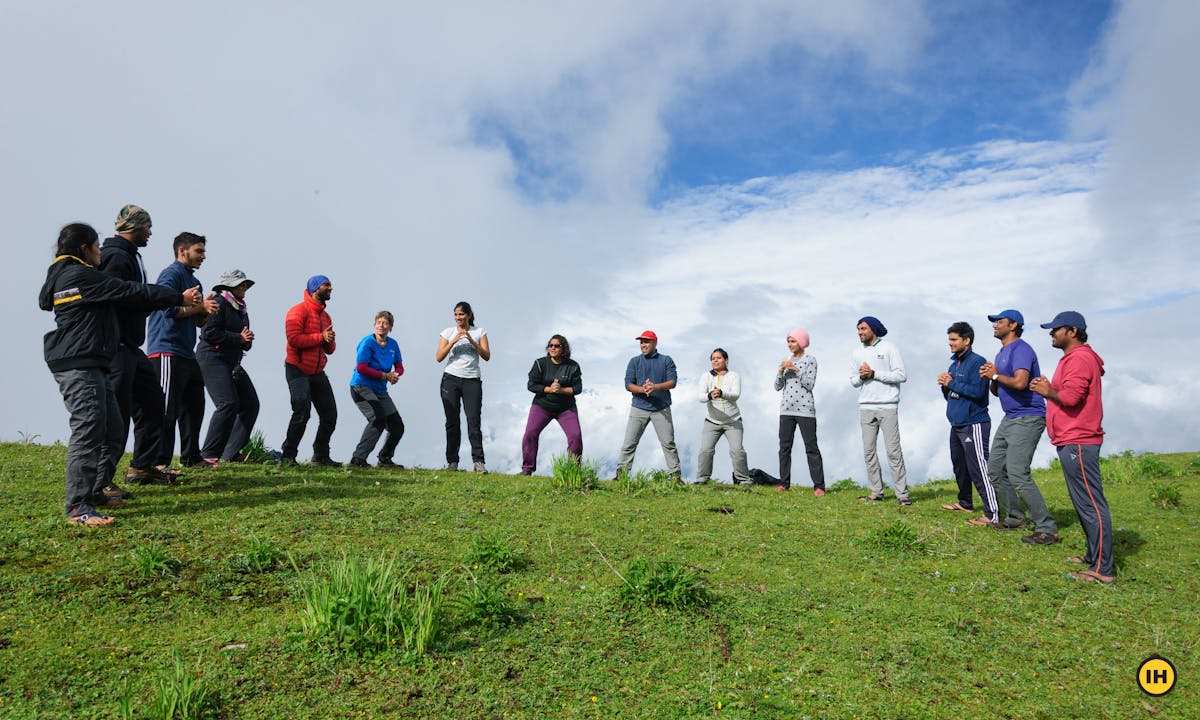 All eyes and smiles at TL Dushyant Sharma during a warm up session at Dayara Bugyal. Picture by Anil Vesvikan
The beginning of his love for the mountains
In 2011,  Dushyant went on a trek to Triund, McLeodganj. It turned out to be a disappointing experience. "The mountains were beautiful! But trekking was a huge challenge for me. Descending was very difficult. I was not prepared for it at all," he recalls.
He came back home with an experience he calls awful. But his longing for the mountain had not gone away.
But he was forced to return to his regular life until a few weeks later. He found an article in the newspaper about twins Tashi and Nungshi Malik, who had climbed Mount Everest. This rekindled his curiosity about the mountains.
"The article was the first place I learned about the existence of mountaineering institutes in India. I immediately sent a message to one of the twins on Facebook, inquiring about these institutes. She replied within a few hours. She told me about the institutes, and how to apply!" says Dushyant.
"The memory of the Triund trek came back to me.  I wanted to do the course. I was always curious about the mountains. This was a window of opportunity for me to have a life in the mountains. It was then that I decided to pursue a career in the outdoors. I started looking for a course in mountaineering," says Dushyant.
But this was not easy.  "I had already quit my job once; I was unsure about quitting it again."
In order to do the course, he needed a month off. "I was hesitant to ask for time off again. I mustered the courage to approach the director. I told him that I'm interested in the outdoors and wanted to go for a mountaineering course. I was surprised to get a positive response. I was granted leave without any hesitation," he recalls.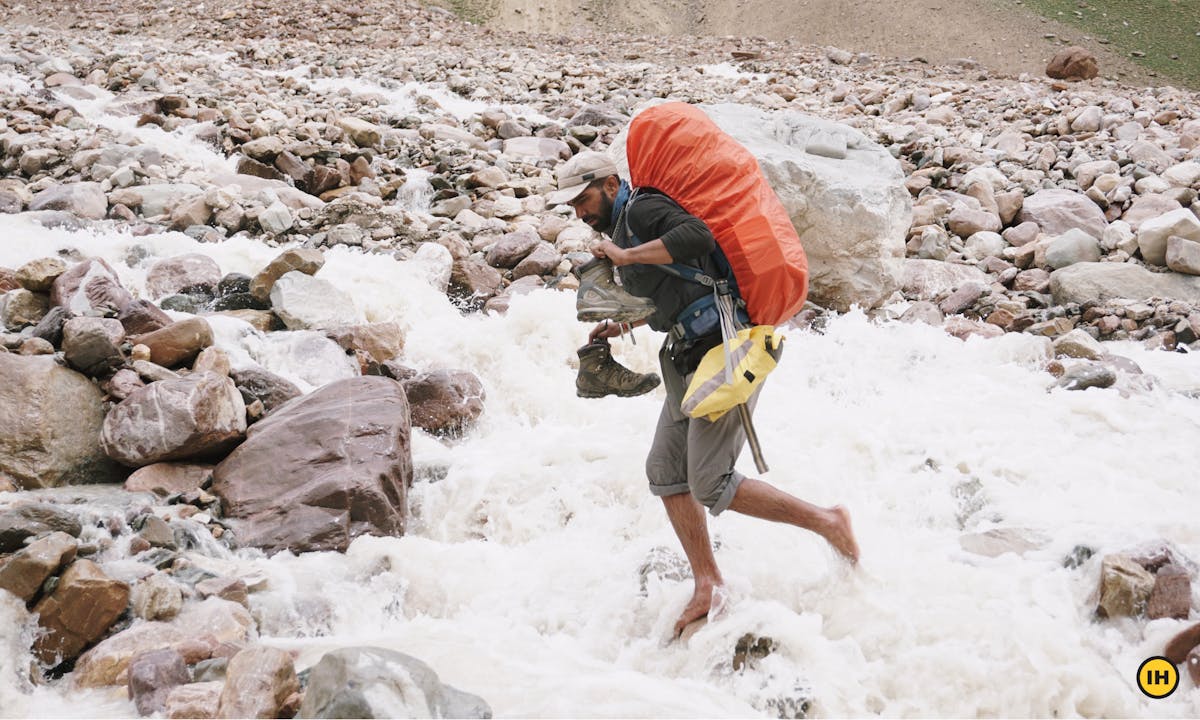 Leading from the front, Dushyant cross a river first to help trekkers on the Pin Parvati Trek.
"I fainted in the first hour of training"
In 2014, Dushyant enrolled himself at Jawahar Institute of Mountaineering and Winter Sports, Kashmir for the Basic Mountaineering Course.
"All our instructors were well-known in the field. One was an Everest summiter, another a Kargil War Veteran. We were all charged for the course!" he recalls.
The first day of training was a reality check. "We woke up early for physical training and started warming up. I had never done such rigorous activity in my entire life. Though I managed to do most of it, while doing the pull-down, I blacked out and fainted," he says.
Dushyant was frightened, and for a fraction of a second, he thought of going back home.
"That's when I thought about how much I wanted to do this course. I decided to continue," he says.
Around him, fellow coursemates dropped out in the first few days. They were not able to handle the intensity. "From the third day onwards, I got used to it and started enjoying it. Every bit of the course was great learning. Each exercise was teaching me how much my body was capable of. It was an emotional ride for me. Every evening, I would be completely exhausted. But the next morning, I would be pushing myself to do the same thing again," recalls Dushyant.
Dushyant went on to complete the month-long course in great spirits. He even received the Best Student trophy. "I was in tears. The course changed my life, and helped me reach out for my passion," he adds.
Pursuing An Advanced Mountaineering Course
Back in his Delhi office, his colleagues felt proud to be in the company of a mountaineer. Dushyant was still basking in the success of his BMC, but he started yearning for more. He began researching on Advanced Mountaineering Courses (AMC).
"I approached my director and informed him that I will be taking a month-long break again next year for an AMC. He suggested I do it in the same year," Dushyant recalls.
It is very difficult to get a seat Advance Mountaineering Course. And at the time, Kashmir was facing bad weather and floods. "Somehow, within a few days, I miraculously got a seat at the Himalayan Mountaineering Institute, Darjeeling. It was like the whole universe was on my side!" he laughs.
In October, Dushyant set out to the Himalayan Mountaineering Institute (HMI) to complete his AMC course. Within the next few months, his life would change forever.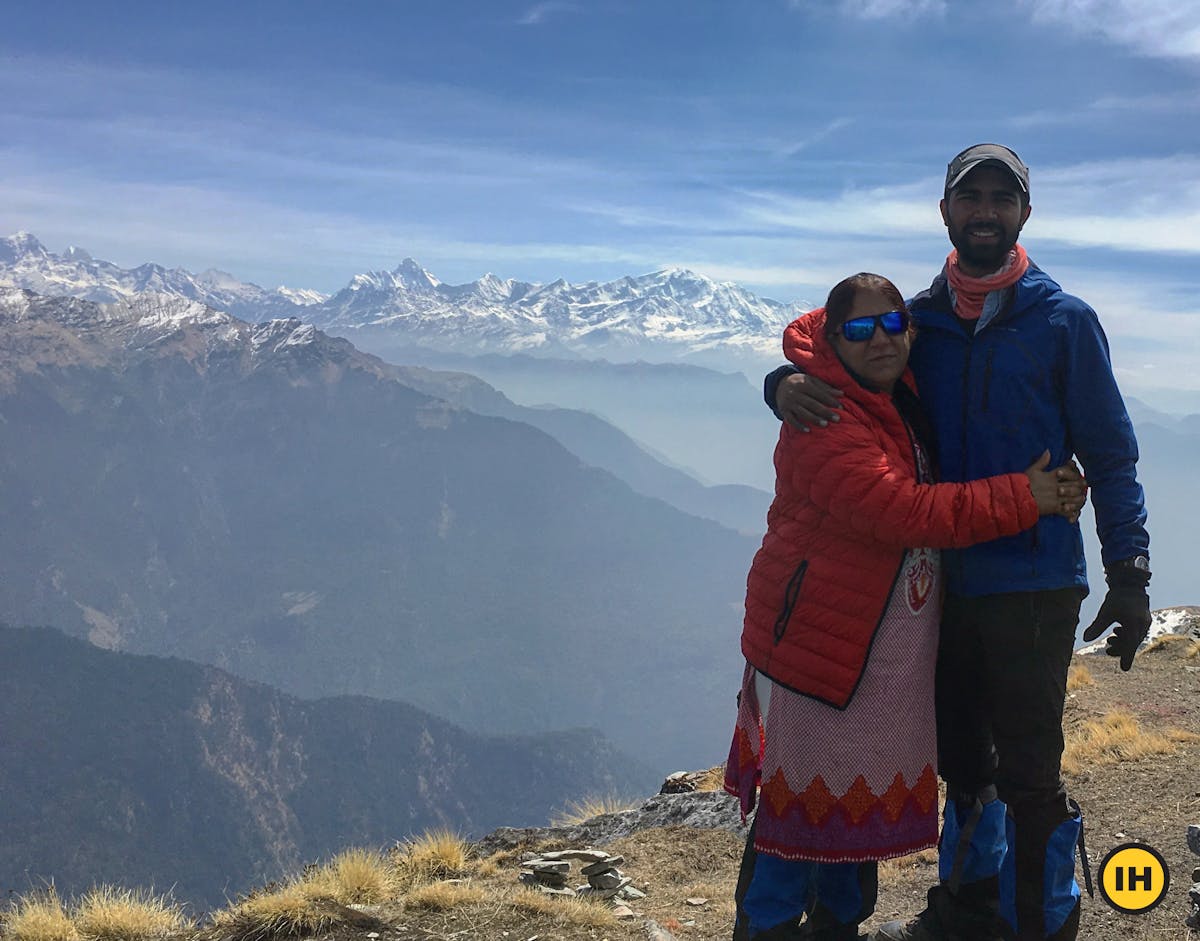 Dushyant with is mother on the Chandrashila Summit. Picture by Siddharth Sharma
Planning a career shift
When Dushyant returned from HMI Darjeeling, his father had made his stand clear. He said no more trips to the mountains. "Both my parents made it very clear that I should not advance in this direction. But I was already planning to switch to a career in the outdoors," recalls Dushyant.
He approached his director who encouraged him to pursue his dreams.
A month later, in April 2015, he applied to be a Trek Leader at Indiahikes. He got a reply within two months, asking him to come to Bangalore for an interview in a week. He had a lot of convincing to do, and soon!
"I approached my mother first. She refused to say anything and directed me towards my dad. My father too was not happy with what I wanted to do in life," he recalls.
After many days of persuasion, Dushyant's father finally allowed him to go ahead. "He gave me a time of 2 years to make a career out of this, though not with a happy face," he recalls.
Life as a Trek Leader
Dushyant joined Indiahikes as Trek Leader in April 2015. Since then, he has grown into being a Slope Manager, and  is now the Head of the Trek Leaders team at Indiahikes.
"Trek leading exposed me to a lot of things. It has taught me to be disciplined. I am more minimalistic now," he says.
Dushyant says, that just like any other sport, you need to learn about trekking. "There are things you have to keep in mind. Right from how to pack your backpacks to what to eat. I enjoyed teaching all this to trekkers," he says.
Besides, trekking with people from various backgrounds is mind opening, he says.  "People come from different cultures, professions, ages, and gender. It's an epiphanic experience to hear diverse stories and share your stories as well. You become very close to the local mountain folk, and you get to see a different perspective to life," he says.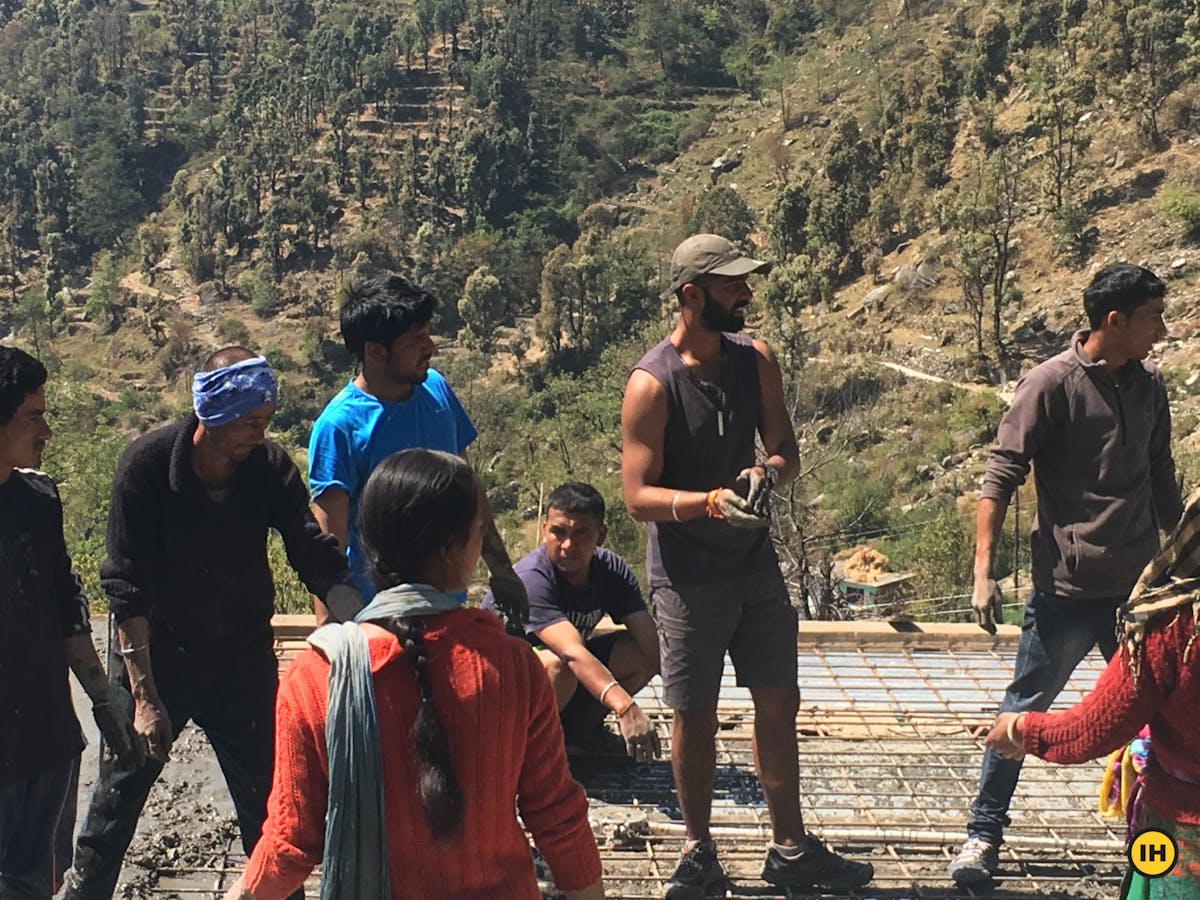 Indiahikes staff and villagers from Sari coming together to build a base camp. TL Dushyant looks on.
There are several challenges too
Trek leading, however, is not always easy.
For one thing, you are in extreme high-altitude conditions very often. Unlike most other jobs, this one is 24×7. "I am always thinking about the safety of my team. Even if I am at campsite. If somebody would cough or smoke, I would know. I have to stay alert and be on my toes, ready to jump into action spontaneously and handle any problems –  it could be the weather, trekkers' illnesses or logistics," he recalls.
Staying away from family and constantly being on the move is really hard too, he adds.
Advice to the aspiring
Many people come to the outdoors to follow their passion, but not all survive.
"Everyone who wants to venture into the outdoors should ask if they really want to make a career out of it. It seems attractive and glamorous in the age of social media; however, you need to have a clear head." he says.
Further he adds, "Venture out with specific goals. What comes next after this ? You need to have an answer, and you need to prepare yourself. Otherwise, it will be difficult to survive. You need to be really sure that being a mountaineer is what you want. Don't do it just for yourself, learn to give back to others," he advises.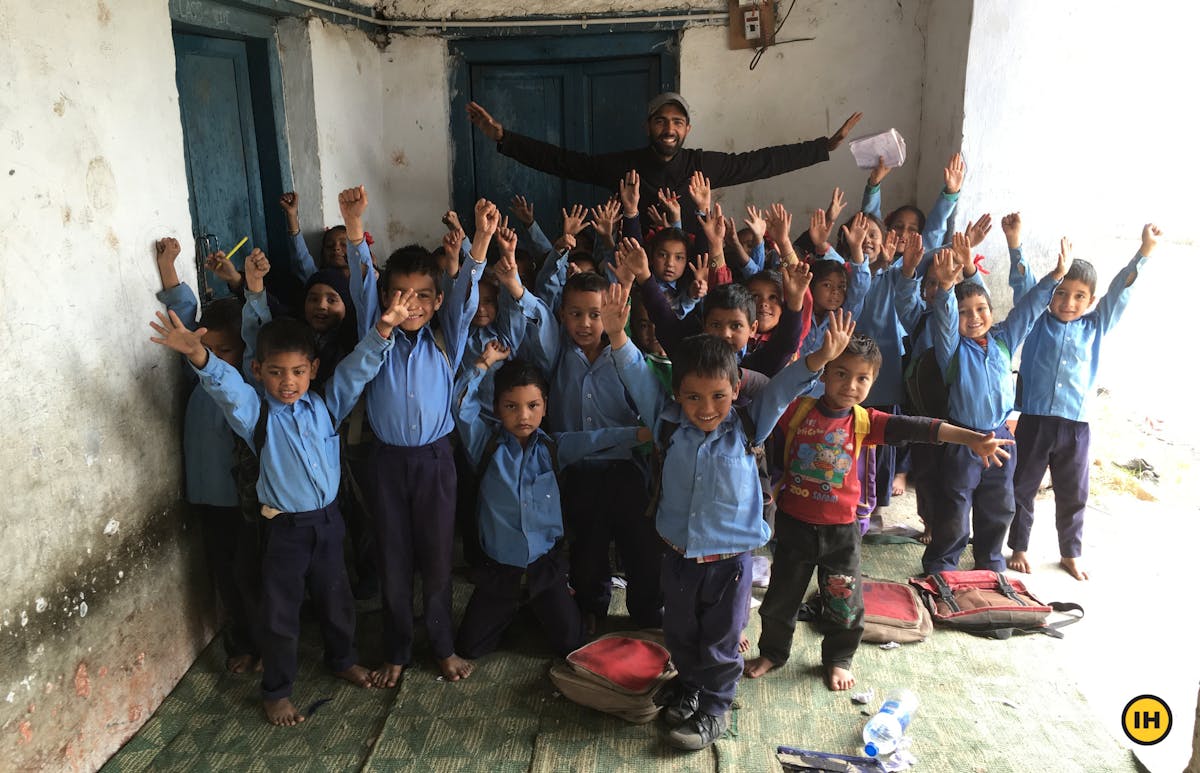 Students from the Government Primary School in Sari. All smiles after a class with Dushyant. Picture by Lakshmi Selvakumaran
Training the next generation of Trek Leaders
Dushyant now handles a team of around 40 trek leaders. "I aim to raise the quality of our Trek Leaders such that every aspiring outdoor leader will look up to Trek Leaders of Indiahikes. I want them to be the best at what they do, and I hope to promote an environment for the same," says Dushyant.
He is constantly making the training process of Trek Leaders better. "I assess Trek Leaders in the three aspects we train them in – hard skills, soft skills, meta skills. If anyone requires training in any particular area, I make sure they get it," he says.
He wants to make Indiahikes Trek Leaders the best in the world. "They should be able to handle people, they should be technically sound in their outdoor skills and also constantly keep learning from their experience," he says.
Another thing he would like to do, is to bring about a culture of fitness and being in the outdoors."People who are unaware of the trekking world do not understand what it is, or its benefits.  It should be a lifestyle. Hiking, trekking and being in the outdoors is something I want to develop as a part of our lifestyle as Indiahikes expands," he shares.
After leading treks for a few years, Dushyant worked as a Slope manager. He spent three months in different slopes and then he moved to work as a trainer for the Assistant Trek Leaders, again for three months. At present, he works between the Bangalore office and the various slopes. He leads the Trek Leading team.
Sign up for our much loved Weekly Mailer
We have terrific trekking tips, trek updates and trek talks to look forward to